Okay, let's do this one last time: five years ago, Spider-Man: Into The Spider-Verse changed… well, everything. The big-screen arrival of Brooklyn-based Spider-Man Miles Morales not only thrillingly remixed the arachno-hero's oft-told origin story and preluded a deluge of live-action multiverse stories — it also entirely redefined what mainstream animated movies could look like with its wildly expressive visual style. It was a cinematic lightning strike; a single film that fundamentally shifted an entire medium — and a genre — in one quick thwip. Now what?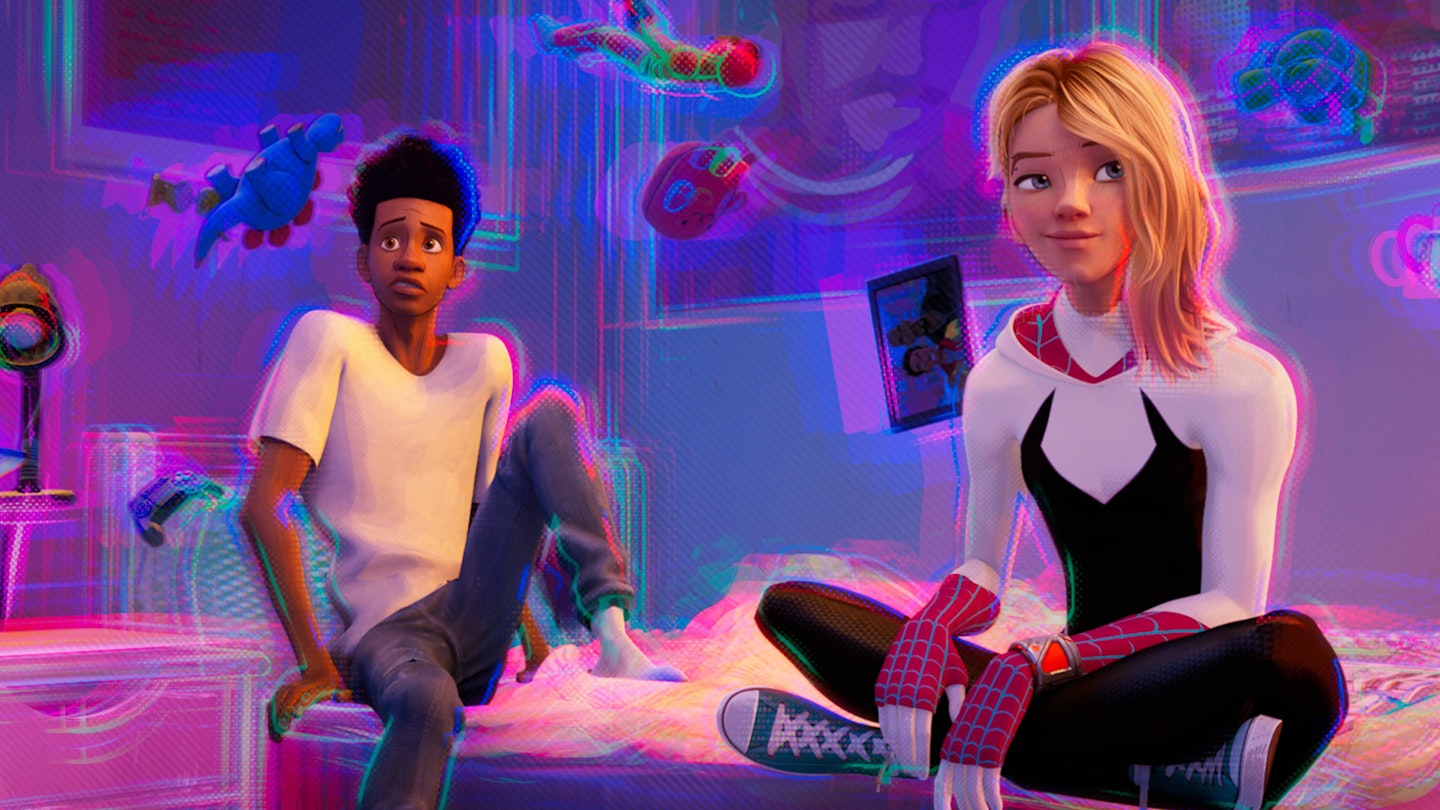 As sequel logic dictates, you go bigger, bolder, darker. Which Across The Spider-Verse (to be followed by 2024's Beyond The Spider-Verse) does, on all accounts — if the last film was a punky, all-killer no-filler debut, the back-to-back sequels are leaping into psychedelic rock-opera double-album territory. And fear not: Disc 1 is another instant classic. Last time, several Spider-beings entered Miles' universe; now, Miles is heading out into a handful of other 'verses, with wormhole-spewing baddie The Spot (a brilliantly off-kilter Jason Schwartzman) and other reality-destabilising anomalies threatening a multiversal collapse. Misanthropic Miguel O'Hara, aka Spider-Man 2099 (teased at the end of Into The Spider-Verse), has assembled an elite Spider-team to stop it.
The overwhelming power of Across The Spider-Verse remains the sheer eye-sizzling excellence of its animation
Narratively, Across The Spider-Verse is as satisfyingly structured as its predecessor, spinning its sprawling story in clean lines and compelling character arcs. That's no mean feat, since it takes us from Gwen's universe, to Miles', over to the India-inspired Mumbattan, into Miguel's Nueva York, and beyond — while also introducing Issa Rae's heavily pregnant, motorbike-riding Jessica Drew; the charismatic Pavitr Prabhakar (Karan Soni); the "oi-oi!"-ing Hobie Brown, aka Spider-Punk (Daniel Kaluuya, who nearly steals the whole movie); and ever-wilder Spider-variants. That clarity can be attributed to writer-producers Phil Lord and Chris Miller — joined on script duties by Shang-Chi's Dave Callaham — whose ability to find emotional resonance and creative potential in unlikely places (21 Jump Street, LEGO bricks) remains miraculous.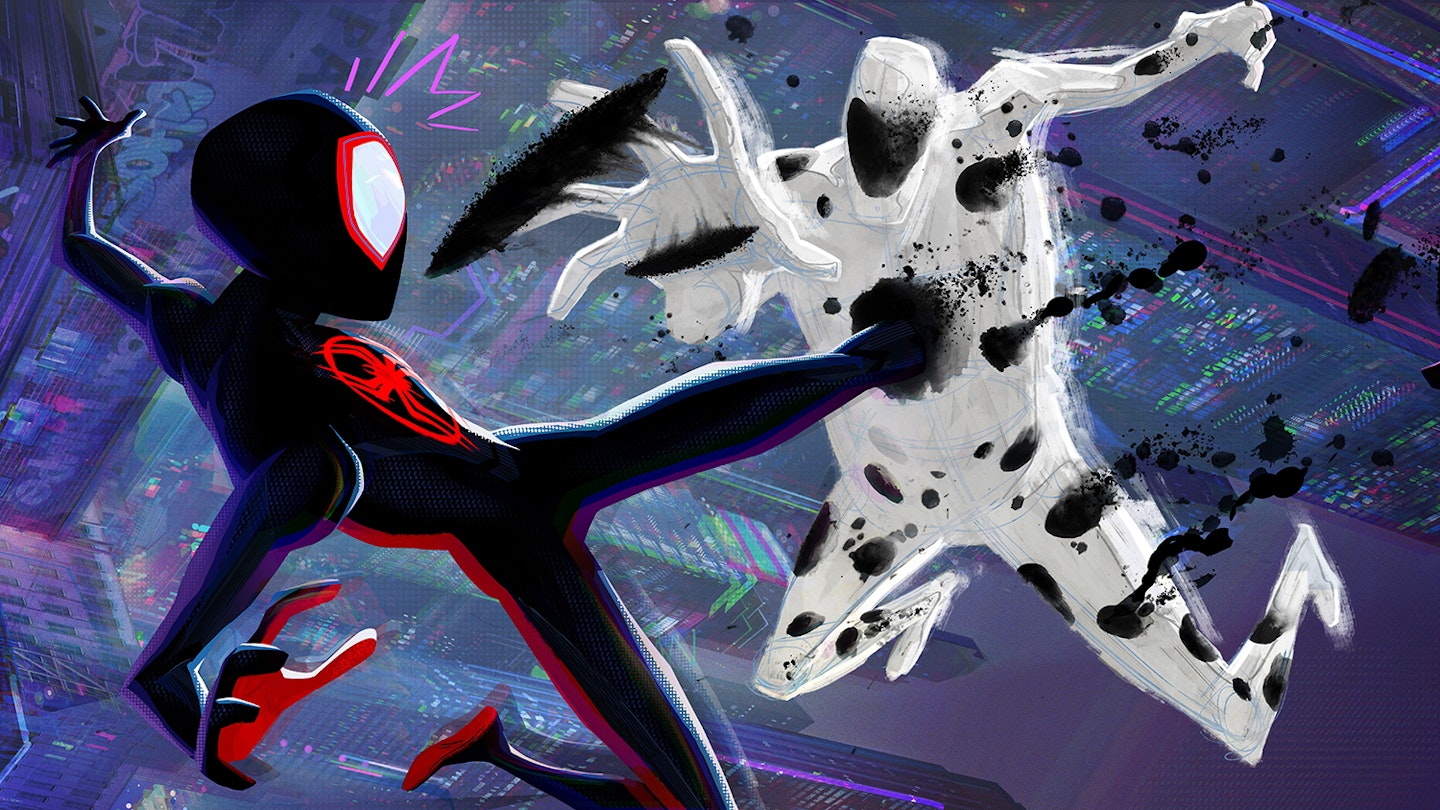 The mechanisms under the surface are seamless, then — but the overwhelming power of Across The Spider-Verse remains the sheer eye-sizzling excellence of its animation, and the electrifying energy it creates. The spectacle here is unparalleled — delivering Gaspar Noé-style glitching credits, evocations of '70s Indian comics, mixed-media scrapbook collages, and Stanley Donwood-esque monochromatic scrawls. It is endlessly inventive in its use of colour, composition and texture to convey mood and tone. Nowhere does that come through stronger than in Gwen's Earth-65, all washed-out watercolours that shift seamlessly with the storytelling, her emotions blossoming into a symphony of swirling hues — pure cinematic synaesthesia. And as the film opens with an extended sequence in her world (this is Gwen's film as much as it is Miles'), your mind will be blown ten times over before the opening credits even roll. It's utterly breathtaking.
Amid all the chaos, Lord and Miller — and incoming directors Kemp Powers, Joaquim Dos Santos and Justin K. Thompson — deepen every relationship. Miles and Gwen's will-they-won't-they romance is one thing (there are, she points out, deadly consequences for Gwens who date Spider-Men), but it's the parental push-pull that gets the biggest look-in: Gwen's bond with her father reaching breaking point, and Miles' loving parents terrified of a world that likely won't treat him as kindly as they do. And it's breathlessly funny too. A brawl between Miles and The Spot (desperate to be more than a "villain of the week") is interrupted by an unruly goose; a da Vinci-styled Vulture comes face-to-face with Jeff Koons sculptures; The Wire's infamous F-bomb-laden crime-scene investigation gets a PG homage ("Shoot!").
Make no mistake, Across The Spider-Verse is masterful. It's pop art that doesn't just pop — it hums, fizzes and bangs; art that doesn't just exist for the sake of being regarded, but uses everything at its disposal to make you feel deeply. It's a blockbuster drum solo — literally, at one point — dazzling on so many levels while never losing the beat; a paean to what's possible when rewriting the rules. It's as good as sequels get — challenging its own mythology, questioning the notion that "anyone can wear the mask", and interrogating the tenets of what makes a Spider-Man. If Beyond The Spider-Verse sticks the landing, we could be in for a new all-time-great trilogy. What's up, danger?