In a heartbreaking recent interview, Martin Scorsese lamented his advancing years. Quoting Akira Kurosawa, he said, "I'm only now beginning to see the possibility of what cinema could be — and it's too late." Thank the gods of cinema, then, that he still found time for Killers Of The Flower Moon: a piece of work as strong and sharp and vivid as anything in his remarkable career, and perhaps one he could have made only now. How many octogenarians can honestly claim to still be working at the peak of their powers, as he so evidently is?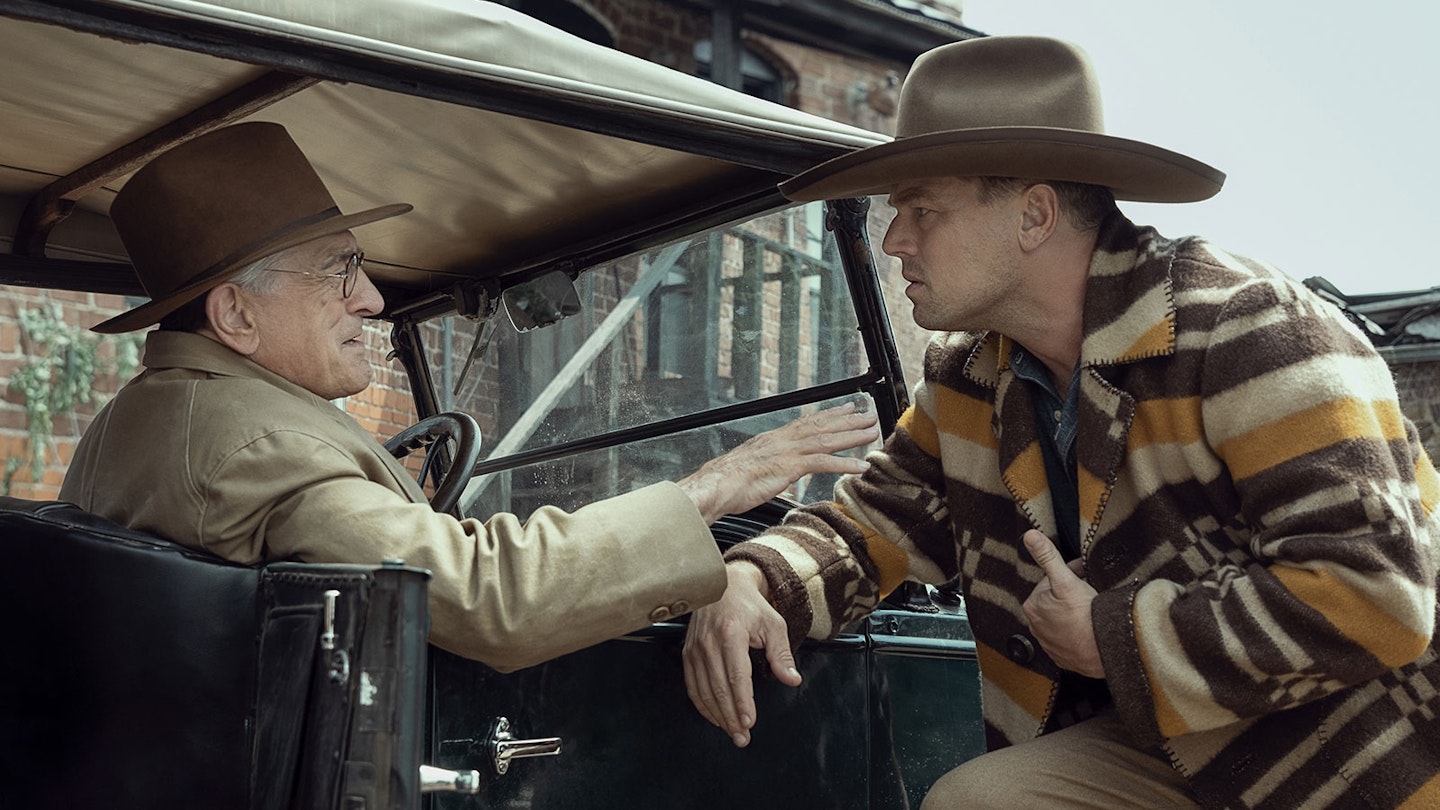 This, his 26th feature, seems at initial glance outside his usual scope: set far beyond the borders of his beloved native New York, it is effectively his first Western, albeit a deeply revisionist one, a story of genocide and bloodshed on the last frontier. And yet it is also deeply Scorsesian, if that word means anything. His lifelong preoccupations — criminal conspiracies, violence and its provenance, the founding myths of America, fatally flawed men — are all here. Echoes of his entire filmography flicker in and out, from Mean Streets to GoodFellas to The Irishman. (There is, effectively, the 1930s equivalent of helicopters circling above Henry Hill's house in the third act.)
De Niro is brutally effective here, dooming a life with a single eyebrow twitch.
Adapting the extraordinary non-fiction book of the same name by David Grann (while wisely swerving away from the book's focus on the FBI's early days), Scorsese and co-writer Eric Roth craft a riveting crime thriller, a genuinely epic story that zips along until, somehow, three- and-a-half hours have passed by in an instant.
A prologue establishes the Osage Nation as "the chosen people of chance": forcibly moved onto land that turns out to be oil-rich, leaving them the wealthiest people on earth, per capita. But resentment and racial tensions quickly fester on the reservation, the spectre of white supremacy still haunting. Into this oily goldrush arrives Ernest Burkhart (Leonardo DiCaprio), a World War I veteran with little intellect or prospects but plenty of ambition. DiCaprio, approaching his sixth decade, cuts a pathetically childlike figure here, brilliantly twisting his features into slack-jawed stupidity. ("I can read, sir," he says defensively at one point.)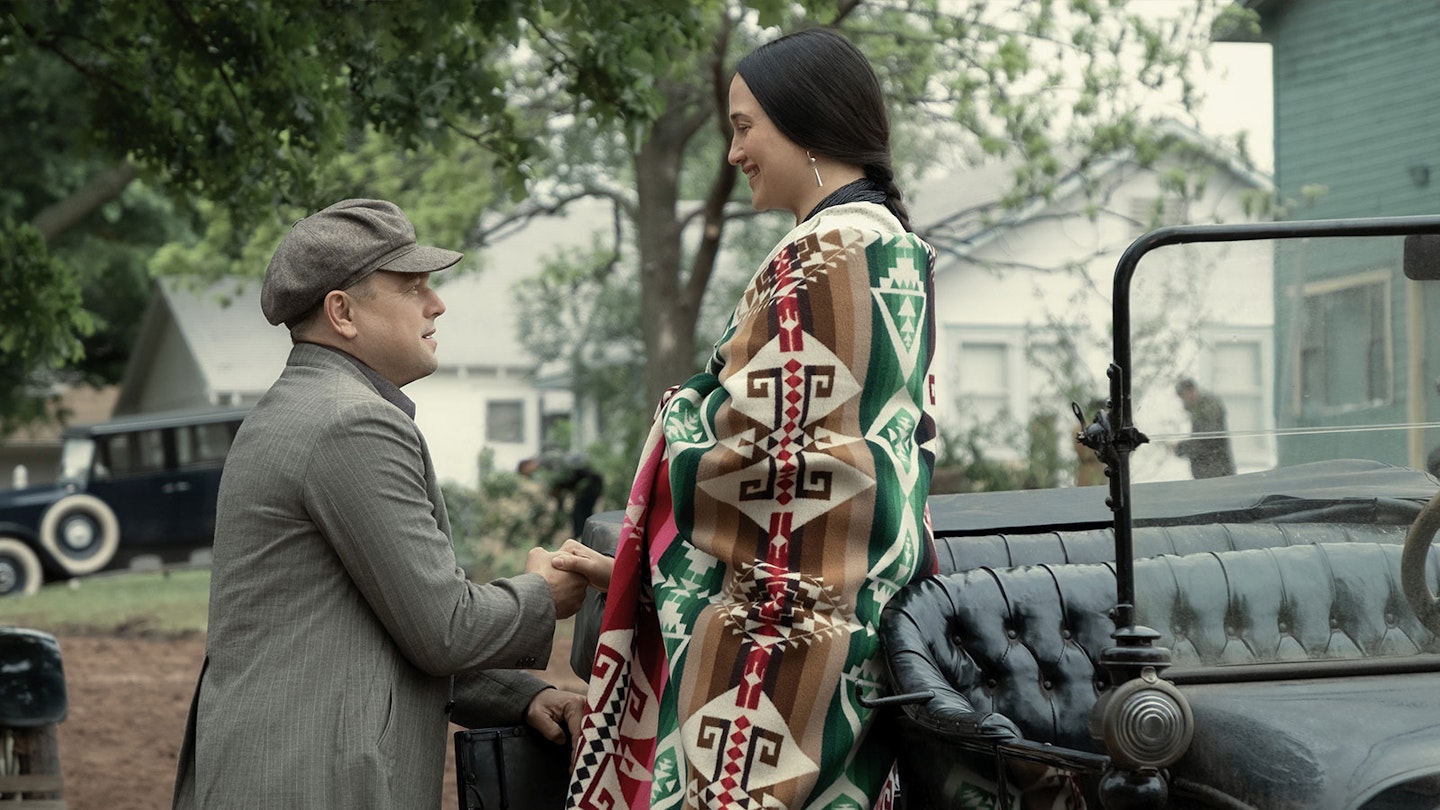 Guided by the firm hand of Ernest's uncle, Bill 'King' Hale (a regal Robert De Niro) — perhaps the most sinister character ever to wear driving goggles — a plot thickens. Outwardly, Hale is a friend to the Osage people; privately, he speaks in white-nationalist terms ("You have to take back control of your home") and conspires to gain their lucrative oil headrights, through marriage, and then murder.
Gladstone's enigmatic smile, and her soul-shattering anxiety, never feel far away.
De Niro is brutally effective here, dooming a life with a single eyebrow twitch, and it is a true treat to see Scorsese's two great muses spark off each other. Yet perhaps the most compelling performance comes from Lily Gladstone, as Ernest's love interest Mollie, an Osage woman whose family begin to die in increasingly suspicious circumstances. Gladstone, who so impressed in Kelly Reichardt's Certain Women, gives a turn of astounding restraint and often devastating quiet.
Mollie sees right through Ernest's wooing from the off, as a "coyote who wants money", but against her better judgement, and despite his terrible chat-up lines ("You got nice-coloured skin!"), a genuine romance soon blossoms. For all the slow-burn bombast of the deadly criminal enterprise — and the film looks every penny of its reported $200 million budget, with gorgeous work from Barbie cinematographer Rodrigo Prieto — it's this intimate relationship, in all its strange contradictions and ambiguity, that is at its core. Even when Mollie is seemingly sidelined, numbed by a mysterious illness, her presence is felt. Gladstone's enigmatic smile, and her soul-shattering anxiety, never feel far away.
After such an expansive, sprawling, hours-long build-up, Scorsese ends things abruptly, with an epilogue that could feel almost flippant. Yet he is shifting the focus onto himself and his role in the story, acknowledging the artifice of the 'true-crime' tradition, and respectfully leaving the final word to the people for whom the footprint of these murders is still felt. It is a moment of true grace, from a filmmaker who seems, in his own mind, to have finally reached artistic maturity. And he's not done yet.