"How well do you remember the original?" That's a question posed by the new Ghostface killer (or is it "killers"?) in the fifth Scream movie's obligatory opening phone-call murder-game — and it's also the film's central preoccupation. If the confusing title ('5cream' was right there — the kind of numerical title wordplay the film itself pokes fun at) hadn't already tipped you off, the most meta of movie franchises has returned to take a stab at Hollywood's latest trend: legacy sequels. Or, as the movie dubs them, 're-quels' – a sequel-reboot hybrid mostly focused on new characters, but taking place in the continuity of the original film in order to bring back the old characters everybody loved. Think David Gordon Green's Halloween or Nia DaCosta's Candyman. Stripping back the title while also stripping the series back to basics is all part of the game. And playing games has always been Scream's modus operandi.
In a way, the underrated Scream 4 did this already — fittingly, for a franchise and filmmaker always so ahead of the game, Wes Craven cooked up a legacy sequel in 2011 before they were even a thing. Kudos, then, to incoming directors Matt Bettinelli-Olpin and Tyler Gillett (previously behind the riotously fun Ready Or Not) for not only delivering a film worthy of the late horror great, but for making their Scream more than a rehash of a re-quel of a trilogy of self-referential slashers.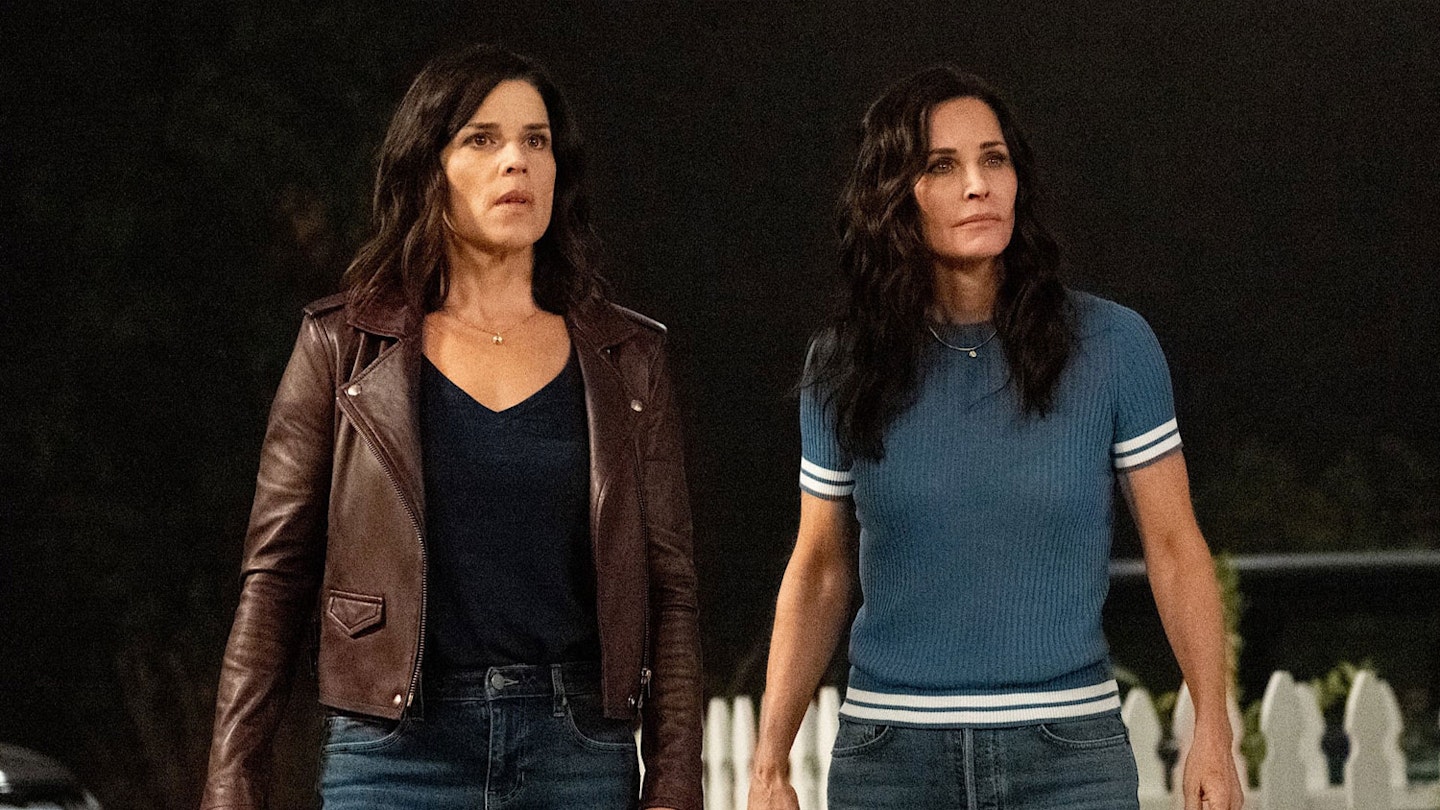 As the re-quel rules dictate, there's a fresh protagonist here: Sam Carpenter (that surname is no accident), played by In The Heights' Melissa Barrera, who proves that she can scream her lungs out as well as she can sing them. When her estranged younger sister Tara (Jenna Ortega) is slashed up by Ghostface in the opening reel – yet another homage to the original's Drew Barrymore sequence, but with the sly wit, playful dialogue and shocking brutality required to successfully pull that off — we spend a significant amount of time with Sam, her supportive boyfriend Richie (The Boys' Jack Quaid, a comedic standout) and Tara's friends (a Gen-Z bunch raised on so-called 'elevated horror' like The Babadook and Hereditary), bedding in with the newbies before the inevitable return of the legacy heroes.
Crucially, after the passing of Wes Craven, the spirit of Scream remains alive.
Even though Neve Campbell, David Arquette and Courteney Cox have returned for every Scream movie, there's still a thrill in seeing them back in action ten years on – and, in true re-quel style, their return brings extra emotional baggage. The old chemistry between Arquette's cop Dewey (the MVP of the oldies here) and Cox's ambitious TV anchor Gale retains that familiar spark, now with a melancholy edge. While that depth is welcome, it comes at the expense of the knockabout fun the pair brought back in the old days — and the film lingers a little long on the serious stuff in its central act before cranking up for its bloody finale. Campbell easily slips back into the shoes of original final girl Sidney — but, as we're frequently reminded, this is not her story. How die-hard fans will react to choices made with the legacy cast remains to be seen — but the film itself is ahead of the game, playing on the propensity for fan outrage that's all the, well, rage these days to laugh-out-loud effect in the third act.
Crucially, after the passing of Wes Craven, the spirit of Scream remains alive. Even though the series has already been referencing and remixing itself for 25 years now, there are still fun new twists to mine — even if some clichés (Did you really just leave that lift? Don't forget your inhaler!) are required to keep things moving. The Ghostface killings remain scalpel-sharp (a slow-mo neck-knifing is particularly gruesome), Nick Cave's 'Red Right Hand' once again adorns the soundtrack, and familiar faces and locations bring a welcome frisson. Much of Scream takes place at a party thrown "to Wes" — a teenage rager, packed with potential victims who'll make ideal fodder for Ghostface's knife. It's just what he would have wanted.