In 1978, John Carpenter took a low-rent concept and turned it into a horror masterpiece. Lean, mean and efficient, Carpenter's Halloween unleashed a force of quiet, unstoppable evil — Michael Myers, remorseless murderer more living nightmare than man. Halloween launched a franchise, and while many of the sequels had their moments, none could ever live up to the ghoulish heights of Carpenter's original.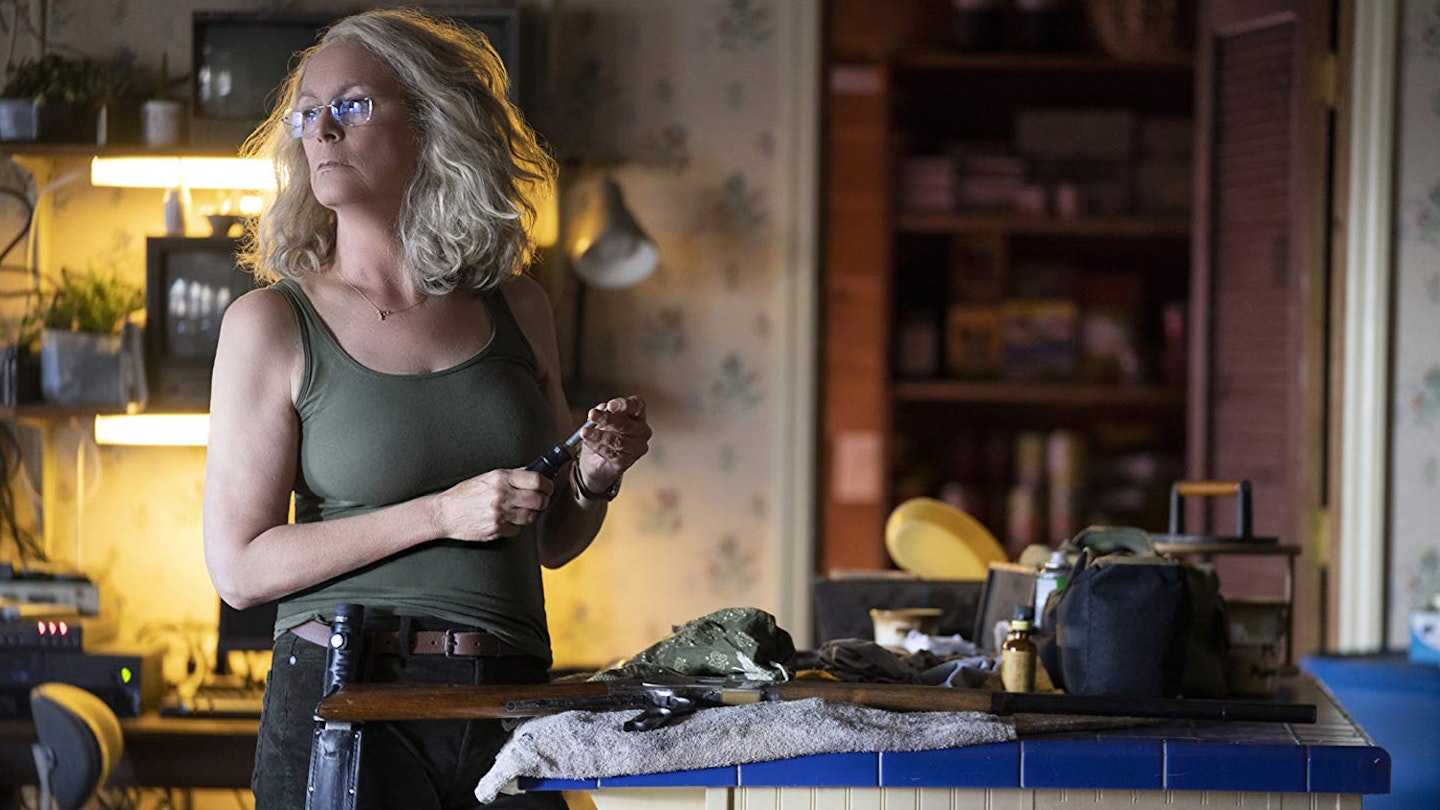 Now, 40 years since the world first met Michael Myers, director David Gordon Green resurrects the character, and attempts to bring some form of closure, and dignity, to the series, while ignoring every single sequel that came before it. The bad news: Green's Halloween never comes even slightly close to capturing the magic of Carpenter's film. Gone is the chilling efficiency and the dread-soaked atmosphere. Green, working from a script he co-wrote with Danny McBride and Jeff Fradley, instead attempts to go for broke, loading his Halloween with enough tricks and treats to satiate hungry horror fans. While the 2018 film has none of the stripped-down brilliance of the 1978 Halloween, it succeeds at giving Jamie Lee Curtis' Laurie Strode her due while making Michael Myers scary again.
This is Curtis' film through and through, and the actress easily slips back into one of her most iconic roles. The Laurie in the original Halloween was a terrified teenager, ill-prepared to confront such immitigable evil. The Laurie here is a survivor — and a fighter. She's spent the last 40 years certain that Michael Myers would come back to finish her off and, as a result, devoted her life to becoming the ultimate badass. With a house rigged up with booby-traps and an arsenal that would make The Punisher blush, Laurie is determined not to be a victim again. Curtis excels at handling Laurie's tough but somewhat damaged state. She can take care of herself, and then some, but she still bears the scars — emotional and physical — of that long-ago Halloween night.
There's enough raw power here to hold viewers rapt.
Unfortunately, her survival instincts have cost her dearly. She's burned through several marriages and alienated her daughter (Judy Greer). The only member of Laurie's family sympathetic to her is granddaughter, Allyson (Andi Matichak). To everyone else, Laurie is a kook.
Of course, Laurie is about to have the last bitter laugh — because, sure enough, Michael Myers (Nick Castle) breaks out of an insane asylum and cuts a bloody path back to Haddonfield. Here is where Halloween is most successful. The franchise as a whole slowly turned Michael Myers into a generic, predictable slasher — someone merely on hand to quickly dispatch horny teens, and little else. This Halloween effectively reminds us of how uniquely terrifying he can be: an absolute monster, a walking battering ram smashing his way through everyone and everything in his sight. He has no sympathy, no empathy, no humanity. He is an unstoppable killing machine, and it's unnerving and terrifying to watch.
The Laurie and Michael segments of Halloween are worth celebrating. Unfortunately, nearly everything else around them is not. A tacked-on storyline involving Allyson and her high school friends is rushed and clumsy, and merely there to give Michael more victims to decimate. And a plotline involving Michael's new doctor (Haluk Bilginer) borders on laughable.
Thankfully, Green stages a breathtaking, exciting and invigorating conclusion. Making great use of shadows, and relying heavily on subverting expectations, the long-awaited showdown between Michael and Laurie is worth the wait. Green cleverly finds ways to reference shots from Carpenter's original — only with the roles reversed, bringing things full circle. Laurie Strode is no longer the prey. The hunted is now the hunter.
Audiences longing for a Halloween to rival the original are going to be sorely disappointed, but there's enough raw power here to hold viewers rapt. Perhaps realising emulating Carpenter's would be a fool's errand, Green instead opts for cheaper thrills. Still, after 40 years and some questionable sequels, it's a blast to see Michael Myers back home where he belongs.