Episodes viewed: 3 of 10
"Fuckin' diabolical." As character catchphrases go, Billy Butcher's (Karl Urban) couldn't be more on the money. Barely an episode of The Boys' first season went by without at least one totally outrageous, potentially triggering, "what the actual?" moment. An invisible man being exploded by a grenade up 
his jacksie, for example. Or a sex-crazed dolphin getting jettisoned through a car's windscreen, then run over by a lorry. Or the moment Superman/Captain America hybrid Homelander (Antony Starr) revealed his true nature by destroying a plane containing a political foe… and that foe's young, Homelander-fan son.
So the big question going into Season 2 is, can The Boys keep its edge keen and sustain the show's previous levels of fuckin' diabolicality?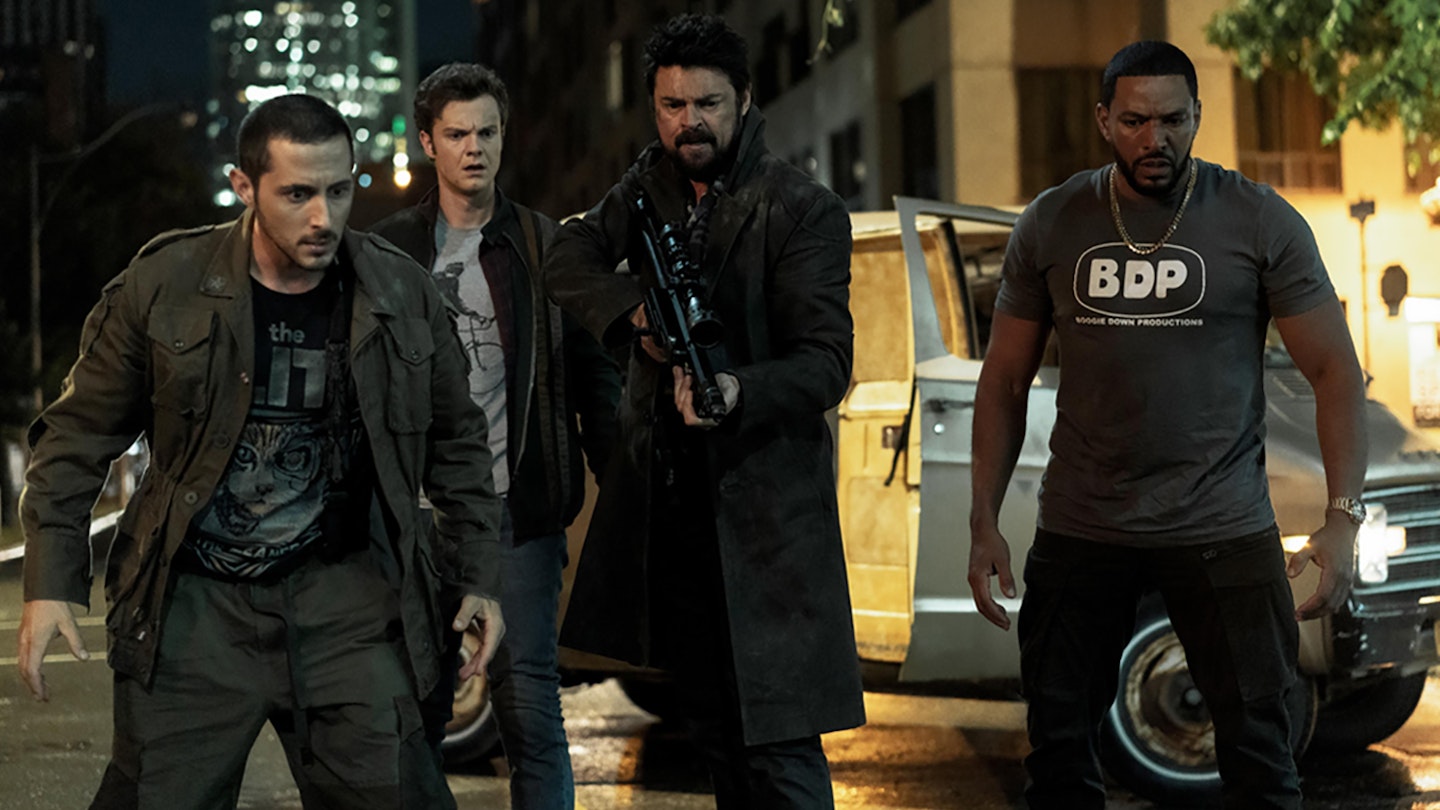 The answer is, hell yes. Showrunner Eric Kripke doesn't hang about, dropping us straight in there with a sequence that flips between silent, permanently masked superhero Black Noir (Nathan Mitchell) on a mission to assassinate a 'super-terrorist' in Syria, and Vought boss Stan Edgar (Giancarlo Esposito) negotiating an acceptable Supe-caused collateral 'casualty allowance' with the US Defense Department (34 per cent, it turns out). After the boardroom satire and extreme stealth-violence are over, we're 'treated' to a conclusion involving a small child, a fluffy bunny and the decapitated head of the kid's father.
Elsewhere, the Season 1 dolphin moment gets levelled up with something even worse happening to another beloved sea creature (which feels like fan service, but is hard to fault for glorious awfulness); we see a limb-regenerating Supe selling their services as an extreme S&M hooker; and there's plenty more atrocity courtesy of Starr's spoiled-brattish psychopath Homelander.
Antony Starr remains the, er, star of the show, the very embodiment of its black-hole-dark comedy concept.
Appropriately enough, Starr remains the, er, star of the show, the very embodiment of its black-hole-dark comedy concept: with great power comes a complete disregard for any form of responsibility, accountability or morality. He is to superheroism what Donald Trump is to the American Presidency — a narcissistic, rattle-hurling man-baby with terrifying authority. He is, thankfully, far more articulate and entertaining than his real-life executive-branch counterpart, and Kripke evolves the character through his creepy-funny attempts to bond with his son Ryan ("Sometimes it's hard being superior to every single other person on the planet," he shares during one bedtime chat), and a rival in the form of new Seven recruit Stormfront — a social-media-savvy, take-no-shit cape-wearer played with citric wit by You're The Worst's Aya Cash.
There is also some delicious friction in Starr's scenes with Esposito. One involves the mother of all staring competitions, between two actors who have mastered the glassy, dead-eyed glare. Never has a long silence felt more frosty, to an Antarctically deadly degree. The actors are perfectly matched, and while Esposito is basically re-channelling Breaking Bad's Gus Fring, his presence sure helps compensate for the absence of Season 1 company boss-person Elisabeth Shue.
As for the ragtag anti-Supe gang which gives the show its name, supporting members Frenchie (Tomer Capon) and Mother's Milk (Laz Alonso) remain overlookably sketchy, although the mute Kimiko (Karen Fukuhara) is given a promising subplot. Once again, it's left to the tension between good-kid Hughie (Jack Quaid) and the coarse Billy to keep us engaged, as they yin and yang it out over how you do the right thing. There is also more to explore in Hughie's strained romance with Starlight (Erin Moriarty), even though they're necessarily separated into their opposing camps, with Starlight putting up a good front as a loyal Seven 'family' member, and Hughie trying to keep a grip on his humanity, even though it's become slippery with the blood of others.
Their presence, and their relationship, is crucial to the show. It's what stops The Boys from skidding into all-out offensiveness. Both Moriarty and Quaid are effortlessly likeable, and their characters behave how you'd hope to in their situations. Also, you genuinely want everything to work out for them. Not only for them to prevail over institutional corruption and self-serving corporations, but also get together and maybe have kids who'll make the world a better place. You need a glimmer of hope amid all the shock laughs and horrific action. Though, of course, it is impossible to discount the threat of something fuckin' diabolical happening to them.