It's always an exciting time in cinema when a new David Fincher movie is on the horizon. The modern master of suspense, Fincher's filmography ranges from chilling murder-mysteries such as Seven and Zodiac to the generations-spanning romance of The Curious Tale Of Benjamin Button, neo-noir The Girl With The Dragon Tattoo and true-life tale The Social Network. Now, he's about to unleash bold new thriller The Killer, a new kind of hitman movie starring Michael Fassbender (in his first role since 2019's X-Men: Dark Phoenix) as a meticulous professional assassin whose life spirals out of control when a job goes wrong.
The new issue of Empire features the most in-depth look at the movie you'll find anywhere on Earth – including an access-all-areas on-set report from three locations across the globe, following Fincher and his crew and witnessing his precise, pulse-pounding filmmaking in action. We have brand-new interviews with Fincher and Fassbender from on set about what makes their mysterious eponymous killer tick, how they're putting the audience inside his head, their process of working together, pulling off incredible stunt sequences and much, much more. And in a rare, revealing additional retrospective interview, Fincher looks back at some of the most stand-out shots from across his entire career – from Ben Affleck's cringeworthy smile in Gone Girl, to Panic Room's swooping long-take, and more – sharing the fascinating stories of how they came to be.
The newsstand cover for our David Fincher special is a moody, rain-splattered compilation of some of his most iconic characters – Morgan Freeman's Detective Somerset from Seven, Brad Pitt's Tyler Durden from Fight Club, Rooney Mara's Lisbeth Salander from The Girl With The Dragon Tattoo, the Zodiac killer, Rosamund Pike's Amy Dunne from Gone Girl, and Michael Fassbender's new hitman protagonist – illustrated exclusively for Empire by Paul Shipper.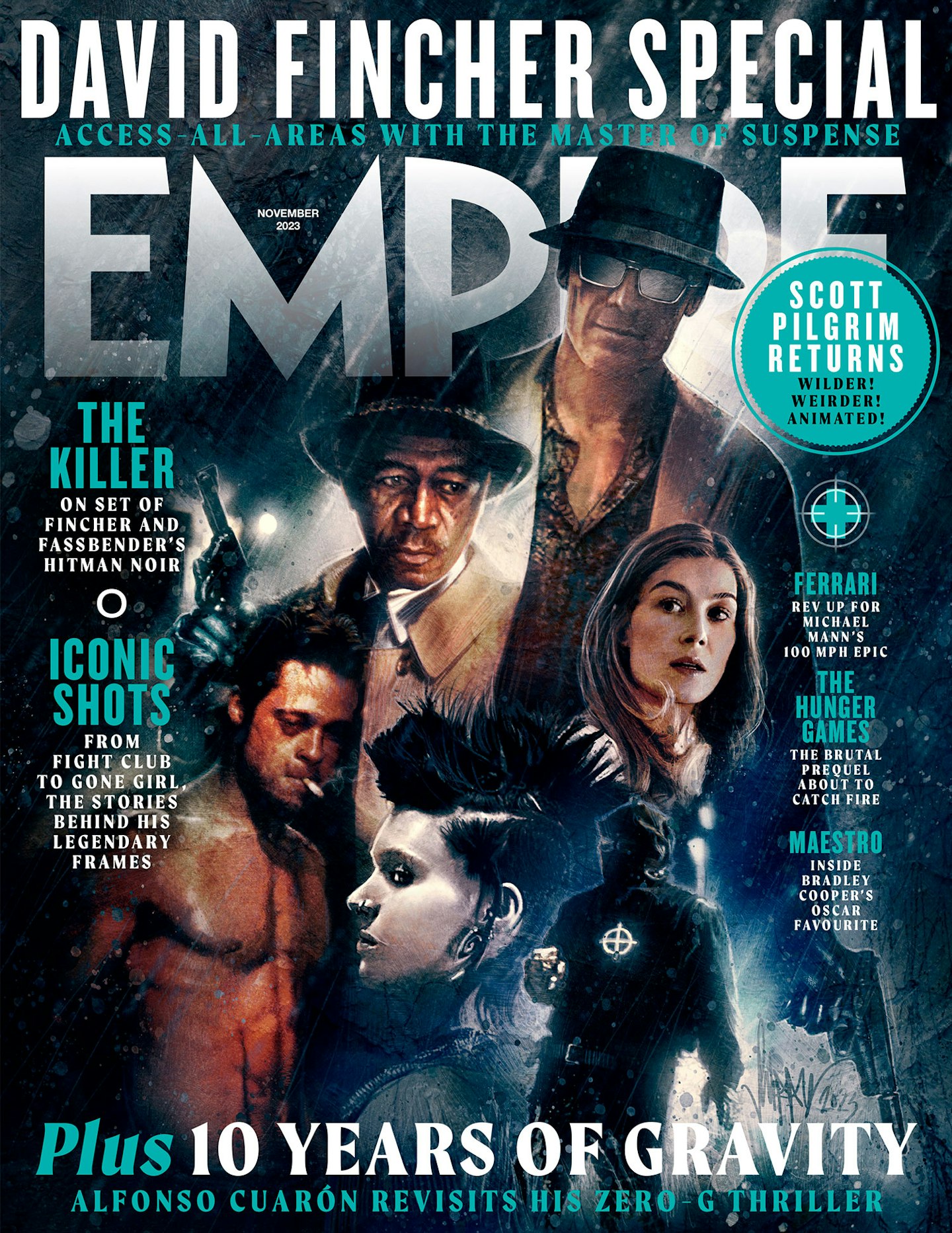 This month's subscriber cover is a noir-ish vision of Michael Fassbender's titular assassin from The Killer, stalking cobbled streets for his next target, decked out in tourist get-up so as to go unnoticed – illustrated exclusively for Empire by Corey Brickley.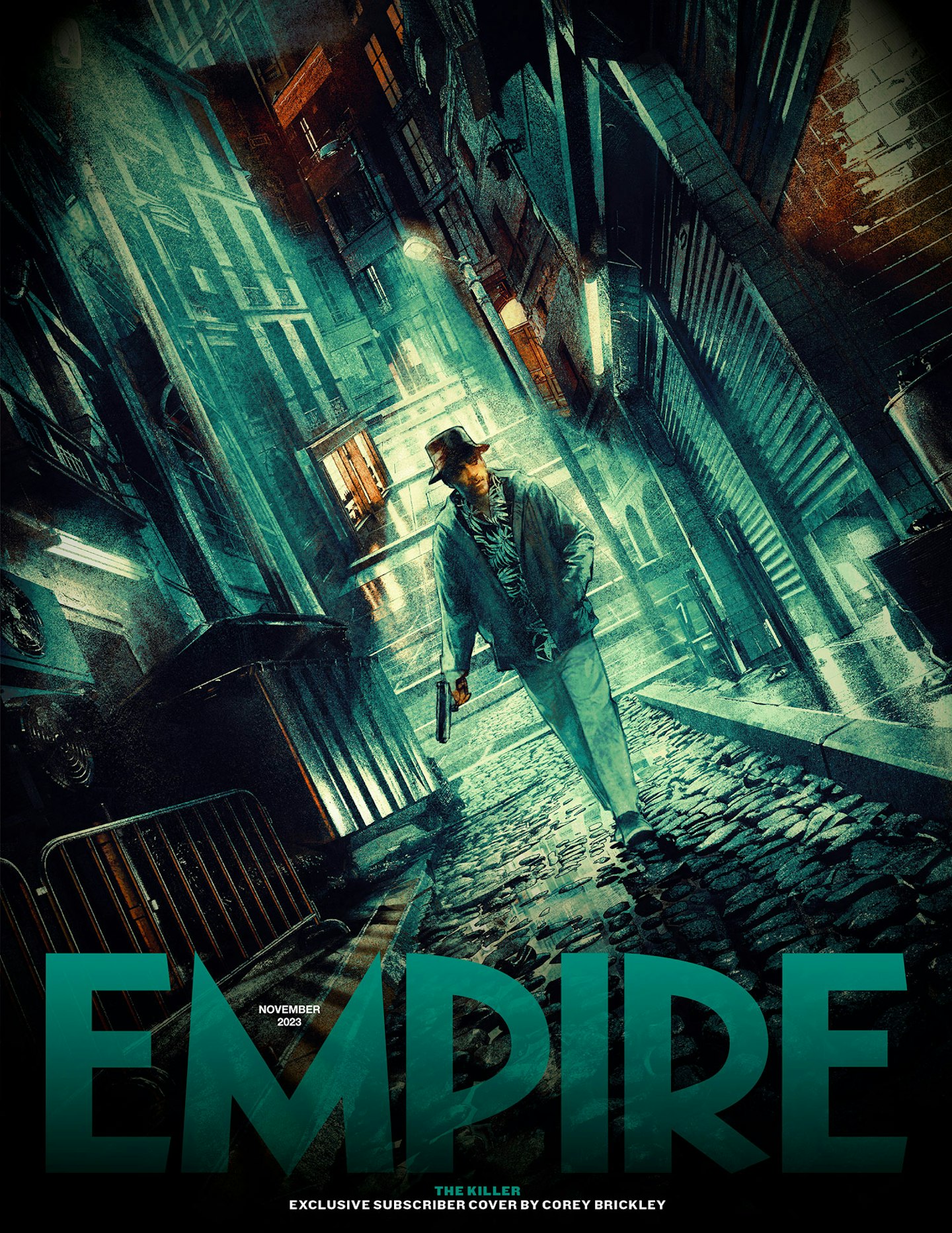 Fincher-focused delights aside, the stacked new issue also contains a deep-dive into the new Hunger Games prequel, The Ballad Of Songbirds & Snakes; a celebration of Gravity's 10th anniversary with Alfonso Cuarón; a set report from Aardman's stop-motion sequel Chicken Run: Dawn Of The Nugget; we dig into the much-anticipated British indie How To Have Sex; there are fresh looks at anime series Scott Pilgrim Takes Off, Bradley Cooper's musical biopic Maestro, Michael Mann's racing drama Ferrari; and much, much more.
Trust us – this issue is all Killer, no filler. Empire's David Fincher celebration issue, saluting the work of one of Hollywood's biggest names, hits newsstands from Thursday 28 September. Pre-order a copy online here, or become an Empire member to access the digital edition on launch day. The Killer is in cinemas from 27 October and streaming on Netflix from 10 November.