We are Empire, and we're here to show you cool things and make you feel excited and stuff! 1, 2, 3, 4! And boy, do we have cool things to show you right now – cooler than a snowy Toronto winter, specifically. Earlier this year, it was announced that Netflix is working on a Scott Pilgrim anime series, with Edgar Wright on board as a producer, and original comic creator Bryan Lee O'Malley heavily involved as a writer and producer too. Not only that, but basically the entire cast of Wright's 2010 movie is also returning – including Michael Cera as Scott Pilgrim, Mary Elizabeth Winstead as Ramona Flowers, Chris Evans as Lucas Lee, and a whole bunch more besides. So far, so exciting – but other than that, details on what the show will actually be have been scarce.
Until now. The first teaser trailer has dropped, and it reveals the show to be titled Scott Pilgrim Takes Off. That's a new title from both the movie (Scott Pilgrim Vs The World) and the graphic novel series, indicating that we might be heading into new territory here – though the trailer mostly shows off delightful familiar images, with art that leans heavily into O'Malley's signature Scott Pilgrim style.
There's so much to be excited about here. The trailer kicks off with a performance from Scott's band Sex Bob-Omb, with Kim Pine (Alison Pill) on drums and Stephen Stills (Mark Webber) on guitar, and Scott's high school girlfriend Knives Chau (Ellen Wong) is enraptured as ever. We see Scott and Ramona's date on a snowy Toronto swing set, Gideon 'G-Man' Graves (Jason Schwartzman) overseeing everything from his evil lair, and first Evil Ex Matthew Patel (Satya Bhabha) crashing in (literally) to fight Scott. Plus, Envy Adams (Brie Larson) and Todd Ingram (Brandon Routh) are on stage as The Clash At Demonhead, Julie Powers (Aubrey Plaza) returns too, and Lucas Lee is still skating up a storm.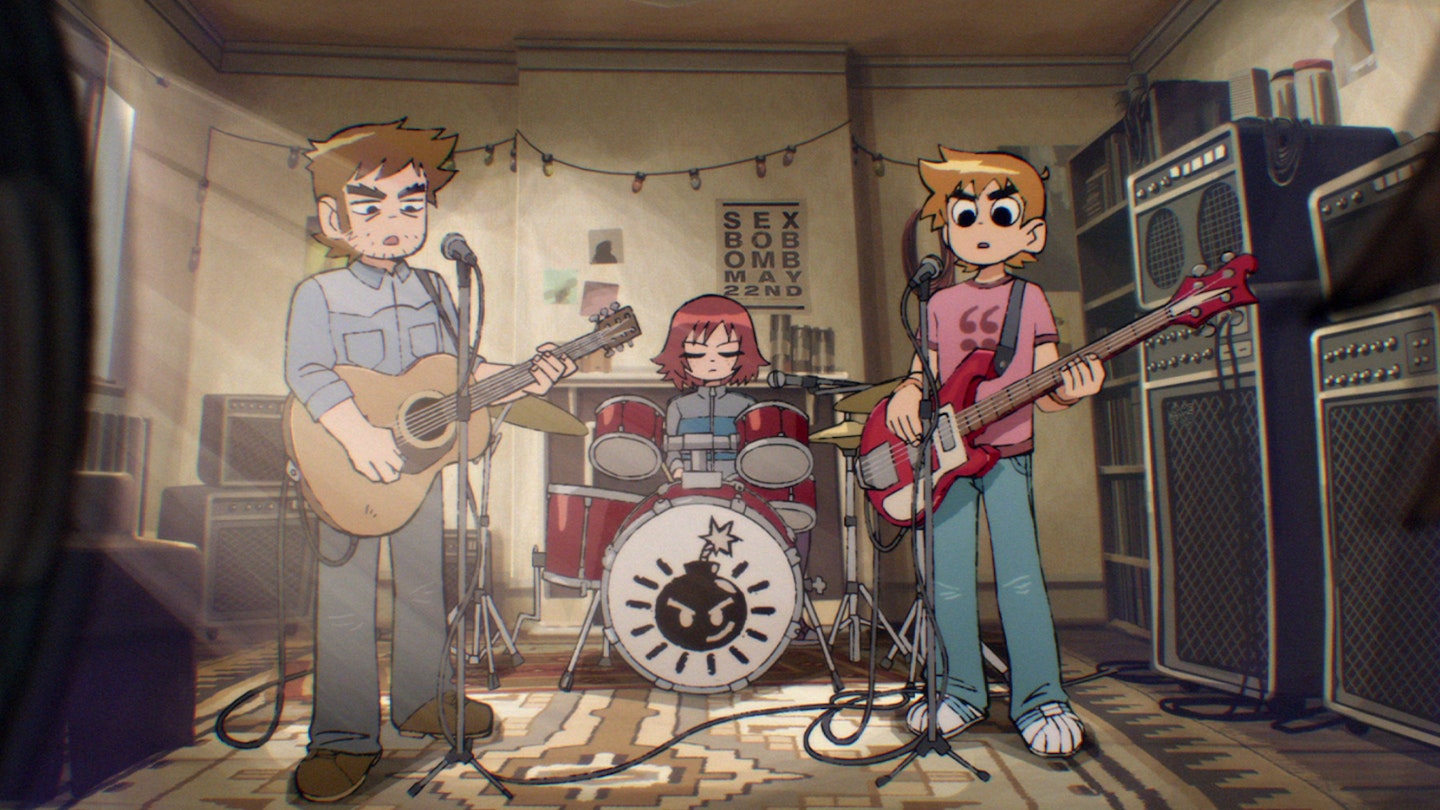 So far, so familiar. From what we see here, the show is set in the same timeline as the books and film, rather than presenting a sequel to Scott's story. But there are new locations and scenarios glimpsed here too, indicating possible surprises for long-term fans of the source material. Frankly, it looks as vibrant and energetic and, well, Scott Pilgrim-y as you'd hope for from an animated series powered by O'Malley, Wright, and the minds at anime studio Science SARU.
Scott Pilgrim Takes Off will be coming to Netflix on 17 November – so it'll be a few months until we have answers. Any chance we can skate through Wright and O'Malley's subspace highways to get a sneak peek before then?