It's a big old universe out there, and the new issue of Empire is boldly going to explore a hitherto unknown corner of it. In another parsec-sized world-exclusive, we're on set and behind the scenes of Zack Snyder's upcoming space opera Rebel Moon – speaking to the director himself, partner and producer Deborah Snyder, and his starry cast about bring a brand new galaxy to life.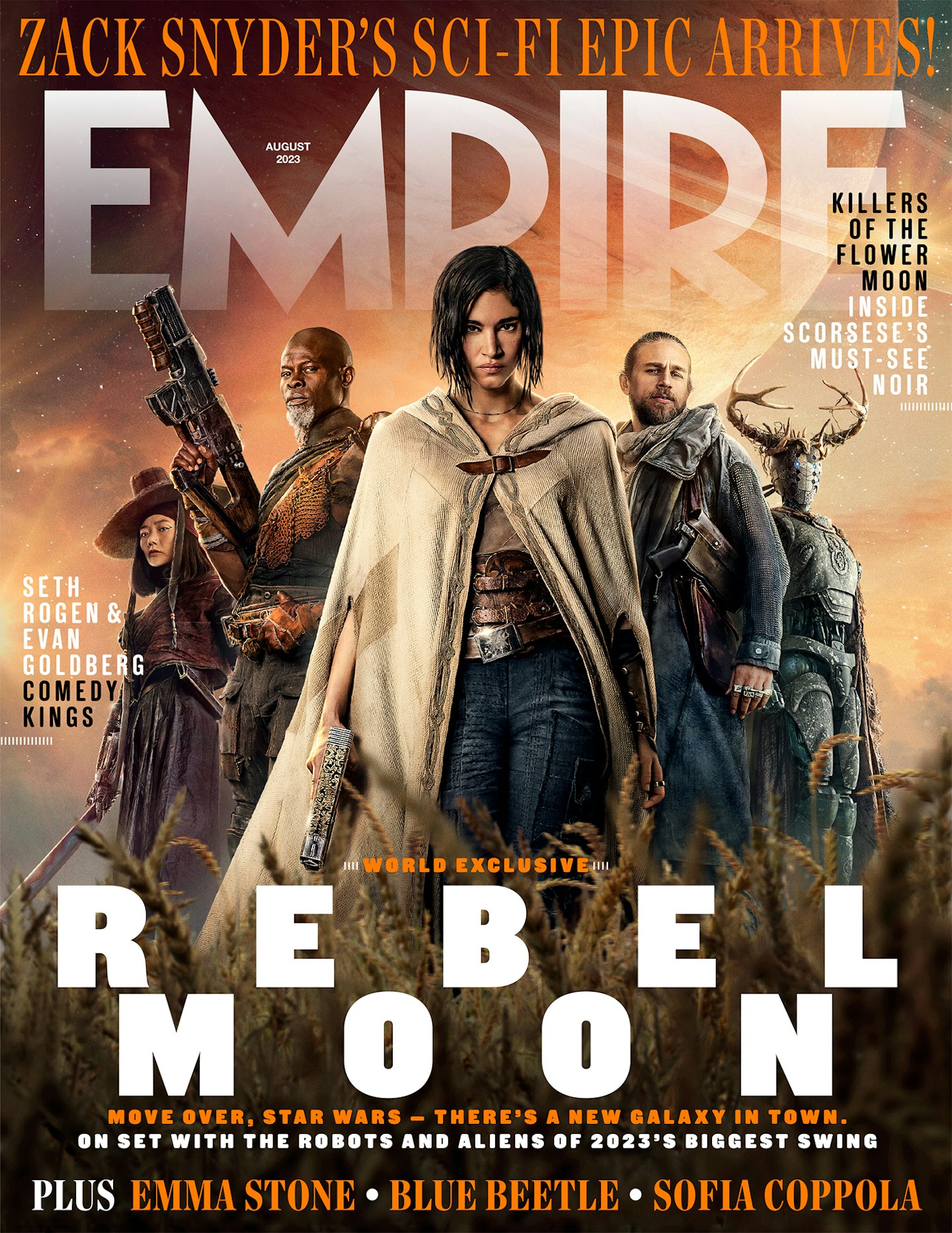 Then again, journeys don't have to take you across the stars to be big – as the gleefully, joyously filthy Joy Ride makes clear. This month's issue sees Empire hanging out with its stars and creators – plus, we head to Seth Rogen and Evan Goldberg's LA HQ to look back at a career spent connecting us all with our inner gawky teen, and ahead to their new Jackie Chan-assisted Teenage Mutant Ninja Turtles movie. And, we try to catch up with Neill Blomkamp as he burns rubber on Gran Turismo, meet a brand new DC superhero, reminisce with Sofia Coppola and try to work out why cult 80s whodunnit Clue died at the box office.
Find the issue on newsstands from tomorrow – or take a closer look at what awaits inside below…
Become an Empire member here to read the digital issue in full on launch day, or order a print copy online here.
Rebel Moon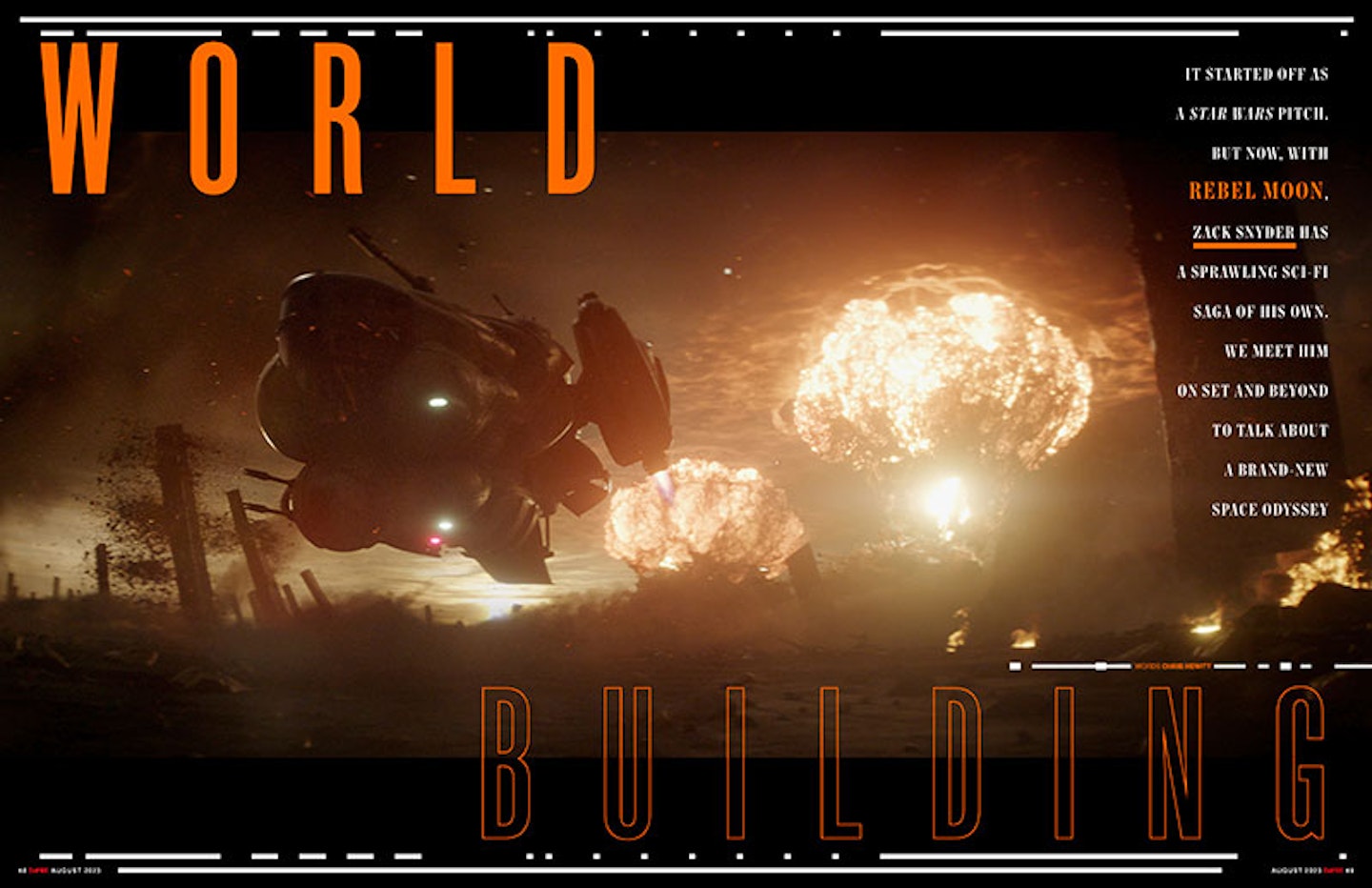 New, original, fresh sci-fi epics come around about as often as Halley's Comet. A new original, fresh sci-fi epic from Zack Snyder pitched as "Seven Samurai in space"? We're living in a very fortunate corner of the universe. We met up with Snyder in his Pasadena office to get the whole story on Rebel Moon, from failed Star Wars pitch to big screen. We've got a Hubble Space Telescope's worth of exclusive images, plus intel from Deborah Snyder and the cast, including Sofia Boutella, Charlie Hunnam, Djimon Hounsou, Ray Fisher, Ed Skrein and E. Duffy.
Blue Beetle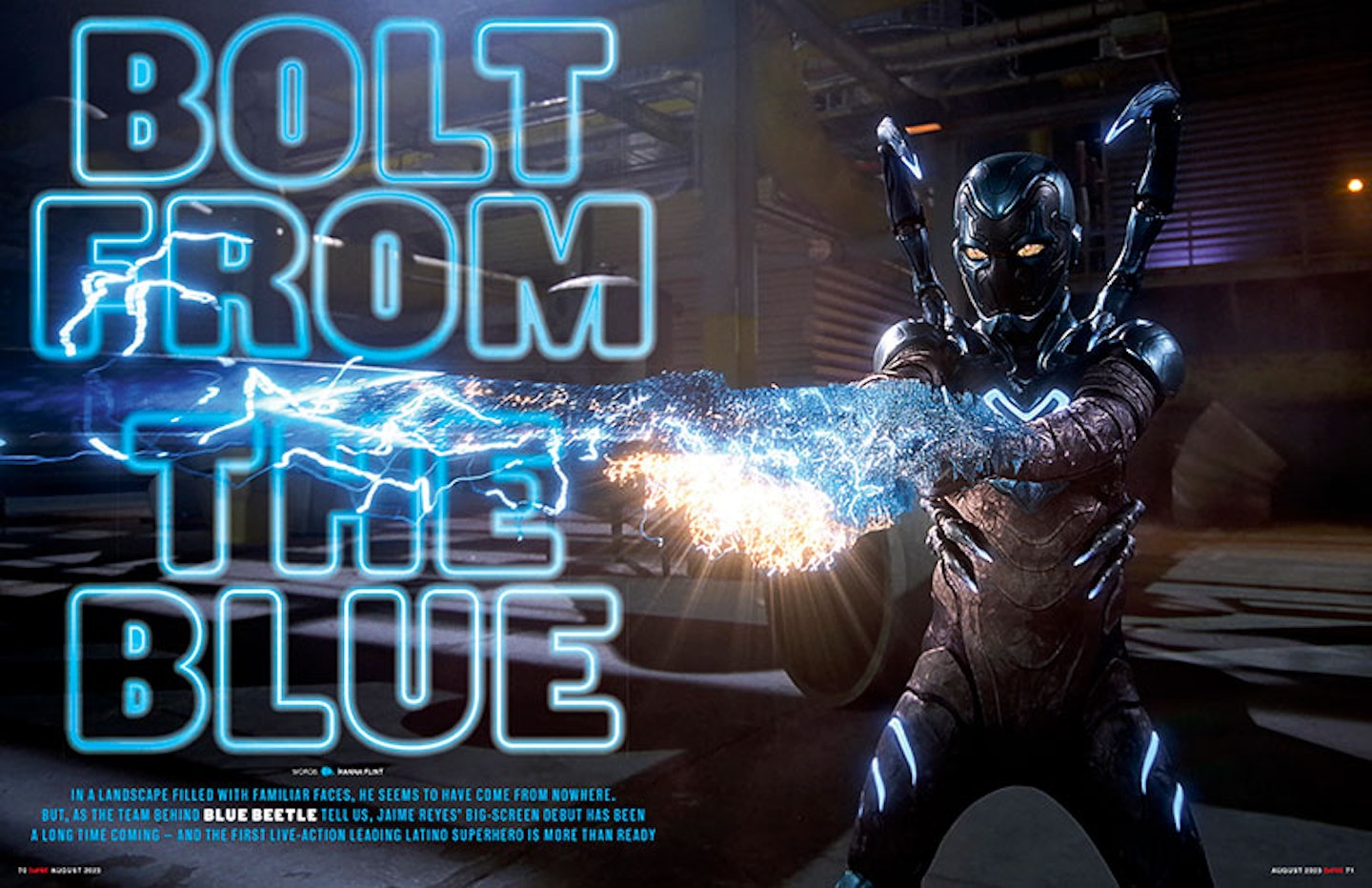 You might think you've met all the superheroes you're ever likely to need – but Blue Beetle is ready to stand up and be counted. This new DC movie follows Jaime Reyes, a kid who finds himself infected with a piece of alien biotech which turns him into a mixture of Venom, Iron Man and Green Lantern. It's the first time Blue Beetle has ever been on the big screen, and more importantly – as star Xolo Maridueña and director Angel Manuel Soto explain – it brings in some long overdue Latino representation to superhero movies.
Seth Rogen & Evan Goldberg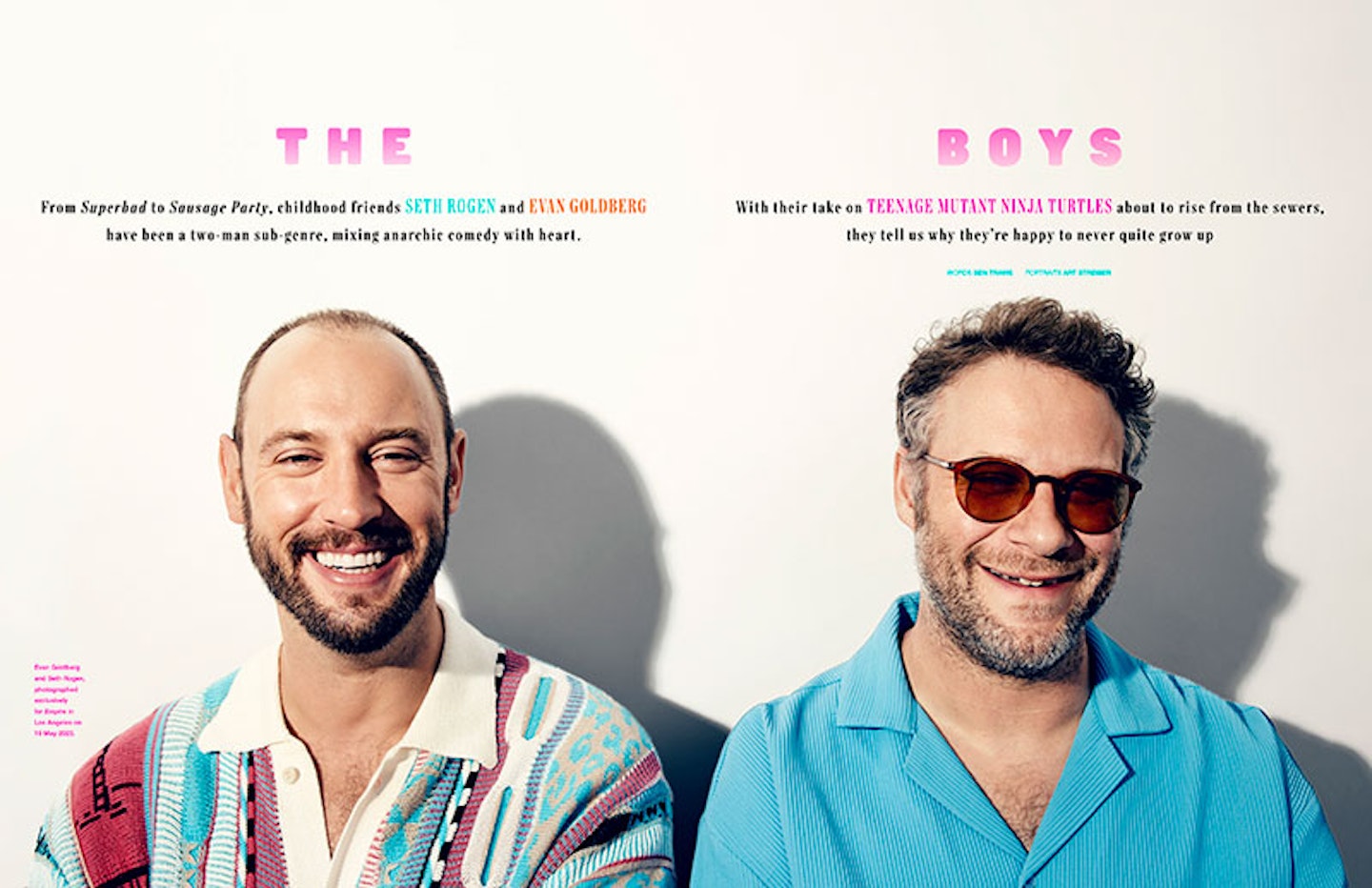 Seth Rogen and Evan Goldberg have been buddies their whole lives, writing Superbad together as teens and going on to put some of the most outrageous, filthy and big-hearted movies of the last 20 years on our screens. We shot them together in their natural habitat – their LA office – and ahead of the Teenage Mutant Ninja Turtles: Mutant Mayhem movie they've written and produced, we got the lowdown on their Turtles fandom, The Boys, their upcoming Sausage Party series and their go-to pizza orders. Portraits shot by Art Streiber.
Gran Turismo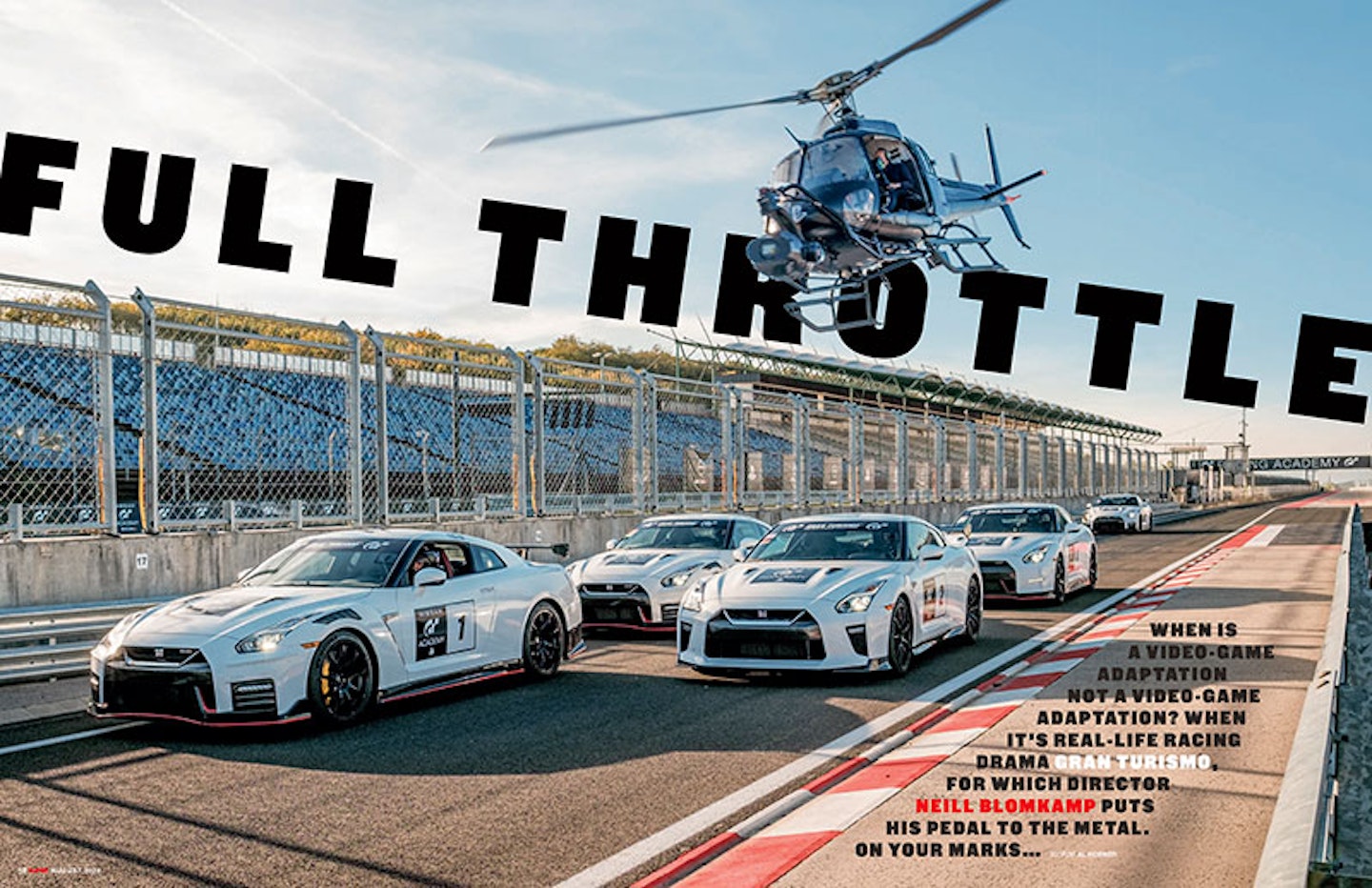 District 9 director Neill Blomkamp J-turns back to Hollywood with a brand new video-game movie that definitely isn't your average video-game movie. Gran Turismo is the true story of Brit youngster Jann Mardenborough, who was so good at playing the car racing game he was signed up to drive for real. We went into the pits to talk to Blomkamp about switching gears from sci-fi to burning rubber, plus ask his cast about this high-speed drama with a difference.
Joy Ride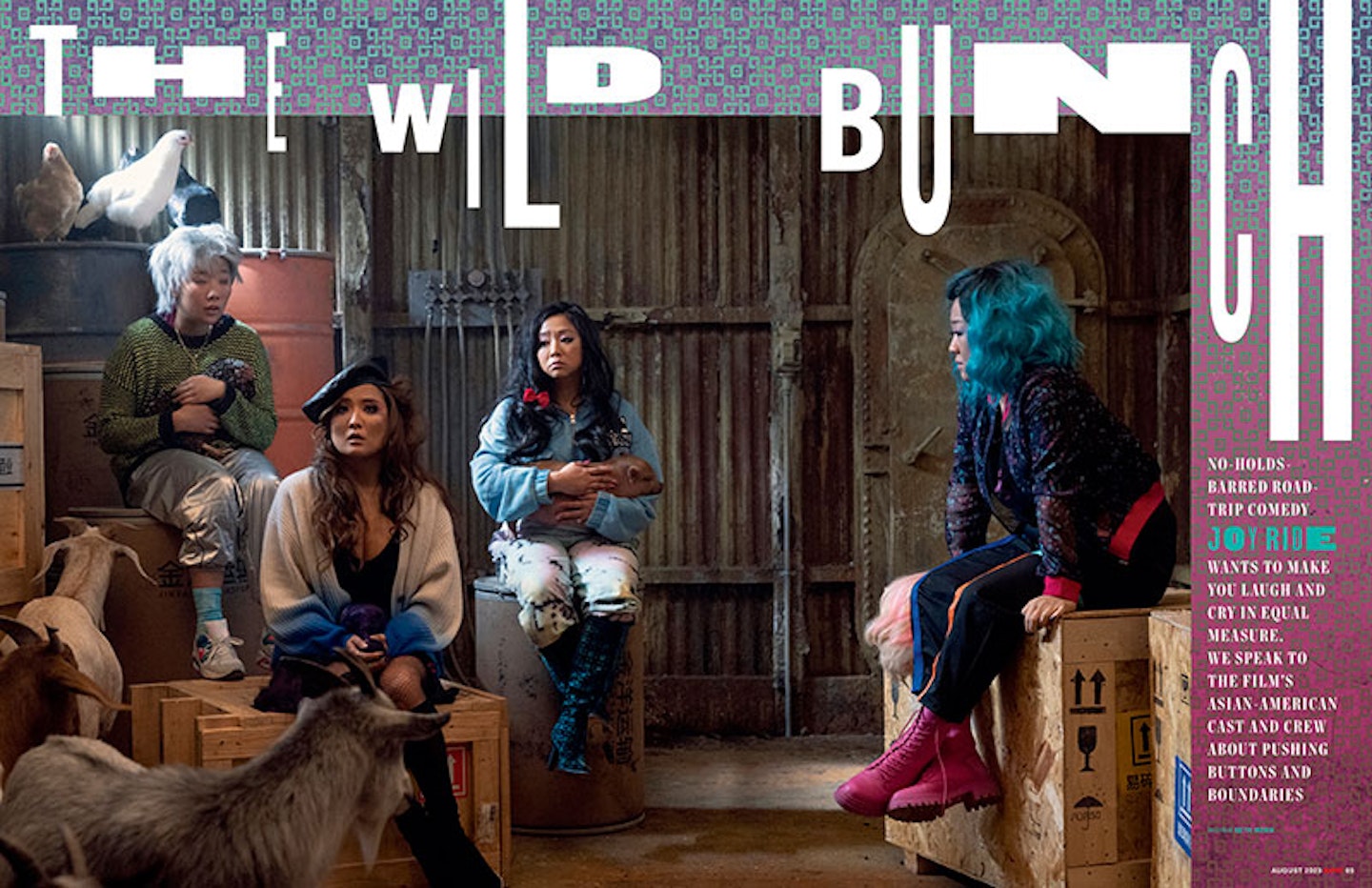 The filthy, funny sex comedy is back this summer, led by a carful of pals flooring it across Asia on an extremely-R-rated road trip. Joy Ride follows four Asian-American friends on a wild journey, and in the new issue, stars Ashley Park, Sherry Cola, Sabrina Wu and Stephanie Hsu, director Adele Lim, and writers Cherry Chevapravatdumrong and Teresa Hsiao gave us every grubby, groundbreaking detail. Features drug freakouts, a rewrite of Megan Thee Stallion's 'WAP' and a deeply saucy montage involving the Chinese basketball team.
The Virgin Suicides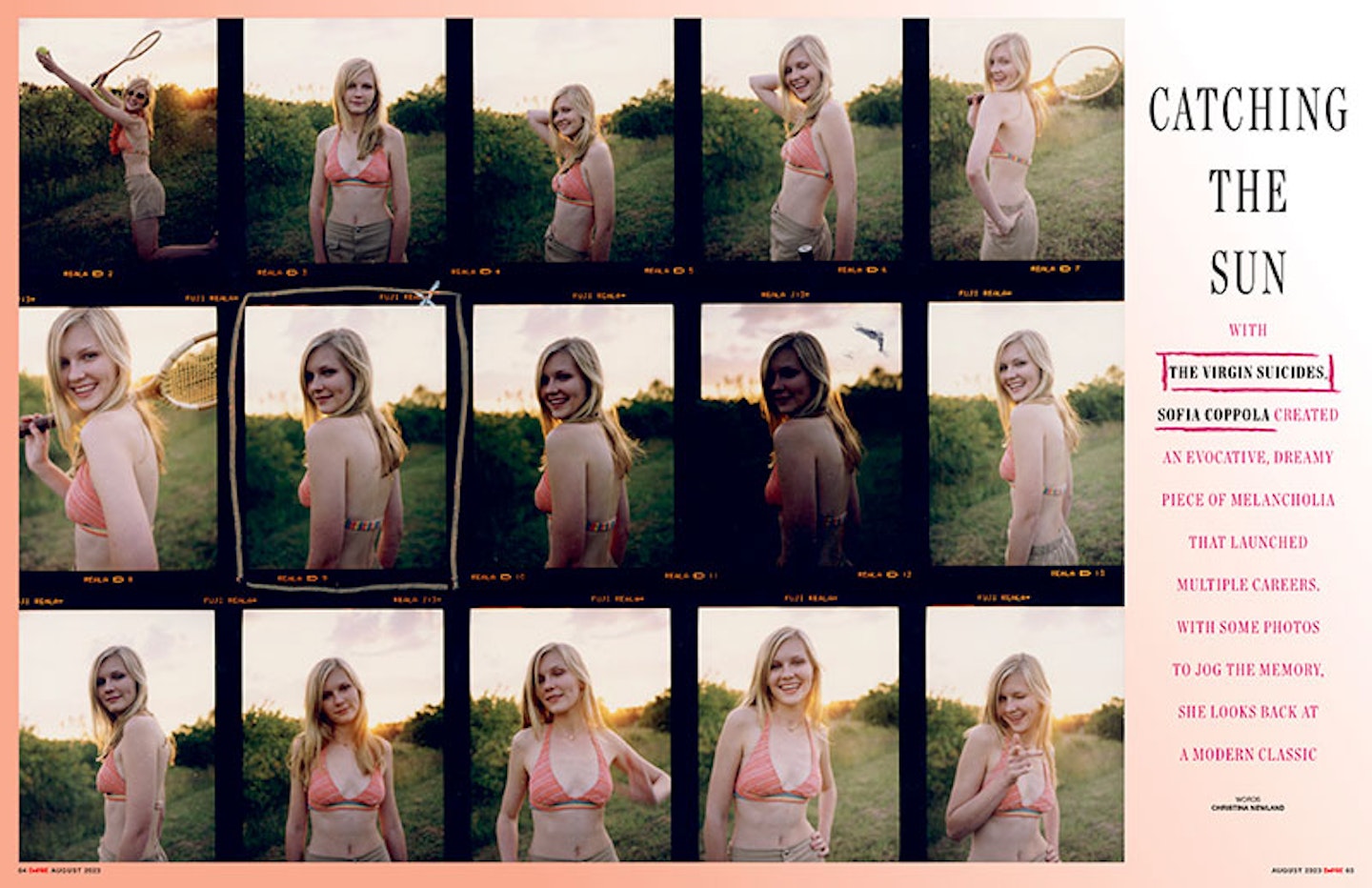 In 1999, The Virgin Suicides introduced the world to two huge talents: 16-year-old Kirsten Dunst, and first-time director Sofia Coppola. Thirty years on from the publication of the novel it was based on, and ahead of the film's 4K re-release and the publication of her first book, Coppola sifts through her own photos from the making of the movie, reminiscing on how it all came together, what it means now, and working with legends like Kathleen Turner and Danny Devito.
Clue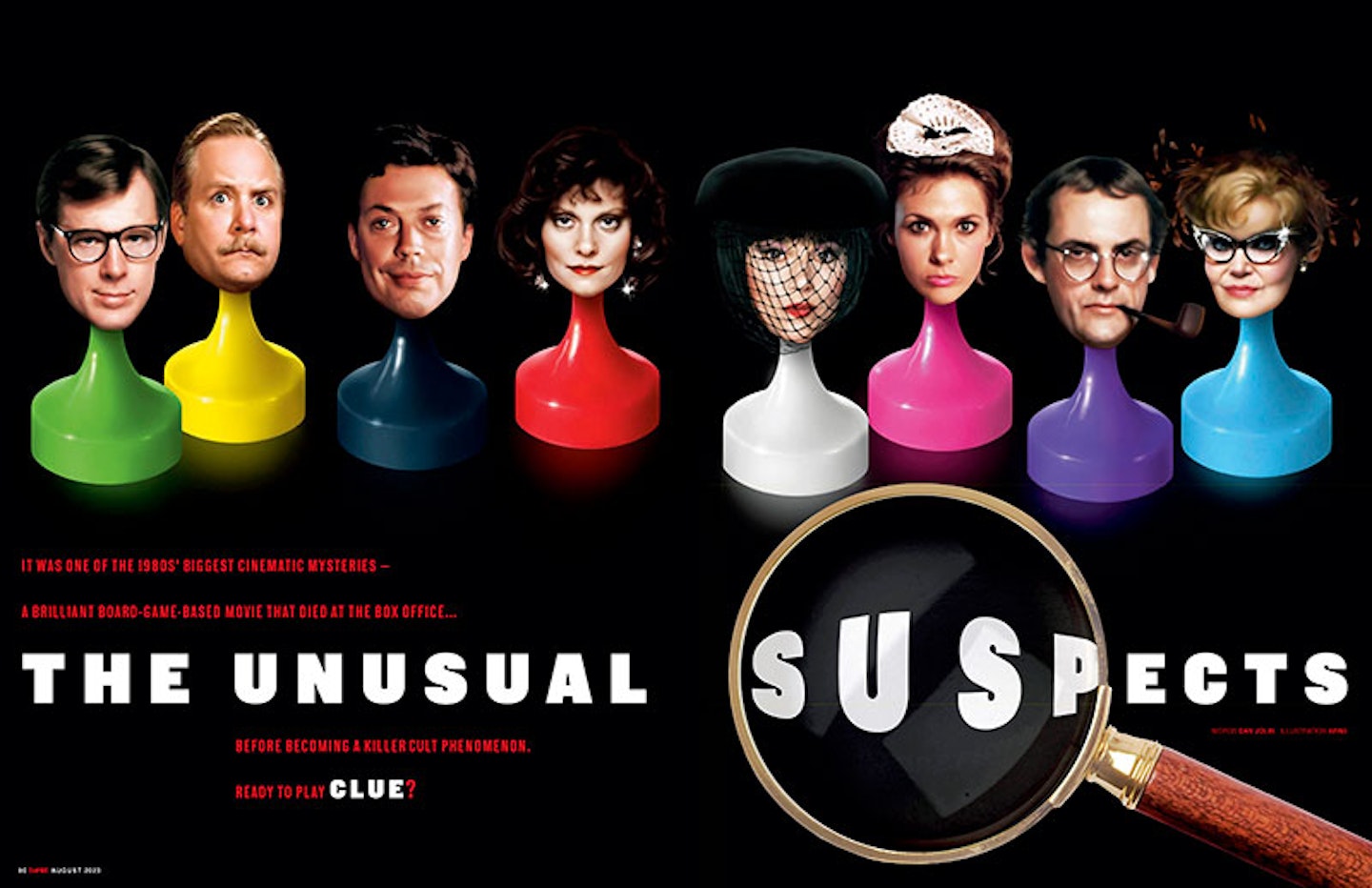 Back in 1985, a huge, starry adaptation of a much loved board game arrived in cinemas – and was announced dead on arrival. Who killed Clue? We piece together the evidence in the truly mad making of a cult murder-mystery thriller which baffled audiences with its triple ending, sent Tim Curry to the nurse's office with high blood pressure, and belatedly became a word-of-mouth midnight movie fave.
Re.View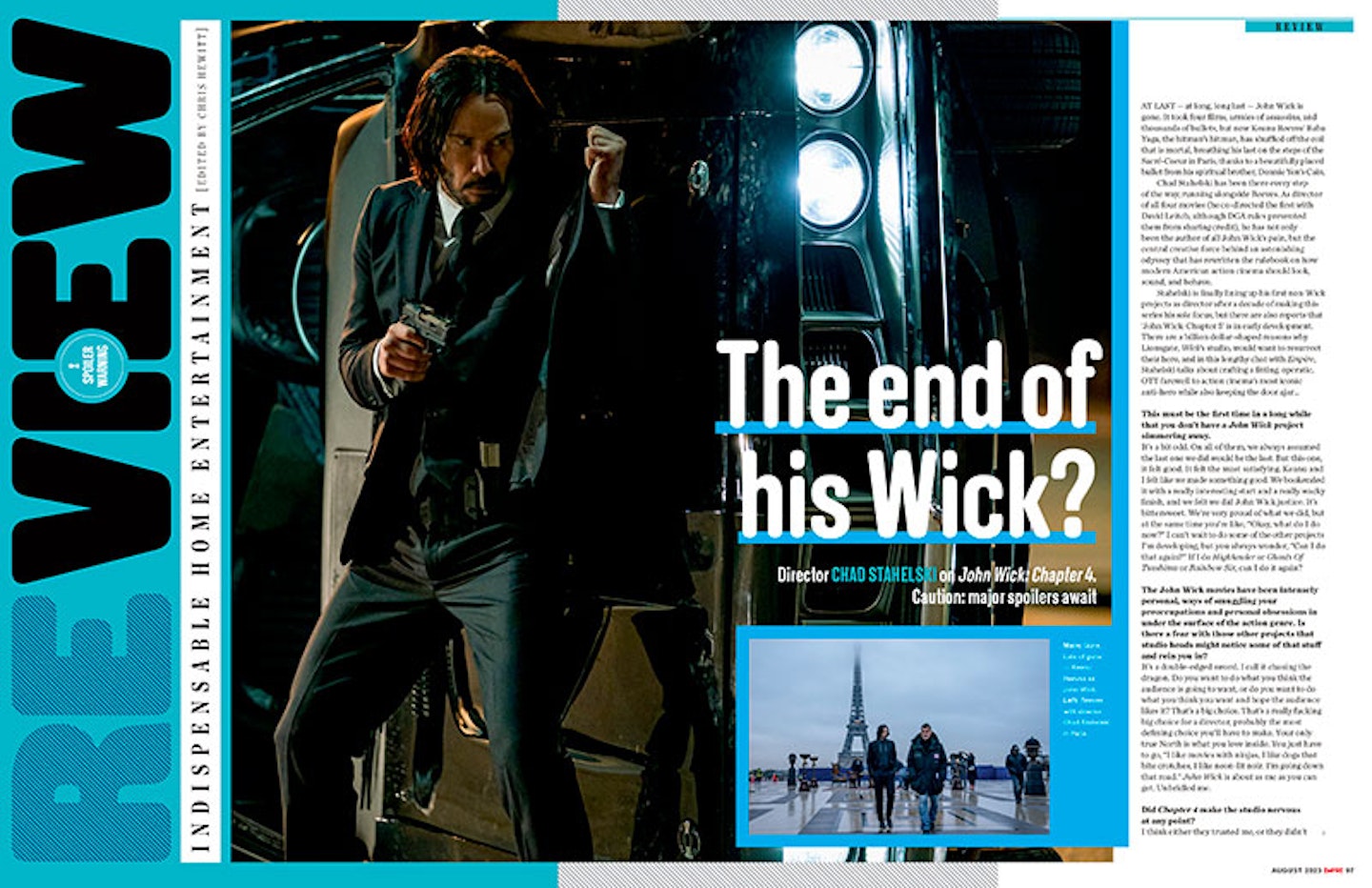 Looking back at movies old and new-ish, it's a pretty beefy month: stuntman Chad Stahelski breaks down the epic battles of John Wick: Chapter 4, while we rank the movies of Sylvester Stallone. Meanwhile Robert Eggers revisits The Lighthouse – mind the mermaids, Robbo – and Stephen Lang looks back over his career right up to Avatar: The Way Of Water.
text
Take 20
Up front in the news section, there's word from Killers Of The Flower Moon star Lily Gladstone on going toe-to-toe with Leo DiCaprio on Martin Scorsese's "great American tragedy" and Robert Eggers gives us an update on his Nosferatu shoot, while Spider-Verse directors Lord and Miller talk us through that Spider Society escape sequence. Elsewhere, Ethan Coen and Tricia Cooke talk about their new film Drive-Away Dolls, Emma Stone and Yorgos Lanthimos spill on their new one Poor Things, and Josh Hartnett is the star of the Pint Of Milk interview.
On Screen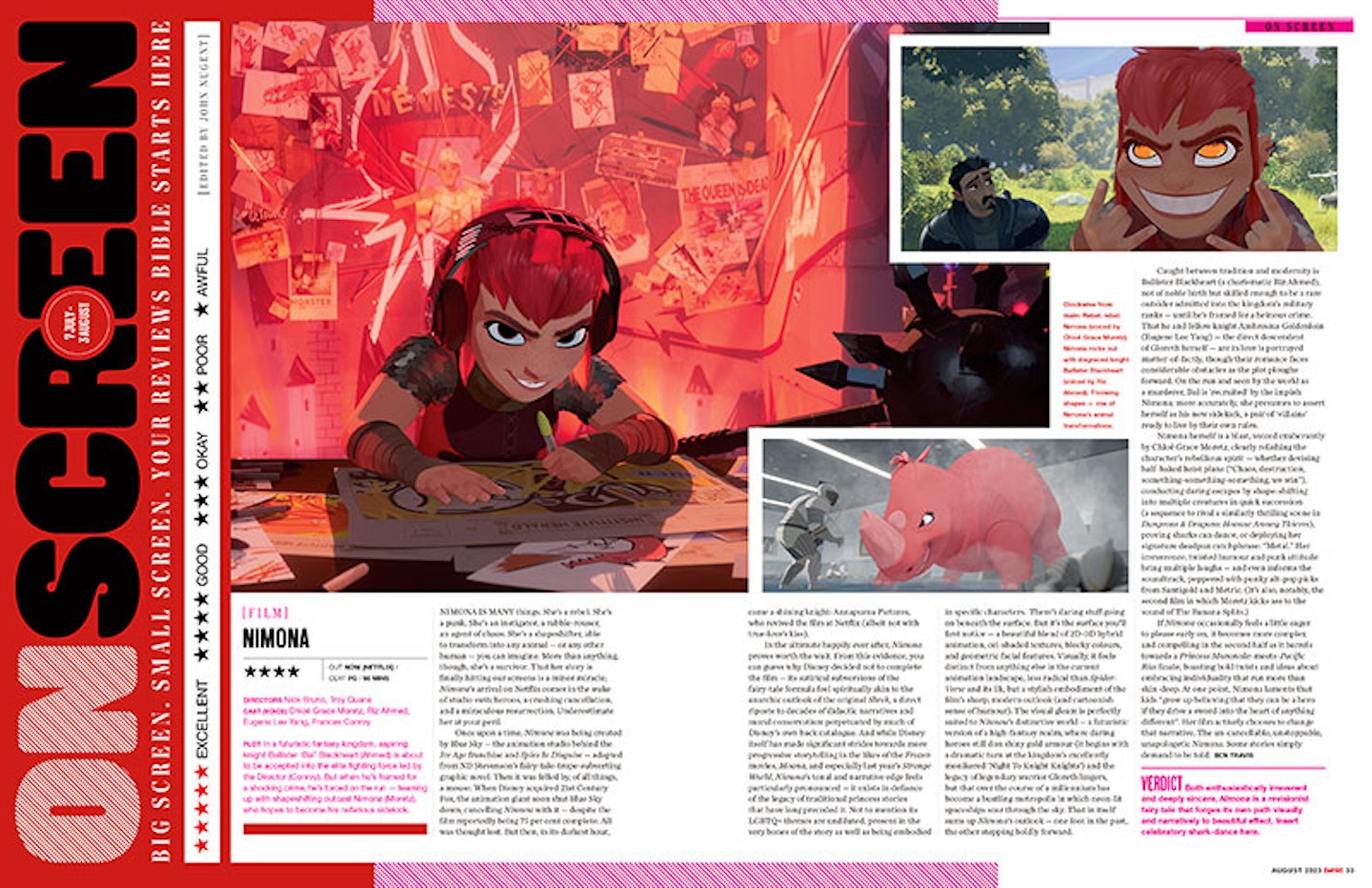 This month's reviews include the Empire view on Jennifer Lawrence's sex comedy No Hard Feelings, freaky possession horror Talk To Me, Pixar's new one Elemental, the DCEU's Batman-assisted farewell The Flash, Chris Hemsworth's Extraction 2 and animation Nimona, which features the vocal talents of Chloë Grace Moretz and Riz Ahmed.