John Wick: Chapter 4 is relentlessly violent. It just does not stop. It bludgeons you like the endless array of assassins bludgeoning its hero. It is so incessantly, expensively savage, it may well be the end of civilisation. Weaponry this time around includes the following: swords, guns (sometimes both together), fists, feet, elbows, nunchucks, knives, dogs, bows and arrows, pickaxes, cars, motorbikes, a pencil. Notoriously, 80-something people were killed in the first instalment. In this one it seems 80-something people are killed in each set-piece. It is insane. This is mania.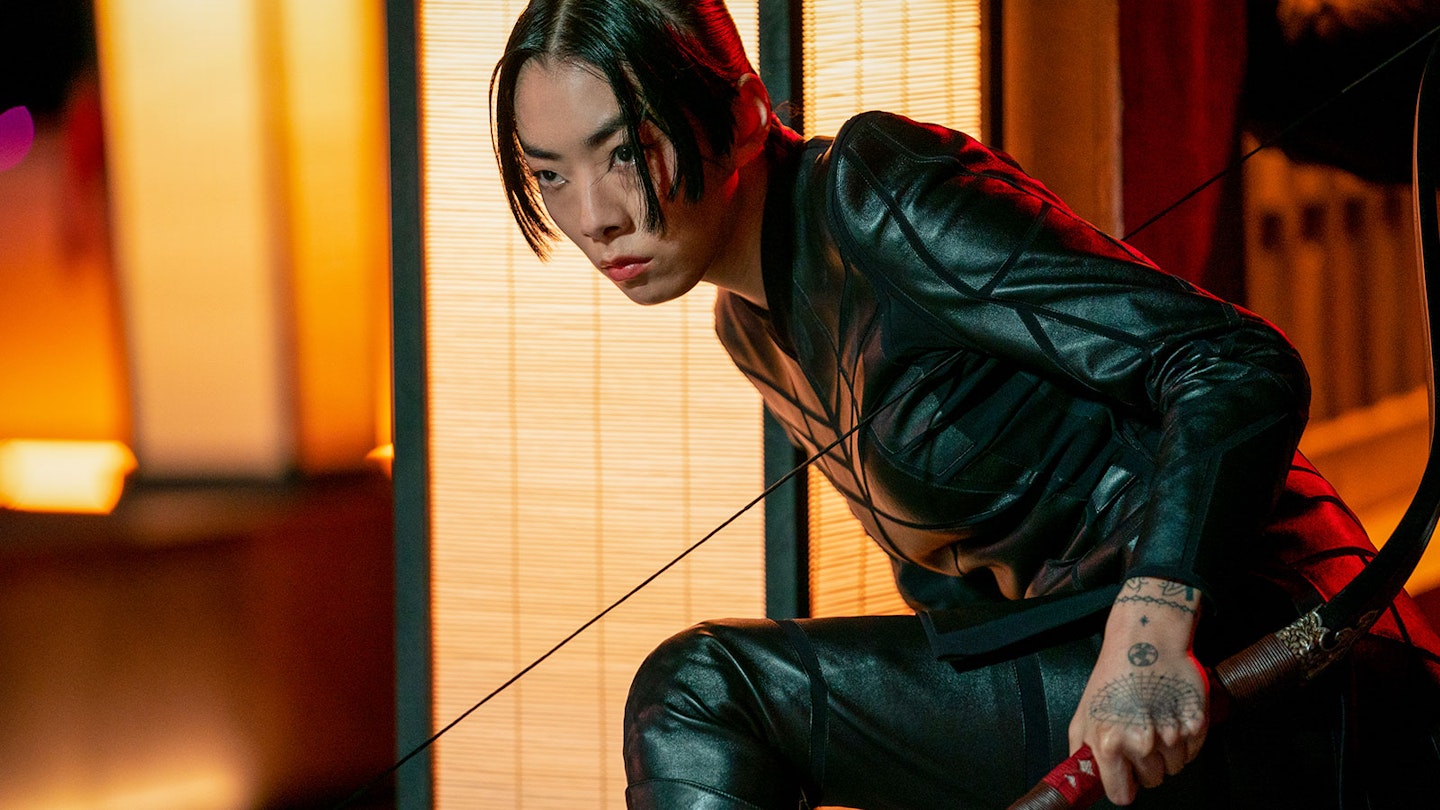 The third film ended with John (Keanu Reeves) left for dead and out for blood. It felt like the franchise had been milked dry, but Reeves and director Chad Stahelski can't help themselves, and here they are again, taking that cliffhanger and running with it, barely stopping for breath. This is the first Wick that doesn't have the involvement of series creator and writer Derek Kolstad, and story takes a back seat. You thought the plots were, well, modest before? Haha. Here, plot is an obligation, existing to string together the fighting. And anything goes. A shootout in the desert, on camels? Sure.
Yes, it's a love letter to action cinema, but so much so that action cinema might want to take out a restraining order.
Chapter 4 is especially episodic, jumping from one country to another, conjuring up different friends and foes each time. There's Donnie Yen, nearly 60 but looking 40 and fighting like 20, his blind hitman Caine a graceful murderer. Reeves' 47 Ronin co-star Hiroyuki Sanada brings samurai chops as Wick ally Shimazu, whose lethal daughter Akira is played by a formidable Rina Sawayama. A very entertaining Scott Adkins, in a fat suit and an accent as German High Table boss Killa – yes, Killa – shows up for a riotous sequence in a packed nightclub where not a single raver pays the blind bit of notice to these two lunatics attempting to kill each other among them. And so on.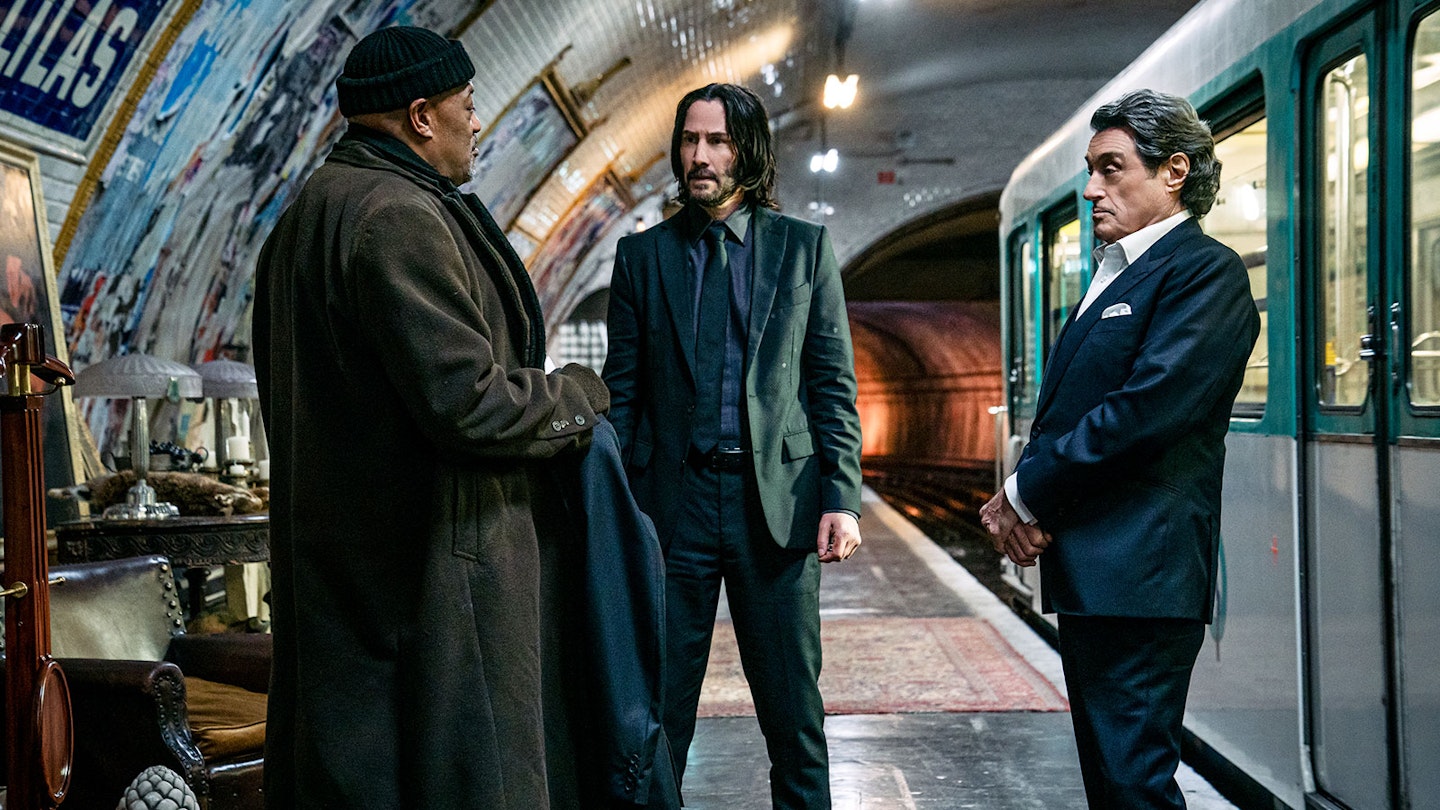 Throughout, the action is gobsmacking, with inventive set-pieces including an aerial view of a brawl smashing through a succession of rooms, and a breathtaking fight among speeding cars around the Arc de Triomphe in which you spend every second wondering how the hell they're pulling it off.
And yet… well, it's all a bit much. Yes, it's a love letter to action cinema, but so much so that action cinema might want to take out a restraining order. Assassins keep appearing, from every angle, infinitely, like re-spawning videogame characters. Some of the fighting goes on and on and on until you're begging for someone to win so we can all get to the next bit – the slugfest is, at its worst, a slog. And it is of course as portentous as ever. The High Table, an amorphous, abstract concept anyway, is even slipperier here, while Laurence Fishburne and Ian McShane have less to do than before, facsimiles of what were thin archetypes in the first place.
Things happen that you really should care about, but you don't. Not much. Although oddly, considering the stakes, the film seems maybe disinterested in having an emotional impact. Unless wincing is an emotion. Reeves basically operates with one register (mythologically gruff). But then again, that's what this series is, and even with that narrow remit, Reeves is ceaselessly charismatic. With Point Break and Speed he reinvented the action hero, and it's pretty great that he's still going this hard three decades on.
Besides, if you're going to watch this, the action's what you want, and as far as that goes, you just can't knock it. It is incredibly tactile – it hurts. You can see that Reeves really is doing a huge amount of it himself, and it counts. You feel it. He's treated like a rag doll in this one, towards the end bringing to mind Buster Keaton – the extremity is funny, intentionally so. He gets knocked down, but he gets up again. And again, and again, and again. Pray for his bones.