Call it destiny. Call it fate. Call it a carefully calibrated chain of events. But Denis Villeneuve was always playing the long game. When he unveiled Dune, the first part of his planned epic adaptation of Frank Herbert's seminal, Spice-fuelled sci-fi novel, there was no guarantee that he'd get to continue the story. As gambits go, it was one as big and bold as Dune itself – a thunderous epic that took everything Villeneuve had worked on across his career (the paranoid thrills of Sicario, the weighty ideas of Arrival, the will-this-even-work pressure of Blade Runner 2049) and channelled it into the cinematic spectacle of Herbert fans' dreams. And true to his vision, the stars aligned: Dune: Part Two was officially confirmed, with the next chapter in the story of Paul Atreides – and the Fremen, and the Harkonnens, and the Bene Gesserit – set to be told after all. The journey back to Arrakis begins here.
The new issue of Empire takes a world-exclusive deep dive into what's to come in Dune: Part Two – getting granular (and not just because of all that sand) with Denis Villeneuve himself. Inside the issue, we speak to the director about his ongoing personal journey with Dune, and his continued efforts to translate its wild worlds and even wilder ideas to the big screen. And in his take on the second half of Herbert's titanic tome, the promise of all-out war is set to be fulfilled, with fascinating new characters waiting to emerge from the shadows (including Austin Butler's ferocious Feyd-Rautha and the Emperor Shaddam IV himself, played by Christopher Walken). Plus, we have brand new images – featuring familiar faces and incoming characters alike – offering a whole new look at what's to come in Part Two. It's more epic than a skyscraper-sized sandworm.
This month's issue has two covers to collect – the first showing off the fighters of Dune: Part Two. That's Timothée Chalamet's Paul Atreides, Zendaya's Chani, Javier Bardem's Stilgar, Rebecca Ferguson's Lady Jessica, and Josh Brolin's Gurney Halleck.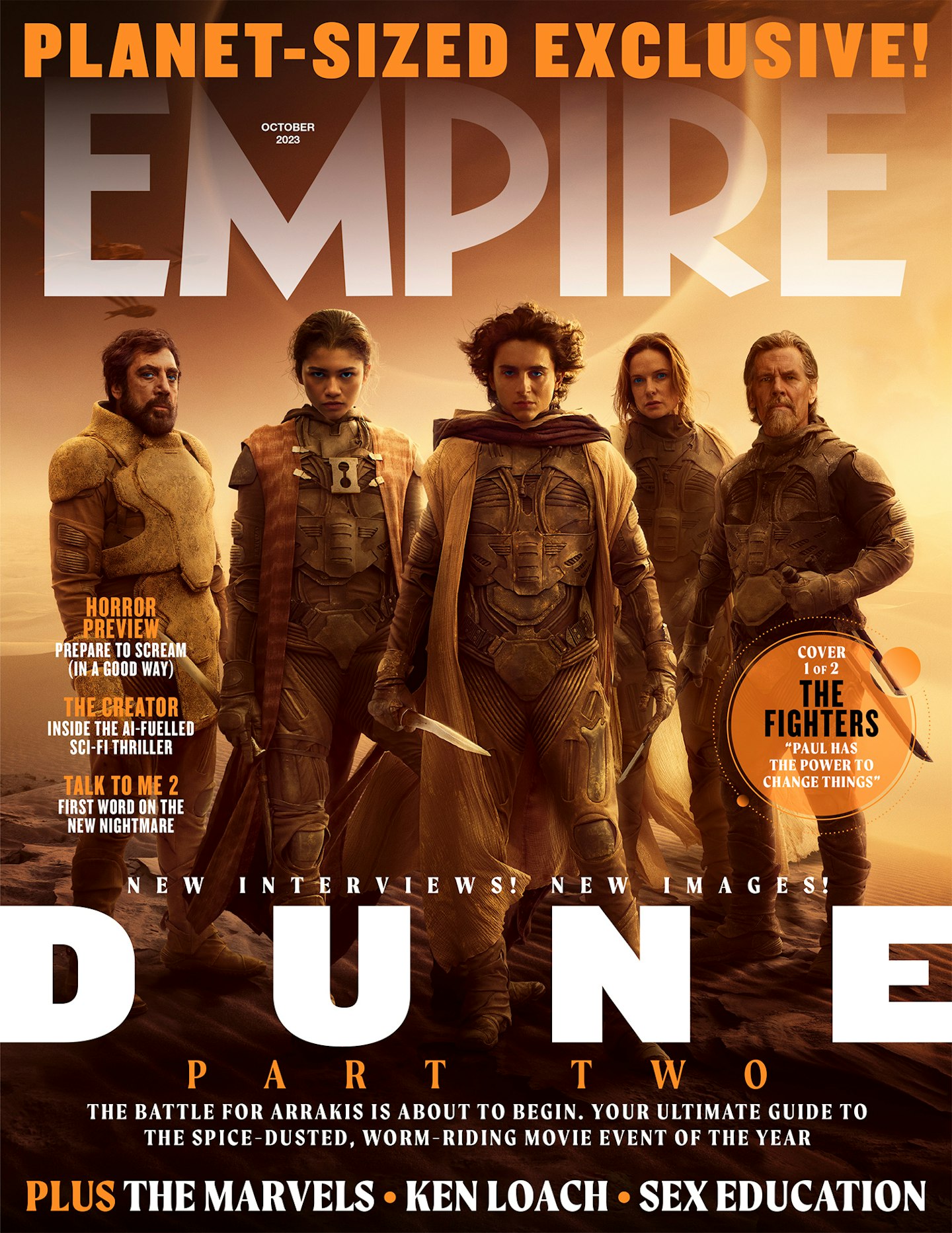 And the second cover is occupied by the oppressors – Austin Butler's Feyd-Rautha, Dave Bautista's 'Beast' Rabban, Stellan Skarsgård's Baron Harkonnen, Léa Seydoux's Lady Margot, and Florence Pugh's Princess Irulan.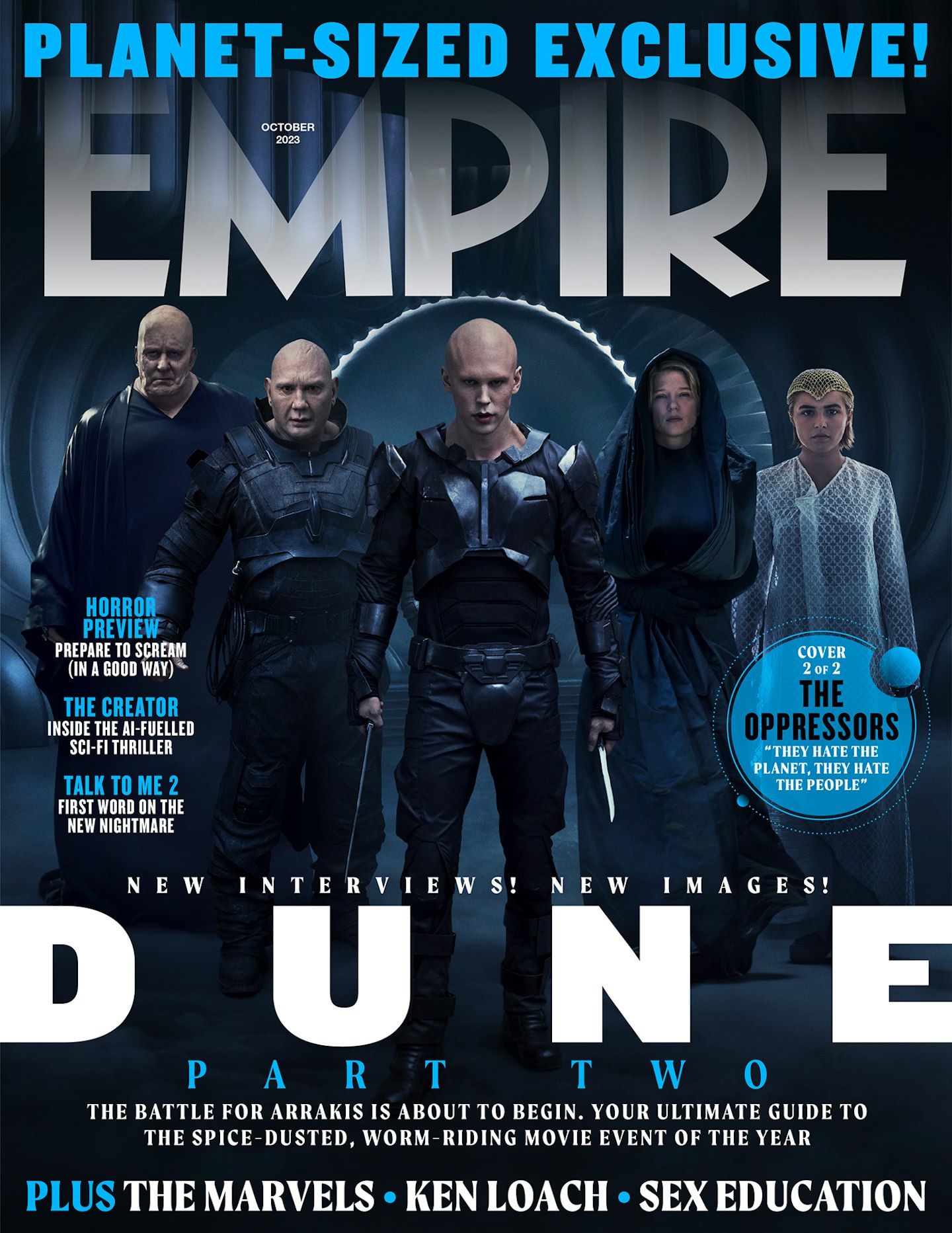 Plus, this month's subscriber cover is a stunning piece of Arrakis-inspired art, with swirling sands and starry alignments that get to the mystical heart of Dune's mysterious galaxy – created exclusively for Empire by Nada Maktari.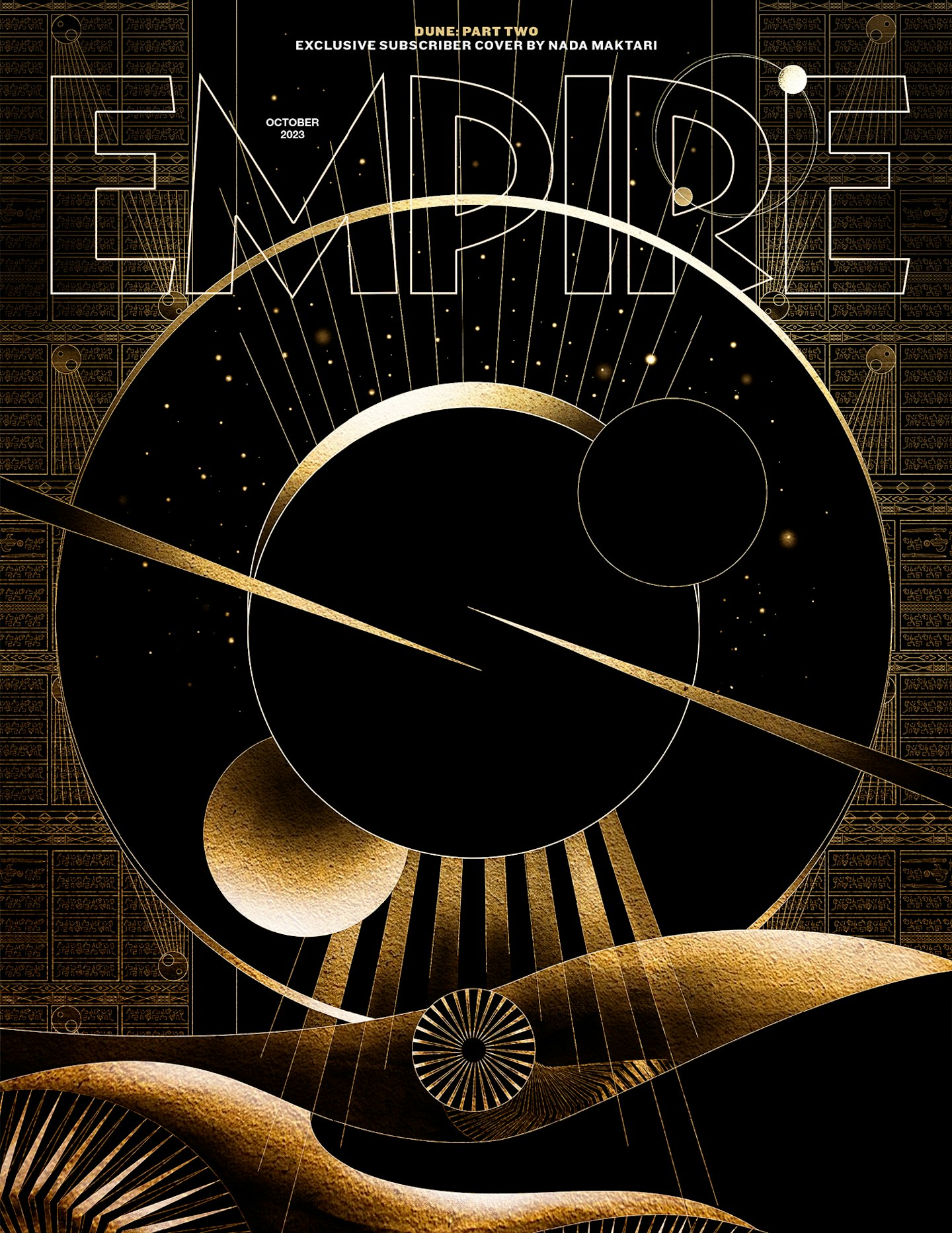 And that's not all. This month's issue also features a look back at the turbulent making of David Lynch's 1984 Dune adaptation with an exclusive extract from Max Evry's upcoming book A Masterpiece In Disarray: David Lynch's Dune – An Oral History; plus, we take brand new looks at The Exorcist Believer, Saw X and Five Nights At Freddy's in an epic horror preview; get immersed in Gareth Edwards' original new sci-fi world with The Creator; get the first word on spooky sequel Talk 2 Me; celebrate Ken Loach's final film by reuniting him with some of his stars from across the decades; dig into the familial bonds of The Marvels; return to school for the final season of Sex Education; and much, much more.
Prepare to be hooked on Spice all over again – Dune is officially back. Empire's world-exclusive Dune: Part Two issue hits newsstands on Thursday 31 August. Pre-order a print copy of Cover 1 or Cover 2, or become an Empire member to access the digital edition in full on launch day. Dune: Part Two comes to UK cinemas from 15 March 2024.