Across 16 episodes of The Mandalorian (and three episodes of The Book Of Boba Fett), there are three key things we've learned about Grogu. One: he loves his space-dad, Pedro Pascal's Din Djarin. The second is, he's pretty good at doing the magic-hand thing. And three, that little guy will eat anything and everything he can get his (magic, three-fingered) hands on. It's fitting, then, that the first clip from the long-awaited The Mandalorian Season 3 features all of the above: Grogu is back with Mando, and in paying a visit to Carl Weathers' Greef Karga, the kid is using his Force powers to… steal red jelly bean-looking snacks? Sounds about right! Watch the clip here:
It's an adorable first look at the return of Star Wars' small-screen saga (see Grogu spinning himself in the chair!), but also teases a little bit of what's to come in Season 3. As we know, Din Djarin is in The Armourer's bad books for removing his helmet in the Season 2 finale (he's officially "an apostate"), and he's still filling all his pals in on the events that led him to reunite with young Grogu. And it sounds here like Greef – now resplendent in a lavish red robe – is trying to convince Mando to set up shop on Navarro.
…And that's it. That's all we're getting for now from the upcoming episodes, but there's much more to come when the season begins streaming on Disney+ on 1 March. Did Greef intentionally color-coordinate his new robe and bowl of office snacks? What will Grogu eat next? Will the rest of the season be Din, Greef and Grogu living the bachelor lifestyle? Answers to all that and more are less than two weeks away. In the meantime, for more Mandalorian goodness, get your hands on Empire's brand new world-exclusive Mando Season 3 issue: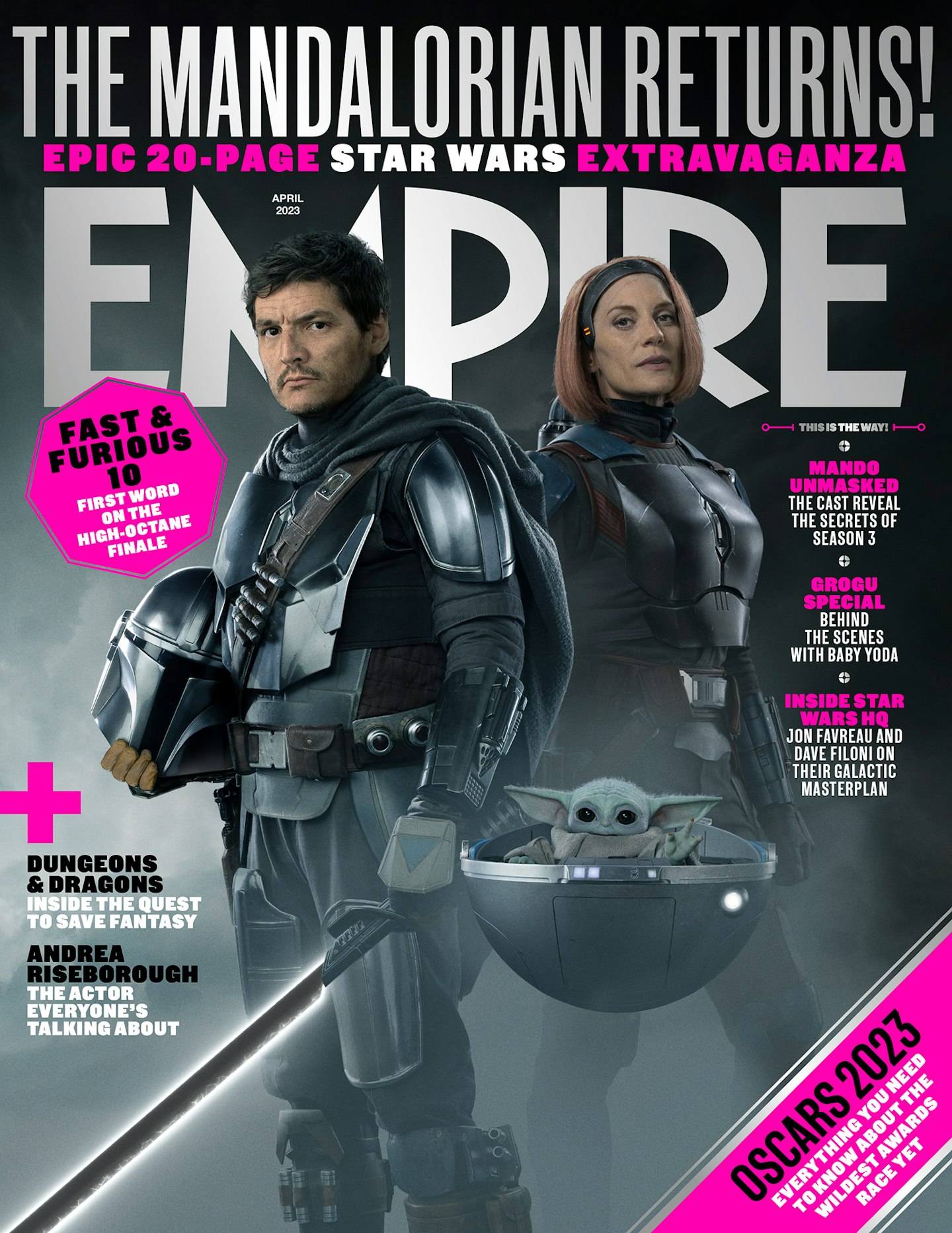 Inside is a massive 20-page blowout packed with major interviews, never-before-seen images, fresh concept art, and much more. We get under the helmet with the Mandalorians themselves, Pedro Pascal, Katee Sackhoff and Emily Swallow; we go long with Mandalorian creators Jon Favreau and Dave Filoni in a huge new joint interview, spanning their entire journey with the show so far and what comes next; plus, we go back to the beginning of Grogu in an all-new oral history. Find it on shelves today – plus, become an Empire member now to access the digital issue in full instantly, or order a print copy online here.