Across two seasons of The Mandalorian and The Book Of Boba Fett, there are countless things young Grogu – or, Baby Yoda – has stuffed into his ravenous gob. That delicious-looking blue macaron, that tadpole egg, live frogs, a bowl of soup; he's a hungry little guy. Now, it looks like there might be something else on the menu – as seen in the world-exclusive The Mandalorian Season 3 issue of Empire, we have brand new concept art of Grogu from the next batch of episodes (see above), chasing down a group of scuttling, crab-like, rock-looking creatures. The little mischief-maker is up to his usual tricks – place your bets now on whether he tries to eat one of them…
While everything about Season 3 is being kept tightly under wraps, expect many more internet-breaking moments from Grogu in the coming episodes. "There will be things [in Season 3] that once again have people talking about Grogu," confirms executive producer Rick Famuyiwa, cryptically. "In incremental ways, he's growing as a character and in this partnership with Mando. As this relationship grows, Grogu has to become more central in things that are going on. He's now firmly at the hip of Mando in every adventure…" One thing you can rely on? He'll still be melting hearts, even while – as ever – raising a little hell. "The purity of the character brings out the best in the people round him. This next season continues to attach to that idea," Famuyiwa states.
Inside the issue is a major new Grogu oral history, speaking to the people who made him and spanning his journey from page to screen. As well as talking to Jon Favreau, Dave Filoni, and Rick Famuyiwa, plus star Pedro Pascal, we also spoke to Legacy effects founder John Rosengrant, who recalled Werner Herzog's attachment to the on-set puppet. "He was worried that it was brain-dead at one point – the AD said, 'Go ahead and shut it off, he's off-camera as eyeliner for Werner'," he says of the Season 1 shoot. "Werner got very concerned." Plus, TaMara Carlson Woodard – the puppeteer and specialist costume design who created Grogu's cloak, and helped flesh out the character from the initial concept art – looked back on the process of turning the concept art in a physical object. "I built a little body based off what I would want to hold, a little stuffed-animal version without a face," she remembers. "I called it 'Yermit', because it wasn't Yoda, and it wasn't Kermit."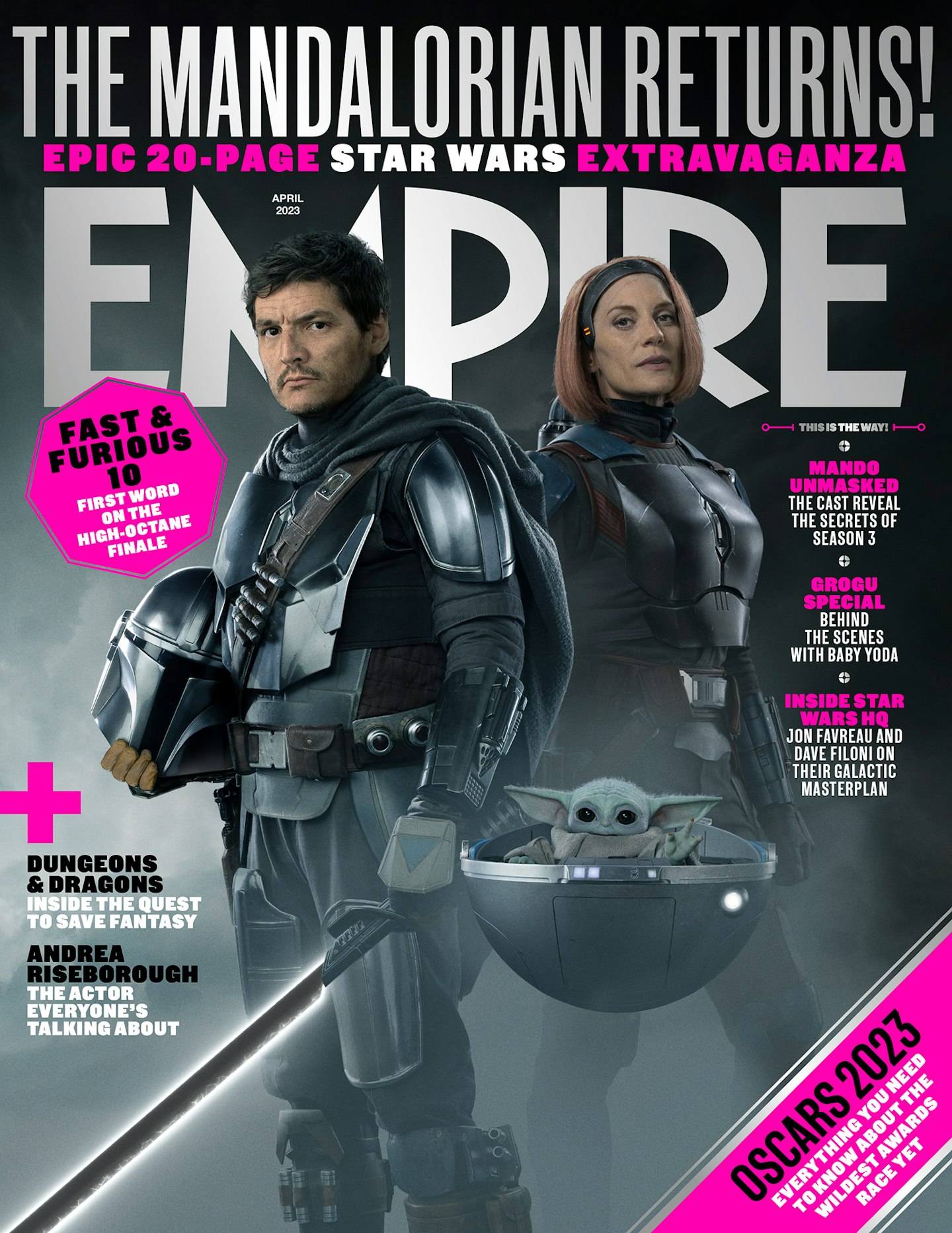 Read the full Grogu oral history in the new issue of Empire – featuring a massive 20-page The Mandalorian blowout packed with interviews, never-before-seen images, fresh concept art, and much more. Hunt down a copy when it hits newsstands on Thursday 16 February – or become an Empire member now to access the issue in full on launch day. You can also pre-order the issue online now here. The Mandalorian returns to Disney+ on 1 March.