As the Star Wars franchise has expanded in recent years, it's become less a direct narrative, more a broad tapestry, interweaving all kinds of stories and eras that criss-cross over each other – from the Skywalker Saga movies, to intersecting animated series like The Clone Wars and Rebels, new tales like The Mandalorian, and expansions like Rogue One, Andor, Obi-Wan Kenobi and The Book Of Boba Fett. All of that, plus an array of canonical novels, comics, and video games have created an expansive canon with threads that tie various mediums together, with characters that move seamlessly between them in one ever-growing timeline.
This kind of continuous storytelling was a major feature of The Clone Wars and Rebels, which grew around the events established in the prequel trilogy and beyond – and which Clone Wars alum Dave Filoni has brought into the so-called 'Mando-verse'. Take the pivotal Mandalorian Season 2 finale, in which Luke Skywalker re-emerged to take Grogu under his wing. "There's a big question at the end of Season 2, of what will Mando do next? Is that relationship over? In life, things don't always come to a perfect ending," Filoni tells Empire in a major new interview alongside Mandalorian co-creator Jon Favreau. "I think things can continue on, and your adventure continues every day. I used to think about it with Clone Wars all the time. When is that battle over? When is that struggle over, because it culminates in Revenge Of The Sith? But that can't be the ending for that show, even though that's the ending of that era. That took a while to figure out."
Establishing Luke in The Mandalorian timeline was a major punctuation mark in the story – but this is far from where the stories of Luke, Din Djarin, or Grogu end. "I think that in some ways you want each season to have a feeling of an ending. But in a lot of what I've done, I don't like hard endings," explains Filoni. "I like reading books in a series and then thinking, 'Oh, there's another book, and this is going to keep going.' It's always sad for me when an adventure ends and the characters are seemingly done with their journey. So I think there's always that little bit of hope that something can continue." With Season 3 incoming – and Ahsoka, Skeleton Crew, and more on the way – the journey is far from over.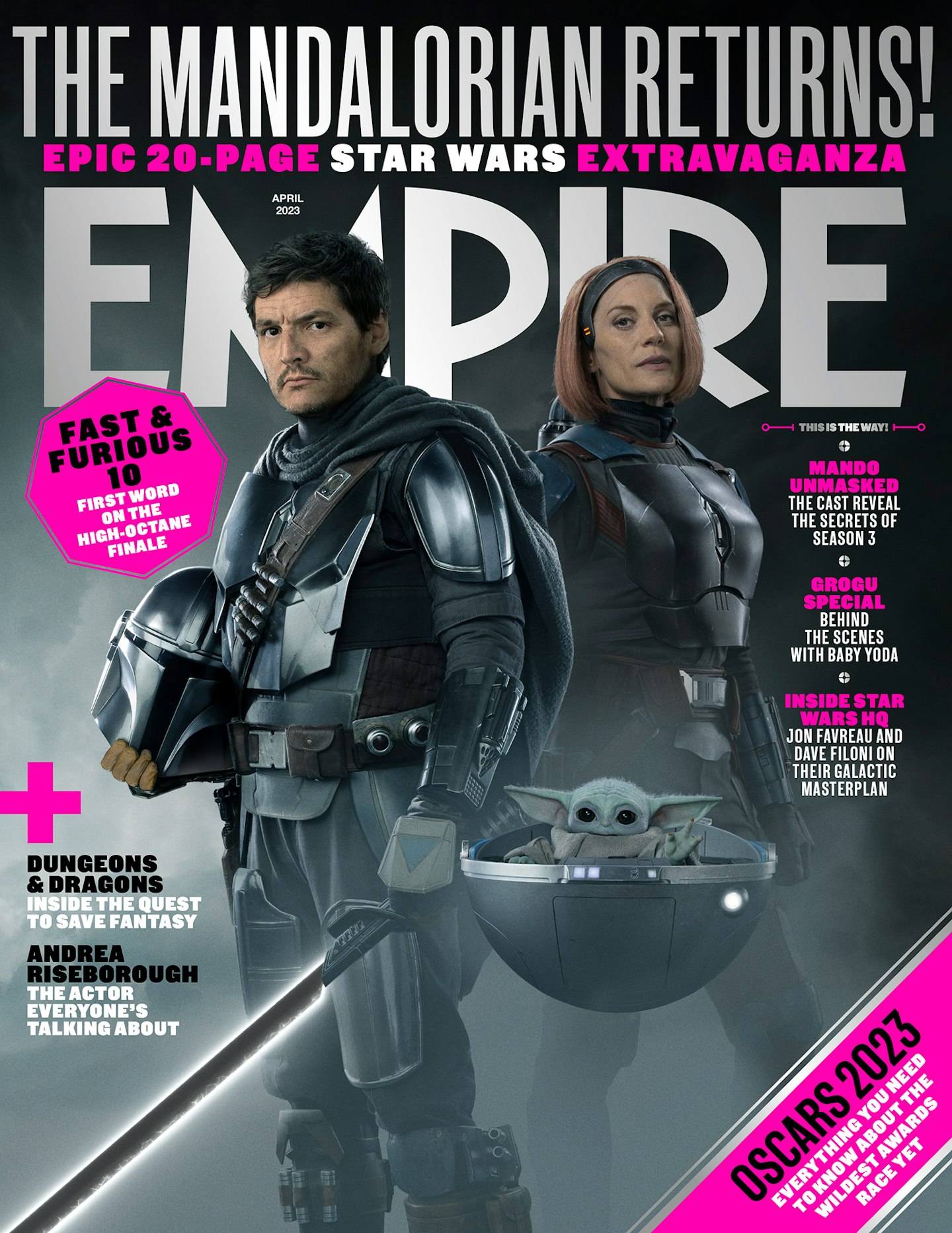 Read Empire's major new interview with Jon Favreau and Dave Filoni – spanning their entire journey with The Mandalorian so far, and what comes next – in the upcoming world-exclusive The Mandalorian Season 3 issue. Inside is a massive 20-page blowout packed with interviews, never-before-seen images, fresh concept art, and much more – getting under the helmet with the Mandalorians themselves, Pedro Pascal, Katee Sackhoff and Emily Swallow; going back to the beginning of Grogu in an all-new oral history, and much, much more. Hunt down a copy when it hits newsstands on Thursday 16 February – or become an Empire member now to access the issue in full on launch day. You can also pre-order the issue online now here. The Mandalorian returns to Disney+ on 1 March.
Dave Filoni shot on location at Manhattan Beach Studios, Los Angeles, on Thurs 1st Dec 2022 by Dylan Coulter.