At the end of The Mandalorian Season 2, fans were left with boundless questions. Since Pedro Pascal's Din Djarin had just handed baby Grogu over to none other than Luke Skywalker for the little green guy to undertake Jedi training, what did this mean for the show? Was that the end of Grogu's story? Would the rest of The Mandalorian follow another narrative? Would it totally reboot and follow another Mandalorian character altogether? The emotional of that departure was deeply felt – but as it turned out, audiences didn't need to be quite so concerned. In The Book Of Boba Fett, we checked in with Grogu and Mando on their separate paths, and ultimately got to witness their reunion after Grogu chose to forgo a Jedi destiny with Luke in favour of a life with his Mandalorian dad.
In a major new interview alongside his Mandalorian co-creator Dave Filoni, Jon Favreau reflected on the choice to bring our hero and his young ward back together. "We couldn't just hit a hard reset," Favreau tells Empire in The Mandalorian Season 3 issue. "It's going to be interesting to see how this unfolds for people who may not have seen The Book Of Boba Fett. But I think The Book Of Boba Fett offered time to pass. You saw what Mando was like without Baby Yoda and we saw what Grogu was like without the Mandalorian and neither of them was doing too good. So them coming back together was a really good plot point that allows us to jump back into Season 3 while maintaining the central relationship."
While the upcoming season restores the show's original dynamic, it was important that Grogu's time with Luke wasn't for nothing – it just ultimately wasn't his path. "I think you had to service both things," Favreau explains. "Just because this kid has the potential and had training, does he belong away from the Mandalorian? I saw it more like Paper Moon, where the whole thing is about delivering the kid to the blood relative, only to realise that, whether genetically through her father or just through bonding, Tatum O'Neal has to end up with Ryan O'Neal. That ending feels really good to me. And this little kid [Grogu] is given a decision to choose. And the kid chooses the emotional relationship and wants to be with the Mandalorian, and passing up Yoda's lightsaber. Part of you wants to see him develop in that way, and part the other."
From his travels with Din Djarin, to his time training with Luke, and into the future adventures of Season 3 and beyond, it's all a case of building up a character in Grogu unlike any other in the Star Wars galaxy. "You have this interesting character who has Jedi training to some extent, Force abilities, but also is joining the Mandalorian culture, which we've established is something that you can opt into. It demands a lot, it offers a lot," says Favreau. "Historically, Mandalorians developed all of those tools and armour and weapons to be able to counteract the Force abilities of Jedi. So as a storyteller this offers tremendous opportunity." Now, can we see Grogu in his tiny Beskar chainmail please?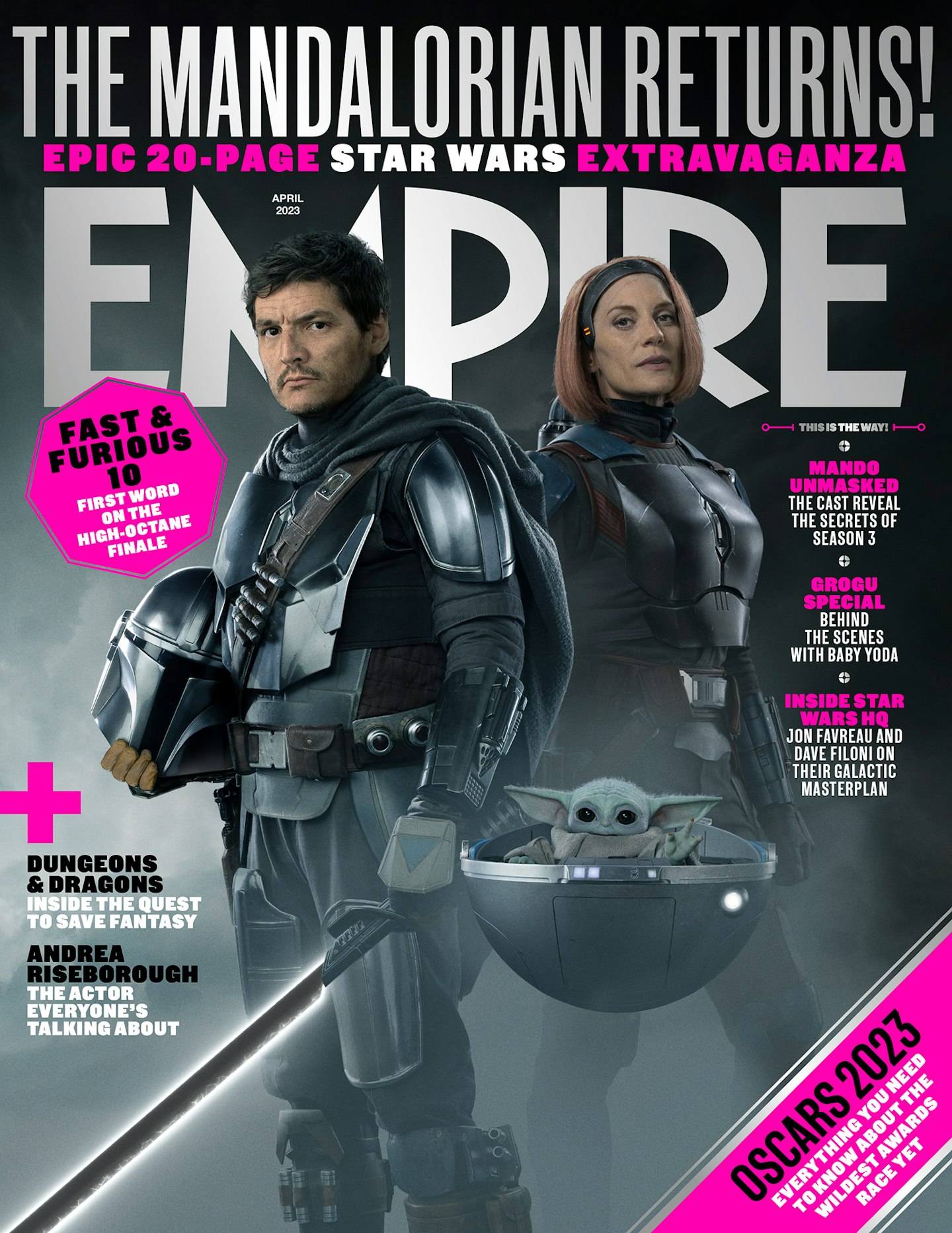 Read Empire's major new interview with Jon Favreau and Dave Filoni – spanning their entire journey with The Mandalorian so far, and what comes next – in the upcoming world-exclusive The Mandalorian Season 3 issue. Inside is a massive 20-page blowout packed with interviews, never-before-seen images, fresh concept art, and much more – getting under the helmet with the Mandalorians themselves, Pedro Pascal, Katee Sackhoff and Emily Swallow; going back to the beginning of Grogu in an all-new oral history, and much, much more. Hunt down a copy when it hits newsstands on Thursday 16 February – or become an Empire member now to access the issue in full on launch day. You can also pre-order the issue online now here. The Mandalorian returns to Disney+ on 1 March.
Jon Favreau shot on location at Manhattan Beach Studios, Los Angeles, on Thurs 1st Dec 2022 by Dylan Coulter.