Commander. Outcast. Rebel. Hero. Ahsoka Tano has worn many guises and walked many paths throughout her incredible journey in Star Wars – one that's already spanned fifteen years, and still feels like it's only just begun. From her magical beginnings taming a fearsome raxshir as an infant in Tales Of The Jedi, to her incredible transformation in The Clone Wars, her revolutionary role in Rebels, and her encounters with Grogu and Luke Skywalker in The Mandalorian and The Book Of Boba Fett, Ahsoka has already cemented her place as one of the most beloved characters in a galaxy far, far away. Even before headlining her own series – the imminent Ahsoka – she stands as one of Star Wars' greatest heroes.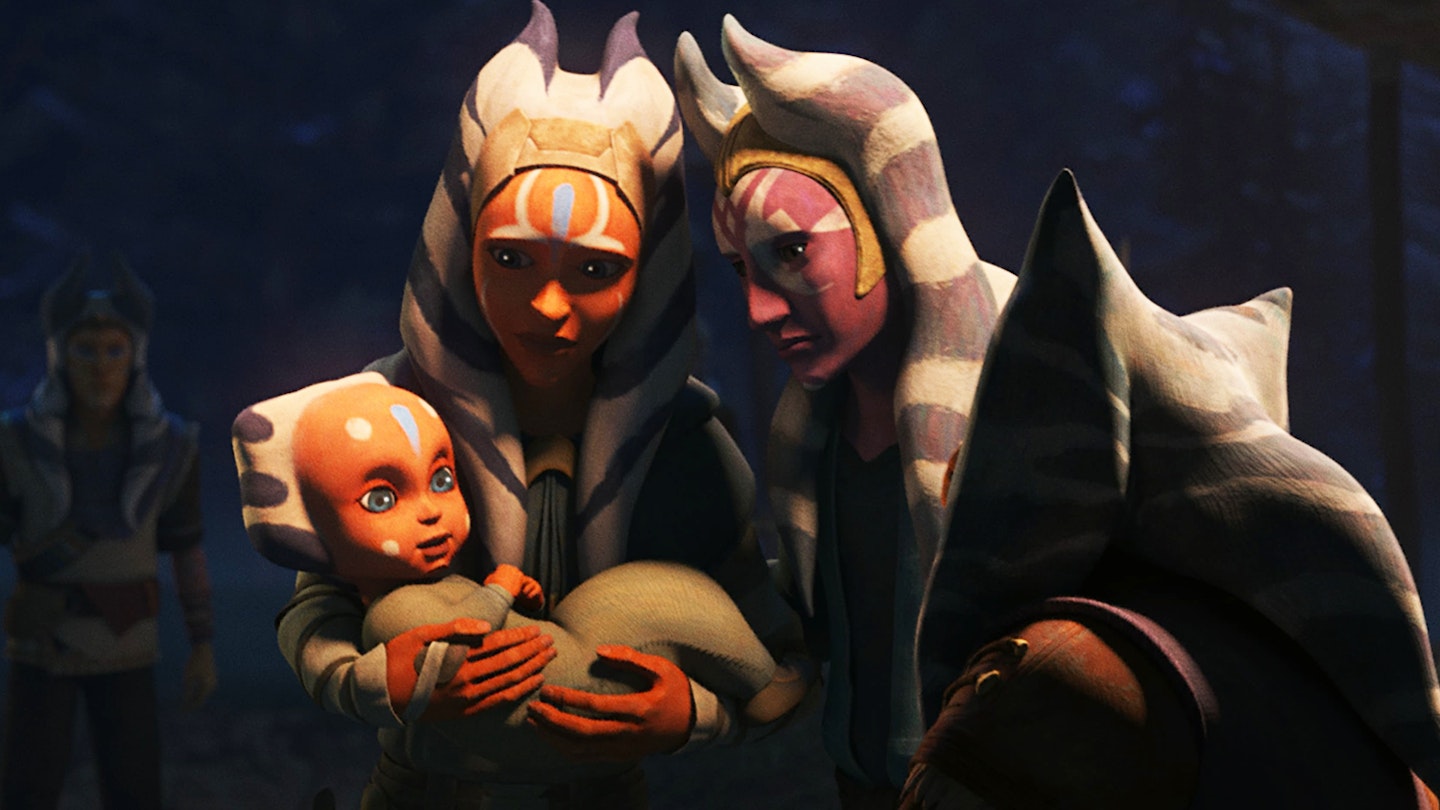 It didn't necessarily start that way. Ahsoka was co-created by Dave Filoni and George Lucas himself, the latter having a vision for who this new character, voiced by Ashley Eckstein, could be. "[George] said, 'Let's give Anakin Skywalker a Padawan,'" Filoni has said of her creation. "I was like, 'Anakin doesn't have a Padawan.' And he just looked at me and said, 'Anakin has a Padawan.' And that was basically it." But following her debut in 2008's maligned Star Wars: The Clone Wars animated film – and the subsequent first season of the Cartoon Network series – the immature and impulsive Togruta wasn't an instant hit with audiences. Ahsoka and Anakin's initial dynamic was marked with frustration and annoyance – not only between each other, their early dynamic hingeing on a hefty amount of bickering, but extending to unimpressed viewers too. But before long, the relationship between 'Skyguy' and 'Snips' – as they took to calling each other –  evolved, Ahsoka herself maturing as their complex bond deepened with every passing season.
Ahsoka has been given more room for growth than pretty much any other Star Wars hero.
So how did Ahsoka go from one of the most divisive Star Wars characters since Jar Jar Binks, to one of the most revered and, frankly, important? In large part, it's thanks to Dave Filoni, whose evident love of the character has afforded her a wonderfully-written arc unfolding across years of rich storytelling in multiple mediums, given more room for growth than pretty much any other Star Wars hero. Ahsoka has transformed into a compelling character, primarily down to her strong beliefs and empathy for others, her beautiful dynamic with characters such as Captain Rex and Anakin, and – most crucially – her challenging views of the Jedi council and their traditional teachings.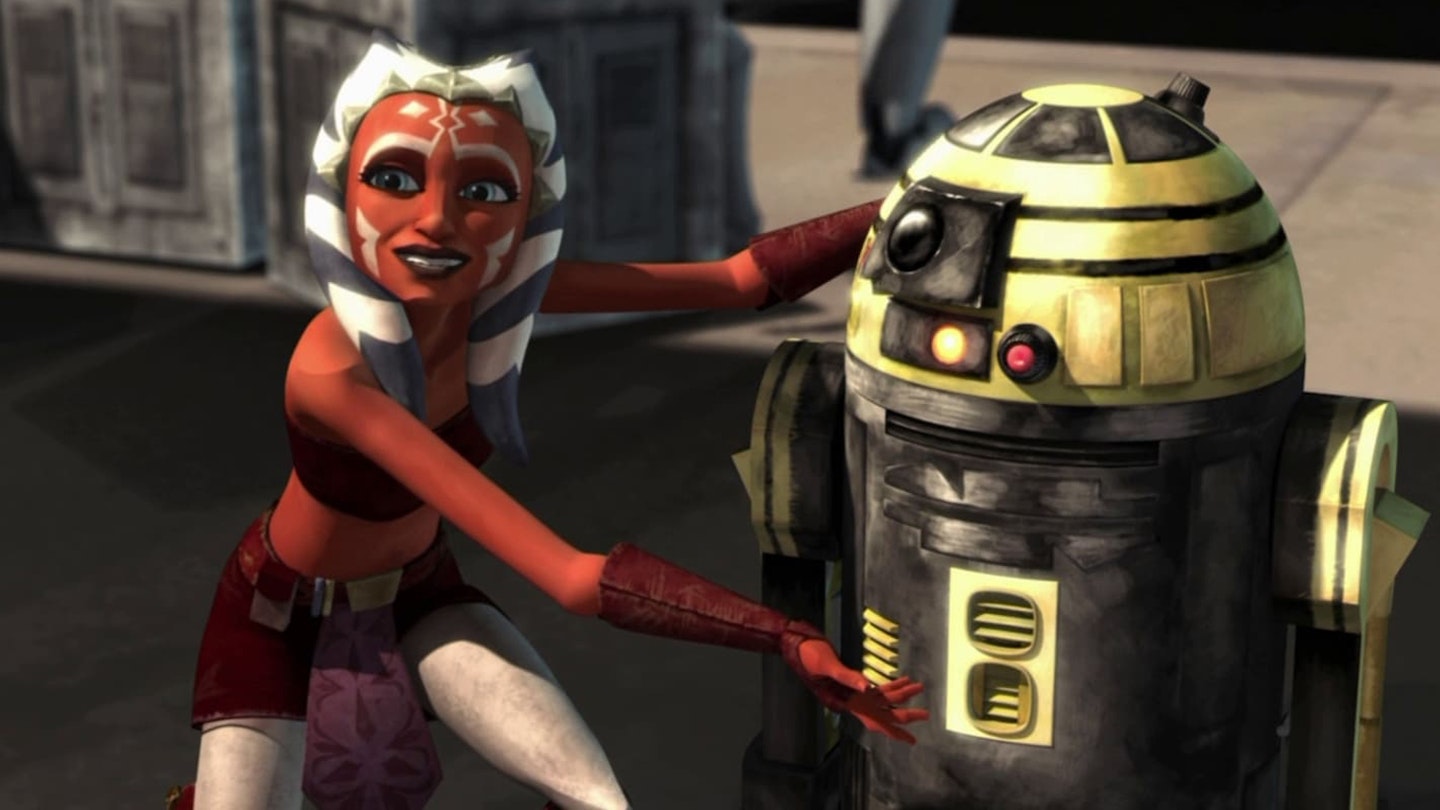 For those like me who grew up with the prequel trilogy, but often found themselves disappointed with the female representation in those films, Ahsoka Tano completely changed the game. She was no damsel in distress, nor relegated to a romantic interest. (Dying of a literal broken heart? Come on, George!) She grew to become one of the most combat-skilled Jedi too: she went toe-to-toe with Darth Maul (their duel on Mandalore in The Clone Wars' 'Phantom Apprentice' episode remains one of the best out there); she held her own against General Grievous ('A Necessary Bond') and Darth Vader (in Rebels''Twilight Of The Apprentice'); she even briefly held off Darth Sidious in Rebels' outstanding 'A World Between Worlds'. Her evolution from wielding a single lightsaber to a double blade form, utilising the reverse grip technique of the Jar'Kai fighting style, also makes her one of the galaxy's most unique and adaptable warriors.
But her value isn't just defined by her being another Jedi warrior strong in the Force (nor that she isn't yet another Skywalker or Palpatine). Young fans who literally grew up with her throughout The Clone Wars and Rebels eras witnessed the evolution of a truly empowered hero, with real agency and true Jedi qualities. Ahsoka is compassionate, selfless, and determined to live a life devoted to helping and protecting others, no matter what. She has often aided those in need when the Jedi council wouldn't, fighting alongside Bo-Katan Kryze in the Siege of Mandalore. Even after being exiled from the Jedi Order in the final arc of The Clone Wars Season 5, Ahsoka remained dedicated to fighting the good fight, supporting the early Rebellion in her small yet pivotal role in Rebels as secret operative 'Fulcrum'. In live action, she helped guide Grogu to unlock his past and his power in The Mandalorian. She exemplifies everything a Jedi should be, embodying those inspiring values for a whole new generation of Star Wars fans.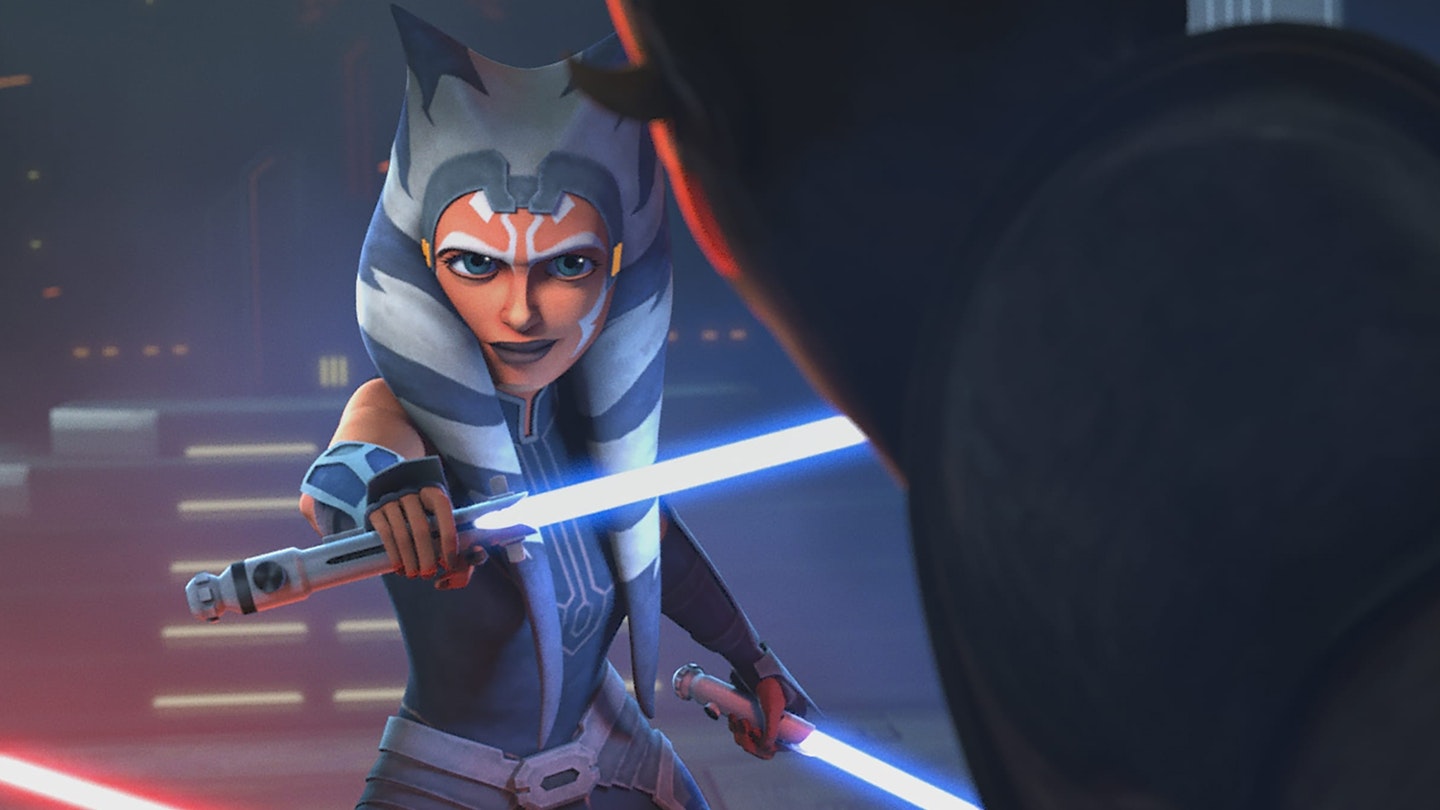 Perhaps the most fascinating aspect of Snips, though, is the fact that she carved her own unique path within the Force – separate from the Jedi Order and its often outdated code. "As a Jedi, we were trained to be keepers of the peace, not soldiers. But all I've been since I was a Padawan was a soldier," Ahsoka states in The Clone Wars, rightly questioning the direction of the Jedi Council, who – by becoming embroiled in murky Separatist-vs-Republic politics – had turned more into generals of war. After being stripped of her Padawan title and wrongly put on trial for the bombing of a Jedi Temple on Coruscant, she turned her back on the Council altogether, in a heartbreaking storyline. Just like Luke Skywalker in Episode VIII – The Last Jedi, she stood her ground and rejected the traditional black-and-white Jedi doctrine in favour of a much more nuanced and emotional view of the world.
Ahsoka has been pivotal in bridging the gap between the 'Filoni-verse' and the rest of Star Wars.
Ahsoka's journey through the Star Wars galaxy has impacted several other stories along the way. Not only has she worked in close proximity with other fan-favourite female characters – from Bo-Katan, to Rebels' formidable Hera Syndulla and Sabine Wren – but she's been pivotal in bridging the gap between the 'Filoni-verse' and the rest of Star Wars. First, that came in animated form, her dynamic with Anakin in The Clone Wars series helping shine a light on his eventual descent to the Dark Side in the big-screen prequels. More recently, her live-action appearances have had real impact too – not only revealing Grogu's name in The Mandalorian, but influencing Luke's rebuilding of the Jedi Order in The Book Of Boba Fett. Now, Ahsoka is primed to finally bring Grand Admiral Thrawn into the live-action arena at last, bringing with it the likely return of Rebels' long-lost young Jedi Ezra Bridger too. Her Star Wars journey touches all eras of the Skywalker Saga timeline – even Rey hears her voice amongst the assorted Jedi who speak to her on Exegol in the climactic battle of Episode IX – The Rise Of Skywalker.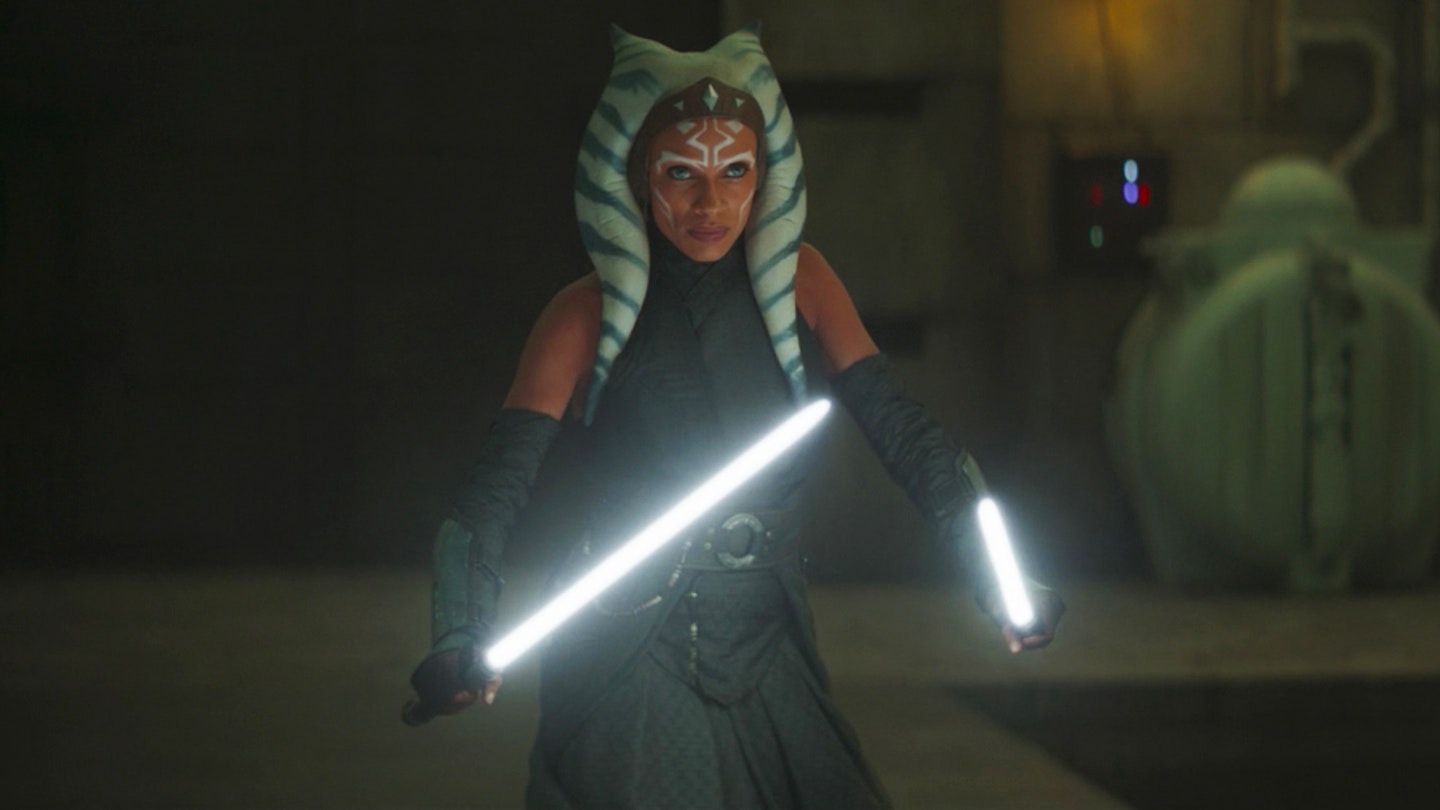 And with Ahsoka, she's about to evolve all over again. Ahsoka has already come a long way, undergoing an extraordinary transformation from the snippy little Padawan, to the empowering and inspiring rebel who's played an integral role in the animated and live-action arenas alike. But for the most part, the beloved Togruta has largely been a part of other character's stories. Now is the time to shine a spotlight on an adventure of her own – with the headline billing she's long deserved. Following 15-plus years of incredible storytelling, the legendary double-shoto-wielding hero is stepping out from the shadows to lead her very own Star Wars story. Her future looks brighter than the pure white beams of her twin lightsabers.
Ahsoka comes to Disney+ on 23 August