Star Wars has always been about epic journeys – whether it's Luke Skywalker's transformation from farm boy to Jedi Master, Din Djarin's foray into fatherhood in The Mandalorian, or Rey's path to self-discovery in the sequel trilogy. And few Star Wars journeys have been as epic as that of Dave Filoni – the storyteller who was hand-picked by George Lucas to help steer The Clone Wars, studied for years at the hand of the master himself, before creating his own corner of the galaxy and moving into live-action with Mando and beyond. Next up? He's directing a feature film, as confirmed by Kathleen Kennedy at Star Wars Celebration – tying into the Mando-verse and looking likely to unite characters including Din Djarin, Ahsoka, and the villainous Grand Admiral Thrawn. His journey just got a thrilling new destination.
Speculation abounds as to what that movie will involve – is it another step in the wider Mandalorian-Ahsoka-Thrawn story, or could it be the culmination of the whole thing? "Culmination is an interesting word," teases Filoni, speaking to Empire at Star Wars Celebration. "The way I look at it, there are [small] stories, and then there's the big story of the day, too. A New Hope, Empire and Return Of The Jedi tell the important parts of the tale that really define the history of the period. There are all kinds of sub-stories underneath that. We've been building all these small stories." If the Disney+ series have allowed time to establish these characters and the New Republic era they inhabit, the movie is all about creating a bigger picture. "To me, a theatrical experience has to have a big idea – a monumental moment in the time period that changes what's happening," says Filoni. "What Tony [Gilroy] has done [in Andor] and what we did in Rebels, everything then changes when Luke blows up the Death Star. You're looking for those moments that define an era, and that's what the films really should be about – whether it's characters coming together, or a defining moment."
Place your bets now for what that defining moment will be. With his fluid approach to storytelling – and with characters weaving in and out of various series and mediums – Filoni is open to all possibilities. "I have ideas, of course. I will not tell you what they are!" he laughs. But with Thrawn entering play, the fall of the New Republic in the distance, and plenty of Legends canon material to draw from (including the return of military base Tantiss in The Bad Batch, taken from Timothy Zahn's Thrawn-centric Heir To The Empire novels) it should make for a thrilling tale. "There are little things along the way that I've built across different mediums, all in preparation for things that come later," promises Filoni. Here's hoping his film won't be far, far away.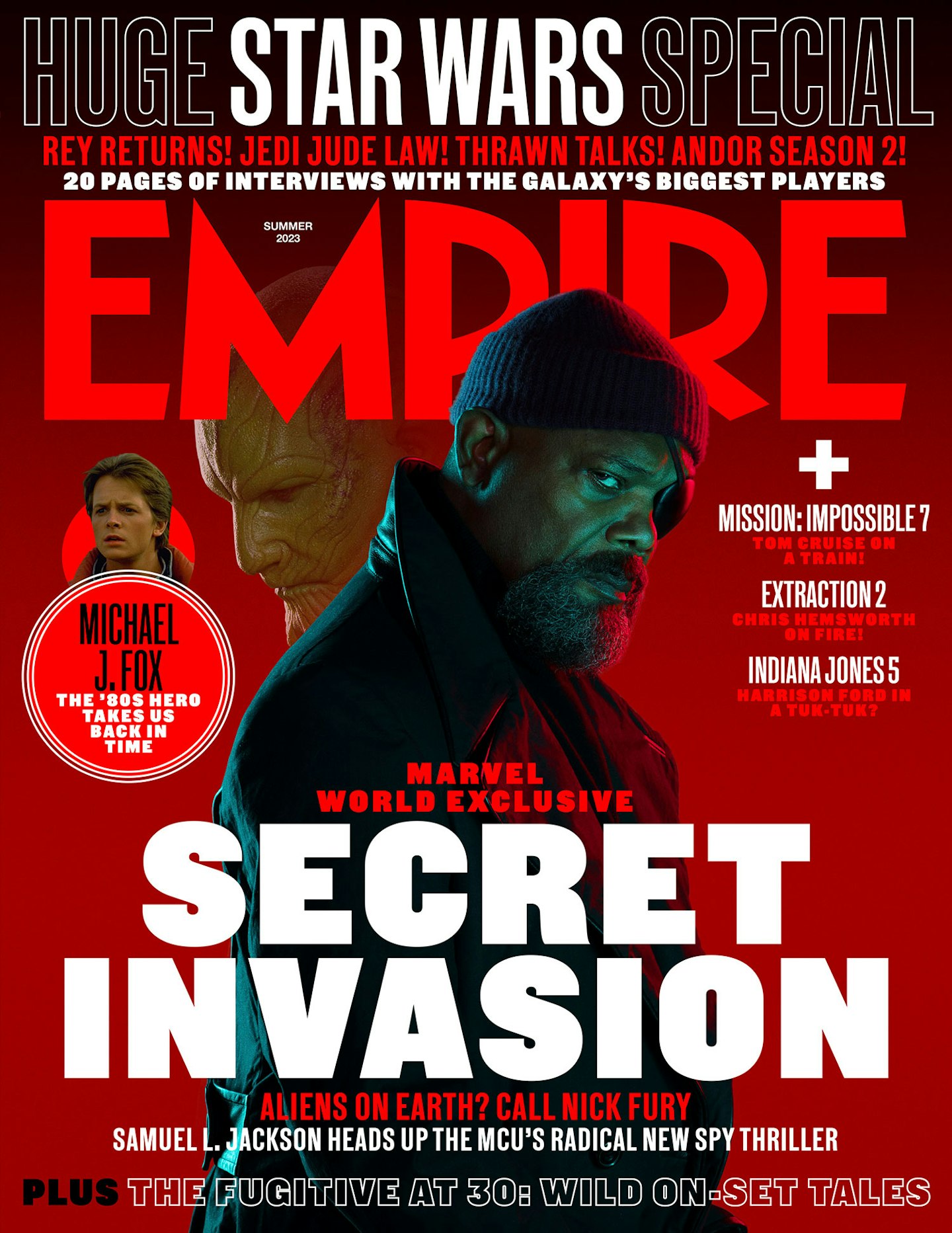 The upcoming Secret Invasion issue of Empire features a massive 20-page Star Wars blowout, getting stuck into the future of the saga with huge new interviews, and photoshoots with the galaxy's brightest stars – talking to Kathleen Kennedy, Dave Filoni, Rosario Dawson, Tony Gilroy, Diego Luna, Jude Law, Katee Sackhoff, Mary Elizabeth Winstead, Andy Serkis, Amandla Stenberg and plenty more. From Ahsoka, to Andor_Season 2, to _The Mandalorian, The Acolyte, and the trio of upcoming movies, it's an expansive trip through everything Star Wars has to offer in the coming years. You won't want to miss it – pick up a copy when it hits the shelves on Thursday 11 May, or become an Empire member now to access the issue in full on launch day. You can also pre-order a print copy online now here.
Dave Filoni portrait photographed by Zoe McConnell exclusively for Empire at Star Wars Celebration at ExCeL London. Set build by Simon Godfrey Design.