Loaded with 4K UHD resolutions, user-friendly operating systems, multiple streaming platforms, and powerful cinematic audio and image processing, a 43-inch TV perfectly straddles the border between affordability and experience. They are not so big as to overtake a room and empty bank accounts, but big enough to carry the latest tech TV-watching has to offer. When it comes to that all-important TV upgrade, 43-inches is an excellent choice.
Many options carry an array of interfaces, allowing a 43-inch TV to comfortably take centre stage in an entertainment setup, whether its primary focus is on TV shows and movies, video games, sports and racing. The benefits of WiFi and ethernet internet connections speak for themselves regarding a smart TV's ability to stream and browse online. Bluetooth and screen mirroring features will also open up new and versatile entertainment options.
Multiple HDMI connections allow Blu-ray players, game consoles and streaming devices to be installed with ease, while eARC support allows a soundbar to integrate into an ecosystem. USB ports, particularly USB 3.0 iterations, allow for external storage connections, unlocking a TV's ability to pause and rewind live TV, and allowing for images and video files to be viewed on the big screen.
What to look for in the best 43-inch TVs:
Connectivity
The more interfaces a TV has, the more versatile it is. Multiple HDMI inputs are needed for input from Blu-ray players, media streamers and video game consoles, while USB ports allow for live TV recording on USB or movie playback from external hard drives. Bluetooth and WiFi are also important, allowing for versatile inputs and outputs.
Screen and Image Tech
The processor is the brain of a TV, taking most, if not all, of the heavy lifting under its remit. A quality processor is a must. As is High Dynamic Range (HDR), a feature that looks after screen contrast to improve vibrancy and depth. There are several standards around (like HDR10, HLG and Dolby Vision), and understanding what is needed can get needlessly complicated. While important to note whether a TV has HDR support, the standards supported shouldn't stop you from buying the TV you like most. Besides, the manufacturer can add new HDR via firmware updates.
Resolution upscaling is also important. Older content, even in 1080p, looks very dated on a 4K UHD screen. Upscaling AI cleverly works behind the scenes to artificially up the resolution of legacy content to, or near to, 4K. This makes for a far more consistent viewing experience.
Refresh Rate
The refresh rate of a TV refers to how many times the screen refreshes every second. Measured in Hertz (Hz), the higher the refresh rate, the smoother the image – low refresh rates can make fast-paced content appear blurry.
50-60Hz will be fine for TV shows and movies, as they are usually shot at 27fps. Higher refresh rates are a more important feature for those who are keyed into motion performance, such as sports fans and video games enthusiasts.
Audio Tech
Audio technology plays an essential role in creating an immersive experience. Modestly priced TVs will often carry a stereo surround, which will do a fine job of sinking viewers into the content. However, as you move higher in price, different audio technologies start to emerge, like Dolby Atmos and DTS Virtual .
These object-orientated systems go beyond simple left-right audio separation, manipulating sound to simulate additional above-below audio. Such processes derive from cinema applications. They give the impression that you are t the centre of the audio field, rather than in front of it. Often soundbars, surround sound systems or headphones are needed to witness the full effect, but it's worth the extra investment.
Just so you know, while we may receive a commission or other compensation from the links on this page, we never allow this to influence product selections.
The Best 43-Inch TVs
Philips Ambilight 43PUS8545/12
Panasonic TX-43HX940B
Sony BRAVIA KD43XH8505
Samsung UE43TU8000
LG 43UN81006LB
Samsung QE43Q60TAUXXU
JVC Fire TV Edition
Empire's Best 43-Inch TVs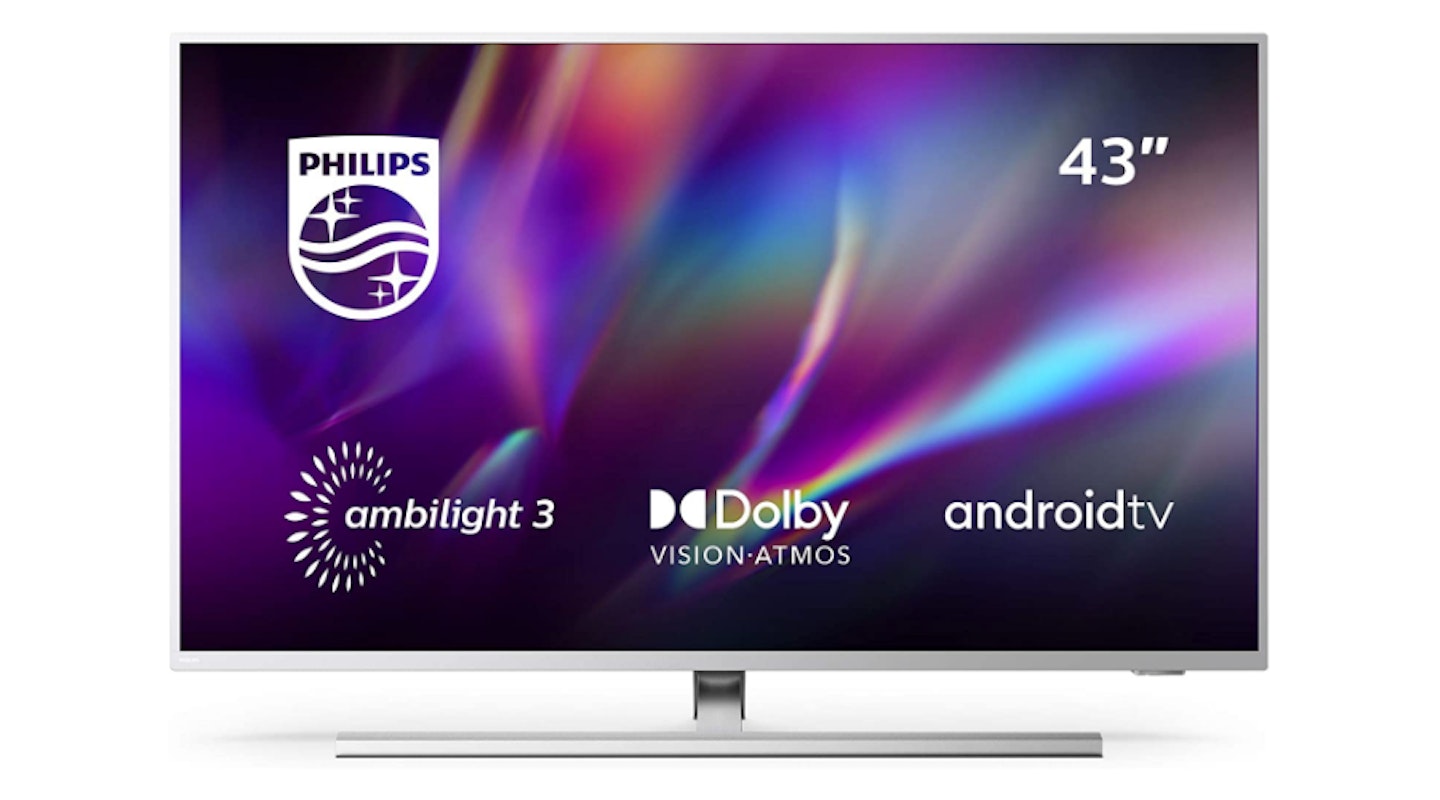 1 of 7
Philips Ambilight 43PUS8545/12
Best for atmosphereThe screen is crystal clear, with the 4K UHD resolution being supported by the mighty powers of HDR10+, Dolby Vision and the P5 Perfect Picture Engine. The vividness and depth of the image are furthered by the colour-matched glow of Philip's Ambilight. This LED system helps your entertainment to break free of its borders and is a powerful feature when watching atmospheric movies and TV shows in low light. The audio can match the awe of the visual experience thanks to Dolby Atmos.Specifications
Tech: P5 Perfect Picture, Dolby Vision, HDR10+, HDR10, HLGAudio Tech: Dolby AtmosNative Refresh Rate: 60HzConnections: HDMI 2.0 x4, Component x1, USB 3.0 x1, USB 2.0 x1, Bluetooth, WiFi, ethernet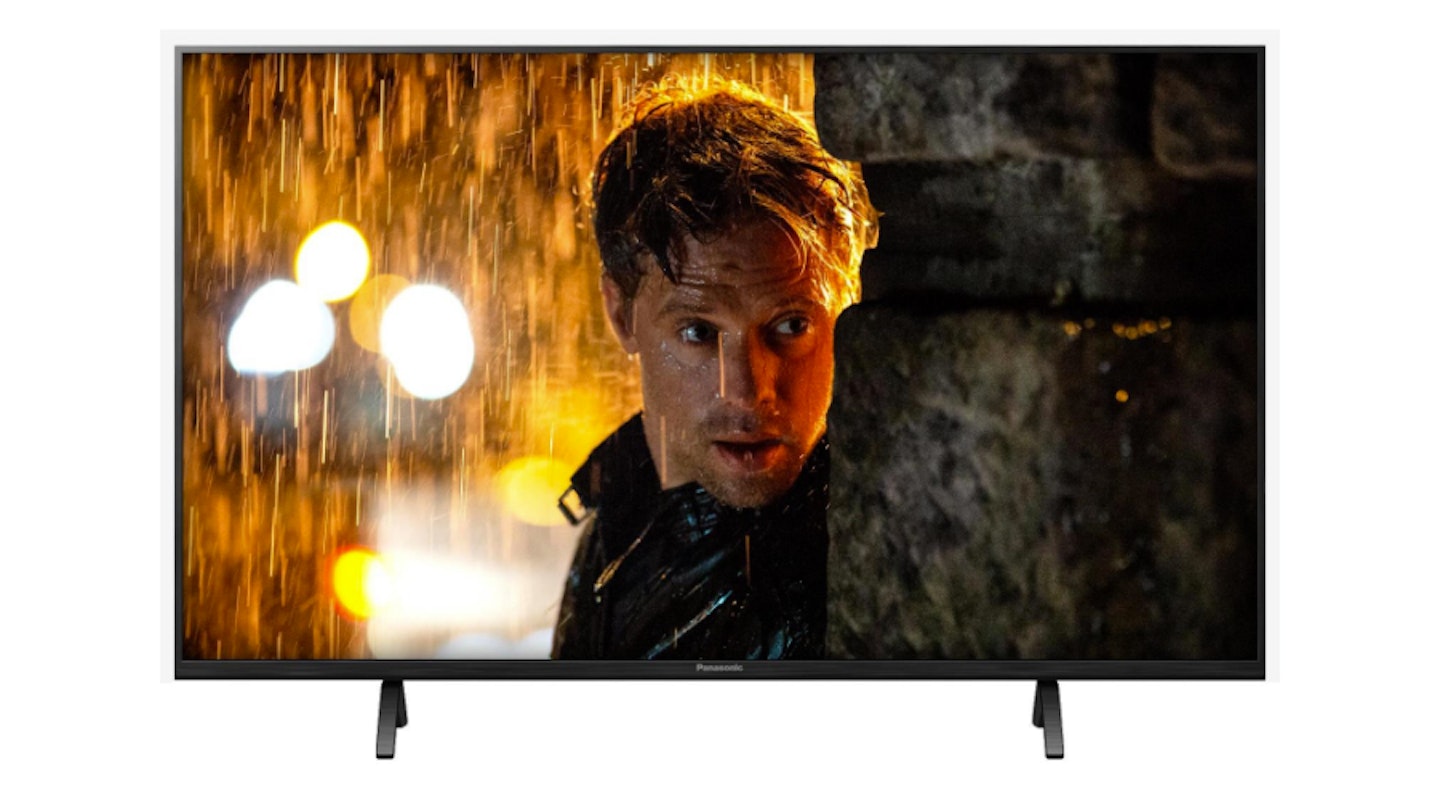 2 of 7
Panasonic TX-43HX940B
The best 43-inch TV Get ready for a list, because Panasonic has packed a lot behind its screen. Dolby Vision, HDR10+ and the HCX PRO Intelligent Processor are all here to provide an immaculate 4K UHD image. The HCX is tuned to continuously optimise contrast and colour for improved visual depth and realism. Local Dimming Pro does great things furthering the processor's cause through accurate adjustments to brightness. The native 100Hz refresh rate and multiple HDMI 2.1 interfaces are great news for gamers, movie lovers and sports fans alike, ensuring smooth and silky playback. The sound is top-notch too, thanks to the Dolby Atmos and the hefty internal speakers. Specifications: Image Tech: HCX PRO Intelligent Processor, Local Dimming Pro, Dolby Vision, HDR10+Audio Tech: Dolby AtmosNative Refresh Rate: 100HzConnections: HDMI 2.1 x4, USB 3.0 x1, USB 2.0 x1, Bluetooth, WiFi, ethernet, component, composite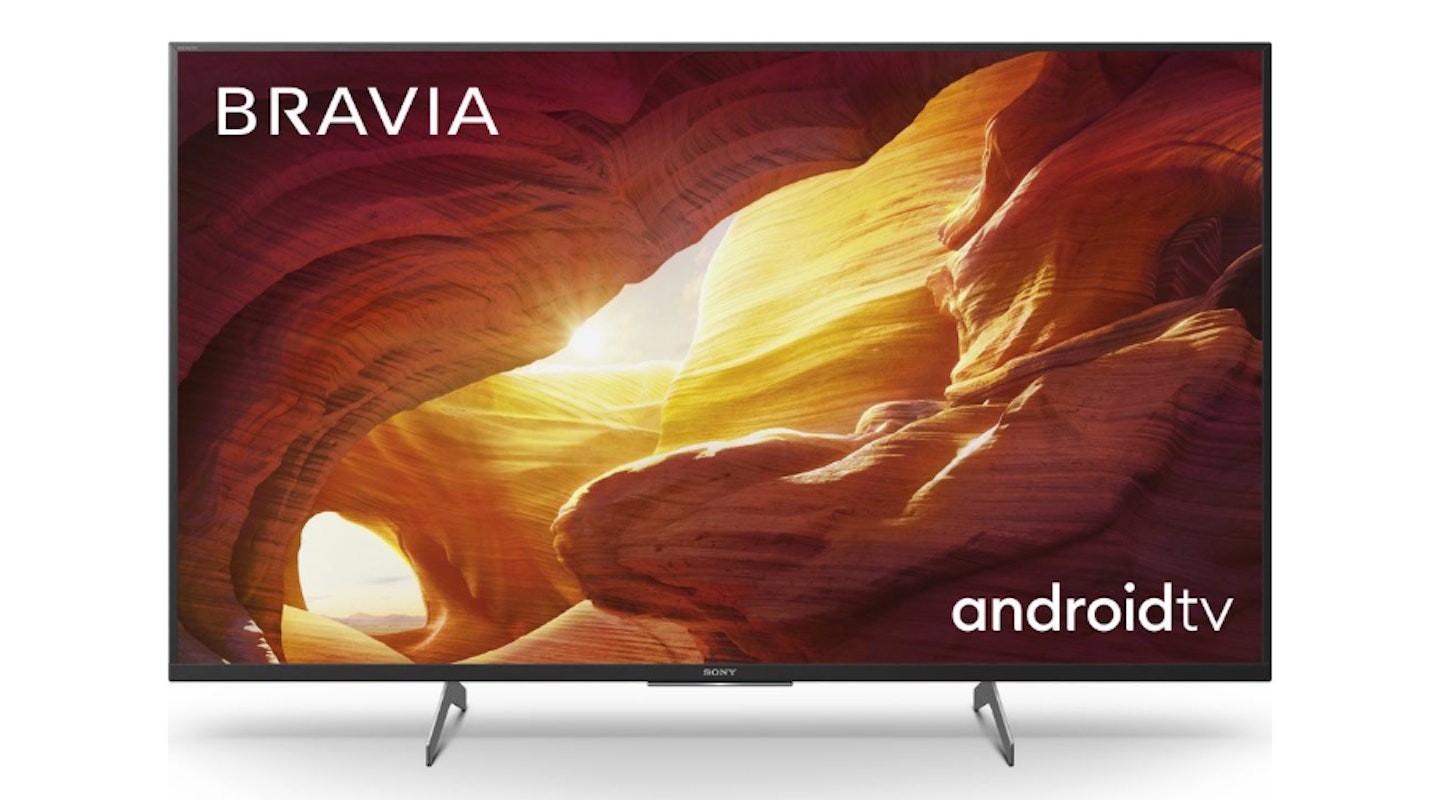 3 of 7
Sony BRAVIA KD43XH8505
Excellent screen, blistering refresh rateThis BRAVIA TV from Sony delivers a pin-sharp 4K UHD image loaded with dynamic colour, courtesy of the TRILUMINOS Display. The Sony X1 4K HDR Processor adds precision and depth to the TV's performance by utilising object-based HDR, adding weight, texture and power to the 4K image. Motionflow XR 800 is onboard to artificially up the refresh rate and improve the smoothness of fast-paced content as the X-Reality Pro engine works to up legacy content up to a level kind on contemporary eyes. The set also carries Dolby Atmos and the Android TV OS. Specifications: Image Tech: X1 4K HDR Processor, X-Reality Pro, TRILUMINOS, Motionflow XR 800Hz, Dolby Vision, HDR10, HLGAudio Tech: Dolby AtmosNative Refresh Rate: 100HzConnections: HDMI 2.1 (eARC support) x1, HDMI 2.0b x3, USB 3.0 x1, USB 2.0 x2, Bluetooth, WiFi, ethernet, component, composite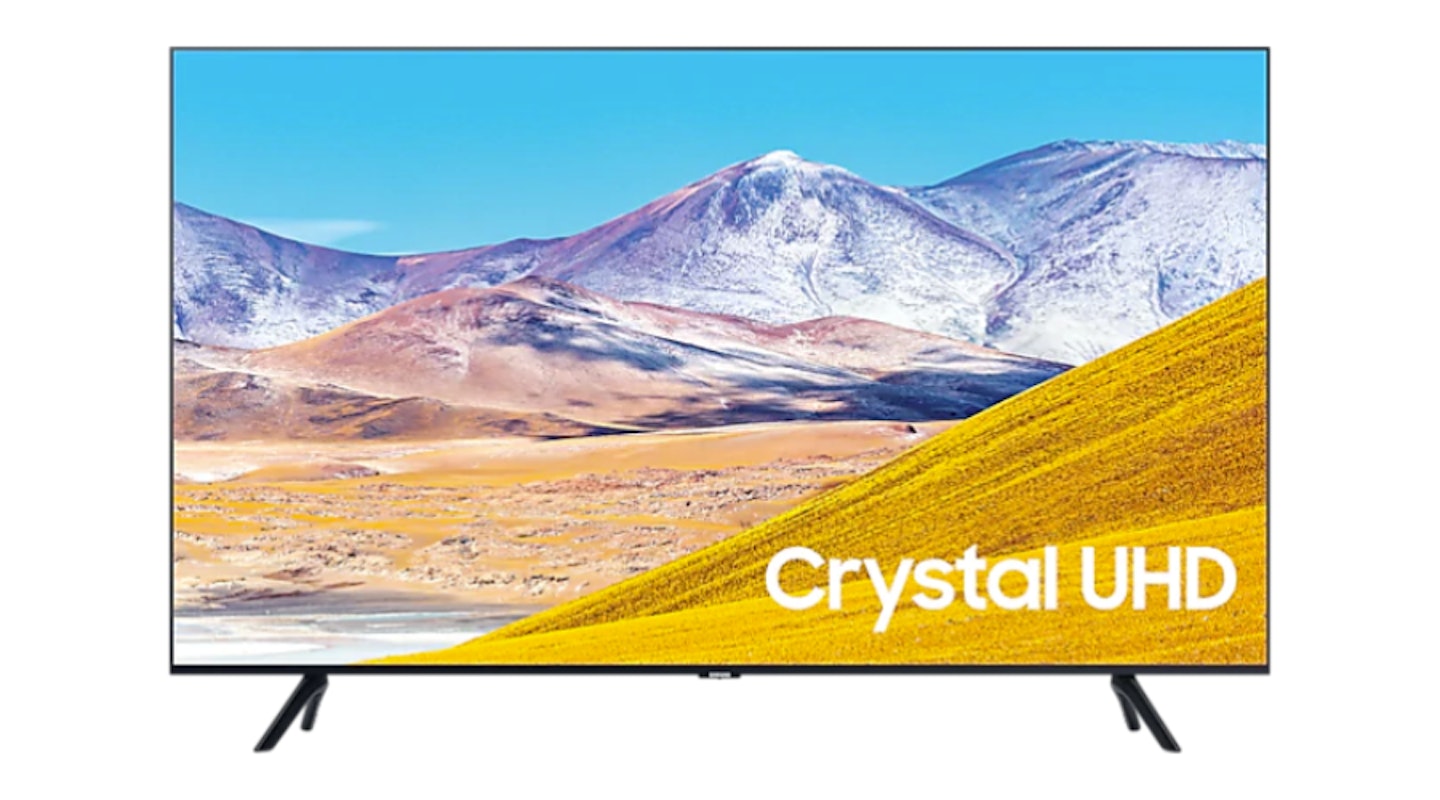 4 of 7
Samsung UE43TU8000
Samsung pedigree on a budgetIn the TU8000, Samsung puts its Crystal Processor 4K to work alongside Dual LED and Crystal Display tech to deliver a sharp and well-defined image. It's a smooth image too, with the Motion Rate engine working to augment the native refresh rate of 60Hz to 120Hz. The OS is easy to navigate and hosts MultiView, voice control and smart home integration, Game Enhancer, Ambient Mode and device mirroring. Though a soundbar is needed for a more exciting audio experience and wider viewing angles are the preserve of more expensive TVs, Samsung has distilled a tonne of essential tech into the TU8000, resulting in a TV that's hard to pass up for the price.Specifications
Tech: Crystal Processor 4K, Dual LED, Crystal Display, Motion Rate, HDR10+, HLGAudio Tech: Dolby Digital PlusNative Refresh Rate: 60HzConnections: HDMI 2.1 x3 (eARC support), USB x2, Bluetooth, WiFi, ethernet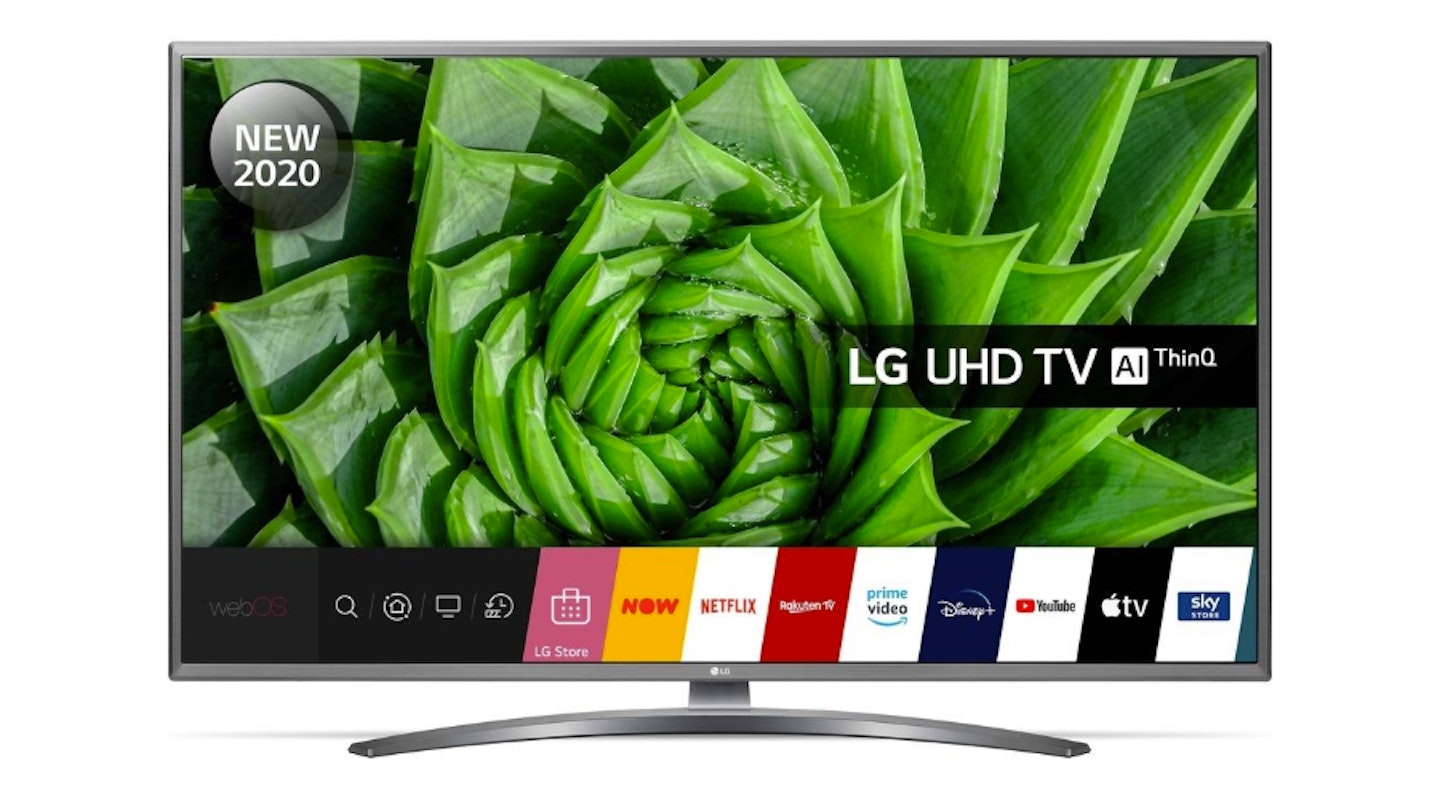 5 of 7
LG 43UN81006LB
Lowly priced, highly recommendedCombining performance, features and affordability, the LG UN81 carries the Quad Core Processor 4K and Ultra Surround take good care of the visuals and audio, respectively. TruMotion 100 helps to bolster the 50Hz refresh rate when viewing fast-paced content - thankfully, it can be quickly deactivated whenever the Soap Opera Effect comes into play. The operating system is LG's WebOS and is one of the best around and has integrated 4K streaming services, including Netflix and YouTube. Though it may not carry OLED or Dolby processing, the LG UN81 proves there's still plenty to get excited about when shopping on a budget.Specifications
Tech: Quad Core Processor 4K, TruMotion 100, HDR10, HLGAudio Tech: Ultra SurroundNative Refresh Rate: 50HzConnections: HDMI 2.0 x4, USB 2.0 x2, Bluetooth, WiFi, ethernet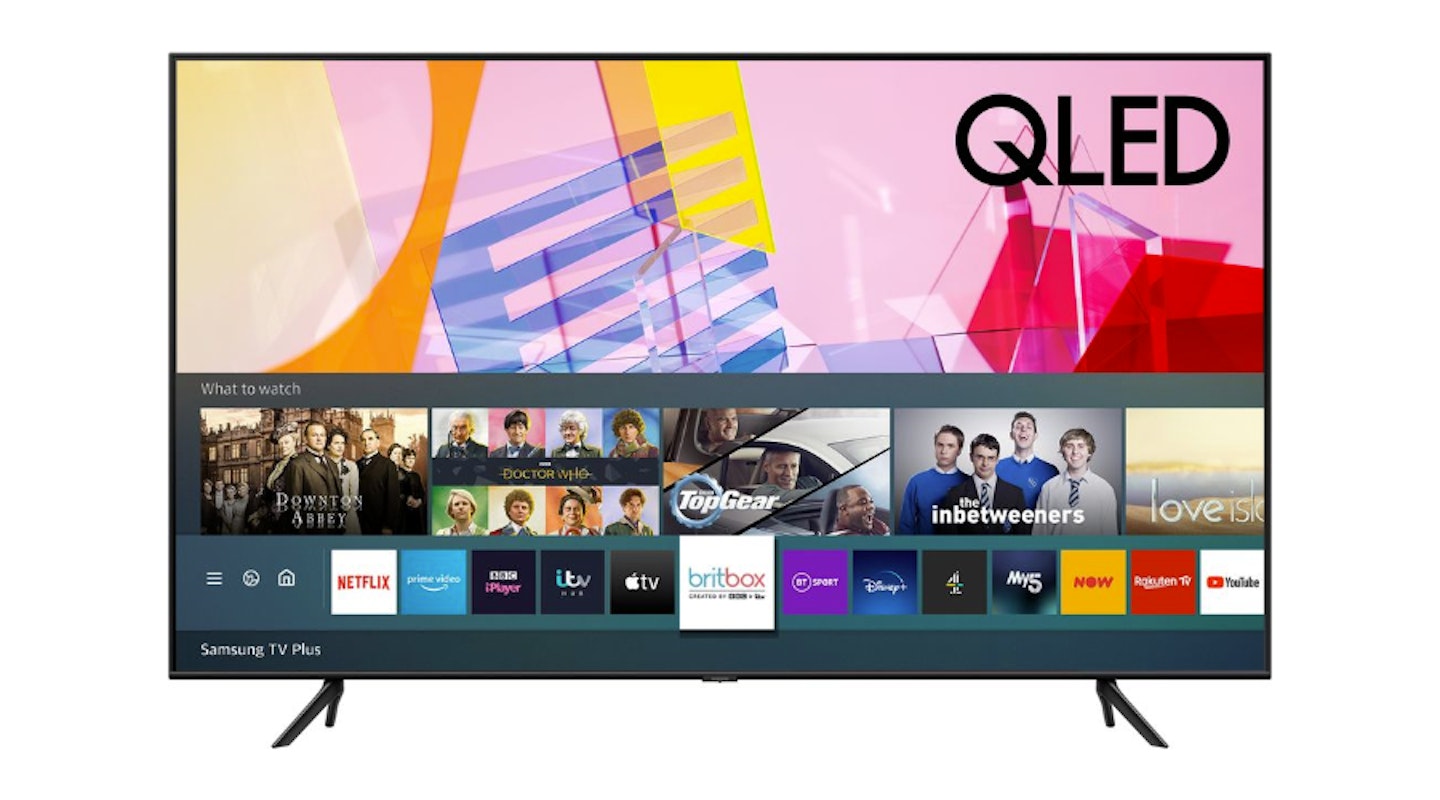 6 of 7
Samsung QE43Q60TAUXXU
Quantum LEDThe headline feature of the Q60T is the Quantum LED technology, more widely known as QLED. The image quality provided by QLED always hits hard and invigorates - the 100% colour volume provides flawless colour accuracy and the result is truly cinematic. QLED is typically a premium technology, so there have been a few sacrifices made to help the Q60T hit its price point. Sadly, there's no micro-dimming, though the Dual LED goes some way to rectify this and the screen is nice and bright for viewing in well-lit rooms. Also, despite the low input lag, gamers should look elsewhere for a better, smoother experience. As with other Samsung models, the Q60T carries the Tizen OS, which is rich in features and is user-friendly.Specifications
Tech: Quantum Processor Lite QLED, 100% Colour Volume, Dual LED, Quantum HDR, HDR10+, HLGAudio Tech: Dolby Digital PlusNative Refresh Rate: 60HzConnections: HDMI 2.0 x3, USB 2.0 x2, Bluetooth, WiFi, ethernet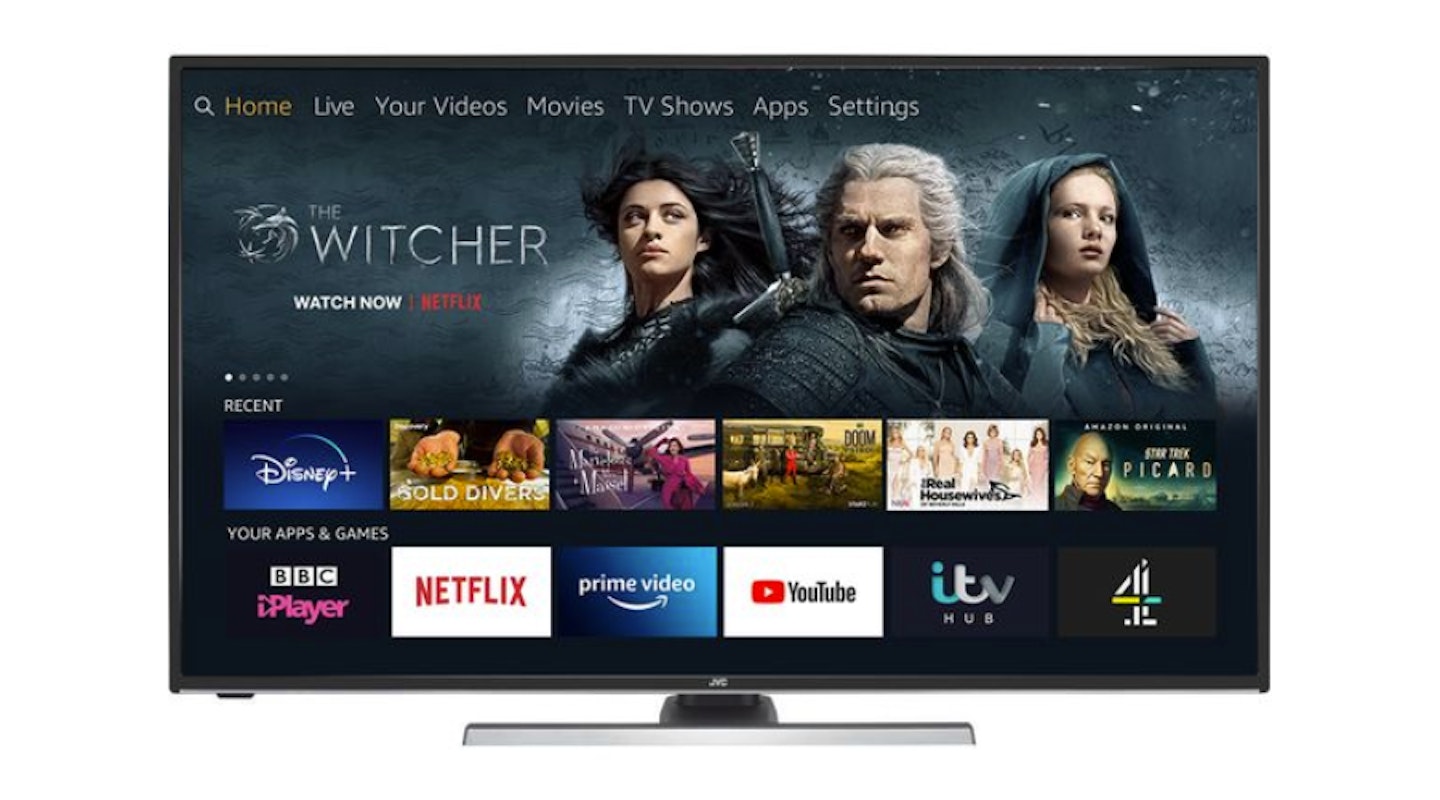 7 of 7
JVC LT-43CF890 Fire TV Edition
JVC's Fire Edition TV gains top marks for affordability and convenience. The TV uses Fire TV OS that integrates Amazon Prime Video into its UI for streamlined browsing. While this does forefront Amazon's content, there are plenty of apps to hand for many popular services, including Netflix and Curzon Home Cinema, BBC iPlayer and YouTube. The 4K resolution is a real treat, with plenty of HDR support to go around. Though Alexa support and the in-built search function could be a little quicker, this is still an excellent budget pick for binge-watching TV and movies. Specifications
Tech: LED backlight, Dolby Vision, HDR10, HLGAudio Tech: DTS-HD, DTS Virtual XNative Refresh Rate: 50HzConnections: HDMI 2.0 x4 (ARC support x1), USB 2.0 x2, Bluetooth, WiFi, ethernet, composite
HDMI, Resolution and Refresh Rate: A Quick Reference Guide
Port interfaces have a direct effect on the resolution and refresh rate that a TV can display. More recent iterations of the HDMI interfaces can transfer larger volumes of information, allowing for higher refresh rates and resolutions to be achieved.
Linking your input device with the correct port and with the right cable will ensure that a TV performs at the peak of its powers. Here's a quick guide breaking down the maximum refresh rates and resolutions for HDMI connections:
HDMI 1.4 - 120Hz at 1080p, 75Hz at 1440p, 30Hz at 4K
HDMI 2.0 - 240Hz at 1080p, 144Hz at 1440p, 60Hz at 4K
HDMI 2.1 - 120Hz at 4K, 60Hz at 8K UHD
READ MORE: The Best TVs Under £1,000
READ MORE: The Best Soundbars
READ MORE: The Best Budget Soundbars
READ MORE: The Best Budget Projectors