It's easy to think of the best movies, TV shows and video games as visual mediums. A lot of attention goes to cinematography and special effects, and rightly so.
But of equal importance is the audio. Original scores are essential for setting the right tone: what would Blade Runner be without Vangelis or Jurassic Park without John Williams? Away from the scores, ambience and audio textures subtly entwine to build tension, atmosphere and anticipation, as with the airless claustrophobia of Gravity, pressured ticking of Dunkirk and crackle of lightsabres in Star Wars: A New Hope. The same goes for video games - The Last Of Us Part II without the echo of stalking Clickers just wouldn't be the same.
To truly experience all the movies, TV and gaming can offer, a high-quality audio setup is the dream ticket. While home theatre surround sound systems are wonderful, there's an easier way - soundbars.
The best soundbars can capture the bombast and delicacy of sound without overtaking your living space. Long and narrow, soundbars sit below a TV set without intrusion, kicking out a vast, spacious sound, rich with bass and detailed with mids and highs. The best soundbars support audio processing technologies like Dolby Atmos and DTX to create palpable, 3D sound fields with you at the centre. Some even enlist the support of subwoofers - wireless to maintain convenience, but powerful enough to transform a home cinema.
If you can't stretch to the premium picks, you can still overhaul your home cinema with our picks of the best budget soundbars.
What we look for in the best soundbars:
Tone
Tone is hugely important. Without a balanced audio performance, a soundbar is next to useless. A soundbar needs to have punchy bass, as low frequencies add power, presence and atmosphere to movies, TV shows and video games. The mids need to be dynamic, as a lot of detail sits in this range - in particular, the human voice. Many soundbars have features applied to bringing these tones through clearly, with some even dedicating entire speakers to the process. Finally, highs need careful handling - they carry across a lot of bright and open details.
Output
When considered alongside other specifications, output can be a useful guide to the volume of a soundbar.
Output is measured in wattage. Rather than directly relating to the noise coming from a device, the output wattage reports on the power going into an amplifier. The amplifier signal pushes out of the drivers, and the resulting noise is what we all refer to as volume, measured in decibels. (This all gets a bit "parsecs are a measure of space, not time", because decibels technically measure speaker sensitivity rather than noise. It's still useful though.)
The more output, the more decibels. The more decibels, the louder a sound and this, the greater the volume of a soundbar. Note, however, that a 60w speaker will not be twice as loud as a 30w speaker. Decibel gains are incremental - doubling wattage adds only 3dB.
Due to the myriad factors that go into determining a soundbar's volume, including output, speaker sensitivity and component quality, some manufacturers choose not to report output wattage as they feel it can mislead consumers. There's also no legal requirement for them to do so.
Frequency Response
Frequency response measures the audible frequencies a driver can deliver. We like it as an indicator of overall sound and driver quality. Frequency response can also tell you how a soundbar and subwoofer relate to each other and how much crossover the two have.
20Hz - 20KHz is the average audible spectrum of the human ear. Having a soundbar getting close to these parameters is important for delivering a complete sound with shaking bass and vibrant highs (where appropriate, of course). It's not the end of the world if a soundbar falls a tad short - as we age, many lose the ability to hear the extremes within this range.
As with output, some manufacturers do not report this.
Connectivity
Connectivity determines how the soundbar receives input. The more connections there are, the greater a soundbar's flexibility.
HDMI connections allow for quality low-latency signal transfers, and HDMI ARC and eARC can streamline the audio output across several devices. Optical connections send digital signals without a HDMI cable, while RCA and 3.5mm Aux-in connections allow for almost universal connectivity, albeit with limited applications in contemporary home cinema setups.
Bluetooth and WiFi wireless connections are great at creating neat, fuss-free home cinema. Soundbars equipped with these connections can often connect to multiple devices, including smartphones and stereos.
Size
The physical size of a soundbar is crucial - it can make or break a compact home cinema. It's worth assessing how a soundbar will sit in front of a TV, whether a TV unit is long enough for the soundbar, or whether it will be mounted (in which case weight also becomes a key figure). It's worth remembering that a tall soundbar risks blocking the screen and IR receivers of a short-legged TV.
Just so you know, while we may receive a commission or other compensation from the links on this page, we never allow this to influence product selections.
The Best Soundbars
Dali Katch One
Sonos Arc
Samsung Q60T/XU with Wireless Subwoofer
Sonos Beam
Sony HT-ZF9 with Wireless Subwoofer
Yamaha MusicCast BAR 400 with Wireless Subwoofer
The Best Soundbars
1 of 6
Dali Katch One
Style and Substance The Dali Katch One looks fantastic, with an effortless air of Scandinavian-chic that stands notably taller than standard soundbars. Inside, ten drivers push out an idyllic and clear audio performance with plenty of volume, and a joyous taught and powerful bass. There are two audio profiles: Wide, which is best suited for movies and TV, and Focus, which tightens things up for music playback. There's a welcome physicality to the speaker too, thanks to the top-mounted button controls. Inputs abound, with five methods of connection lending the soundbar the potential to become a user's only audio solution. Funnily enough, the Katch One does have one catch - the rear-firing bass drivers perform best near to, or ideally against, a solid wall. Wall-mounting will get the best results, and three methods are provided - each low-key and tidy. Specifications Response: 46Hz - 25kHzTotal Output: 200W Audio Processing: Dual Sound ModeConnections: HDMI (ARC support), Optical x2, analogue stereo mini, USB 2.0, BluetoothSize/Weight (Soundbar): 69 x 860 x 148 mm, 3.7kg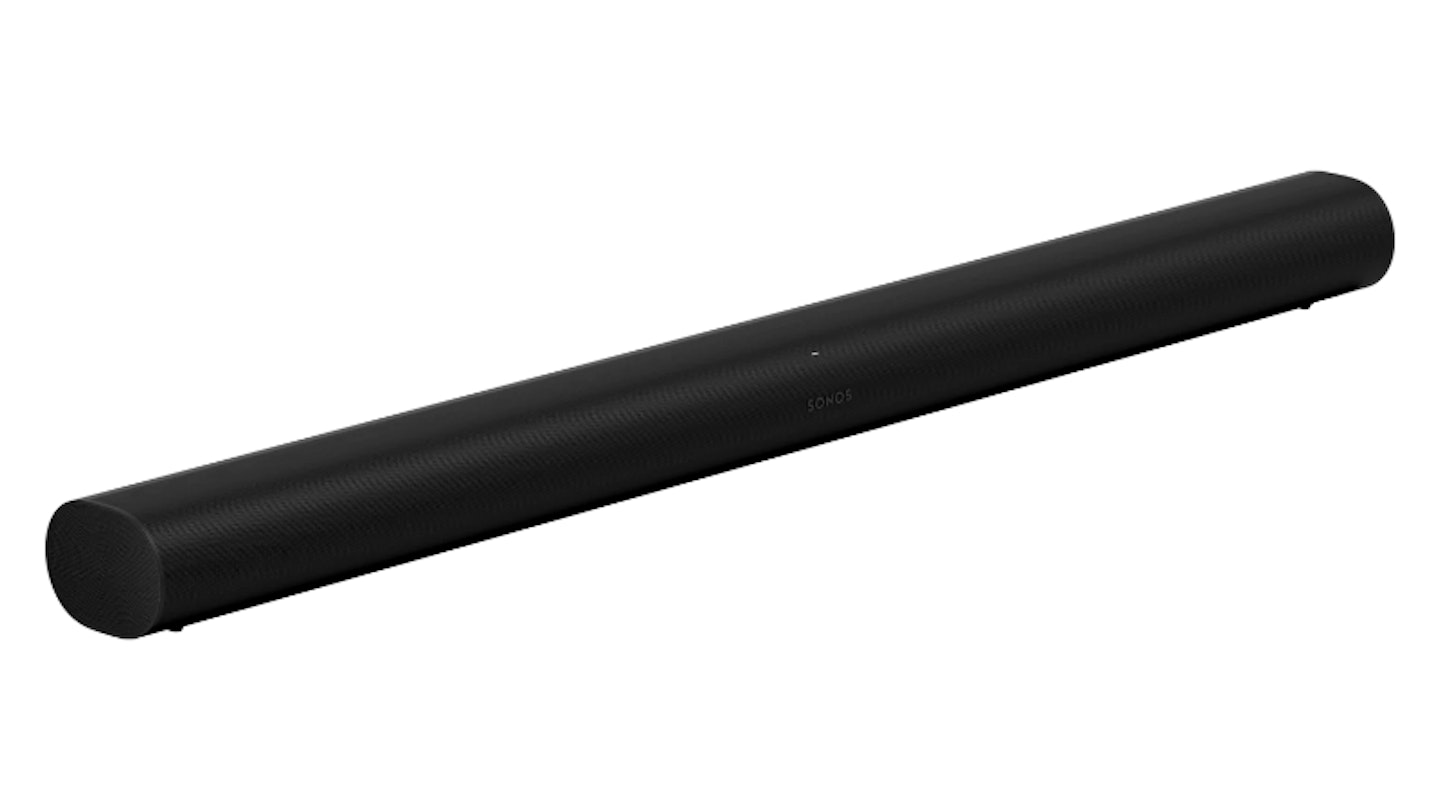 2 of 6
Sonos Arc
Best Sonos soundbarSonos is known for its adept hand in designed sound equipment, but the Sonos Arc is pure alchemy. Inside the long, svelte body of the Arc sit eleven drivers: seven face front, with two firing diagonally, two sit on top and one on either end. Not only do these drivers deliver a sound weighty with bass, dynamic with mids and clear on highs, but a highly directional sound. This is good, considering the Arc is designed to support the 3D-sound of Dolby Atmos. Just note that TV support for Atmos is required. Timed phase-array audio ensures that the listener is given an even greater spatial definition within the sound field. Also on-board is Trueplay, which will tune the Arc for optimal performance, Speech Enhancement for improved clarity on dialogue. The Sonos App will link the soundbar with Spotify and radio apps, and Amazon Alexa and Google Assistant are in-built. Specifications:Output: Not availableAudio Processing: Dolby AtmosConnections: HDMI with ARC/eARC support, WiFi, ethernet, Apple AirPlay 2Supports high-resolution audio with 4K passthrough Size/Weight: 87 x 1142 x 115 mm, 6.25kgExtras: Amazon Alexa, Google Assistant, Sonos multi-room connectivity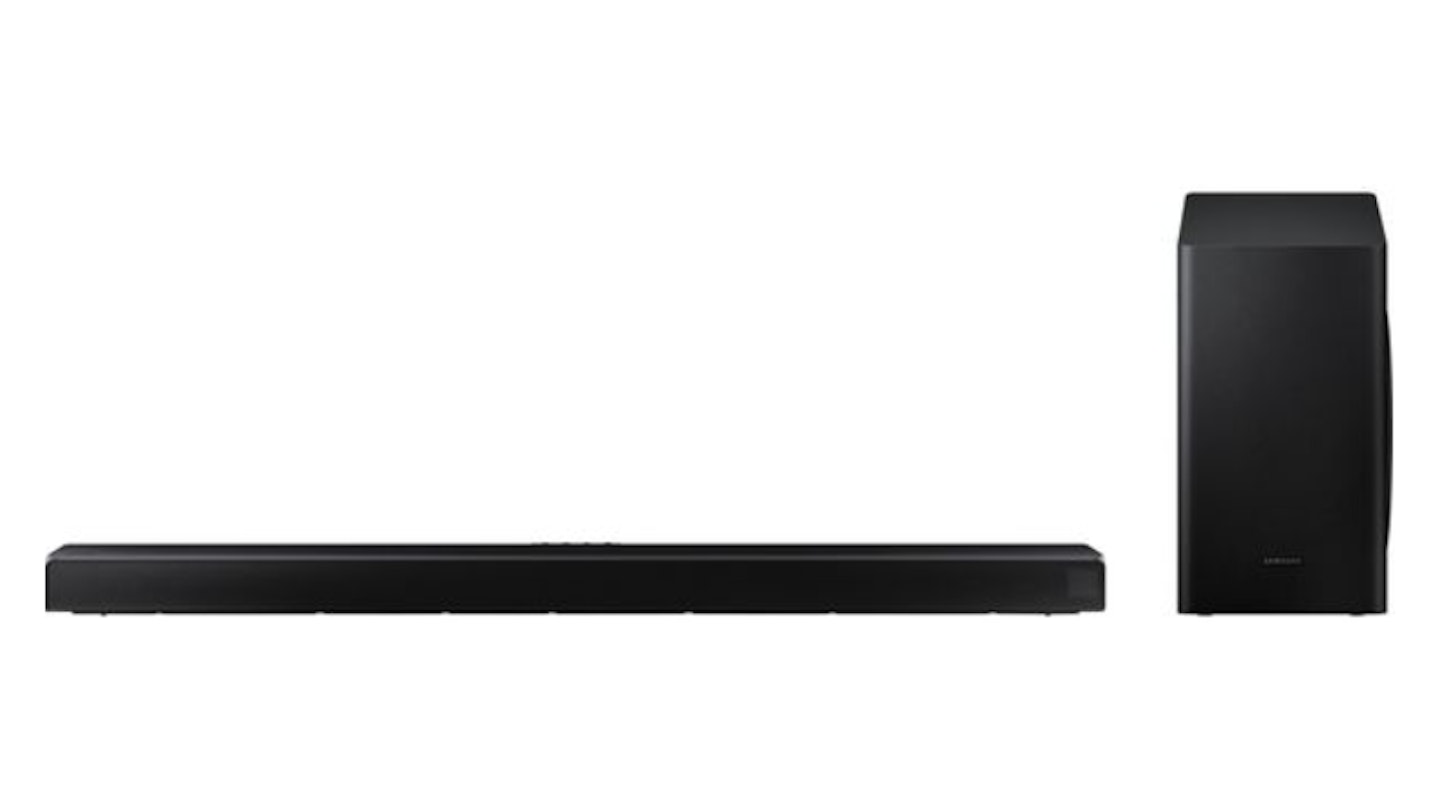 3 of 6
Samsung Q60T/XU with Wireless Subwoofer
5.1 3D-SoundThe Samsung Q60T/XU is a 5.1 soundbar carrying DTS Virtual for an immersive listening experience. Free from the hassle of satellite speakers, Samsung's engineers have managed to get the most out of the drivers through some acoustic trickery, using 56 holes to direct the drivers audio in different directions, creating a wider sound field. For those who like audio to take care of itself, the Adaptive Sound is going to please. This feature analyses and optimises audio in real-time to deliver the best and clearest audio possible. Future expansion of the setup is possible with the Wireless Rear Speaker Kit. The soundbar's development ran alongside some of Samsung's TVs - some readers may have seen the Q60T appear in our best TV lists. In theory, they offer the best performance on these TVs, taking advantage of features like Q-Symphony. However, rest assured that this setup will kick just as hard elsewhere, be it with LG, Sony or Panasonic. Specifications Output: 360W Audio Processing: DTS Virtual , Dolby 5.1Connections: HDMI (ARC support), Optical, USB 2.0, BluetoothSupports high-resolution audio with 4K passthrough Size/Weight (Soundbar): 58 x 980 x 105 mm, 3.4kgSize/Weight (Subwoofer): 205 x 335 x 303 mm, 6.2kg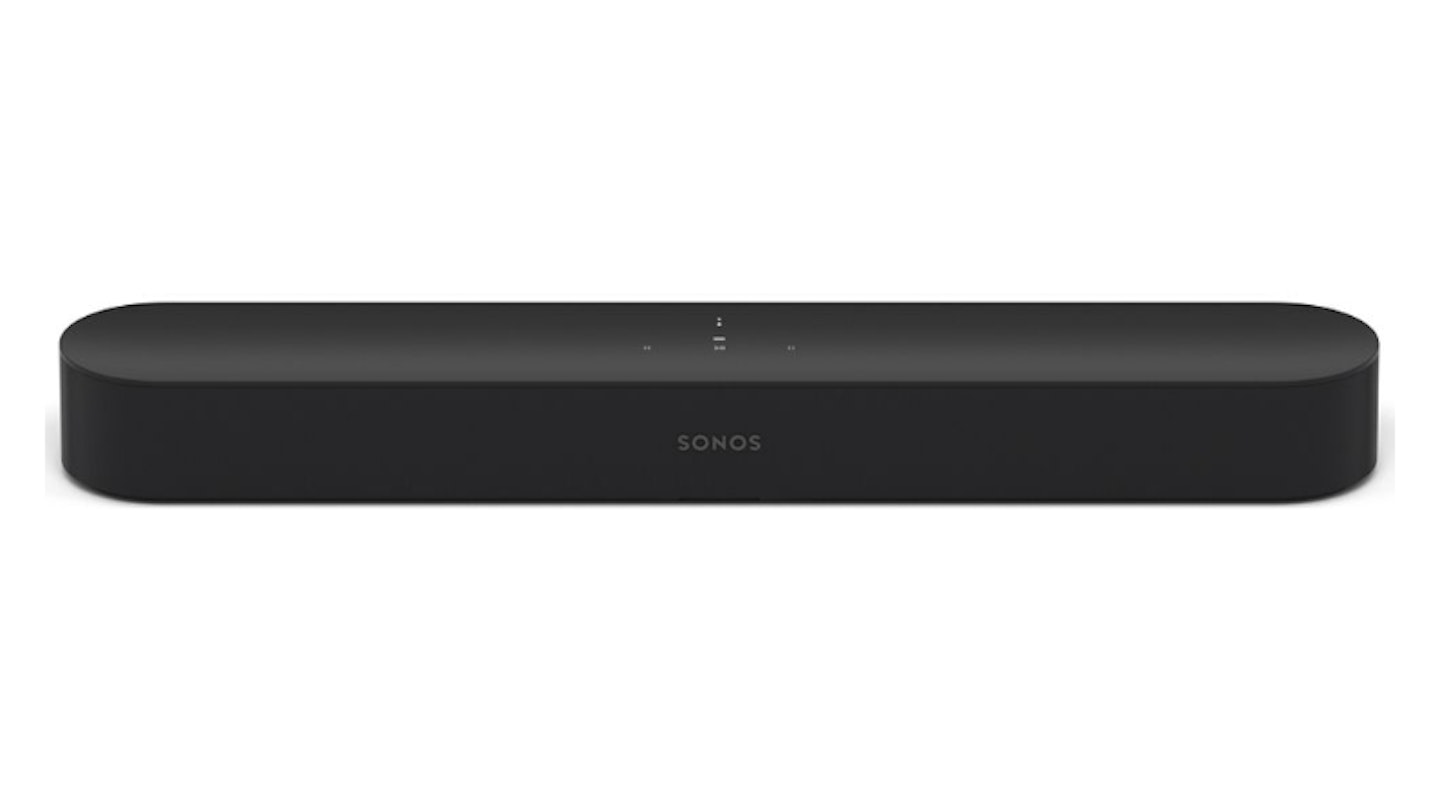 4 of 6
Sonos Beam
Best Compact SoundbarAs is the Sonos way, the Beam has been engineered and fine-tuned in collaboration with Oscar-winning sound designers. This, coupled with its form, quality and connectivity, allows the Beam to slip perfectly into a home cinema setup. The audio is deep and rich, with a kicking bass response that sits distinctly next to crisp and clear mids and highs (there's also a Speech Enhancement mode that'll pluck up dialogue clarity). While it's ideal for those wanting to save a little room without compromising on power, there's also the option to use Sonos connectivity to build a full 5.1 surround sound system with a few Sonos Ones and a Sub in the future.Specifications:Output: Not availableAudio Processing: Dolby DigitalConnections: HDMI ARC, Optical, WiFi, ethernet, Apple AirPlay 2Supports high-resolution audioSize/Weight: 68 x 651 x 100 mm, 2.8kgExtras: Amazon Alexa, Google Assistant, Sonos multi-room connectivity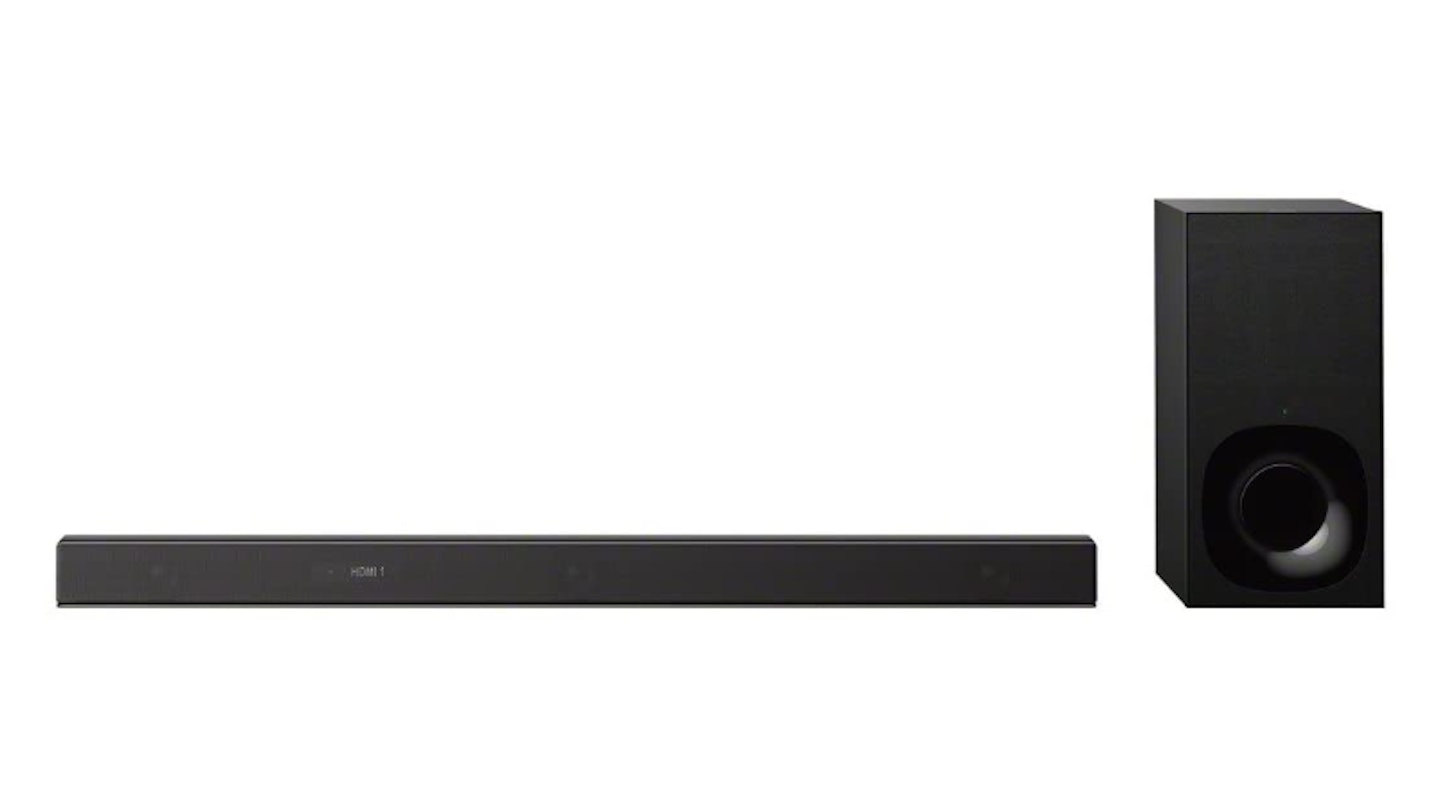 5 of 6
Sony HT-ZF9 with Wireless Subwoofer
3.1 Dolby Atmos and DTSSony's three-driver soundbar and wireless subwoofer combination delivers a throaty bass, with mids and highs that add plenty of clarity and detail - this is high-resolution sound indeed. Sadly there's no automatic tuning, so spending some time in the settings is needed to refine the performance. There are also various sound modes depending on media playback, optimising the audio for movies, games or music. Another feather in the HT-ZF9's cap is Sony's Vertical Surround Engine, which allows the cinematic object-orientated, 3D-sound of Dolby Atmos and DTS to be accessed. Non-specialist audio also benefits from this engine, because all audio upscales via the soundbar's nifty advanced digital signal processing (it can be deactivated with the touch of the remote for more low-key viewing moments). **Specifications:**Output: 400WAudio Processing: Dolby Atmos, DTS , Vertical Surround EngineConnections: HDMI ARC, Optical, analogue stereo mini, USB Type A, Bluetooth, WiFi, ethernetSupports high-resolution audio with 4K passthrough Size/Weight (Soundbar): 64 x 1000 x 99 mm, 3.1kgSize/Weight (Subwoofer): 190 x 382 x 386 mm, 8.1kg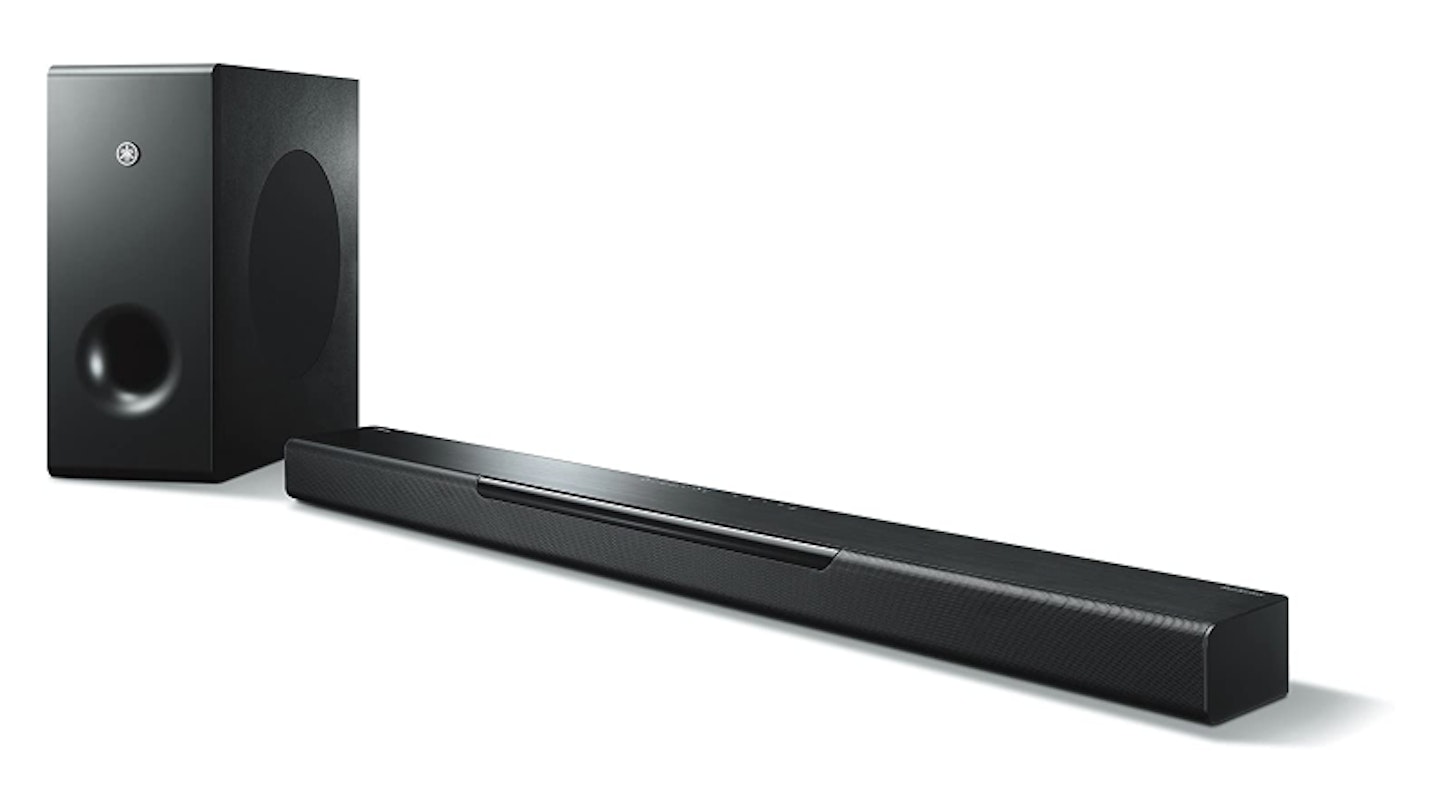 6 of 6
Yamaha MusicCast BAR 400 with Wireless Subwoofer
For Movies, For MusicThis 2.1 system packs in a significant audio performance, reinforced by DTS Virtual , which provides a simulated 3D-sound experience. The elegant soundbar and well-proportioned subwoofer add a thump of weight and power to the viewing experience. Music sound excellent here, too - something that users can really take advantage of via the WiFi, Bluetooth and AirPlay 2 connections. The device is also home to MusicCast, a feature that allows users to create multiroom or surround sound systems with auxiliary speakers - not dissimilar to what Sonos offers. The BAR 400 can connect to an Amazon Alexa or Google Assistant device for voice commands. Specifications Response (Soundbar): 160Hz - 23kHzFrequency Response (Subwoofer): 40Hz - 160HzTotal Output: 200W Audio Processing: DTS Virtual , Dolby DigitalConnections: HDMI (ARC support), Optical, 3.5mm, Bluetooth, WiFi, ethernet Supports high-resolution audio with 4K passthrough Size/Weight (Soundbar): 64 x 1000 x 99 mm, 3.1kgSize/Weight (Subwoofer): 190 x 382 x 386 mm, 8.1kg
READ MORE: The best budget soundbars
READ MORE: The best TVs under £1,000
READ MORE: The best budget projectors