In the latest season of The Mandalorian, Bo-Katan Kryze has a new mission: unite the fractured factions of the Mandalorian culture. You see, the masked warriors' main issue is that they can't stop squabbling long enough about their differences to actually band together and stand for something. It could, on a particularly volatile day of Twitter discourse, serve as a metaphor for the Star Wars fandom – you don't have to look far online to find a surprising level of division between people who all, ostensibly, love the same thing. But not at Star Wars Celebration. The convention dedicated to the galaxy far, far away touched down this year in London – an event bringing every facet of the fandom together, quite literally, in a shared love of the legendary space-opera. In Mandalorian terms, it'd be Bo-Katan's dream.
This year's Celebration – packed as ever with live panels, carefully-crafted cosplays, fan meet-ups, and toy stalls galore – was a joyous affair, truly living up to its name. And perhaps its greatest strength was the way in which it looked to the past, the present, and the future of Star Wars – binding them all together, like the Force itself. Looking to the past, there was a particular focus on Return Of The Jedi, celebrating its 40th anniversary this year – the original trilogy-capper that has defined countless childhoods for four decades now. In the present, this Celebration was a chance to acknowledge where Star Wars is currently – showing fans the latest episode of The Mandalorian Season 3 nearly a week early, and revisiting the delights of Andor, Obi-Wan Kenobi and the villains of the recent Sequel Trilogy. And it was a tantalising glimpse of the future – not just in showing early peeks at Ahsoka, The Acolyte, Skeleton Crew and more, but in confirming Star Wars' upcoming cinematic slate too.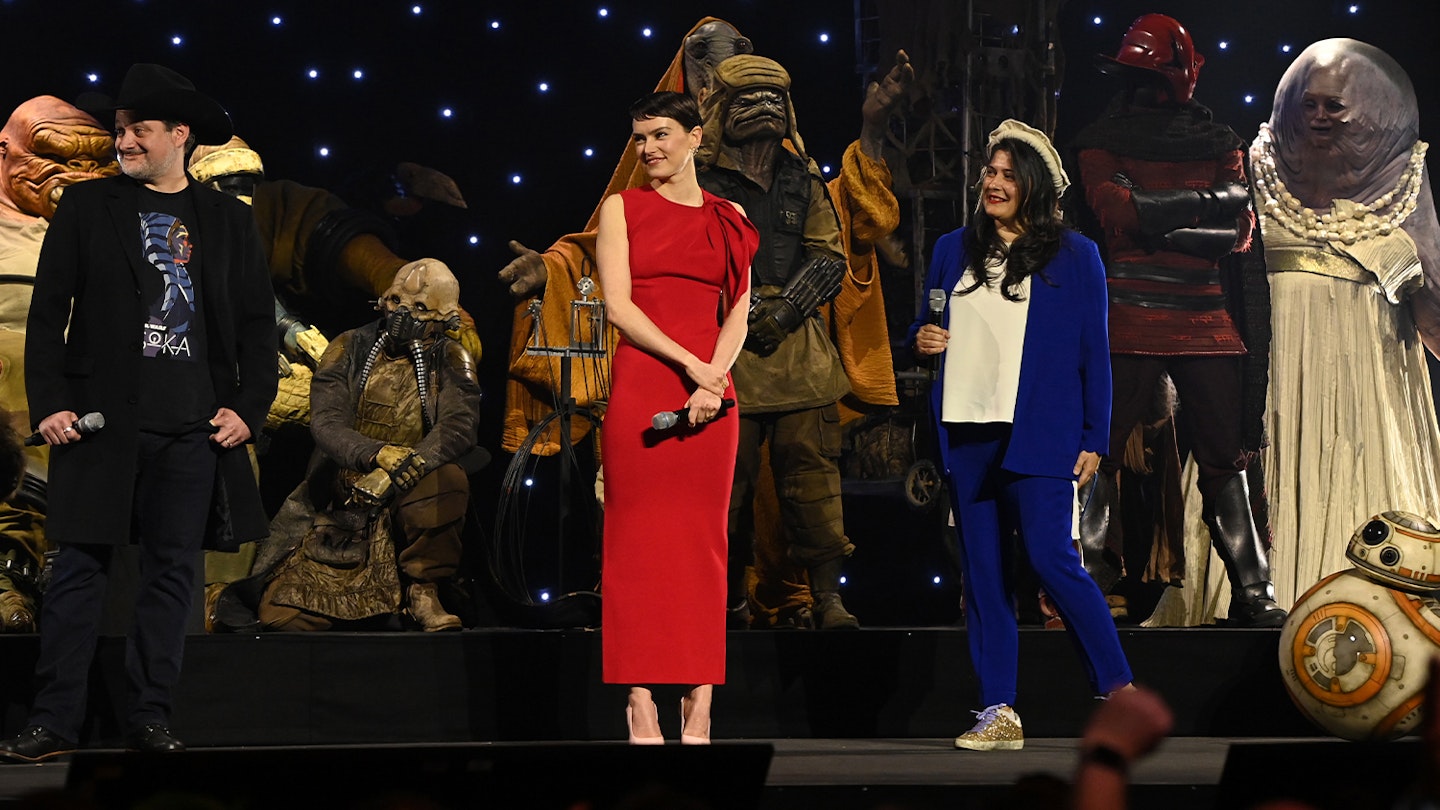 If there was one announcement, one reveal, that got the entire ExCeL centre buzzing, it was the slew of new movies. On Friday morning, Lucasfilm boss Kathleen Kennedy unveiled plans for three upcoming feature films – themselves looking to the past, present, and future of the Star Wars galaxy. While Dave Filoni's film (his live-action directorial debut feature) will tie into the New Republic era he's currently exploring with Jon Favreau on the small screen – in The Mandalorian, The Book Of Boba Fett, and the upcoming Ahsoka and Skeleton Crew – the other two film projects will take Star Wars into largely uncharted territory. Most intriguingly, James Mangold is dialling it back 25,000 years, to deliver "a kind of Bible movie," he tells Empire, that will be "about the discovery of the Force" – by far the furthest excursion back into the annals of the Star Wars galaxy on screen. And looking ahead will be Sharmeen Obaid-Chinoy's film, taking place 15 years after the end of The Rise Of Skywalker (currently the furthest-forward piece of canonical Star Wars storytelling) and seeing Daisy Ridley return as Rey to build a New Jedi Order. Across those three projects, the aim is clear: to broaden the Star Wars timeline in every direction, as reflected in the newly-updated set of distinct eras of storytelling.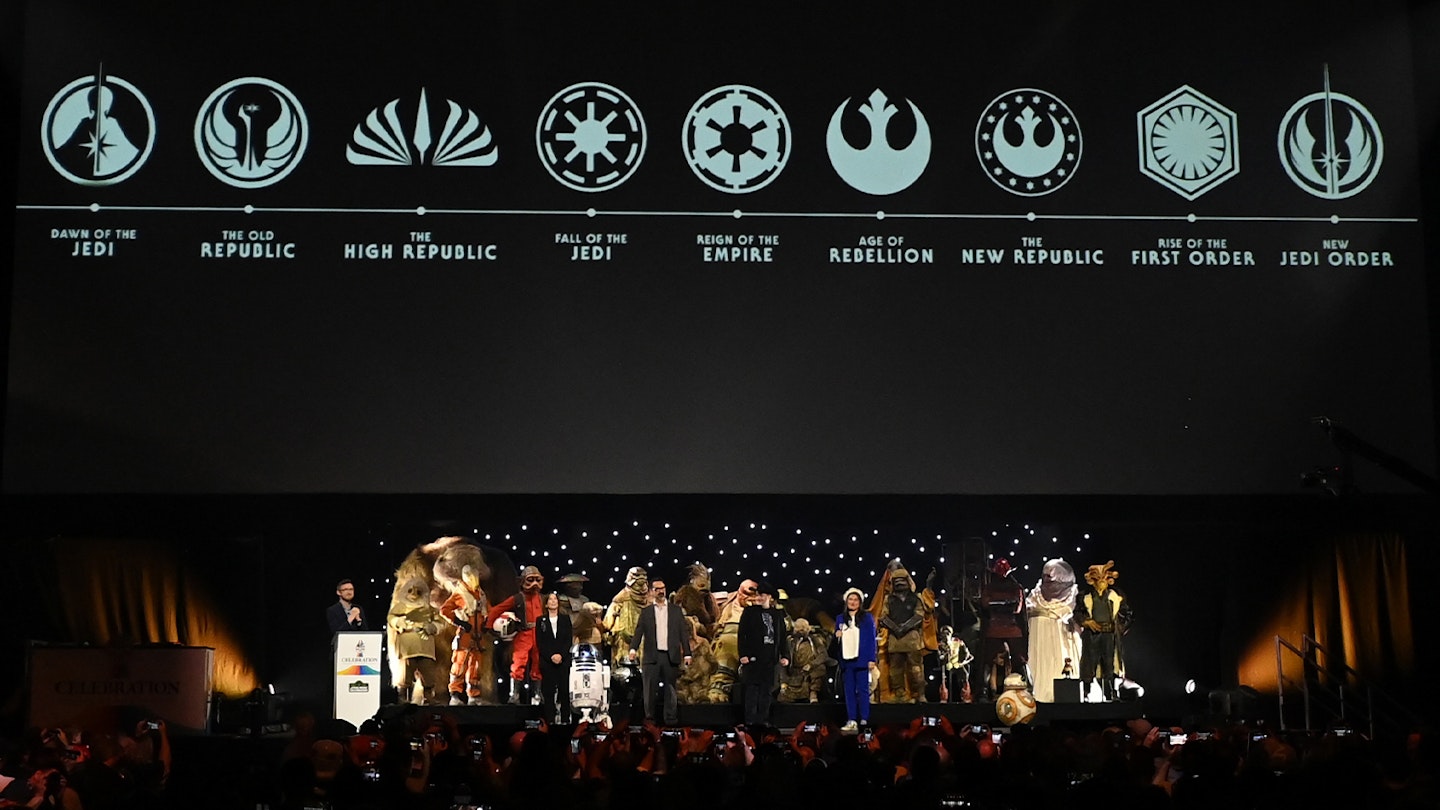 The future looks bright, too, for a slew of upcoming streaming series. If anything stood particularly tall in the Lucasfilm presentation, it was the first footage from The Acolyte – Leslye Headland's original series, set between the recently-established High Republic period (hundreds of years before the Skywalker Saga, so far explored only in novels and comics) and the Prequels, telling a story about the Dark Side with all-new characters. The teaser footage at Celebration looked stunning, bearing the wide scope, earthy grit, and more adult tone of Andor – while also featuring tons of lightsaber-wielding Jedi and a martial arts Force-fight between Carrie Anne Moss and Amandla Stenberg's characters. Think The Matrix meets Kurosawa, with added space-magic. Factor in Joonas Suotamo as a Jedi Wookiee and Headland's pitch for the show as "Frozen meets Kill Bill", and you have a Star Wars story unlike any other.
If any project looks set to tie together the past, present, and future of Star Wars most overtly, it's Ahsoka.
In fact, every upcoming project looked promising. Amblin-inspired series Skeleton Crew showed fantastic footage, introducing its hilarious young cast of kids – Ravi Cabot-Conyers, Kyriana Kratter, Robert Timothy Smith, and Ryan Kiera Armstrong – and a crop of exciting directors. Where else will you see Daniels, David Lowery, Bryce Dallas Howard and Lee Isaac Chung all on the same filmmaking line-up? The impending Volume 2 of Star Wars Visions looks just as spectacular – and even more stylistically varied – than the first, while The Bad Batch looks set to go out with a bang when it returns for a third and final season.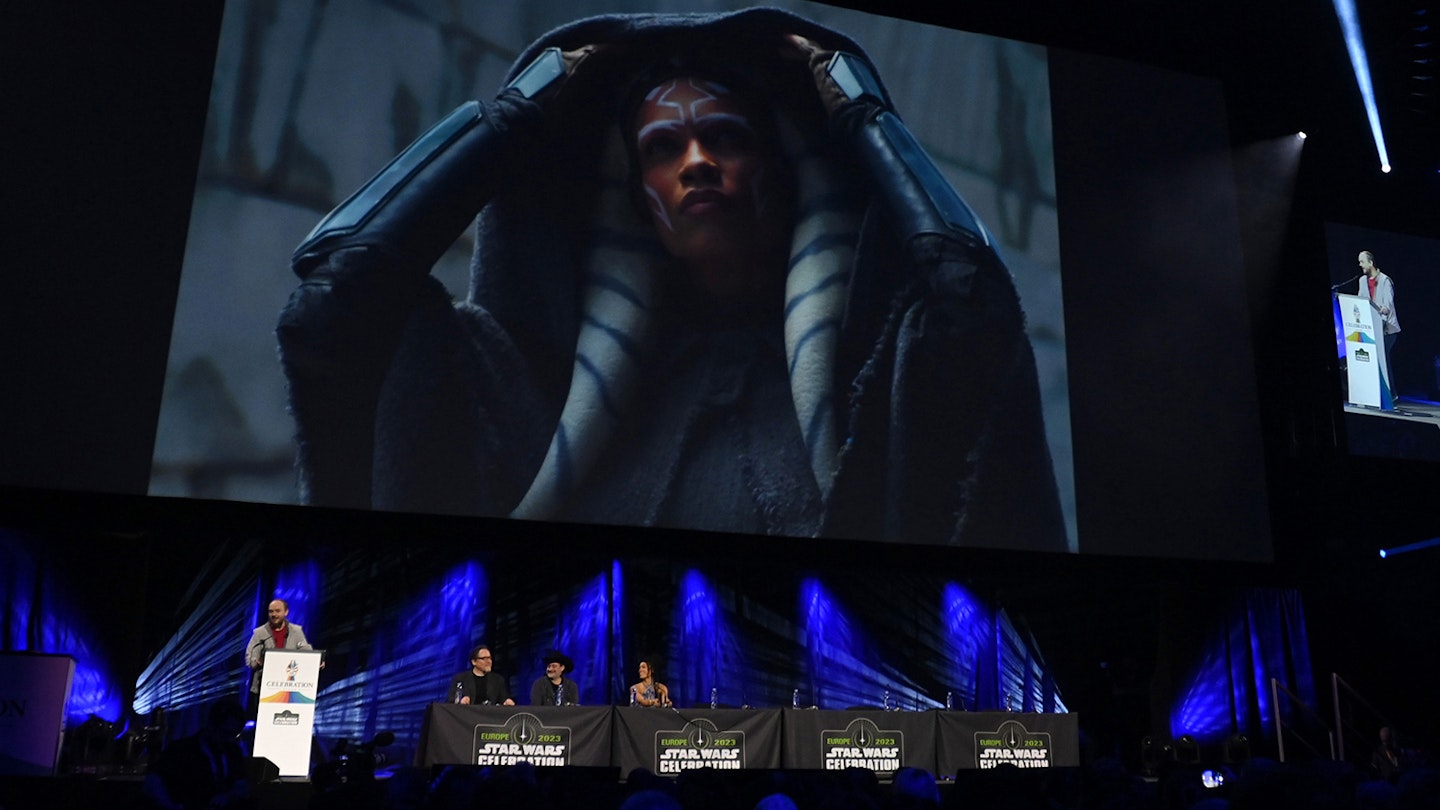 But if any project looks set to tie together the past, present, and future of Star Wars most overtly, it's Ahsoka. Dave Filoni finally gets to give the (not-)Jedi he co-created with George Lucas her own live-action show, now confirmed to arrive in August. Ahsoka isn't just a continuation of what we saw of her story in The Mandalorian Season 2, but a series that acts as a sequel of sorts to fan-favourite animated show Star Wars: Rebels. Several characters from that show are making their live-action debut here – colourful Mandalorian warrior Sabine Wren (Natasha Liu Bordizzo), Twi'lek pilot Hera Syndulla (Mary Elizabeth Winstead) and cantankerous droid Chopper. The trailer, too, briefly teased the return of Rebels' lost Jedi Ezra Bridger. And ready to cause havoc – not just in Ahsoka it seems, but across Favreau and Filoni's entire New Republic era – is Grand Admiral Thrawn. The blue-skinned baddie, who debuted in Timothy Zahn's no-longer-canon novels from the early 1990s, went on to appear in Rebels, and is now about to bring the pain in live-action played by Lars Mikkelsen (continuing his Rebels voice role). It's a none-more-Filoni example of pilching from every era – and medium – of Star Wars to create something new and exciting.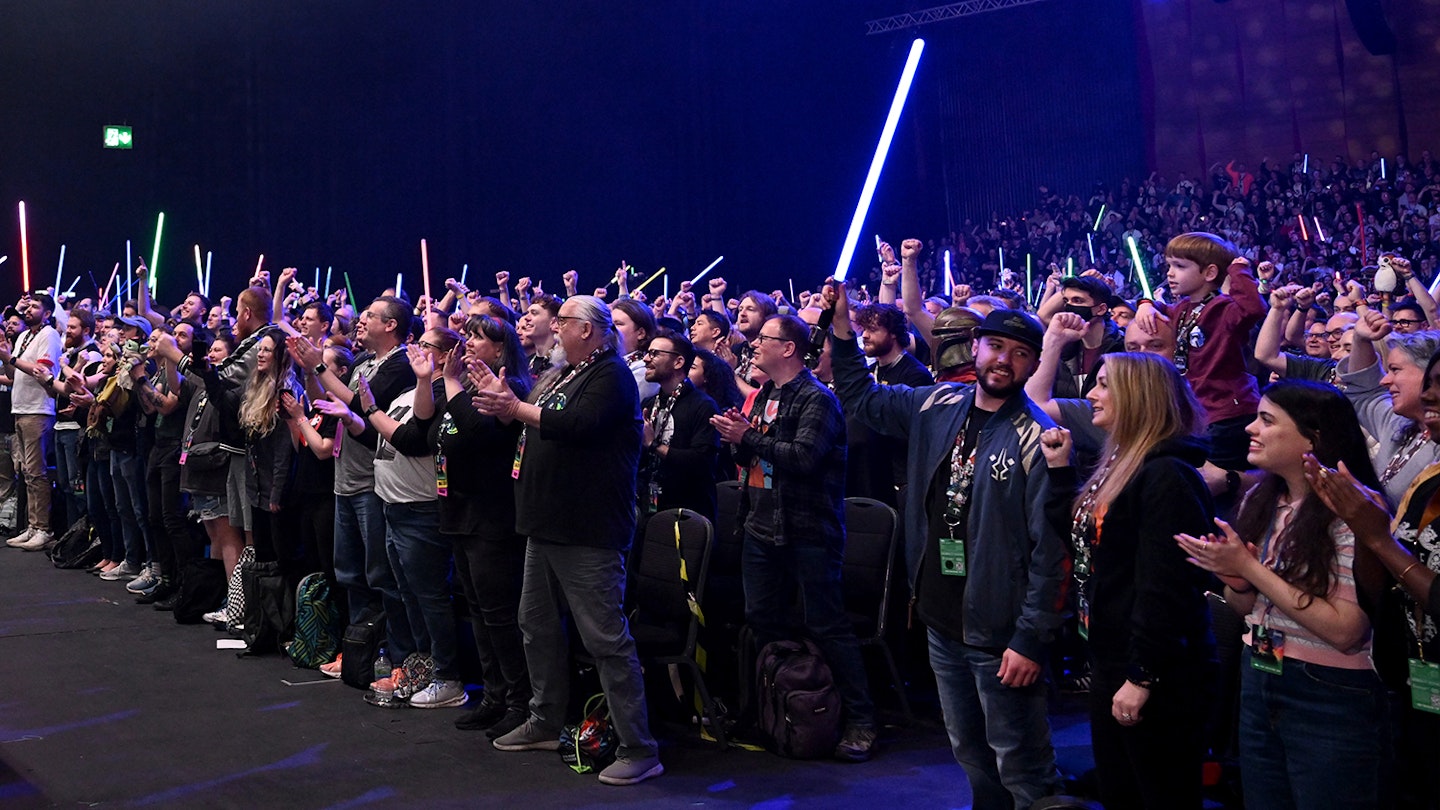 This kind of approach – of live-action characters rubbing shoulders with animated favourites and faces from Legends canon, while drawing from multiple generations of storytelling – is a spot-on reflection of what it's like to stand in the middle of Star Wars Celebration. It's a place where every era, every character (no matter how niche), and every corner of the saga is welcomed, in one shared space. It's a joyous, vibrant environment to be in – one that reminds you that the darkest discourse online isn't truly reflective of the love people have for this saga. The past, present, and future of Star Wars is looking incredibly bright – and judging by what was shown at Celebration, fans will have plenty to unite over in the months and years ahead. This is the way.