Strap in, everyone – The Mandalorian is blasting back into the Star Wars galaxy. Din Djarin is about to return in the long-awaited Season 3 with Grogu back at his side (following their touching reunion in The Book Of Boba Fett), and a fresh batch of adventures on the horizon. As Jon Favreau and Dave Filoni's epic saga barrels into a new era – now with writer-director Rick Famuyiwa joining them as an executive producer – there's plenty to look forward to. Not only is Pedro Pascal's former bounty hunter facing the ramifications of choosing to remove his helmet (a total no-go in his branch of the culture and belief system) in order to look Grogu in the eyes, but it's a journey – both physical and spiritual – that will take him to Mandalore itself.
It's fair to say that the scope of the new season – delving further into the Mandalorian mythology Filoni helped establish in The Clone Wars – is about to get bigger. "What I love most about Season 3 is how much the world opens up in terms of Mandalore and Mandalorians," Pedro Pascal tells Empire in the world-exclusive The Mandalorian Season 3 issue. "That means so many different facets of culture, politics, and rules and discoveries. Delicious doors are flying wide open." Adding complications to his quest for forgiveness? Mando now wields the much-contested Darksaber, a hard-fought-after weapon with a weighted history for the Mandalorian people, and special significance for his fellow Mandalorian warrior Bo-Katan Kryze.
Introduced in live-action in The Mandalorian Season 2, Bo-Katan sees actor Katee Sackhoff reprise her voice role from the animated series – and after all her years in the Star Wars galaxy, even she was surprised when she saw the territory the Season 3 scripts were taking them into. "[I was] texting Jon and Dave, 'Are you serious?' This is an epic season – it's so big and so bold and so different," she promises. And for Bo-Katan, it brings big challenges – her dynamic with Din Djarin isn't an easy one, and her tangled history doesn't hold easy options for the future. "We know the family that she was born into; now what's the family that she's going to choose? What does that look like?" questions Sackhoff. That's the thing with Mandalorians – they always find the way.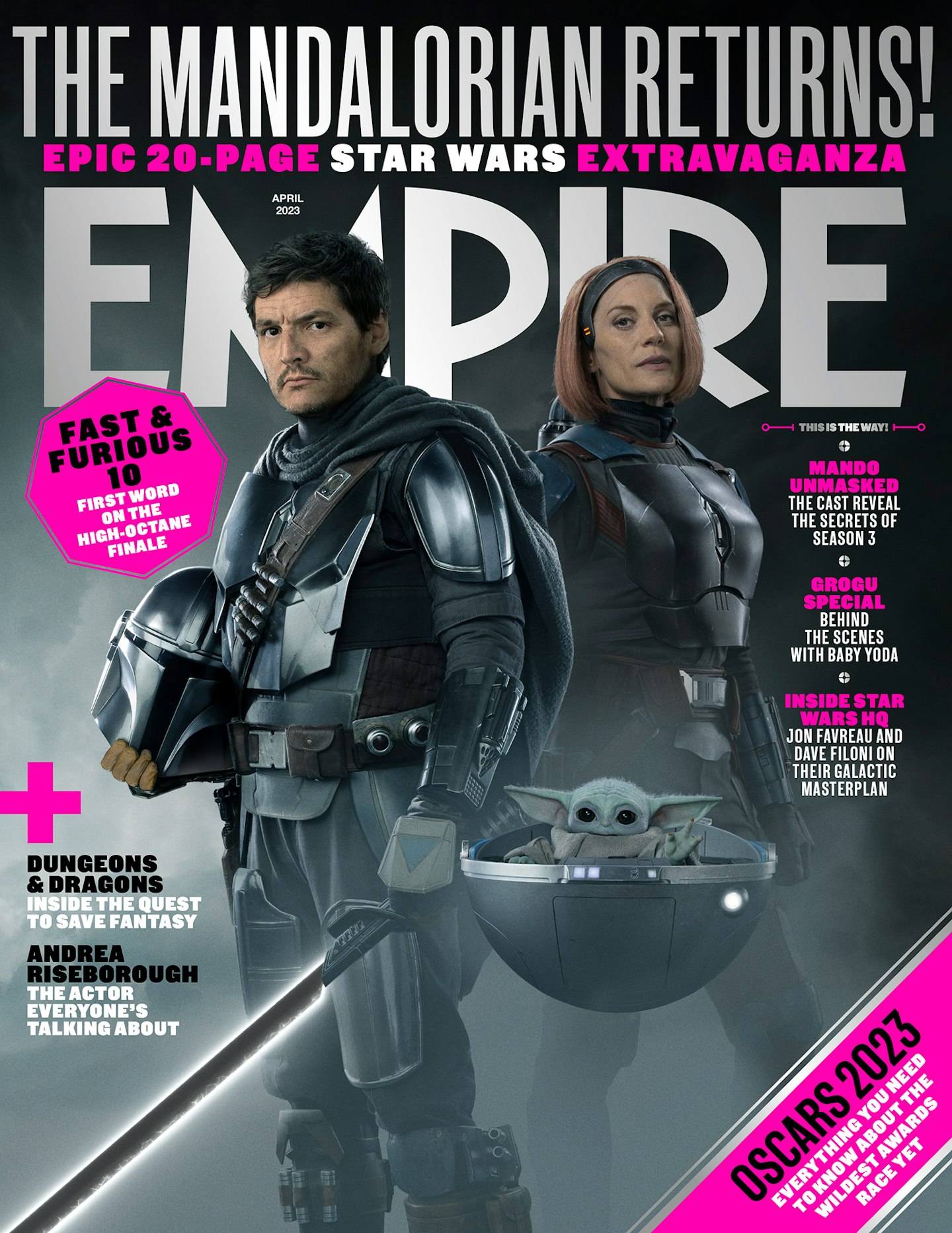 The new issue of Empire takes a world-exclusive dive into The Mandalorian's epic return in a massive 20-page blowout packed with major interviews, never-before-seen images, fresh concept art, and much more. We get under the helmet with the Mandalorians themselves, Pedro Pascal, Katee Sackhoff and Emily Swallow; we go long with Mandalorian creators Jon Favreau and Dave Filoni in a huge new joint interview, spanning their entire journey with the show so far and what comes next; plus, we go back to the beginning of Grogu in an all-new oral history.
Prepare to hunt down a copy when it hits newsstands on Thursday 16 February – or become an Empire member now to access the issue in full on launch day. You can also pre-order the issue online now here. The Mandalorian returns to Disney+ on 1 March.