The countdown is on! It's a matter of days until The Mandalorian Season 3 is unleashed, two years after Season 2 came to an emotional close (and one year since spin-off series The Book Of Boba Fett reunited Din Djarin and Grogu on Tattooine). While the secrets of the new series have been kept tightly under wraps by creators Jon Favreau and Dave Filoni (plus Rick Famuyiwa, now an executive producer for the next run), Favreau recently joined Empire for an hour-long Q&A celebrating all things The Mandalorian at a special Empire VIP event – and teased some interesting developments to come.
For one, with a trip to Mandalore on the cards and plenty more Mandalorian characters incoming, Season 3 sees the show take on a greater sense of scale. "The scope, as you can see from the trailer, is getting bigger," he told the audience of Empire VIP members, promising a reckoning of the various different Mando factions. "There's a lot of Mandalorians that don't necessarily see eye to eye. And we've introduced them slowly, and you met them through individuals. Now we have a lot of people who are aware of one another, and push is coming to shove in a lot of ways." Plus, after his training with Luke Skywalker, Grogu is evolving too. "As we meet him, Grogu is different," teased Favreau. "He's had experiences away, he's studied with the great mentor of the Jedi of that age, and a lot is being unlocked. So we get to learn more about the Mandalorians, we get to learn more about Grogu, and we get to progress the story forward. The characters are changing over time, which is keeping it interesting for us."
The new season, as the trailers suggest, won't just deal with the ramifications of Din Djarin de-masking in the Season 2 finale ("He took his helmet off. We've established that that's something that's not cool!"), but will explore the wider lore of Mandalorian culture as established in The Clone Wars. "We know what the history of Mandalore is and the Mandalorians from the stories Dave told with George [Lucas]," Favreau said. "That planet was a wasteland even before the Purge, because they were fighting and warring and there was civil war for centuries, and they were living in domed cities. And then those cities – that whole planet – got ravaged by the Empire that took advantage of their disunity. That, to me, was interesting."
With further ties into the the animated series, and the fact that Grogu and Din's story continued away from The Mandalorian in The Book Of Boba Fett, it does seem that Season 3 will introduce a little bit more complexity in the show's approach to the Star Wars galaxy. But Favreau believes more casual viewers will keep up. "For people who didn't see The Book Of Boba Fett, we're gonna have videos that catch people up on it on [Disney+]," he confirmed. "And there's plenty of user-generated content [on the internet] helping people get up to speed, which is a tool that I use when I watch a show after it's been off the air for a while. It's not just the show – it's the community that surrounds the show. I learned through my experiences with Marvel how sophisticated the audiences are, and [they] inform one another and are paying close attention." Seatbelts on, and blue macarons in hand, everyone – we're about to blast off in the N-1 Starfighter for a fresh batch of adventures.
Want an invite to future exclusive Empire VIP events? Plus a print and digital subscription, the Spoiler Special podcast, a 12-month Picturehouse or My Cineworld Plus membership, and plenty more perks? Join the Empire VIP club for just £7.99/month here.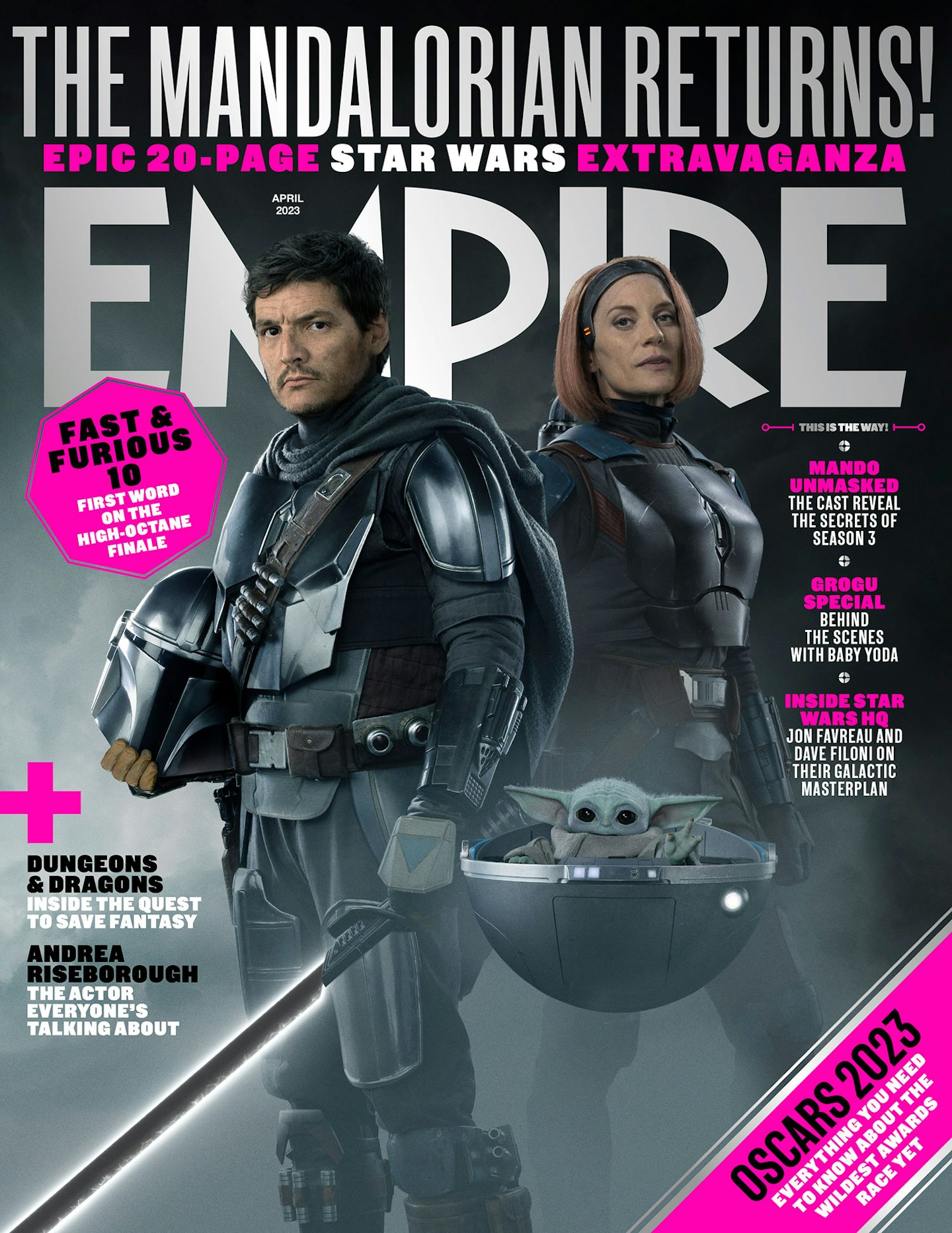 Find out much more about The Mandalorian Season 3 in Empire's new issue, featuring a 20-page blowout on the return of the Star Wars saga – speaking to Jon Favreau, Dave Filoni, Pedro Pascal, Katee Sackhoff and more about their adventures in a galaxy far, far away. Find it on a newsstand near you, or become an Empire member now to instantly access the digital issue in full. The Mandalorian returns to Disney+ on 1 March.