For lovers of cinema and film, television and video games, projectors deliver great things. The ability to cast a huge image - far larger than anything attainable with a smart TV - or our favourite titles never fails to put a grin on our faces.
That's why we've put together a list of the very best home projectors. A step up over our other roundup of the best budget home projectors, this selection of projectors can be considered a serious upgrade over smart TVs and sit as a permanent centrepiece to a home cinema setup. With plenty of interfaces, audio-out options and smart OS platforms, these projectors will serve you well throughout daily use, as well as immerse you on movie night.
What to look for in the best home projectors:
The Best Home Projectors
Click to jump to retailers.
Lumens
A lumen is a measurement of light, indicating the brightness of a light source. As a point of reference, ViewSonic report that a candle sits around 14 lumens, while sunset comes in at 400 lumens. A bright sunny day is 100,000 lumens. The more lumens a projector has, the better it will perform in brightly lit spaces. To avoid getting too technical, alongside the lumens, we've listed what environments a projector is best suited to natural light, a lit room or a dark room.
Connections
Without connections, sometimes called ports or interfaces, then a projector is pretty useless. An HDMI port is a must, as it allows for disk players, video game consoles and media streamers. Beyond this, it's just about finding out what you need and matching the ports to it. This goes for wireless and audio connections, too.
Sound
When it comes to projectors, the sound is a tricky beast. All of the options we've picked come with one or two inbuilt speakers, and though they might see you through a quick multiplayer game or episode of Scrubs, they aren't going to deliver the cinematic audio required to play alongside the brilliant images cast. For this reason, anyone looking to get a projector should also consider what speakers they have - or want - and match up the connections accordingly.
Throw
Throw refers to the distance that a projector casts its image. A long throw projector will throw images over a greater distance. For example, the Epson EH-TW7100 needs to be 4.8m away from the projection surface to create a 100-inch image. A short-throw projector is built differently and throws its picture up at a harsh angle. This means it can sit closer to a wall. The Epson EH-LS500B is an example of such a device, casting a 65-inch image from a distance of 40cm. Note that short-throw projectors generally have a smaller maximum image size.
Smart platform
Some projectors have inbuilt smart platforms, such as Android OS, which allow them to behave like smart TVs. Streaming, internet services and voice commands are ready and waiting, in addition to screen sharing and remote device control. This means that there's no need to connect a media streamer, potentially saving a valuable HDMI port for another external source.
XGIMI HORIZON Pro 4K Projector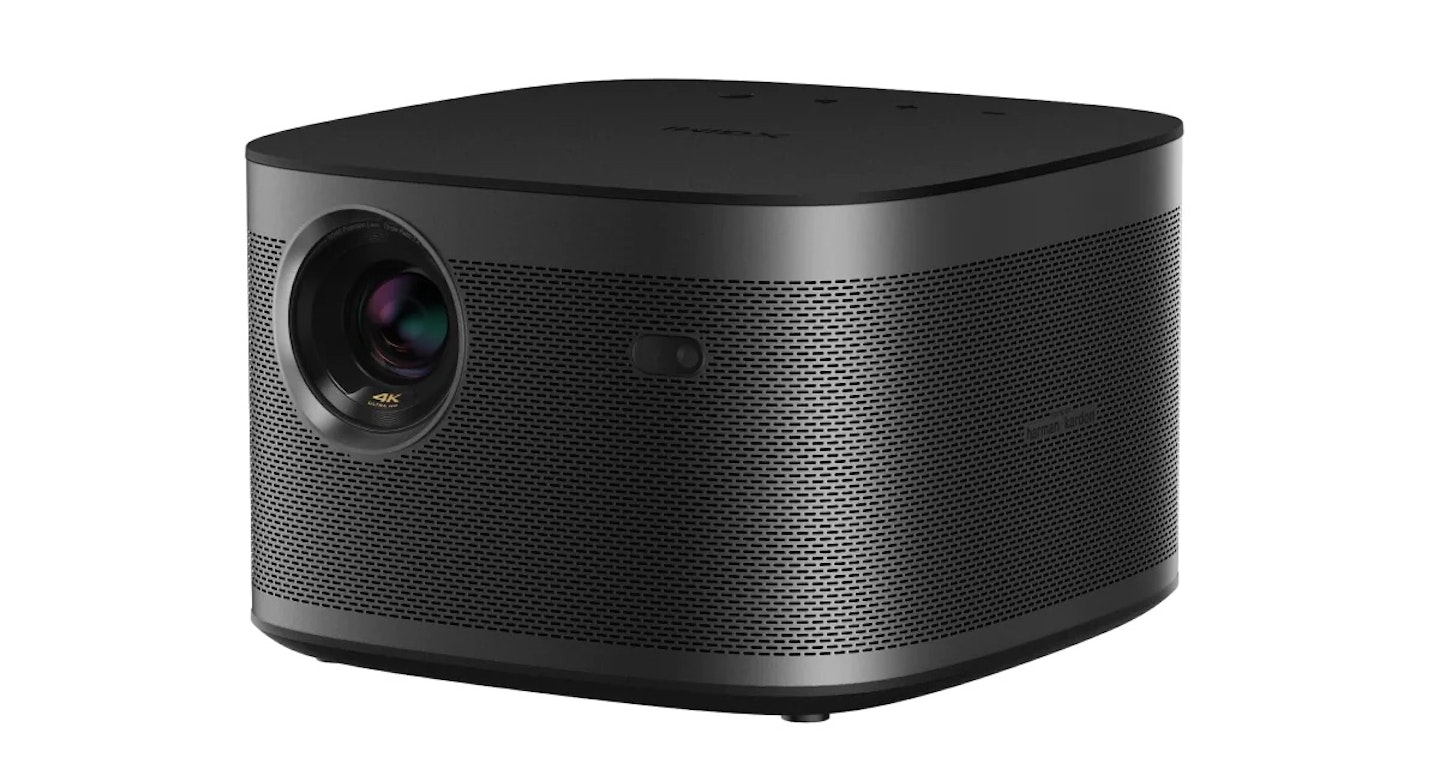 • HDR10 and native 4K
• Excellent brightness
• Excellent automatic features
The XGIMI HORIZON Pro provides you with plenty of projecting goodness for a reasonably modest cost. In our testing, we found that the 2000-plus lumens, native 4K support and HDR10 work in tandem to create a deep and crisp image that can be seen throughout the day and night. The Harman Kardon speakers perform well for living rooms and are more than enough for TV shows and video games, while the additional connections promise room to expand for more cinematic audio.
The smart platform carried is Android TV, so it's supported by Google Play Store. Everything there is as you would expect and desire. One caveat is that installing Netflix can be a tad fiddly as you need to download the Kodi version (or use a streaming stick).
A standout feature of the HORIZON Pro 4K is the intelligent automatic settings, which use a sensor to correct alignment, focus and keystone. These corrections are undertaken with great speed and accuracy, making the device an ideal plug-and-play system.
Pros: 4K UHD with excellent contrast and an easy set-up process
Cons: Netflix needs a workaround download or streaming stick
Specs:
Resolution: 4K UHD
Throw: Long
Screen Size: Up to 400-inches
Lumens: 2,200
Contrast: HDR10
Best in: Indoors, light or dark
Connections: HDMI x1, HDMI eARC x1, USB x2, Bluetooth, Wi-Fi, 3.5mm Audio Out
Epson EH-TW5700 Smart Home Cinema Full-HD Projector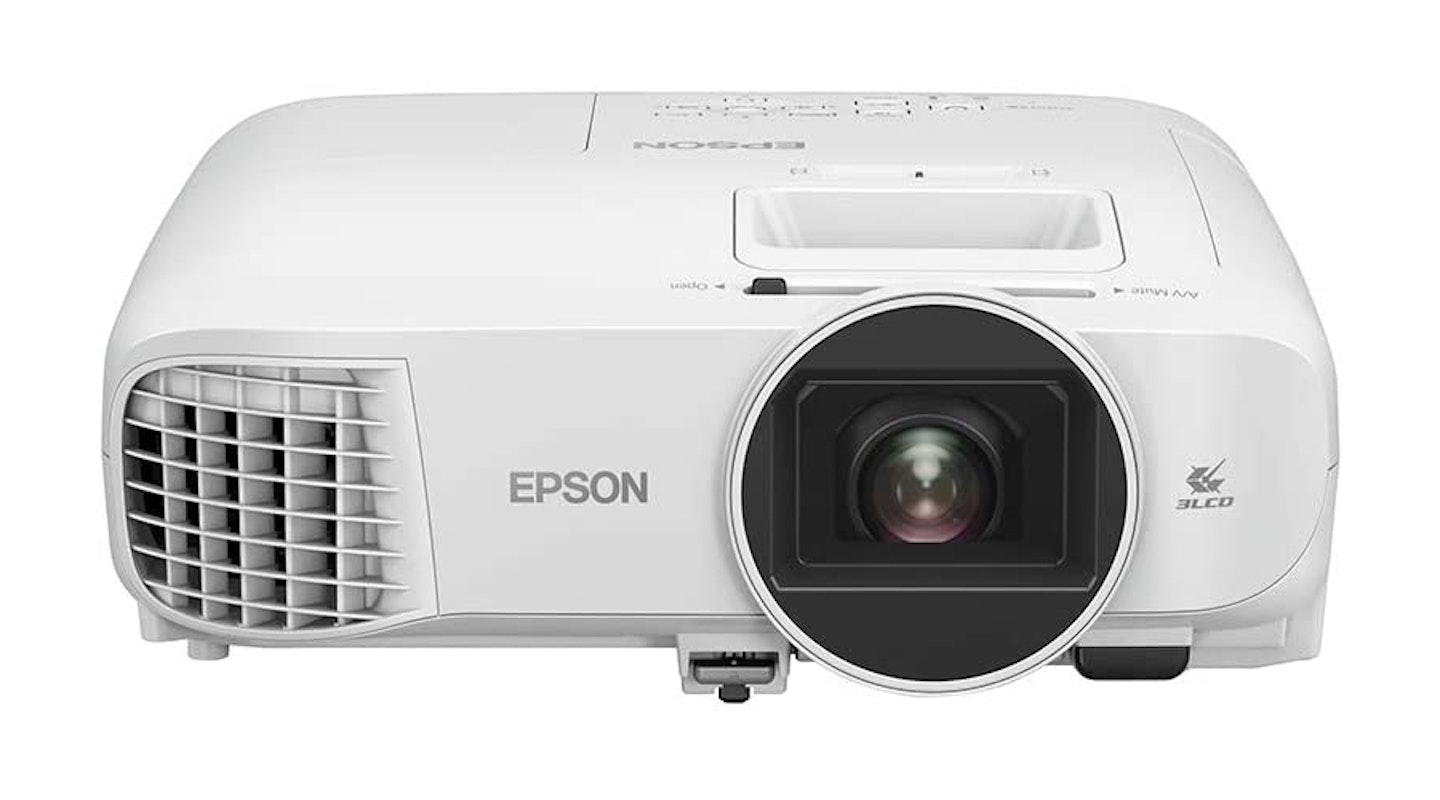 • Bright, vibrant image
• Great for movies and games
• Android OS is excellent
The Epson EH-TW5700 is a remarkable projector, providing a crisp and vibrant 1080p image at a more than reasonable price point. It's as easy to use as any we've tried, and when combined with an external speaker, it conjures an immersive and exciting atmosphere for watching movies and gaming. The Android OS provides smart capabilities to the projector and proves itself (once again) to be one of the most engaging and user-friendly platforms around. Google Assistant is on board, too, allowing apps and videos to launch via voice control. All in all, the EH-TW5700 is a shining example of a home projector.
Pros: Excellent picture and flawless smart platform
Cons: Needs external audio, not 4K UHD
Specs:
Resolution: Full HD
Throw: Long
Screen Size: Up to 332-inches
Lumens: 2,500
Contrast: 35,000:1
Best in: Dark rooms
Connections: HDMI, Bluetooth, WiFi, 3.5mm Audio Out
Epson EH-TW7100 4K Ultra HD Home Cinema Projector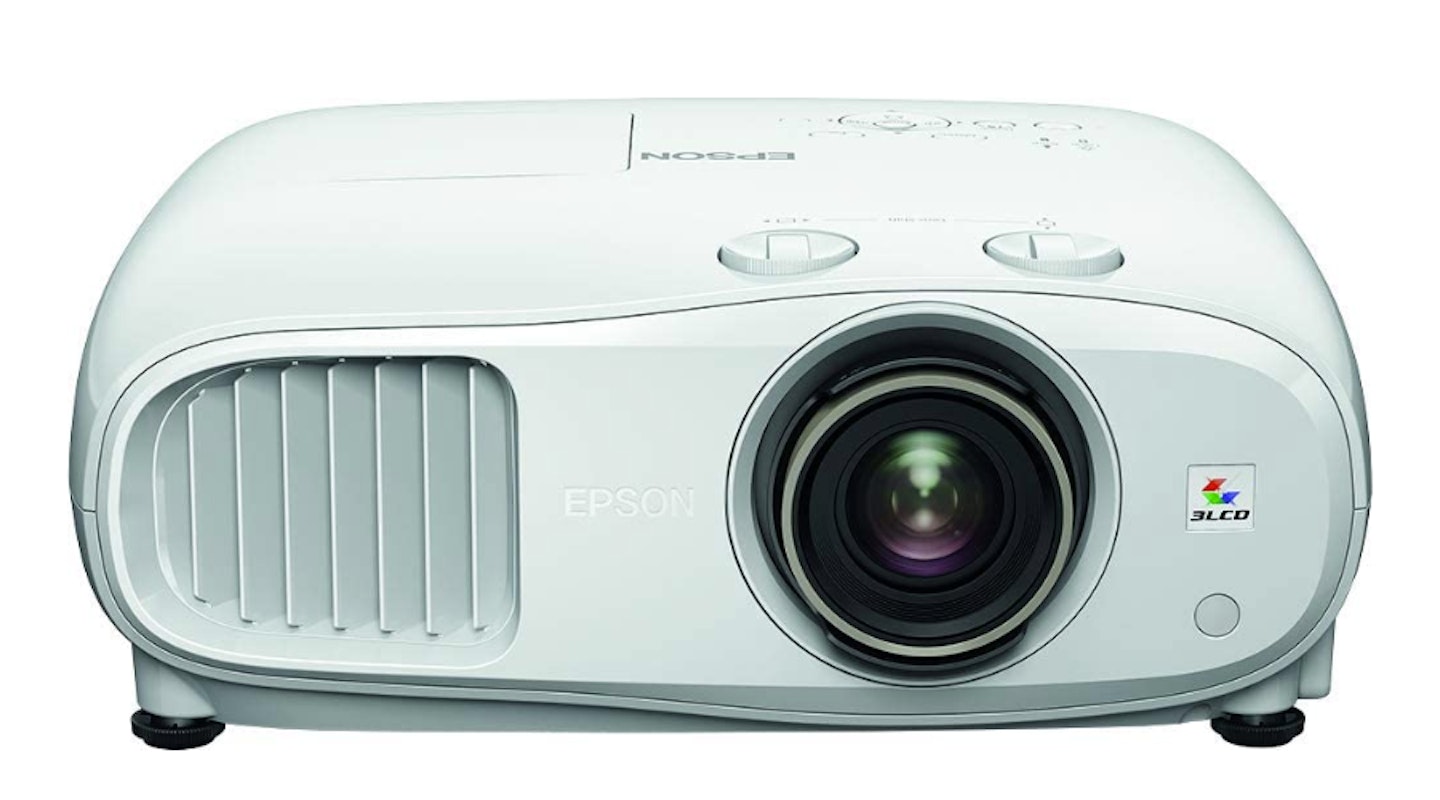 • Impressive contrast on 4K resolution
• Multiple HDMI interfaces
• Bluetooth for audio
The Epson EH-TW7100 is a stunning mid-level 4K UHD projector. While the resolution will always impress, the bonkers contrast level provides depth, atmosphere and vibrancy to all videos it displays. While there's no smart platform onboard, there are enough inputs to install a streaming device alongside Blu-ray players and video game consoles. These connections also include Bluetooth - perfect for wireless audio - and USB Type-A for playback of locally stored media. It's not the best-looking projector around, but the power that sits in its shell is awe-inspiring.
Pros: Deep contrast for vivid images, plenty of connections
Cons: A bit ugly, no smart platform
Specs:
Resolution: 4K UHD
Throw: Long throw
Screen Size: Up to 500-inches
Lumens: 3,000
Best in: Light and dark rooms
Connections: HDMI x2, USB Type-A, mini USB Type-B, Digital audio-out, Bluetooth
Optoma UHD35 4K UHD Home Cinema Projector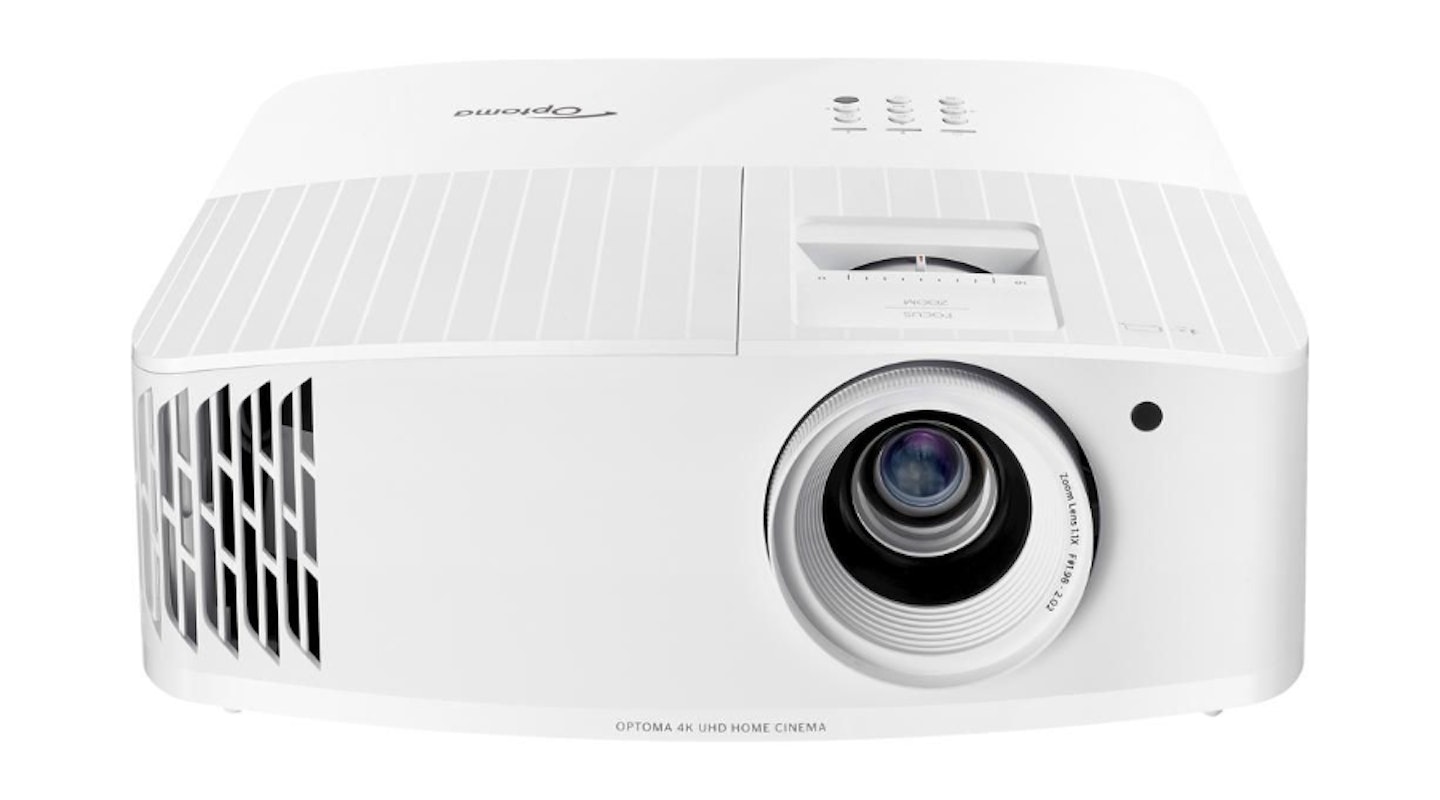 • 4K resolution
• Under £1,000
• Good for gaming
There's little that's more exciting than a 300-inch 4K UHD image, and the Optoma UHD35 provides such excitement for under £1,000. The impressive resolution is given extra gravitas via the solid contrast, HDR support and vibrant colour support - gaming, in particular, sits well here. The lumens on offer also make the projector suitable for day use, meaning that, in theory, this could replace a TV full-time. However, as the projector doesn't come bundled with smart software or Bluetooth support, all inputs need to be made via external devices, be they consoles, media streaming devices or 4K UHD players.
Pros: 4K resolution for under £1,000
Cons: Light on additional features
Specs:
Resolution: 4K UHD
Throw: Long
Screen Size: Up to 300-inches
Lumens: 3,600
Best in: Light and dark rooms
Connections: HDMI x2, VGA, 3.5mm audio-in, 3.5mm audio-out
BenQ TK800M 4K Ultra HD Home Cinema Projector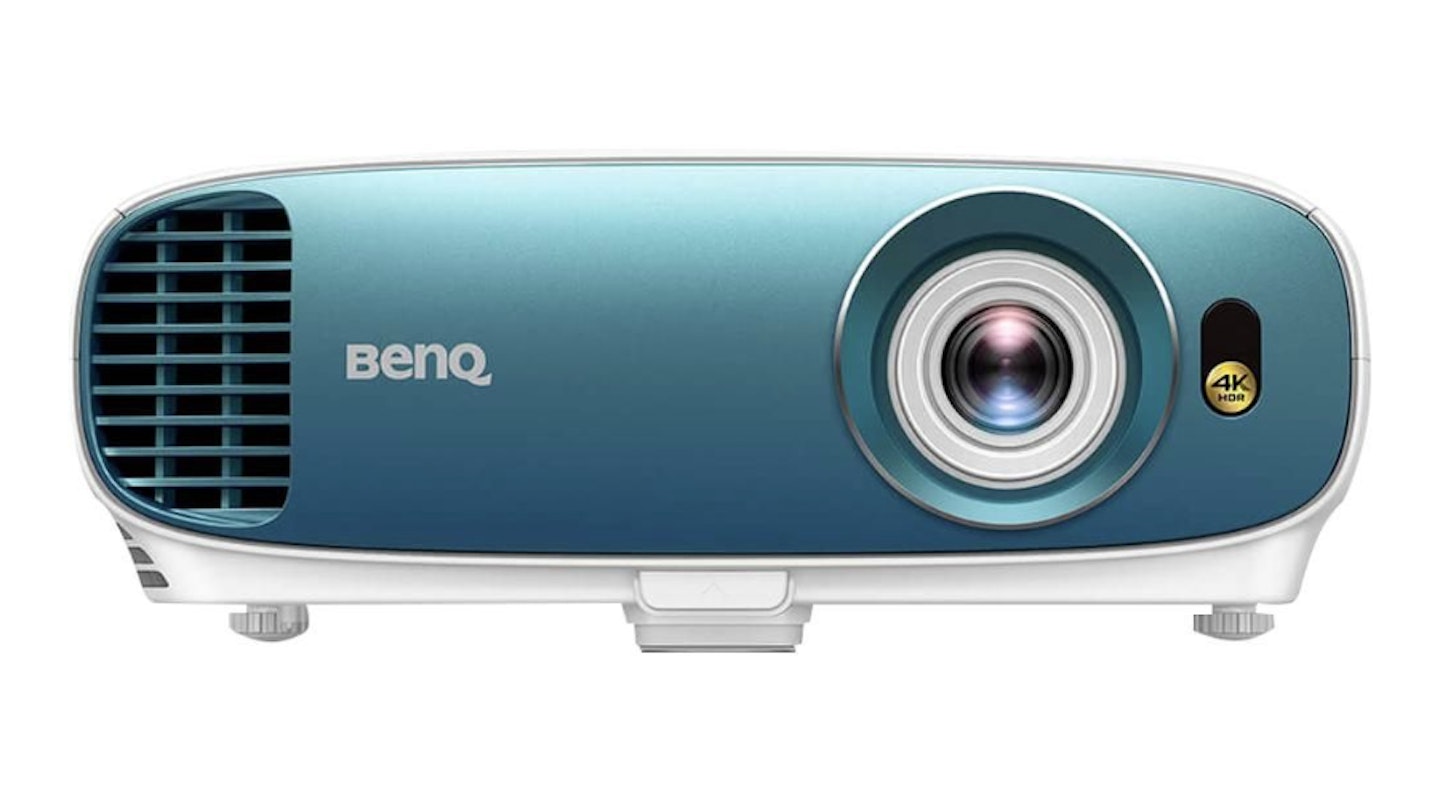 • 4K UHD resolution
• Performance tuned for sport
• VGA connection for legacy sources
The BenQ TK800M is a projector designed for sports fans. The 4K resolution is crisp, colours vibrant and the lamp does well at keeping fast-paced action blur-free. Of course, these features also make the TK800M a prime candidate for watching high-octane movies from either a Blu-ray and 4K player or a 4K media streaming device. There's a small 5W speaker inbuilt but to hear a roaring stadium and the growl of an engine, we highly recommend external speakers. These will need to be wired, as the projector doesn't carry Bluetooth.
Pros: Blur-free sporting action in 4K
Cons: No Bluetooth or smart platform
Specs:
Resolution: 4K UHD
Throw: Long
Screen Size: Up to 300-inches
Lumens: 3,000
Contrast: 10,000:1
Best in: Natural light and dark rooms
Connections: HDMI x2, VGA, USB x2, Audio-in, Audio-out
Philips Screeneo S6 SCN650 4K Ultra HD Home Cinema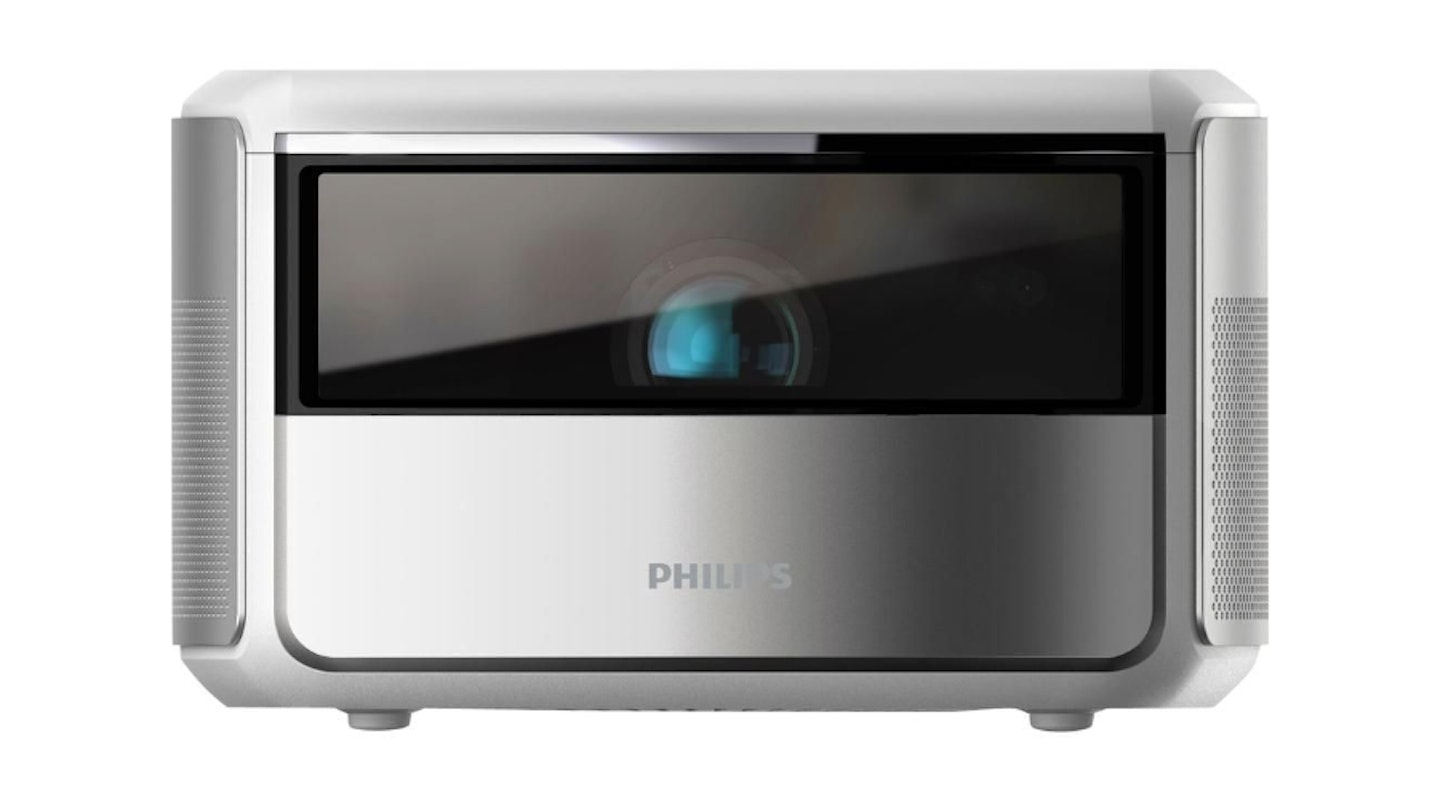 • Plenty of inputs
• True 4K UHD resolution
• Deep contrast
The Philips Screeneo is a projector casting an image in true 4K UHD resolution with enough interfaces to keep a living room stocked with entertainment choice. The lamp pushes out a deep and vivid picture with crisp definition and realism, with added weight and atmosphere thanks to the impressive contrast ratio. The Android OS makes video streaming a cinch from Netflix and YouTube, while also allowing screen mirroring. For ease of use, there's automatic focus and keystone correction. The two 7W speakers provide in-built stereo, but true connoisseurs will still want to hook up external speakers.
Pros: Superb feature set and deeply contrasted image for a home cinema, carries Android TV OS
Cons: Stereo speakers are no match for external speakers
Specs:
Resolution: 4K UHD
Throw: Long
Screen Size: Up to 180-inches
Lumens: 2,000
Contrast: 150,000:1
Best in: Dark rooms
Connections: HDMI x2, USB 3.0 x2, S/PDIF, Ethernet, WiFi, Bluetooth
Epson EH-LS500B Android TV Edition 4K PRO-UHD Projector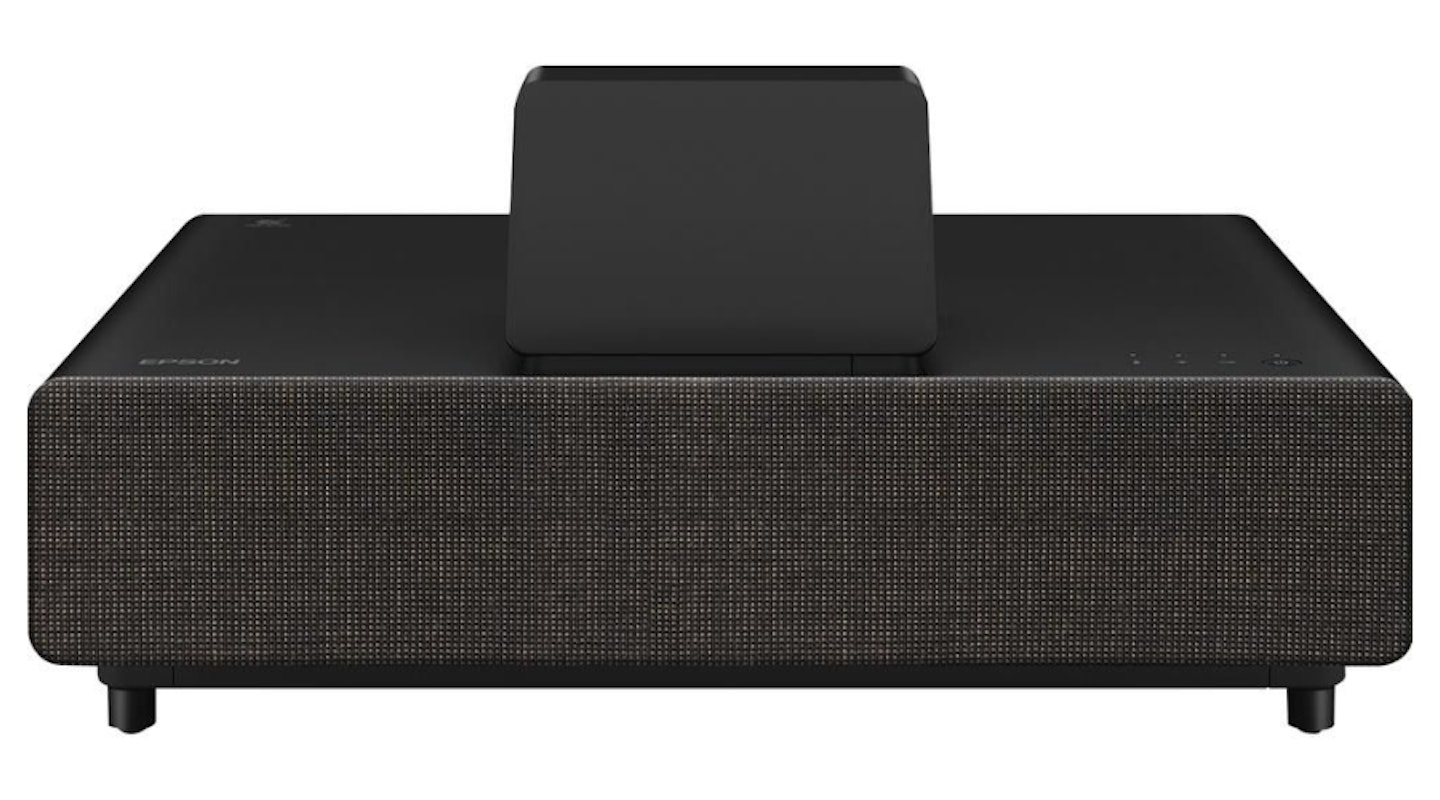 • Pin-sharp image
• Short throw
• Loads of connections
The Epson EH-LS500B is a powerful short throw projector, capable of throwing a 65-inch image from a 40cm distance, making it a great choice for permeant, space-efficient home cinema setups. Android TV is integrated for inbuilt streaming and voice control. It's a 4K PRO-UHD projector - so, it can receive a 4K signal, but counterintuitively, it can only project half the pixels (approx. 4.1-million, rather than 8.3-million).
This resolution is an oddity of the projector marketplace but is still twice as sharp as full HD and on the EH-LS500B, combined with its accurate colour and deep contrast makes for a wonderful image. The only thing that doesn't feel particularly brilliant is the hefty price tag - but anyone who is setting up a truly expansive home cinema should already be prepared to shoulder such a cost.
Pros: Short throw with deep, vibrant imagery
Cons: Only half the pixels of 4K
Specs:
Resolution: 4K PRO-UHD
Throw: Short
Screen Size: Up to 130-inches
Lumens: 4,000
Best in: Natural light and dark rooms
Connections: HDMI x3, RS-232C, 3.5mm audio-out, USB 2.0, USB 2.0 Type Mini-B, WiFi via Android TV Dongle
READ MORE: The Best Budget Projector
READ MORE: The Best Soundbar
READ MORE: The Best TV for Gaming