In the first few minutes of Scott Cooper's Western, a man is gunned down and scalped, before his two screaming daughters and swaddled infant are shot dead. All in front of their mother, Rosalie Quaid — superbly played by Rosamund Pike with a strange kind of brittle strength (at least after the mind-scrambling trauma ebbs a little). Things don't get much easier for Rosalie — or the audience — after that.
The Quaid family are slaughtered by nightmarishly face-painted Native Americans (specifically Comanches). But only moments later, we witness Native Americans (specifically Apaches) being abused by American soldiers, captained by one Joe Blocker (Bale) — a man who compares his terrified quarry to "ants". And he's the supposed hero of this sombre tale.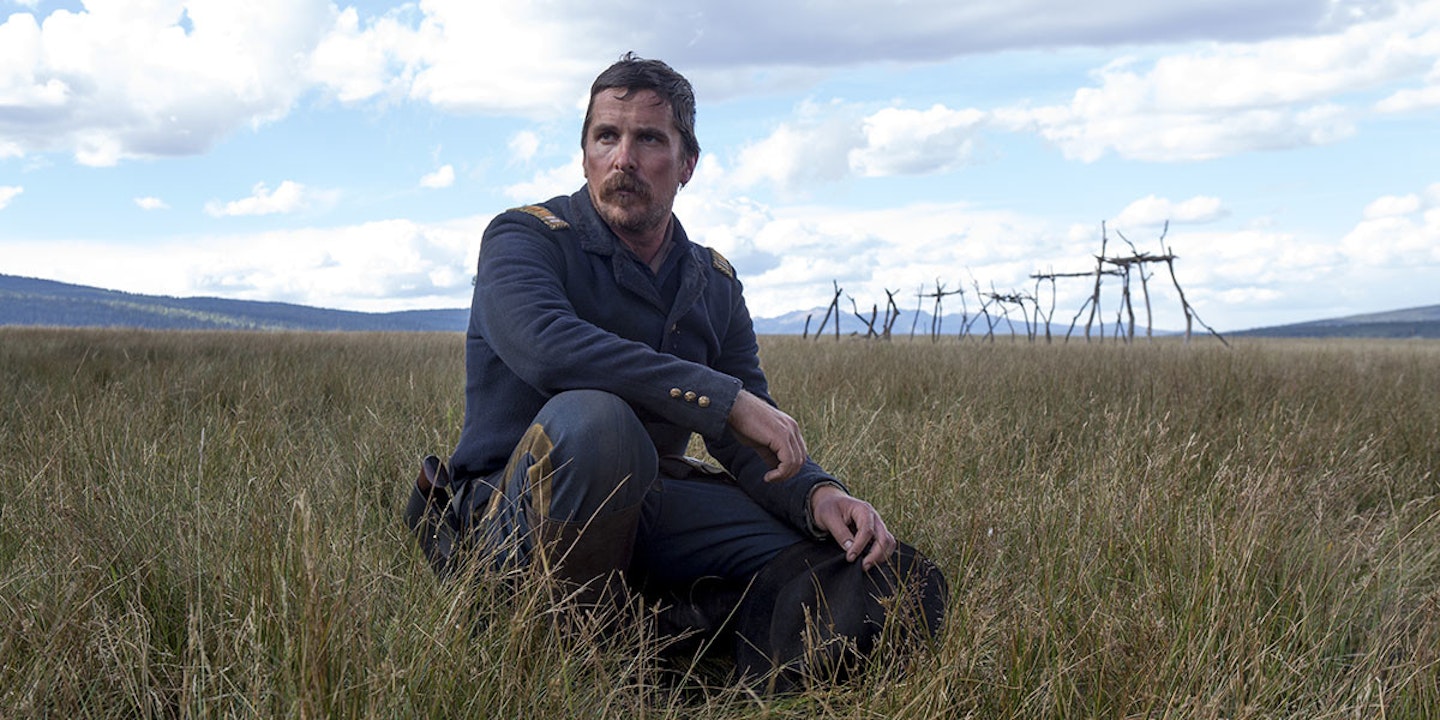 One of the strongest performances of Bale's career.
Hostiles is a film which truly lives up to its title. Violence lurks everywhere in Cooper's latest dose of inhospitable Americana, as undiscriminating as its perpetrators are prejudicial. Having tackled the gangster genre in his last film Black Mass, Cooper's moved right to his culture's most potently mythic territory, pinpointing its peak moment: the climax of the so-called Indian Wars and the fading of the misguidedly romanticised American Frontier. In many ways it feels like an update of Clint Eastwood's The Outlaw Josey Wales, except this West is from the modern perspective of Black Lives Matter, Trump and spree killings rather than Vietnam and Watergate.
Bale's Walker is no outlaw, either. Or at least, his crimes were all committed in service to his country. A country which now compels him to safely chaperone the leader of his worst enemies, Cheyenne chief Yellow Hawk (Studi), to his homeland in Wyoming. Walker wears his hatred like armour; it's kept him alive this long. To him, Yellow Hawk is nothing more than "a cut-throat", and his son, daughter, daughter-in-law and grandson are a "brood of bastards and bitches". The mission is a slap in the face from the same superiors whose past orders dehumanised him — or at least, left him suffering what these days we'd quickly diagnose as PTSD. But, ever the 'good' soldier, Blocker accepts his mission. Then, as in Eastwood's classic, the trials of the journey bring this ever-dwindling group of cavalrymen and Native Americans closer together. It's a melting pot of a surrogate family, formed amid atrocity and driven by raw survival instinct.
For all the violence and harshness, this is easily Cooper's best-looking film, with cinematographer Masanobu Takayanagi revelling in the wild vistas that seduced countless Western-shooters before him. The beauty of the backdrops gradually increases, shifting from sparse, stormy scrubland to lush, heavenly mountain ranges as the journey progresses and the humanity seeps back into the tightly bound Blocker. Meanwhile, Bale's handling of that transformation — part redemption, part recuperation — makes for one of the strongest performances of his career. He's worked with Cooper before, on 2013's Out Of The Furnace, but here you really feel their collaboration has borne fruit. Very tough, deeply bittersweet fruit.