Remember how big and crazy Spider-Man: Into The Spider-Verse felt when you first saw it? The porcine Peter Porker cracking wise. Peni Parker's Sailor Moon-esque mechsuit. Nic Cage channelling Humphrey Bogart as Spider-Man Noir. It was a dizzying delight – and while its follow-up, Across The Spider-Verse, promises to go even bigger and even crazier with more universes and multiple art styles, its makers promise the super-sized sequel will be anchored in emotion too. And in particular, one of the most relatable sensations there is: being annoyed that the person you fancy is seeing someone else.
As you'll recall, Miles Morales and Gwen Stacey had to vworp back to their own universes at the conclusion of Into The Spider-Verse. But as you can see in our exclusive new image from Across The Spider-Verse above, they're quite literally hanging out again. Their growing bond – and the pangs of young love – will be at the heart of the sequel, according to producer Amy Pascal. "The danger with a sequel is to go bigger just for bigger's sake," she tells Empire in our world-exclusive Across The Spider-Verse issue. "But all the bells and whistles are no good unless you care." And the thing you'll care about most deeply is the connection between our young Spider-heroes. "This movie is a love story between Miles and Gwen."
Not that the path of love will be easy – especially since Gwen's been hanging out with Daniel Kaluuya's Hobie Brown, aka Spider-Punk, in New London. "There's jealousy there," says co-director Kemp Powers. "When Miles meets Gwen again, she's not wearing her ballet shoes; she's wearing Converse Chuck Taylors, which Spider-Punk gave her. Miles starts wondering, 'How close are these two?'"
That aim to combine a mind-blowing, multiversal, reality-hopping trip with a big walloping emotional pay-off could put Across The Spider-Verse into the same realm as this year's Oscars Best Picture winner. "With our movies, it's similar to what the Daniels did in Everything Everywhere All At Once," says writer-producer Christopher Miller. "You can have all the spectacle and action and visual insanity, but it has to be focused on an emotional journey you feel in your heart." 'Every Spider-Man Everywhere All At Once'? Bring on the Racacoonie-Kingpin crossover.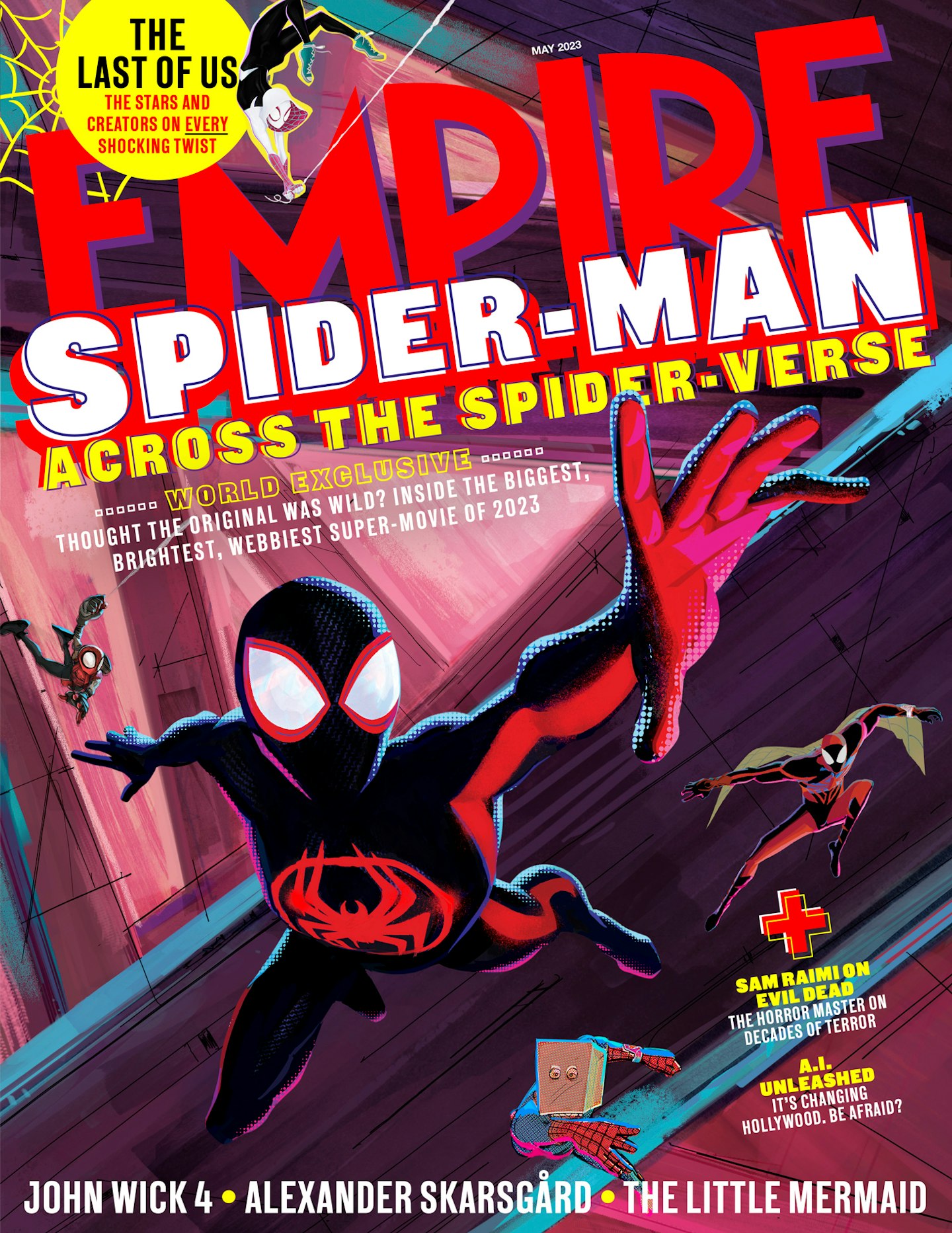 Read Empire's full Spider-Man: Across The Spider-Verse feature – speaking to Lord and Miller, directors Joaquim Dos Santos, Kemp Powers, and Justin K. Thompson, stars Shameik Moore, Hailee Steinfeld, Oscar Isaac, and more – in the upcoming May 2023 issue, on sale Thursday 16 March. Become an Empire member now to access the issue in full on launch day, or pre-order the issue online now here. Spider-Man: Across The Spider-Verse comes to UK cinemas from 2 June.