On every level, Spider-Man: Into The Spider-Verse was a dazzling piece of work – but especially when it came to those eye-popping visuals. The world of Miles Morales and his multiversal Spider-pals looked like nothing audiences had seen before, not just subtly tweaking elements of our own universe (anyone fancy a Koca-Soda?) but presenting it all with tangible comic-book textures and impressionistic flourishes, giving the film a distinct and daring identity. Now, given the success of that experimentation, things are about to explode in boundary-pushing sequel Across The Spider-Verse, which doubles down on those unique choices and ups the scope considerably.
"Our contract with the audience is to bring them something they've never seen before," writer-producer Christopher Miller tells Empire in the world-exclusive new Spider-Man: Across The Spider-Verse issue. And they're going all-out to make sure they deliver on that promise – creating a follow-up that spans five different universes. "The first film was about bringing characters into Miles' dimension," Miller explains. "This is about Miles heading off into others."
While Into The Spider-Verse gave us brief glimpses of the worlds inhabited by Peter B. Parker, Spider-Man Noir, Peni Parker and more, the sequel will spend real time in a bunch of dizzying dimensions. "Each world is a robust place," says Joaquim Dos Santos, who directs alongside Kemp Powers and Justin K. Thompson. "We've essentially made five films in one." There's Gwen's Earth-65, with its distinctive watercolor palette; the India-inspired Mumbattan (see the exclusive image above, plus Empire's subscriber cover); Nueva York, the home of Oscar Isaac's Spider-Man 2099, aka Miguel O'Hara; the punky New London, inhabited by Daniel Kaluuya's Spider-Punk; plus a secretive fifth dimension that's being kept tightly under wraps for now. "It goes hard," promises writer-producer Phil Lord. "The visuals will be jaw-dropping."
That sense of escalation in the film's ambition is echoed by Miles Morales himself, Shameik Moore. "I will say that this story tops the first one," he teases. "If the sky was the limit last time, the sky is now the floor. We're stepping on it and looking at Jupiter!" Sometimes, shooting for the moon just isn't enough.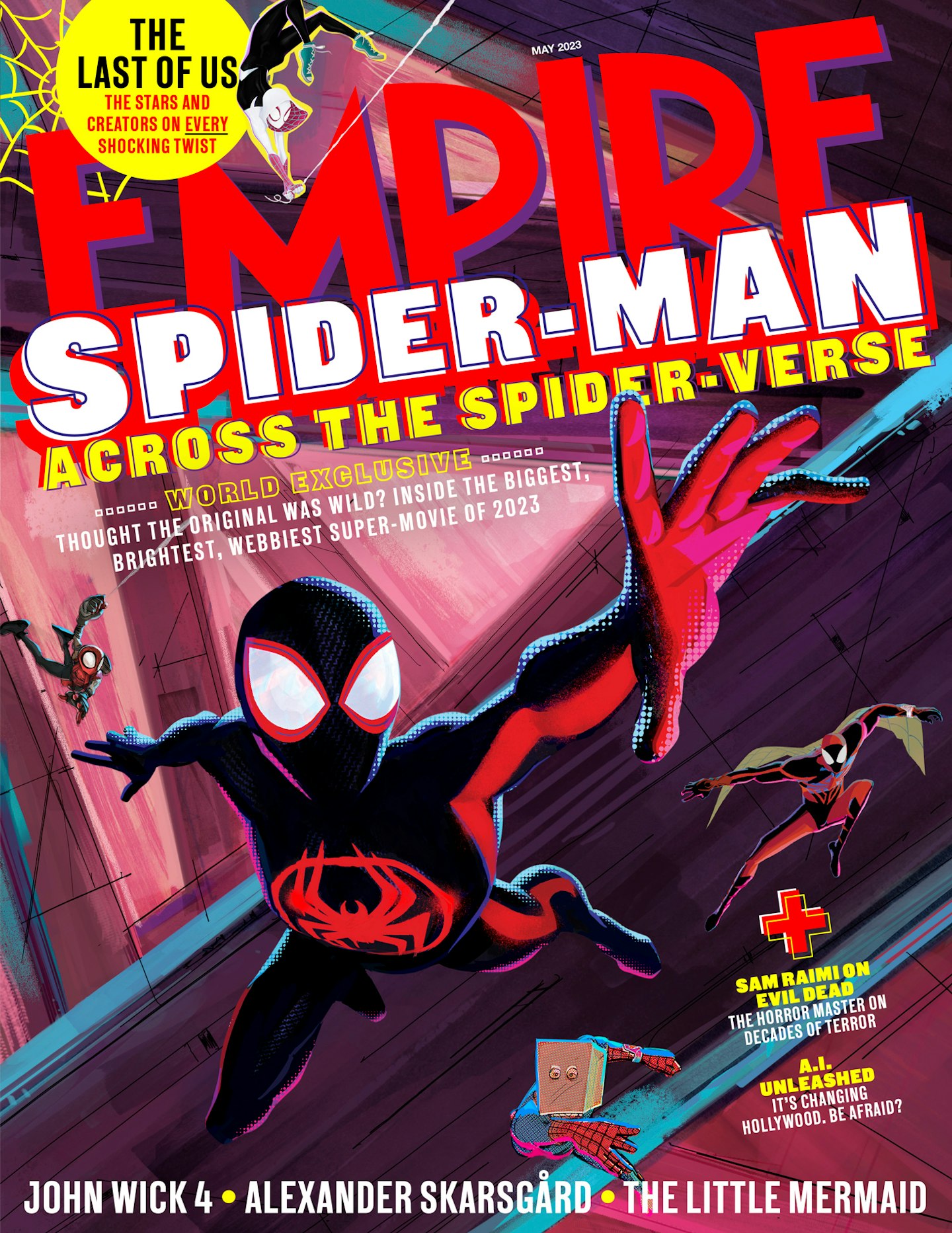 Read Empire's full Spider-Man: Across The Spider-Verse feature – speaking to Lord and Miller, directors Joaquim Dos Santos, Kemp Powers, and Justin K. Thompson, stars Shameik Moore, Hailee Steinfeld, Oscar Isaac, and more – in the upcoming May 2023 issue, on sale Thursday 16 March. Become an Empire member now to access the issue in full on launch day, or pre-order the issue online now here. Spider-Man: Across The Spider-Verse comes to UK cinemas from 2 June.