When you look at the biggest cinematic leaps of the last decade, one film stands particularly tall: undeniably, Spider-Man: Into The Spider-Verse changed everything. The most seismic shift in mainstream animated studio movies since Toy Story, its visual wildness (Comic-book inkblot textures! An experimental approach to frame rates! Multiple animation styles within a single frame! Overlapping 2D and 3D textures!) made it feel like audiences were viewing a Spider-Man movie beamed in from another universe altogether. And beyond that, it told an affecting, emotional, ultra-witty story of multiple Spider-People, centred on loveable comics favourite Miles Morales, making his long-awaited big-screen debut. It was an electrifying feat – and that was only the beginning. Get ready for Spider-Man: Across The Spider-Verse, the boundary-breaking sequel that tumbles further down all kinds of multiversal rabbitholes.
The new issue of Empire presents a world-exclusive deep dive into Across The Spider-Verse – a follow-up that's ready to explode with a vast line-up of Spidey variants, a dizzying array of new worlds, and an even bigger heart than before as it deepens the relationship between Miles and Gwen. Inside the issue, we get the full story on a film that breaks even more rules than its predecessor, bringing even more mind-blowing art styles as it introduces a wormhole-spewing super-villain. Inside, we speak to maverick writer-producers Phil Lord and Christopher Miller; director trio Kemp Powers, Joaquim Dos Santos and Justin K. Thompson; producer Amy Pascal; plus stars Shameik Moore, Hailee Steinfeld, and Oscar Isaac, about pushing every dial further this time around. Plus, we present all-new looks at the multiversal worlds and unseen characters of the movie, with tons of exclusive images. Your trip back to the Spider-Verse begins here.
This month's newsstand cover finds Miles Morales launching back into action, flanked by fresh and familiar Spider-Pals – Spider-Gwen, Spider-Man Manga, Amazing Bag-Man, and Spider-Man Unlimited.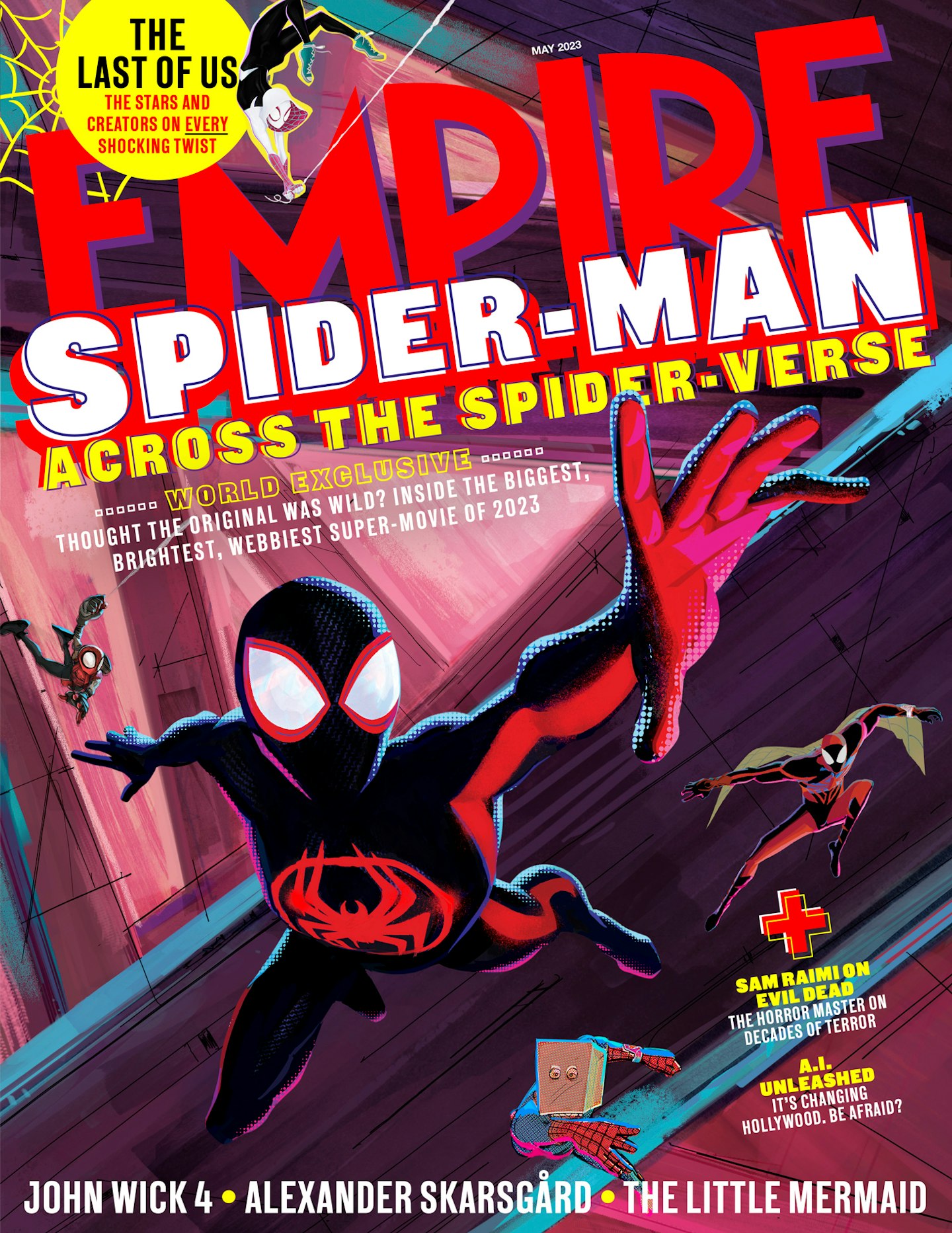 And the exclusive subscriber cover is an eye-popping glimpse at the skyline of Mumbattan, the India-inspired universe that will play a key role in the movie – illustrated by Felicia Chen.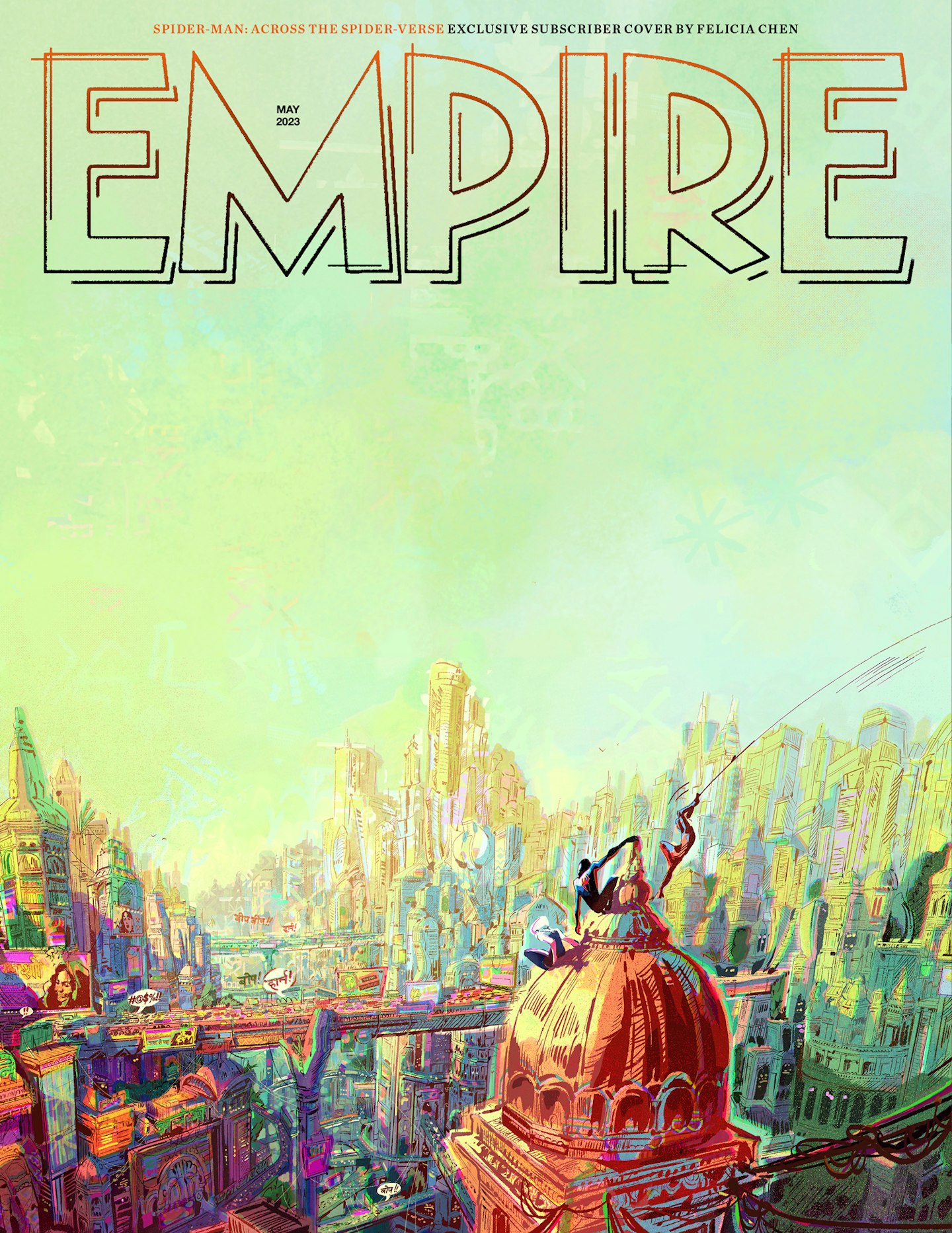 All that, plus this issue also features a major new season-spanning delve into The Last Of Us with series creators Craig Mazin and Neil Druckmann, plus stars Pedro Pascal and Bella Ramsey; an epic conversation between incoming Evil Dead Rise director Lee Cronin and horror legend Sam Raimi; brand new looks at John Wick Chapter 4 and The Little Mermaid; an investigation into how AI might change everything in Hollywood; and plenty more.
Thwip down to your local newsagent to pick up the issue when it hits newsstands on Thursday 16 March – or become an Empire member now to access the issue in full on launch day. You can also pre-order the issue online now here. Spider-Man: Across The Spider-Verse comes to UK cinemas from 2 June.