Like all good Star Wars stories, it began with a vital transmission. Except, this one wasn't from Princess Leia, nor was it delivered in the memory unit of an R2 droid.
It was, simply, a phone call to the offices of Aardman Animations – beamed from Skywalker Ranch, home of the legendary Lucasfilm, to the Bristol-based HQ of Britain's most beloved animation studio, back in March 2021. It was, says Aardman's Executive Creative Director Sarah Cox, "a mysterious call". And like Leia's message, it came with a mission: for the quintessentially British stop-motion studio behind Wallace & Gromit and Chicken Run to create its very own short for animated anthology Star Wars: Visions, with an open remit for what that might entail. The possibilities were vast. But for the studio that once delivered a definitive answer on whether the moon is made of cheese (it is, as we now know, similar to Wensleydale) Cox had one big question: "Can we be funny?"
Comedy has rarely been at the forefront of Star Wars' mind. Thankfully, pushing the boundaries of what Star Wars can be is Visions' entire raison d'être. Volume 1, released in September 2021, was a thrilling visual and narrative experiment, letting seven Japanese anime studios loose on the iconography of the galaxy far, far away to interpret as they pleased – resulting in everything from black-and-white samurai showdowns, to vibrant rock band rhapsodies. For all the wildness, it remained rooted in the Japanese traditions that George Lucas drew from when first creating Star Wars – a cyclical cultural exchange. In Volume 2, streaming from today on Disney+, the series goes worldwide, featuring shorts from countries including India, Ireland, South Africa, Chile, France – and, yes, the UK. "I always framed it as, 'Think of it like the Street Fighter map'," laughs Lucasfilm's James Waugh. "The cultural element of Volume 1 was so unique, that we felt that could happen in Volume 2 with multiple perspectives. There was an opportunity here to really showcase all of those incredible voices."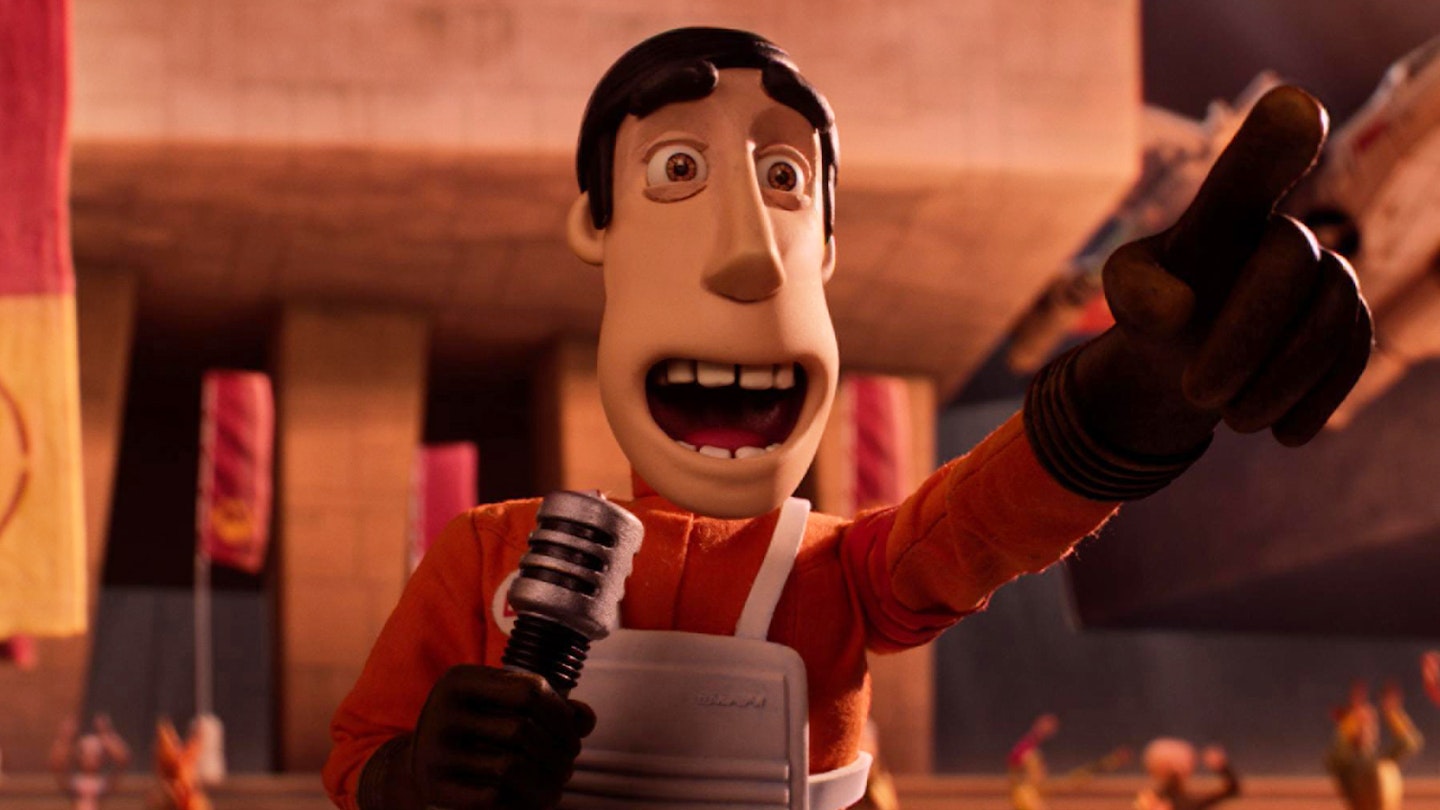 And what voice more incredible than that of Aardman, whose Wallace & Gromit: The Curse Of The Were-Rabbit won an Oscar in 2005, and whose Chicken Run remains the highest-grossing stop-motion animated film of all time. "We were really keen to do it. I mean, who wouldn't be?" says Cox. But her concerns over the comedy were serious. "How far can we push the spoof? Because that's a lot of what we do – in a very warm, appreciative way." The promise of the biggest franchise in Hollywood teaming up with the epitome of hand-crafted charm also came freighted with possible pitfalls. "We really wanted to be sure that there was room for Aardman in that relationship, you know?" Cox explains. That's exactly what Lucasfilm wanted too. "There was a point early on where that was a question to us [from Aardman]," recalls Waugh. "Can we do this? Can we have these accents? Are you looking just for the animation style? And our perspective was always, 'No, that's what you do. That's what we came to you for. And what we want is to see how Star Wars can manifest through that perspective.'" Punch it.
––––––
For director Magdalena Osinska, something stood out to her about Star Wars: it was almost always about fathers. "I knew the line, 'I am your father', and because I'm a mother, I thought, 'Well, I don't think that relationship between mothers and daughters, motherhood in general, is explored a lot in Star Wars'," she says. So when the call came within Aardman that Star Wars pitches were being accepted, she knew exactly what resonated for her. Ruminating on ideas while picking a primary school for her son to attend, her Star Wars story soon swirled in amongst memories of her own childhood, and the sacrifices her mother made for her. "We grew up in this quite unprivileged place in Warsaw, but because she was so amazing and always believed in me, she would always push me," she remembers. "I managed to go to this really good art college and film school." But parental pride, inevitably, comes mingled in with embarrassment too. "Despite her being so wonderful, especially when she visited me here in the UK, I felt a bit awkward – we stand out, basically," she says. "When we're teenagers, we just don't appreciate our parents and what they've done for us. Some part of our greatness and achievement comes from them."
That's a big nod to Carrie Fisher. There is underwear in space! – Magdalena Osinska
Her Star Wars pitch, then, became "a love letter for mothers", named after an interpolation of the saga's most famous quote: 'I Am Your Mother'. Across 10 minutes, Osinska's short tells the story of Twi'lek teen and budding pilot Anni (Charithra Chandran), whose adolescent embarrassment of her loving, gung-ho mum Kalina (Maxine Peake) means she opts against entering the 'family race' arranged by Rebel pilot hero Wedge Antilles (a returning Denis Lawson). But through various entanglements, the pair soon find themselves in a breakneck flight against snobbish kid Julan Van Reeple (Bebe Cave) and her mum Dorota (Daisy Haggard). There's a baby Wookiee, an adorable dog-droid named Z-1, and bras. Lots of bras. "That's a big nod to Carrie Fisher, who I adore," says Osinska. "It was inspired by her AFI speech [for George Lucas' Life Achievement Award], where she basically said, 'There is actually underwear in space – Amidala was able to wear underwear, and I was told I couldn't.' There is underwear in space!"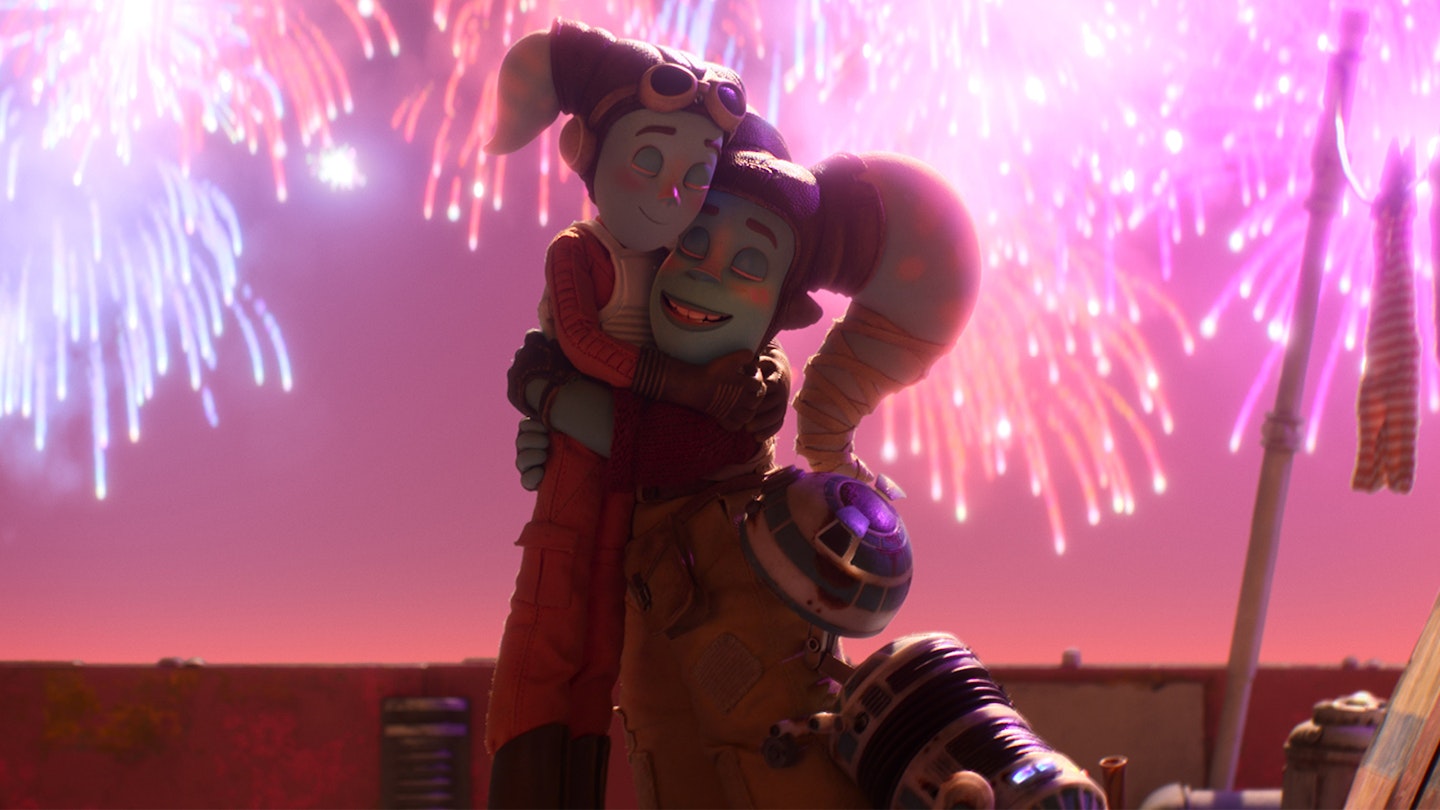 That typically Aardman sense of humour, wrapped around a tangible emotional core, proved the winning combination. "There was a lot of Creature Comforts-style approaches within the pitches. We loved a lot of the ideas – I want to make them all," says Cox. But it was the underdog spirit that clinched it. "Not the obvious heroic characters," Cox notes, "but the people on the fringes that you might not immediately attach to. The title, 'I Am Your Mother' was just a doorway into what the film could be. And it was a very strong take. That shone from the start." The connection between Anni and Kalina won Waugh's heart too. "Aardman is one of the most talented studios I've ever seen. Every pitch was sharp – really fun, really hilarious," he says. "But Magda's pitch was so intrinsically human, and about family, and about a mother and daughter." If only Luke and Vader's issues were as simple as social humiliation.
With a quick turnaround and an ambitious plan to craft the short in stop-motion rather than a CG or hybrid approach, Aardman activated the hyperdrive. "We kept it real, and on set as much as possible," says Cox. "We had tiny little lights in the spaceship. It's led by analogue stop-frame process." Work began on making a short that felt personal to all involved. Osinska drew from her newfound fascination with primary school sports' days ("There are competitions in Poland, but having a particular sports day where kids are jumping in sacks and the parents are really involved [is very British]," she says), while Peake and Chandran delivered their voice performances in unapologetically thick northern accents. "Charithra said straight away she related to Anni, because she felt similar about her mum – making her stand out at school, or they were listening to different music, and had different cultural references," says Osinska. "Only later she realised that these are things she should be proud of and should really cherish. And Maxine talks about a lot about the lack of female characters with working-class accents. Both of them were perfect in that sense." Even dog-droig Z-1 was inspired by Osinska's childhood sausage dog. "In Aardman, it's a very important thing to have a dog," she laughs.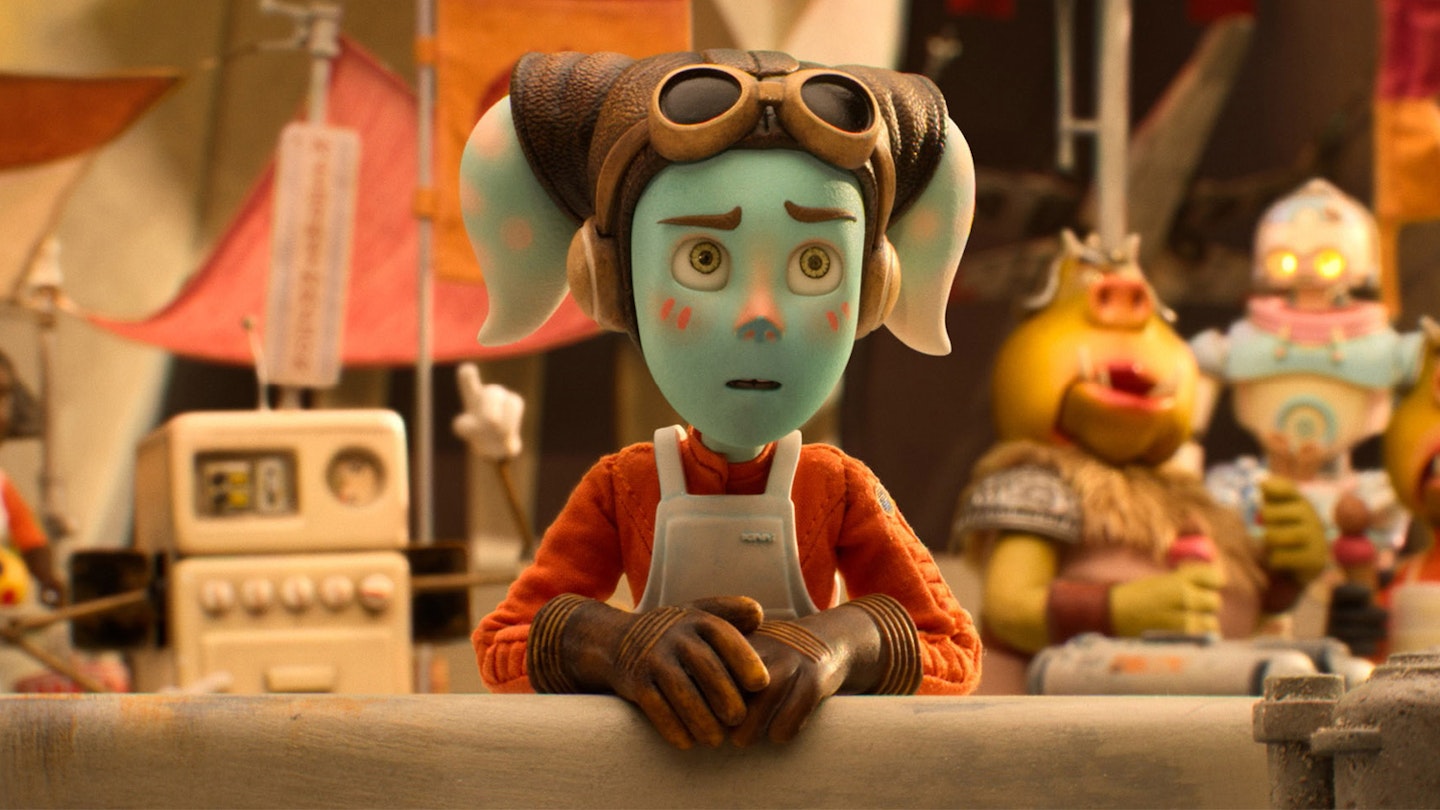 As for the studio's signature humour, the gags flowed thick and fast. An opening moment of Jawa comedy channels the same silent cinema touchpoints as Shaun The Sheep. The dastardly Dorota's hair is modelled after Darth Vader's helmet. A familiar Mandalorian visage makes a brief appearance in repurposed form. Even the skiing robot from Aardman's own A Grand Day Out pops up in the background. Multiple viewings will be required to catch every Easter egg. "In the market, there's a stall called 'Touched By Luke Skywalker'," Osinska points out. "His rifle is there, his binoculars, his missing hand. But also there's the lightsaber, that in the latest three [films] Maz Kanata had in her possession. Fans were really wondering, 'How is this possible that she has it?' The Jawa is about to snatch it, but there is an orange hand of Maz, grabbing the lightsaber and running away with it." When she told Rey it was 'a good story, for another time', she really meant it.
––––––
For all that Aardman and Star Wars might appear to be wildly disparate forces, the curious chemistry of Visions brings them both into balance. 'I Am Your Mother' is the result of a surprisingly harmonious marriage – drawing out the saga's latent British DNA. While Lucas was inspired by Japanese and American storytelling traditions, the films were largely UK productions – and, in the groundbreaking work of Industrial Light & Magic, they thrived on stop-motion effects. "Aardman had very similar perspectives, because of the heritage of ILM and the handcrafted nature of the creatures in the galaxy that George leaned into so much," says Waugh. "There was an instant fluent-ness about how they approached it." For Cox – whose own first cinema experience was seeing Star Wars – that was evident in the Aardman crew's enthusiasm. "Seeing that craft in a cinema made a big impact on me," she says. "That's the same for a lot of people. They've been introduced to film craft, lighting, set building – all those unsung skills [that] combine so well in a Star Wars film. We feel an affinity to that appreciation of the detail and the craft and the costume."
After playing to a packed crowd of 4500 fans at Star Wars Celebration in London a few weeks ago – including Osinska's mother, who'd flown in from Poland to see the short – the arrival of 'I Am Your Mother' is being celebrated by Aardman in the most British way: with special lunchtime screenings at the studio's two sites, and "Star Wars-themed cakes", says Cox. The plan succeeded to, in Waugh's words, tell "an authentic story in the Aardman style, through the lens of Star Wars". And despite Cox's fears, it was allowed to be funny too. "It's definitely Aardman-meets-Lucasfilm, but also meeting Magda in that – that individual auteur voice," she enthuses. "To get each one to sing in harmony was the challenge, but I'm really pleased with how we've managed it."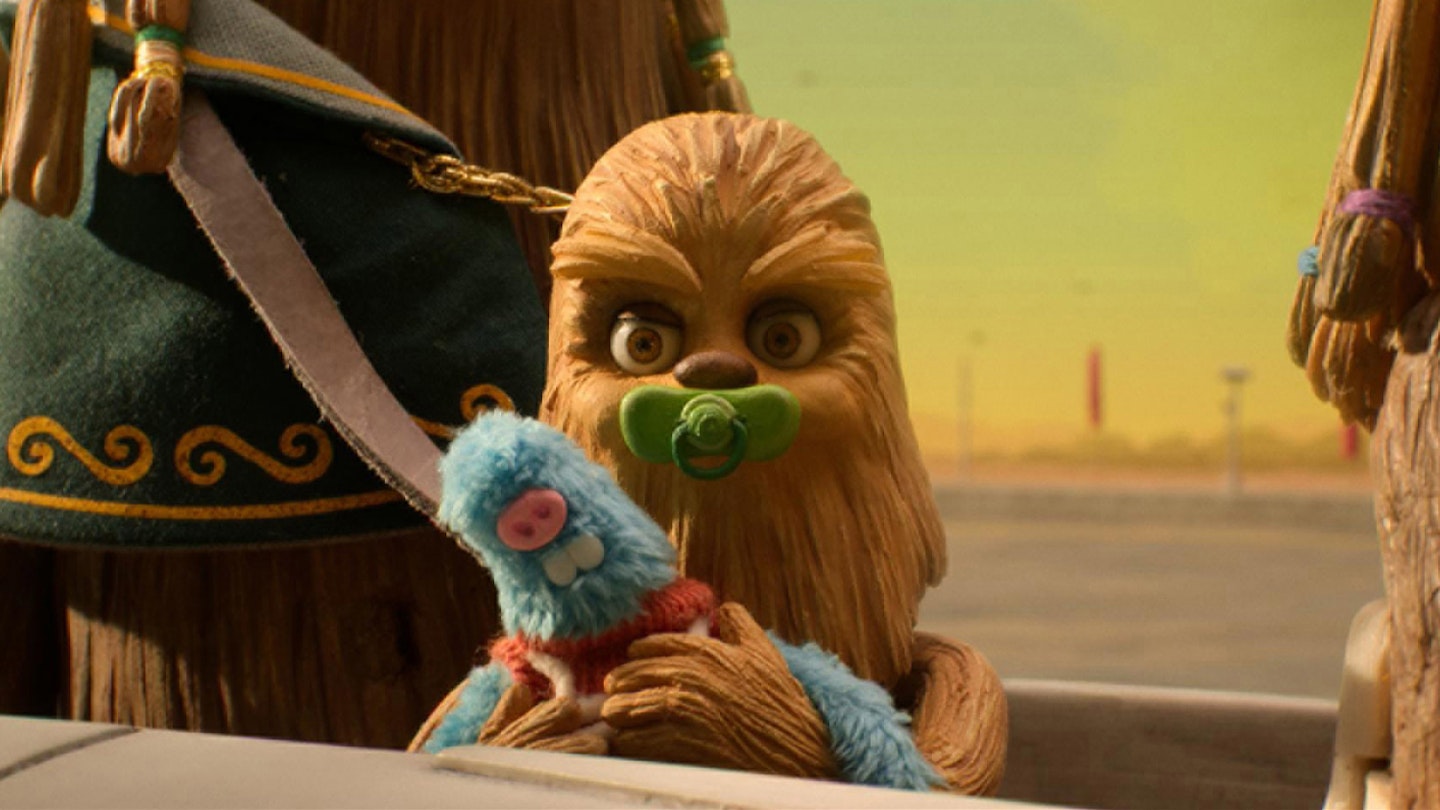 There could even be more to come, depending on where Visions goes from here. Cox "absolutely" sees the potential for future adventures. "Certainly for these characters," she says. "We've made them now, they're brilliant. They've got lives." Maybe we could even see some of those Star Wars-inspired Creature Comforts come to fruition. Or, if Magda gets her way, more of the baby Wookiee. "I think he deserves his own series," she beams. Like Leia's message to Obi-Wan, that fateful phone call from Lucasfilm to Aardman eventually resulted in a direct hit. Boom.
Star Wars: Visions Volume 2 is streaming now on Disney+