There's something uniquely special about the films you discover when you're a child. Whether it's a wondrous flight of fantasy, a mind-boggling work of animation, an adventure in a whole new world, or a coming-of-age tale that teaches you some of life's biggest lessons, the movies we see when we're kids stay with us for life — and the best ones help shape who we are. But in an age where you don't have to leave the house — or even the sofa — to lose yourself in the magic of moving pictures, it can be hard to even know where to start when it comes to finding the films that will truly connect with the next generation of budding young film buffs.
Thankfully, your cool aunt/uncle Empire is here to help. We've got down with the kids, reconnected with the child within, and spent A LOT of time on Netflix to bring you our hand-picked list of the 25 best kids' movies on the streamer. From modern classics to timeless family film favourites, stop-motion masterpieces to horizon-expanding anime, and stories that range from the supremely silly to the poignant and profound, we'd like to think there's something here for everyone. So whether you are young, have younglings in your life, or are simply young at heart, read on and get ready to fill your watchlist with wall-to-wall bangers.
Nimona (2023)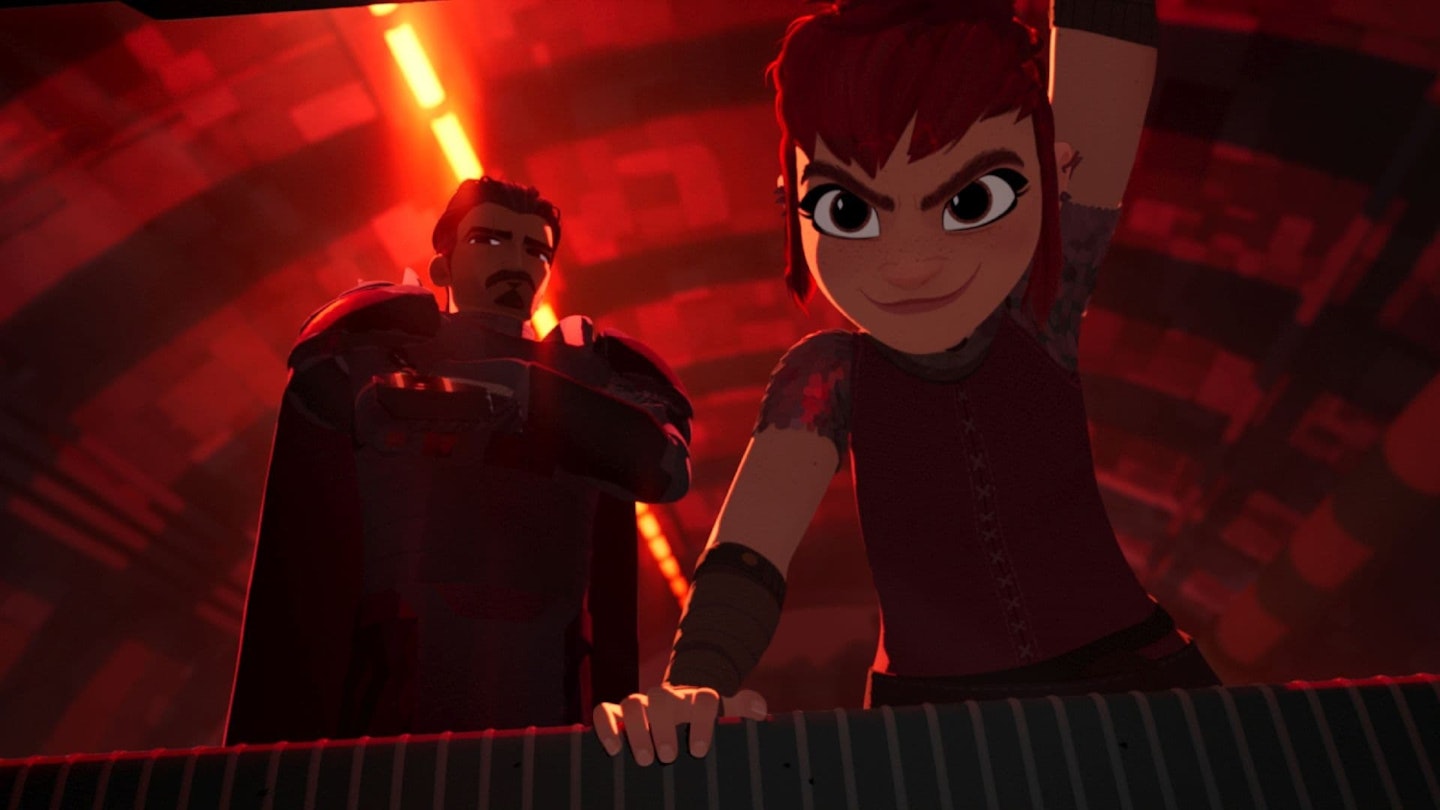 Its original studio, Blue Sky, closed. It was canceled, left in cinematic limbo for a while. But then Netflix resurrected Nimona - and boy are we glad they did. Nick Bruno and Troy Quane's adaptation of ND Stevenson's beloved graphic novel is a visually inventive, caustically witty, subversive and diverse animation. A sort-of revisionist fairytale, the film stars Riz Ahmed and Chloë Grace Moretz as outlawed knight Ballister "Bal" Blackheart and shapeshifting agent of chaos Nimona, misunderstood malcontents who form an unlikely bond as they try to prove Bal's innocence. Gorgeously rendered in eye-popping 2.5D animation, Nimona offers a progressive, stereotype-challenging, family friendly parable on self-acceptance, the perils of xenophobia, and the complicated nature of truth that's all wrapped up in a riotous fantasy adventure. Perhaps most importantly however, Nimona's story refused to go unheard, sending a powerful message to kids everywhere; never be afraid to speak up and stand out.
Read the Empire review here.
The Monkey King (2023)
Inspired by Wu Cheng'en's epic 16th-century Chinese novel Journey To The West, The Monkey King, helmed by The Boxtrolls' Anthony Stacchi, is an action-packed martial arts animation that's ultimately about what it truly means to belong. Jimmy O. Yang (Crazy Rich Asians) stars here as Monkey, a magical monkey (who'd have thunk?) with superpowers and attitude problems living in 7th century China. Determined to prove himself and become an immortal king, Monkey sets out on a perilous journey to vanquish all the demons in the land. However, a chance meeting with peasant daughter Lin (Jolie Hoang-Rappaport) soon sets Monkey on an altogether more important journey – one to becoming his best self. Produced by Stephen Chow (Kung Fu Hustle, Shaolin Soccer), it's unsurprising that this is a high-energy, kinetic romp from start to finish. But it's The Monkey King's dynamic animation (the Chinese brushwork training sequence is stunning!) and simple yet crucially not simplistic storytelling that'll keep you and your kiddos hooked.
Matilda The Musical (2022)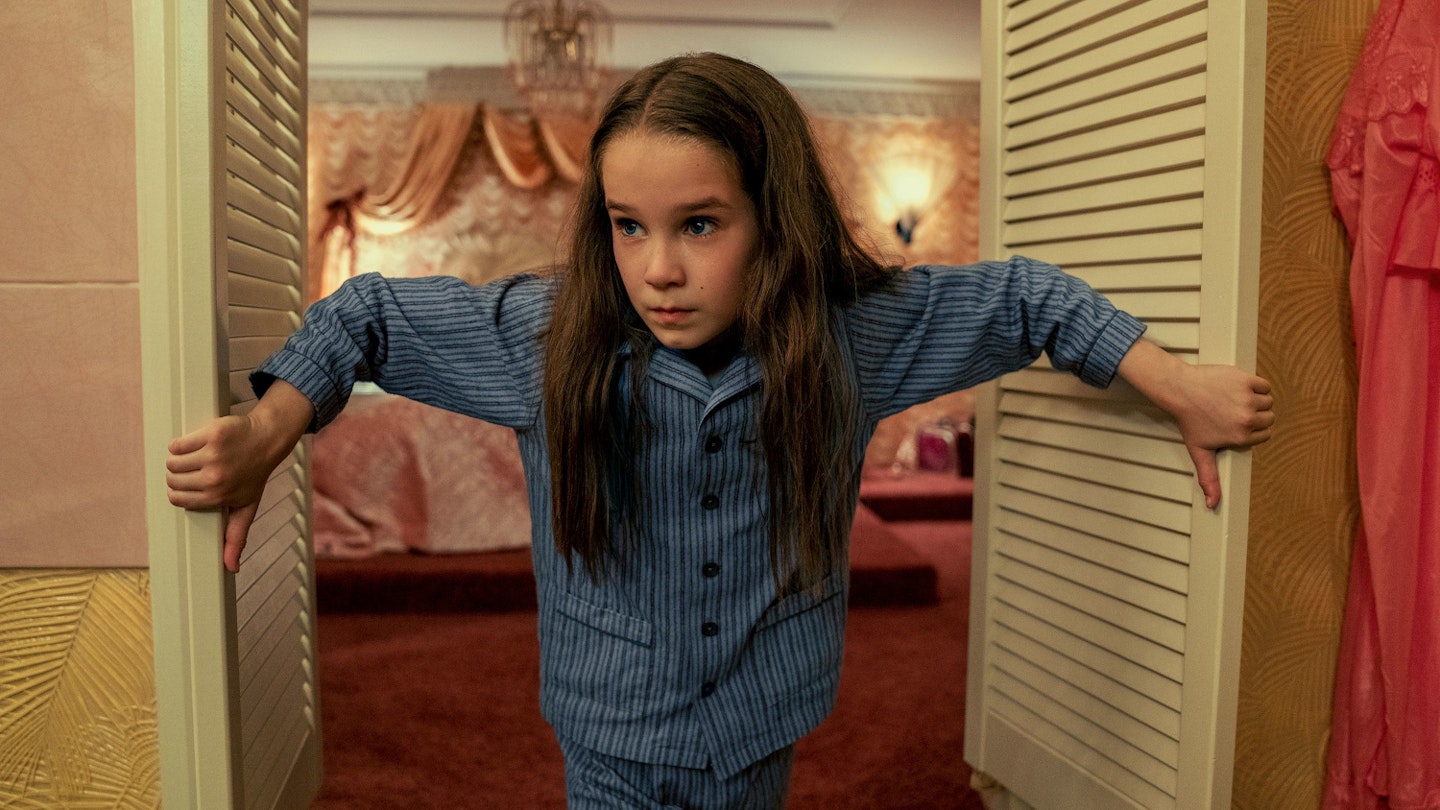 Wickedly cruel when the moment takes it (Phys-Ed landmines anyone?), knowingly cheeky in that quintessential Dahl way, and shot through with all the heart and mischief of its page, stage and screen forebears, Matthew Warchus' spectacular Matilda the Musical brilliantly adapts Roald Dahl's classic children's story for a new generation. Newcomer Alisha Weir shines here as the precocious child genius who leads a pint-sized rebellion against Crunchem Hall's fearsome Miss Trunchbull (an unrecognisable Emma Thompson), whilst the likes of Lashana Lynch's lovely Miss Honey and Stephen Graham and Andrea Riseborough as Matilda's wretched parents help vividly colour what is already an eye-popping picture. As given to moments of profound personal revelation as to bold, bright Busby Berkeley-esque musical numbers, Warchus' all-singing, all-dancing ode to childhood and found family - set to Tim Minchin's playful, poignant music and lyrics - feels destined to be as formative a feature for today's kids as Danny DeVito's 1996 classic was for the generation before them.
Read the Empire review here.
My Father's Dragon (2022)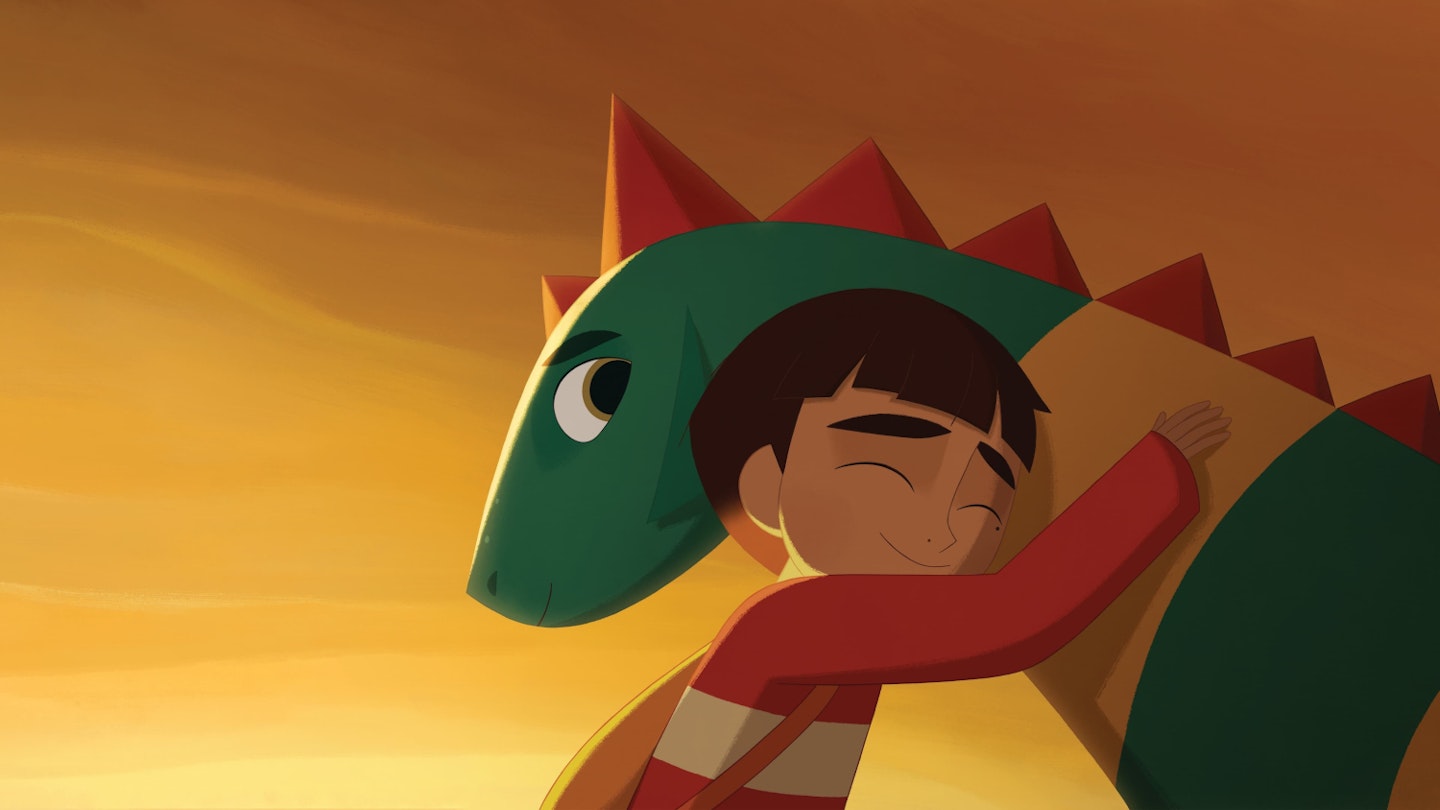 A sumptuous, picture book_-esque_ spiritual adaptation of Ruth Stiles Gannett's classic children's novel, Cartoon Saloon's My Father's Dragon may be the Irish animation outfit's first feature specifically made for a pre-school audience, but its appeal is as universal - and its themes as rich - as any of their prior works. Directed by Nora Twomey (The Breadwinner) and written by Pixar alum Meg LeFauve (Inside Out), the film centres around young Elmer Elevator (Jacob Tremblay). Struggling to settle into big city life after he and his immigrant mother (Golshifteh Farahani) are uprooted, Elmer runs away from home and headfirst into a magical adventure involving a mythic dragon named Boris (an energetic Gaten Matarazzo), a brilliantly biodiverse wild island called… well… Wild Island, and many, many fart jokes. A fairytale for troubled times, Twomey's film nimbly folds commentaries on environmentalism, the immigrant experience, anxiety, and fear into its gleefully silly yet heartwarming take on the classic boy-and-his-dog formula.
Read the Empire review here.
Wendell & Wild (2022)
An inspired collaboration between stop-motion master Henry Selick (The Nightmare Before Christmas, Coraline) and maverick comedy duo Jordan Peele and Keegan-Michael Key, Wendell & Wild - a story of demons both literal and figurative - is child-friendly horror done perfectly. Selick's film sees troubled teen orphan Kat (Lyric Ross) make a deal with two devils - Wendell (Key) and Wild (Peele) - to bring her parents back from the dead. The rub? She must free them from netherworld overlord Buffalo Belzer (Ving Rhames) and become their Hellmaiden. Yikes! Although, as soon becomes apparent in a valuable early life lesson for all kids, there are worse things on Earth than literal demons - namely the parasitic bourgeois elite. There is *a lot* going on here, as you'd expect from Selick, even without hellish rollercoasters strapped to the devil's belly. But Wendell & Wild is underpinned by such an unexpectedly affecting humanity and warmth - and boasts such a headstrong heroine - that no minor pacing or plot plate-spinning quibbles can stop this punk paean to rebellion and resistance from hitting its mark.
Read the Empire review here.
The Sea Beast (2022)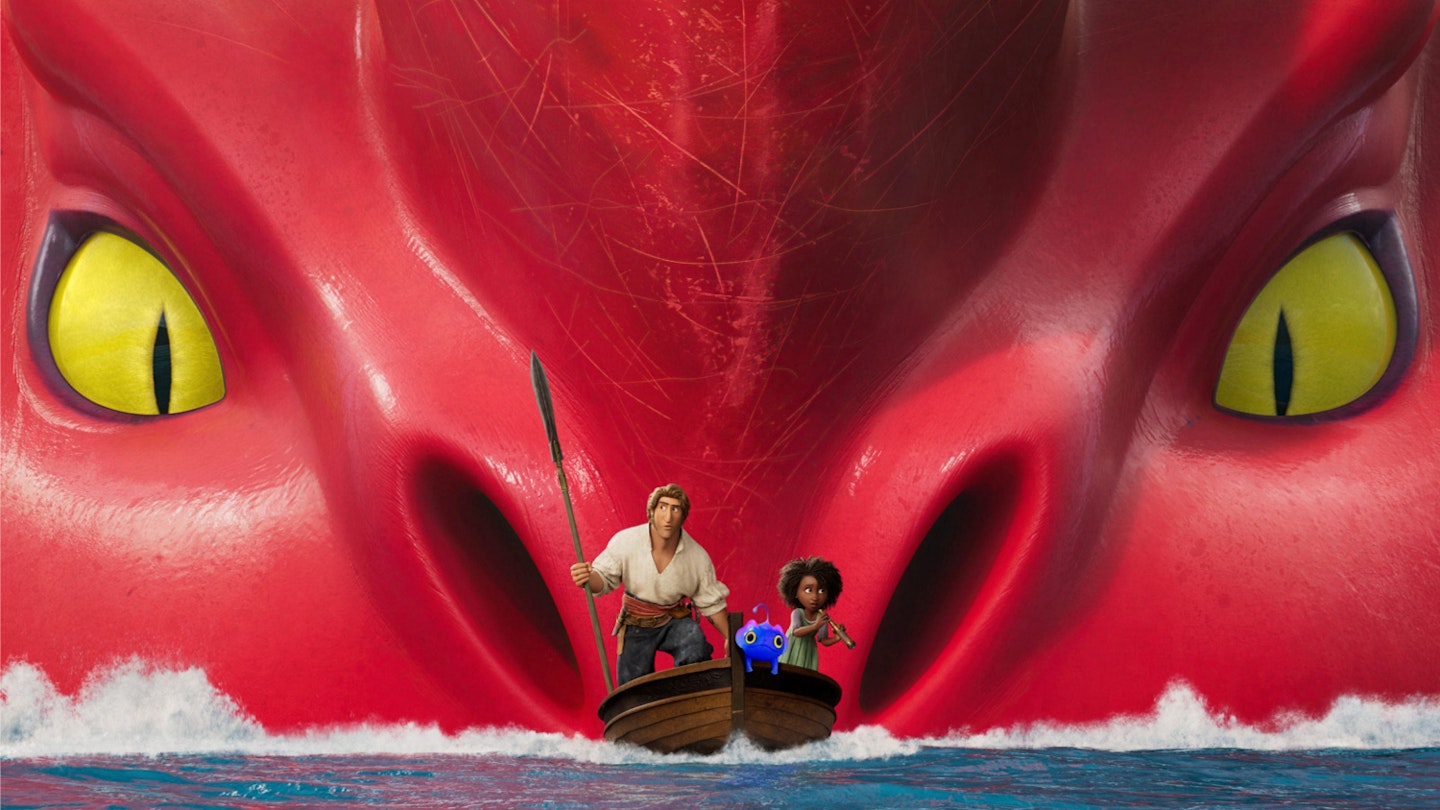 Having co-directed Disney's Big Hero Six and Bolt, Chris Williams proved himself a more than capable solo helmsman with feature directorial debut The Sea Beast, an old-school adventure packing distinctly new-school ideas. A swashbuckling, seafaring animated adventure that nods to both Moana and How To Train Your Dragon while doing its own thing, Williams' film is as impressive for what it has to say about the world we live in as it is for the intricately animated way it says it. Karl Urban is an absolute hoot as legendary monster hunter Jacob Holland, who embarks on a monster hunt with feisty, wide-eyed stowaway Maisie (Zaris Angel-Hator) that prompts the pair to question who the real monsters in their world truly are. Titular beast Red - a marvel of creature design and CG composition - is destined to steal your weans' hearts, but Williams' bold use of the form to tackle our colonialist roots is perfectly pitched to stimulate their minds too.
Spider-Man: Into The Spider-Verse (2018)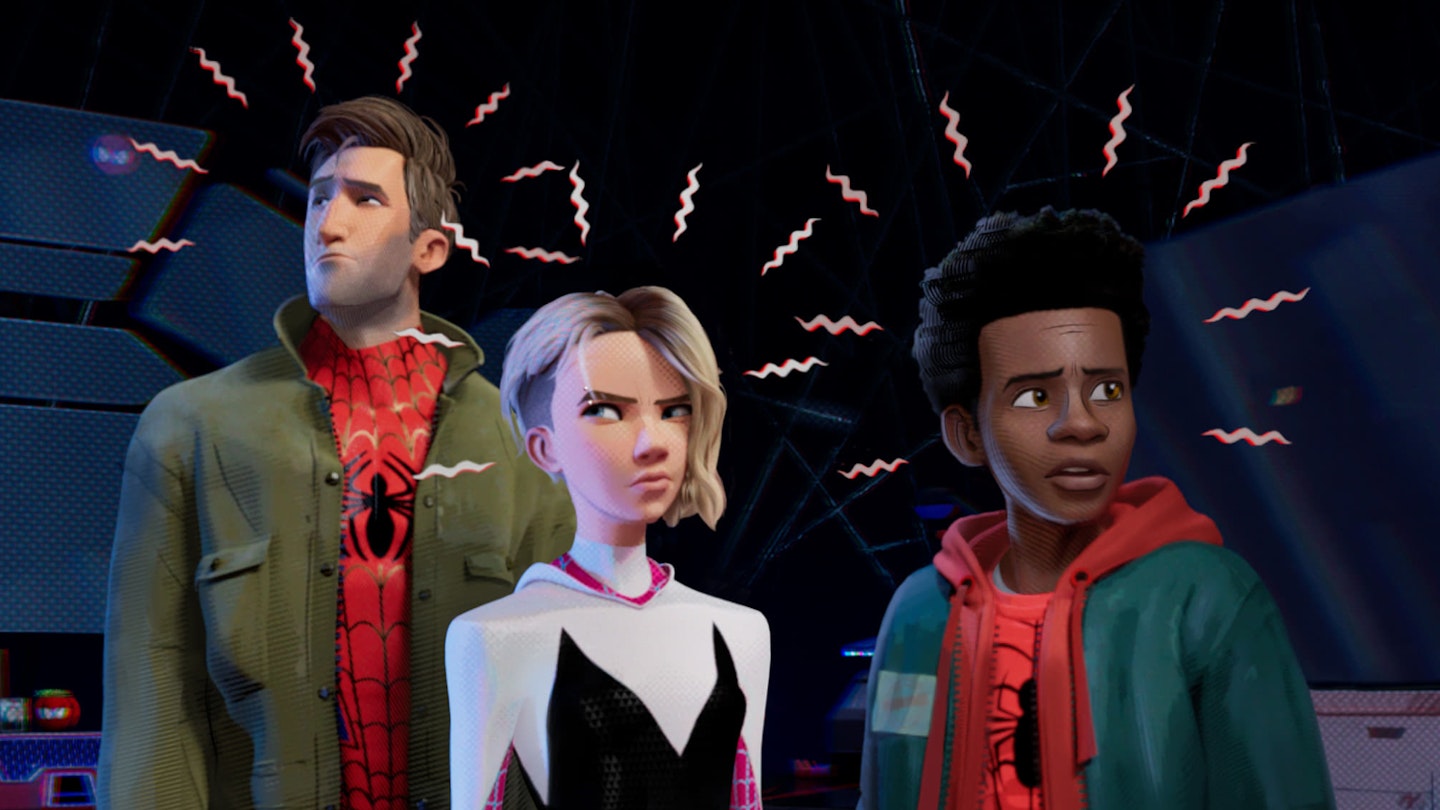 Marking animation's biggest leap since Pixar sphered the circle with Toy Story, Spider-Man: Into The Spider-Verse isn't just a film kids should see because it's an animated marvel, or because it's one of the best comic book movies ever made, or because it's just really, really cool (although it is all those things). It's one they should see because of the message it so beautifully conveys - that our power lies in our realisation that the greatest thing we can ever be is who we are. This Phil Lord and Christopher Miller production shatters the ceiling for the form with its gorgeous, Day dotted pop art blend of 2D and 3D animation whilst serving heart and soul as a celebration of individuality and nonconformity. By creating a multiverse where anyone can wear Spider-Man's mask, be they badass drumming ballerina, Nazi-punching Nicolas Cage, mech-wearing tween, slimy toon pig, or simply a kid trying their best - like our hero here, Brooklyn teen Miles Morales (Shameik Moore) - Into The Spider-Verse changed everything.
Read the Empire review here.
The Mitchells vs The Machines (2021)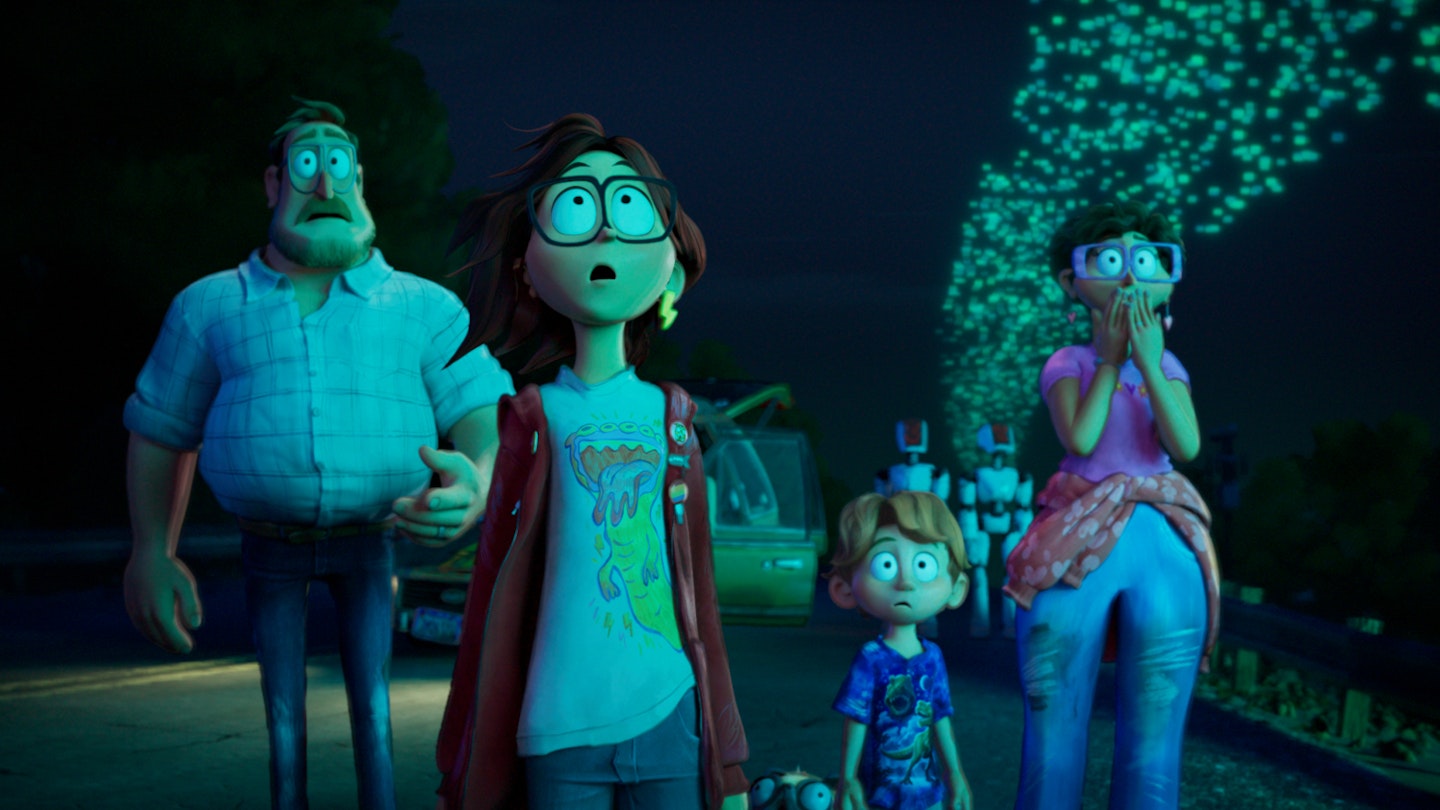 A dysfunctional family goes on a cross-country road-trip to fix their relationship. YAWN! We've seen that film a million times before. But throw in a robot apocalypse, some evil Furbies ("Let the dark harvest begin!"), a few murderous roombas, and a megalomaniacal AI Olivia Colman to overcome along the way? Now there's a movie worth watching! Another madcap Lord and Miller production, masterfully co-directed by Gravity Falls alum Mike Rianda and Jeff Rowe, The Mitchells vs The Machines is that film - a slickly style-switching, reference-packed, heart-on-sleeve love letter to the unifying power of film (and the ass-kicking power of T.I. and Rihanna's 2008 banger  'Live Your Life'). The titular Mitchell clan are a ton of fun to hang out with, from technophobe dad Rick (Danny McBride), to Insta-envious mom Linda (Maya Rudolph) and dino-mad, girl-shy son Aaron (Rianda). But it's the Mitchells' free-spirited, explicitly queer-coded (finally!) aspiring filmmaker daughter Katie (Abbi Jacobson) who steals the show, grounding the bonkersness of everything in a heartfelt coming-of-age tale.
Read the Empire review here.
My Neighbour Totoro (1988)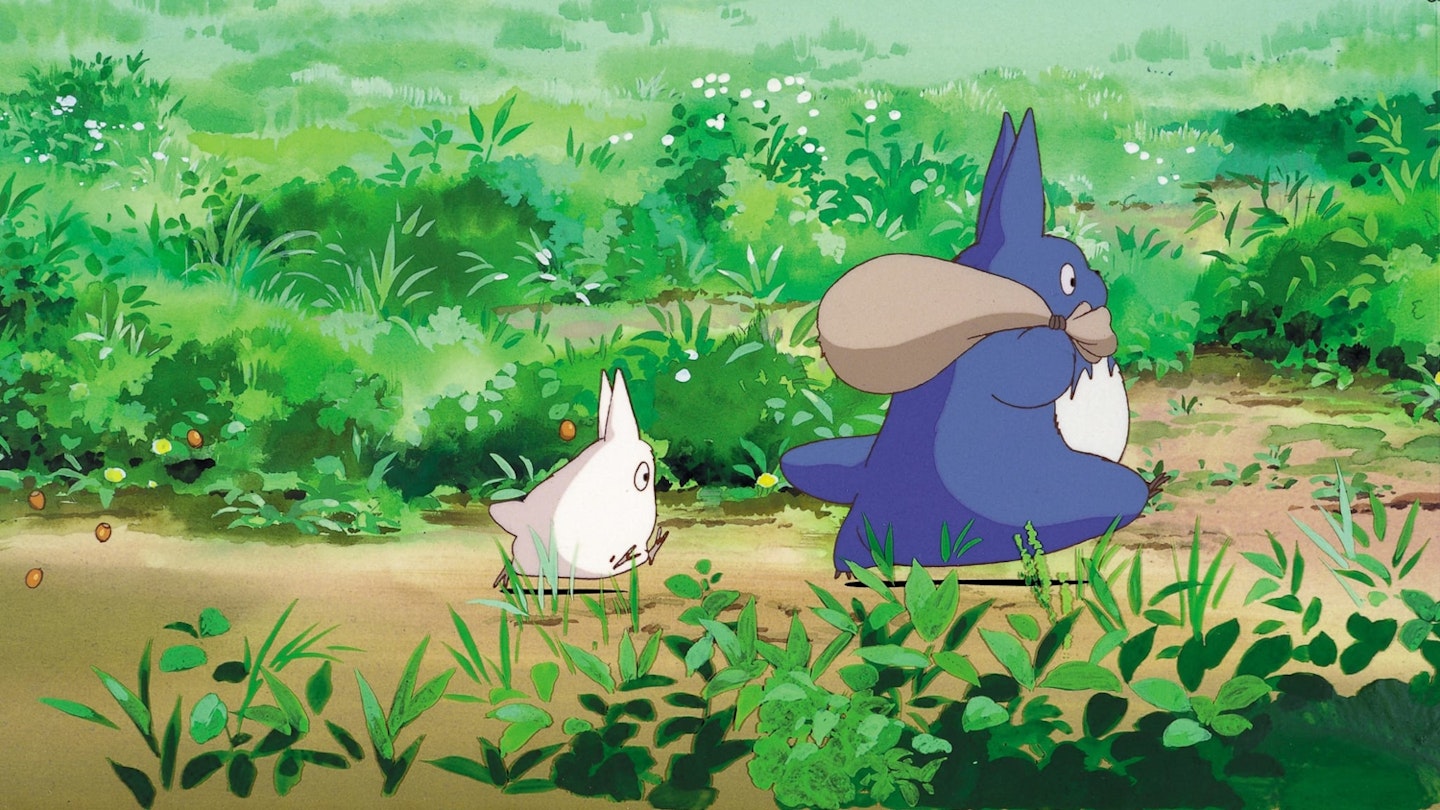 With no heroes, no villains, no third-act punch-ups, and no major plot to speak of or franchise to propel or prop itself up with, Hayao Miyazaki's My Neighbour Totoro - unburdened by cinematic convention - is every bit as gentle, magical, and utterly charming as its titular forest spirit. As much a tribute to the beauty of rural Japan as to the unbridled imaginative joy of adolescence, Miyazaki's 1988 masterwork unfurls in a series of lilting pastoral encounters between recently relocated sisters Satsuki and Mei, the eponymous huggable giant, and his many fantastical friends (shoutout to the Cat Bus!). Any hint of drama or darkness exists firmly on the outer fringes of Miyazaki's frame, allowing his canvas instead to be filled with soothing vistas and liberating flights of fantasy. A perfect introduction to Studio Ghibli for both the young and young-at-heart, My Neighbour Totoro is pure cinematic sunshine.
Read the Empire review here.
Vivo (2021)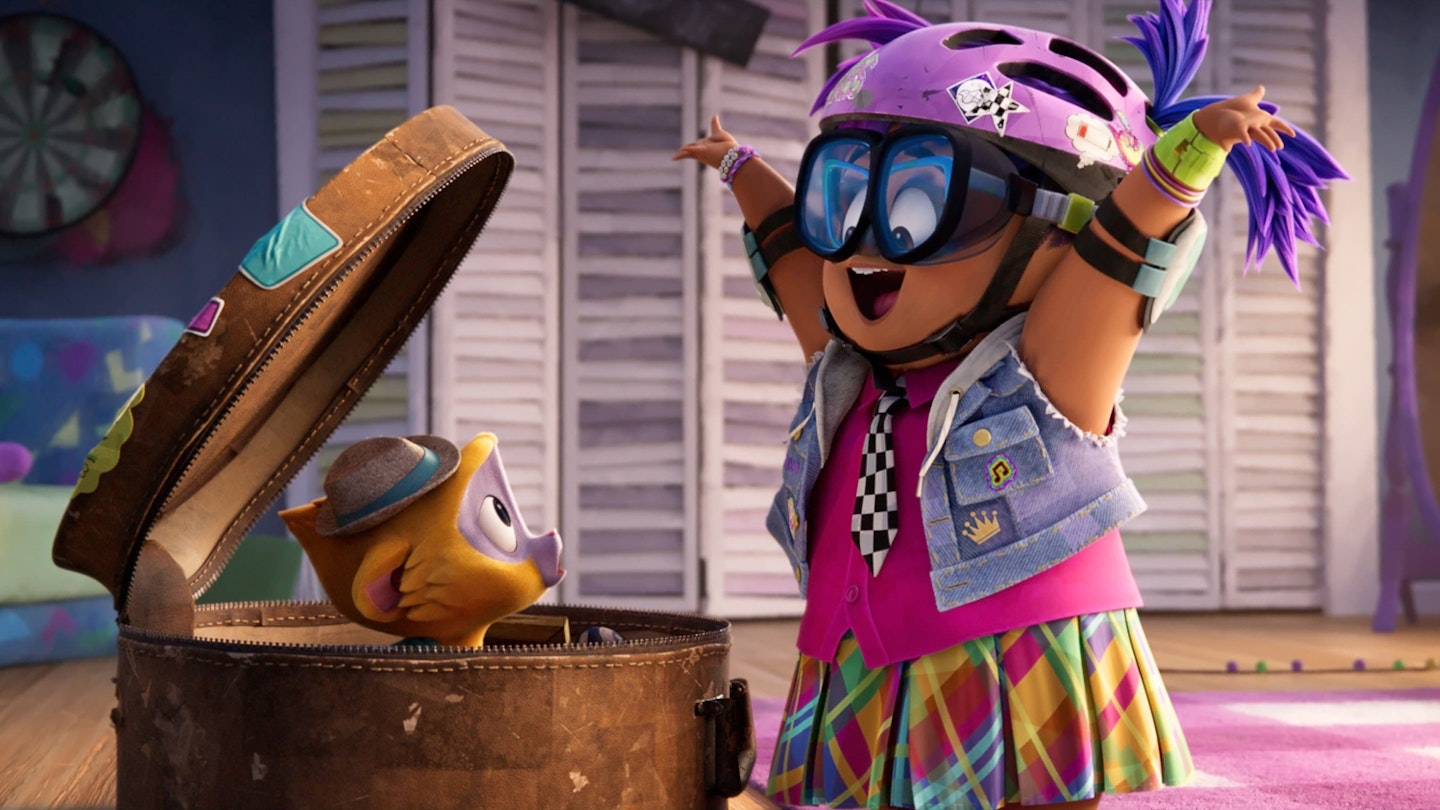 There are a lot of Lin-Manuel Miranda musicals out there, from Hamilton to In The Heights to an ever-lengthening list of Disney collaborations including Encanto and the recent live-action The Little Mermaid. There is however only one in which LMM writes the songs, sings them, and plays a Cuban kinkajou who takes his dearly departed mentor's niece on an epic journey to deliver a message in the form of a song to said mentor's long-lost lover. A lesser-cited feature in Sony Pictures Animation's recent renaissance, Vivo is a big, bright animated musical whose Latinx-infused ballads and hip-hop numbers help illustrate a touching examination of love, legacy, and the ways music allows us to speak the heartfelt truths words alone often cannot. Rocking an earwormy soundtrack, dynamic voicework from Miranda as the titular honey-bear and Ynairaly Simo as spunky teen rebel Gabi, and vibrant, sun-kissed visuals, Vivo's a surefire hit for your next family film night.
Read the Empire review here.
Howl's Moving Castle (2004)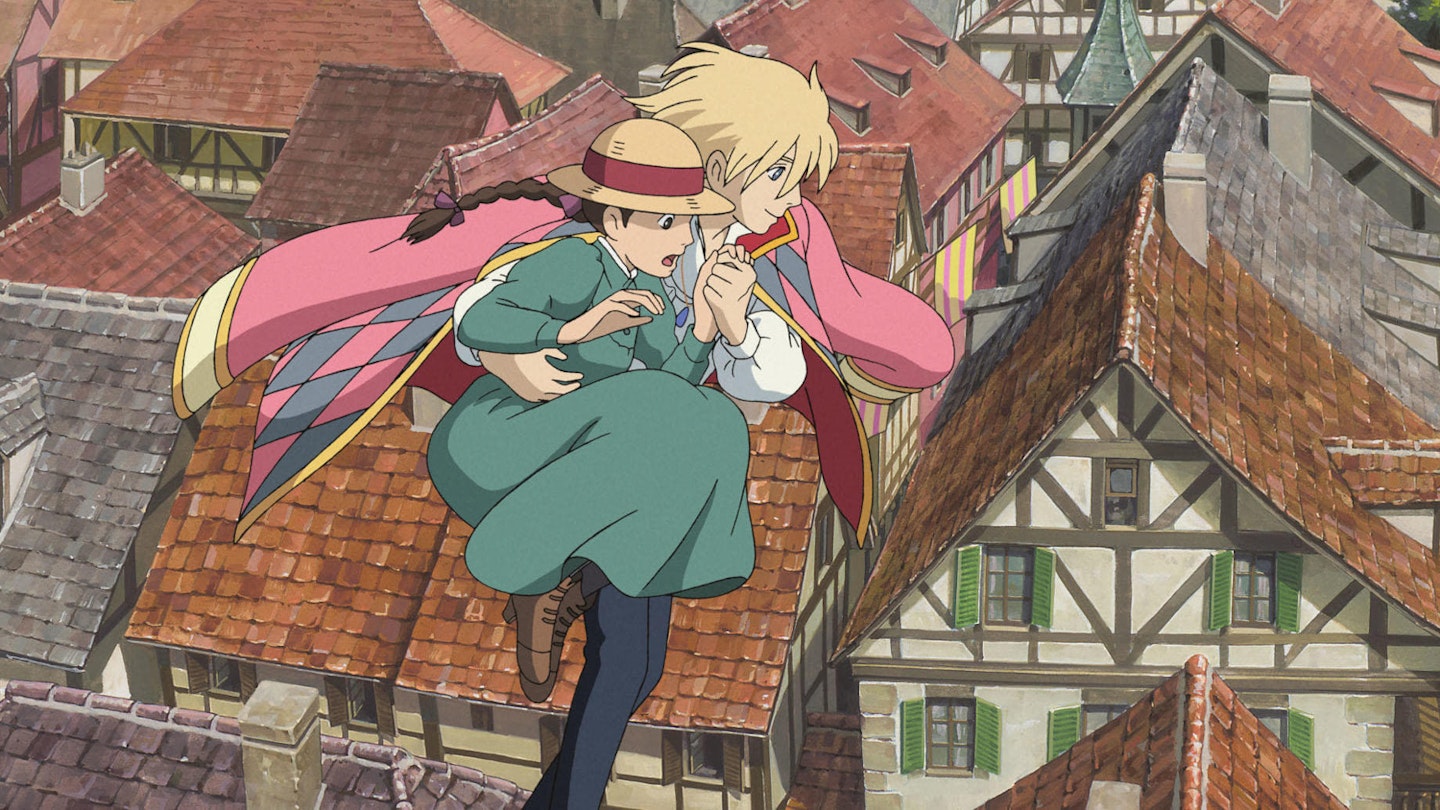 There are criminally few Diana Wynne Jones adaptations out there (seriously, what is up with that?), but in the shape of Studio Ghibli and Hayao Miyazaki's magical masterpiece Howl's Moving Castle, you'd be hard pressed to imagine one ever being better. A visual fantasia inspired by verdant, pastoral Wales and steampunk architecture, Miyazaki's unconventional love story revolves around a self-conscious young woman cursed into an old body by a spiteful witch, the brash-yet-brooding wizard who represents her only chance at breaking the spell, and their journeying in his living, wheezing, and indeed moving castle. Equal parts swooning romance and epic adventure, with added feisty fire demons and accursed prince scarecrows for good measure, Howl's Moving Castle really does have something for all viewers of all ages. Plus, in the English dub, Billy Crystal plays the fire demon Calcifer ("May all your bacon burn!") and a pre-Batman Christian Bale demos his Dark Knight as the titular wizard in the English dub. Magic!
Read the Empire review here.
Paddington 2 (2017)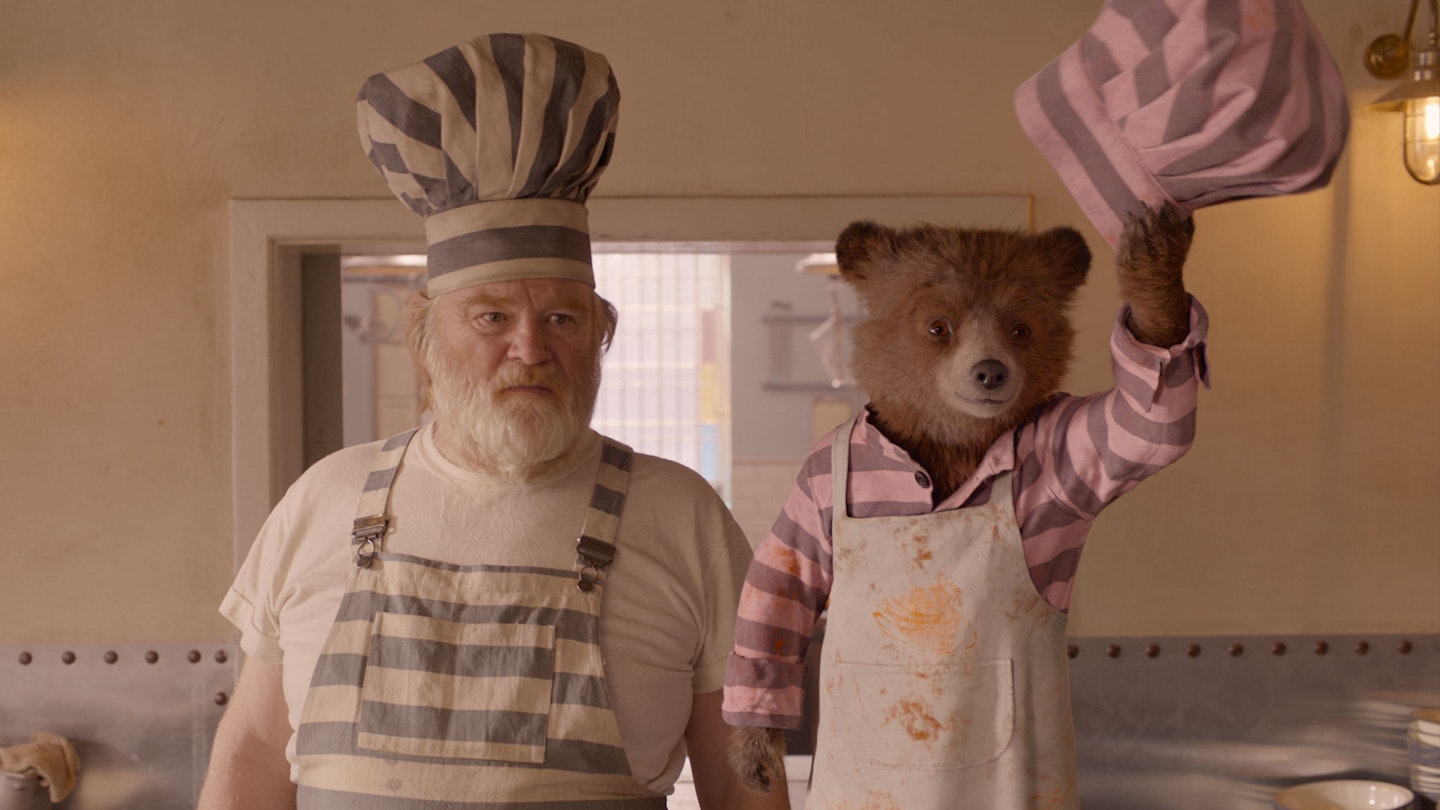 Everybody loves Paddington, Paul King's unbelievably pure-hearted adaptation of Michael Bond's beloved children's stories. An exceedingly family-friendly film about an exceedingly friendly family, King's movie - which stars Ben Wishaw as the titular pawed Peruvian with a taste for mischief and marmalade - was an unexpected delight. Even more unexpected and delightful is the way Paddington 2 is somehow even better! Boasting a sublimely self-deprecating star turn from Hugh Grant (who collaborates with King once more as an Oompa Loompa in Wonka), this sequel sees Paddington and the Browns searching for his Aunt Lucy's stolen birthday present. Boasting prison breaks, musical numbers, and an ending that promises to leave not a dry eye in the house, Paddington 2 is just as sweet and sharp as its hero's beloved gelatinous orange good stuff.
Read the Empire review here.
Hilda And The Mountain King (2021)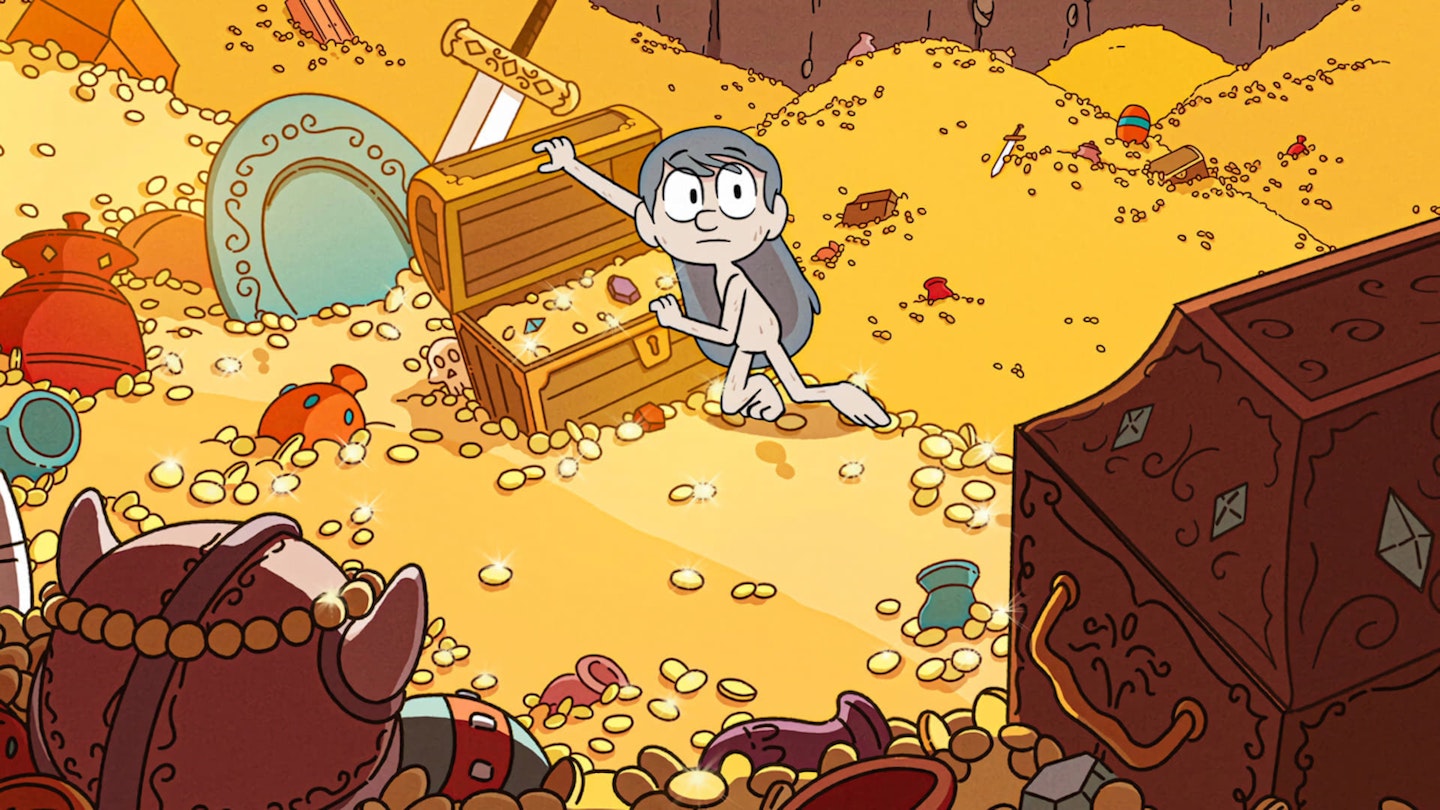 If for any reason you haven't already experienced the lo-fi fantasy delights of Netflix's all-ages animated graphic novel adaptation Hilda, then rectify that immediately; its vibes are, simply, immaculate. Then watch Hilda And The Mountain King, a feature-length spin-off that perfectly captures the series' off-kilter humour, tranquil tone, and dreamlike atmosphere whilst organically expanding its scale and scope to movie length. Bella Ramsey returns here as the fearless blue-haired Hilda, who - alongside deerfox Twig and pals David and Frida - gets up to all sorts of magical mischief in the city of Trolberg. This time out, she finds herself transformed into a troll, trying to find a way to turn back into a human and to save her city from imminent doom! Its pastel-hued animation is gorgeous, its eco awareness and humanitarian messaging is important, and did we mention the deerfox? So cute!
Mr Bean's Holiday (2007)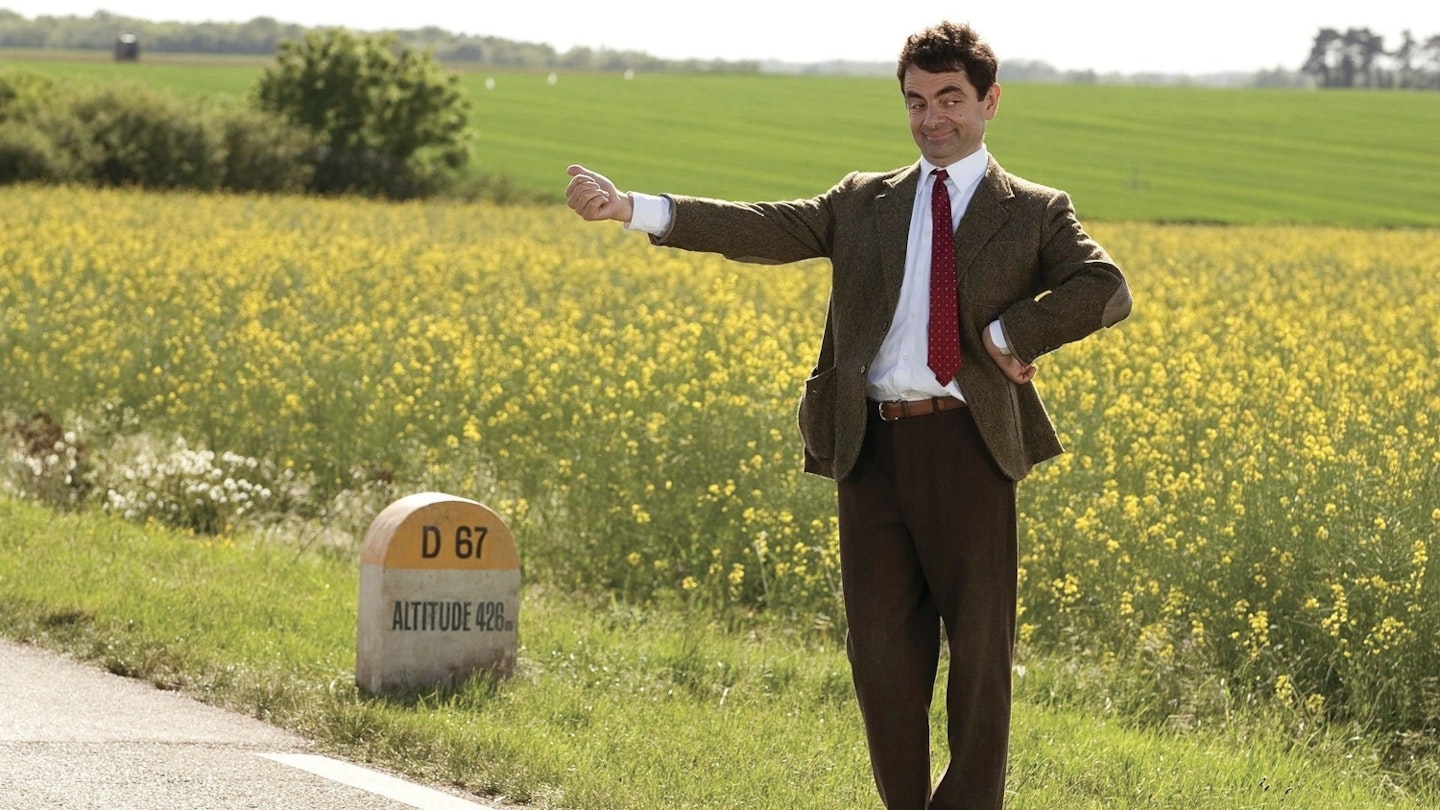 During the rousing, Cannes set finale of Mr. Bean's Holiday, camcorder footage of Mr. Bean goose-stepping in Nazi uniform at double-speed is spliced with narration from Willem Dafoe's pretentious filmmaker Carson Clay about looking back on "the darkest days of our history". It is perhaps not even in the top ten most absurdly silly, side-splittingly funny moments that pepper this film, which finally gives Rowan Atkinson's legendary betweeded bumbling hero the cinematic treatment he deserves. Homaging silent comedies and French master Jacques Tati's Monsieur Hulot's Holiday, Steve Bendelack's film sees Bean winning a trip to the French Riviera, only to find himself unwittingly separating - and then seeking to reunite - a father and son, aided by a budding French actress (Emma de Caunes). Unsurprisingly, hijinks and hilarity ensue as this oddball ode to found family takes shape. You ain't seen nothin' til you've seen Mr. Bean mime Puccini's 'O Mio Babbino Caro'. Pure cinéma!
Read the Empire review here (which seems to have temporarily misplaced about four stars).
A Shaun The Sheep Movie: Farmageddon (2019)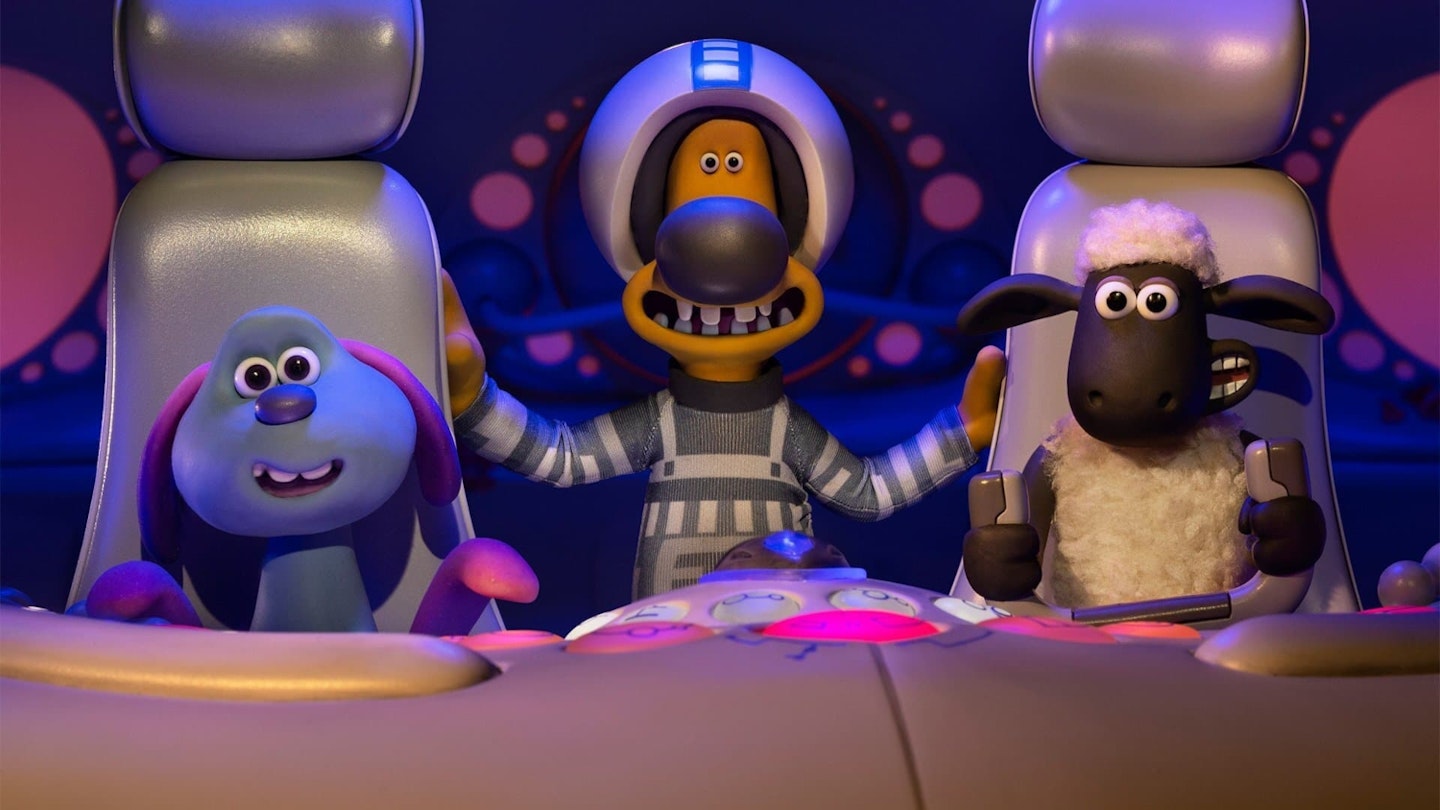 A sequel to a film that was a spin-off of a children's animated TV series - that itself was already a spin-off from Aardman's Wallace & Gromit: A Close Shave - you'd be forgiven for wondering just how good A Shaun The Sheep Movie: Farmageddon could possibly be. The answer however? So good! Referencing everything from Doctor Who to The X-Files to War of the Worlds to E.T (via a wheelie bin!), this gloriously bananas sci-fi sheepquel sees a UFO  (_Ewe_FO?) crash-land on Mossy Bottom Farm. With a shady organisation bent on capturing its pilot, Lu-La, Shaun undertakes a daring mission to help get his new friend home again. Stuffed with silly sight gags and lovingly handcrafted characters (you can literally see the thumbprints upon the plasticine), it's heartwarming to see that even when paying tribute to Spielbergian blockbusters like Close Encounters Of The Third Kind, Aardman still strive for those personal touches that speak to the child in us all.
Read the Empire review here.
Fantastic Mr. Fox (2009)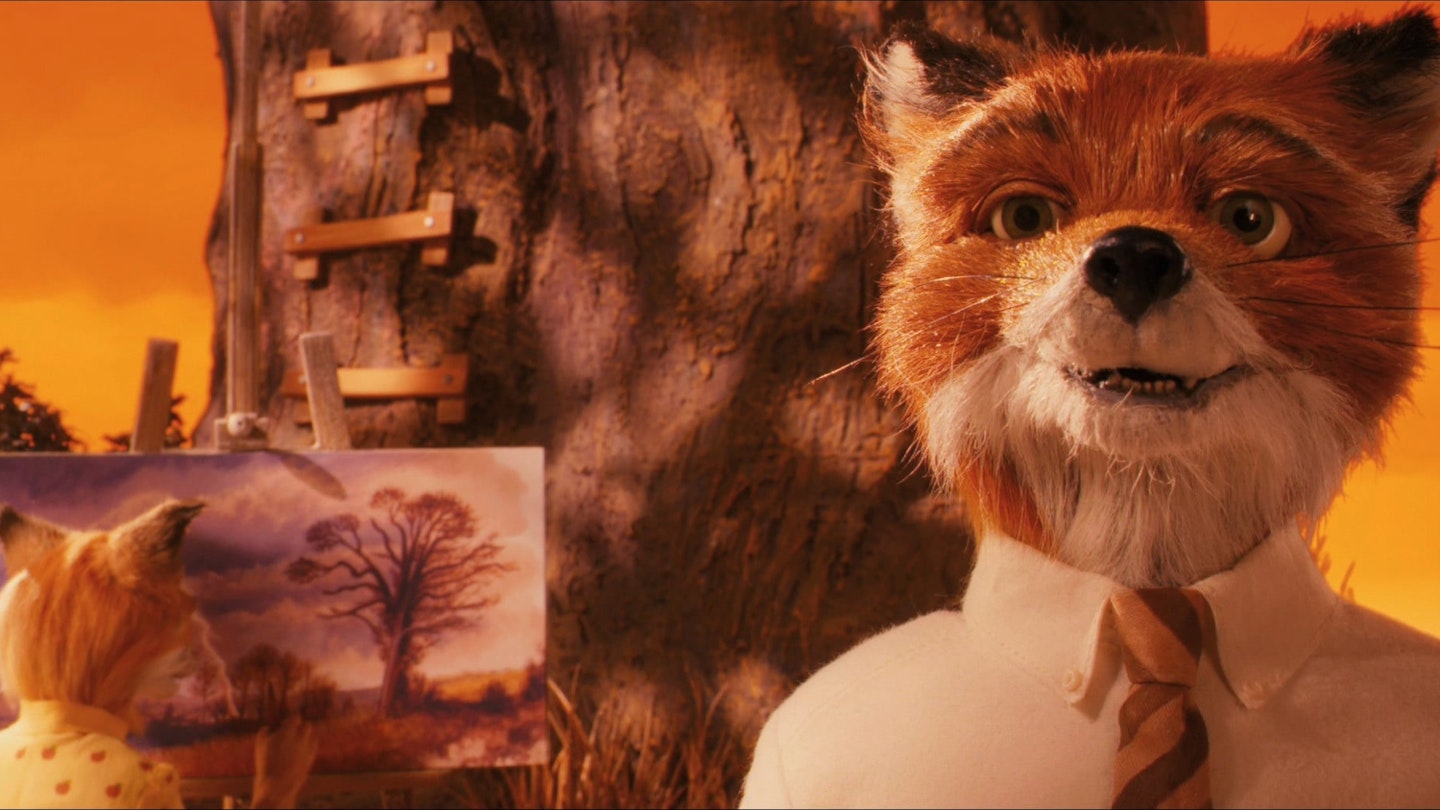 George Clooney is on sparkling form as the insouciant titular thief-turned-hero in Wes Anderson's Fantastic Mr Fox, a stunning stop-motion adaptation of Roald Dahl's classic children's novel. With its eye-catching autumnal palette, intricately detailed armatures, and picturebook scenery, Anderson's film conjures a cosy, lived-in world that's impossible to resist, no matter how old or young you may be. And from within it, he faithfully tells Dahl's slight story of a wily fox taking on three horrible crooks whilst artfully expanding it to further explore the themes of fatherhood, familial dysfunction, and community that permeate his own filmography. Partly a hair-raising heist film that gives Clooney's Ocean's flicks a run for their money, partly a study in silliness filled with child-friendly cussin', but above all else a decidedly Wes Anderson picture, Fantastic Mr. Fox is perfect for the budding young cinephile in your life. Also, Willem Dafoe plays a villainous alcoholic sewer-rat in this, and Jarvis Cocker sings and plays the banjo. What more could you want?
Read the Empire review here.
How To Train Your Dragon 2 (2014)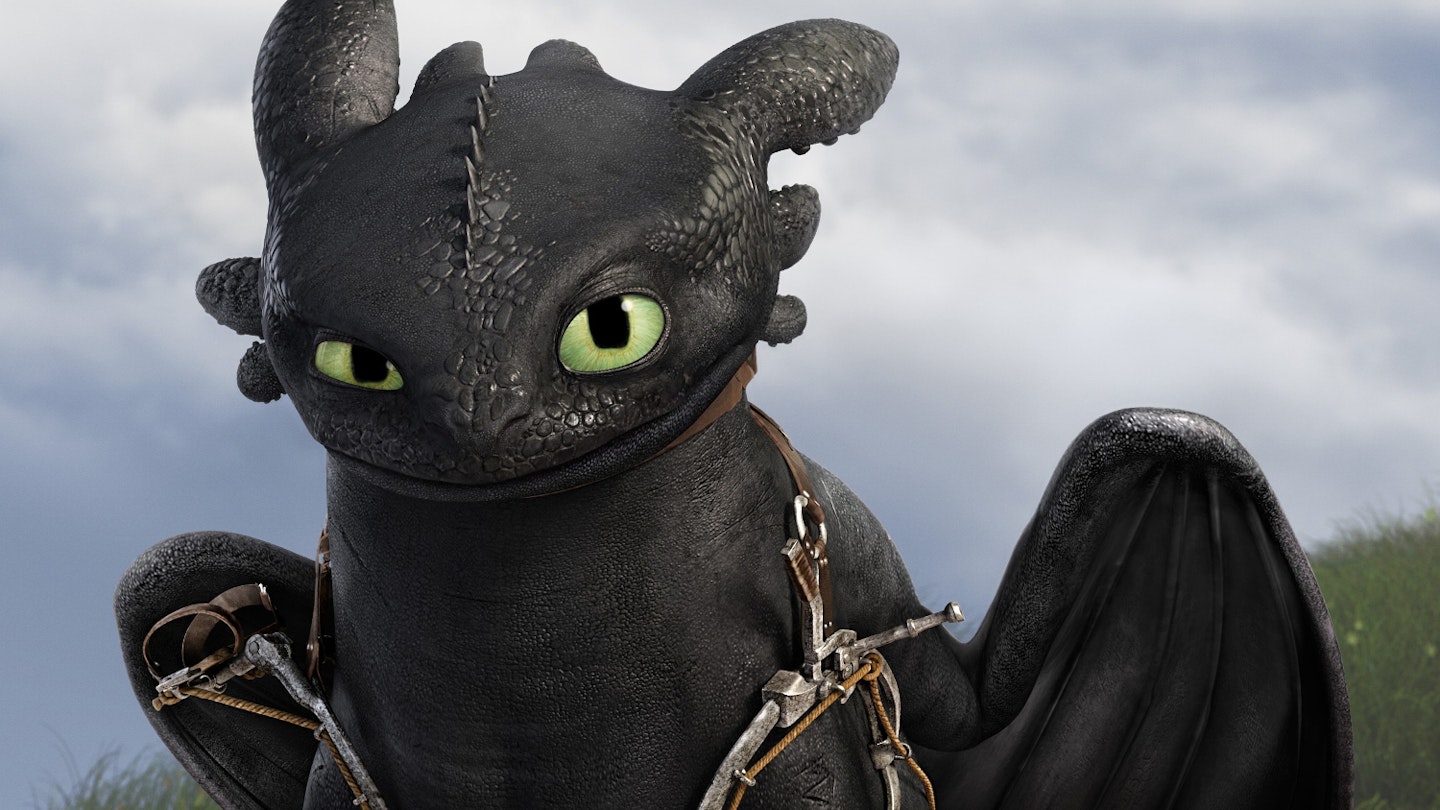 The Empire Strikes Back of DreamWorks Animation's How To Train Your Dragon trilogy, this middle chapter in Dean DeBlois' Viking fantasy saga sees a now-adult Hiccup (Jay Baruchel) and his adorable dragon bestie Toothless discover a secret ice cave that's home to hundred of previously undiscovered wild dragons. Far from being a light-hearted adventure however, this sequel takes the series to some uncharted, dark waters. Hiccup's struggles against the villainous Drago (Djimon Hounsou) challenge the conventional moral binarism of children's cinema; the return of our hero's long-lost mother (Cate Blanchett) brings its own emotional tumult; and as Hiccup recalcitrantly prepares to take his father Stoick's (Gerard Butler) place as Berk's chief, the story takes daring turns with genuine stakes and lasting consequences. As willing to treat young audiences with the maturity and respect they deserve as it is to dazzle us all with jaw-slackening creature designs and exhilarating action set-pieces, HTTYD 2 takes DreamWorks to all-new heights.
Read the Empire review here.
The Willoughbys (2020)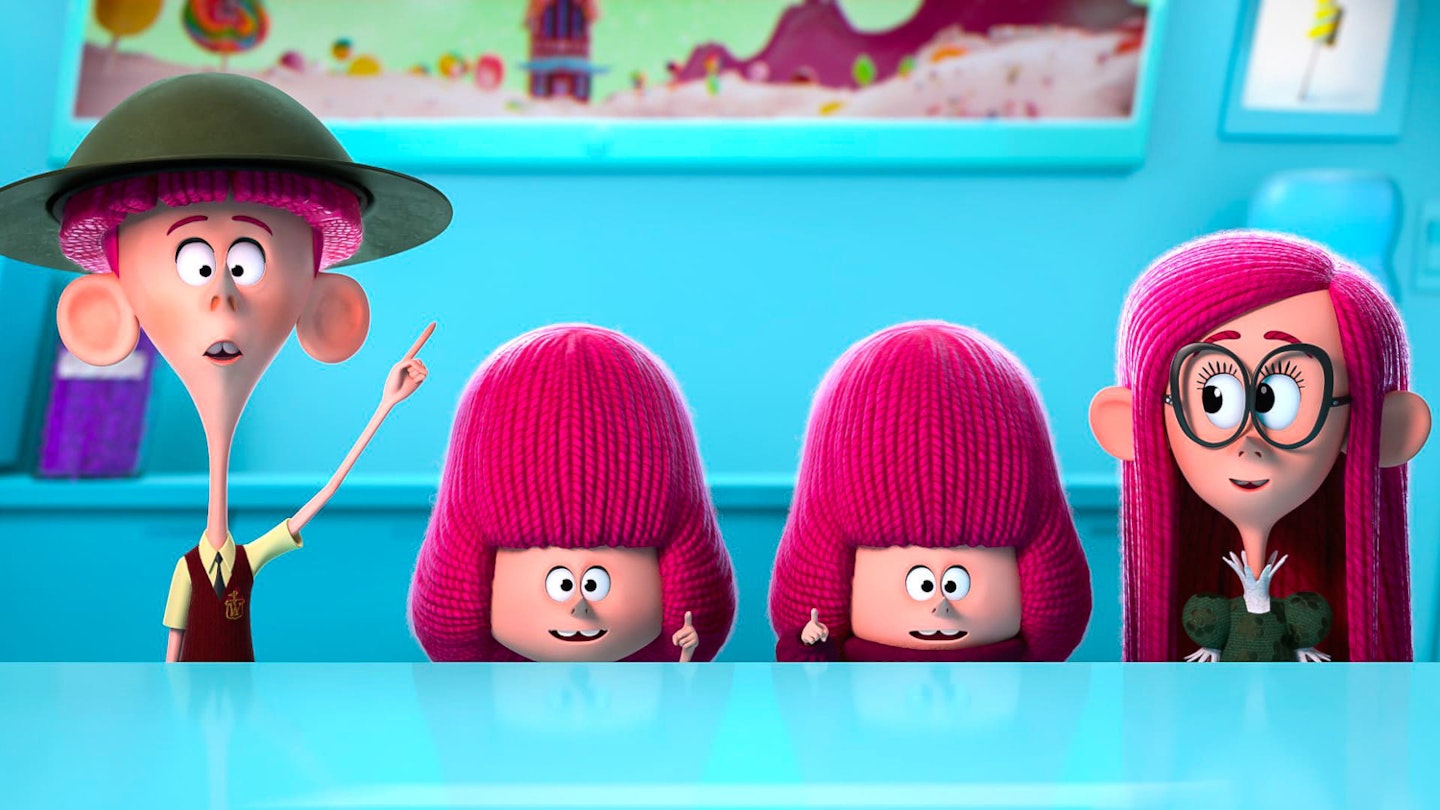 "If you like stories about families that stick together and love each other through thick and thin [...] this isn't the film for you, OK?" So warns Ricky Gervais' chubby blue tabby narrator at the start of Kris Pearn's The Willoughbys, a gleefully fluff-free adaptation of Lois Lowry's same-named satirical novel. A candy-coloured animation with a deliciously gallowsian streak of black humour coursing through its veins, The Willoughbys turns the 'Poor Orphaned Children' genre trope on its head, instead focusing on a set of poor children actively looking to "orphan themselves" and escape their beastly folks (Martin Short and Jane Krakowski). Will Forte, popstar Alessia Cara, and a multi-roling Seán Cullen make Pearn and co-writer Mark Stanleigh's whip-smart screenplay sing as the scheming Willoughby siblings, whilst the film's unique application of key frame animation to its 3D form creates a visual poppiness that fondly evokes Chuck Jones' Looney Tunes heyday. Something of a hidden gem, don't sleep on this one!
Enola Holmes (2020)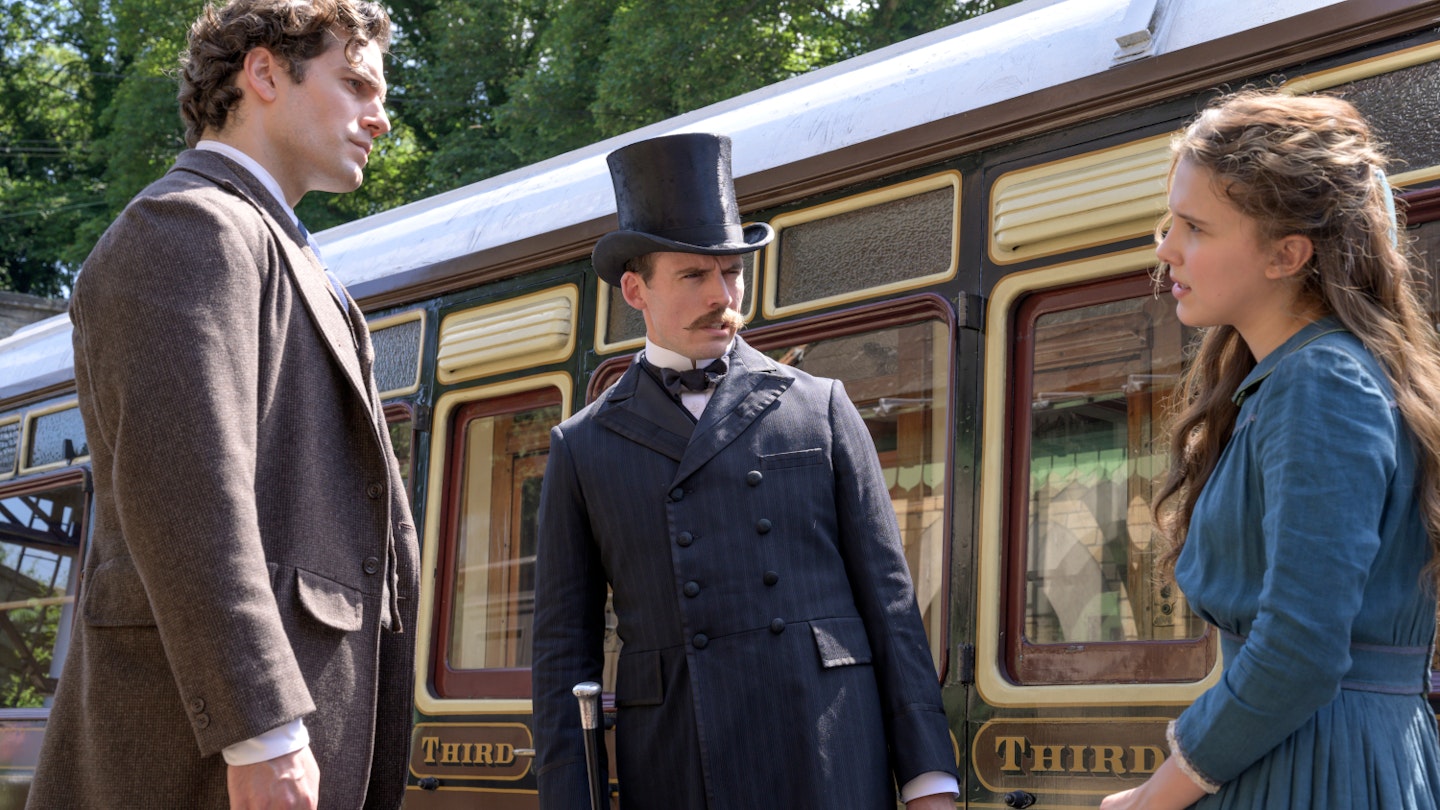 Millie Bobby Brown is a preternaturally gifted teen with family issues and a mystery to solve, caught in a conspiracy that goes all the way to the top? No, we've not accidentally put Stranger Things on our list - don't you worry! We are of course talking about MBB's other hit franchise on the streamer, Enola Holmes. Adapted from Nancy Springer's bestselling YA book series about the badass teen sister of the world's greatest consulting detective, this first Enola adventure sees the aspiring super-sleuth step out from her brothers Sherlock (Henry Cavill) and Mycroft's (Sam Claflin) shadows to search for her missing mother (Helena Bonham Carter). Matters complicate further when she also manages to find herself entangled with mysterious runaway Tewkesbury (Louis Partridge). Combining Fleabag-esque fourth wall breaks with a refreshing take on a well-trodden genre, it doesn't take a genius to see that Enola Holmes - and its sequel - are worth getting clued up on.
Read the Empire review here.
The Harry Potter Series (2001 - 2011)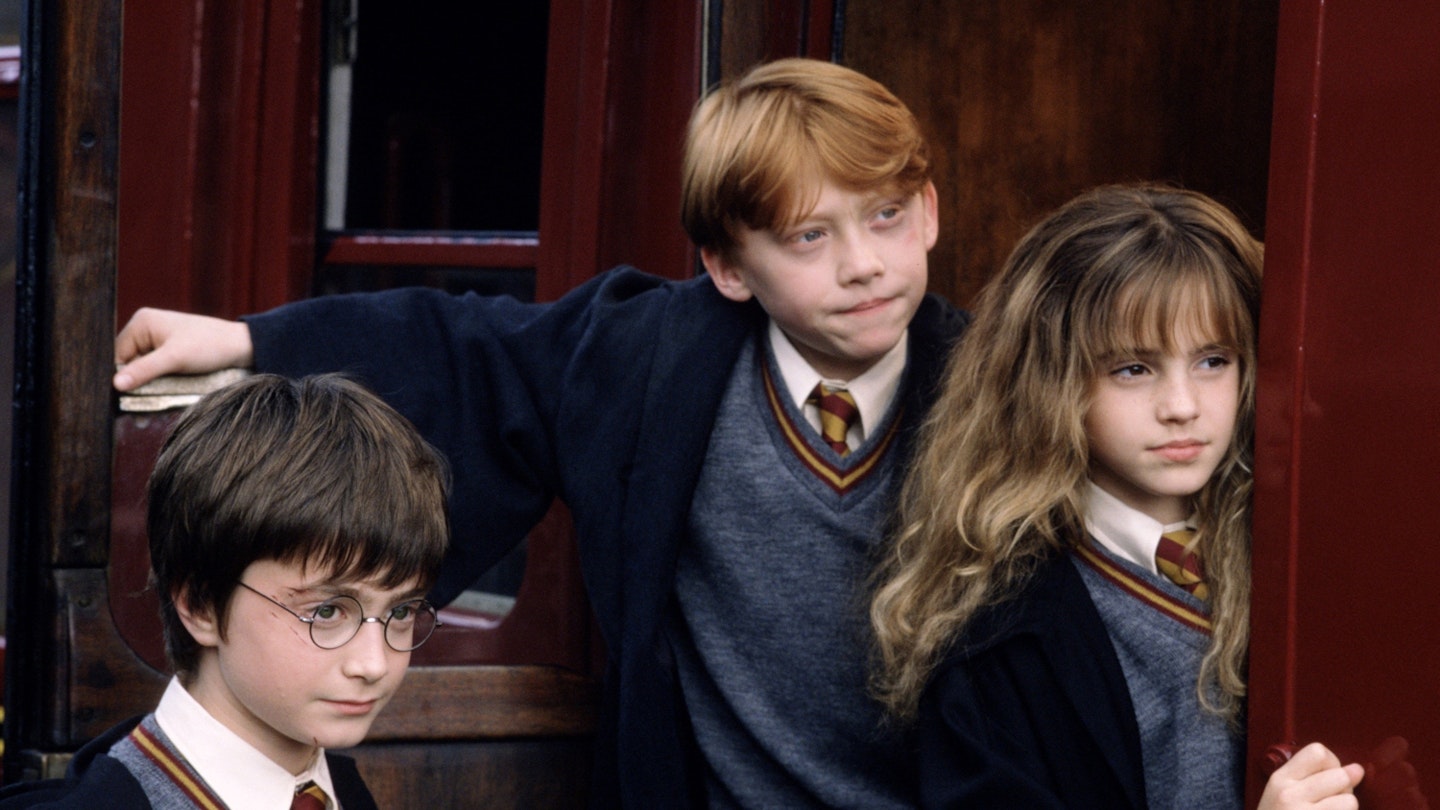 "There won't be a child in our world who doesn't know his name," Professor McGonagall says at the start of Harry Potter & The Philosopher's Stone. And indeed there isn't a child (or indeed adult) alive who doesn't know the name of Harry Potter, or the behemothic series of Wizarding World blockbusters he and Warner Bros. spawned. The adventures of Daniel Radcliffe's bespectacled boy wizard and his pals at Hogwarts School Of Witchcraft And Wizardry have been immortalised in the cinematic canon at this point - and not without good reason. These eight films are the perfect example of a page-to-screen adaptation done right. Helmed by four distinctive filmmakers, each of whom bring their own unique vision to this beloved universe over its eight chapters without dishonouring the source material, getting to watch this franchise and its stars grow and evolve before your very eyes is, well, magical.
Read our ranking of all the Harry Potter (and Fantastic Beasts) movies here.
Labyrinth (1986)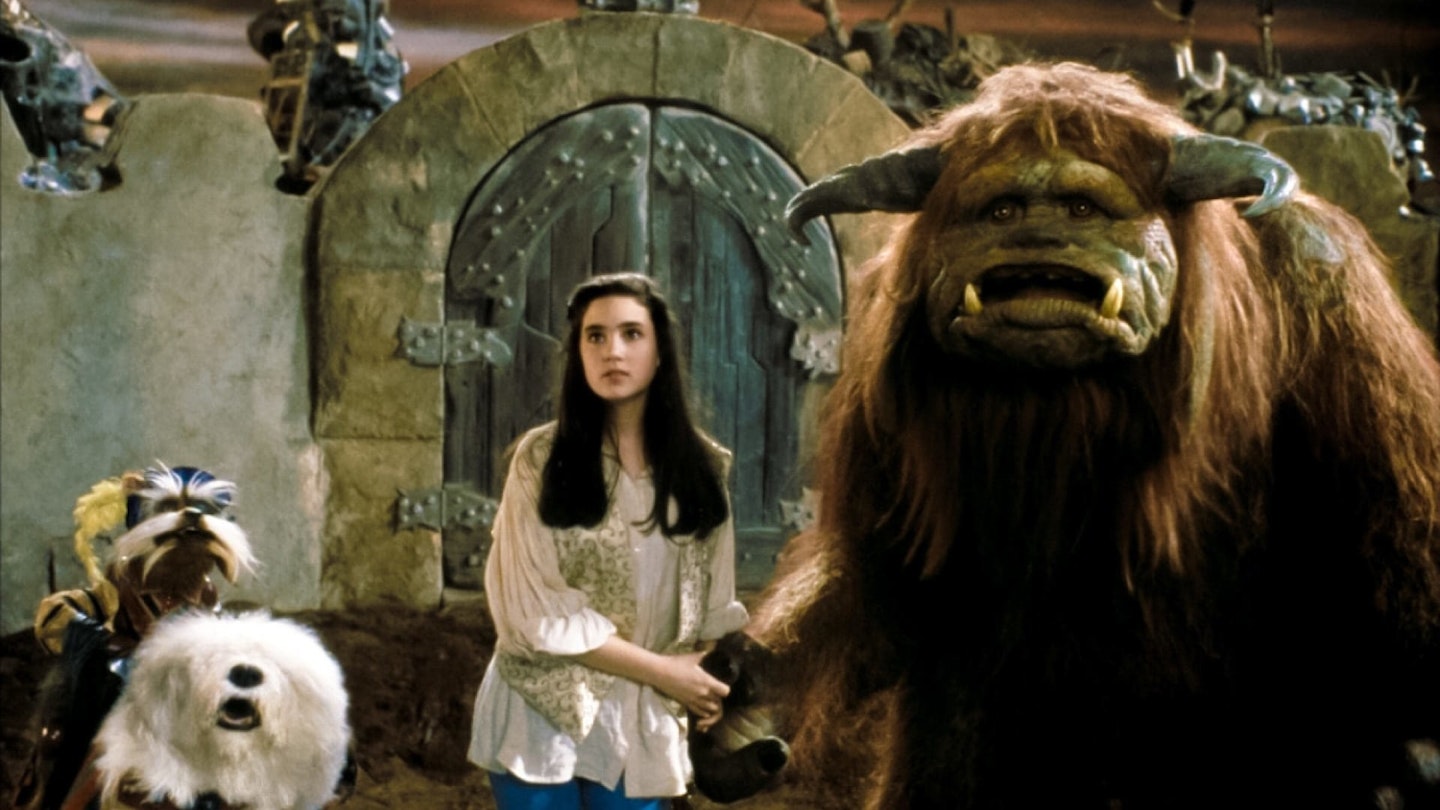 A sixteen-year-old girl makes a wish for her wailing baby brother to be taken away, and David Bowie in full Goblin (King) mode dutifully obliges, sending the guilt-stricken sister on a perilous journey into a magical labyrinth to retrieve the teary-eyed tot. What can we say? The 80s were just a different time, man. But here's the rub: Jim Henson's Labyrinth is still great - wackadoodle plot and all - all these years later. Sensational production design and Henson Company creatures (We love you Ludo!), an excellent young Jennifer Connelly, a bewitching David Bowie, and the unshakable power of 'Magic Dance' have proven immortal. And even if the plot is, broadly speaking, bobbins for the most part, there is something to be said for the story's then-subversive fairytale stylings, presenting a female heroine who comes of age through action and not simply to service a man's growth. Speaking of, we'd strongly advise covering young eyes whenever the camera wanders below Jareth's waist!
Read Empire's 30th anniversary behind-the-scenes oral history of Labyrinth here.
Cloudy With A Chance Of Meatballs (2009)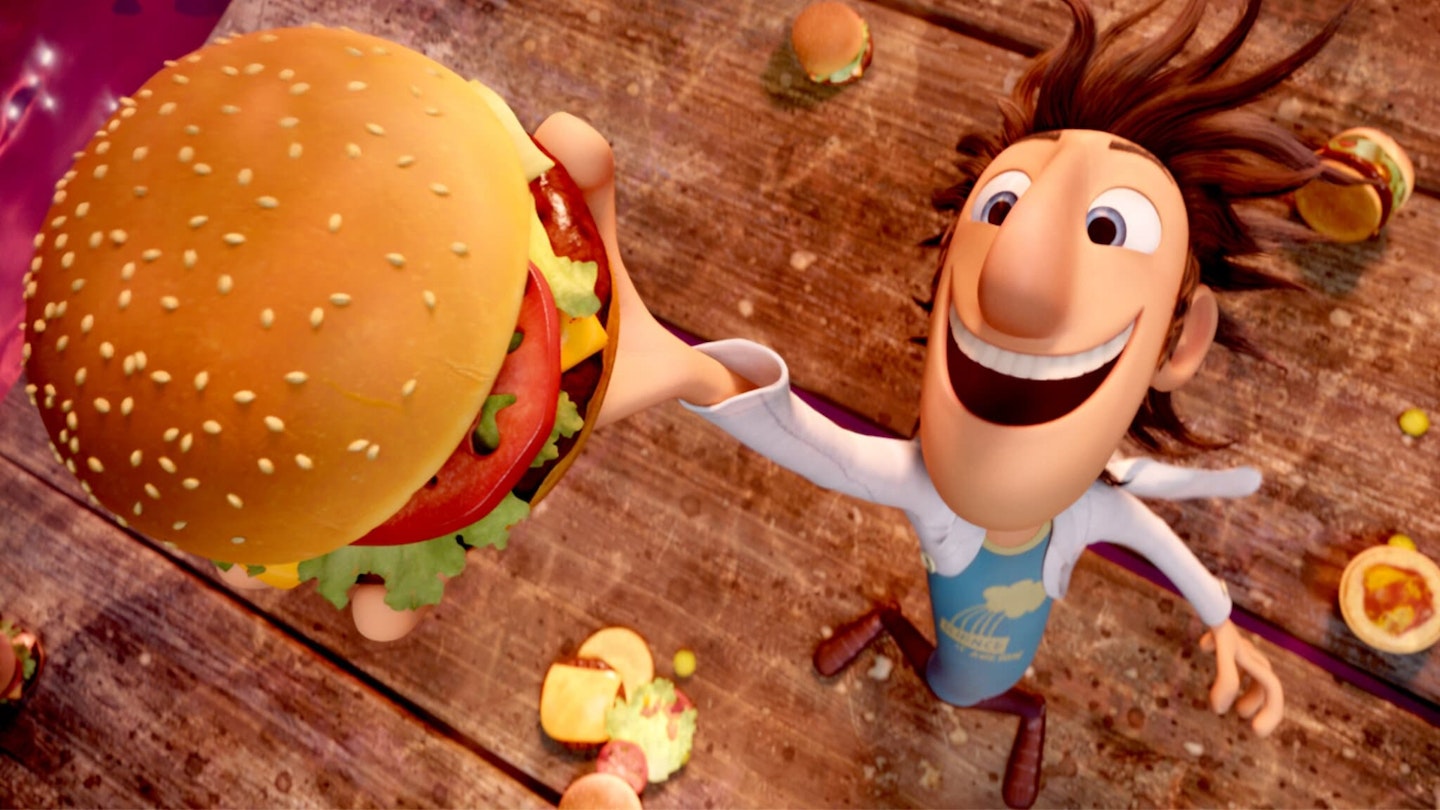 A film that's both way smarter and precisely as ridiculous as it sounds, Sony Pictures Animation's Cloudy With A Chance Of Meatballs is the kind of film that a four-year-old could've easily dreamt up, but only Phil Lord and Chris Miller could actually make work. Bill Hader plays Flint Lockwood, a young inventor who goes from zero to hero among his struggling local community when he successfully makes a machine that can turn water into any foodstuff imaginable. When the machine begins to spiral out of control though, Flint - alongside plucky reporter Sam (Anna Faris) - finds himself trying to stave off the foodpocalypse. Alongside the expected deluge of cacklesome gags and bits, there are some thought-provoking observations on father-son relationships, consumer culture, and the consequences of greed to be found here. However, there are also spaghetti tornadoes, jelly funhouses, candy mountains, and just about any other kaiju-sized confection you could possibly imagine on display, all rendered in lip-smackingly good-looking 3D. And sometimes that's more than enough.
Read the Empire review here.
Stuart Little (1999)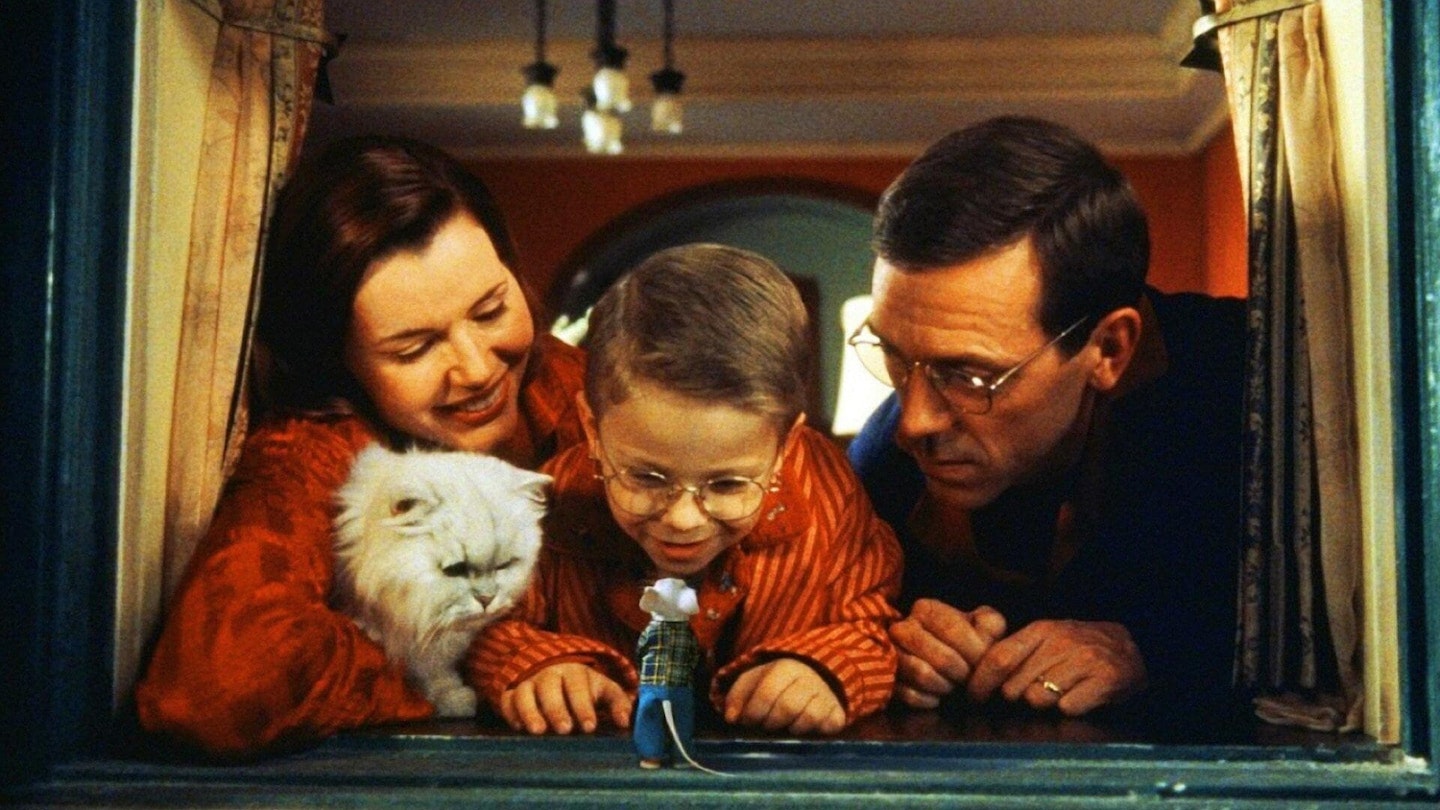 Geena Davis and Hugh Laurie's Mr and Mrs Little in Rob Minkoff's family adventure Stuart Little may well be the loveliest parents in all of film. Forgiving the fact they swerve all the human children at their local orphanage to adopt a literal mouse (albeit one voiced by charisma cannon Michael J. Fox), they really are stellar models of patience, acceptance, and inclusivity. The secret to this E. B. White adaptation's success - besides its surprisingly well-dated effects - is the largely low-stakes way it reinforces these values through the aptly small-scale conflicts our rodential hero faces with adoptive brother George (Jonathan Lipnicki) and the Littles' adversarial moggy Snowbell (Nathan Lane). One perhaps best not held up to too much logical scrutiny, there's a nostalgic warmth about Stuart Little that - in its best moments - carries a proto-Paddington purity. And, in a suitably insane twist, actual M. Night Shyamalan co-wrote this one. Wild!
Read the Empire review here.
Klaus (2019)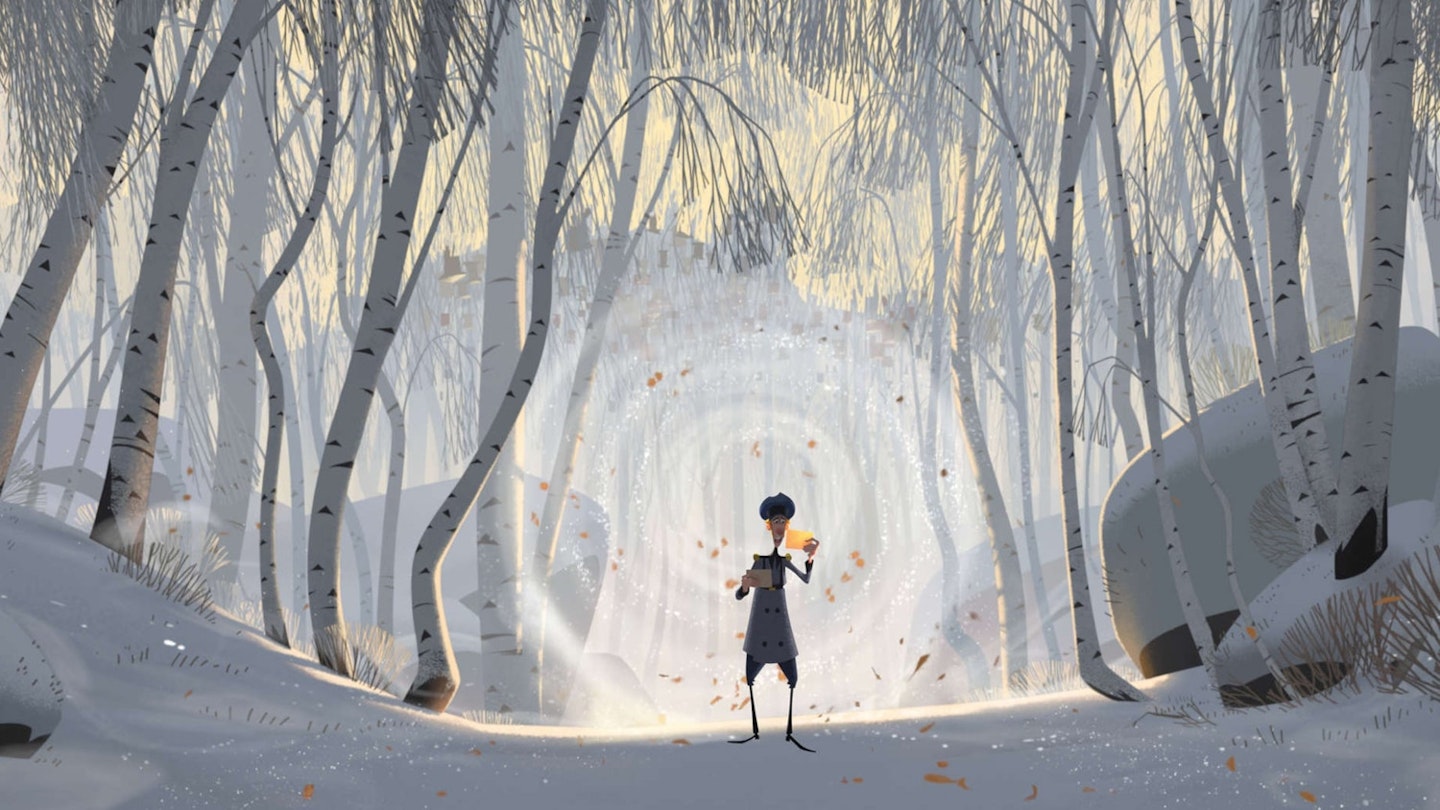 Sergio Pablos' BAFTA-winning animation Klaus is one of very few modern Christmas movies that feels destined to become a staple of festive family film nights for generations to come. Set in 19th century Norway, Pablos' cleverly conceived Santa origin chronicles the unlikely friendship that blossoms between self-obsessed postmaster Jesper (Jason Schwartzman) and widowed toymaker Klaus (J.K. Simmons). Two same-but-differently lost souls, the duo's combined talents help heal age-old rifts on the Arctic archipelago of Smeerensberg whilst giving the island's children something - and yes, someone - to believe in. Beautifully blending traditional hand-drawn techniques and a storybook aesthetic with innovative use of lighting systems ordinarily only seen in 3D animation, every frame of Pablos' film is both literally and figuratively illuminated by a tangible human touch. And the story that those frames tell? It's one with so many ingenious bits of mythmaking and moments of profound emotional resonance that you're left wondering how it hasn't existed for centuries already. What we're trying to say is that Klaus really is the gift that keeps on giving.
Ponyo (2008)
Whilst Hayao Miyazaki's 2008 minor masterwork Ponyo isn't technically about a little mermaid - his titular ham-loving heroine is a very literal (gold)fish-out-of-water - it remains perhaps the single most adorable riff on Hans Christian Andersen's classic fairy tale to date. The incredibly sweet story of how a fish-girl and a five-year-old sailor's son fall in love (and nearly end the world), Miyazaki's sumptuously drawn, aqueous adventure is a celebration of childhood, magic, and the transformational power of love that truly is for viewers of all ages.  Miyazaki's perennial environmental concerns and anger at humanity's pollution of our oceans righteously bubble beneath Ponyo's surface, but - vitally - they never threaten to disturb his work's charm or leaden its soothing lightness of touch. Because make no mistake, Ponyo will leave your heart full, your tummy rumbling (forget "Ponyo wants ham!", we want ham every time we watch this), and that theme song stuck in your head for days on end. All together now… "Ponyo, Ponyo, Ponyo fishy by the sea!"
Read the Empire review here.
Looking for more family-friendly movie recommendations? Why not check out our list of the 50 best animated movies of all-time? Or, better yet, our rundown of the 50 best kids' movies?