Admit it: you never saw it coming. When you pressed play on the Wonka trailer, you knew you'd see Timothée Chalamet in a top hat and a purple coat. You knew there'd be visual whimsy courtesy of Paddington director Paul King. You knew there'd be a host of British comedy greats populating the supporting cast. But you never expected to see Hugh Grant in the classic Oompa Loompa look, getting ready to unleash a song on young Wonka. For King, though, it's something that simply needed to happen.
The decision to re-team with Grant – who put in an excellent turn as the villainous Phoenix Buchanan in Paddington 2 – came to the writer-director when he revisited Dahl's Charlie And The Chocolate Factory. "Going back to the book, and reading all those poems, and hearing [the Oompa Loompas'] voice as a very sort of cynical, sarcastic, cruel, funny, but wicked voice, I went, 'Oh... That's sort of a bit like Hugh!'," he laughs, speaking to Empire shortly before the trailer launch. "It was a real light bulb moment – you go, 'Hugh Grant's an Oompa-Loompa! Yes please! Merry Christmas, with a bow on it.'"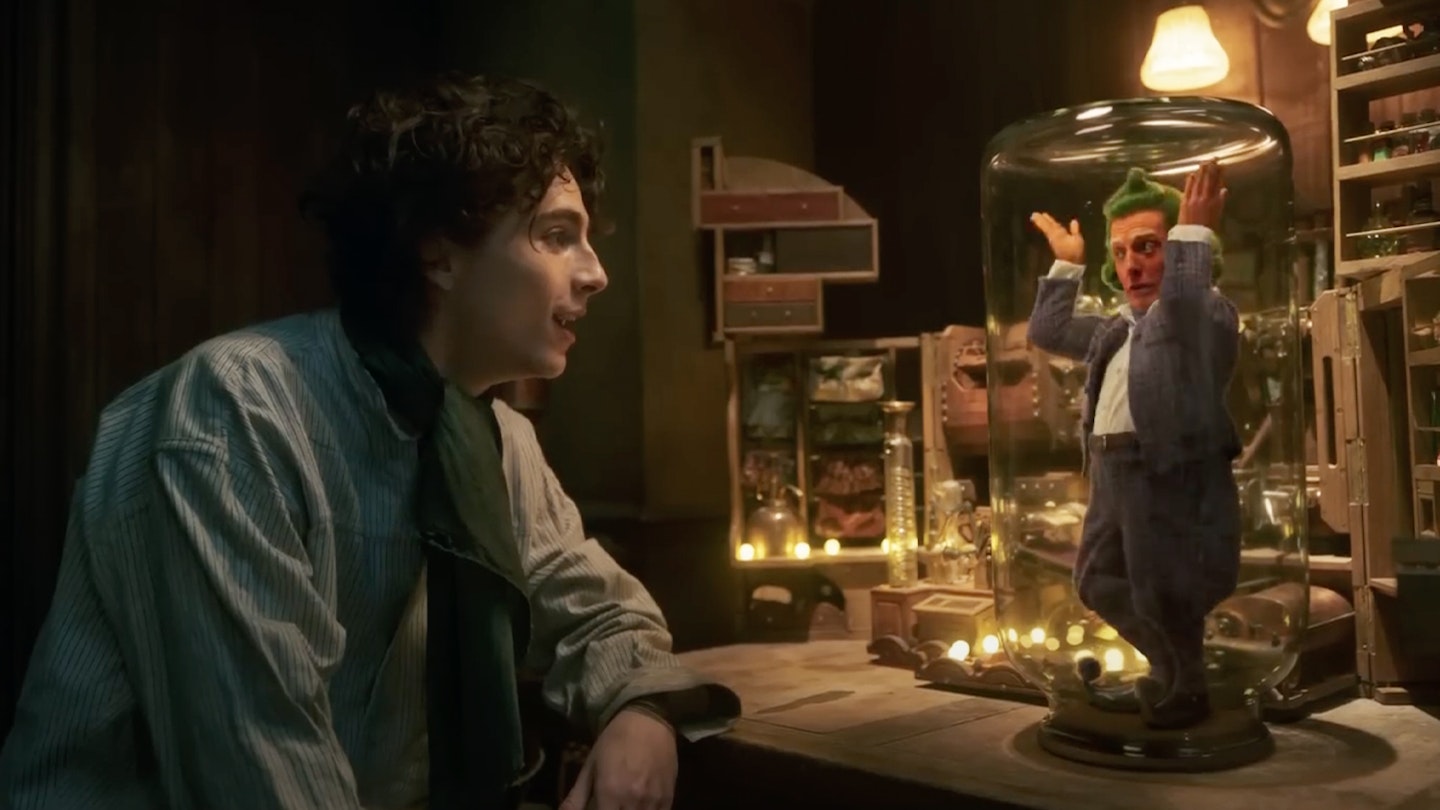 As a huge fan of 1971's Willy Wonka And The Chocolate Factory movie, King knew he wanted to retain the visual identity of the orange and green Oompa Loompa, just in Hugh Grant form. "It just felt like that's what an Oompa Loompa was, in my head. I suppose because the '71 movie is so beloved by me, as well as other people, I didn't really want to reinvent the wheel on that," he says. "I felt like doing something that sat with that iconography. I love 'Pure Imagination', I love the Oompa Loompa songs, I loved how the Oompa Loompas looked. And that felt like the iconic look of Oompa Loompas." It's a different approach than that of Tim Burton, who cast Deep Roy as all the Oompa Loompas for his 2005 Charlie And The Chocolate Factory. "I couldn't do what Tim Burton does at all – because he's a genius – but I could never have taken that and remade it in the way he did," says King. "And I'm not sure I would want to, because I liked [the original] so much."
Now that the Hugh Grant-shaped cat is out of the bag ("I'm so glad we managed to keep it vaguely secret," says King), the focus will be on getting the compositing down to a tee. "He looks terrific," King says, "but because it's CG, it looks terrible until it looks good. And then you go, 'Ah, perfect!' It's a miracle." Talk about a feat of pure imagination.
Read Empire's full Wonka trailer breakdown interview with Paul King here. Wonka comes to UK cinemas from 15 December.