There's a reason that Mandalorian armour became such a big deal in the Star Wars galaxy: simply put, it looks cool as hell. That distinctive helmet and breastplate made Boba Fett an instant hit with fans everywhere for decades – and Din Djarin has more than picked up that mantle in The Mandalorian, bringing serious swagger and slick, stoic stature to the tradition Mandalorian get-up. This really is the way. But while Mando looks undeniably awesome from the outside, the reality of being inside that suit is altogether different.
"It's like putting on a head-to-toe glove with weights on it," Pedro Pascal tells Empire of what it's like being inside Din Djarin's Beskar get-up. While that helmet is impenetrable for his enemies to see beneath, it's equally as difficult for the Mandalorian actors to see out of. "It's ironic that you can't see any facial expression because it puts you in the world so completely, and instantly makes the character feel real – but you can't see shit!" he laughs.
Over the course of Season 1, Season 2, The Book Of Boba Fett, and now into Season 3, Mando's armour has gone through all kinds of upgrades on-screen – and the costume has improved too in that time. But there's no getting around it: that visor window remains as impractical as it is badass. "They've continued to finesse and make it more comfortable, but it's like going blind," Pascal recounts. "Your breath completely fogs up the narrow slit that you can see through. There's no peripheral vision. If there's a hole, I'm gonna fall into it." In all other ways, though, it's the ideal way to channel the might and mystery of one of Star Wars' coolest heroes "When it's on, you immediately feel powerful, protected, dangerous, and like a protector," says Pascal. Just, don't have him standing near any holes, ok?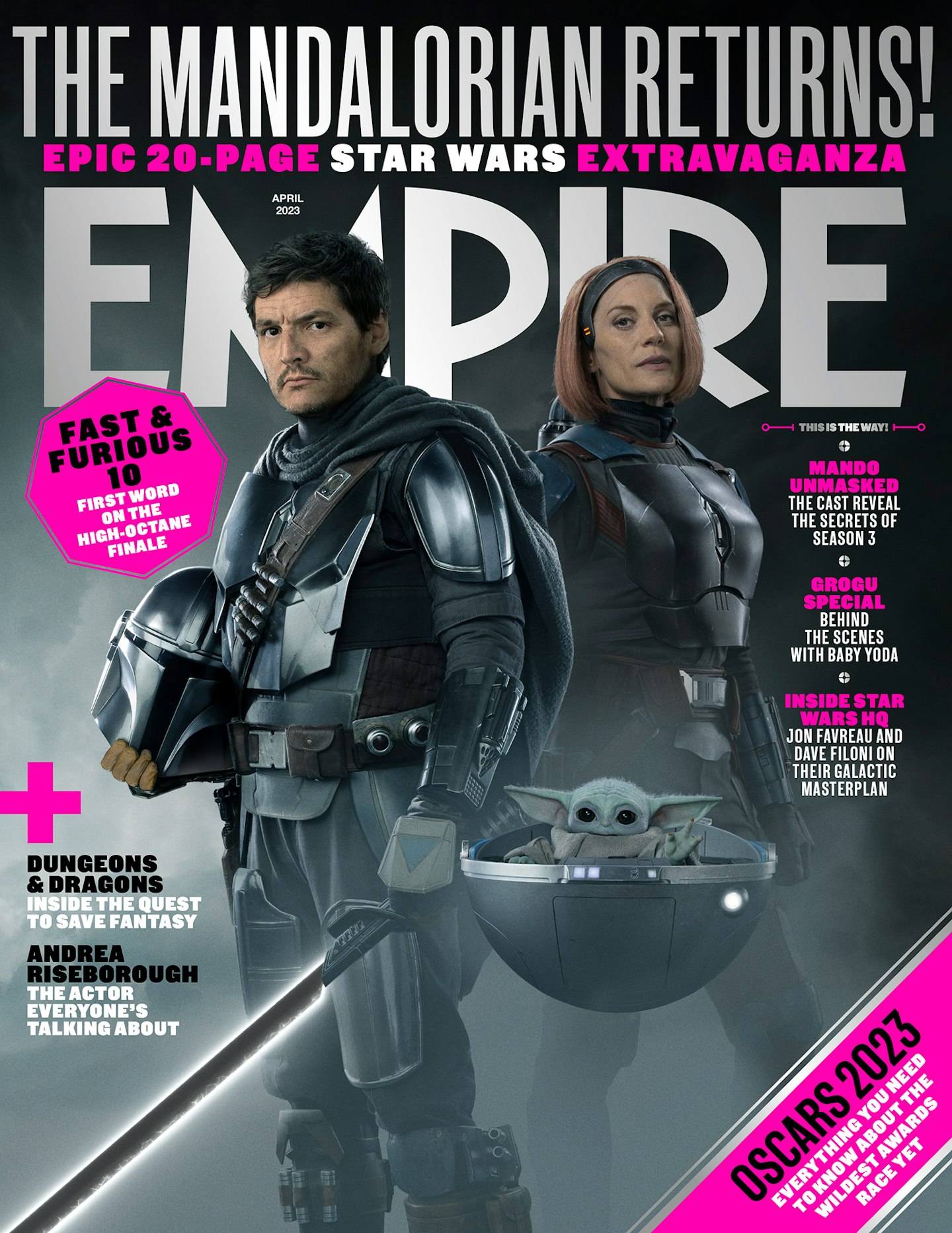 The new issue of Empire takes a world-exclusive dive into The Mandalorian's epic return in a massive 20-page blowout packed with major interviews, never-before-seen images, fresh concept art, and much more. We get under the helmet with the Mandalorians themselves, Pedro Pascal, Katee Sackhoff and Emily Swallow; we go long with Mandalorian creators Jon Favreau and Dave Filoni in a huge new joint interview, spanning their entire journey with the show so far and what comes next; plus, we go back to the beginning of Grogu in an all-new oral history. Prepare to hunt down a copy when it hits newsstands on Thursday 16 February – or become an Empire member now to access the issue in full on launch day. You can also pre-order the issue online now here. The Mandalorian returns to Disney+ on 1 March.