From the mythical fantasy of the Thor movies, to the political intrigue of the Captain America sequels, to the heist flavour of Ant-Man, stories within the MCU have always looked to other established genres – blending them with Marvel's big-budget comic book blockbuster output. And for the upcoming series Secret Invasion – seeing Samuel L. Jackson's Nick Fury face off against a dangerous faction of shape-shifting Skrulls – the tone is set to be gritty, grounded, and gripping. Despite the antagonists being green-skinned aliens, this one is all about shades of grey: primarily a real-world thriller, where nobody can be trusted and the stakes are human.
"We talked a lot about classic espionage noir, like The Third Man," director Ali Selim tells Empire in the new Secret Invasion issue, promising a distinctive genre-blend. "As Nick moves through it, he walks out of a noir and into a Western. He becomes the lone gunslinger walking down Main Street looking for bad guys to vanquish. We go from The Third Man to John Wayne in The Searchers, and Sam walks effortlessly from one into the next."
And, like The Winter Soldier's explorations of political subterfuge and surveillance, and Civil War's questions of governmental accountability, Secret Invasion is getting stuck into tangible Earthly issues as well as explosive espionage action – with the Skrulls having been long-promised sanctuary which hasn't been delivered. "Who is a terrorist and why are they a terrorist?" asks Selim. "Especially here in the States, it's easy to say we're the good guys and they're the terrorists. The interesting thing for me is to ask: how did we as a nation state influence the environment these people come from?" That plays a key part in the backstory of Gravik, Kingsley Ben-Adir's Skrull rebel. "Gravik is not just a bad guy with a bomb," Selim says. "His story and how he came to this grievance is clearly explored here. That doesn't just refer back to movie history and noir; it refers to our times today." Sounds like that invasion won't remain secret for long.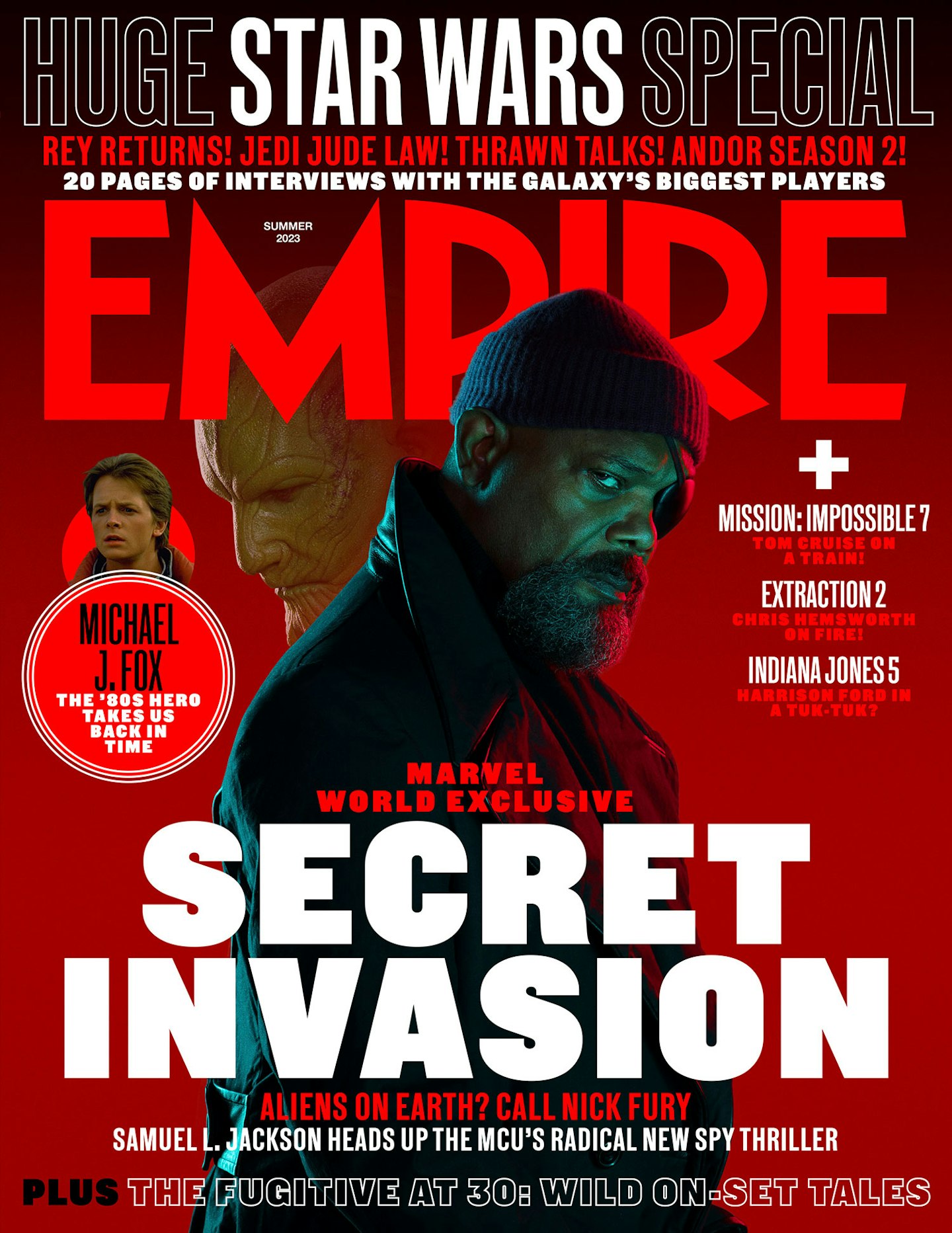 Read Empire's exclusive Secret Invasion cover story – speaking to stars Samuel L. Jackson, Ben Mendelsohn, Cobie Smulders, Don Cheadle, Emilia Clarke, Olivia Colman, director Ali Selim, and producer Jonathan Schwartz – in the upcoming Summer 2023 issue, on sale Thursday 11 May. Become an Empire member here to read the digital issue in full on launch day, or pre-order a print copy online here. Secret Invasion is streaming on Disney+ from 21 June.