With The Mandalorian, Dave Filoni and Jon Favreau reinvented Star Wars and revolutionised television. We got them together on set to tell us how they've made the small screen so big.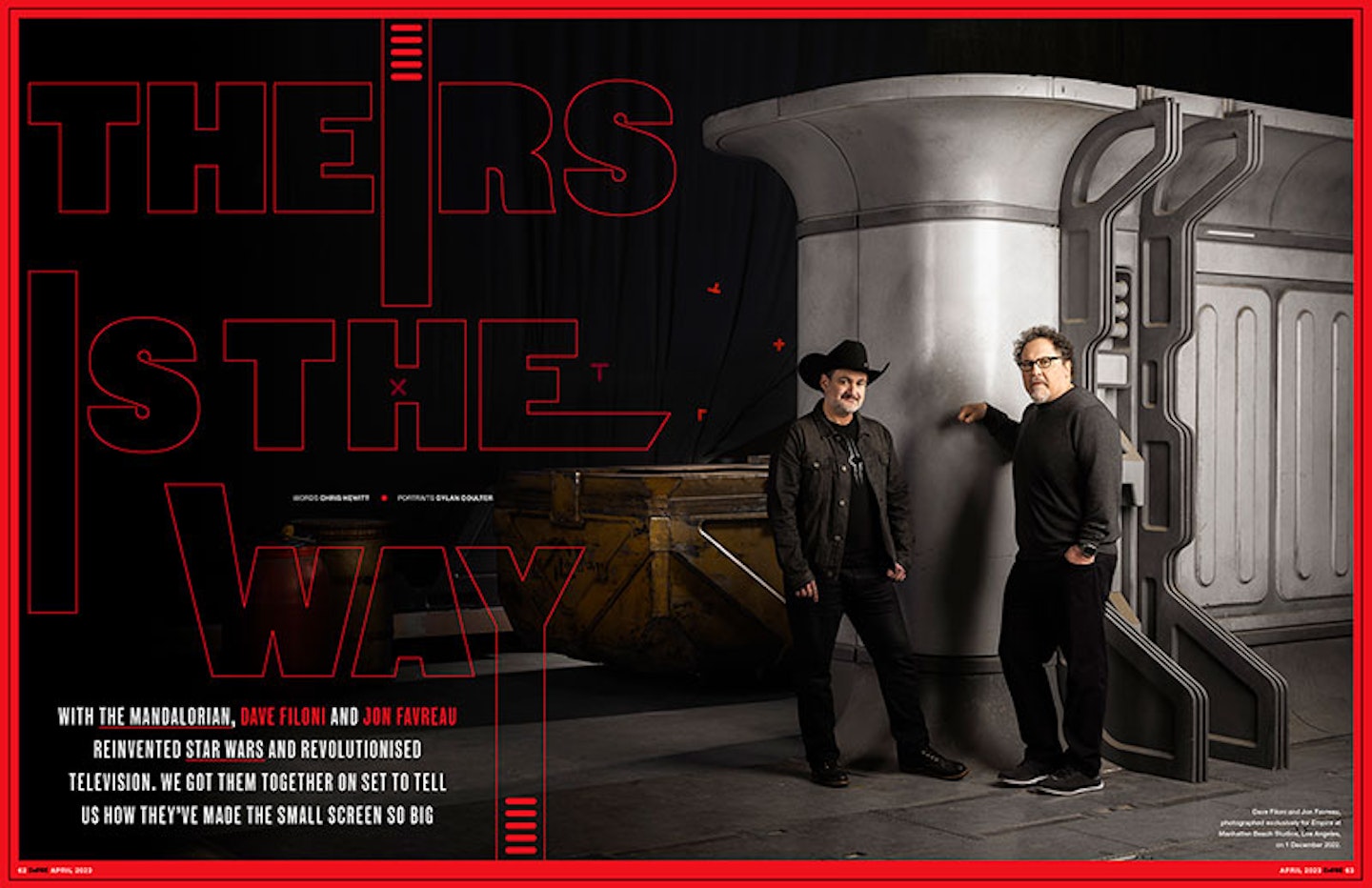 Read an extract from our exclusive Jon Favreau and Dave Filoni interview from our April 2023 issue below, or read the full article here.
Jon Favreau and Dave Filoni talk a lot. Pretty much every day, in fact. And by and large, when they do they only have one thing on their minds: Star Wars. Specifically, the corner of the Star Wars universe that has become their domain since they combined forces in 2019 to launch The Mandalorian. Since then, the cultural impact of Mando, Baby Yoda/The Child/Grogu/Whatever You Want To Call Him, and the rest has meant that Favreau — the film director-turned-showrunner, who writes virtually every episode of The Mandalorian — and Filoni — Lucasfilm's animation ambassador, creator of the Clone Wars and Rebels TV shows and characters like Ahsoka Tano, Cad Bane and Bo-Katan Kryze, who have all made the leap to live-action — now have an expanded portfolio of shows to supervise. This includes The Book Of Boba Fett, the upcoming Ahsoka (starring Rosario Dawson as Filoni's most-lauded character, Anakin Skywalker's former apprentice), and Jon Watts' Skeleton Crew.
The Mandalorian, though, is still their main focus. Season 2 ended with the emotional gut-punch of surrogate father-son Mando and Grogu parting ways, a blow eased somewhat by a cameo appearance from a young Luke Skywalker, who showed up at the end to kick all kinds of Imperial ass and take Grogu for Jedi training. Besides, the separation was almost immediately reversed in 2021's The Book Of Boba Fett, in which Grogu turned his back on the teachings of the Jedi to gambol giddily around the galaxy with his be-helmeted dad. Empire caught up with them recently, and can confirm that Favreau and Dave Filoni not only talk a lot — they talk a lot.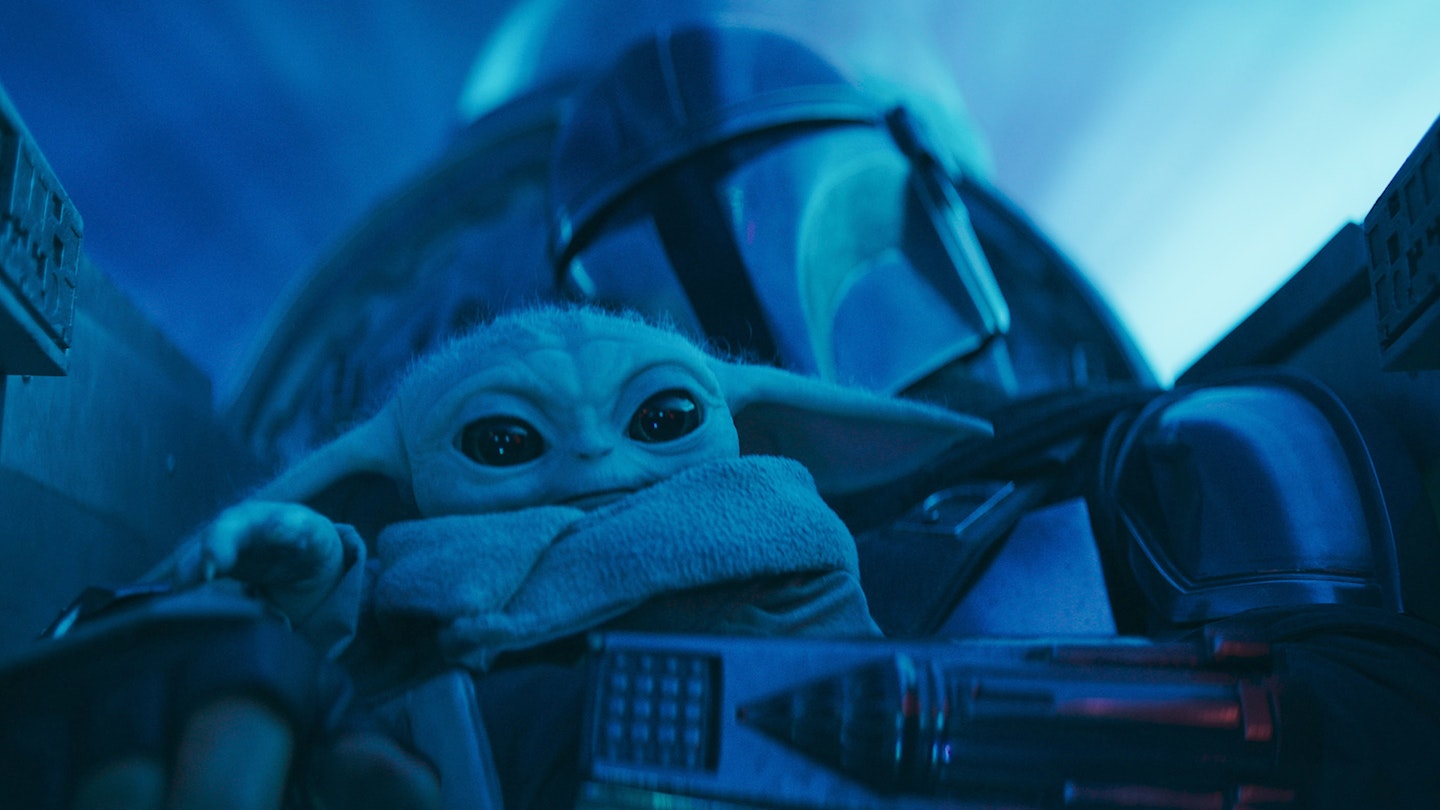 It's been two years since the last season of The Mandalorian. What did that break mean for you, and how you approached Season 3?
Favreau: I don't know that it really feels like a break. It doesn't feel like I've set this story down. I think that what happened in The Book Of Boba Fett, with the two characters [Mando and Grogu] being reunited, helped set the table for this season. In that way, I think that was very helpful, because the core relationship in the show is that central relationship, and the end of Season 2 left us in a very different place. So the time passage allowed us to bring the characters back together in a way that was organic to the situation.
Filoni: Star Wars, I think of as one big, expansive galaxy and timeframe. So we're able to look at things across a very broad spectrum. The time in-between, it wasn't time spent away because we were making Boba Fett, and that story was affecting the stories we were telling in Mandalorian. It's just one big, long timeline that we keep exploring different areas of.
To read this article in full, become an Empire member. You'll never miss an issue, be able to read every issue in full either on the website or in the app, PLUS you'll get access to member-only content and rewards.