Streaming on: Disney+
Episodes viewed: 1 of 8
"I'm confused," admits Carl Weathers' Greef Karga about halfway through the opening episode of The Mandalorian's long-awaited third season. "I thought you had completed your mission. But you're still running around with the same little critter."
It's a fair point. Back in late 2020, The Mandalorian seemed to have reached its natural conclusion after 16 fantastically taut and stylish chapters, when laconic, helmeted anti-hero Mando (Pedro Pascal) bested pencil-moustached baddie Moff Gideon (Giancarlo Esposito) and delivered an emotional farewell to his teeny bat-eared ward Grogu, apparently destined to achieve Jedi mastery under the tutelage of Luke Skywalker. However, one year later, both Grogu and Mando returned — for a bit — in the saggy, scrappy spin-off series The Book Of Boba Fett, and rather improbably reunited (come on, who'd choose a chain-mail vest over a frickin' lightsaber?). So, in effect, we begin Season 3 more-or-less back where we started, worryingly suggesting a retread rather than a fresh new adventure for our beskar-clad antagonist.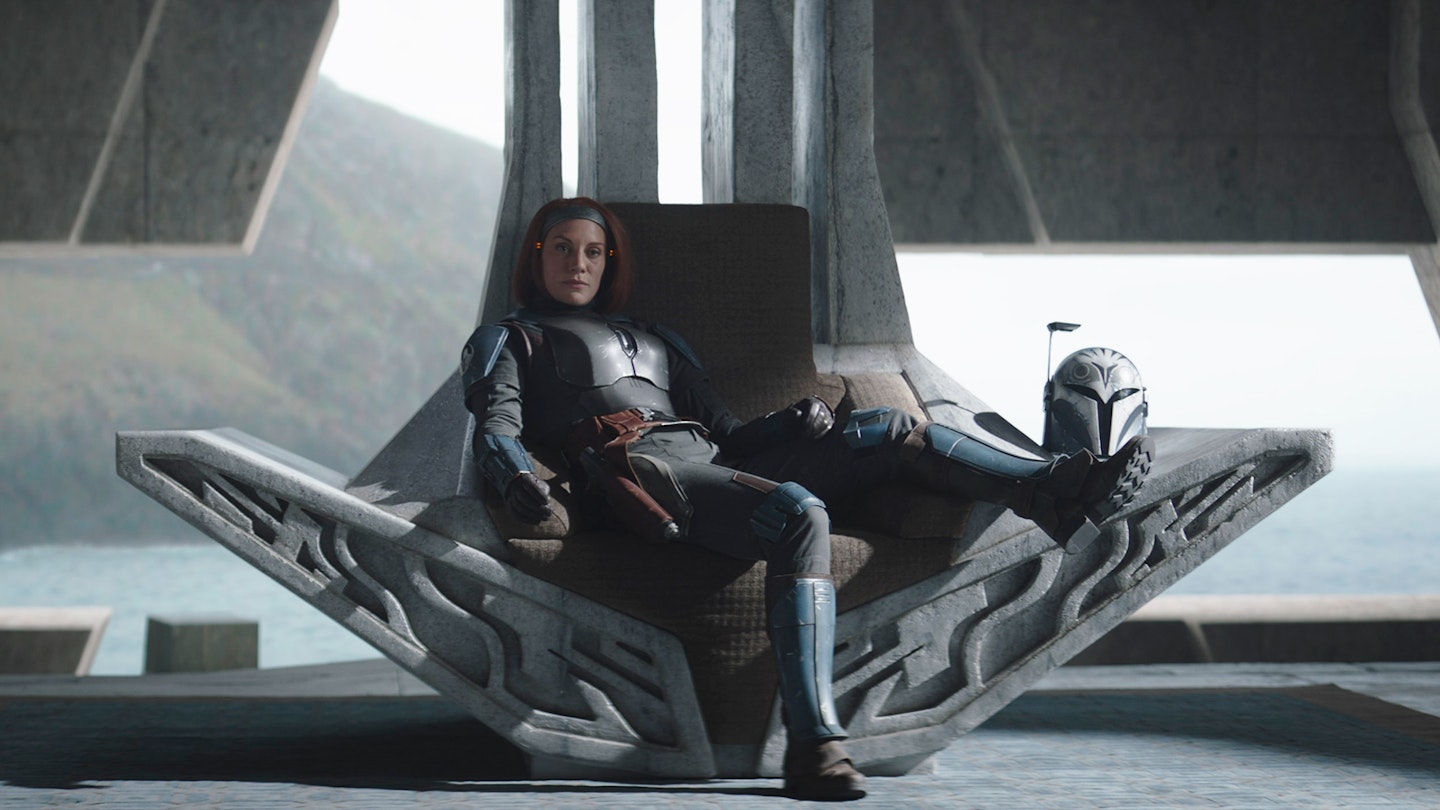 But, as Mando says in response to his old friend Karga's incomprehension at the reunion, "It's complicated." Those complications quickly manifest themselves. Mando's primary concern this season is not delivering Grogu to safety (apparently that shiny vest absolves him of any claims of minor-endangerment), but getting back into his Mandalorian gang: the faceless cult which, during The Book Of Boba Fett's best episode (you know, the one without Boba Fett in it), cast him out for daring to take off his helmet so Grogu could look him in the eyes for that 'last' goodbye. Atoning for this transgression, we learn via inflexible gang leader The Armorer (Emily Swallow), is a matter of "bathing in the living waters of the mines of Mandalore", located — in an odd little detail — beneath a civic centre. The problem being, the Mandalorian home world, civic centre and all, is now a poisoned deathscape, its entire surface "crystallised by fusion rays" during the war. But is that gonna stop Mando? Of course not.
It's openly audience-pleasing stuff, but in the first episode, at least, the show's central dynamic thankfully still sings.
Developing the complications leads to some head-scratchy plotting: why exactly does Mando deem it necessary to revive the formerly blown-up assassin droid IG-11 (voiced by Taika Waititi)? Why has steely Mandalorian princess Bo-Katan (Katee Sackhoff) so easily given up on reclaiming her home world? Showrunners Jon Favreau and Dave Filoni seem to have abandoned the spaghetti-Western leanness that gave Seasons 1 and 2 such narrative drive and elegance.
However, the series' greatest strength remains undiminished. Pedro Pascal — the current king of genre TV, what with his near-simultaneous success on The Last Of Us — continues to impress, despite being hidden away behind that T-visor. Using only his Eastwood-esque voice and lithely confident body language, he reminds us why Din Djarin is the coolest new Star Wars character we've seen since the original trilogy ended. Furthermore, he embraces the aforementioned complications in a different, more welcome, sense. An emotional sense. As in The Last Of Us, he's now playing a surrogate father and a questionable mentor, warmly teaching little Grogu (the cutest new Star Wars character we've seen since the original trilogy ended) in the ways — or rather The Way — of the Mandalorian.
Of course, The Way involves violence, and Season 3 delivers plenty of action right off the bat. A giant turtle-croc-thing monster attack, a Sergio Leone-channelling shoot-out, a Terminator-riffing robot scrap and an Empire Strikes Back flashback of an asteroid-dodging dogfight all feature in the first episode alone. Plus, a new foe arrives in the mossy-faced form of space pirate Gorian Shard (Nonso Anozie), who understandably takes against Mando for killing a bunch of his men.
Grogu, meanwhile, continues to bring the adorable factor, giggling as starship blasters fire and spinning happily in Karga's big office chair. It's openly audience-pleasing stuff, but in the first episode, at least, the show's central dynamic thankfully still sings, blending tough and tender to winning effect.