In a world of digital distractions, board games remain a resolutely analogue pleasure – a way to switch off from screens, swapping streamed entertainment for the tactile pleasures of dice, card decks, and leafed-through instruction books.
Boasting ingenious player mechanics, gorgeous designs, and promising hours of fun, board games are as popular as ever. Board games had a boom in popularity over recent years, not least during the pandemic lockdowns, and have remained popular as a thrilling and wholesome way of whiling away a few hours.
Empire presents a list of the best two-player board games – meaning if your loved ones or flatmates aren't all up for a games night, you can still go ahead with just one extra player.
In our recommendations for the best two-player board games, we've got Lord Of The Rings card decks, word games, Lovecraftian adventures, Cold War strategy games, and a murder mystery featuring Sherlock Holmes himself. There are those that will pit you against your friends, while other cooperative board games will have you working to overcome a common foe. Whatever you fancy, grab a must-have game (and at least one mate to play with).
The Best Board Games For Two Players:
In this co-op retelling of the 1978 classic sci-fi horror, players work together in an attempt to survive their stalking alien foe. Each player takes up a role as one of the original Nostromo crew as the team works towards a unique set of goals, with a final mission finally being unlocked to reveal how to win the game overall. Including a Nostromo floor-plan board and character models.
Players: 1-5
Playtime: 40 - 60 mins
Rivals For Catan takes the beloved resource-gathering strategy board game and distils it into a two-player card game. Doing away with the hex board of the Catan tabletop game, Rivals For Catan has you face off with an opponent by building a rich and diverse civilisation, brimming with might and intellect. It's a thrilling and well-paced game, which also benefits from the addition of three expansions in the Deluxe edition; each pushing player settlements into new eras with new cards, resources, and issues to navigate.
Players: 2 | Playtime: 45-60 mins
If Tetris is your go-to but you fancy a level up, take a chance on sewing spin-off Patchwork. Often described as the ultimate two-player game, both opponents compete to build the best and most beautiful patchwork quilt on a personal 9x9 game board. Looks the part, and does the job.
Players: 2
Playtime: 15-30 mins
Why not take an adventure across the United States from the comfort of your own home? The goal of Ticket to Ride is to collect and play train cards to connect cities via new routes – the longer the better. From Edinburgh to Constantinople, via Barcelona and Petrograd and beyond.
Players: 2-5
Playtime: 30-60 mins
Well, this hits differently now doesn't it? Real-world aside, Pandemic is still one of the best games to play in small numbers, as you fight to keep the world safe from virus outbreaks by treating infections and gathering resources for cures. You can adjust the level of difficulty too – although, the fate of humanity will always be in your hands. No pressure then.
Players: 2-4
Playtime: 45 mins
You know the story: an epic conflict between the Galactic Empire and Rebel Alliance is taking place, but this Galactic Civil War is now yours to experience like never before. You can take control of either fighting side, in a game that can go on for up to four hours. Who needs reality when you've got the Force?
Players: 2-4
Playtime: 180-240 mins
Keep your wits about you with this space battle extravaganza incorporating trading card combat and card drafting in order to maximise your number of ships and bases. You can find an opponent or team up to take on the game itself: no star left unturned.
Players: 1-4
Playtime: 20-45 mins
Think Snap, but better. Match the images on your cards – but instead of there being just one option, you have to quiz up to eight symbols at once, and every card only has one picture in common with every other card in the deck. You'll have to have your wits about you for this one.
Players: 2-8
Playtime: 15 mins
If he's good enough for the big screen, the small screen and beyond, he's certainly good enough for your next board game. This is, of course, a game of dedication and mysteries, as you (on your own, with an opponent, or with up to eight people) join the "Baker Street Irregulars" to help Sherlock solve the case time and time again. But the question is: can you outsmart the master?
Players: 1-8
Playtime: 60-120 mins
The tagline for Agricola reads: "The 17th Century Was Not an Easy Time to be a Farmer." And they might have a point there – so will you rise to the task, water your crops and nurture your families in this bucolic board game? Learn the ways of the grain, keep the sheep happy and work your way to wealth, health and prosperity and victory will be yours. Easy.
Players: 1-4
Playtime: 30-150 mins
The kingdom of Greengully has something of a Studio Ghibli vibe to it, as players must impress the Forever King in this quaint kingdom-building strategy game. But it's also about legacy, too, and your actions actually contribute towards 12 individual games. After all, beauty cannot be rushed.
Players: 1-6
Playtime: 45-75 mins
Assassin or bystander? Codenames is back with an adjusted version of the word-association game classic, now favouring collaboration. It works for two people and can be played with up to four – all you need is a one-word clue, and, as ever, the sharpest agents in the business. It's fast-paced fun.
Players: 2+
Playtime: 15-30 mins
Think fast and eat up, as Sushi Go! asks you to create the best and most delicious combination of sushi dishes in this quick-fire card game. It's easy to learn and quick to play – and suitable for the whole family. Plus, it'll get you dreaming about nigiri, tempura, sashimi and more for days.
Players: 2-5
Playtime: 15 mins
Combining strategy, cards and beautiful design, The Fox in The Forest is crafted for two players to outsmart each other across 33 cards which are divided into three beautiful suits, complete with illustrations of foxes, monarchs, swans and more. But don't get distracted: remember that tricks are everything amidst all the wonderful art.
Players: 2
Playtime: 30 mins
The name of the game in Tiny Towns is resource management. Like the Switch smash-hit Animal Crossing but more tangible, it can even be played alone, and with up to six people. It's up to the mayor to build and maintain you guessed it, a tiny town, thriving and happy and full of resources.
Players: 1-6
Playtime: 45-60 mins
16. Lord Of The Rings: The Card Game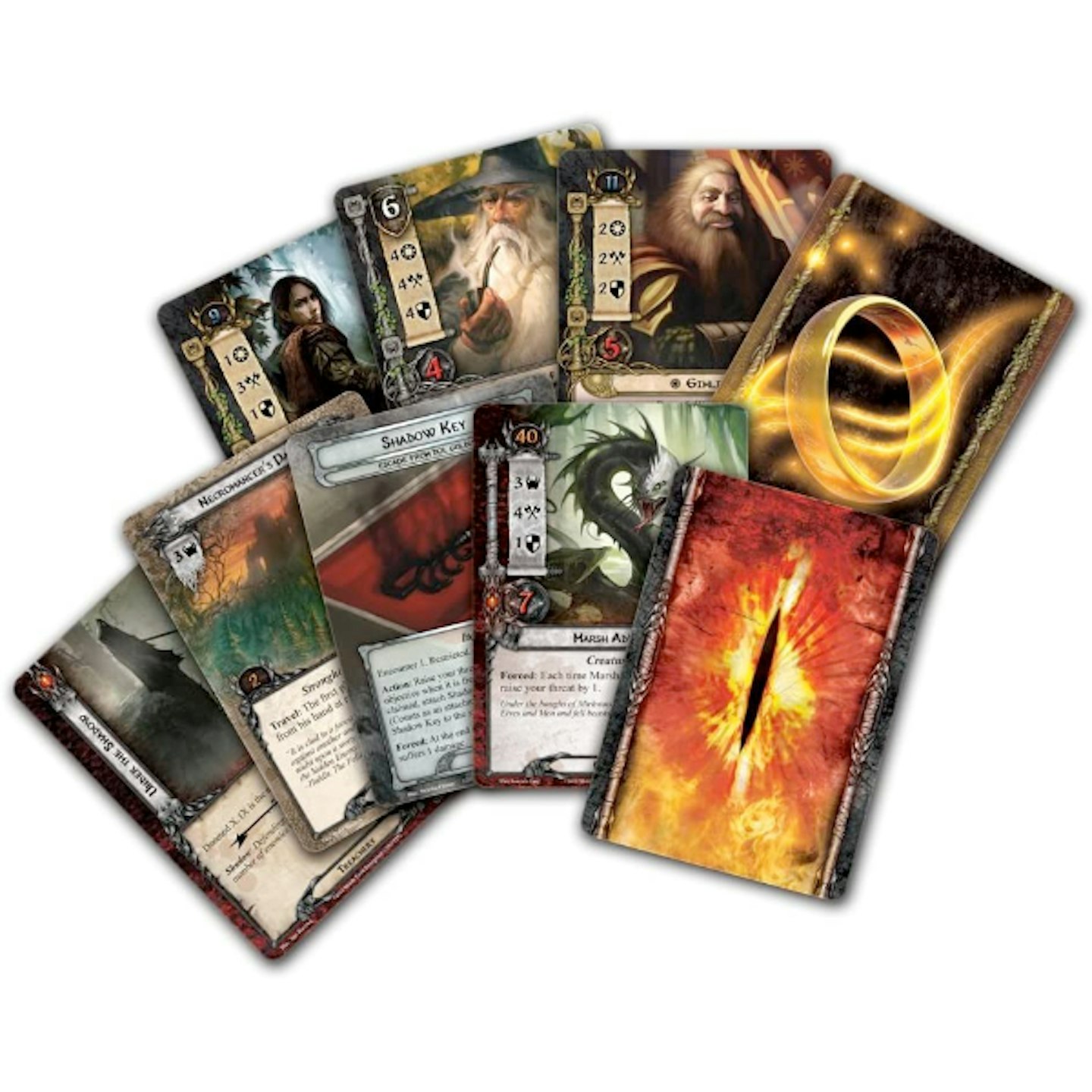 Play alone or find a partner to take control of Middle-earth, as the official card game lets you select heroes, and artefacts and gather allies to do battle against the most dangerous obstacles threatening life as we know it – while still always exploring new lands.
Players: 1-2
Playtime: 30-90 mins
For fans of Risk craving a chillier option, look no further than Twilight Struggle. Two lucky players will get to relive the Cold War from 1945 to 1989, in this card-driven strategy game. But despite its topic, the game is low-complexity and fast-playing – this particular conflict always needed a little levity, right?
Players: 2
Playtime: 120-180 mins
Fog Of Love is said to be "like being in a romantic comedy". Let's hope yours doesn't turn sour, as the two-player game lets you create characters who meet, fall in love, and, inevitably, suffer a few obstacles too. Choose carefully who you pick as your opponent for this one.
Players: 2
Playtime: 60-120 mins
In the sleepy town of Arkham, Massachusetts, your next detective job awaits. Play on your own or with an opponent in this Lovecraftian mystery, as you become an intrepid and unique investigator tasked with uncovering the nature of a sinister menace threatening humanity.
Players: 1-2
Playtime: 60-120 mins
Although The Walking Dead series may have reached its end, the salvation of our survivors remains an ongoing task. This cooperative psychological survival game asks players to simultaneously work together towards one common victory – survival – while also completing individual objectives too. Be careful who you trust, or you might not make it out alive.
Players: 2-5
Playtime: 60-120 mins
More of the best board games...
If you're looking for more of the best board games, read Empire's rundown of the very best here. The list includes solo, co-op and group games, fantasy epics, card-flipping quiz games and excellent movie tie-ins.