A true gaming chair isn't just an office chair with racing stripes. It's the ultimate gaming accessory, supporting and enlivening the gaming experience through physical support and extreme, endurance-promoting comfort.
As lifelong video game enthusiasts, we've spent more than enough time crammed and perched on insufficient seating options, losing ourselves in our favourite worlds while simultaneously losing any hope of a correct posture. In recent years, however, thanks to the advent of brilliant dedicated gaming chairs, we've managed to correct our past wrongs. Now, we're gaming in comfort and - dare we say it - style.
Using our real-world experience, we've rounded up the very best gaming chairs available today. At the bottom of the page, we take a dive into our favourites with some detailed, hands-on reviews.
The best gaming chair shortlist:
• Corsair T3 Rush
• ASUS ROG Chariot Core
• Brazen Sentinel Elite
• Anda Seat T-Pro 2
• Secretlab OMEGA with SoftWeave
• Secretlab TITAN with Prime 2.0
• noblechairs HERO Black Edition
What we look for in the best gaming chairs:
Ergonomics
Well-implemented ergonomic principles make for a chair that's both comfortable and supportive. The best gaming chairs must have adjustable height, tilt and recline, 4D multi-directional armrests and lumbar support. Such factors allow the user to find the seating position that works best for them.
Some gaming chairs also use a racer-style bucket seat designed to keep the user in a central position. The backrest wings often featured on gaming chairs achieve a similar goal, holding and supporting the upper body forward-facing for improved comfort and endurance.
Upholstery
Quality upholstering lends the best gaming chairs their look, be it bright and attention-grabbing or understated and sophisticated. It's also a determining factor of product lifespan and promoting user comfort.
High-quality leathers, faux-leathers and fabrics, along with accurate and robust stitching, are going to provide years of use through wear, tear and split resistance. Many manufacturers go the extra mile by developing unique material blends and compounds designed to improve both wear and comfort. Such fabrics often promote airflow and moisture-wicking.
Padding
Padding is key. It not only reinforces ergonomics but overall comfort, temperature and endurance. As with upholstery, the quality of the foam can also determine the lifespan of a product.
Firmer padding is the way to go in most cases. Its tight structure supports joints and reduces muscle strain, improving endurance and reducing aches and pains at the end of the day. This type of padding will also have a longer life, as soft padding flattens over time. As with the upholstery, many manufacturers develop foam with in-built qualities focused on heat regulation. Known as cold-foam, the material draws temperature away from the body.
Hardware
Wheels, levers, gaskets, bearings, frames, bases… all of these features are easy to overlook, even though they do a lot of the heavy lifting day-to-day.
High-quality gaskets, bearings, locks and levers all make positioning quick, easy and reliable - if the hardware isn't of the highest-quality, these are the places gaming chairs can start to squeak, creak and grind. Wheels and bases keep the user upright, balanced and mobile, while the best quality frames help guarantee a long life for a chair.
The best gaming chairs in detail:
Here are the best gaming chairs available today:
Just so you know, while we may receive a commission or other compensation from the links on this page, we never allow this to influence product selections.
Description
Features: 4D Armrests | Adjustable recline, tilt and height | 120kg capacity | Polyester
Corsair, typically found crafting some of the most reliable PC components and peripherals available, has created a remarkable mid-range gaming chair with the T3 Rush. It takes cues from motorsport seats and office chairs, mixing sensible ergonomics with a bucketed seat and backrest wings. This is for great positioning and comfort. Neck and lumbar cushions are provided to offer some extra support if needed. Corsair has wrapped the chair in a heat-controlling polyester fabric, designed to prevent heat-build up and improve comfort over long periods at the desk. Underneath the refined exterior, there's a steel frame providing the T3 Rush robustness and durability.
Description
Features: 4D Armrests | Adjustable recline, tilt and height | PU upholstery | Large
The ASUS ROG Chariot Core has taken racer-style gaming chair convention and given it a mean overhaul. The lines of the backrest and bucketed seat are pronounced and aggressive, and a large cut-out replaces the standard two-strap holes. The seat and backrest are both broad and comfortable, with the large memory-foam lumbar support cushion offering lower-back support. The built-in headrest adjusts vertically. A high-density cold-foam has been used for padding and is wrapped in a PU, breathable upholstery. All of the adjustments and hardware expected from a chair of this price range is here, coupled with an excellent build standard.
Description
Features: 4D Armrests | Adjustable recline, tilt and height | Supple faux-leather upholstery |
British brand Brazen specialises in affordable gaming chairs for PC and console gamers. The Sentinel Elite is one of its largest products and builds on the success of its previous models. It's a chair that certainly has a loud-and-proud aesthetic that is sure to tick plenty of people's boxes. Underneath its supple faux-leather upholstery sits a considerable amount of padding, helping maintain comfort for prolonged gaming sessions. Other than the lumbar and head pillows, there's little in the way of ergonomic support but the adjustability features help the user get their position just right - aided by the gentle slope of the seat bucket and backrest wings. The build quality is solid, too. It doesn't get better than this, for sub-£200.
Read our full review below.
Description
Features: 4D armrests | Adjustable recline, tilt and height | 200kg capacity | Linen and
The Anda Seat T-Pro 2 is a huge gaming chair with an excess of comfort. Its dense foam filling is soft without lacking support, the proportions are more than generous and the lumbar cushion deserves a spot on this list all of its own. Together, these facts all make the T-Pro 2 a very comfortable chair throughout the working day and a night of gaming. Despite all the good that's on offer, it's important to note that the T-Pro 2 does have its faults. Its borrowed fashion sense and occasionally inattention to detail are minor issues, but the sub-par armrest mechanisms are somewhat more egregious. Disappointments aside, the comfort of the Anda Seat T-Pro 2 is strong enough to see it earn a place on our list.
Read our full review below.
Best racer-style gaming chair
Description
Features: 4D Armrests | Adjustable recline, tilt and height | 110kg capacity | SoftWeave
The best racer-style seat comes to us from Secretlab, the premium brand owned and operated by former e-sports professionals. The Secretlab OMEGA is a gaming chair that goes beyond, as big and small details accumulate into an excellent user experience. The SoftWeave Fabric is a proprietary material that - you guessed it - is very soft to the touch. It's comfortable in all temperatures and extremely hard wearing. This upholstery sits atop Cold-Cure Foam, which offers firm support in addition to superb heat-regulation. The hardware included is of the utmost quality, with tough stainless steel and aluminium, and the provided cushions are packed with memory foam for a luxurious feel.
Read our full review below.
Description
Features: 4D Armrests | Adjustable recline, tilt and height | 130kg capacity | Prime 2.0 PU
The Secretlab TITAN is a premium gaming chair with excess style and comfort. The Prime 2.0 PU leather is robust and supple, and all stitching is finished to a high standard. The Cold-Cure padding is designed to provide temperature management and body support, while the well-placed ergonomics are reinforced by a built-in adjustable lumbar support. The hardware included is, as with all Secretlab efforts, of excellent quality, with tough stainless steel and aluminium, and the provided head cushion is packed with plush memory foam and cooling gel.
Read our full review below.
Description
Features: 4D Armrests | Adjustable recline, tilt and height | 150kg capacity | Hybrid leather
The HERO Black Edition has a mature treatment of aesthetics and a smart approach to user comfort. But then again, we'd expect nothing less from noblechairs. The HERO Black Edition is upholstered with a robust hybrid leather composed of both vinyl and PU. Not only does it look fantastic, but this hybrid material promotes air and water vapor to flow, vastly improving user comfort over long periods of use. The cold-foam regulates heat and offers a firm, ergonomic support that prevents muscle fatigue, while the integrated and adjustable lumbar support adds additional support. Long-lasting, ceaselessly comfortable and impressive to look at - the noblechairs HERO Black Edition can do it all.
Read our full review below.
The best gaming chairs reviewed:
READ MORE: The Best Gaming Monitors On A Budget
READ MORE: The Best Open World Games
noblechairs HERO Black Edition Review
Description
Pros: Premium quality, day-long comfort and long-lasting robust materials Cons: An
Visually, the noblechairs HERO Black Edition hits hard - stoic, monolithic and decidedly villainous. Except for a few licenced models, this isn't unusual for the German brand. What is different here is that the matte black upholstery isn't leather, nor your standard faux-leather fare. It's a proprietary hybrid material: a synthetic fabric combining all the best qualities of PU and PVC.
To the touch, the hybrid material feels similar to supple leather. Under the microscope, however, there are some significant differences. The hybrid's surface is covered in microfine holes that promote breathability, water absorption and evaporation. For the user, this means that the HERO is never tacky or sweaty. We know this to be true - our initial test took place at the height of summer in 30-plus degrees.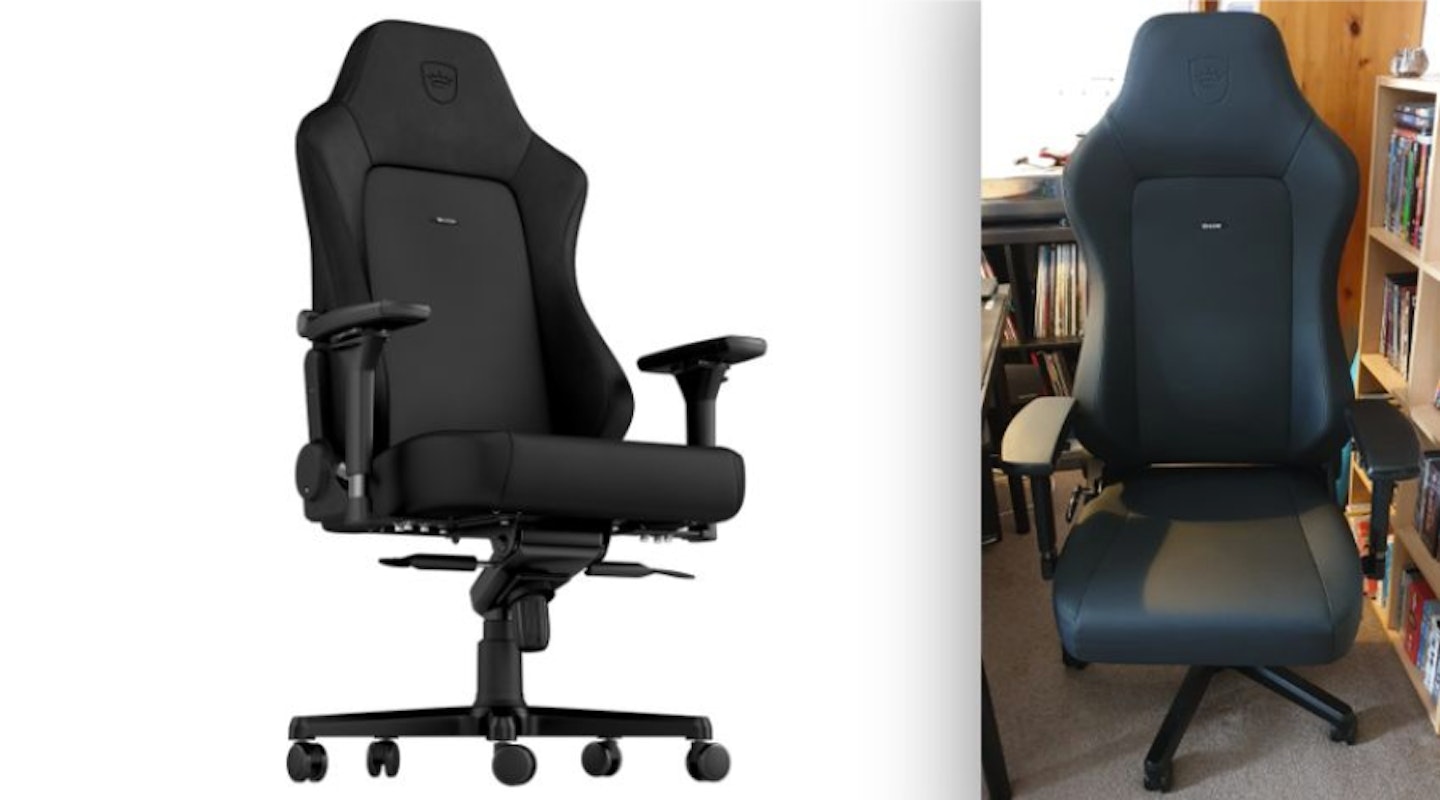 The HERO's cold-foam plays a big part in this process, too. It's excellent at regulating body temperature, keeping everything equitable and comfortable through both a day of work and a night of gaming. It's a firm foam, which initially can feel very rigid. However, the benefits of this rigidity soon reveal themselves as the foam provides welcome hip and thigh support, which gets rid of the aches and pains you'd expect during a day at the computer.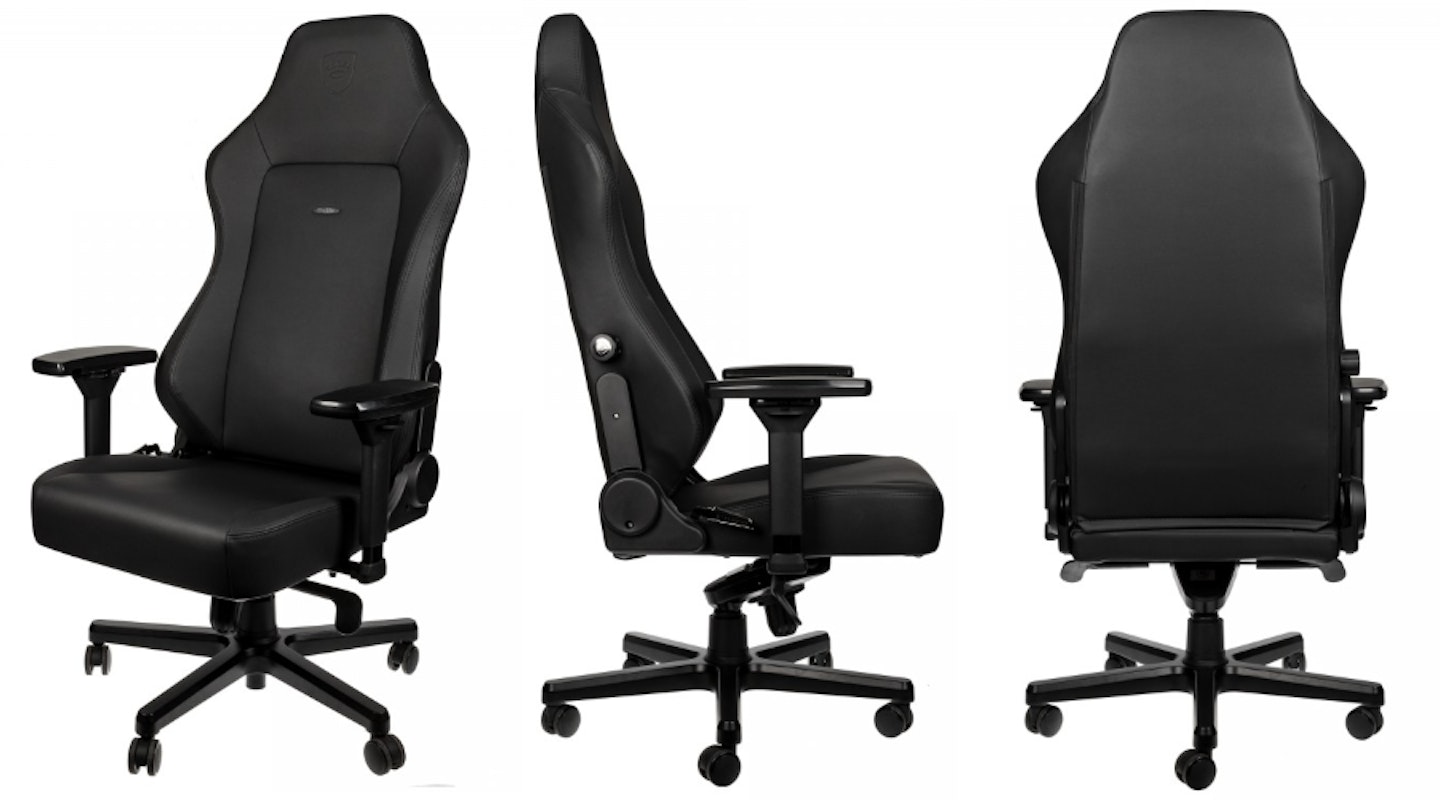 The inbuilt lumbar support - adjustable via the side-mounted ratchet dial - helps the gentle angle of the backrest wings provide an ergonomic, upright position. The 4D arms can be positioned across four-axis, allowing for excellent control over shoulder and forearm position, which, in turn, reduces the upper back and shoulder cramps associated with long-term computer use. The gasket and chair mount are of impeccable quality: the hydraulics can hold the weight of both the user and the seat without a height dip or squeak.
After almost a year of use, we can confidently state that both the upholstery, cold-foam padding and hardware are just as good as they were on day one. The HERO Black Edition is a gaming chair that exceeds the already high-expectations that comes with the noblechairs name.
Secretlab TITAN 2020 Series Prime 2.0 Stealth Review
Description
Pros: Comfortable and supportive with a premium, plush feel Cons: No lumbar pillow
The Secretlab TITAN, upholstered in Prime 2.0 PU leather with 'Stealth' finish, fits somewhere between the Secretlab Omega and noblechairs HERO Black Edition in both design and size.
The Prime 2.0 PU leather is of Secretlab's design and is both supple and hardwearing. The majority of the chair is matte black, with some red and bronze detail stitching and selected panels finished in PVC with a carbon fibre pattern. It's all finished to a high standard, with no extra threads and material rucks undermining the TITAN's premium look and feel. The TITAN also comes with a plush memory-foam head pillow that's of an equally high standard.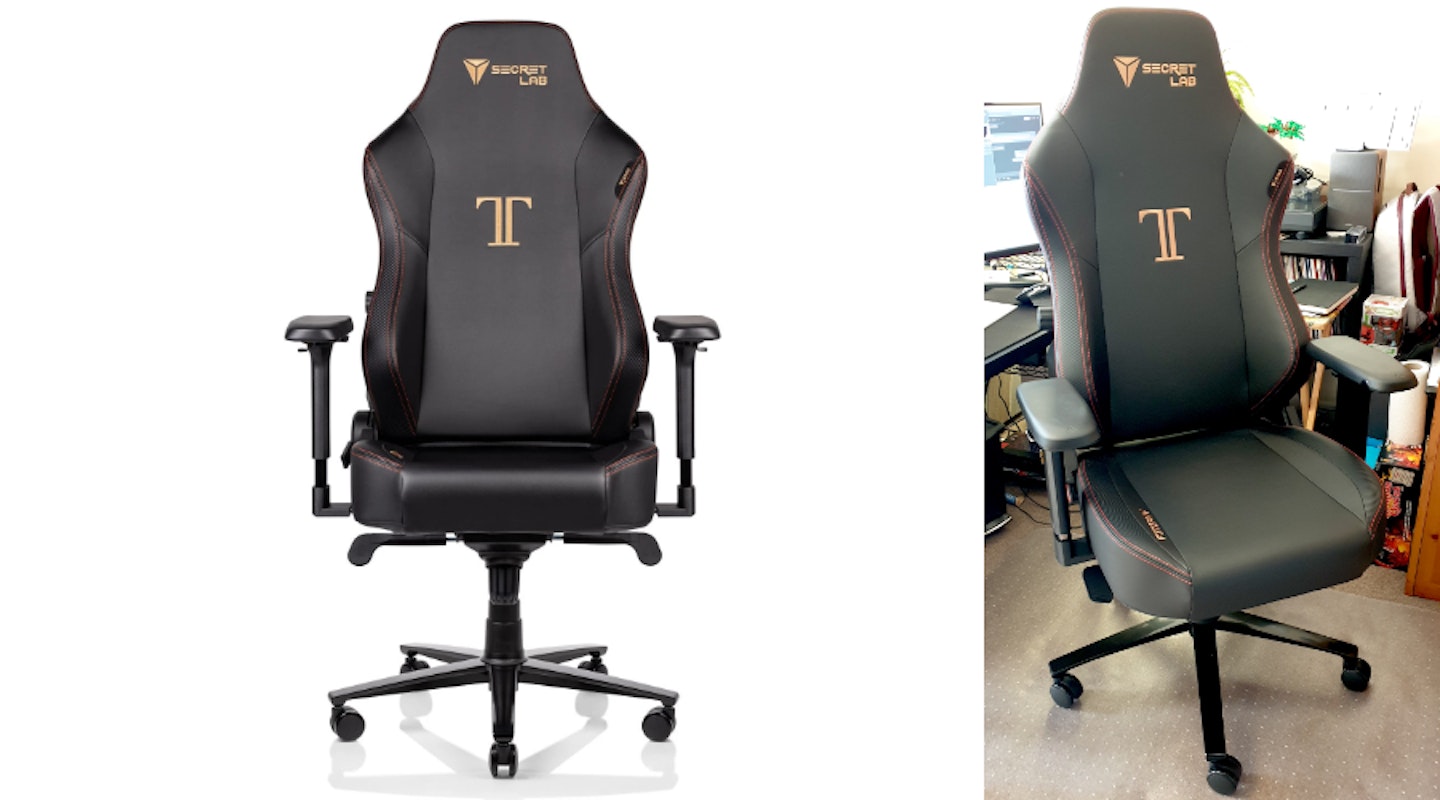 The overall size of the TITAN is broad, with modest angles on the backrest and seat working to support the body. The backrest calls to mind a racer-style seat with its pronounced borders and curves - however, the experience is much more subtle. The backrest holds the upper-back and shoulders well, while the built-in lumbar support does good work taking care of the lower back. It's a similar story with the seat, which has a gentle incline around the edges to help centre the user without boxing them in. It's a comfortable position and one that helps support the thighs and hips.
It's not only the angles that make the TITAN a comfortable and supportive gaming chair. The Cold-Cure foam is Secretlab's take on the ubiquitous temperature-regulating foam found in many premium computer chairs, drawing warmth away from the body and dissipating it efficiently to avoid heat build-up. It's also firm without being hard and manages to balance a sense of luxury with genuine support. It's resistant too - even after weeks of testing, sitting on the TITAN every morning is just as it was on day one.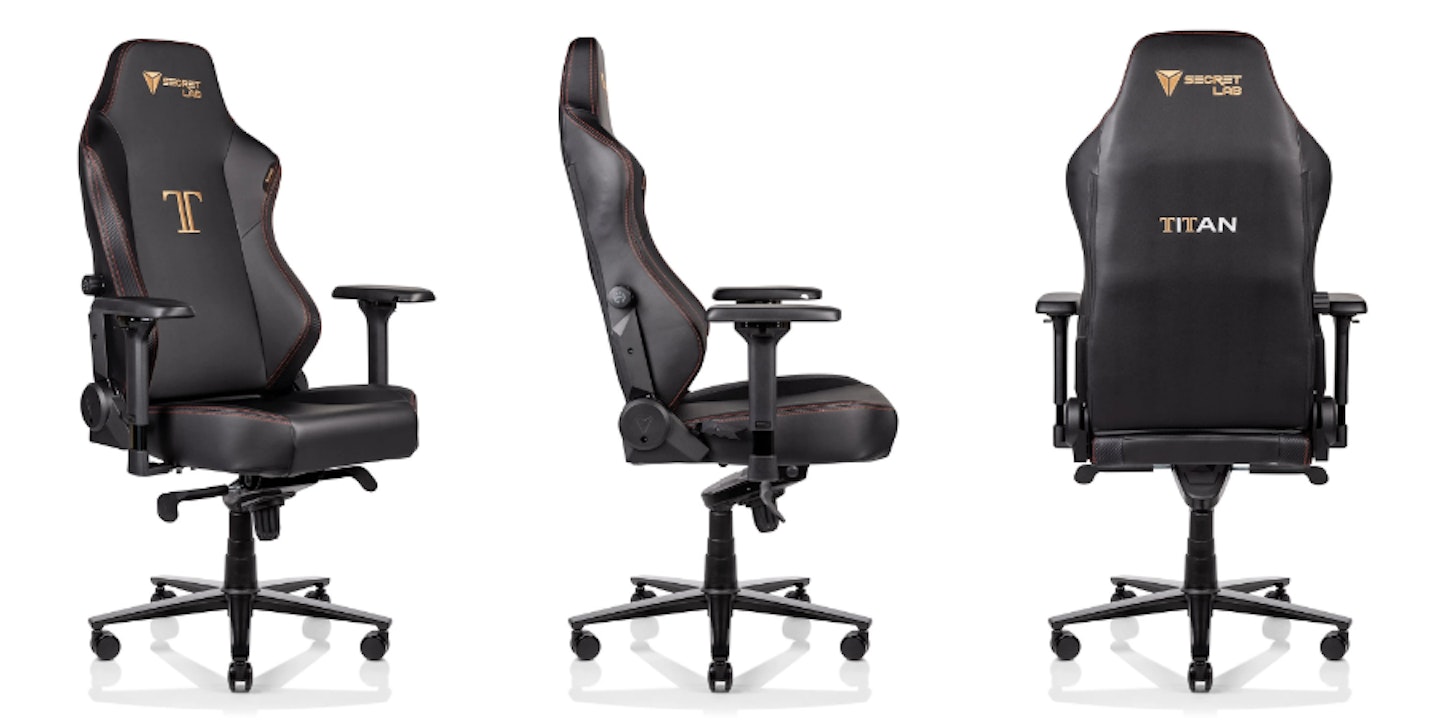 Finding a comfortable and ergonomic position that works for the individual user is easy, thanks to the well-manufactured and robust mechanisms onboard. The backrest recline is controlled via a side-lever, complete with finger grips, and is tight and responsive. The armrests can adjust in four directions, and chair height and tilt operate via the standard under-seat levers. The mechanisms and gaskets are robust and have a welcome tangibility, holding the chosen position tightly without squeaks or pressure loss.
The Secretlab TITAN is an impressive chair that benefits from the care and attention to detail that has gone into its design and production. Not only is it comfortable, but the subtle ergonomics at play in the seat, backrest and lumbar support mean that you don't pay the physical toll for spending a long day in front of the computer.
Secretlab OMEGA With SoftWeave Review
Description
Pros: Flawless build quality and attention to detail Cons: Bucketed seat not the best for
The Secretlab OMEGA is a high-backed racer-style seat with plenty of style. And, more so than with any other chair we've tested, the OMEGA has a prominent and sharply angled bucket seat and backrest.
These angles provide the seat with a border of sorts, promoting a position that's upright and forward-facing. The high sides of the seat keep hips and legs set in place, noticeably reducing the strain on the outside of the hip joint. The backrest curves in and lightly supports the shoulders and upper back.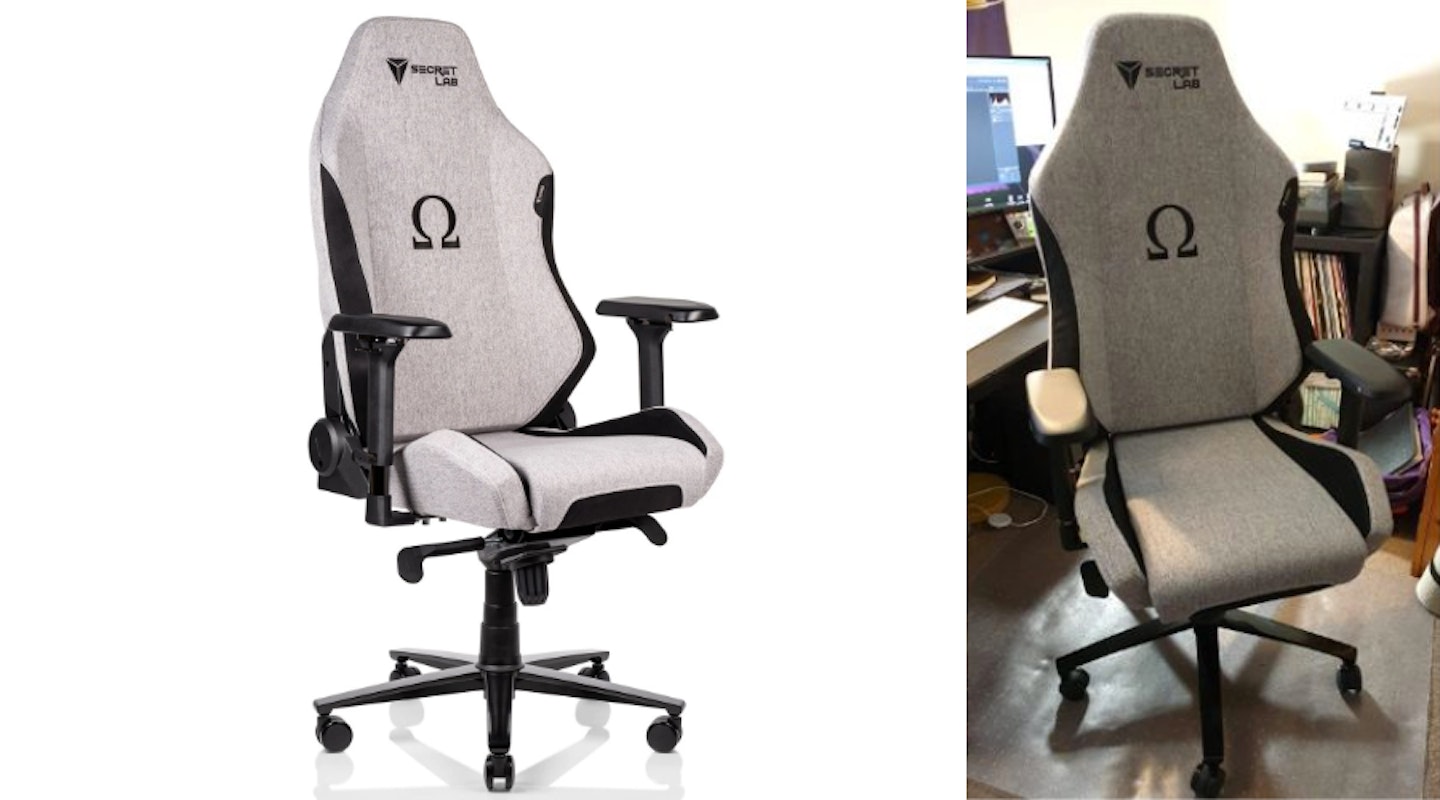 There's no in-built lumbar support here. Instead, Secretlab provides one of the best lumbar support cushions we've tested. Its large size and memory foam filling make for a very comfortable experience - normally, we'd avoid using auxiliary cushions, but this one stayed with us throughout testing.
The SoftWeave upholstery is delightful. It's plush and soft to the touch, infecting a little luxury into proceedings. Thankfully, Secretlab hasn't let this comfort distract from longevity - though soft, the material is robust and hardwearing. It works well in combination with the Cold-Cure foam, regulating body temperature throughout the day - there's no unsightly and unpleasant back sweating with this one.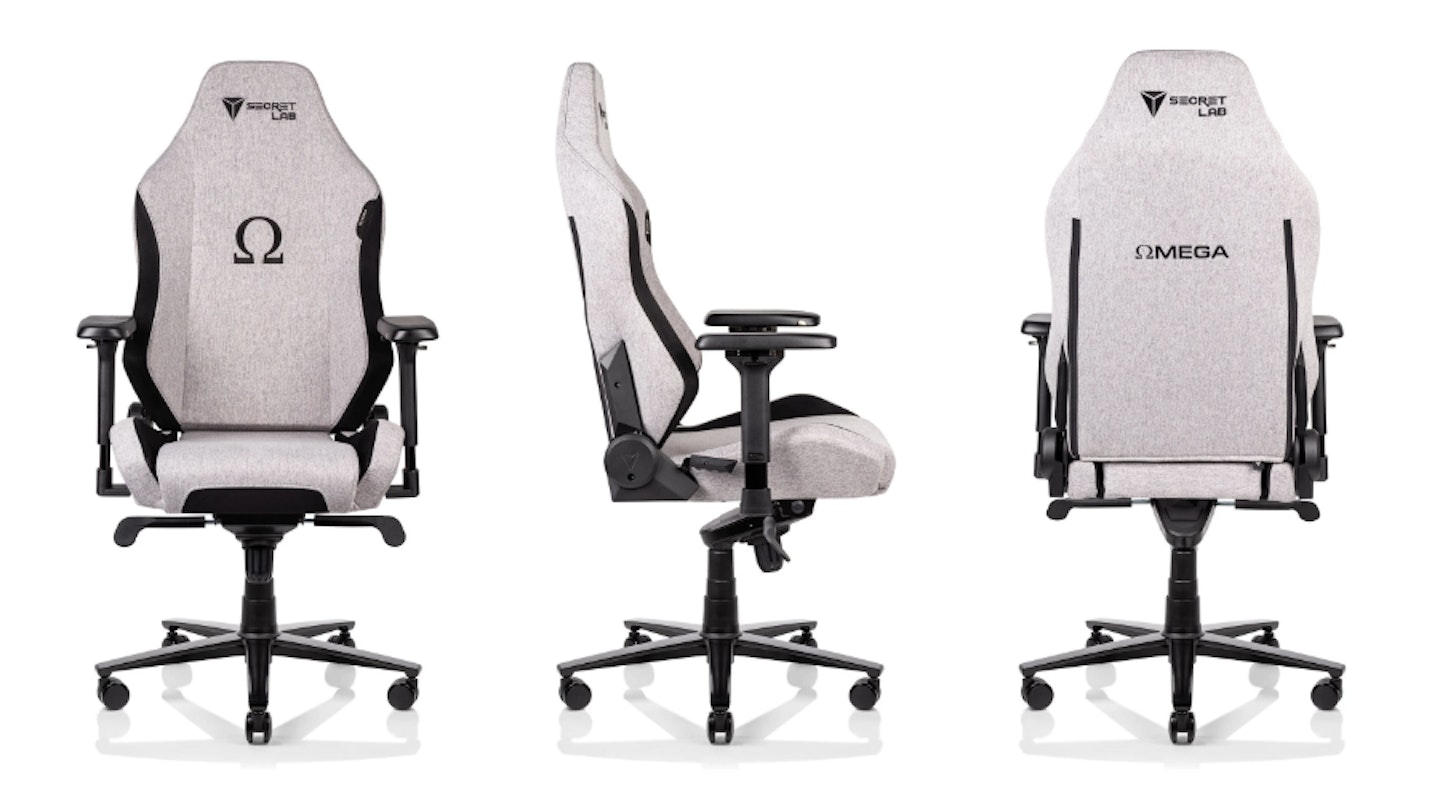 Secretlab has decorated its custom fabric with embroidered branding that complements the aesthetic. Elsewhere, the subtle embossing and engravings that mark the hardware might as well be seals of pride and approval - all the mechanisms at work here are flawless.
Secretlab has delivered an excellent racer-style chair, from its styling through to build quality and material choice. The only thing to watch out for is that broad gamers might find themselves a little restricted due to the bucket seat. If everything else Secretlab offers appeals - and it certainly should - there's more choice in its catalogue.
Anda Seat T-Pro 2 Review
Description
Pros: Very comfortable with a deluxe, expectation-defying lumbar cushion Cons: Unoriginal
The Anda Seat T-Pro 2 is big and heavy. Its sizeable frame is steel, which results in a very sturdy and robust build - this suggests that it's going to last well over years of use. Anda Seat has upholstered the chair well with a dense moulded foam, thick linen and black velour, but there's no getting away from the fact that it's reminiscent of Secret Lab. Unlike Secret Lab, though, are the finishing touches of the Anda Seat, which do lack refinement and quality. This is most noticeable with the plastic hinge caps and loose finishing threads on embroidery. While these are minor disappointments not affecting the function of the chair, they are disappointments nonetheless.
On the whole, the T-Pro 2 has some reliable mechanisms in place - the hydraulic height and mechanical recline controls do their job well. While the comfort and positioning of the armrests are perfectly acceptable, the adjustment mechanisms are sub-par. The levers that control the 4D armrest position are made from notably cheap plastic. Making adjustments is tricky and inaccurate, often requiring more force than nuance to get everything lined up.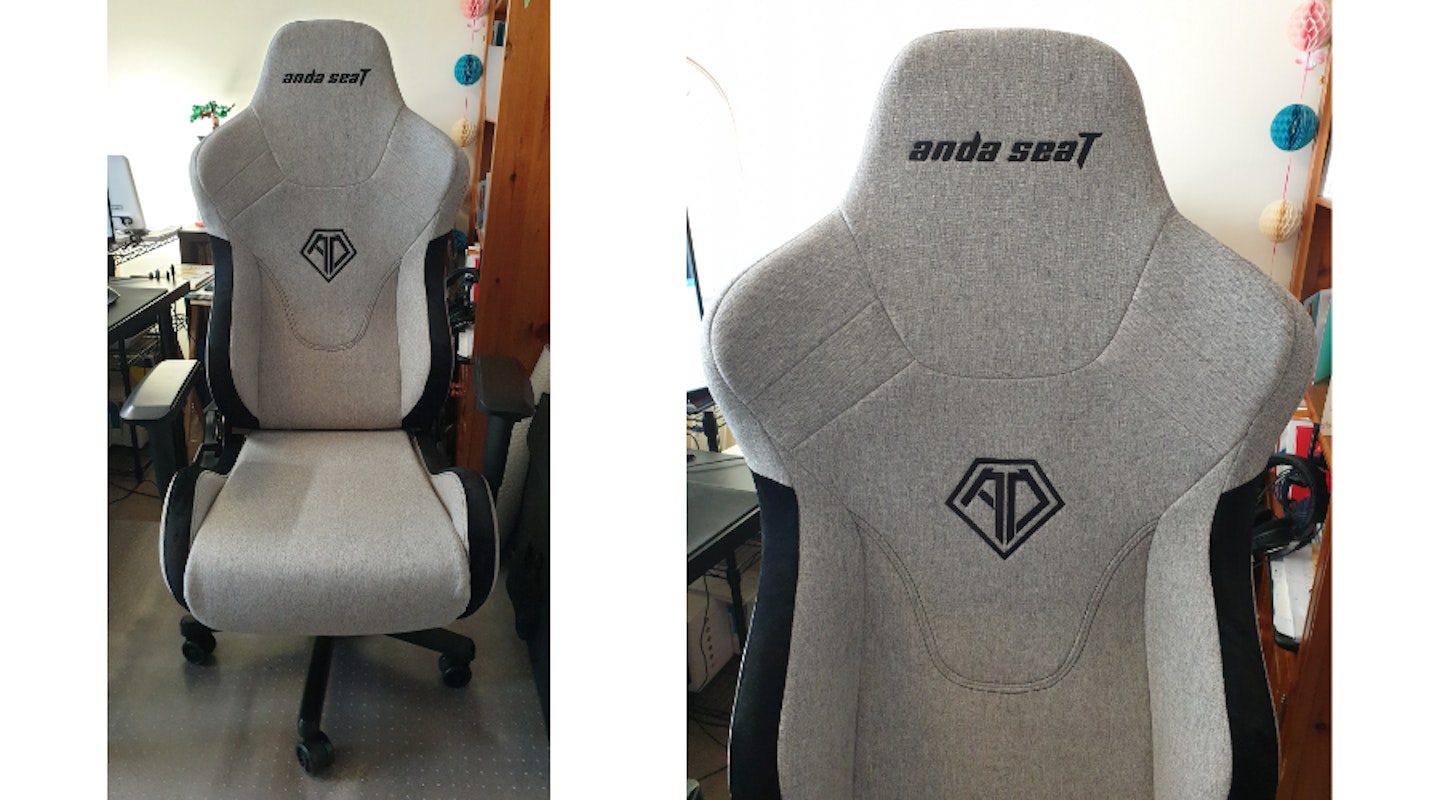 Thankfully, the comfort of the T-Pro 2 is top-notch. Unlike its competition, Anda Seat hasn't brought in cooling padding - instead, it's simply a dense foam that has a pleasant give to it. It's luxurious without comprising body support, which is a difficult line to tread. The proportion of the chair has a lot to do with its comfort, too - the bucket seat is very wide, the backrest broad and there are gentle ergonomics at work supporting pressure points where required. The real star of the show, however, is the lumbar cushion. Often an annoyance on a gaming chair, the Ansa Seat lumbar cushion is a bit of a revelation. Its large size means that has the space for gentle angles, and its considered and modest profile has it slide unobtrusively behind the back. It's the kind of cushion you wish you could take everywhere.
In the end, we came to be very fond of the Anda Seat T-Pro 2. While we were initially disappointed at the borrowed styling, careless finishing touches and armrest mechanisms, the comfort of the chair (and lumbar cushion) won us over.
Brazen Sentinel Elite Review
Description
Pros: Affordable and comfortable Cons: Better hardware in higher price ranges
When it comes to looks, the Brazen Sentinel Elite wants to be seen. The black and grey panelling sits alongside panels of vibrant colouring that, when combined with the embroidered Brazen logo, succeeds in delivering an undeniably 'gamer' spirit.
The bucketed seat is deep and wide, helping maintain a central position without ever feeling hemmed in, which can be an issue with smaller framed chairs. The padding on the seat and backrest is generous and remains comfortable through hours of consecutive use. The synthetic leather upholstery is finished to a good standard and soft to the touch yet, though as with any chair using this material, the hot weather can be unforgiving.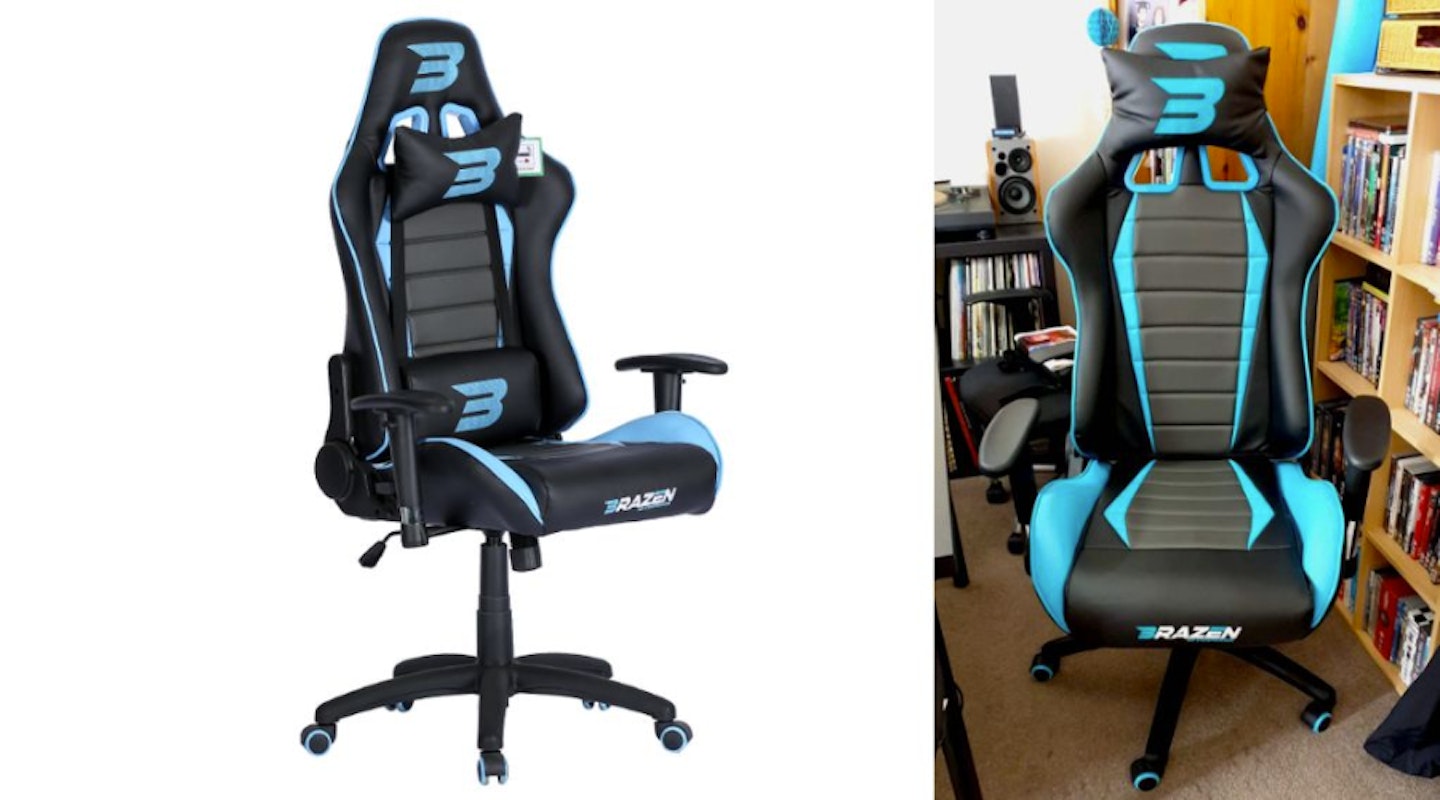 As a budget gaming chair, some sacrifices have been made. There's always a slight wobble in 4D armrests, but it is a little pronounced here than on higher-priced options. The gasket, mechanism and base are all standard stock items, similar to those found on everyday office chairs. This isn't a huge issue, but the weight of the Elite's frame makes it more liable to squeak - luckily, a little lubrication soon puts a stop to it.
For an affordable price, Brazen has managed to deliver a product that ticks all the boxes expected of a racer-style gaming chair: it's huge, it's visually loud, and it's comfortable.
Why should you buy a PC gaming chair?
To some degree or another, a PC gaming chair offers ergonomic lumbar and neck support (as pre-set seat curvatures or positional cushions), shoulder strain reducing adjustable armrests, and leg strain reducing tilts. While to a gaming newcomer these features may seem superfluous, any gamer who has spent as many hours as possible at their gaming battle station knows the physical toll that extended sessions can take.
PC gaming chairs improve posture, help gamers maintain an alert and correct playing position, and help fight post-session muscular and joint fatigue.
Referring to these chairs as 'PC gaming chairs' can be a little misleading, as they definitively have a place in the console gaming market, too. There are several reasons for this, with one of the most significant being that console gamers have started to migrate from the living room TV to desks, using computer gaming monitors to get the most out of their console system's graphically capability.
If you're looking for the best console gaming chair, it's just as likely to be the best PC gaming chair, too. Whether you game on a console in your bedroom or living room, seriously consider rolling in a professional gaming chair for your next session.
Upcoming Video Games
If you're looking to stay up-to-date with all that the gaming world has to offer, make sure check in on Empire's video game release schedule, which will guide you through the next two months of unmissable content.
READ MORE: Gifts For Gamers