A gaming chair is a dream item for a video gamer. Not only do they offer hours of comfort while diving into the best PC games around, but they lend a certain stylish flair to a gaming setup.
While some of the industry's leading chairs from Secretlab, noblechair and Corsair are excellent, the price tags they carry are indisputably steep. Thankfully, there are plenty of brands offering compelling gaming chairs for tight budgets. Some, like Brazen, are companies wholly dedicated to delivering PC and console gamers comfortable and affordable rockers and office chairs. Others, such as UMI, offer cheap gaming chairs as an extension of already established homeware outlets. Either way, there's plenty on offer.
Budget gaming chairs offer users the chance to grab a comfortable chair that can comfortably see them through hours of gameplay in style, all while providing ample ergonomic support.
Below, you'll find our roundup of the best budget gaming chairs.
What we look for in the best gaming chairs:
Ergonomics
While ergonomics aren't the sexiest things to consider when hunting for a racer-style office chair, they are worth noting. A chair that supports muscles and joints in all the right ways is going to mean that sitting at a desk is more comfortable and that when you stand up and walk away, there are no aches and twinges.
The best gaming chairs must have adjustable height, tilt and recline, 4D multi-directional armrests and lumbar support. Such factors allow the user to find the seating position that works best for them.
Upholstery
At budget pricing, the gaming chair upholstery is typically limited to plastic faux leathers. These are reasonably hardwearing and supple, though they are not known for their heat and moisture-absorbing abilities - that's something reserved for the PU materials used by premium brands. However, these materials come in a range of colours, which means that gamers on a budget will be spoilt for choice when it comes to picking up a stylish, brightly colour gaming chair.
Padding
Again, due to pricing, budget gaming chairs have a limited scope where padding is concerned. Heat regulation is, once again, the preserve of premium options. When going for an affordable chair, it's best to look for high-density padding. Some options will use soft padding to plump up chairs, but this is a false economy as such padding gets crushed and loses its volume over time. High-density padding will spring back and keep its shape and comfort for a much, much longer time.
Hardware
Wheels, levers, gaskets, bearings, frames, bases... all of these features are easy to overlook, even though they do a lot of the heavy lifting day-to-day.
Good quality gaskets, bearings, locks and levers all make positioning quick, easy and reliable - if the hardware isn't of the highest-quality, these are the places gaming chairs can start to squeak, creak and grind. Wheels and bases keep the user upright, balanced and mobile, while the best quality frames help guarantee a long life for a chair.
Just so you know, while we may receive a commission or other compensation from the links on this page, we never allow this to influence product selections.
The Best Budget Gaming Chairs
Brazen Sentinel Elite
ADX ACHAIR19
Mfavour Ergonomic Office Chair
UMI by Amazon Gaming Chair
GTFORCE Pro GT
Brazen Sentinel Elite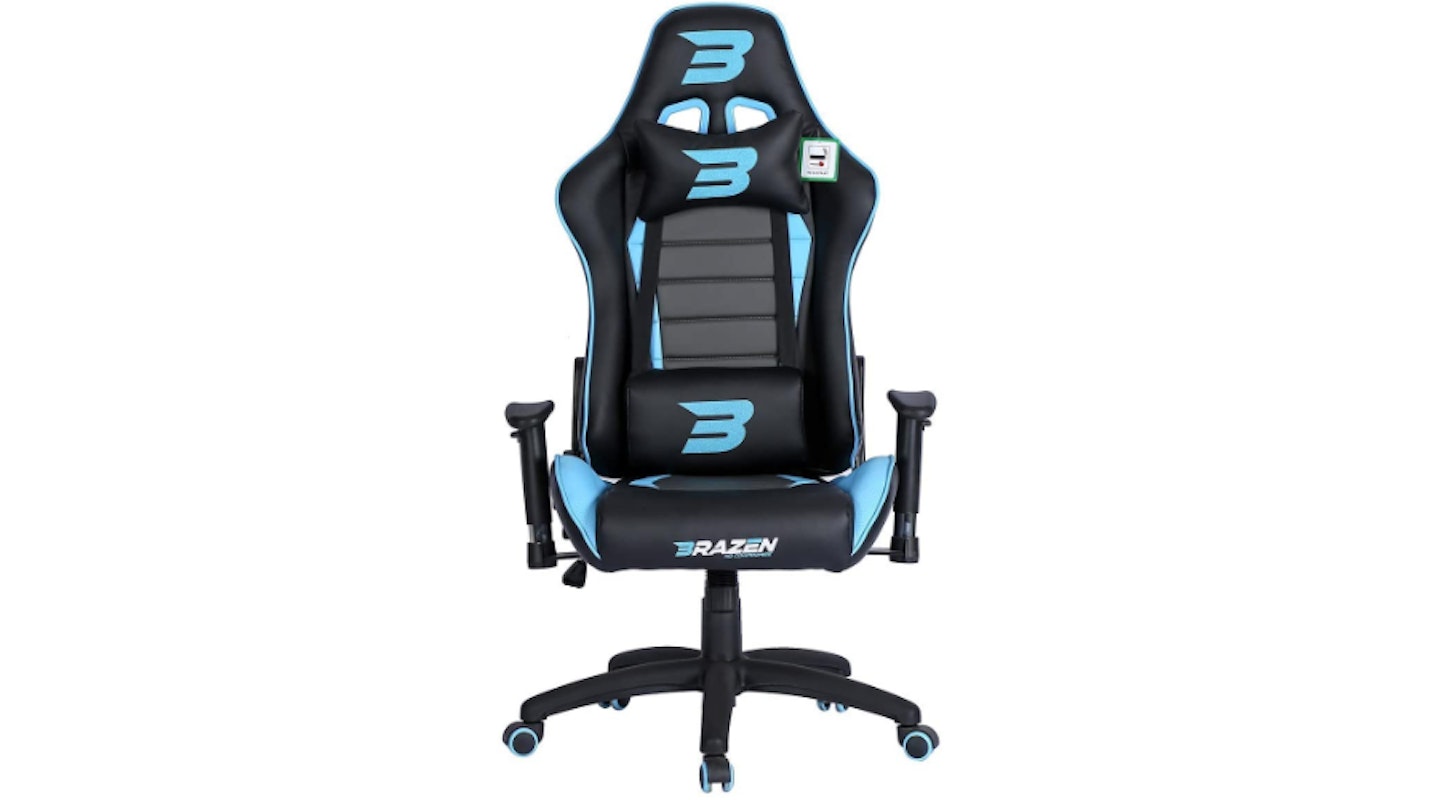 Description
Features: 4D Armrests | Adjustable recline, tilt and height | Supple faux-leather upholstery |
Affordable gaming chairs for PC and console gamers are the speciality of British brand Brazen. The Sentinel Elite builds on the success of previous models to deliver a loud-and-proud aesthetic with comfortable padding. It's a chair that sees you right through all-night gaming sessions without worry, with neck and lumbar pillows, bucketed seat and backrest, height and title adjustment all working to allow the user to get their position just right. The build quality is solid, too.
You can read our hands-on review in our best gaming chairs article.
ADX ACHAIR19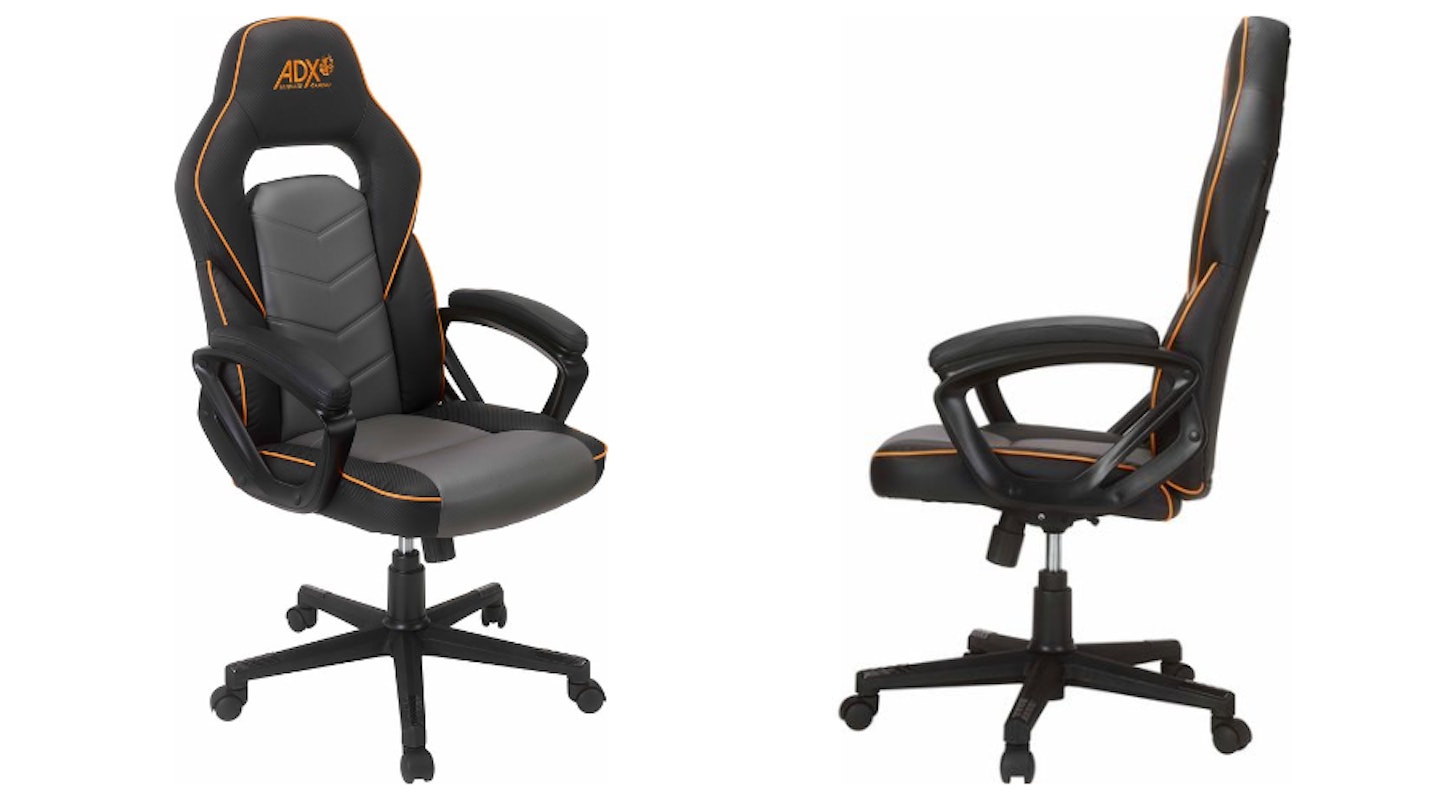 Description
Features: Adjustable recline, tilt and height | Supple faux-leather upholstery
The ADX ACHAIR19 is the cheapest entry on our list, but that's not a reflection of its quality. ADX has done away with many of the extra features found on its competitor's releases to deliver a solid, stable and reliable PC gaming chair. The backrest is high and broad, allowing for some good support across the back and shoulders, and the seat is well padded to ensure hours of comfort. The finish, which incorporates black and grey panelling with orange accenting carries off an indisputable PC gamer aesthetic, and while the fixed arms are a slight shame, but their curved shape means that tucking in close to the desk isn't an issue.
Mfavour Ergonomic Office Chair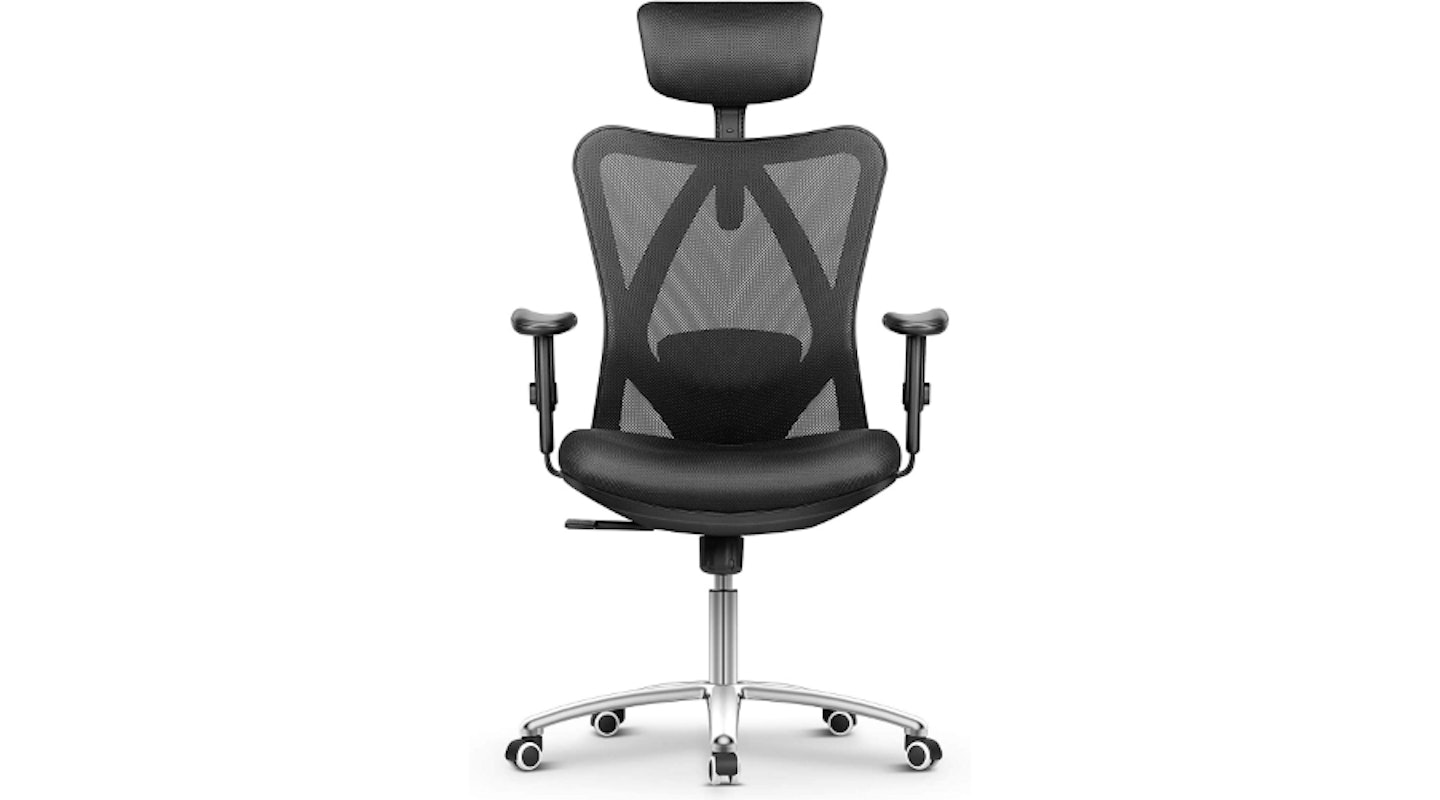 Description
Features: 4D lumbar support | Adjustable recline, tilt and height | Adjustable armrests | Mesh
Well, it's not a gaming chair. However, if you have a budget under £200 and you're specifically looking for ergonomic support while gaming, then it's worth considering. The lumbar support is adjustable over four-dimensions, the headrest can position over a 45-degree range and the arms have 7cm of adjustment, all meaning that the chair can shape to the individual. The seat cushion has a subtle w-shape, which promotes a healthy hip position and even weight distribution. The mesh backing is taught, comfortable and breathable - ideal for summer in front of a gaming monitor.
UMI by Amazon Gaming Chair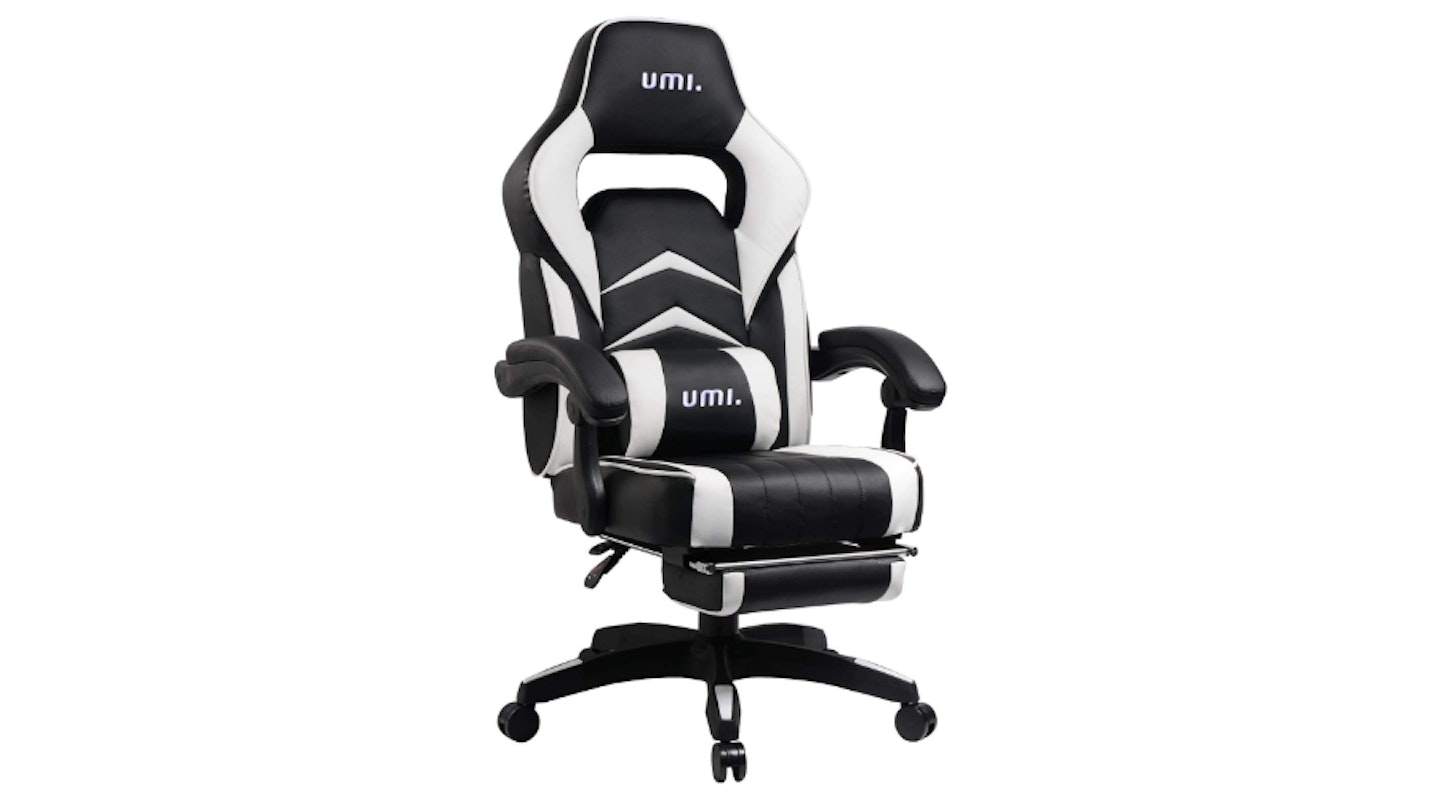 Description
Features: Board seat and backrest | Adjustable recline, tilt and height | Supple faux-leather
The Umi by Amazon Gaming Chair is a broad chair, providing the user with plenty of space to get comfortable however they fancy. The seat and backrest are amply padded, with the lumbar cushion adding some extra ergonomics for those in need of some lower back support. There are no adjustments to be found on the arms, though they too are well padded and have a curved shape, allowing you to tuck into a desk. The chair has a retractable footrest, allowing you to lay back and watch a stream or game with a controller in-hand.
GTFORCE Pro GT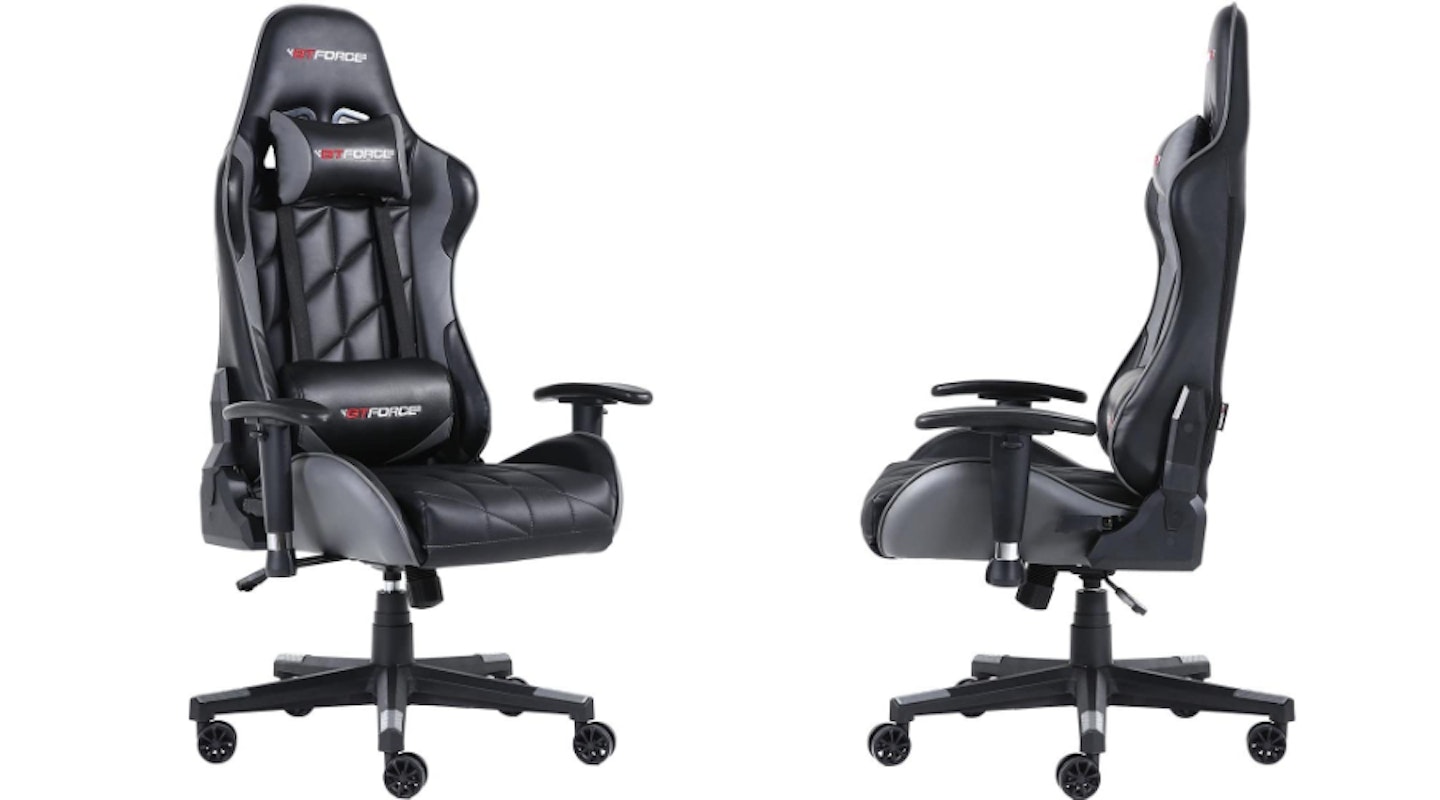 Description
Features: 4D armrests | Adjustable recline, tilt and height | Supple faux-leather upholstery |
The GTFORCE Pro GT is a sizable budget gaming chair with a whole host of attractive features. From its adjustable arms and resilient foam padding through to its PU leather upholstery and figure-hugging shape, plenty is going for it. There's the option to pick an option with a retractable footrest for added comfort, and it's available in six colours, including the subdued grey pictured above. Just note that the high edges of the bucket seat will restrict anyone who likes to cross their legs while playing.
READ MORE: The Best Gaming Chairs
READ MORE: The Best Gaming Desks
READ MORE: The Best Gaming Monitors
READ MORE: The Best Gaming TVs