Gaming is a marvellous thing. It combines a sense of adventure and escapism, challenge and wonder, with a love for tech and all things gadget-like. However, there's quite a lot of equipment that comes with the pastime - particularly for PC gamers. A gaming desk provides a dedicated space for the playing to commence with ease, space and style.
Keyboard, mouse, speakers, monitors and gaming towers make up the basic setup, with extra peripherals like headphones, microphones, joysticks, controllers, arcade pads, additional screens and laptops only taking up more space. Plus, as the age of home working is dawning before our very eyes, there's a good chance that gaming stalwarts will be spending a lot of additional hours at the desk. It's for these reasons, and more besides, that picking up on the best gaming desks is such a good idea.
That's why we've rounded up our favourite desks for gaming. While some of our choices are products developed by video game enthusiasts, many are not dedicated gaming solutions. That's because it turns out that being titled 'gaming' barely factors into things - what's more important is that the proportions and features lend themselves to the gaming world with ease.
What we look for in the best gaming desks:
Workspace
Gaming at a desk, be it with a PC or console, monitors or a TV, can be a cluttered business. Many standard desks are surprisingly narrow and can prove very restrictive, so a gaming desk needs plenty of depth and breadth. It's also key to note how that space is used. Some smaller desks provide great working areas by using two-tiers or adjustable shelving that may be better suited to certain situations.
Cable Routing
Having tidy cables is the dream, but getting tidy cables can be a nightmare. Thankfully, the best gaming desks offer welcome assistance in the form of cable routing gullies, cut-outs and clips. Not only does this help keep a desk tidy, but it makes upkeep, maintenance and future upgrades a lot easier.
Frame
A frame is the foundation of a desk, so making sure it's up to the job is a top priority. MDF frames are a no-go, as they tend to age poorly and develop tedious wobbles. Steel and metal frames are best, as they are inflexible and hard-wearing. Four-leg designs are a good choice for wider desks, but metal z-frames are best for small desks as the fame keeps a distance from gaming chairs, allowing for a more comfortable, obstruction-free seating position.
Adjustments
There's no such thing as average. Desks that offer the user some control over the height and storage configuration are really valuable, allowing a desk to work for you.
Just so you know, while we may receive a commission or other compensation from the links on this page, we never allow this to influence product selections.
The best gaming desks:
Trust GXT 711 Dominus Gaming Desk
Maxzzz Corner Desk
IKEA Fredde Desk
FITUEYES Computer Desk
Allcam ED20 Sit/Stand Desk
The Best Gaming Desks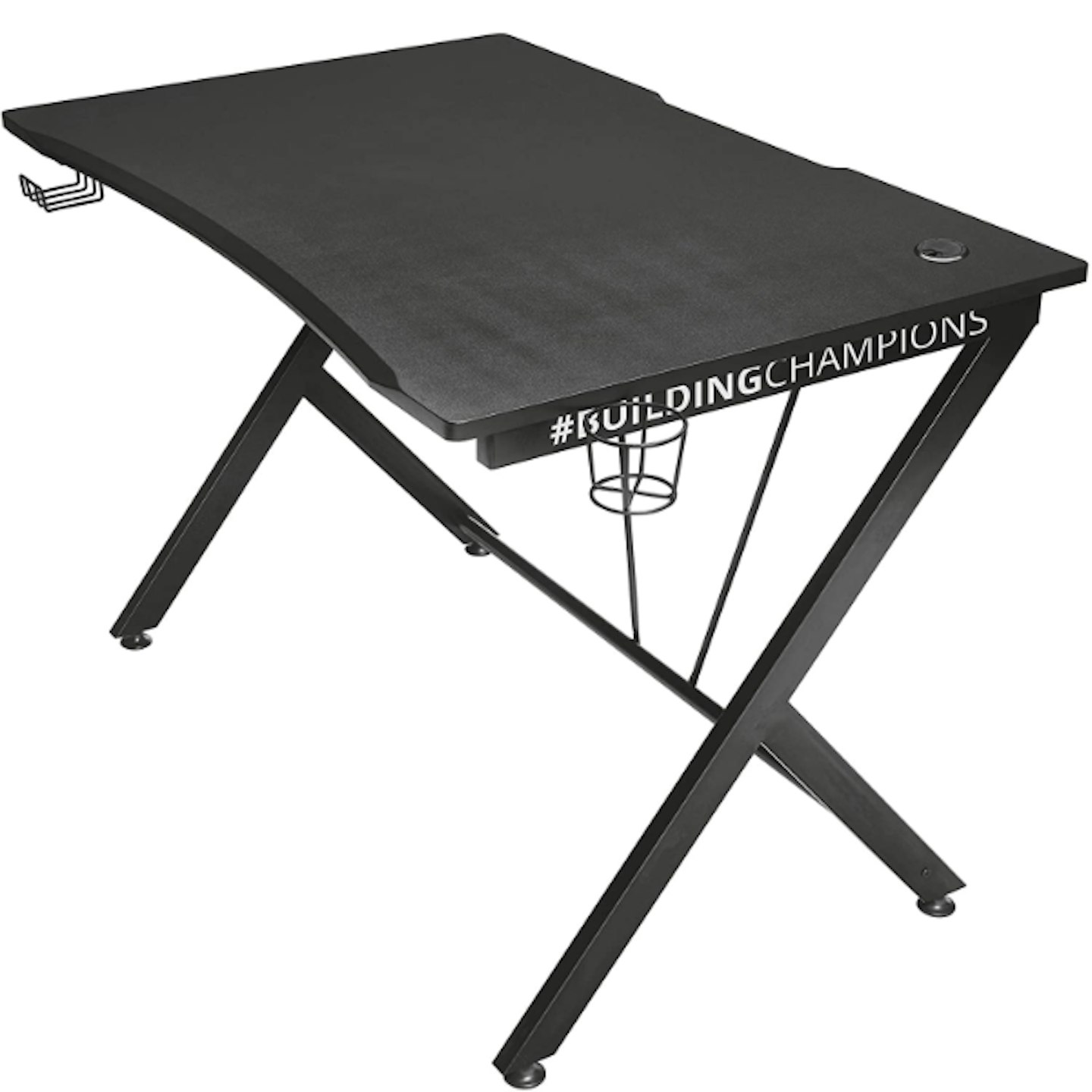 1 of 5
Trust Gaming GXT 711 Dominus Gaming Desk
The Trust Dominus is designed from the ground up for gamers. The desk's proportions allow for dual-monitor or ultrawide monitor setups, with plenty of space for speakers and peripherals. In the top corner of the desk, there's a cable routing cut-out. There's a shallow indent along the back edge that lets the desk to sit against a wall without crushing any cables. The front side curves inwardly, allowing you to get closer to your equipment, with a chamfered front edge to provide some forearm comfort. There's even a built-in headset hanger and caged drinks holder. The height can be adjusted by 3cm.Size: W1150 x D760 x H750 mm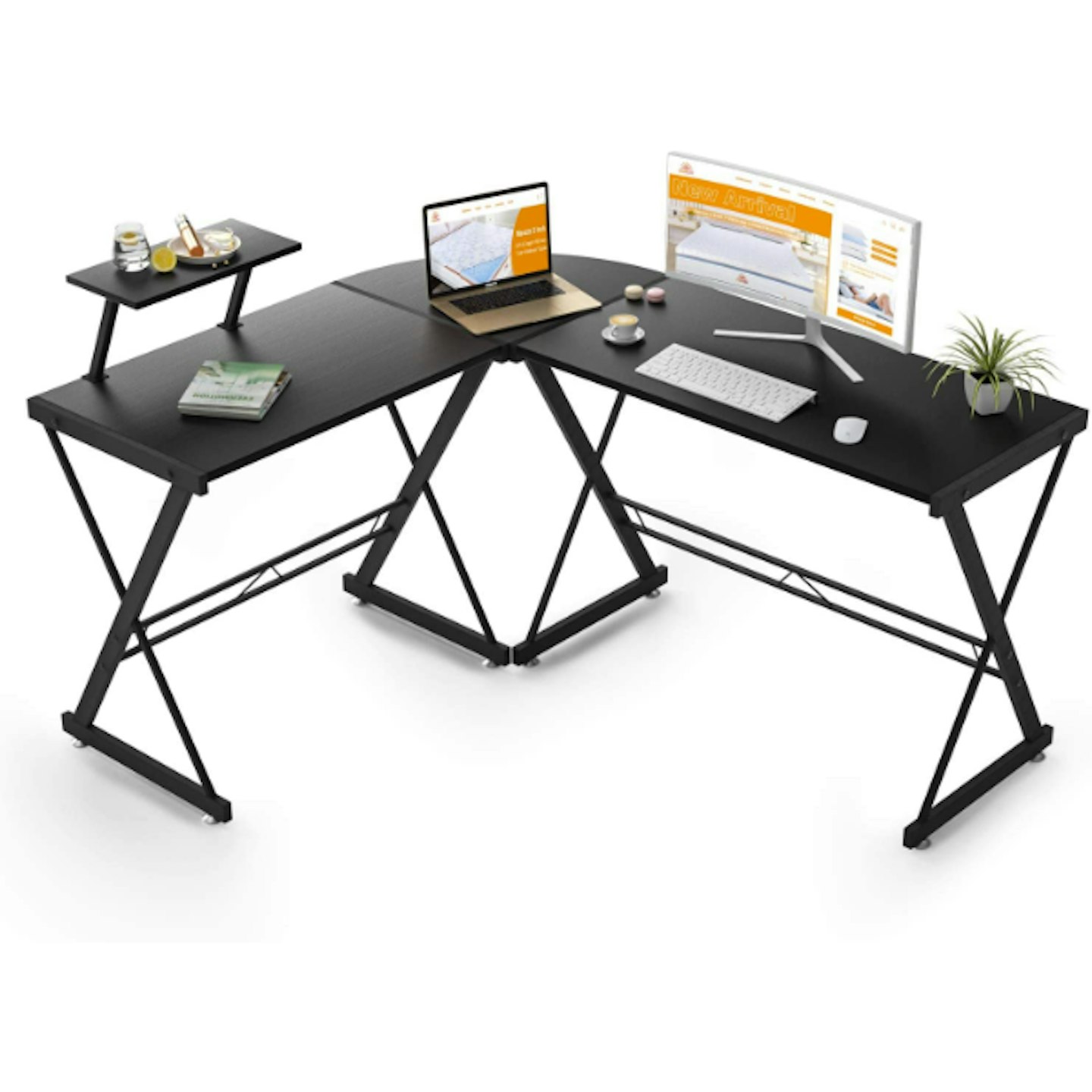 2 of 5
Maxzzz Corner Desk
The L-shape of this Maxzzz corner desk gives gamers plenty of space to build a comprehensive setup. There's more than enough worksurface here for a couple of monitors, speakers, laptop and PC tower. It's also going to be a boon to those who work where they play - one arm of the desk can house printers, work laptops and paperwork, while the other looks after the gaming rig. It's not the deepest desk on our list, so mounting monitors is the best way to maximise space here.Size: 1470 x 1260 mm
3 of 5
IKEA Fredde Desk
When you can't build out, you build up. IKEA's FEDDE desk is the best option for anyone looking to optimise their game setup potential while maintaining a relatively modest footprint. The front of the desk has a deep cut-in that allows you to get up close and personal, with some nice support for the forearms and wrists. Elsewhere on the desk, there are cable routing pass-throughs, PC tower storage, adjustable shelving and speaker platforms.Size: W1850 x D740 x H1460 mm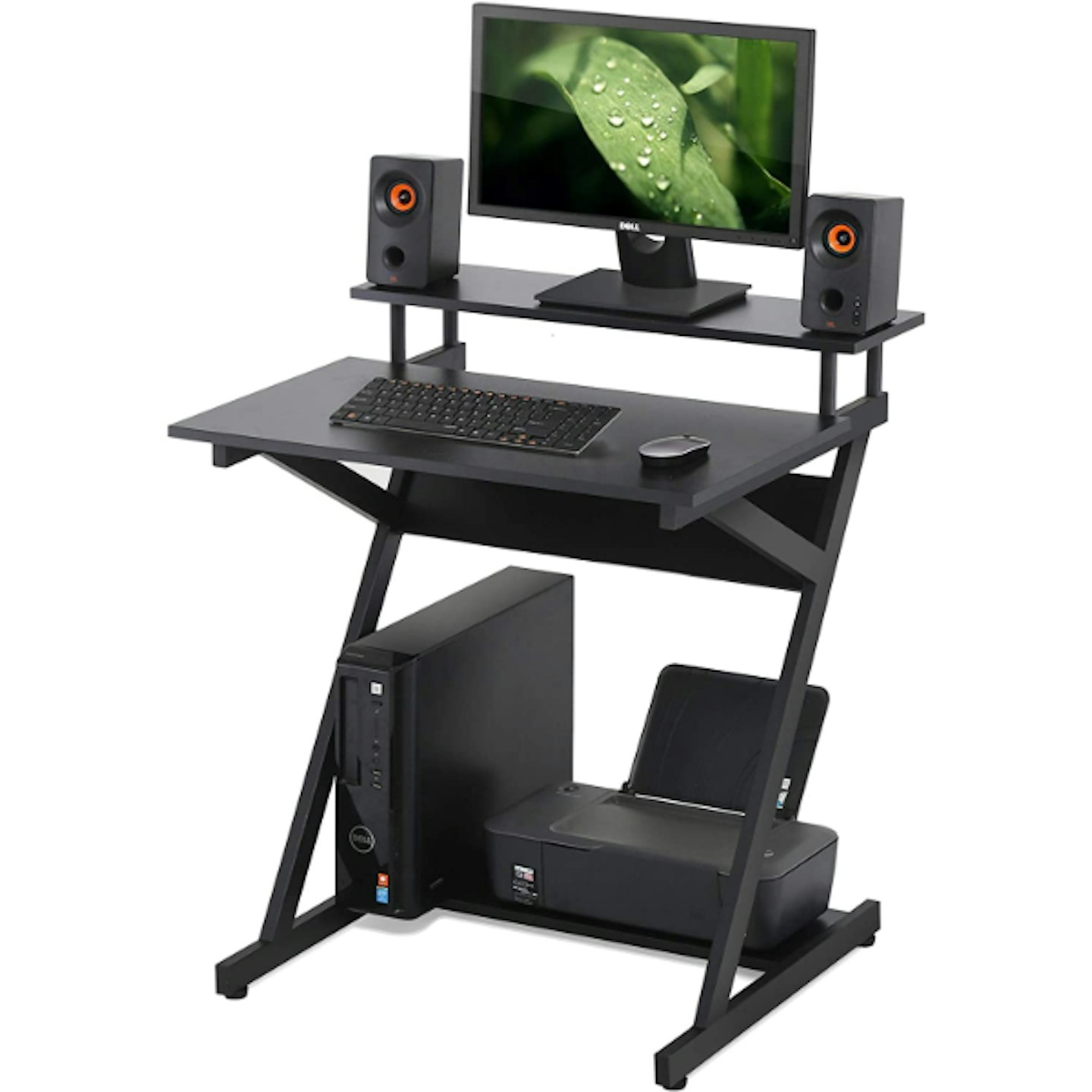 4 of 5
FITUEYES Computer Desk
We're not all blessed with endless desk space, so well-considered desks like the FITUEYES Computer Desk is a golden find. The space-saving, two-tier system means the monitor and speakers are kept out of the way, leaving plenty of space below for the mouse and keyboard. The bottom PC tower shelf will keep the unit lifted from the floor that will improve airflow and (hopefully) reduce dust ingress. The Z-frame also allows a gaming chair to fit in nice and close to the desk. Those who like the desk but need a little more space will be able to pick up the 100mm version.Size: W700 x D600 x H840 mm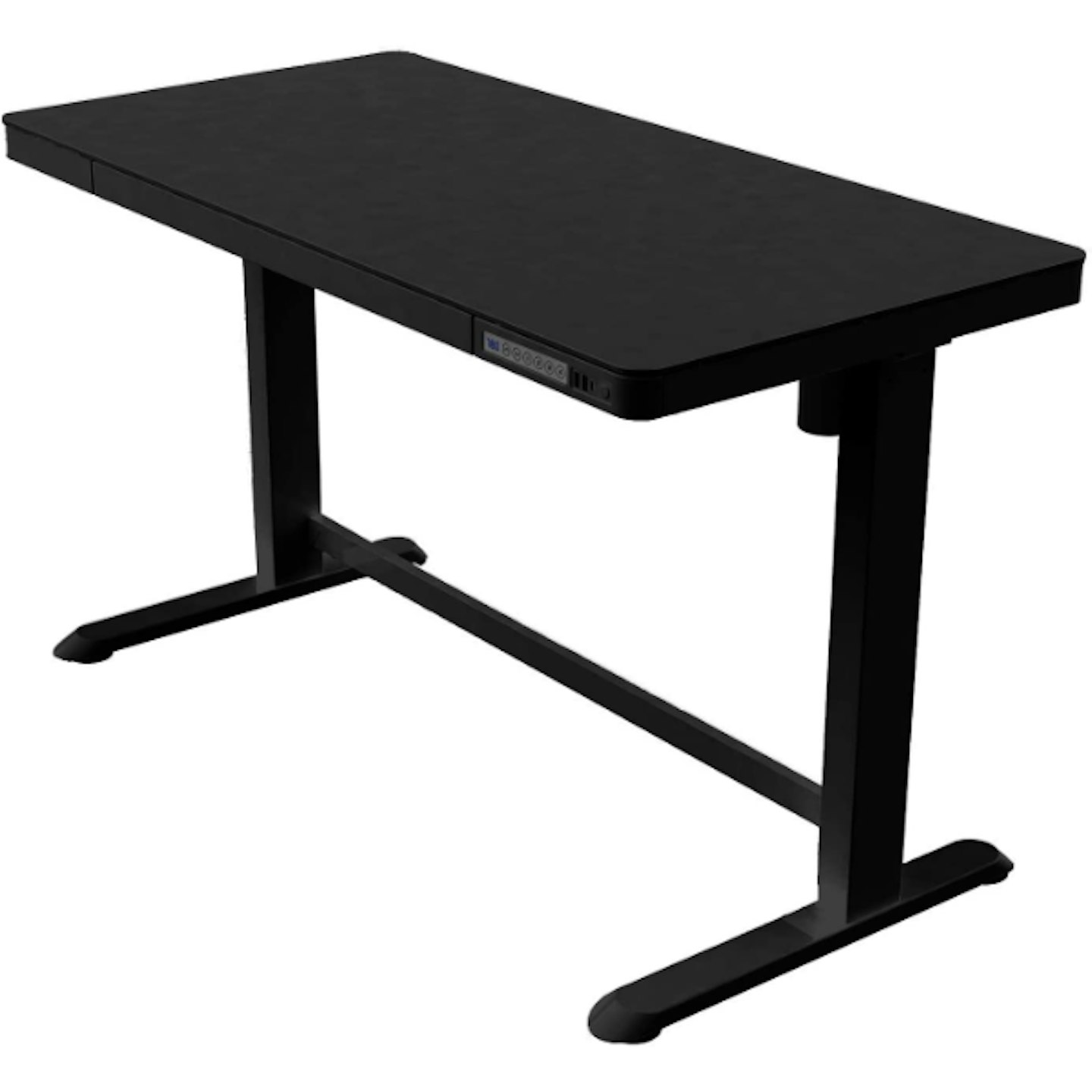 5 of 5
Allcam ED20 Electric Height Adjustable Sit/Stand Desk
Despite the efforts of Pokémon Go and Ring Fit Adventure, gaming is a very inactive pastime. For those looking to improve their health and posture, the Allcam ED20 is going to tick a lot of boxes. It's both a sitting and a standing desk, with the height being adjustable via some electronic motors. Standing for part of the day helps to improve blood flow and reduce joint fatigue, so it's worth considering. The virtues of standing aside, the desk itself is a good size and depth. It will still accommodate monitor mounts and features a slim drawer and USB-charge points.Size: W1200 x D600 x H720-1210 mm
READ MORE: The Best Gaming Chairs
READ MORE: The Best Gaming Monitors
READ MORE: The Best Gaming Headsets