So this is Disney's "centenary film": the culmination of a year-long celebration marking a hundred years since Walt Disney and his brother Roy set up shop in their uncle Robert's Los Angeles garage and forever changed animation, filmmaking, Hollywood, and culture in general. It was initially announced as a film that "explores how the iconic wishing star came to be", a rather odd framing (do inanimate objects need origin stories? Wasn't Poirot's moustache origin story in Death On The Nile enough?). In practice, it's both a celebration of the Mouse House's storied history and an indulgence of its most beloved clichés, wrapped up in perhaps the least original of original stories.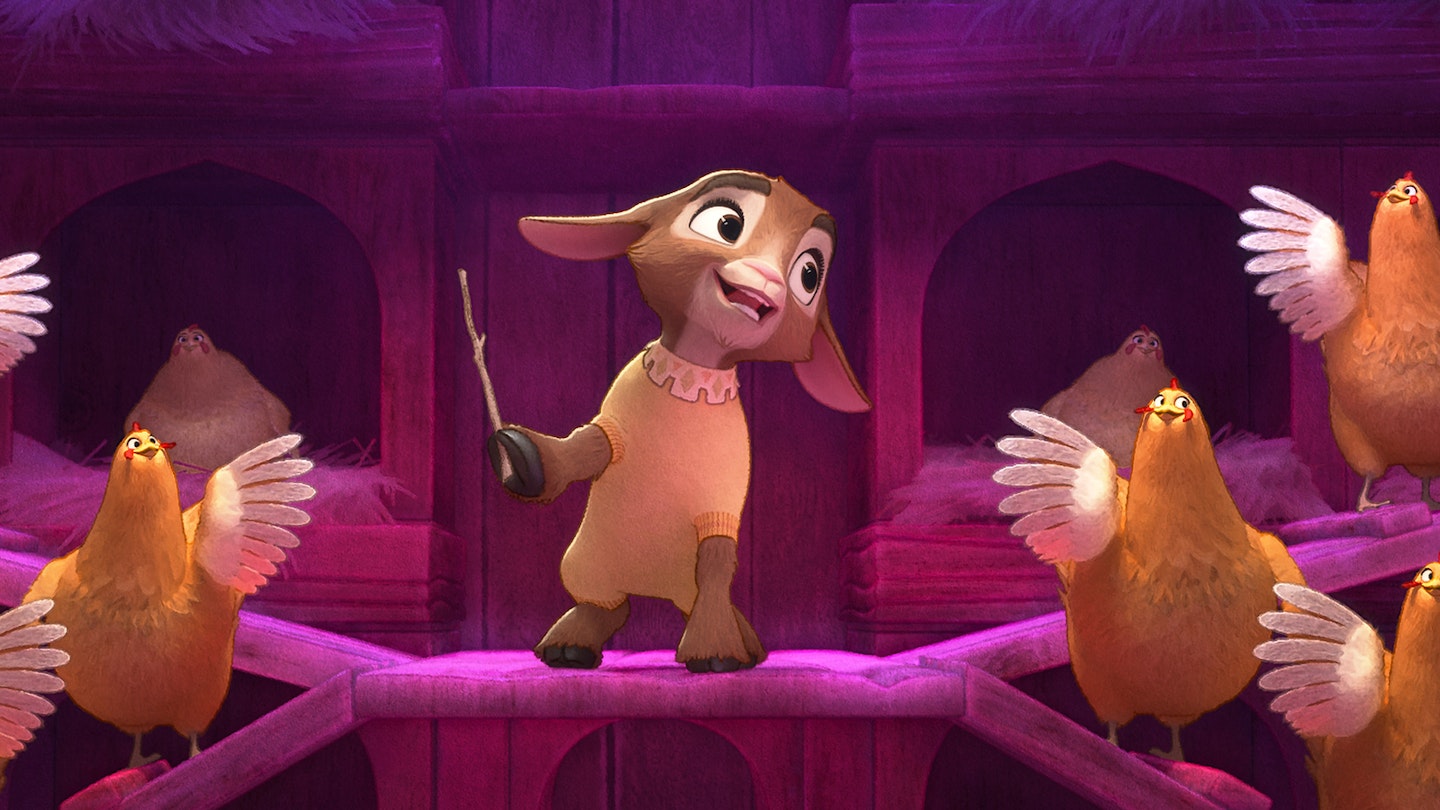 For Disney nerds, it is first and foremost a reference bonanza. Asha (Ariana DeBose, born to be a Disney princess) applies to be a sorcerer's apprentice, a nod to Mickey Mouse's most famous outing in Fantasia. Dave Metzger's score gently borrows the musical motif from Leigh Harline's Pinocchio theme 'When You Wish Upon A Star'. Classic characters such as Bambi and Peter Pan — or at least figures who look a lot like them — make cameos. Asha has seven friends who each possess a strikingly similar trait to that of Snow White's seven diminutive pals — sneezy, sleepy, grumpy, etc. There is a magic mirror; a fairy-tale castle; a storybook opening. There's even a cute animal sidekick, voiced by Disney animation's regular good luck charm Alan Tudyk (adding a goat to a repertoire that also includes an armadillo, a parrot, a chicken and a weasel).
Only occasionally does this all feel excessive. For the most part you can enjoy the film for what it is, and younger viewers are unlikely to pick up on the deeper cuts (only eagle-eyed anoraks will spot that the end credits use the same font as Sleeping Beauty, for example). It is primarily its own thing, even if that thing is standing heavily on the shoulders of what came before.
In this film, the formula is the point: it is a tribute to that formula.
Wish is almost defiantly formulaic, a sweetly told fairy tale about a young girl who defies evil and finds the good within us all. In this film, perhaps more than any, the formula is the point: it is a tribute to that formula. By definition, then, it feels generic, with a script that doesn't always live up to the standards of Disney's best. The jokes largely land a little flatly, to be appreciated by only the youngest audiences (although props must be given to the cadre of breakdancing chickens, a genuine highlight).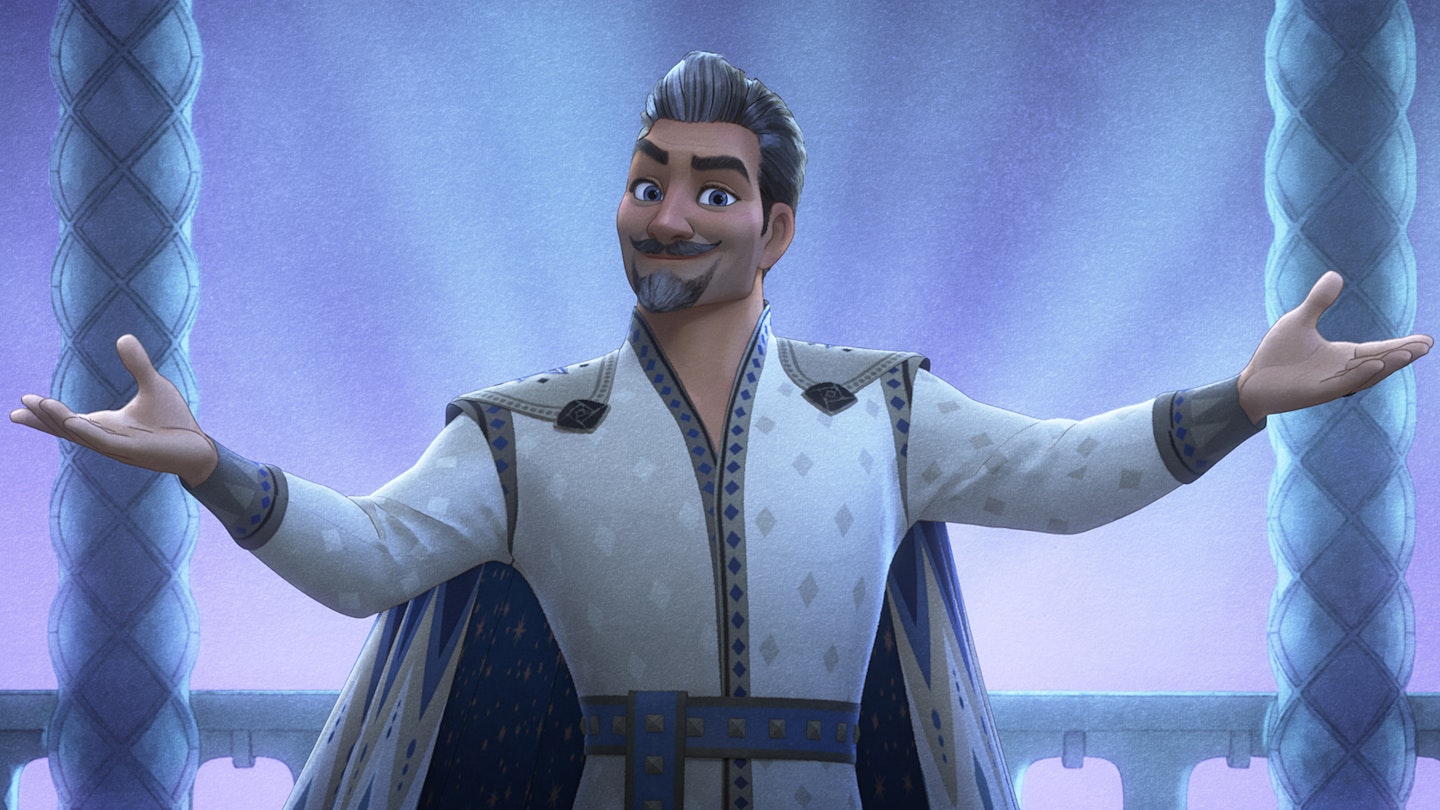 Even the animation looks to doff a deferential cap to the Disney heritage, though what they have settled on seems to be something of a compromise: the film was originally slated to be made in traditional cell animation, before finding a middle ground between 2D and 3D, clearly influenced by animation's current post-Spider-Verse trend. It's an interesting choice: Disney standards are always very high, and there are some gorgeous watercolour backgrounds, sumptuous lighting and nuanced character animation. Yet you can't help wondering if a more classical aesthetic might have looked even better.
The songs, by Julia Michaels and Benjamin Rice, don't compare totally favourably to previous Disney musicals, either. Some, like opener 'Welcome To Rosas', are peppy and energetic, clearly hoping to tap into the Lin Manuel-Miranda mojo that made Encanto's 'We Don't Talk About Bruno' such a monster hit. Others are a little more bland. Michaels and Rice are pop songwriters for the likes of Justin Bieber and Demi Lovato, which is perfectly fine, but this is a soundtrack which never quite hits the level of Alan Menken, Elton John, or the Sherman brothers.
Still, come the inevitable happy-ever-after ending, in which — and this should not be considered a spoiler — wishes come true, it's hard not to be swept up by the old-fashioned Disney magic of it all. This might not be the venerable animation house at its very best, but it is a reminder of why they have endured for so long. Why change a formula when it's a winning one?