From the opening minutes of Last Christmas, it's clear that Kate (Clarke) – or Katerina as her traditional mother from the former Yugoslavia calls her – is a mess. Not just a mess. But a hot mess. And every trope that term carries is delivered with a wallop: she has casual sex with strangers, drinks pints in pubs alone, bleaches her hair, neglects her once-fragile health, applies fat strokes of smudged black eye make-up, pulls a leopard print coat around her shoulders tightly, kills a goldfish and disappoints all of her once-patient friends over and over.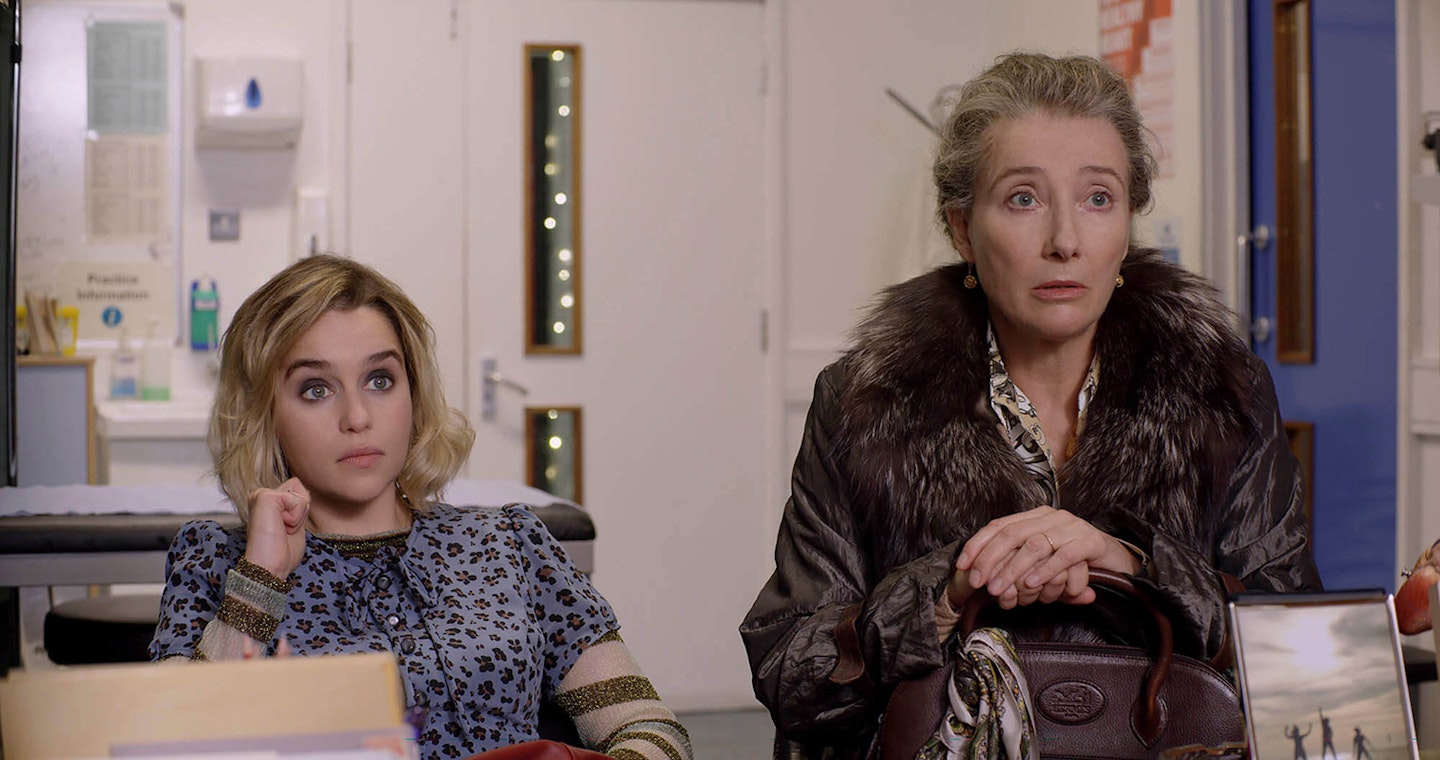 It's crystal clear that the theme is 'Heal the Pain', the George Michael song that Kate has loved since being a kid, that becomes the almost-Dickensian mission statement of Tom (Golding), a charming man who after a seemingly-random encounter seems intent on making her see the hope and goodness in the world. But the more he takes Kate on adventures through a fairy-lit London, the more she tries to resist his attempts to get her to "look up" and see the everyday beauty she's missing in her nigh-on nihilistic approach to living. A survival-mode cynicism born out of a health crisis she prefers not to discuss. But while the wound remains raw, Kate will never find peace.
Golding and Clarke are aided by a stellar supporting cast.
The damp chemistry between Golding and Clarke takes some time to light, but eventually does so in the hands of a sweet, smart, funny script by Emma Thompson (who also plays Kate's difficult mother), Greg Wise and Bryony Kimmings ("Has anyone ever told you that there's something serial killer-y about you?" Kate asks Tom during an early meeting). Both actors deliver solid, if broad, performances, with the exception of a scene which examines the soft bits hiding below Kate's pain. It's a much-needed moment of true, sobering substance, but it's all too fleeting. The two are aided by a stellar supporting cast outside of Thompson, particularly Michelle Yeoh as Kate's boss Santa, a Christmas-obsessive who enjoys her own weird, utterly-enchanting romance.
While stretching the credulity and credibility of Kate's story – both the twists and turns within her own dysfunctional family and her burgeoning romantic relationship - Last Christmas still strains to be more than just a festive romcom. It takes in the painful consequences of Brexit, the reality of homelessness, the fear of the refugee community, the crippling trauma of illness and the increasingly fragile bonds of family. Some are handled more effectively than others – the homeless characters are often just two-dimensional props to a struggling plot – but the push for social relevance within what could simply be a sickly-sweet construct is admirable.