Pure unadulterated joy is in short supply these days, both on the big screen and off. Which makes Damien Chazelle's irresistible La La Land all the more cherishable. More than just a throwback to MGM musicals, it is a funny Valentine to the entire history of the genre, as light on its feet as Fred Astaire, as big in its heart as Judy Garland. Just as Chazelle's Whiplash was intense, La La Land, especially in its first half, is footloose (not Footloose) and fancy-free, buoyed by a clutch of great new songs (take a bow Justin Hurwitz, Benj Pasek and Justin Paul) and carried by the chemistry of Emma Stone and Ryan Gosling.
It's hard to imagine any 2017 movie will leave you on a higher high.
The movie gets a lot of flavour from its twisted heritage. It is a US indie do-over of a French New Wave take on a classic American genre, part New York, New York, part The Umbrellas Of Cherbourg, part Singin' In The Rain. A bigger-budgeted upgrade on Chazelle's musical short Guy And Madeline On A Park Bench, the story — aspiring actress Mia (Stone) meets jazz pianist Seb (Gosling), and sparks fly until career aspirations get in the way — is simplicity itself, enlivened by some Pulp Fiction-esque narrative tricksiness. The film's capricious genius is present in its opening sequence. On paper, the idea of an LA freeway traffic jam bursting out into song and dance sounds up there with root-canal work but here, as a solitary singer snowballs into the world's best flash mob perfectly captured by Chazelle's sinuous camera, it's a riot of colour and euphoria. Subsequently Chazelle fully embraces the corny (Mia and Seb literally dance among the stars, at the Griffith Observatory or singing under streetlights), but for all the film's love of retro, it's not dusty. Chazelle's staging (check out the 2:52: 1 ultra-widescreen) and wit make the vintage feel new.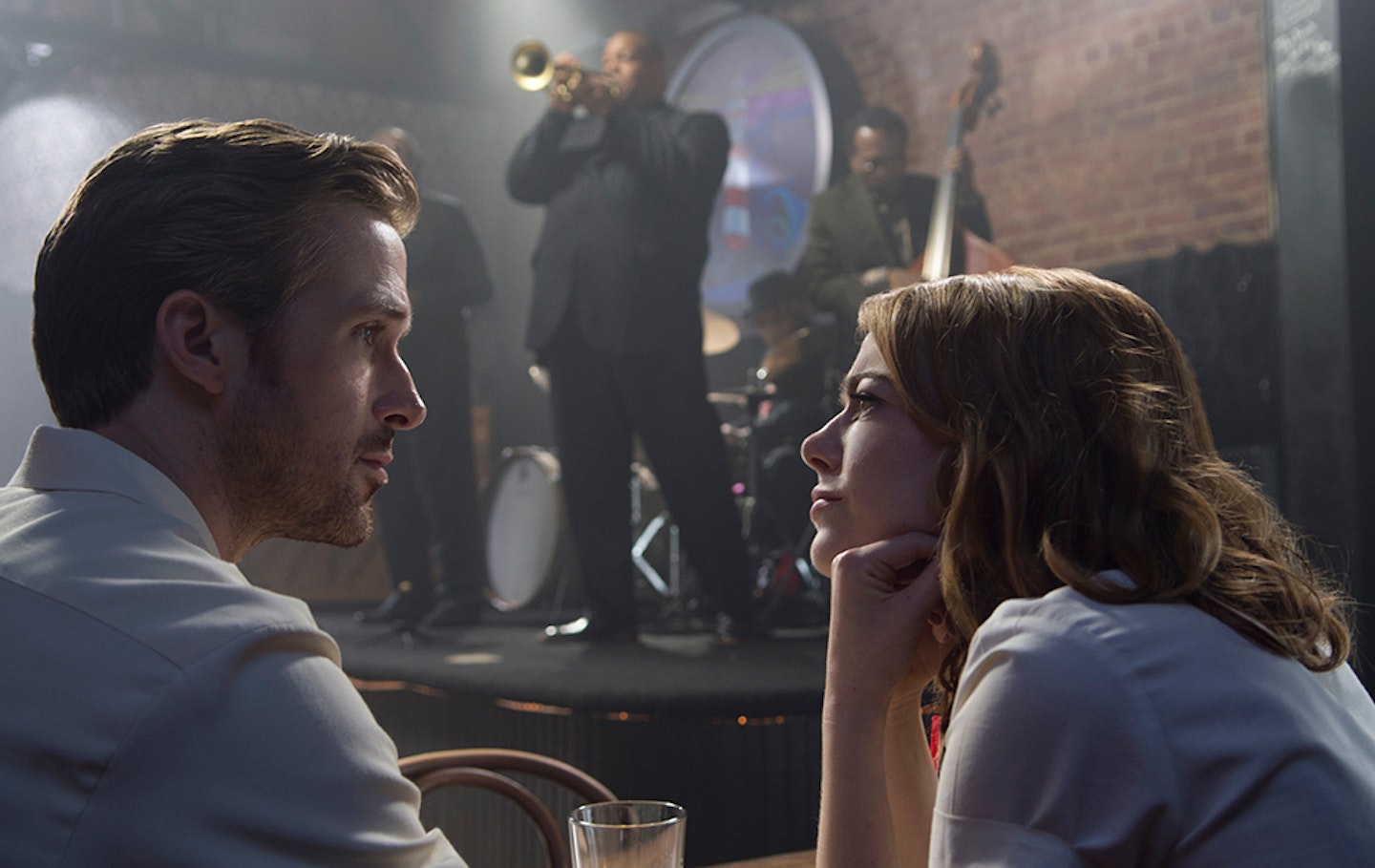 Much of this bright, shiny quality is also down to its leads. Following pairings in Crazy Stupid Love and Gangster Squad, Stone and Gosling have chemistry and charisma to spare. It would be easy to diminish Mia as a bright-as-a-button type, but Stone spools through many colours, from luminous to spirited to distraught — her wistful rendition of ballad Audition (The Fools Who Dream) (written for the film) will be murdered by X Factor contestants for years to come.
If Stone is the film's heart, Gosling is the soul, caught between art and commerce, as moody as the genre will allow (he is also not afraid to look ridiculous, playing A-ha on a keytar). The pair are not the world's greatest dancers but they are having so much fun doing it, you will too.
It's perhaps a tad overlong and, embroiled in the indie drama of Seb and Mia's relationship, almost forgets to be a musical during the final third. But this doesn't detract from the film's mighty charms. A film about love made with love, it's hard to imagine any 2017 movie will leave you on a higher high.