Gavin Hood's Hollywood career has so far been a bit of a non-starter. Rendition, X-Men Origins: Wolverine and Ender's Game had some meaty ideas, and were all fantastical takes on the well-meaning pawn in a no-good war, but they were hard to discern among some very dull filmmaking. Eye In The Sky, which picks at the same theme, is simpler and much, much swifter. Easily Hood's best work since the Oscar-winning Tsotsi.
This is a moral thriller more than an action one, questions fired at us like so many bullets.
This is a war movie without most of the genre hallmarks. There's no face-to-face combat, minimal gunfire and the roles of goodies and baddies are ever shifting. It's about modern war, in which life or death decisions aren't made on the battlefield but from miles away, using algorithms and armed drones. Helen Mirren's Colonel Powell finally has the world's most dangerous terrorists in her sights and wants to blow up the house they're hiding in. A girl selling bread next to the house turns the decision into a global debate, nobody prepared to instruct the finger that will pull the trigger and probably kill an innocent. That trigger is controlled by a drone operator (Aaron Paul) in America. Powell is in a bunker in the British countryside. British government officials are in a plush conference room. The foreign secretary is on the loo. Nobody is in Kenya. They, like us, watch the whole thing on screens, with their hands clean.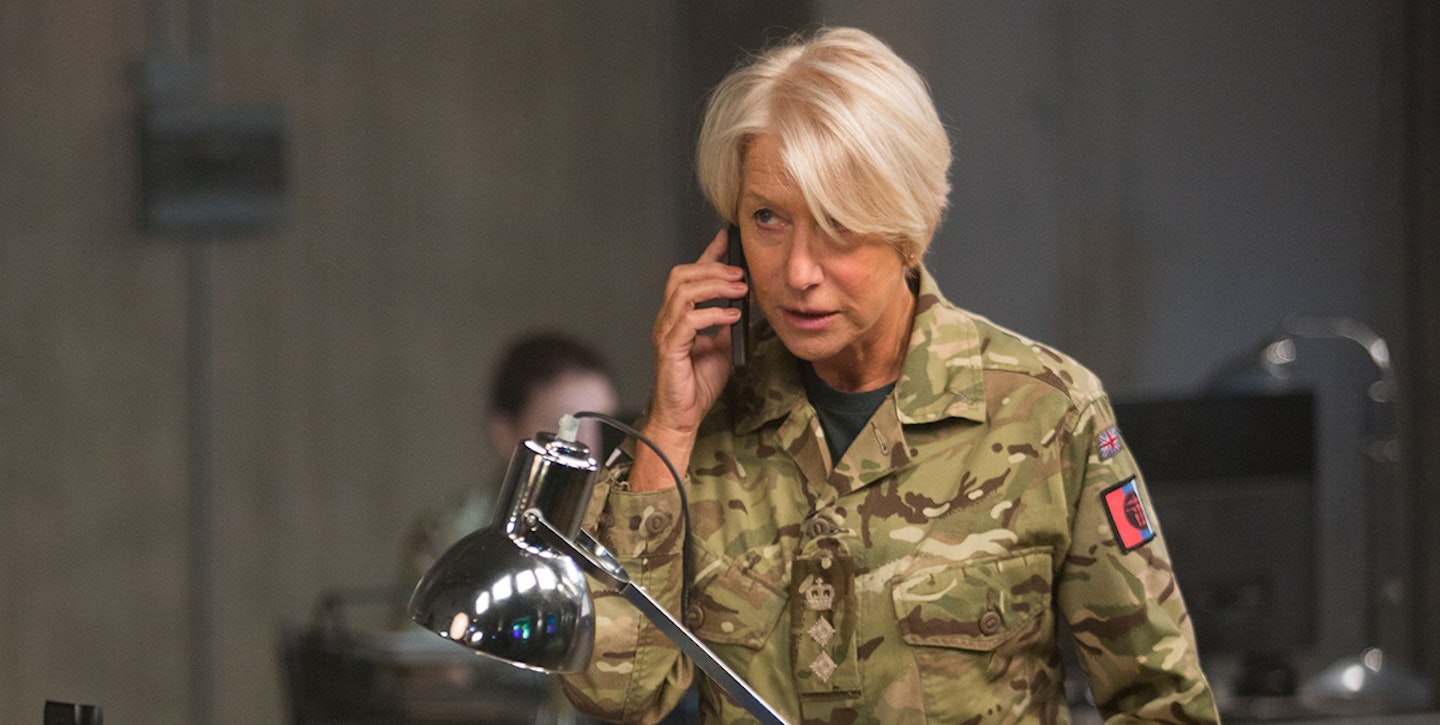 Hood, with fluid editing by Megan Gill, keeps the pace breakneck and doesn't let the distance between the characters make it disjointed. It's a moral thriller more than an action one, questions fired at us like so many bullets. Is one assured death worse than 100 probable ones? Does following an order absolve you of responsibility? Who is worse if both sides kill? You're not allowed to consider one and then the next; you have to juggle all at once. It does a superb job of conveying the difficult decisions Powell, as a soldier, is prepared to make but her superiors pass upwards in case they explode in their hands.
Guy Hibbert's script lets nobody off the hook, including the audience. As one politician blasts Rickman's Lieutenant Benson for even considering killing the girl, he eyes her disgustedly — what a loss he is — and tells her she has the comfort of judging while "watching with coffee and biscuits", never seeing the consequences up close, like a soldier. Switch the biscuits for popcorn and it's us. Are we fit to judge?