Zack Snyder has always thought big – and his original sci-fi saga will be no different. The director who curated his own corner of DC, who sent the heroes of Sucker Punch through multiple distinctive realities, and who saw a universe of stories that could emanate from his zombie tale Army Of The Dead, has a knack for creating expansive worlds that could pivot in all kinds of directions – and Rebel Moon is packed with potential expansions. The film originally began life as a Star Wars pitch; then it was picked up by Netflix where it became two movies, rather than compromising on a single three-hour flick; those films will now arrive in two forms, with additional harder-edged cuts to follow initial family-friendly versions. And that's only the beginning.
As Snyder tells Empire, he knows exactly where Rebel Moon could go, with plans that extend far beyond these two movies. "When I pitched it to Netflix, the scale was a thing they wanted," says Snyder. "They were like, 'Well, how big could it be? How many movies?' That made me go, 'Okay, if we really do this, we can sink our teeth pretty deep into this. We can't really hit the bottom.'"
He's not kidding. The writer-director penned a 450-page Rebel Moon 'bible', detailing all kinds of lore and backstories pertaining to the evil Imperium. He has an expansive timeline that extends long before and after the two current films. ("This is the small board," Snyder laughs of the version he shows Empire in his Pasadena offices. "The big board is over at my office on the hill. It's three times the size of this.") And all being well, much of it could end up on the screen – plans have been mooted for a TV series which would explore the history of Fra Fee's Balisarius, the saga's real Big Bad. And in a proposed third film, audiences will finally get to visit… well, the rebel moon. "The Rebel Moon is not the moon that they're on," Snyder clarifies. "The title was conceptual, but there's a planet named Vanna, and Vanna is the rebel moon. It's not even in one shot of this movie!"
But let's not get ahead of ourselves. For now, there's just the small matter of creating a massive, two-part original science-fiction epic, corralling a vast array of mercenary heroes, hissable baddies, unusual aliens, and a mysterious robot, set across multiple planets, spaceships, moons, and more. Or, as Zack Snyder calls it, the basics.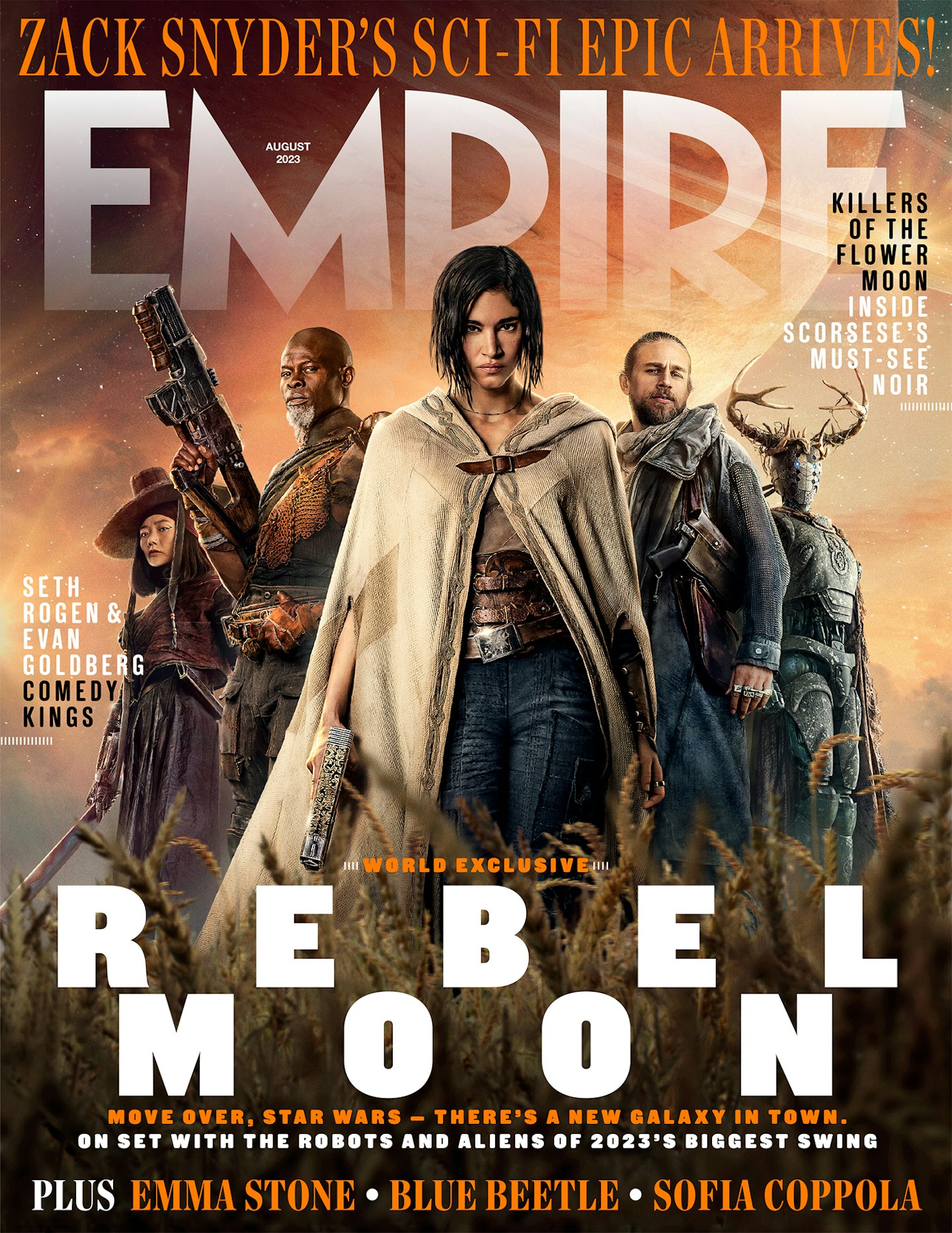 Read Empire's world-exclusive Rebel Moon cover story – speaking to Zack Snyder, Deborah Snyder, and their cast including Sofia Boutella, Charlie Hunnam, Djimon Hounsou, Ray Fisher, Ed Skrein, and E. Duffy – in the upcoming August 2023 issue, on sale Thursday 6 July. Become an Empire member to access the digital edition in full on launch day, or pre-order a print copy online now here. Rebel Moon comes to Netflix on 22 December.