Roll up, roll up! Willy Wonka is back – and this time, he's not in the chocolate factory. The latest film from Paul King – aka the director of Paddington and Paddington 2 – is a fresh take on Roald Dahl's kooky chocolatier, simply titled Wonka and exploring the younger days of his life as the king of confectionary. And, as with Paddington, it looks wonderfully whimsical, packed with British comedy talent while playing with iconography that informed the childhoods of multiple generations. Oh, and it's a musical too. No pressure!
As the colourful, choc-filled first trailer lands, we spoke to King himself about its delicious delights – from the casting of Timothée Chalamet as Wonka himself, to his deep love of 1971's Willy Wonka And The Chocolate Factory, to that jaw-dropping piece of Oompa-Loompa casting. Dive in here like it's a chocolate river.
Wee Willy Wonka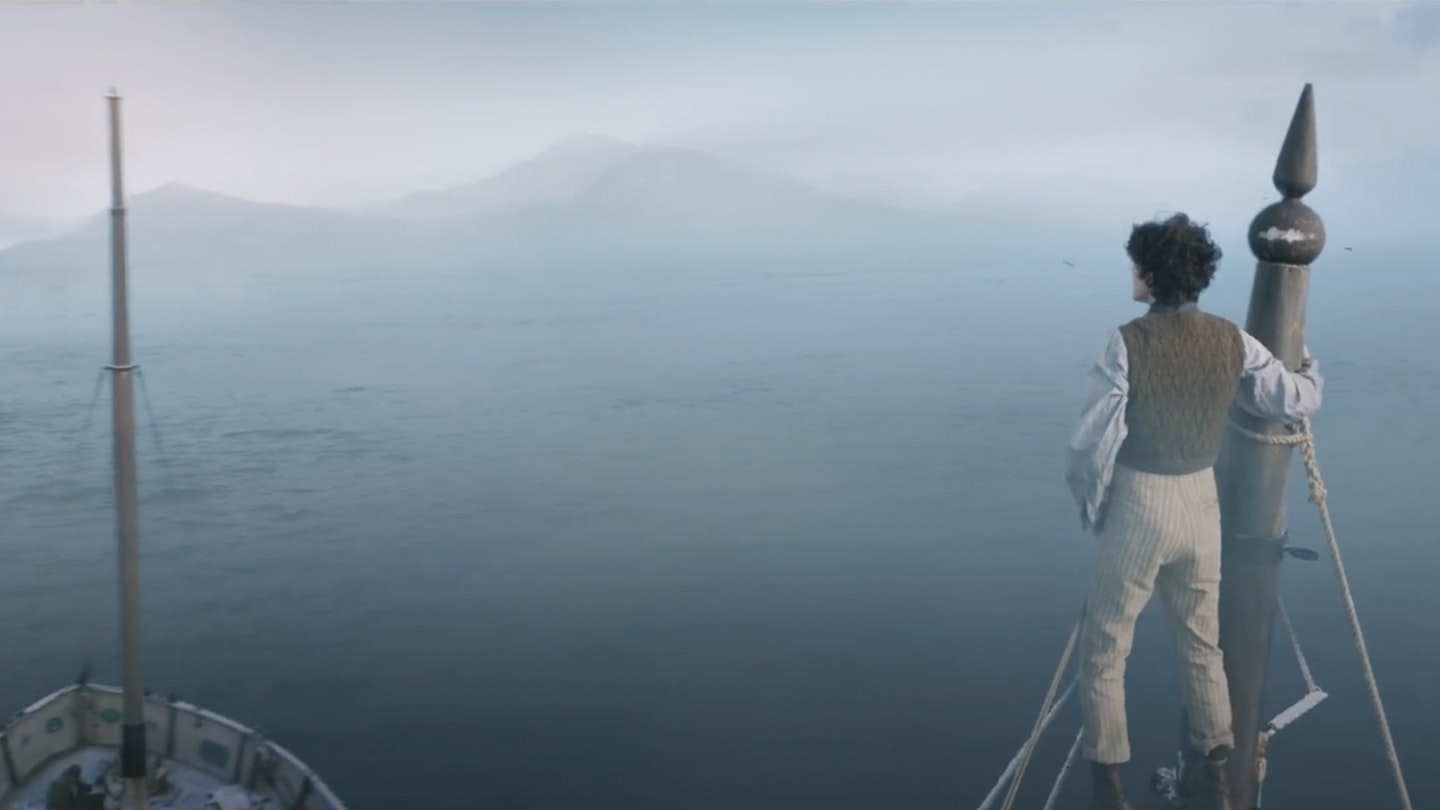 As a prequel to the stories that we know and love, we're introduced to Timothée Chalamet as a younger incarnation of the man who'll go on to be a master chocolatier – the opposite end of where we meet him in the classic tale. "Obviously the Wonka in Charlie And The Chocolate Factory is looking for an heir, somebody to inherit the Chocolate Factory," says King. "He's fun and full of life, but there's a suggestion that he's reaching the end of the time that he'll be running the factory." How old exactly this Wonka is will be left to audiences' (pure) imaginations ("He's sort of Timothée Chalamet-aged," laughs King. "It's nonspecific.") But this image of Wonka arriving in a new town was always the jumping-off point for the director. "That was one of the first things that popped into my head. He comes out of the mist, this strange figure up a mast, and you don't really know where he comes from – it's almost like he's just from the unknowable out-there." A delicious place to begin.
Wild wild Willy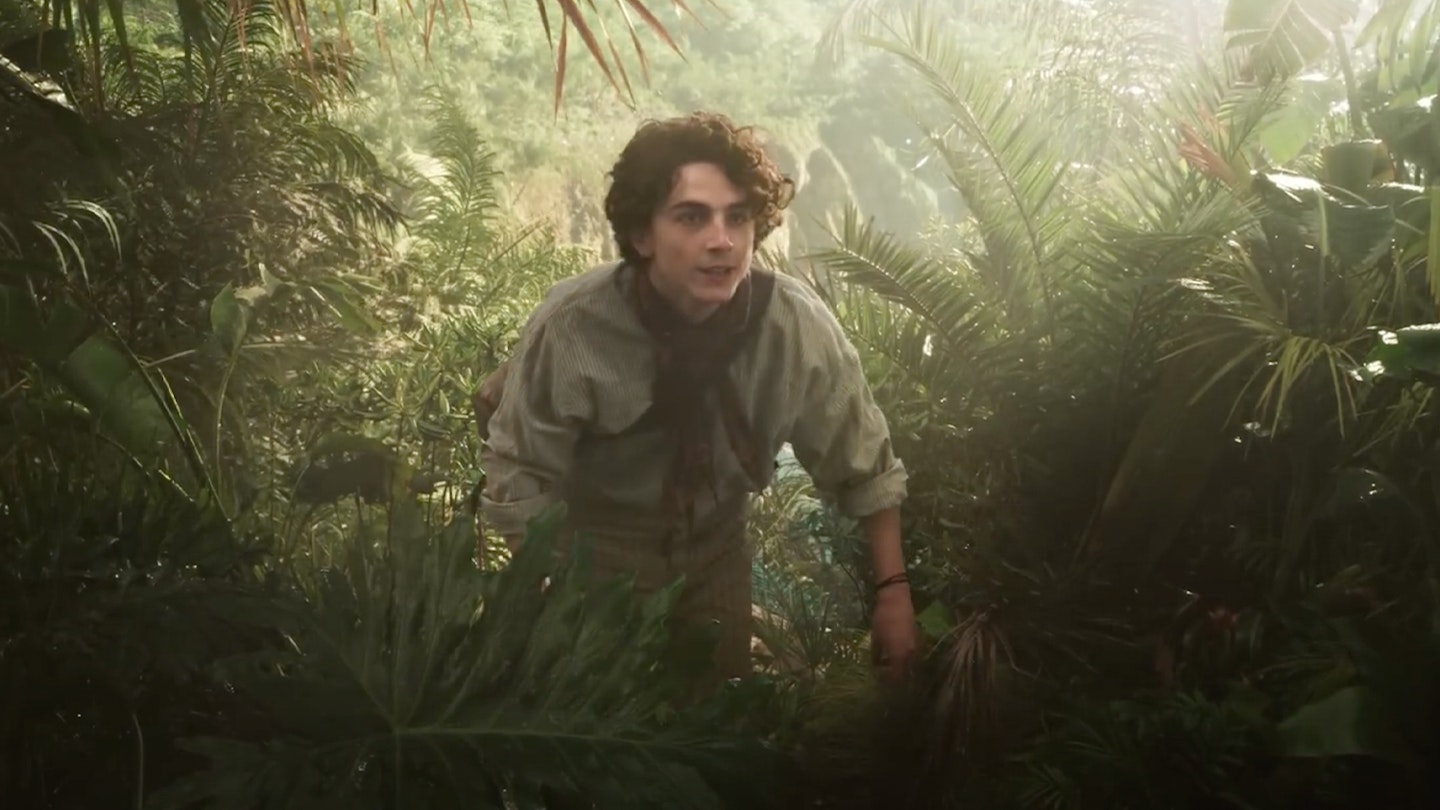 Where he's actually been is out in the jungle – a backstory hinted at in the original Dahl (often with some, um, deeply unsavoury context in early editions of the story), and which will be given new significance here. "Over the course of the movie, we learn a lot more about where he's come from, and what his childhood was like," says King. "So you learn in flashback more about why he's so driven. That's really what the movie is about." And that story, in particular, is one of innate prodigious talent. "I couldn't imagine a time before Willy Wonka was good at making chocolate," King explains. "You go, where does this genius come from? What is genius? He's like a Mozart of chocolate – most of us sit down and learn the piano, but somehow Mozart felt like he didn't have to learn the piano. He just wrote exquisite music at five." Note to self: chocolate piano?
Wonka's wonderful world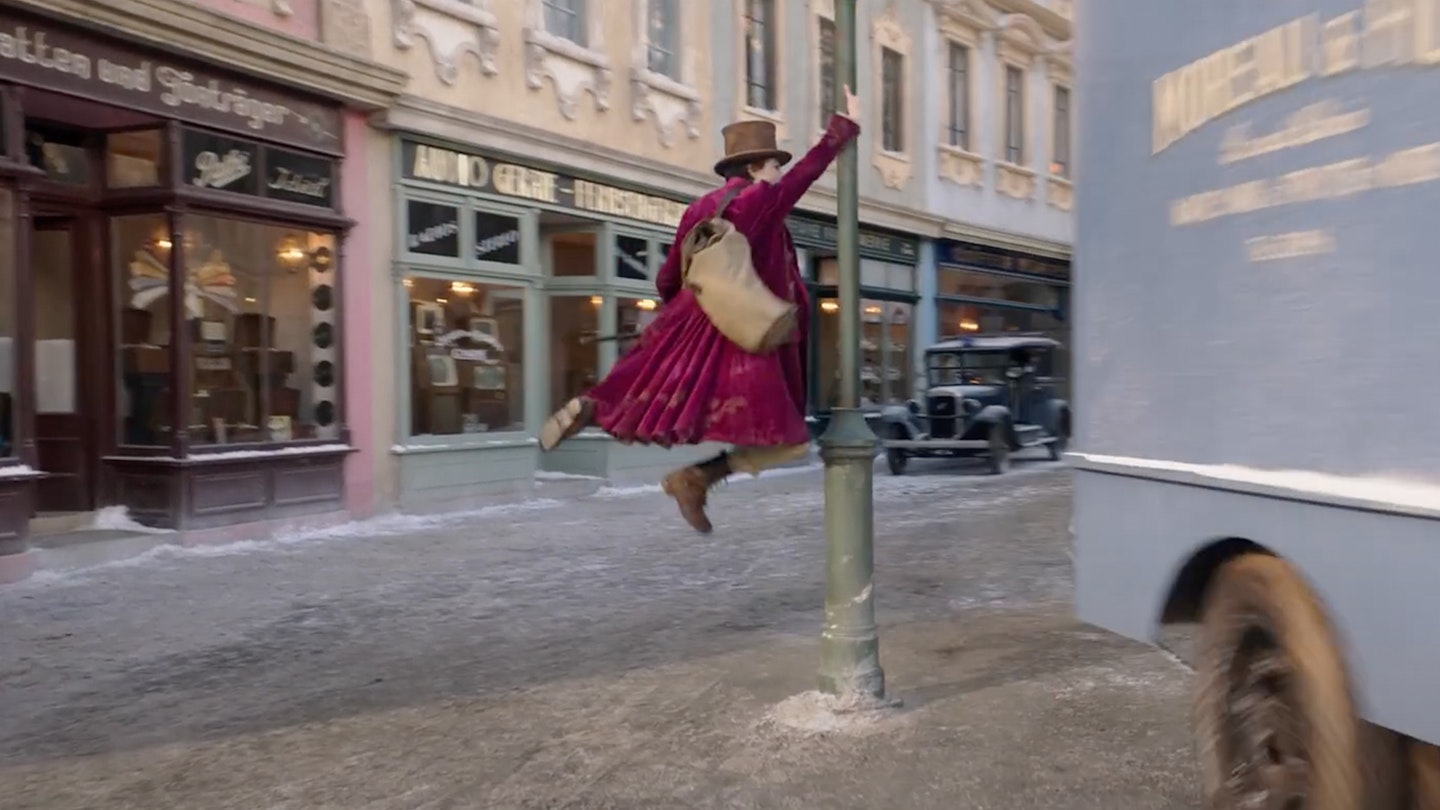 Fresh off the boat, Willy Wonka steps into "this very uptight, European city – the home of chocolate, that takes itself incredibly seriously, and is very prim and proper," as King puts it. "It felt like the sort of place that needs a Willy Wonka figure to come and inject a bit of fun and life and colour and chaos." It's a little bit British, but encompasses a whole range of European influences. "The '71 movie [Willy Wonka And The Chocolate Factory] was shot in Germany. I really like how there's lots of German and different European languages in the signage and on the posters," says King. "There's something about the name Willy Wonka that doesn't feel like an English name. Dahl was very specifically nonspecific. I think he was trying to be pan-worldly – Mike Teavee feels very American, but Augustus Gloop sounds very German, and Violet Beauregard is a French name, I would say. I think he's trying to make a sort of global village."
Warm well-wishers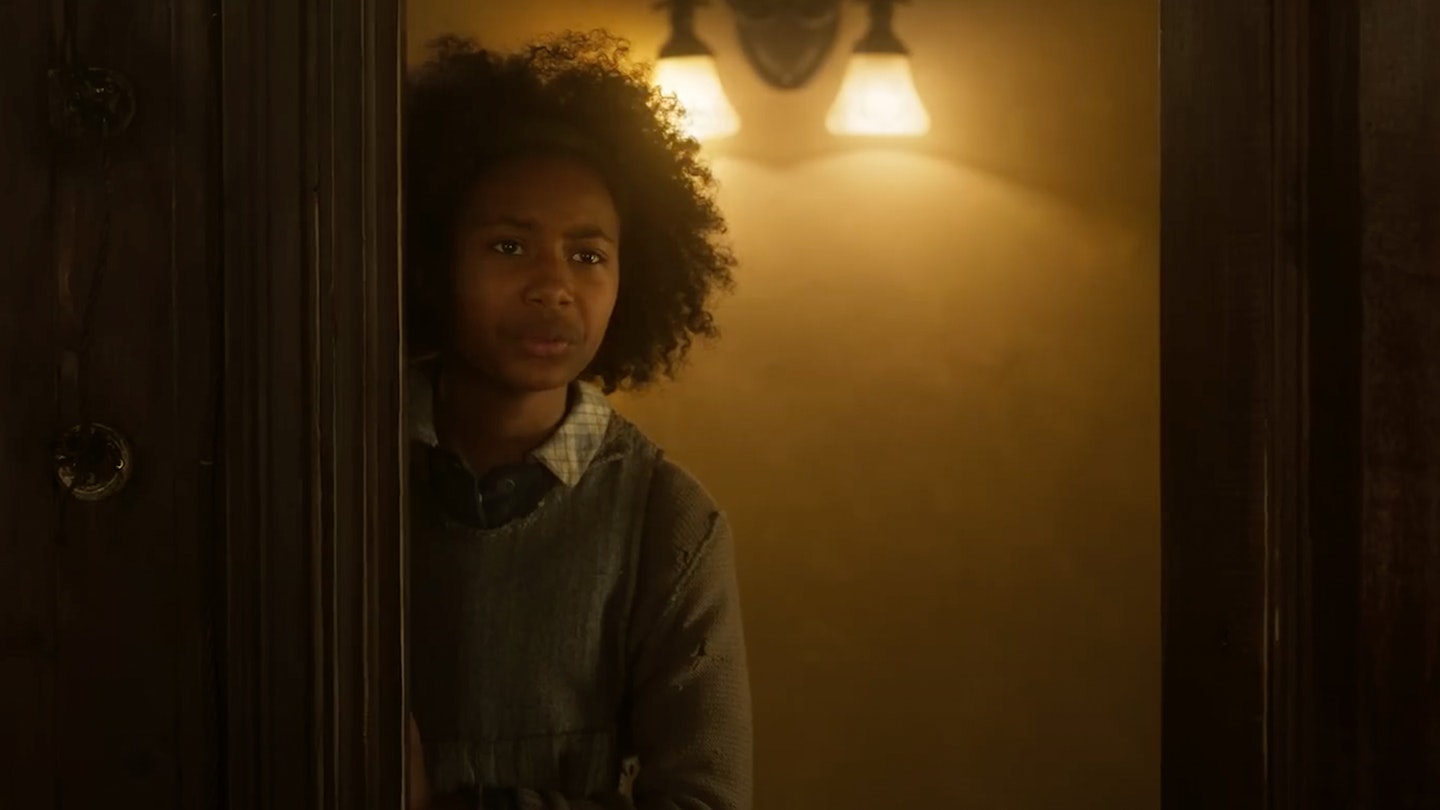 If the establishment isn't ready for Willy Wonka's arrival, he at least has an ally on his side – Calah Lane's Noodle, who works for Olivia Colman and Tom Davis' "ghastly" Scrubbit and Bleacher ("Proper Dahl-esque grotesque characters," says King, who "have what I hope is a touching story, but are mostly deeply evil"). Noodle is Wonka's best hope at navigating his new surroundings. "She knows what this world is like in a way that Willy doesn't," King states. "Calah has the ability to act wise, old, cynical head on young shoulders. And that felt like a really lovely double-act to go with this grown-up who is naive and innocent – [Noodle is] very much from the school of hard knocks and then some."
Whimsical warbling
If we haven't yet heard any of Wonka's songs – penned by The Divine Comedy's Neil Hannon – there are glimpses here of all-out musical sequences. For King, who promises "plenty of songs" in the film, it's a chance to pick up from Paddington 2's glorious Hugh Grant singalong credit sequence. "The most expensive credit sequence in film history," he laughs. "It kind of felt like, 'Oh, okay, I'll do that next!' It felt right, in a way. It was a really fun challenge to mount some of those sequences, and do something I hadn't done before." Plus, singing has always been a part of Wonka's world on screen. "Again, we were trying to channel the '71 movie – it's such a strange film, one that really shouldn't work, but it just does. The first half feels like a musical, and then it just stops being a musical. There's lots of song in Dahl, and he's always writing those amazing poems, which are almost the funniest bits of the book. It just felt natural that that's what it would be."
Worldly-wise wonder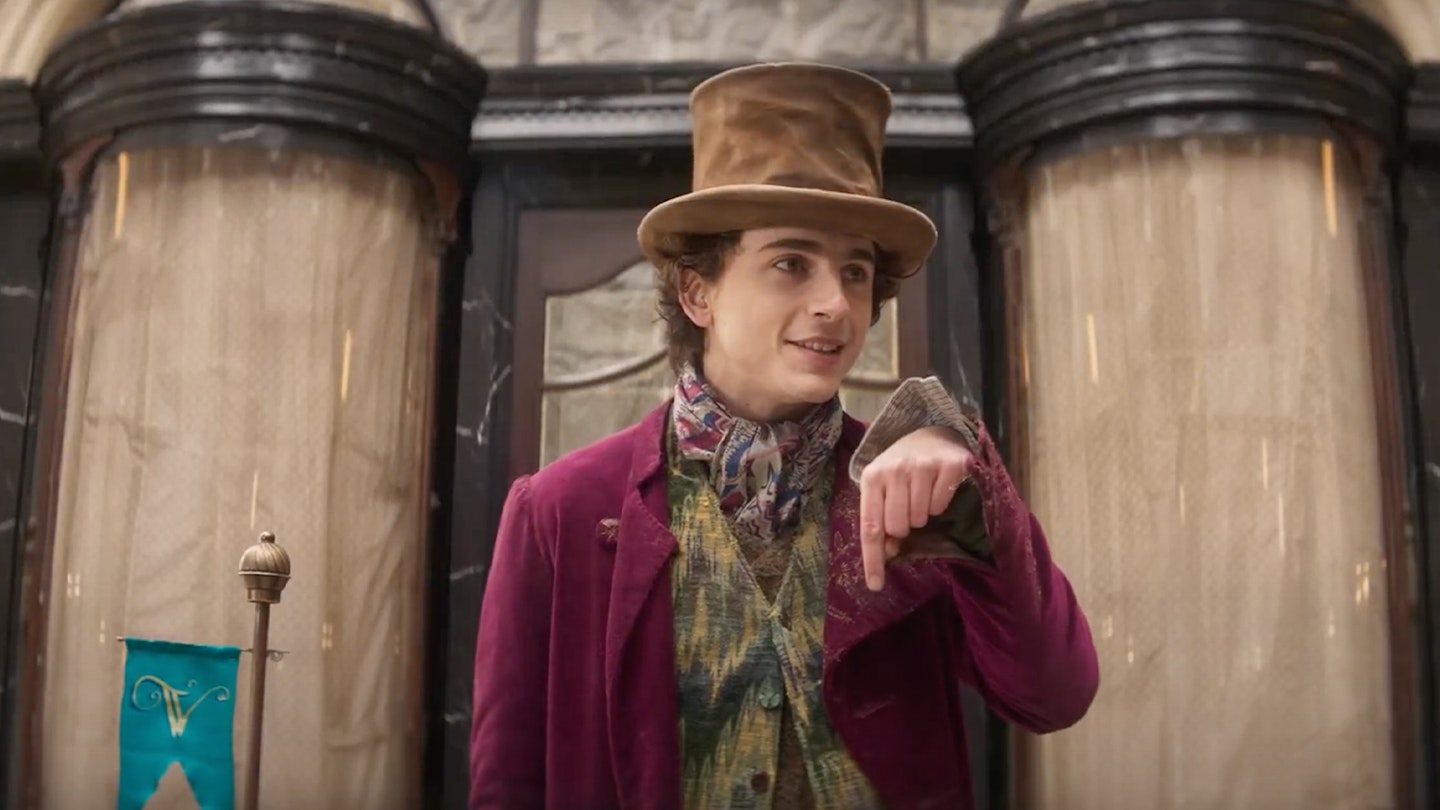 When it came to casting Willy Wonka himself, Timothée Chalamet proved the right man for the job. "He's just an extraordinary actor," raves King. "You can believe that he's a genius, which Willy Wonka clearly is. Because it's a musical, he has to sing, and he has to dance, he has to do all sorts of different things." In multiple senses, it should bring out a different side to the actor, who's often played tortured souls – whether in Call Me By Your Name, Beautiful Boy, or even Dune. "When he shot to fame, he played this sort of 'anguished young poet' type. Willy Wonka is a very different figure from that," King notes. "He's fun, and anarchic, and playful, and not entirely trustworthy, and slightly dangerous."
Wing-less whizzing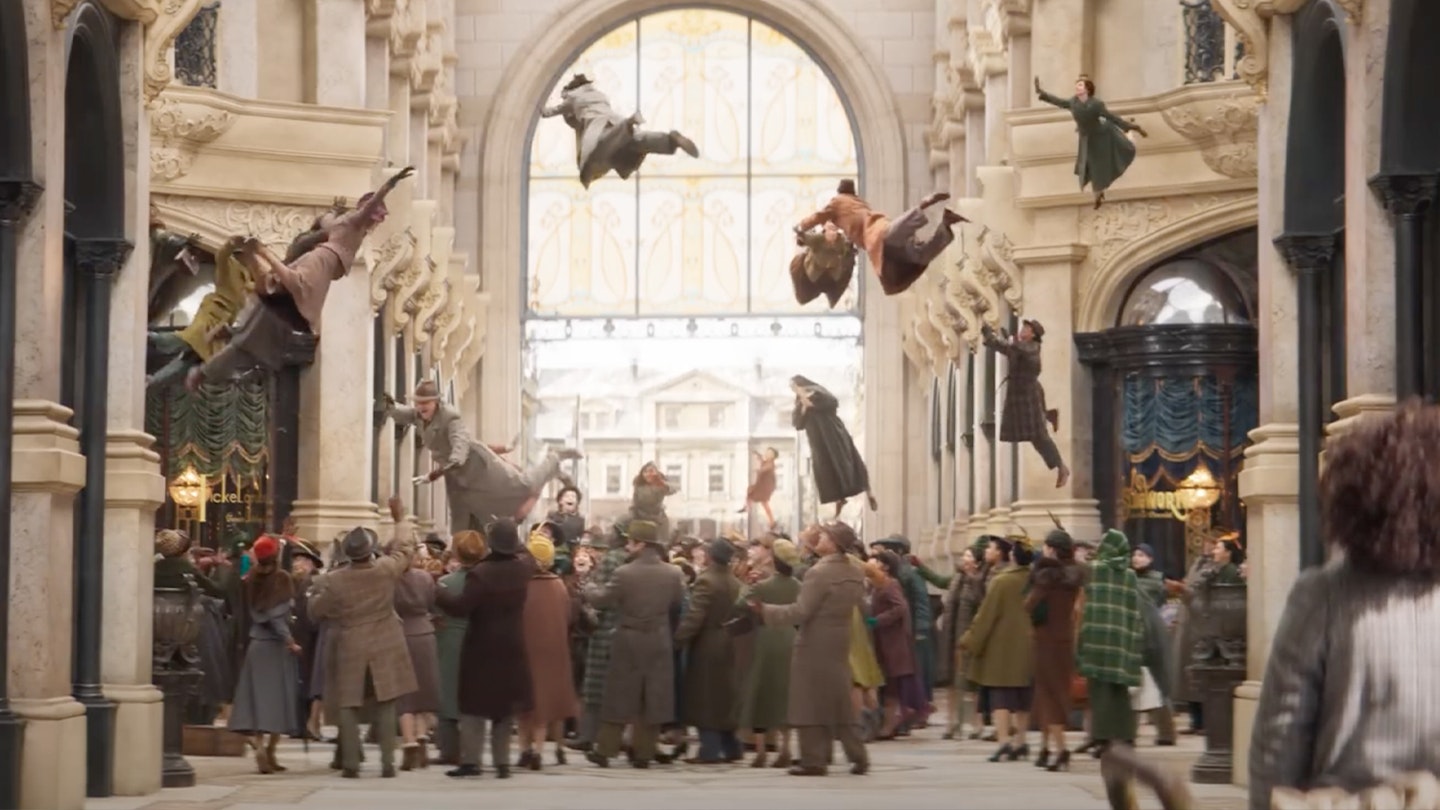 There's always been a real magic to Willy Wonka's works – from chewing gum that tastes like every successive course of a roast dinner, to literal everlasting gobstoppers. Here, he's taking customers to new heights with his confections. "The hover-choc's fun, and obviously is a hat doffed to the Fizzy Lifting Liquid," King notes, nodding to the 1971 film. The fantastical nature offers "a sense of these chocolates which are not only delicious, but do extraordinary things, will take you to places that regular candy does not". And while the chocolate on set sadly didn't produce the same propulsive properties, it was at least plentiful. "They're all made by our on-set chocolatier, who I heartily recommend," King grins. "Everyone should have their own private chocolatier." It'll be on our Christmas list.
Wicked war-wagers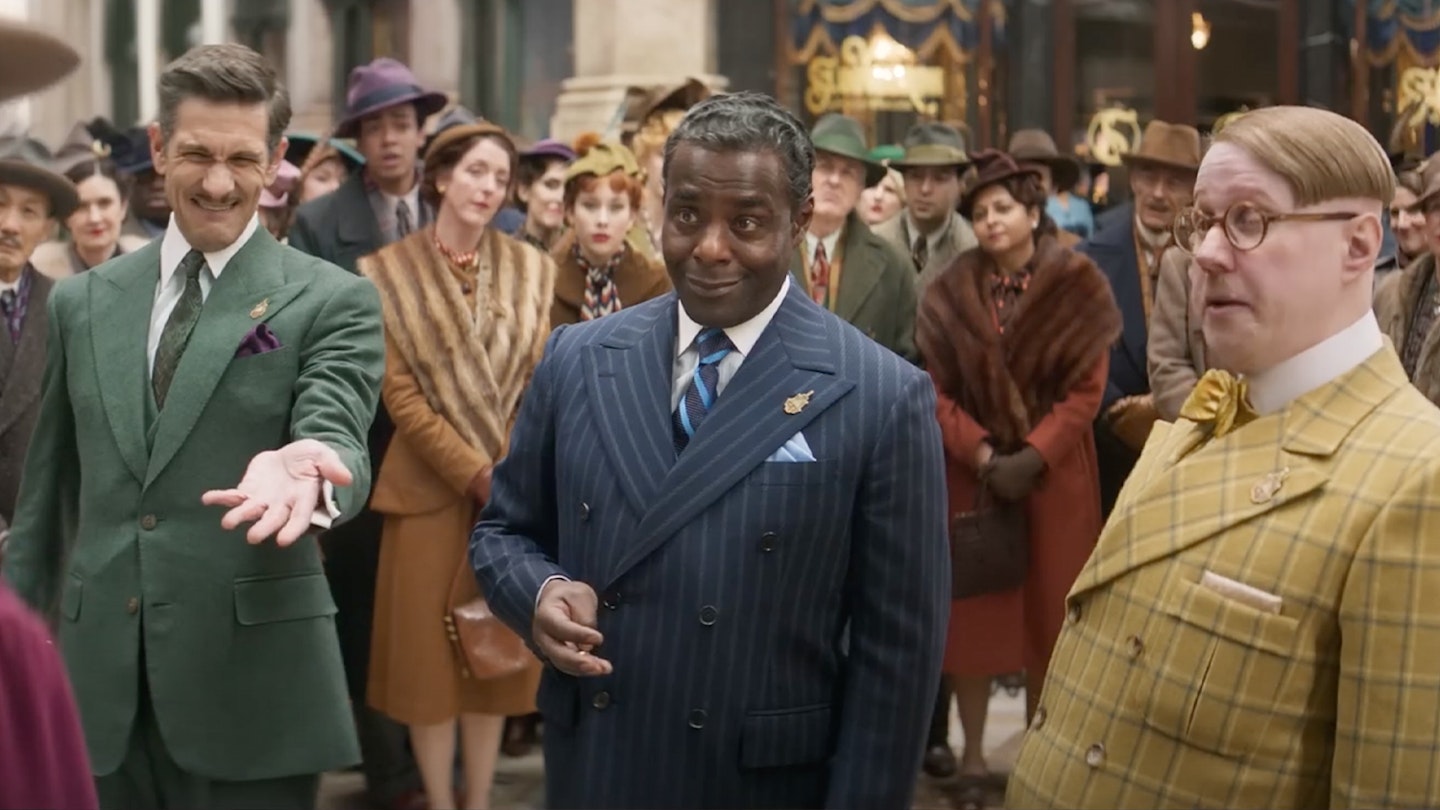 Safe to say, the cosy chocolate-box world that Wonka enters into won't be welcoming of his disruptive approach to delicious treats. "There is a chocolate cartel – Slugworth, Fickelgruber and Prodnose," notes King, pointing to their origin in Dahl's text. "They're written about in the book as these three rival chocolatiers who were all stealing things from Willy Wonka. It seemed fun if they were actually in cahoots, in a sort of 'Boggis, Bunce and Bean' [of Fantastic Mr. Fox] way." And they're played by Brit comedy icons, Matt Lucas, Mathew Baynton, and Paterson Joseph – the latter in a Peep Show reunion of sorts with Olivia Colman. "It is a Peep Show reunion!" laughs King. "Dobby's in there as well – we've got Isy Suttie. I'm very route-one with casting. 'I like Peep Show. Can I have that lot please?'" Together, they'll be stirring up serious trouble. "They're all very bad. But they will all get their comeuppance."
Wistful wishing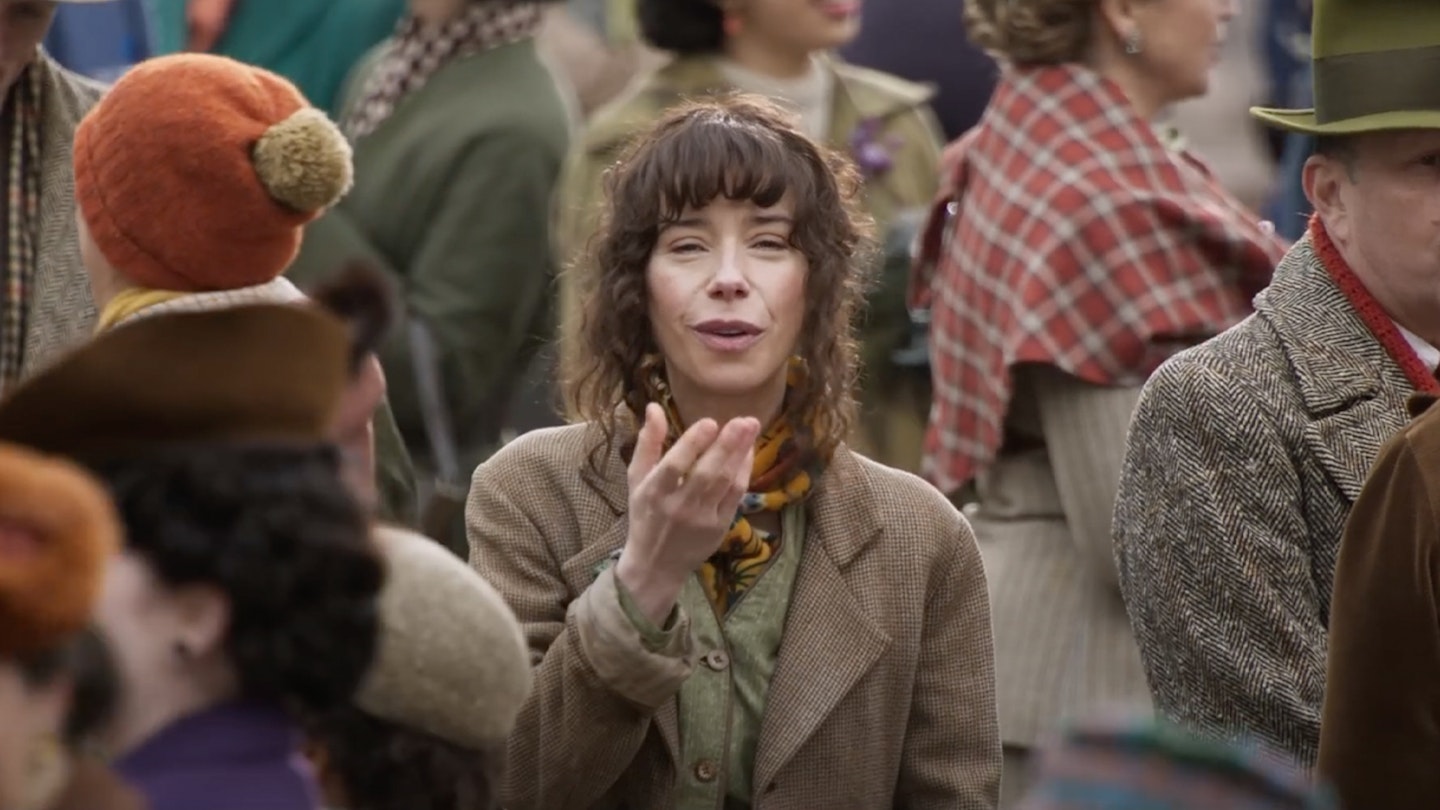 If we're still reeling from the news that Sally Hawkins won't be reprising the role of Mrs. Brown in Paddington In Peru, there's a silver lining – we will, at least, get our next Hawkins hit here. "We all need a hit of Sally," laughs King. "She plays Willy's mother, and very, very well she does it too. I was very lucky to have her do it. I feel deeply privileged every time I get to work with her." Make the most of it, people.
What? Wait… Who's… Hugh?!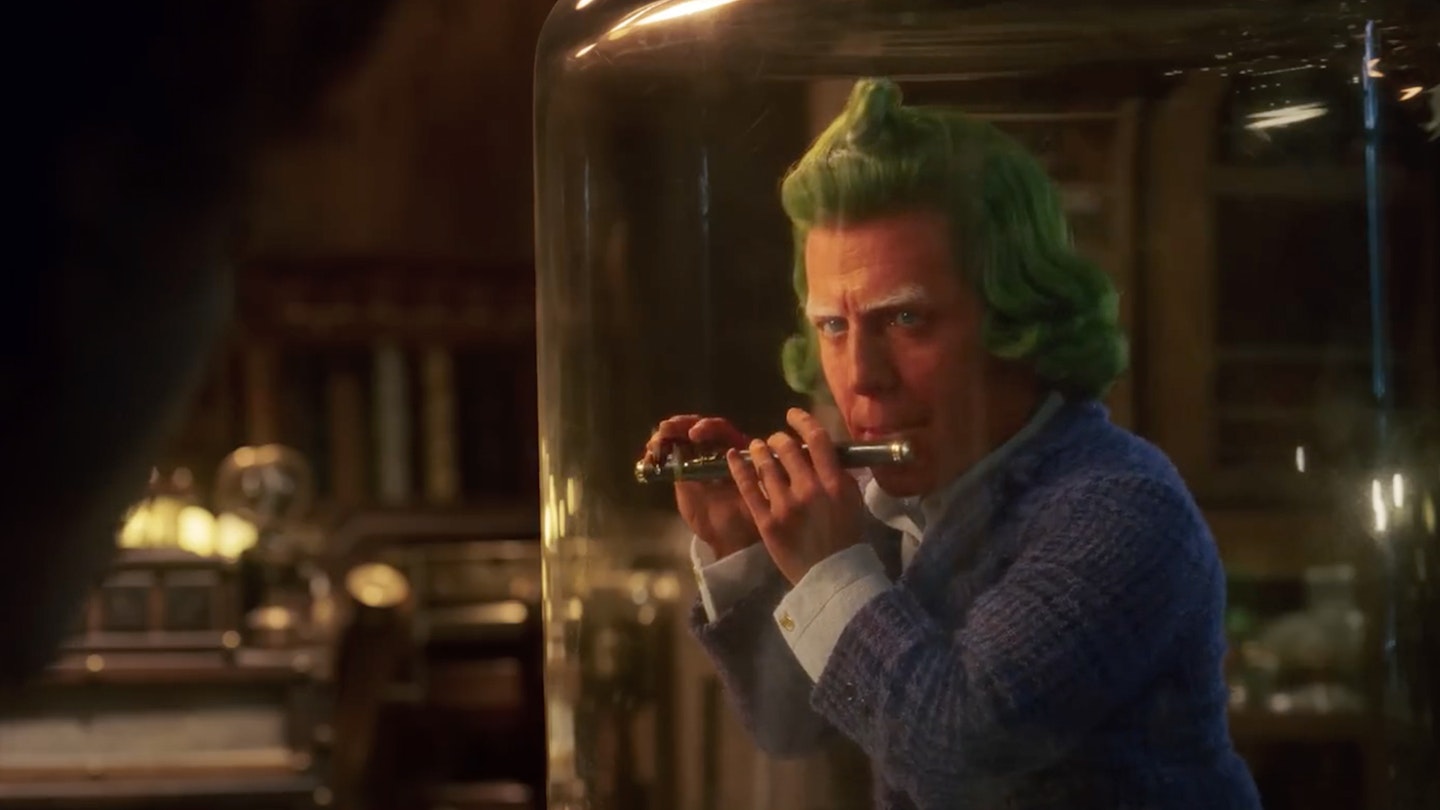 Here it is – the thing that's going to keep the internet talking for weeks. Yes, the original Oompa-Loompa design from Willy Wonka And The Chocolate Factory is back – and the one we see here is played by none other than… Hugh Grant?! For King, the idea sprang from "going back to the book, and reading all those poems, and hearing their voice as a very sort of cynical, sarcastic, cruel, funny, but wicked voice, and then I went, 'Oh... That's sort of a bit like Hugh!'" There was no going back. "It was a real light bulb moment – you go, 'Hugh Grant's an Oompa-Loompa! Yes please! Merry Christmas, with a bow on it.'"
And given his affection for the '71 film, there was only one Oompa-Loompa look that King wanted to go with. "It just felt like that's what an Oompa-Loompa was, in my head," he explains. "I didn't really want to reinvent the wheel on that. I love it so much. I couldn't do what Tim Burton does at all – because he's a genius – but I could never have taken that and remade it in the way he did. And I'm not sure I would want to, because I liked it so much. I felt like doing something that sat with that iconography – I love 'Pure Imagination', I love the Oompa-Loompa songs, I loved how the Oompa-Loompas looked. And that felt like the iconic look of Oompa-Loompas." Doompety, as they say, doo.
Wonka comes to UK cinemas on 15 December