At the age of 85, you still never know where Anthony Hopkins' career is going to go next. Recently, he won an Oscar for his heartbreaking performance in The Father, and he's playing an elder Sigmund Freud in the upcoming Freud's Last Session. And just a handful of years ago, he was joyriding around in Transformers: The Last Knight. For his next role, he's taking on another surprising task – not just joining a Zack Snyder movie, the multi-part original sci-fi epic Rebel Moon, but voicing one of its most mysterious characters: the robotic (occasionally antler-wearing) Jimmy.
"Jimmy, I see him as a wild card," teases Snyder in Empire's world-exclusive Rebel Moon cover feature. "He's on a journey of self-discovery." And it really is one heck of a journey. Jimmy was brought to the peaceful planet of Veldt by the Imperium – the nefarious force hoping to demand all of Veldt's precious resources, and who get more than they bargained for when the planet assembles a handful of hardened warriors to fight back. (Yes, the inspiration is Seven Samurai.) Once upon a time, Jimmy was one of many identical 'droids assembled to serve their king in war. Now, he's been repurposed by the Imperium to do their literal heavy-lifting – and he's set to undergo a significant transformation over the course of Rebel Moon Part One and Two.
For Snyder, Jimmy represents a significant tonal addition to his sci-fi saga's more fantastical leanings – an Arthurian element to sit alongside influences ranging from Akira Kurosawa to George Lucas. "I'm a huge Excalibur fanatic," he tells Empire. "He's Lancelot for sure. I was thinking about him, and how Milius [another hero, played by E. Duffy and named after Conan The Barbarian writer-director John Milius, as well as filmmaker Mike Mills] is Percival." Expect a legendary arc for a robot like no other.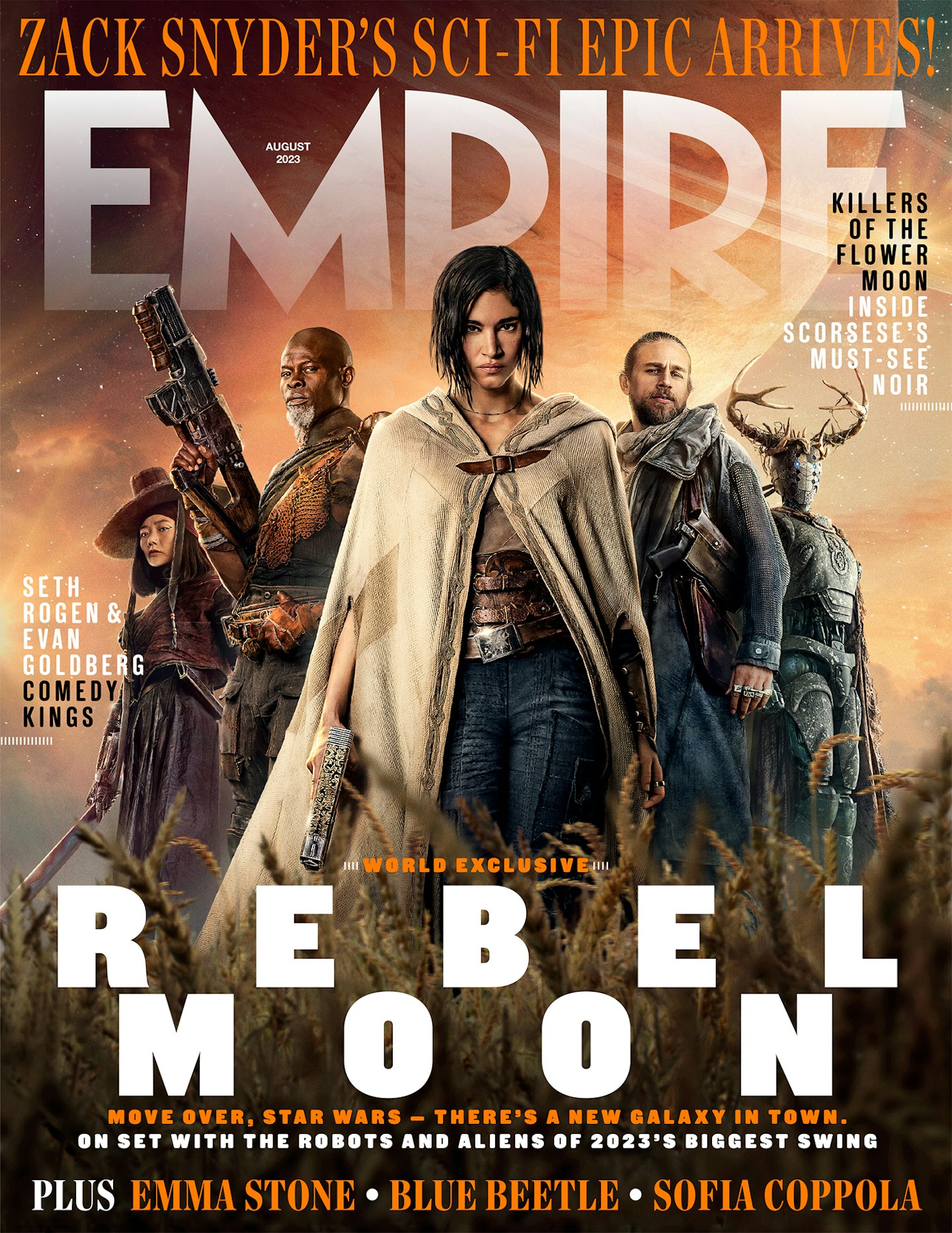 Read Empire's world-exclusive Rebel Moon cover story – speaking to Zack Snyder, Deborah Snyder, and their cast including Sofia Boutella, Charlie Hunnam, Djimon Hounsou, Ray Fisher, Ed Skrein, and E. Duffy – in the upcoming August 2023 issue, on sale Thursday 6 July. Become an Empire member to access the digital edition in full on launch day, or pre-order a print copy online now here. Rebel Moon comes to Netflix on 22 December.