It's only February, but Infinity Pool is already a key contender for 2023's wildest horror. Empire asks director Brandon Cronenberg why he makes such unhinged cinema.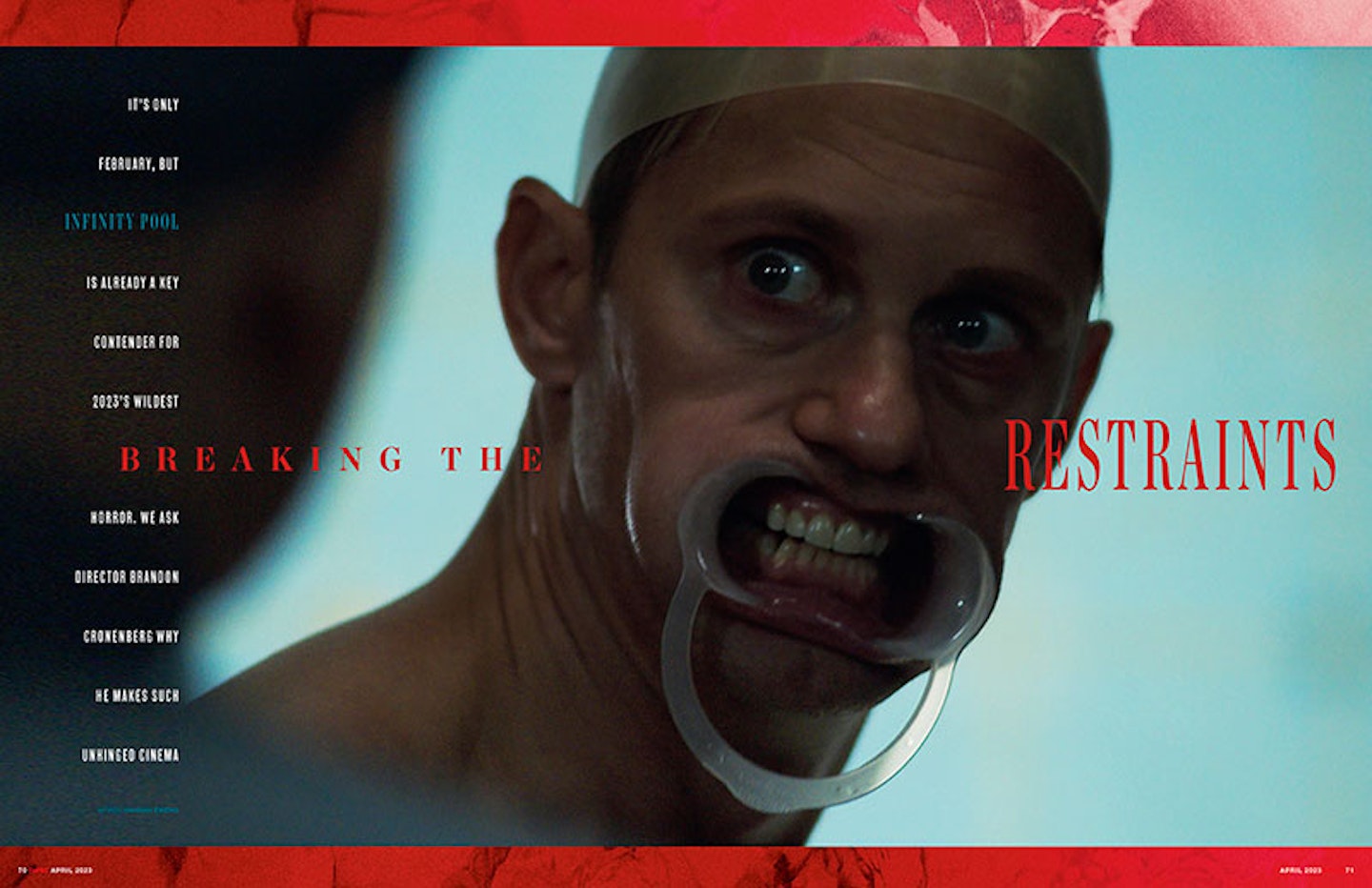 Read an extract from our exclusive Infinity Pool feature from our April 2023 issue below, or read the full article here.
Faces peeling away from skulls. A syringe containing a deadly virus piercing the skin. A man vomiting blood livestreamed across the world. Few filmmakers have burst onto the big screen with such strange and agitating creations as Brandon Cronenberg.
The first mental challenge for audiences came in the form of his body-horror debut Antiviral (2012), in which celebrities' illnesses are sold to rabid fans. In his second film, 2020's Possessor, an assassin takes control of other people's bodies via brain implants before encouraging suicide. But the horror, lust and disquieting feeling that envelops you watching those has nothing on the nightmarish new sci-fi Infinity Pool.
Holidaying in a luxury resort, author James Foster (Alexander Skarsgård) and his partner Em (Cleopatra Coleman) end up embroiled in a mess of violence and hedonism stoked (and sometimes led) by the alluring Gabi (Mia Goth). With pus-infected body parts, ritualistic executions and immaculate clones, it's everything (and a whole lot more) you would expect from a child of the Baron of Blood, David Cronenberg. It's not gore for gore's sake, though. "If you just try to unsettle people with graphic imagery, it tends to fail," argues the 43-year-old writer-director. "It can be shallow if it's not also integrated in some way with the narrative. In this film, there's a deliberate contrast between the gloss of the resort and civility of that familiar situation, and then this kind of animalistic sex and violence beneath the surface."
To read this article in full, become an Empire member. You'll never miss an issue, be able to read every issue in full either on the website or in the app, PLUS you'll get access to member-only content and rewards.