"The British are coming," trumpeted Chariots Of Fire screenwriter Colin Welland infamously at the 1982 Oscars. In truth "the British" were already there. They'd been making movies for over a century, with plenty of stick-on masterpieces in that number. Comedies, dramas, war films, horror... British filmmakers have proved they can tackle any genre, and the best British movies around can be anything, putting the best British movies up against anywhere else in the world.
From Hitchcock to Lean, Powell and Pressburger to Loach and Boyle, Empire's 100 Best British Films celebrates the very finest of them. Here's the list...
100. 45 Years (2015)
Directed by: Andrew Haigh
Starring: Charlotte Rampling, Tom Courtenay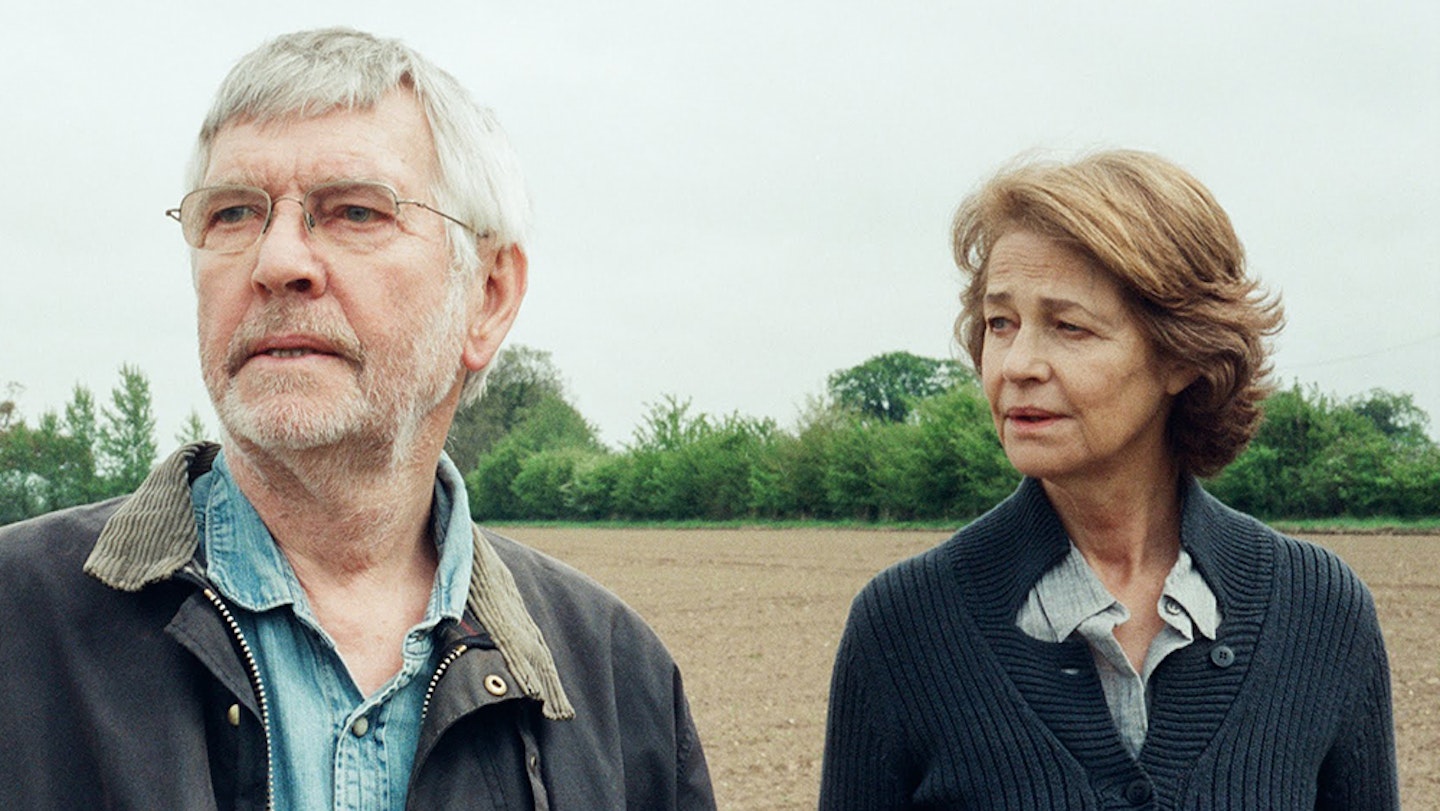 Two giants of British screen acting, surprisingly working together for the first time, make a combustible double-act in this Norfolk-set two-hander. Charlotte Rampling scored her first Oscar nod as Kate Mercer, one half of a long-married couple nearing a key milestone. The other half, husband Geoff (Tom Courtenay), has long-hidden skeletons in closet – or in this case, attic – that she unwittingly discovers at this key moment. Cue brewing tensions, agonised soul-searching and a portrait of marriage's autumnal challenges that's handled with great subtlety and sensitivity by director Andrew Haigh.
99. The Ipcress File (1965)
Directed by: Sidney J. Furie
Starring: Michael Caine, Gordon Jackson, Nigel Green, Guy Doleman, Sue Lloyd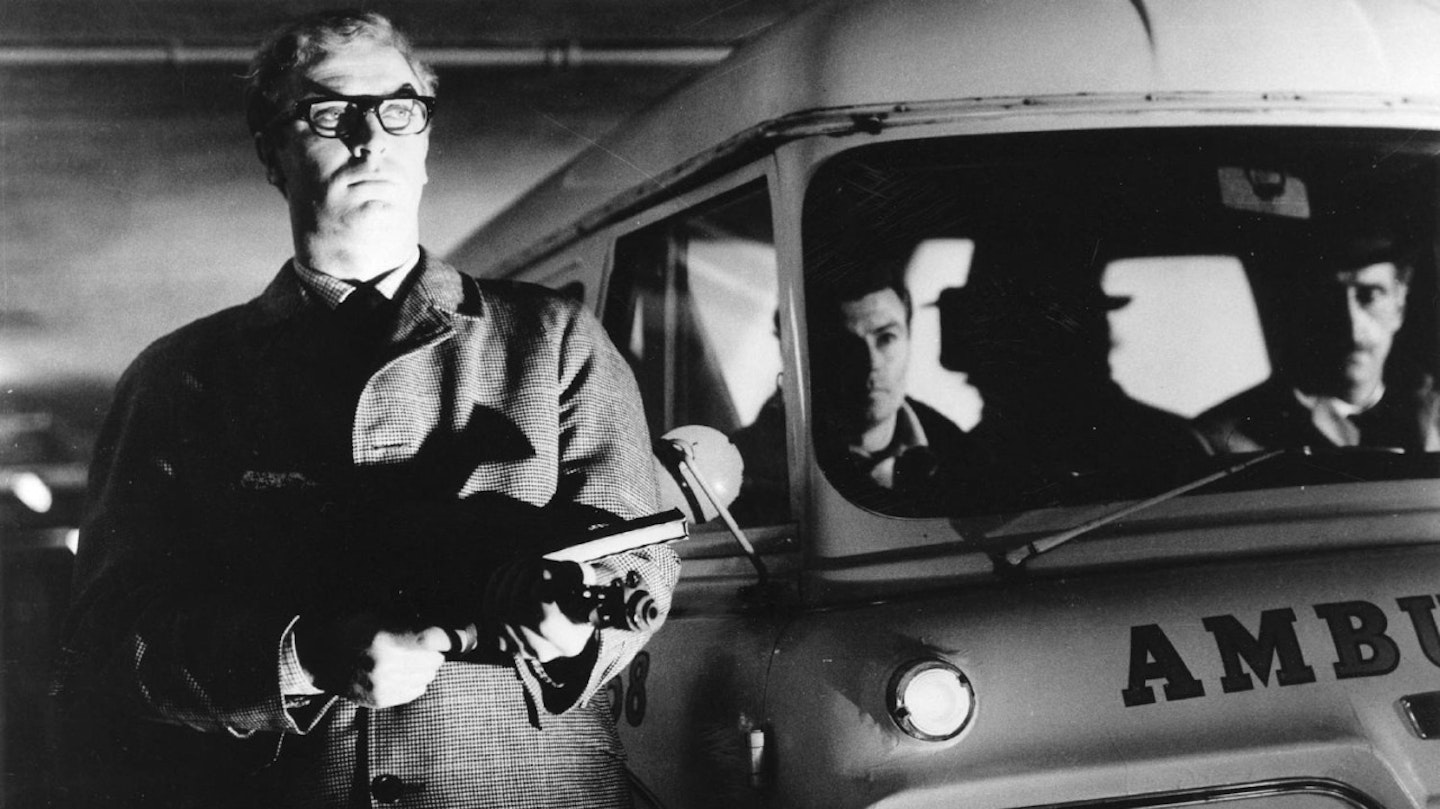 Since it simply wasn't possible to compete with Connery's 007 in the super-spy stakes during the '60s, Sidney J. Furie's first adaptation of cook-turned author Len Deighton's Cold War novels goes the other way. While investigating kidnapped scientists, undisciplined surveillance man Harry Palmer doesn't globe-trot, bed-hop or trade verbage with cat-stroking megalomaniac villains; he spends his time on mundane form-filling tasks in drab offices. Despite coming from the Bondian creative team (supremo Harry Saltzman, designer Ken Adams, editor Peter Hunt, scorer John Barry), this labyrinthine thriller provides a credible everyman alternative to Bond while embracing British everydayness. There's decent support too (most notably from Gordon Jackson), but the adventures are worth watching for Michael Caine's (arguably) most iconic role, where his unique brand of cockney cool really started to shine.
98. Oh! What A Lovely War (1969)
Directed by: Richard Attenborough
Starring: Dirk Bogarde, John Mills, Vanessa Redgrave, Michael Redgrave, Maggie Smith, Laurence Olivier, Paul Shelley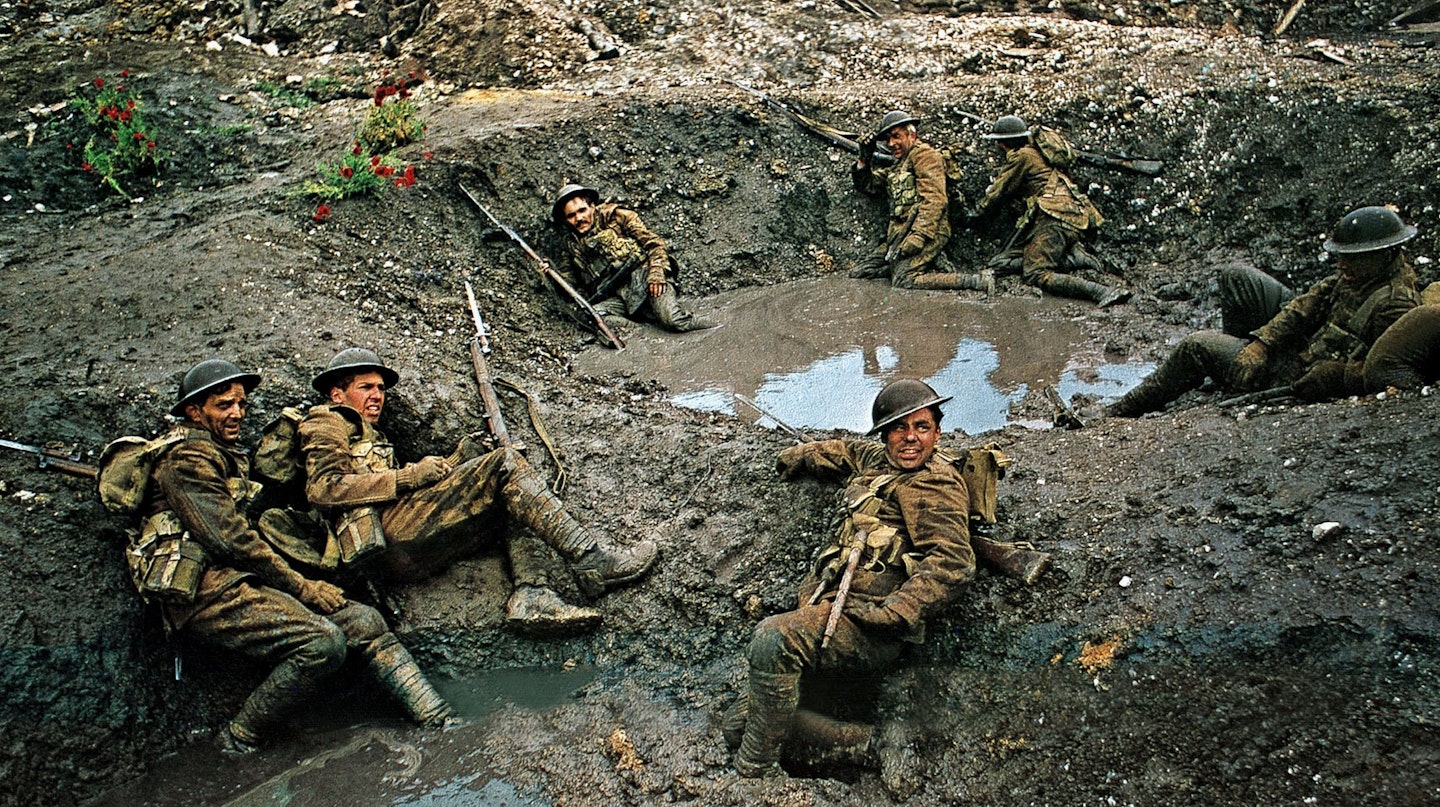 Starring enough Redgraves to populate a small island, Richard Attenborough's Great War musical flaunts one of the chunkiest contacts book in British movie history. The director assembled the cream of '60s acting talent, garbed it in khaki and set it lose on a uniquely British satire. At times it plays like the most thespian game of I-spy in history. The general behind that bushy moustache? Laurence Olivier, of course. That recruitment drive chanteuse? Maggie Smith. And aren't those Dirk Bogarde, John Mills and Vanessa Redgrave doing their bit for the war effort? Oh! What A Luvvie War might have been a better title. But stardom aside, it adds up to an indictment of the War's immeasurable suffering that's both scathing and deeply moving. If the chronological approach gives it an occasionally episodic quality, Attenborough choreographs it all with such flair and compassion that it feels like the world's most dazzling history lesson. Filled with the hummable tunes from the trenches and boasting one of the most heartbreaking final shots in cinema, it's an unsung epic.
97. 24 Hour Party People (2002)
Directed by: Michael Winterbottom
Starring: Steve Coogan, Paddy Considine, Shirley Henderson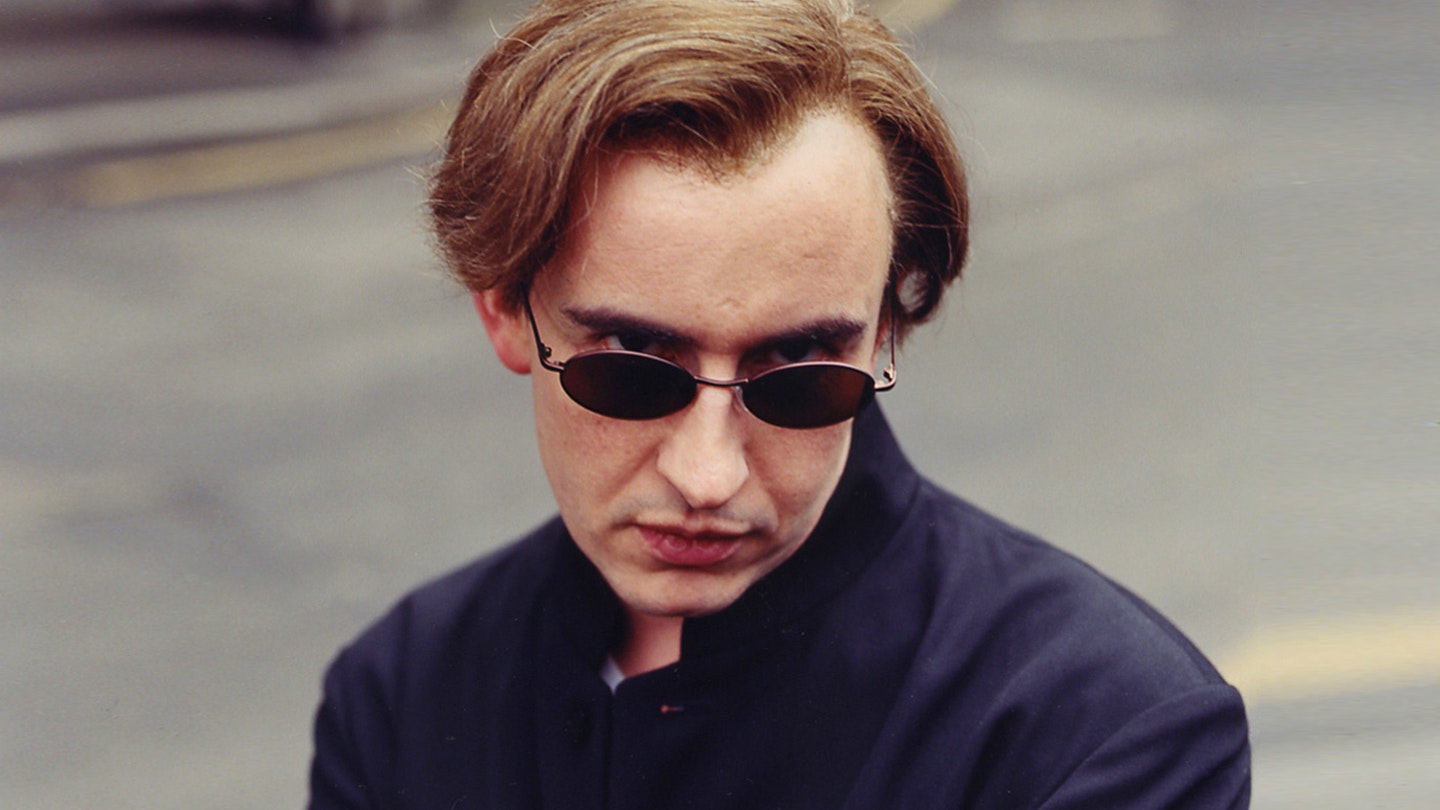 Ostensibly a movie about the Manchester music scene between '76-'92, 24 Hour Party People spends more time mocking its lead character and narrator, record label owner Tony Wilson (played by Steve Coogan), than relaying the stories of Joy Division, New Order and Happy Mondays, all of whom passed through his orbit. But as you roll on the floor laughing when Tony crashes into a tree while riding a hang glider, or gets caught by his wife in the back of a "nosh van" getting "oral pleasures" from a stranger, you really don't mind how much '90s pop culture gets brought to life – or whether what is shown on screen actually happened in the first place. Deftly directed by Winterbottom, 24HPP (as no-one ever calls it) is far, far funnier than anyone should ever expect a biopic to be. If you can call it a biopic. Or expect anything of it at all, really...
96. Nil By Mouth (1997)
Directed by: Gary Oldman
Starring: Ray Winstone, Kathy Burke, Jamie Foreman, Charlie Creed-Miles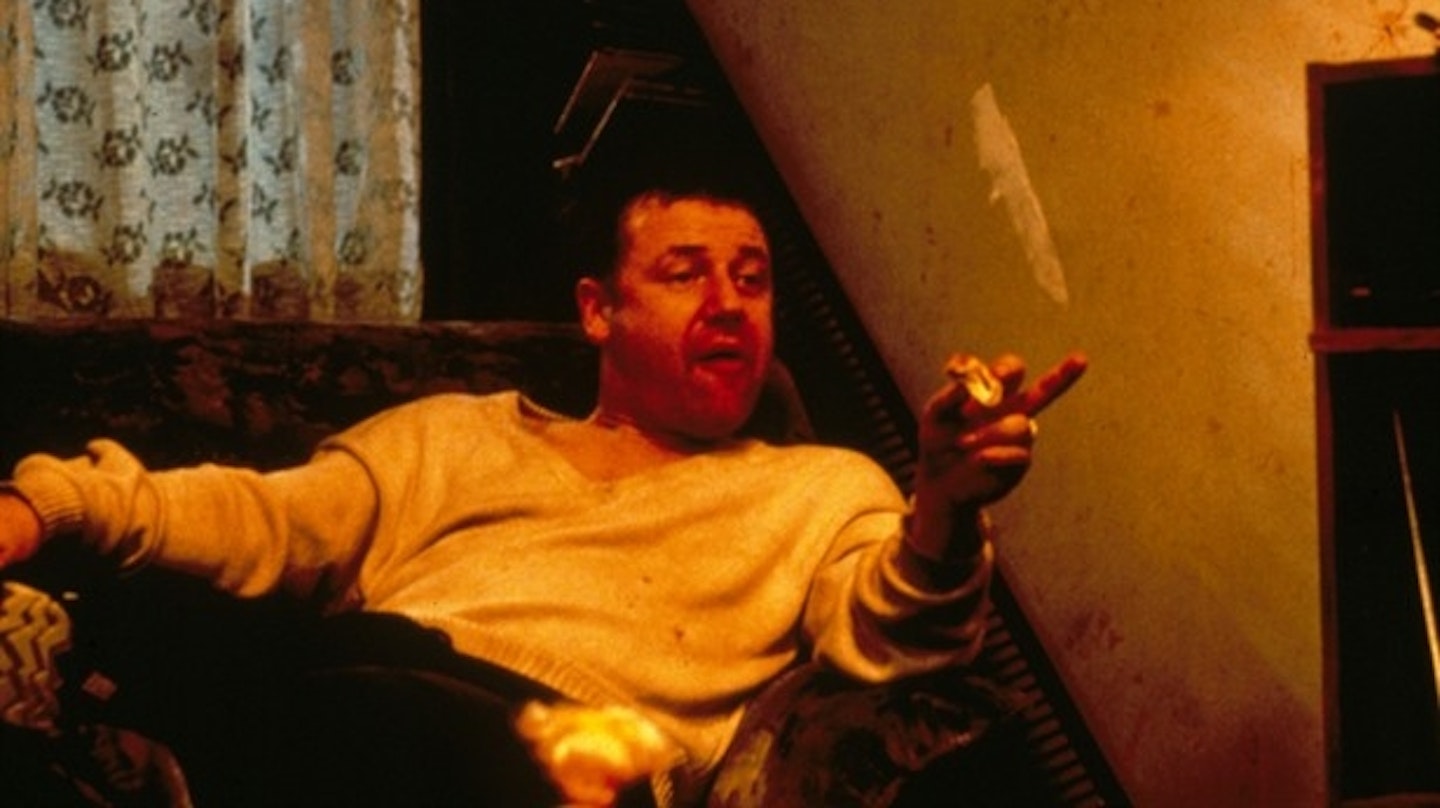 We all know that Gary Oldman is an actor's actor – he's established his reputation beyond doubt over the past three decades – but this (as yet) sole effort as auteur shows that he's an actor's director too. A disturbingly honest and unflinching look at the practice and results of domestic violence, this gave Ray Winstone an astonishing chance to shine and established him as both a hardman and an actor capable of great subtlety and range even as he plays someone capable of neither. But no less capable is Kathy Burke, previously best known for TV comedy, who gives a three dimensional performance in what could have been a simple "victim" role. It's not a feelgood effort - quite the opposite – but a semi-autobiographical exorcism of the demons of Oldman's own south London upbringing that shows a side of life that we might all prefer to ignore. Few debuts are this powerful or memorable.
95. Gregory's Girl (1981)
Directed by: Bill Forsyth
Starring: John Gordon Sinclair, Dee Hepburn, Jake D'Arcy, Claire Grogan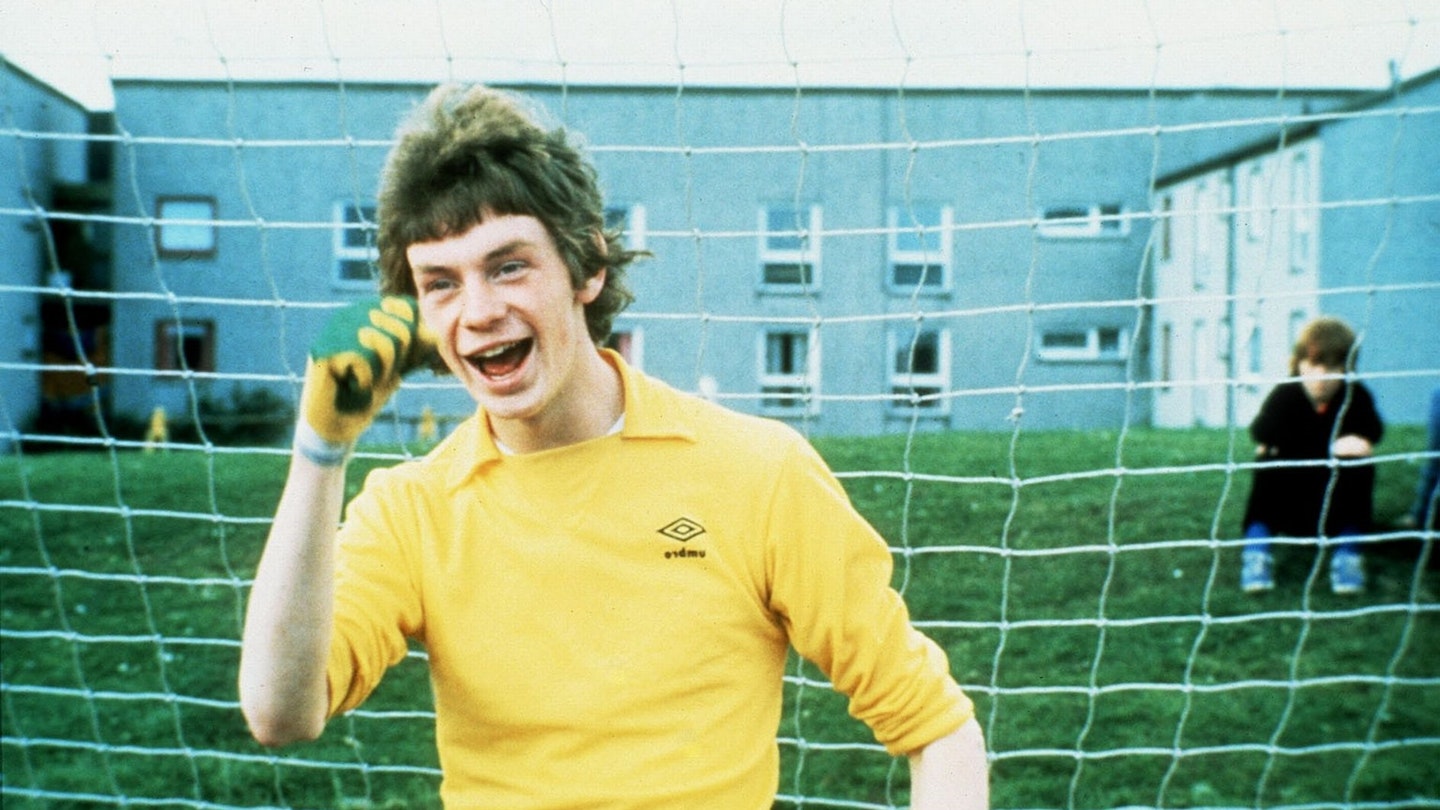 There are many teen comedies, and teen sex comedies. None, however, come close to Gregory's Girl, a story of love and lust burning in all its teenage intensity that manages both realism and unspeakable hilarity without ever forgetting to sympathise with its subjects. John Gordon Sinclair is the youngster struck down with adoration for the gorgeous, football-playing Dorothy (Dee Hepburn), while Grogan plays Susan, Dorothy's friend and a far better bet for the awkward Romeo. It's a familiar set-up, but it's almost never been as beautifully observed or intelligently written as it is here, for which all credit to Bill Forsyth. After all, dates that involve aimless walks and visits to the chip shop will ring just a little bit more true-to-life than American cinema's endless parade of proms, beach parties and sporting events. View it as a companion piece to the director's Local Hero, and settle yourself in for some of the most convincing real-life laughs you will ever see on film.
94. Tinker Tailor Soldier Spy (2011)
Directed by: Tomas Alfredson
Starring: Gary Oldman, Colin Firth, John Hurt, Ciaran Hinds, Mark Strong, Tom Hardy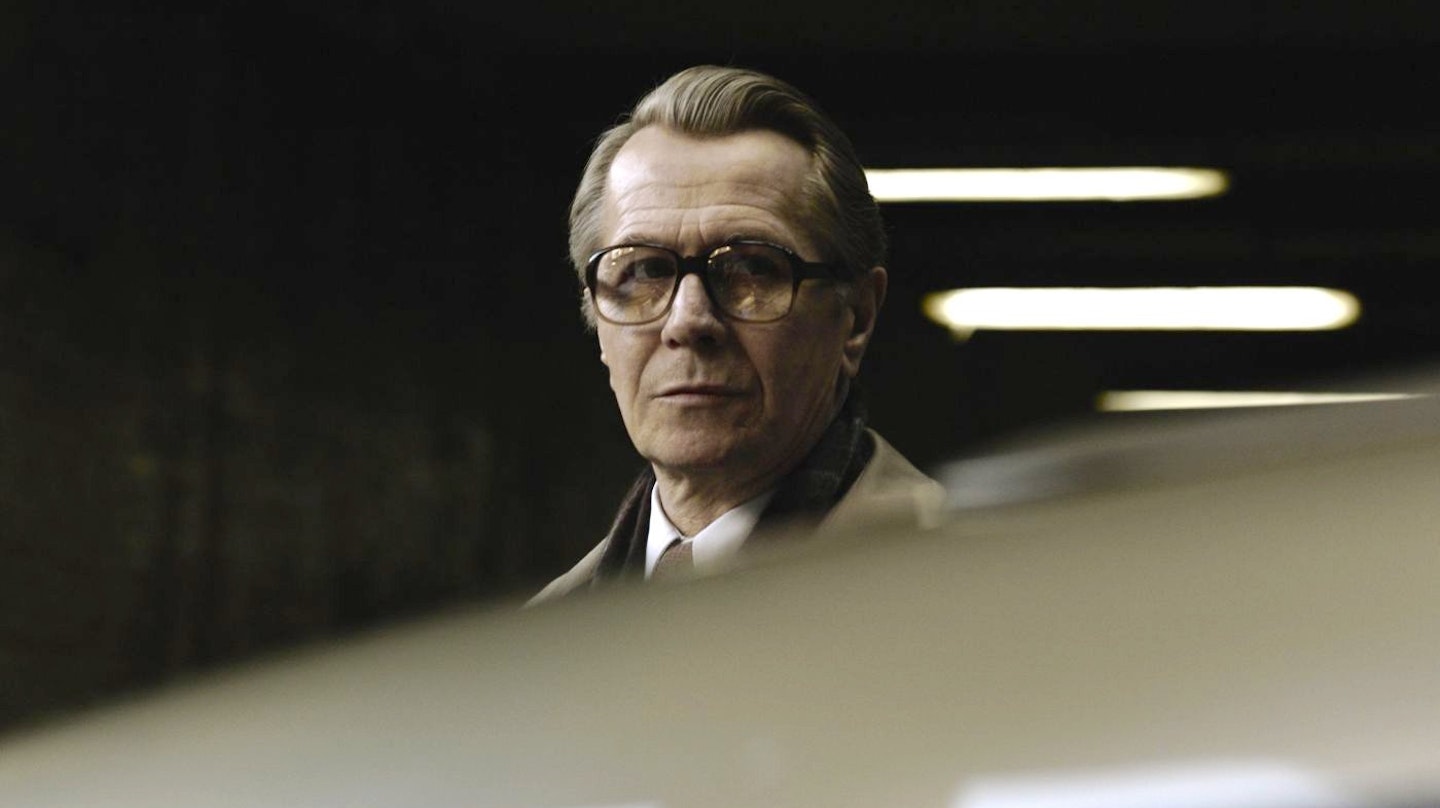 Elegant and measured storytelling secures Tomas Alfredson's Cold War thriller a spot on the list. Led by Gary Oldman's buttoned-down George Smiley ("It's a sitting down role," as he describes it), it's an old-fashioned search for a mole among the top spies of "The Circus", something made more difficult by the fact that he's officially retired. Also, of course, the suspects are some of Blighty's finest actors, from Colin Firth to Toby Jones and Ciaran Hinds, while the pawns at stake include Mark Strong, Benedict Cumberbatch and Tom Hardy, so they're not going to be easy to read. With that lot on top form, Alfredson might have been forgiven for just pointing the camera at them and giving up, but in fact he crafts a grimy, distinctly '70s London in muted tones and dim shadows and gives the whole thing a sheen of undoubted quality.
93. Brazil (1985)
Directed by: Terry Gilliam
Starring: Jonathan Pryce, Kim Greist, Robert De Niro, Michael Palin, Ian Holm, Bob Hoskins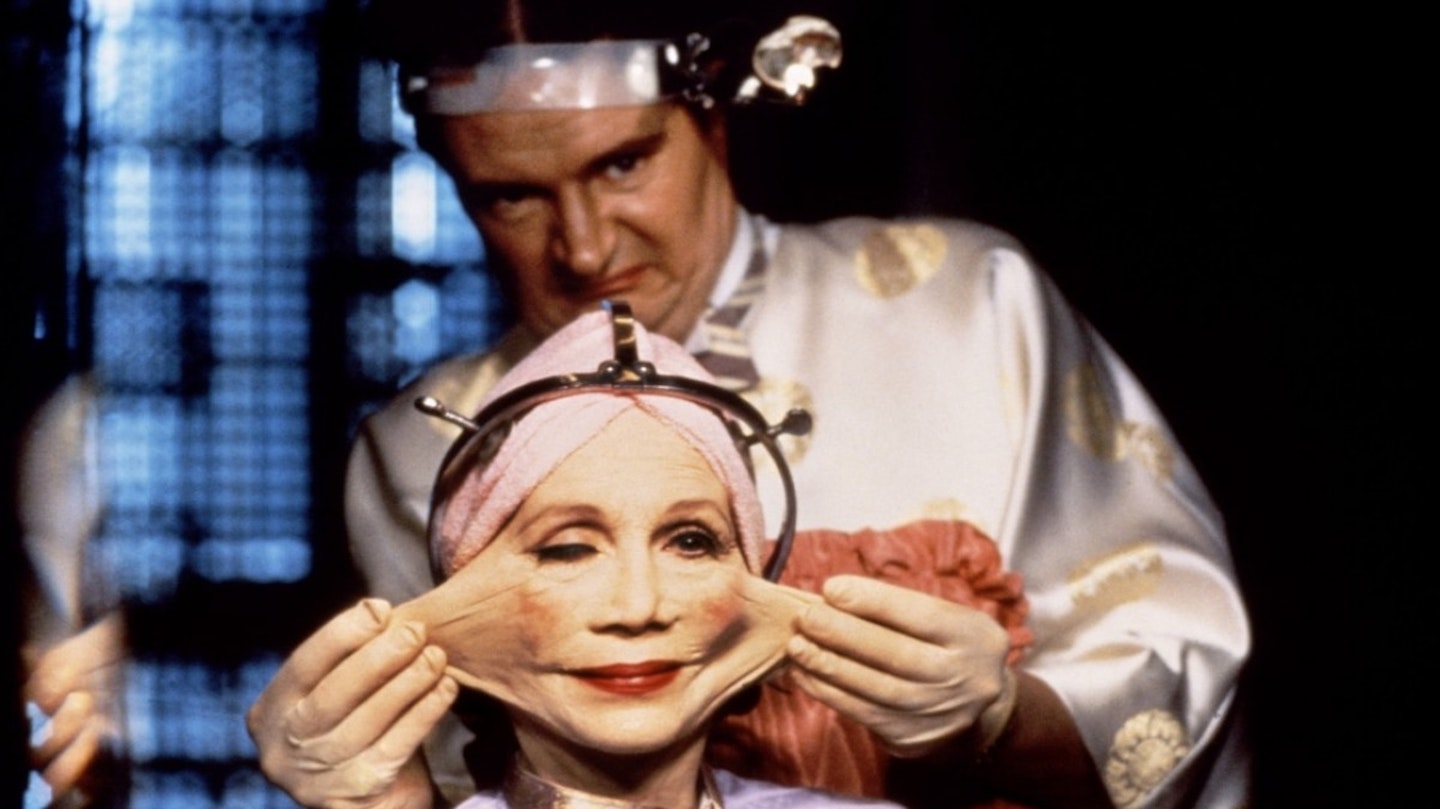 There's a cruel irony in the fact that Terry Gilliam's hymn to non-conformity ran smack into huge studio pressure to conform to audience expectation. Specifically, Universal's grande fromage Sid Sheinberg believed that its ending was too bleak and needed less, well, bleakness. Being Sid Sheinberg he was in a position to force through his infamous 'Love Conquers All' edit, unwittingly providing Gilliam's unique sci-fi with the Big Brother figure it didn't boast on screen. Sheinberg had less luck foisting a new title on the film – the director himself combed through numerous ideas, the Orwell-referencing '1984' amongst them, before settling on a sideways reference to a pre-war ditty called 'Aquarela do Brasil' – but he let the film fester so long on the shelf that Gilliam was reduced to begging for its release in trade press ads. On the other side of the Atlantic, audiences were reveling in a dystopian vision that's since been referenced by everyone from the Coen brothers to Alex Proyas. Like Metropolis with a whole lot more paperwork, it's a melon-twisting vision of a future bureaucracy gone crackers.
92. Four Lions (2010)
Directed by: Chris Morris
Starring: Riz Ahmed, Arsher Ali, Nigel Lindsay, Kayvan Novak, Adeel Akhtar, Craig Parkinson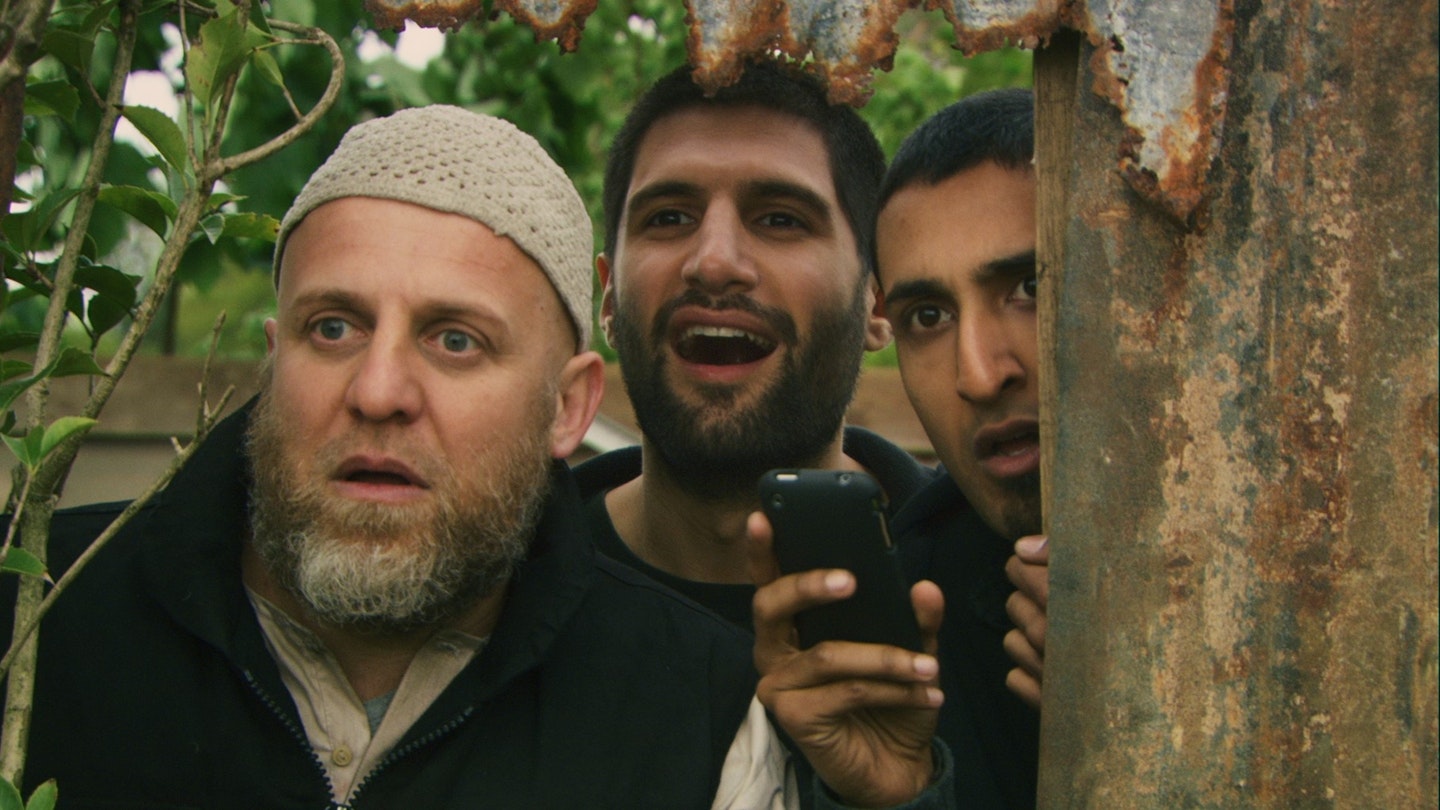 On paper, a comedy about radicalised British Muslims blowing themselves up during the London Marathon shouldn't be funny, but with Chris Morris at the helm, nothing can be taken for granted – not even gags about bomb construction or exploding crows. Morris pulls off an incredible trick in extracting comedy from catastrophe with the help of a talented cast, Kayvan Novak to the fore as the earnest Waj with Nigel Lindsay as irascible convert Barry. Morris teases out belly laugh after belly laugh from characters rather than crudeness, sympathy rather than distain, all whilst making a point about the nature of terrorism. For this amazing balancing act alone, Four Lions deserves a place up there with The Life Of Brian in the contentious comedy hall of fame. Sure, the somewhat inevitable ending wouldn't be found in most 'how-to-make-a-money-spinning-comedy' handbooks, but in Morris's masterful hands, you're guaranteed hysteric giggle fits as well as some heavier head scratching.
91. The Remains Of The Day (1993)
Directed by: James Ivory
Starring: Anthony Hopkins, Emma Thompson, Christopher Reeve, James Fox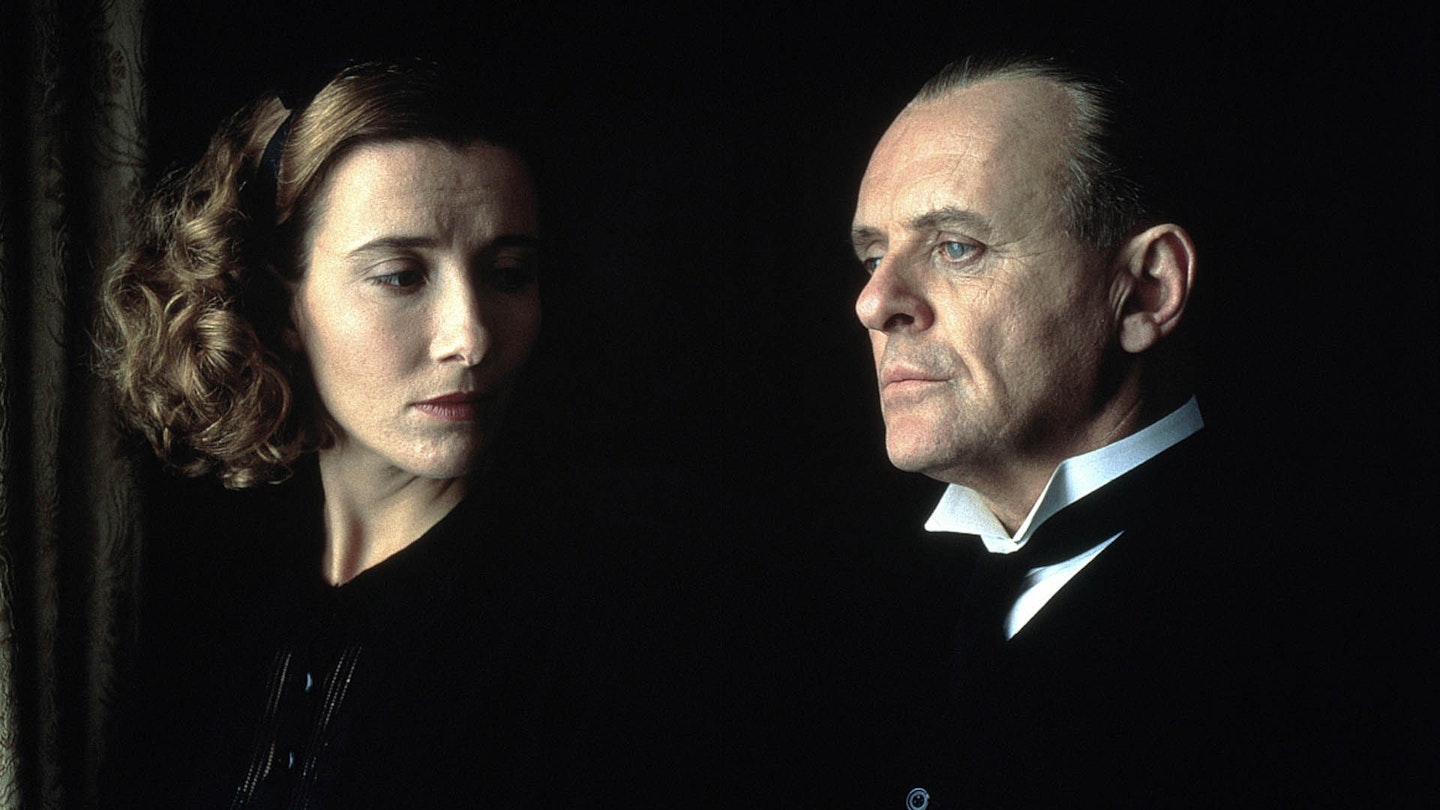 You have to get past the imitators and the spoofs, because this Merchant-Ivory classic inspired legions of both, but if you can you'll find this sumptuously shot, beautifully understated drama is worth the effort. Forget Hannibal Lecter: this is Anthony Hopkins' finest performance by a country mile. As the buttoned-down butler who places propriety about everything else in his life, his turn is so restrained he might as well be wearing a straitjacket, but underneath his every mood is clear, if you're paying attention, as he negotiates fascist sympathisers, American newcomers and Emma Thompson's strong-willed housekeeper. The Kazuo Ishiguro novel already provided the elegiac sense of melancholy and missed chances, but this adaptation adds beautiful visuals and a polished sheen that even Hopkins' Steven would admire.
90. Dracula (1958)
Directed by: Terence Fisher
Starring: Christopher Lee, Peter Cushing, Michael Gough, Melissa Stribling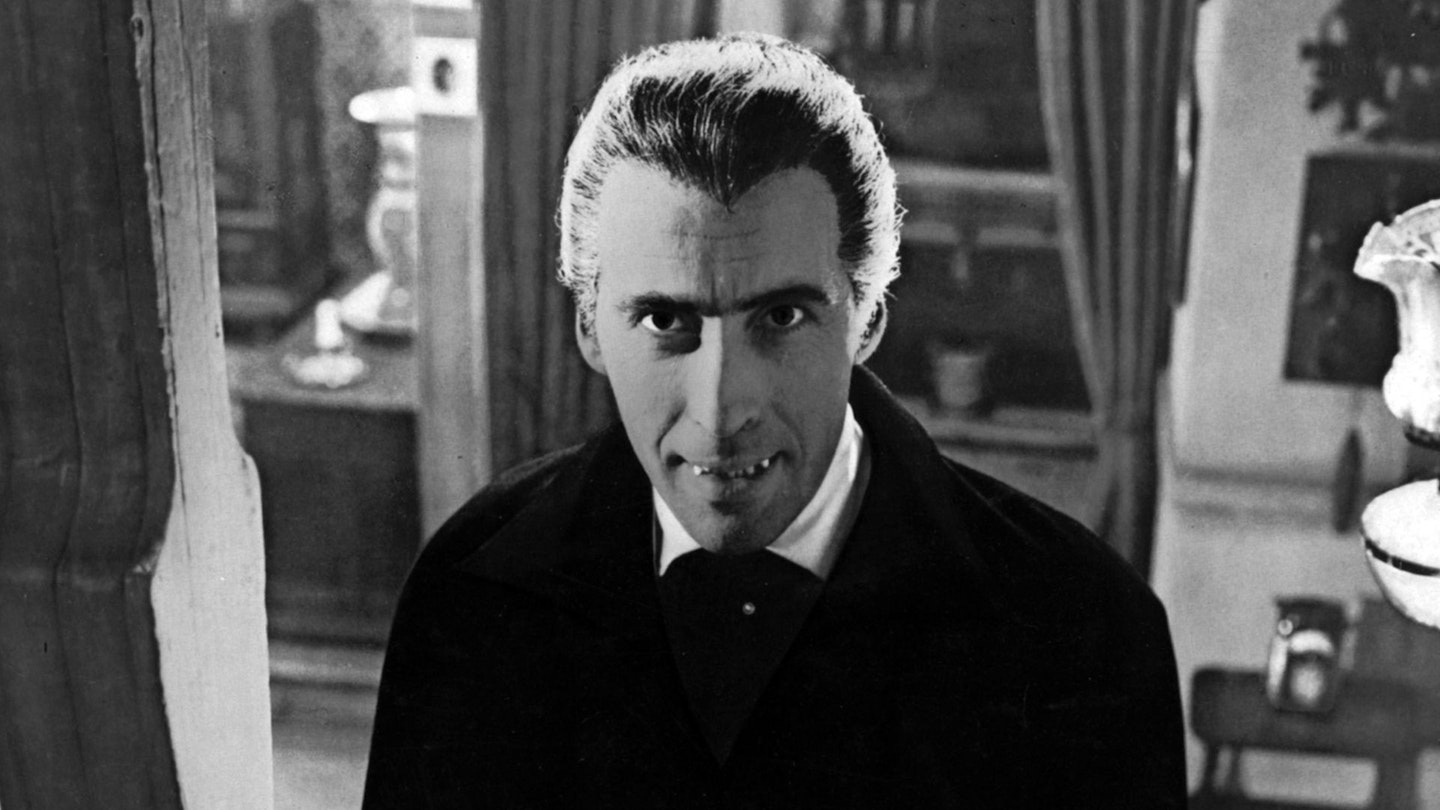 Hammer's take on the big daddy of the vampire world (assuming vampires have fathers) is sexier and gorier than any previous adaptation, and most subsequent efforts. Christopher Lee makes an imposing, fiery Count, pitted against Peter Cushing's cool, cerebral Van Helsing in a battle for the soul of Mina Harker and any other comely wenches who happen to cross his path. It's a pacy retelling of the story, only pausing for a moment here and there as Dracula looms threateningly over someone's neck, and it has a rich score that keeps the blood pumping. The Count's gruesome end, flesh peeling and melting in the sun, is an iconic horror image and did much to establish the Hammer style.
89. The Railway Children (1970)
Directed by: Lionel Jeffries
Starring: Jenny Agutter, Sally Thomsett, Gary Warren, Bernard Cribbens, Dinah Sheridan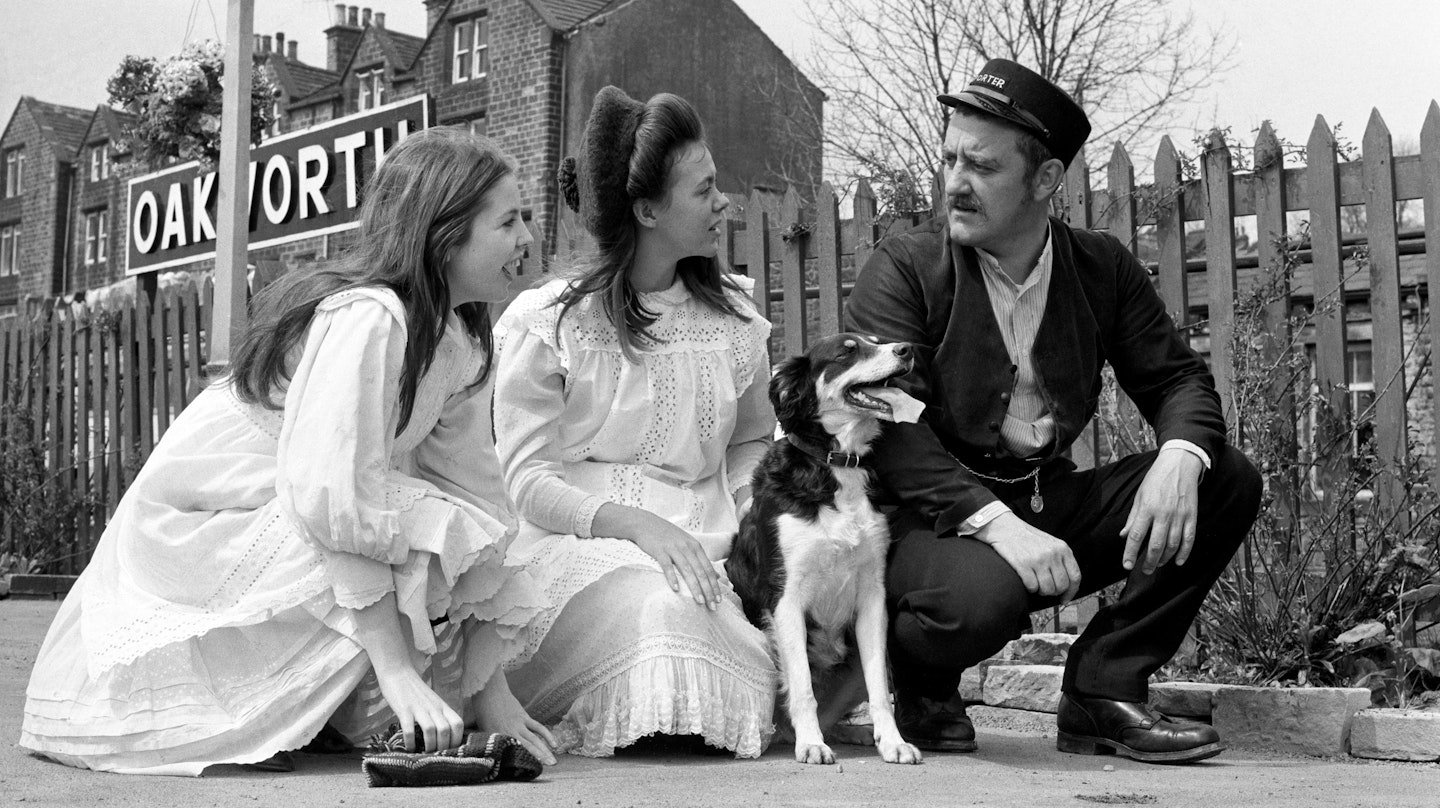 The story, by E. Nesbit, is a children's classic, and this is the definitive film version. A family are thrown into poverty and forced to move to the country when their father is accused of treason, but inbetween playing on the railway lines (Kids: don't try this at home) and various acts of minor heroism, they become accustomed to their new life. Winning over recalcitrant station master Bernard Cribbins and befriending strangers on trains proves to be its own reward in the end, building to a happy ending that still brings a tear to the eye. Seriously, if you don't well up a little when Jenny Agutter, looking through the steam, spots her father and cries, "Daddy, oh my daddy" we can only assume it's because you had your tear ducts surgically removed.
88. Gandhi (1982)
Directed by: Richard Attenborough
Starring: Ben Kingsley, John Gielgud, Trevor Howard, John Mills, Martin Sheen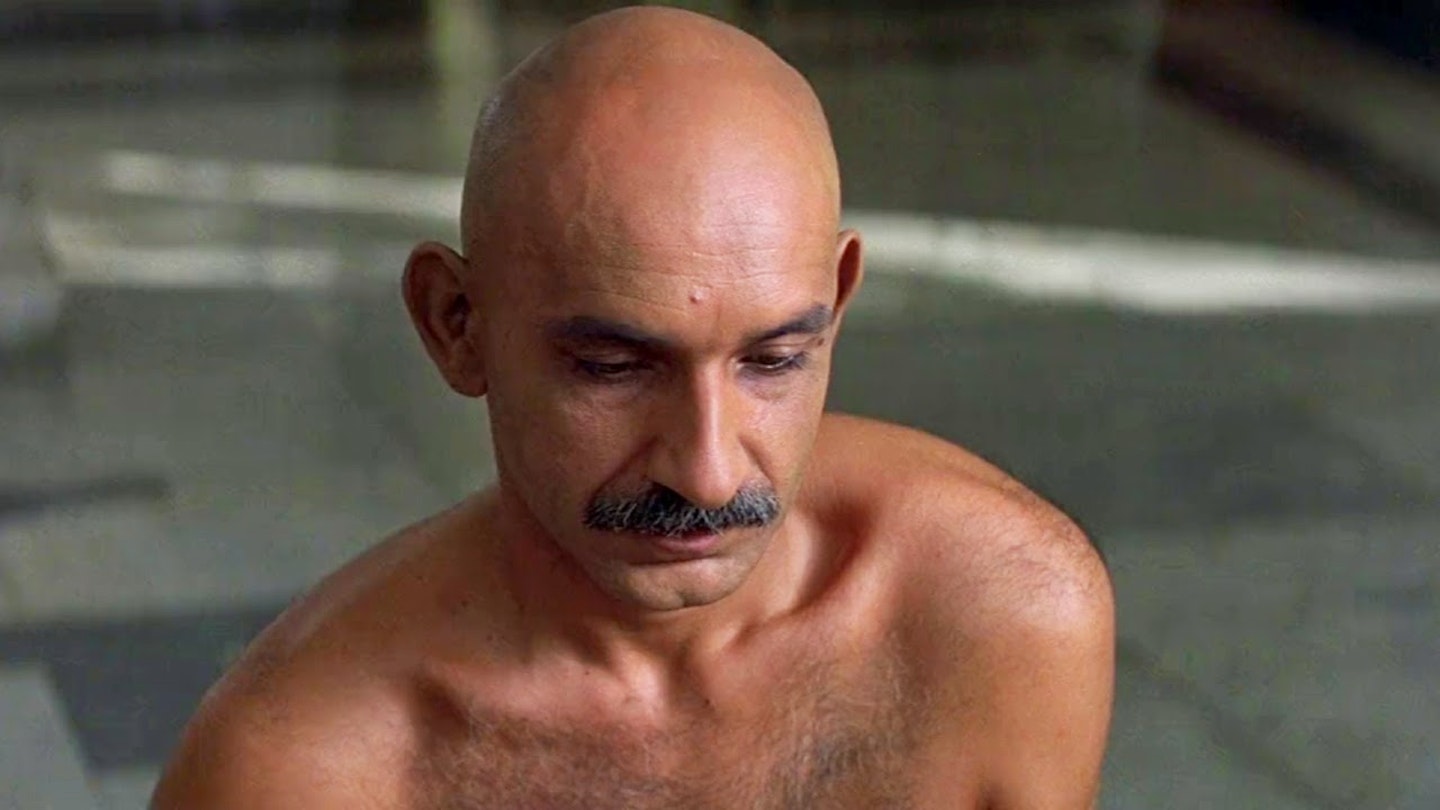 There's epic, there's really epic, and then there's Gandhi. As befits one of the most important figures of the 20th century, and certainly one of the most admirable among those figures, Richard Attenborough approached this biopic determined to do justice to both the Mahatma's lofty ideals and also the sheer scale of his achievement. So star Ben Kingsley gets to bring Gandhi to life over a 55-year period, starting from the earliest glimmerings of his political conscience to his eventual assassination, surrounded by some of the best actors ever to grace stage or screen. Along the way Gandhi brought independence to India, pioneered peaceful protest on a massive scale and provided a new benchmark for idealists everywhere. Kingsley's performance is extraordinary, but he's backed up by Attenborough's sweeping cinematography and enormous ambition - there are hundreds of thousands of extras in that funeral scene, dwarfing even the armies of Isengard for scale. It's a mad benchmark that, in these digital days, will never be threatened, but it's hard to think of a more worthy subject.
87. Hope And Glory (1987)
Directed by: John Boorman
Starring: Sarah Miles, David Hayman, Sebastian Rice-Edwards, Ian Bannen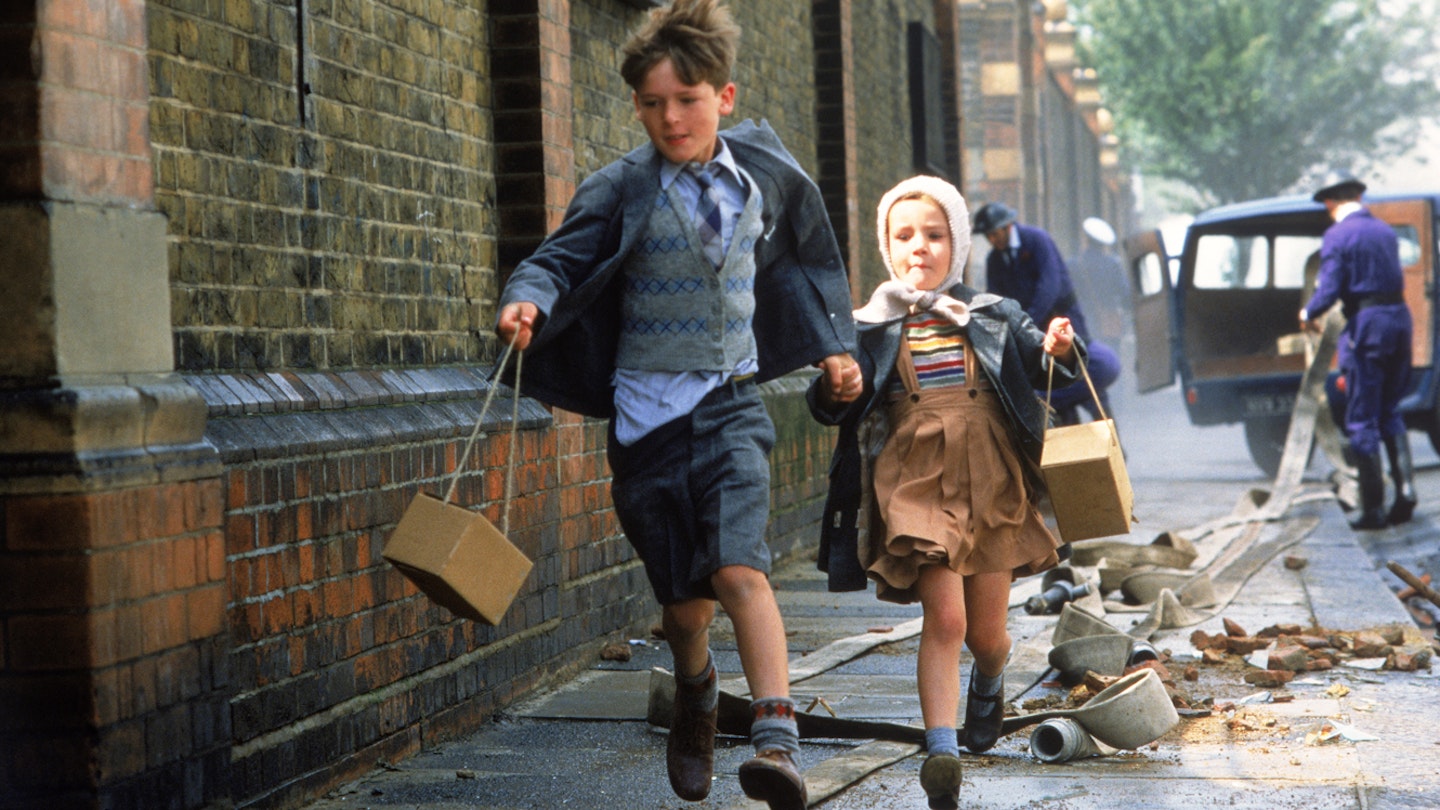 Five Oscar nominations are tribute to a none-more-British film about the Blitz that found an appreciative audience on both side of the Atlantic. Seen through the eyes of ten year-old Billy (Sebastian Rice-Edwards), John Boorman's autobiographical movie turns London's bombed-out suburbs into a giant adventure playground for schoolboys. An interesting – and wistful – companion piece to Steven Spielberg's Empire Of The Sun, filmed just down the road at almost at the same time, it's full of visual snapshots of an extraordinary time in England's past, a sepia photo album brought back to life. It's full of startling visual cues, too. Witness the sudden blast of a Luftwaffe bomb unfolding in horrifying slow-motion or the dead fish floating for Billy and his sister to collect after a rogue bomb lands in the river. But the randomness of the war's impact is best captured by the discovery that another rogue bombs means school is out - permanently. "Thank you Adolf!" gleefully shout Billy and his chums. See, war isn't always hell, especially when it gets you out of double maths.
86. The Killing Fields (1984)
Directed by: Roland Joffé
Starring: Sam Waterston, Haing S. Ngor, John Malkovich, Julian Sands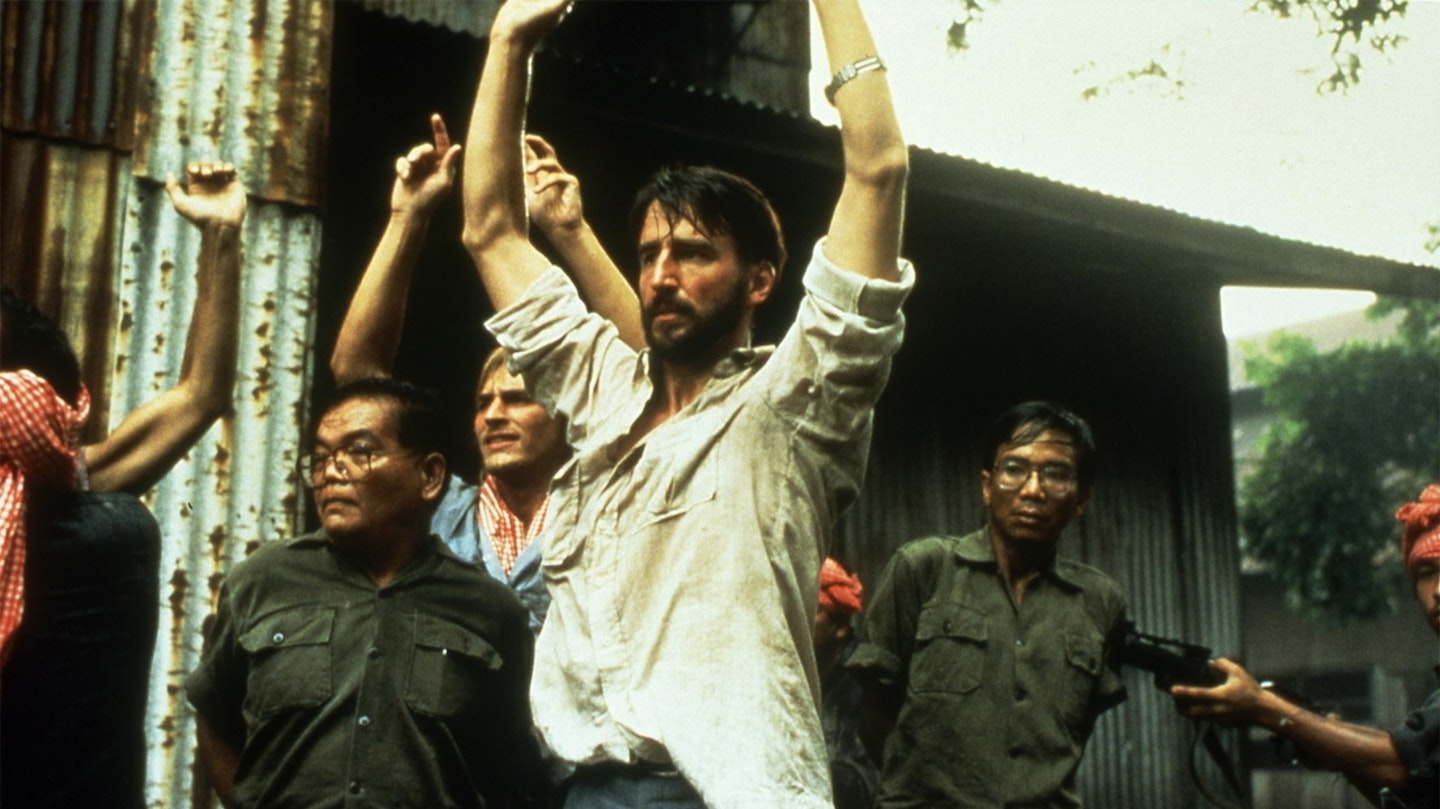 An Oscar-winning movie of a Pulitzer-winning story, Roland Joffé's war film is a stunning, sober examination of a human catastrophe of barely comprehensible scale. It follows New York Times journalist Sydney Schanberg (Waterston) and his interpreter Dith Pran (the Oscar-winning Ngor) through the sharp end of America's incursion into Cambodia. Thanks at least in part to his movie, everyone knows what happened next. Pol Pot and the Khmer Rouge emerged from the smoke and turned one of the most beautiful countries on Earth into a boneyard. Joffé spares us none of that bleakness. Down the road, Brando's Kurtz may have been murmuring about "the horror" but here it was, up close and brutally impersonal. Schanberg may have won that Pulitzer for his reportage, but Haing Ngor's fearless journo is the beating heart of the story - and the film. In a tragic coda, the man who played him, first-time actor Haing Ngor, was gunned down on an LA street 22 years later.
85. Billy Liar (1963)
Directed by: John Schlesinger
Starring: Tom Courtenay, Julie Christie, Wilfred Pickles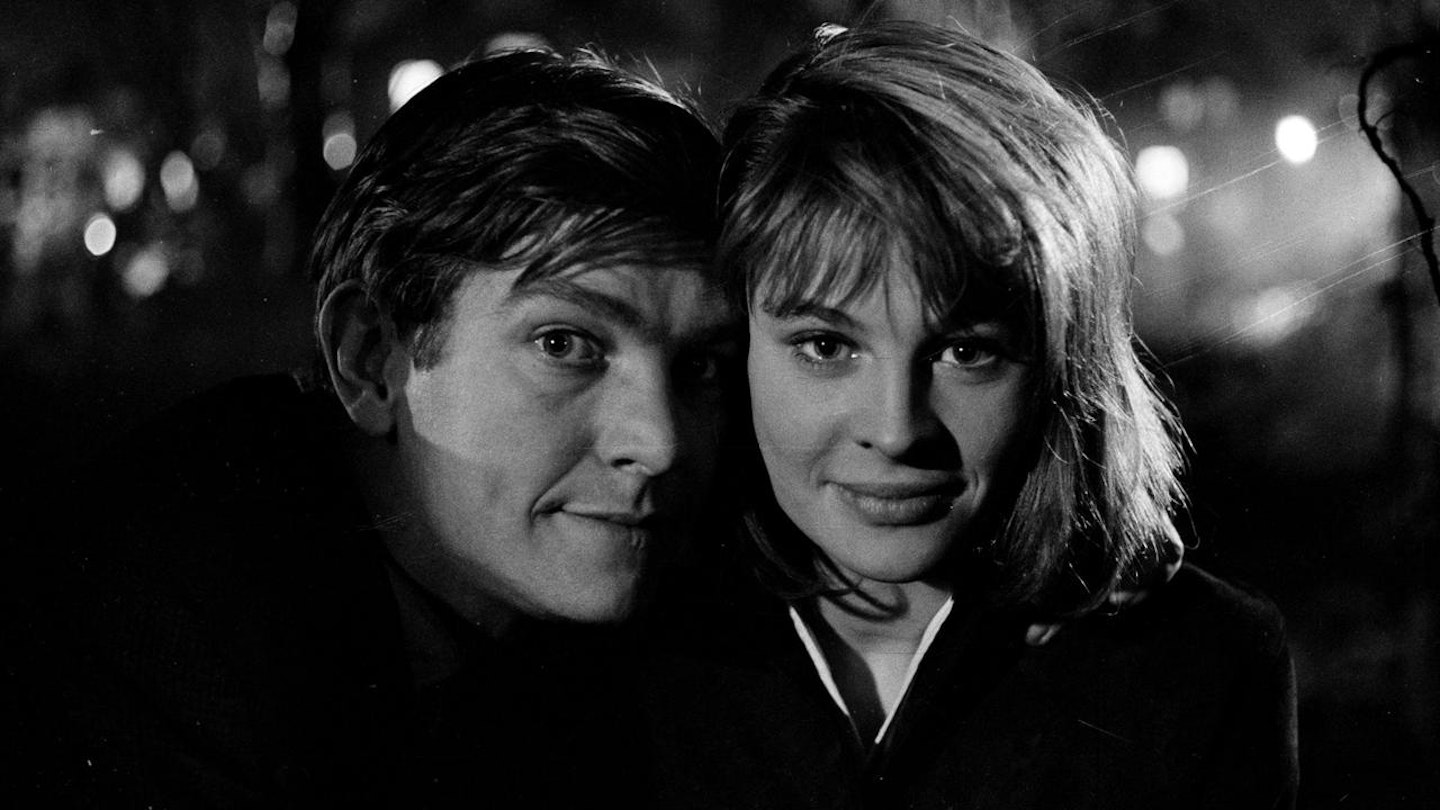 Before he moved across the Pond and made Midnight Cowboy and Marathon Man, John Schlesinger presided over one of the greatest hitting streaks in British cinema. In four halcyon years he and his producer Joseph Janni turned out Billy Liar, Darling and Far From The Madding Crowd. The first of these remains influential to this day, Tom Courtenay's Walter Mitty-like smalltown boy with big plans a prototype for a thousand British dreamers. Ricky Gervais cites Billy Liar as an inspiration for Cemetery Junction's bored twentysomethings, but the quirky supporting cast of motley Brits, from Leonard Rossiter's lugubrious mortician to Leslie Randall's catchphrase-spouting telly personality ("It's aaall happening"), are building blocks for Gervais's great sitcoms too. Billy, though, is Schlesinger's tour de force and the director drew Courtenay's greatest performance as the lovable romantic who just happens to machine gun anyone who frustrates his plans (in his dreams, of course). Funny and melancholy, it's a poignant hymn to broken dreamers.
84. Hamlet (1948)
Directed by: Laurence Olivier
Starring: Laurence Olivier, Peter Cushing, Jean Simmons, Basil Sydney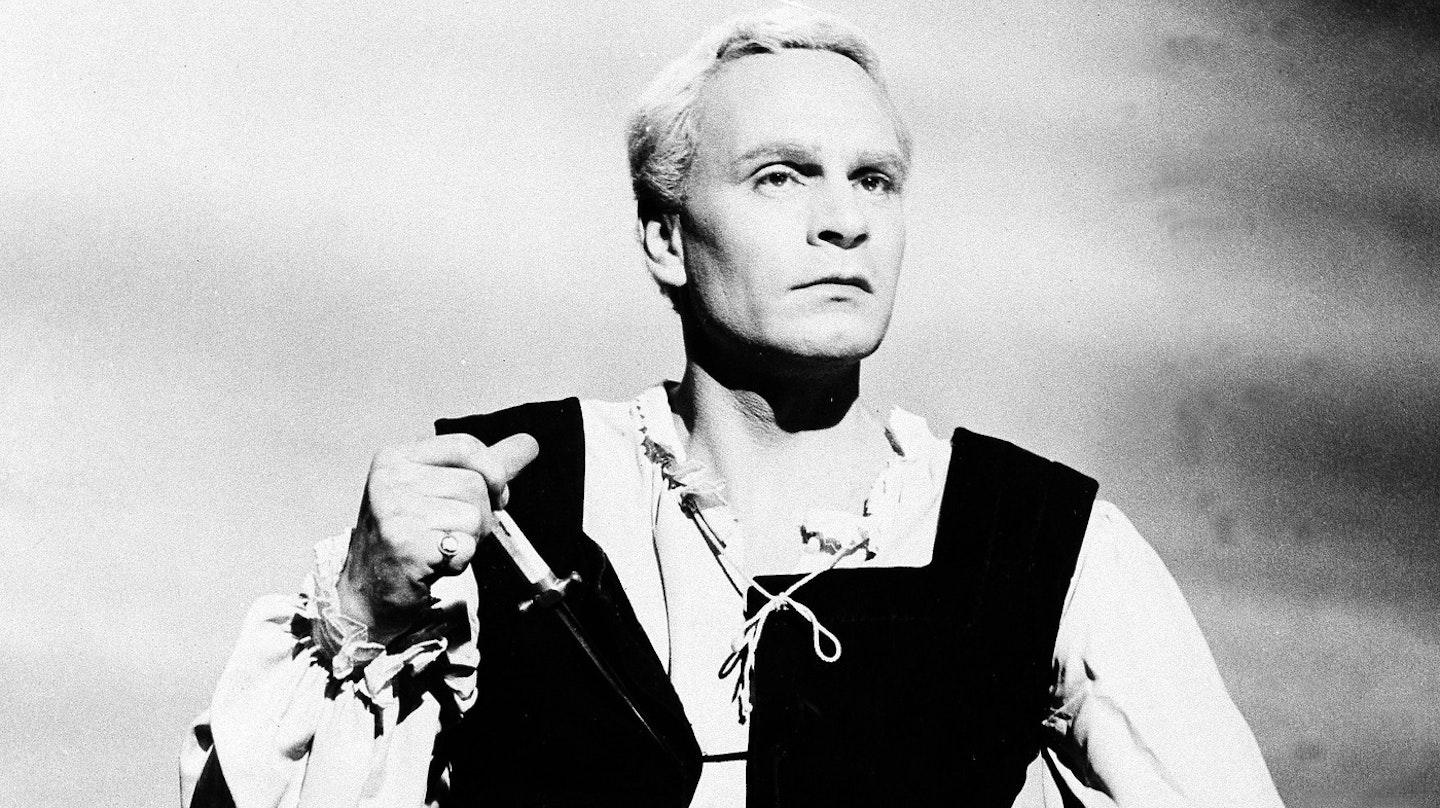 When confronted with the working practices of the famously Method Dustin Hoffman on Marathon Man, Sir Laurence Olivier is said to have drawled, "Try acting, dear boy; it's easier." That's easy for him to say; after all, he was lauded almost from his school days as the greatest of British thesps, and a bronze-cast memorial to his Hamlet stands outside the National Theatre to this day. This celluloid record of his Hamlet gives us some idea why: directed by Olivier himself (he was also an early multi-hyphenate) at the height of his powers and beauty, this is still a compelling portrait of the Dane, however far acting styles have changed since then. While Kenneth Branagh's Hamlet is richer in location and outdoor scenes, it's so much window dressing beside the still-gripping power of the story itself, and there Olivier excels.
83. Skyfall (2012)
Directed by: Sam Mendes
Starring: Daniel Craig, Javier Bardem, Ralph Fiennes, Naomie Harris, Ben Whishaw
After Quantum Of Solace, Sam Mendes' 007 debut feels like a re-reboot for the Daniel Craig era. Out went the mystifying Quantum and its devious plan to do something or other in Bolivia; in came the arch and motivated Silva (Javier Bardem) to add a much-needed dose of theatricality and threat to the franchise. Craig seems re-energised, neon-lit in one virtuoso Shanghai sequence and mixing the debonair with the deadly as the story races from one affectionate Bond homage to another. None of the nods feel clunky, testimony to Mendes' lightness of touch, and the ending left Britain's finest looking ship-shape.
82. The Lady Vanishes (1938)
Directed by: Alfred Hitchcock
Starring: Margaret Lockwood, Michael Redgrave, Basil Radford, May Whitty, Naunton Wayne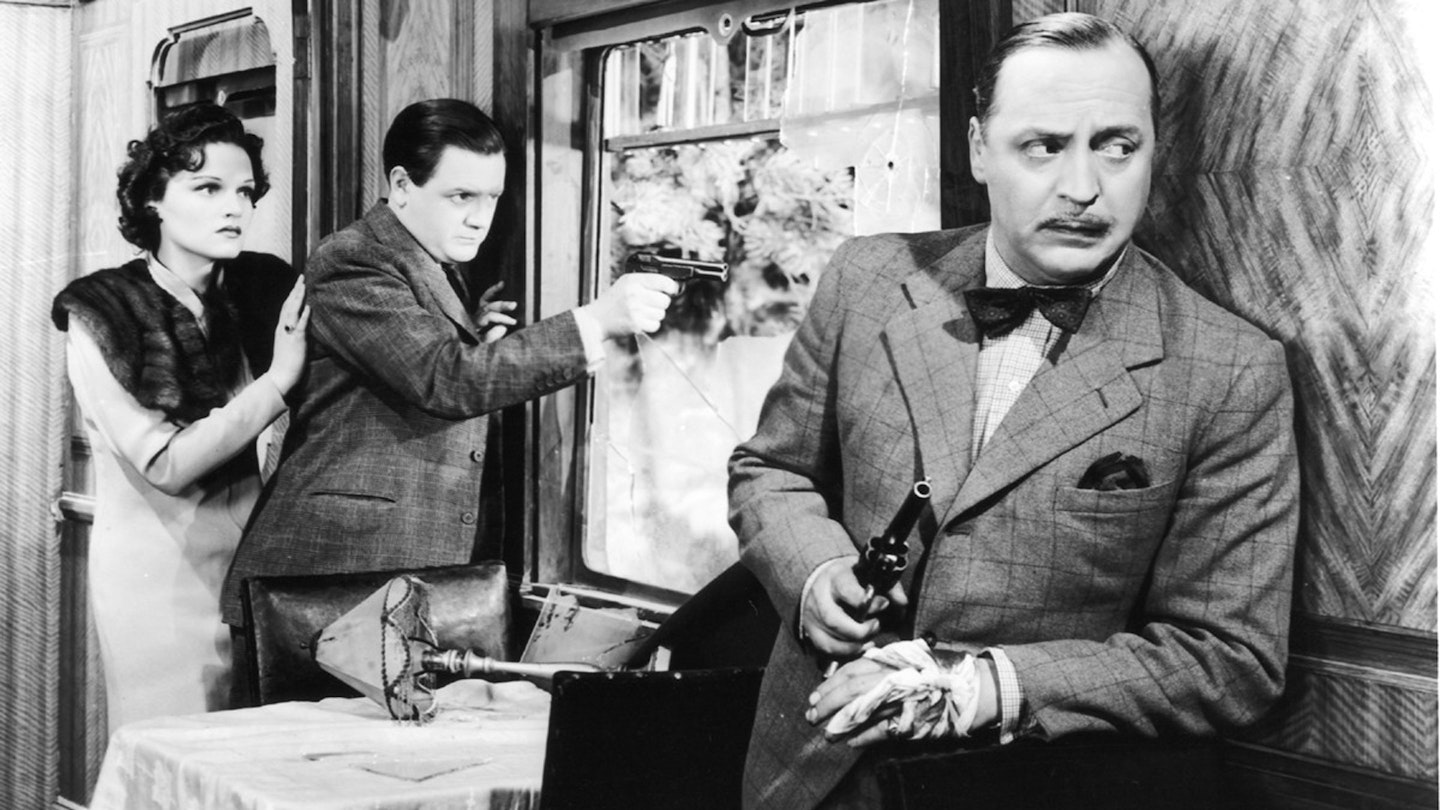 It speaks volumes for Hitchcock's thrillers that they have a habit of reappearing in modern-day threads. Rear Window became Disturbia, Dial M For Murder turned into The Perfect Murder, and this thriller had Jodie Foster frenziedly searching Flightplan's airliner for her missing daughter. All three are a handy reminder that no-one does Hitchcock like the man himself: for timeless characters and devilish schemes, he's just peerless. Boarding his train-bound thriller are folk musicologist Gilbert (Redgrave) and his new companion Iris (Lockwood), a smart woman heading home to marry her "blue-blooded cheque chaser", who find them themselves trapped among some trigger-happy agents. When fussy governess Miss Froy (Whitty) mysteriously vanishes from the dining car, the sparky pair get their amateur sleuth on to track her down. Even with the help of cricket-obsessed Basil Rathbone and Naunton Wayne, their journey across the fictional country of Bandrika gets more dangerous with every passing mile. It's as much fun as you can have on a train, although if you can spot that Hitch cameo, you've got sharper eyes than us.
81. Paddington (2014)
Directed by: Paul King
Starring: Ben Whishaw (voice), Nicole Kidman, Hugh Bonneville, Sally Hawkins, Julie Walters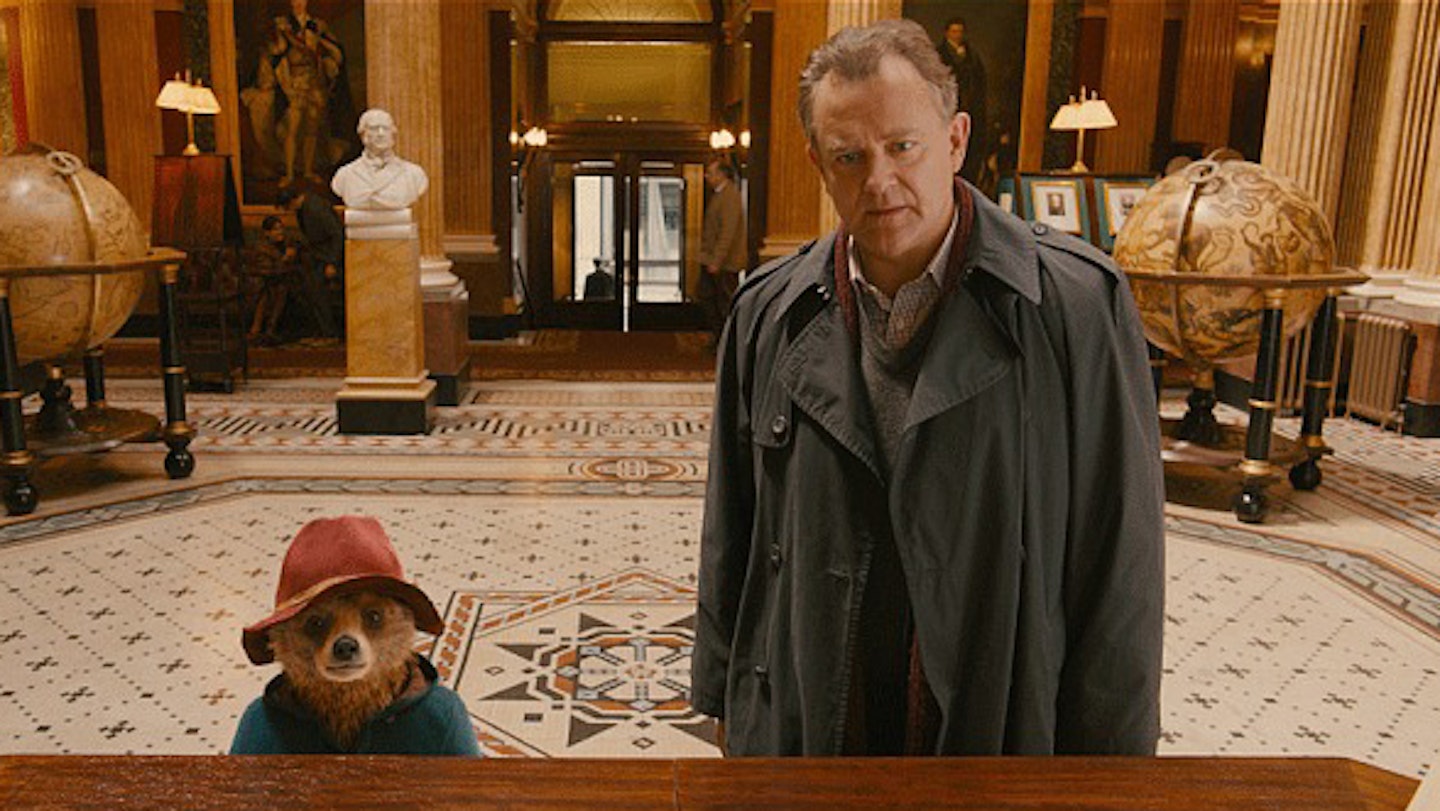 A great big hug of a movie, Paddington charmed the public and critics alike in one of the nicest surprises of 2014, adding itself to the canon of beloved Christmas movies and proving that bears aren't just for Werner Herzog documentaries and savaging Leonardo DiCaprio. Paul King (director/co-writer), Ben Whishaw (voice) and Framestore (visual effects) combined their talents to make a funny, affecting case for a kinder, more tolerant Britain. Post-Brexit, it feels more like a lovely dream. Look out for Paddington battling Nigel Farage in Paddington 2: Dark Territory.
80. Goodbye, Mr Chips (1939)
Directed by: Sam Wood
Starring: Robert Donat, Greer Garson, Terry Kilburn, John Mills, Paul Henreid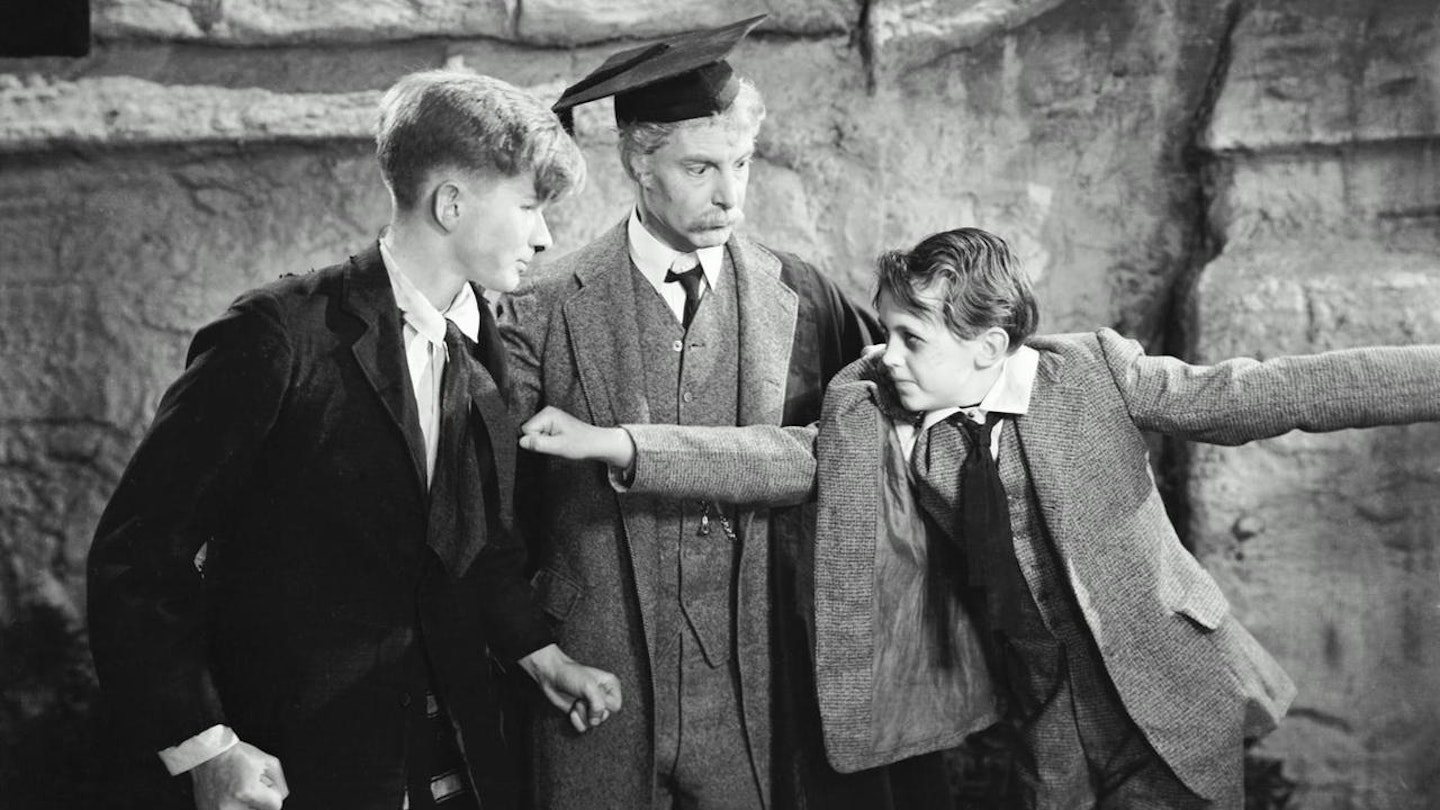 If you know a teacher who's just had a bad day, put this on to remind them of the importance of what they do. A deeply moving but blessedly unsentimental look at one teacher's career over a 50-year span, this chronicles his rocky early years, the changes wrought by the arrival of his wife and the deep scars – both personal and professional – taken along the way. While on one hand there are the successive generations of a single family who keep returning to the school, on the other there are the remembrance services for the dead of several conflicts, culminating in the devastation of World War I. This serves as a chronicle of a changing world as well as one man's life, and it serves as a tribute to ordinary, everyday greatness.
79. The King's Speech (2010)
Directed by: Tom Hooper
Starring: Colin Firth, Geoffrey Rush, Helena Bonham Carter, Timothy Spall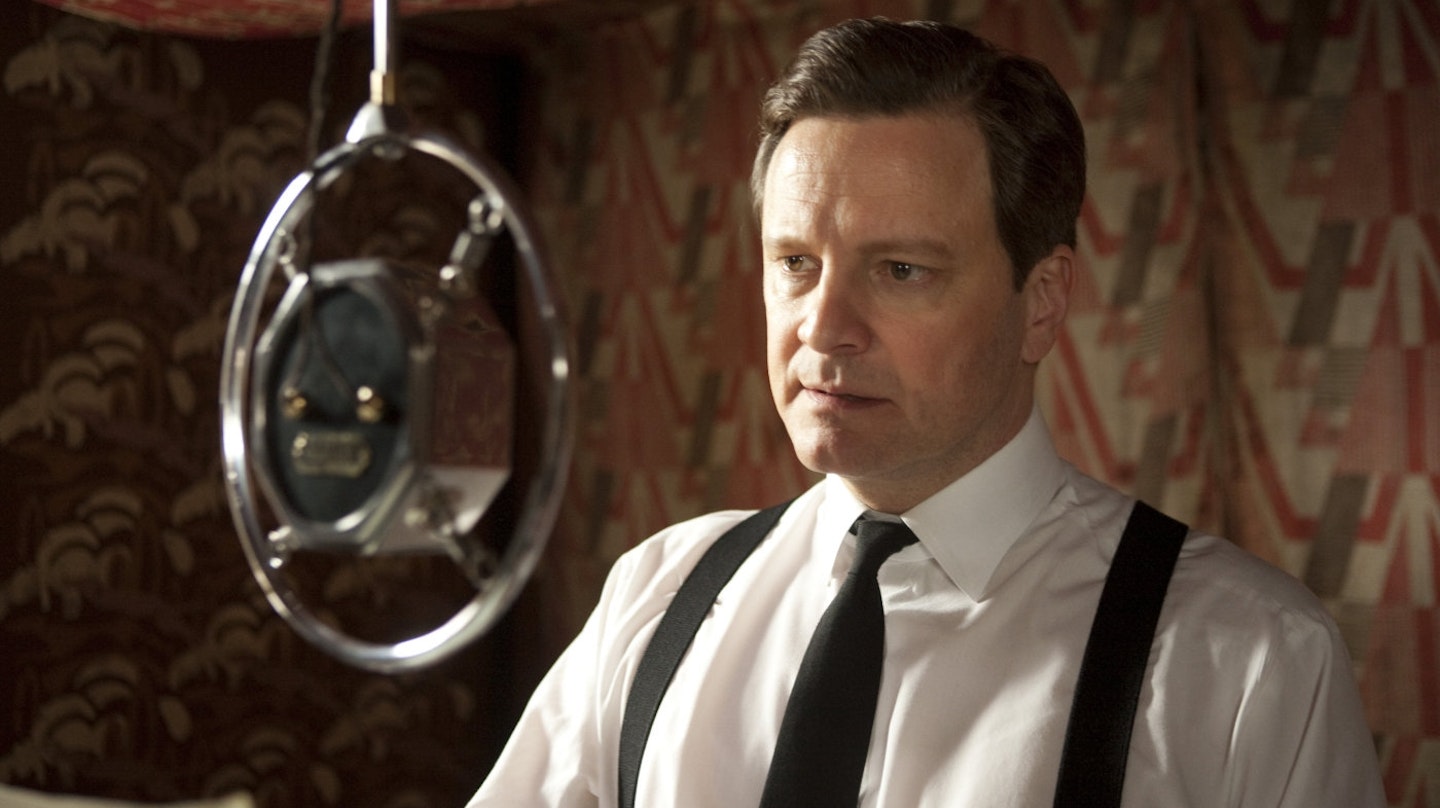 A film about a stuttering posho is not the most obvious crowdpleaser in film history, even with a wunderkind director and the most likeable star this side of Tom Hanks. And yet somehow this is gripping, suspenseful cinema, a sort of Rocky for the non-physical contender and an underdog story that would make a stone cheer. Colin Firth plays Bertie, the 1930s prince and future George VI afflicted with a terrible speech impediment that cripples his efforts at public speaking; Helena Bonham Carter is his endlessly supportive wife and Geoffrey Rush his eccentric speech therapist. It's talky, it's largely set in a London basement with peeling walls and creaking floors, and it's edge-of-your-seat stuff as Bertie struggles to get a word out, and faces both the throne and the outbreak of war with less trepidation than he displays faced with a microphone or small audience. Stirring stuff, no matter what you think of the monarchy.
78. Henry V (1989)
Directed by: Kenneth Branagh
Starring: Kenneth Branagh, Derek Jacobi, Brian Blessed, Emma Thompson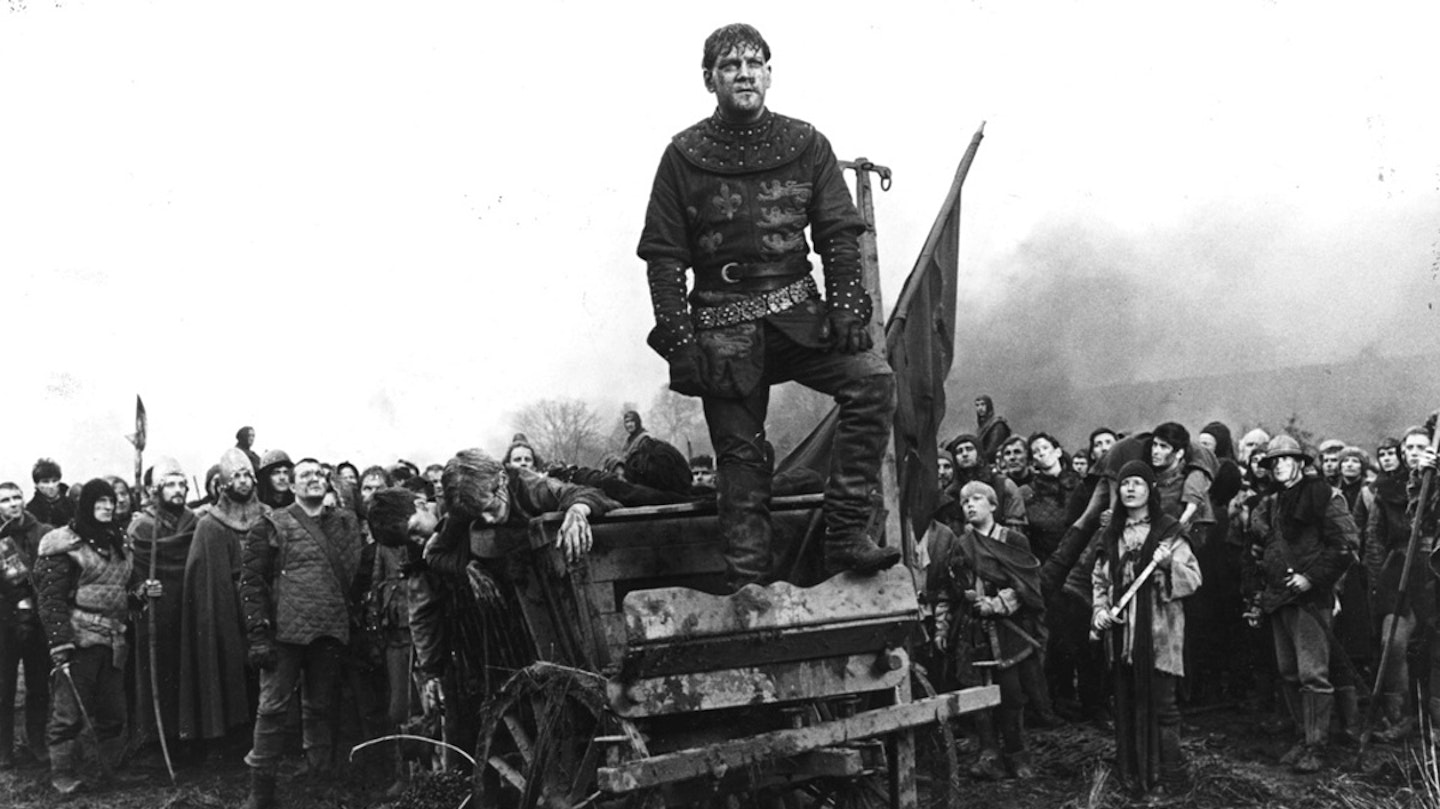 This may not quite provide the "muse of fire" for which Shakespeare's narrator wished in telling the story of Henry V, but it comes closer than any other adaptation to illustrating the scale and scope of his wars against the French, and gives even the previously gold-standard Laurence Olivier version a run for its money in the character stakes. Shakespearean wunderkind Branagh stepped into Olivier's footsteps in his directorial debut, directing himself as the young King goaded into a war in France and facing overwhelming odds. These battles are bloody, muddy and ungallant, making the most of cinema's scope and locations and a far cry from the often dry adaptations that had previously been the rule. The sheer number of luminaries in the cast is almost distracting (even Christian Bale is tucked away in there somewhere) but if you don't feel a stirring at the St. Crispin's Day speech, you're either dead inside or French.
77. Harry Potter And The Deathly Hallows: Part Two (2011)
Directed by: David Yates
Starring: Daniel Radcliffe, Emma Watson, Rupert Grint, Ralph Fiennes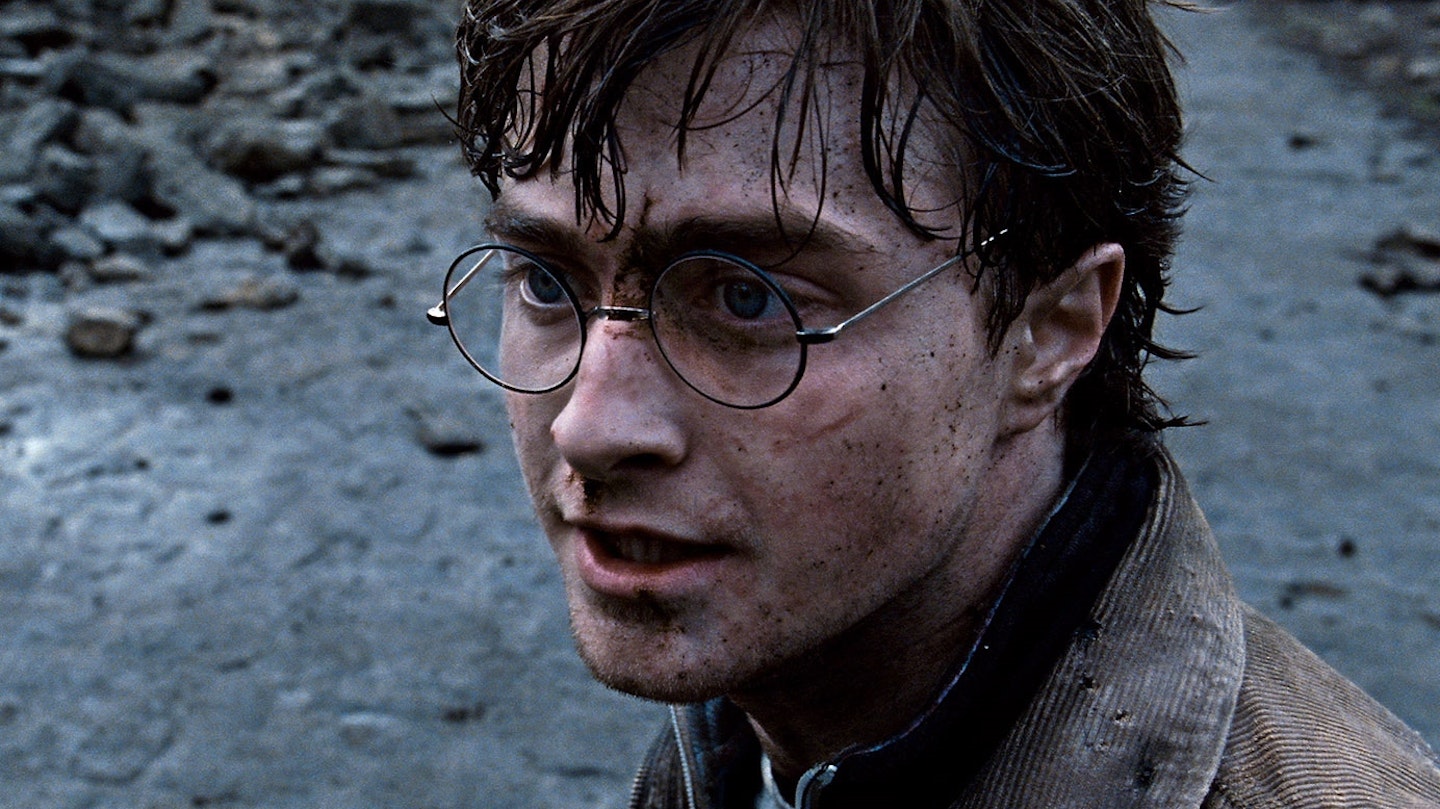 The second most recent film on the list, this gets a spot for doing the impossible: not going out with a whimper. So high were the expectations for this eighth instalment of the series that you would have forgiven director David Yates for locking himself in Dumbledore's office and refusing to come out until it was all over, but instead he turned out an action-packed, character-driven, sometimes brutal finale to the adventures of the boy wizard. Finally there's the all-out magical war that the series had always sidestepped; finally there's a resolution to the Harry and Voldemort conundrum. If nothing else, you have to admire the chutzpah of a series that not only takes time out for a metaphysical jaunt in the middle of the big final battle but also does the unthinkable and lets the bad guy have his victory on the way.
76. Naked (1993)
Directed by: Mike Leigh
Starring: David Thewlis, Lesley Sharp, Katrin Cartlidge, Ewen Bremmer
Naked represented a shift in Mike Leigh's work away from piercing studies of domestic mundanities into something far more edgier. David Thewlis is Johnny, an over-educated, unemployed drifter who comes to London fleeing a sex attack in Manchester and stays with an ex-girlfriend (Lesley Sharp), sleeps with her flatmate (Katrin Cartlidge) and generally expounds his caustic worldviews to anyone who listens. Naked sees Leigh getting to grips not only with a different subculture – underground London – but also with moviemaking, Dick Pope's cinematography full of tracking shots and interesting lighting strategies that felt new in Leigh's work. What doesn't surprise is the strength in depth of the performances: Thewlis is terrific as Johnny - bitter, articulate, deeply unpleasant, always compelling. If you've only ever seen him in Harry Potter, rectify this now.
75. Lock, Stock And Two Smoking Barrels (1998)
Directed by: Guy Ritchie
Starring: Jason Flemyng, Dexter Fletcher, Nick Moran, Jason Statham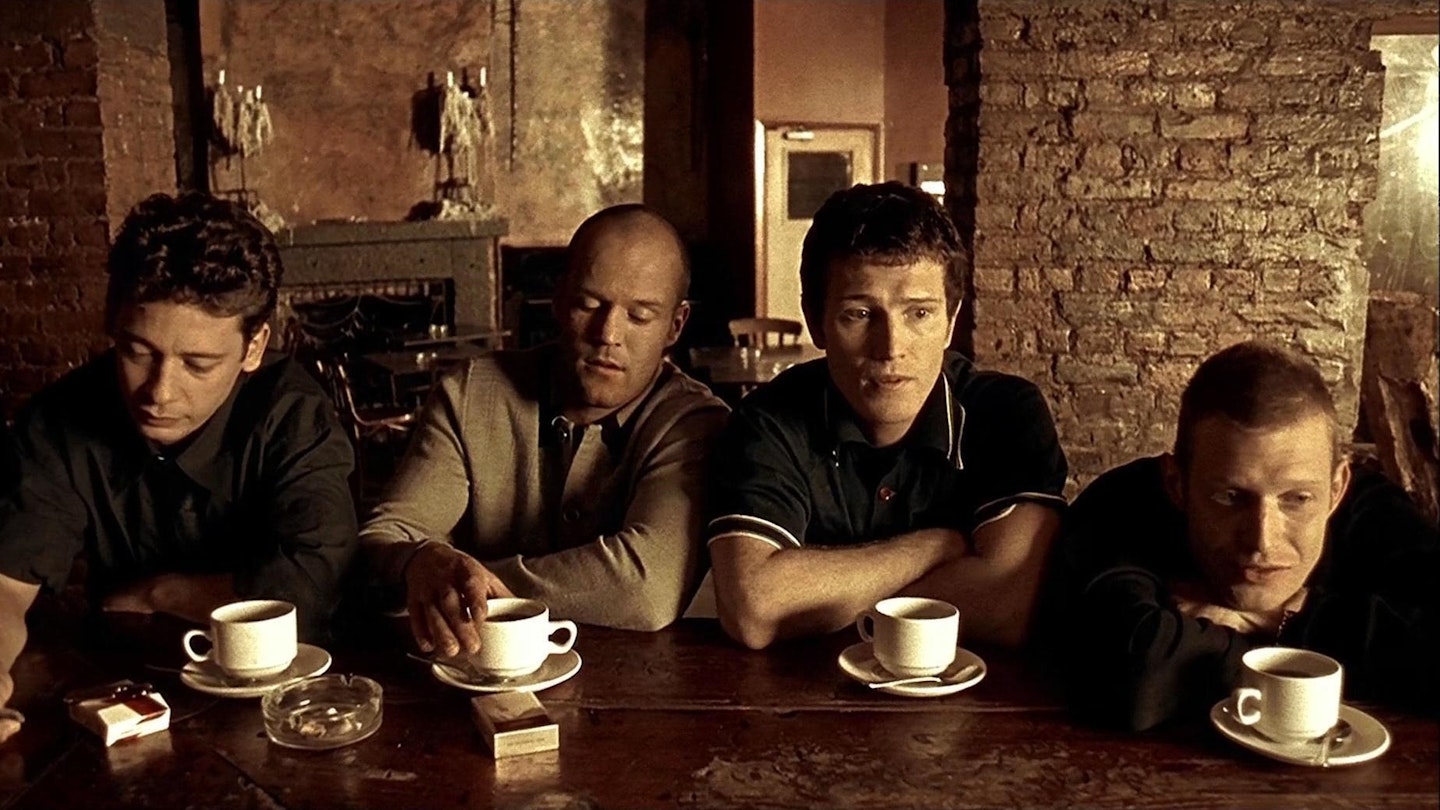 There's a perennial pub debate that poses the question: Which is better, Snatch or Lock Stock? Snatch apologists talk a good game, but the correct answer is, of course, Guy Ritchie's jaw-dropping debut. After all, this is a movie that brought the world 'The Stath', Vinnie Jones hammering someone's skull with a car door, and the knowledge that a big purple dildo can be used an offensive weapon. Essentially the shaggiest of shaggy dog stories - to call the plot "complex" is to do it a disservice - it's all so slickly done, delivered with such balls-out confidence and written with such an amazing turn of phrase that somehow the convoluted to-ing-and-froing works like clockwork. So well, in fact, that over 18 years later, it remains Ritchie's finest film, a fantastic achievement from a first-time director who took a group of meticulously-cast but relatively unknown actors and spun them into solid fackin' gold.
74. Starred Up (2013)
Directed by: David Mackenzie
Starring: Jack O'Connell, Ben Mendelsohn, Rupert Friend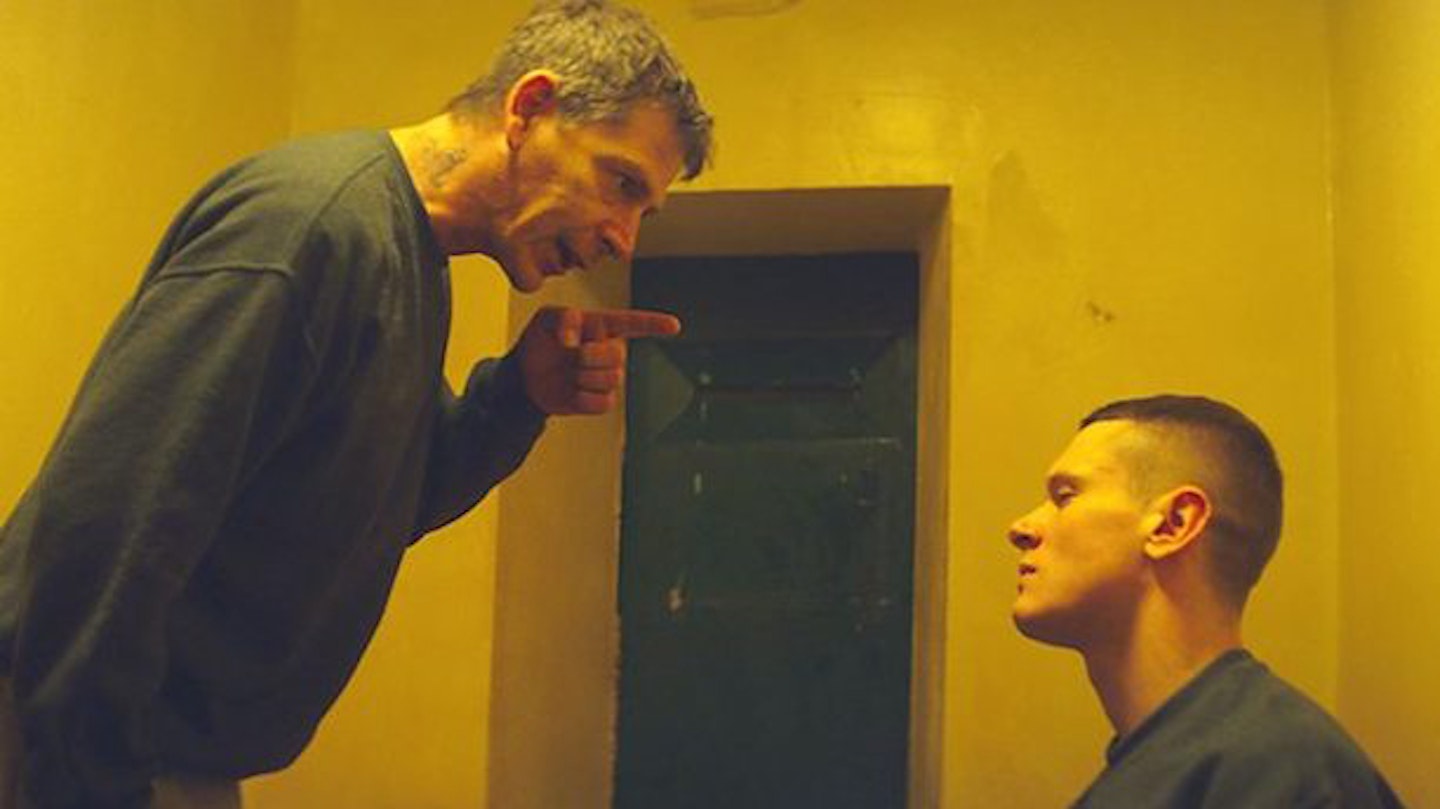 A blistering calling card for both its star, Jack O'Connell, and director, David Mackenzie, another of Starred Up's MVPs is a heralded figure. Therapist-turned-screenwriter Jonathan Asser channels his own experience working to rehabilitate prisoners into a violent, bruising and most of all, realistic depiction of life on the inside. O'Connell brings a laser-beam focus and ferocity to the role of uncontrollable young offender who's had to be "starred up" to an adult prison. It's a cocky, charismatic turn that brings to mind Finney, Burton and Courtenay and in the heydays of the British new wave.
73. Atonement (2007)
Directed by: Joe Wright
Starring: James McAvoy, Keira Knightley, Saoirse Ronan, Romola Garai, Vanessa Redgrave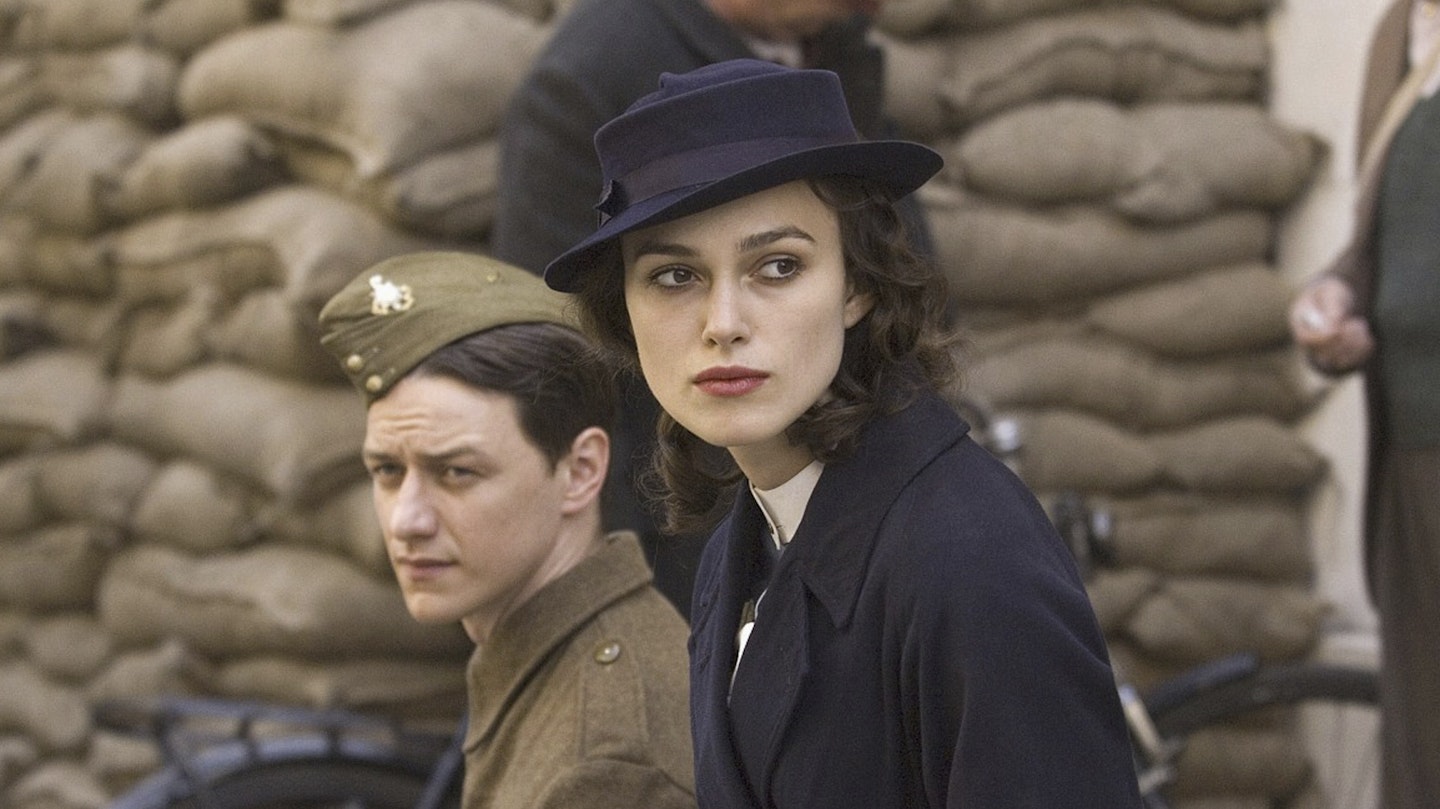 Atonement should be like every British film cliché rolled into one: there's a bit in a country house, a bit in World War II and a bit where there's a kitchen sink. And yet Joe Wright's adaptation of Ian McEwan's novel feels distinct and entirely its own beast. That's partly due to great performances and a twisty, not-strictly-linear structure, and partly due to bravura storytelling on Joe Wright's part - witness the devastating Steadicam Dunkirk shot, or the terse confrontation between the grown up Briony (Ronan / Garai / Redgrave) and the couple she wronged (McAvoy and Knightley). The initial mistake, born of adolescent stupidity and self-importance, mushrooms out of control, rolls into adulthood and overshadows a number of lives. The final revelation of its consequences is devastating, no matter how inevitable it is.
72. The Man In The White Suit (1951)
Directed by: Alexander Mackendrick
Starring: Alec Guinness, Joan Greenwood, Cecil Parker, Michael Gough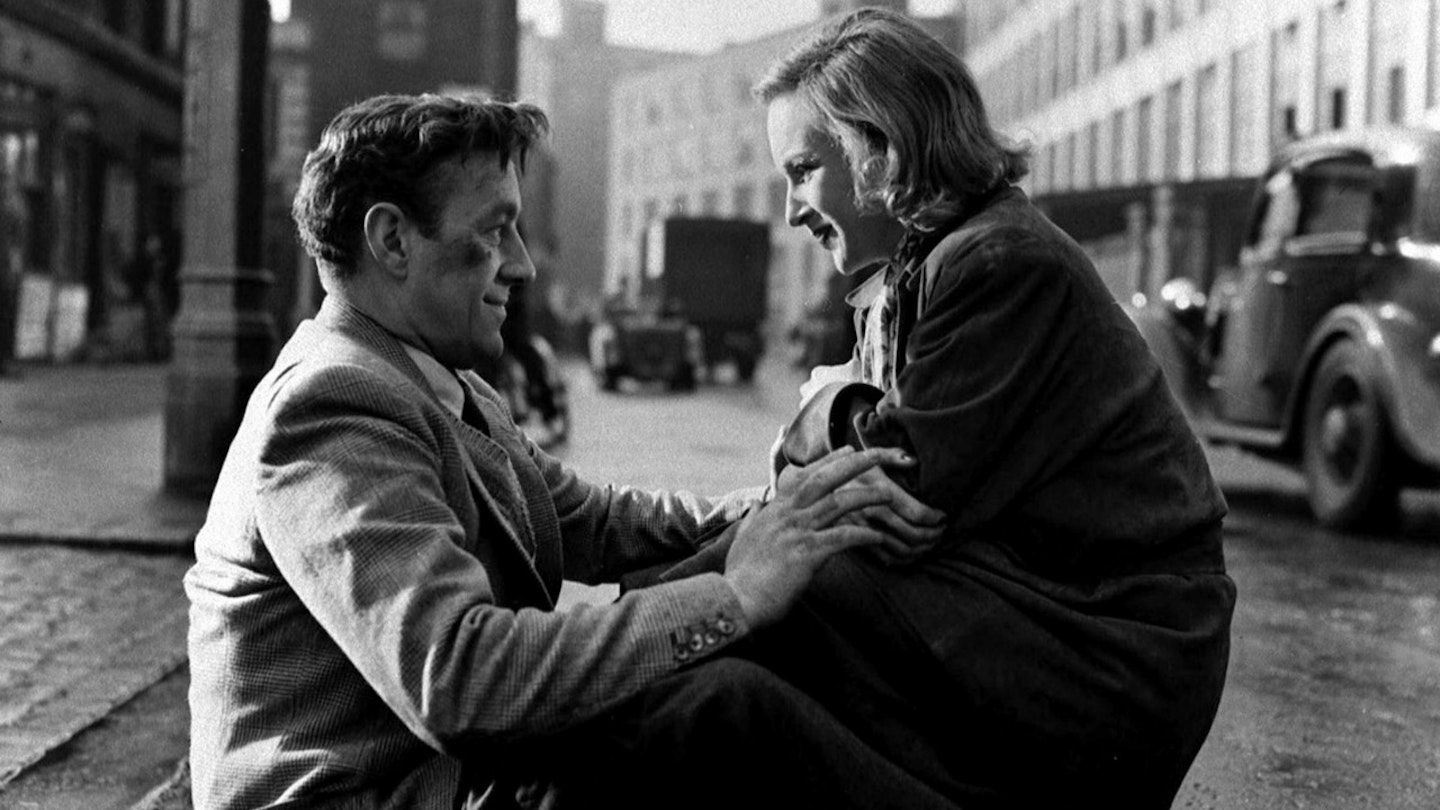 Alexander Mackendrick deserves to be remembered more prominently than he is among the titans of British film, given that he's responsible for classics like Whisky Galore!, The Ladykillers and this biting satire. Alec Guinness plays the idealistic young chemist who invents a revolutionary fabric that never wears out or requires washing - only to learn that both industrialists and workers are united against his wonder-cloth, terrified that it will destroy the economy and put them all out of business. If not as vicious as Mackendrick's great American effort, Sweet Smell Of Success, this is still a plenty cynical view of the chances for real innovation in our imperfect world, and feels as relevant today as it did 60 years ago, if not more so (see Who Killed The Electric Car? for a real-world application). It's a comedy - more or less - but it will leave you thinking long after the credits roll.
71. Control (2007)
Directed by: Anton Corbijn
Starring: Sam Riley, Toby Kebbell, Samantha Morton, Alexandra Maria Lara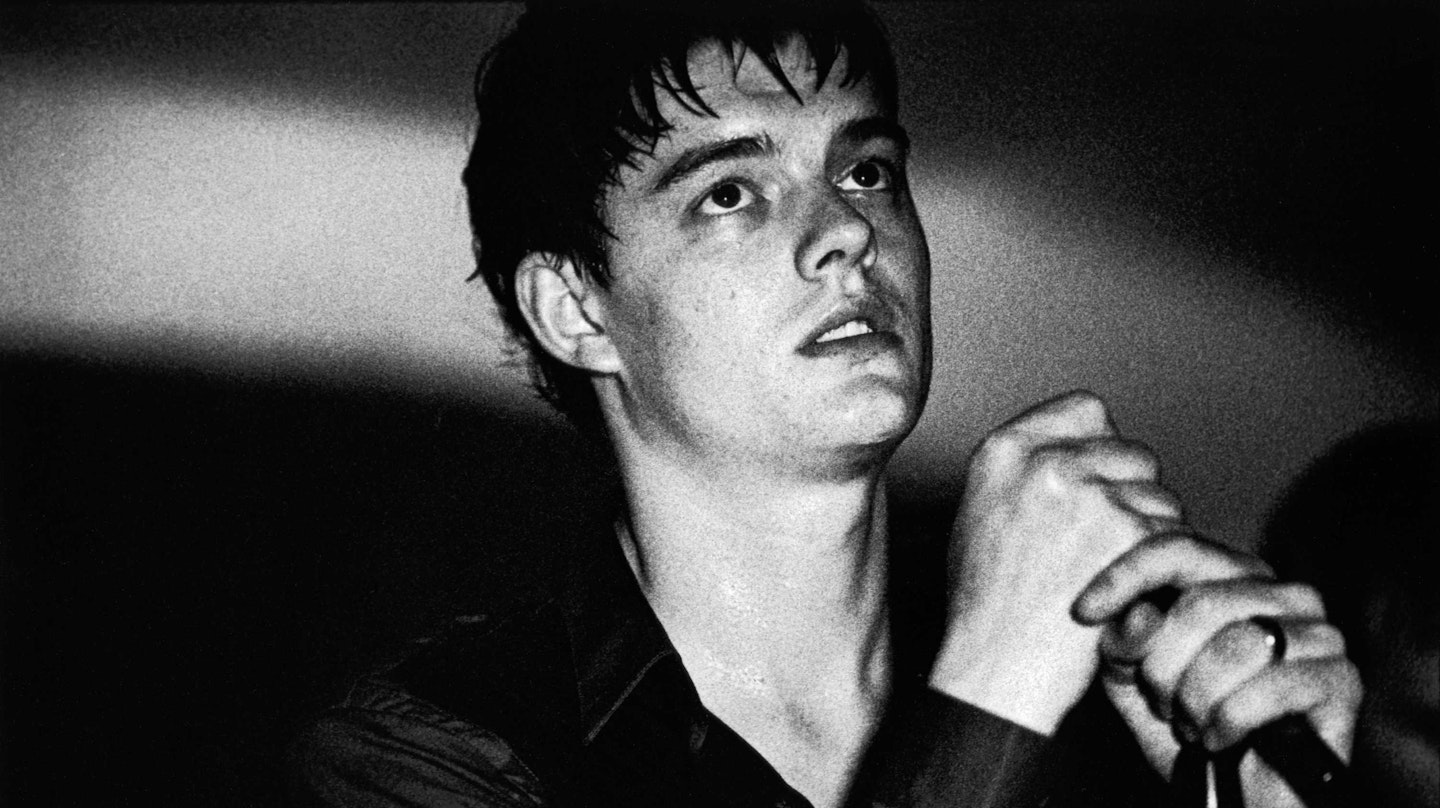 A fresh-faced Sam Riley took his place in the pantheon of on-screen rockstars with his depiction of Joy Division front man Ian Curtis. We're saying he's more than a musical match for Andy Serkis's Ian Dury, Gary Oldman's Sid Vicious or Val Kilmer's Jim Morrison - even if his trousers aren't quite as tight. All jittery energy and charisma on stage, Riley's post-punk star is a troubled soul who jerks from elation to despair off it. We know what's coming from the first reel but experienced through the eyes of Debbie Curtis (Samantha Morton), his suicide still comes like a punch in the gut. If Joy Division's music doesn't do it for you – and Riley and co. reprise their greatest moments with more panache than we've any right to expect from non-musicians – there's Anton Corbijn's stunning black-and-white photography to appreciate and Toby Kebbell's hilarious Rob Gretton to enjoy. Frankly, if that's not enough for you, you're a big dog's cock.
70.Casino Royale (2006)
Directed by: Martin Campbell
Starring: Daniel Craig, Eva Green, Mads Mikkelsen, Judi Dench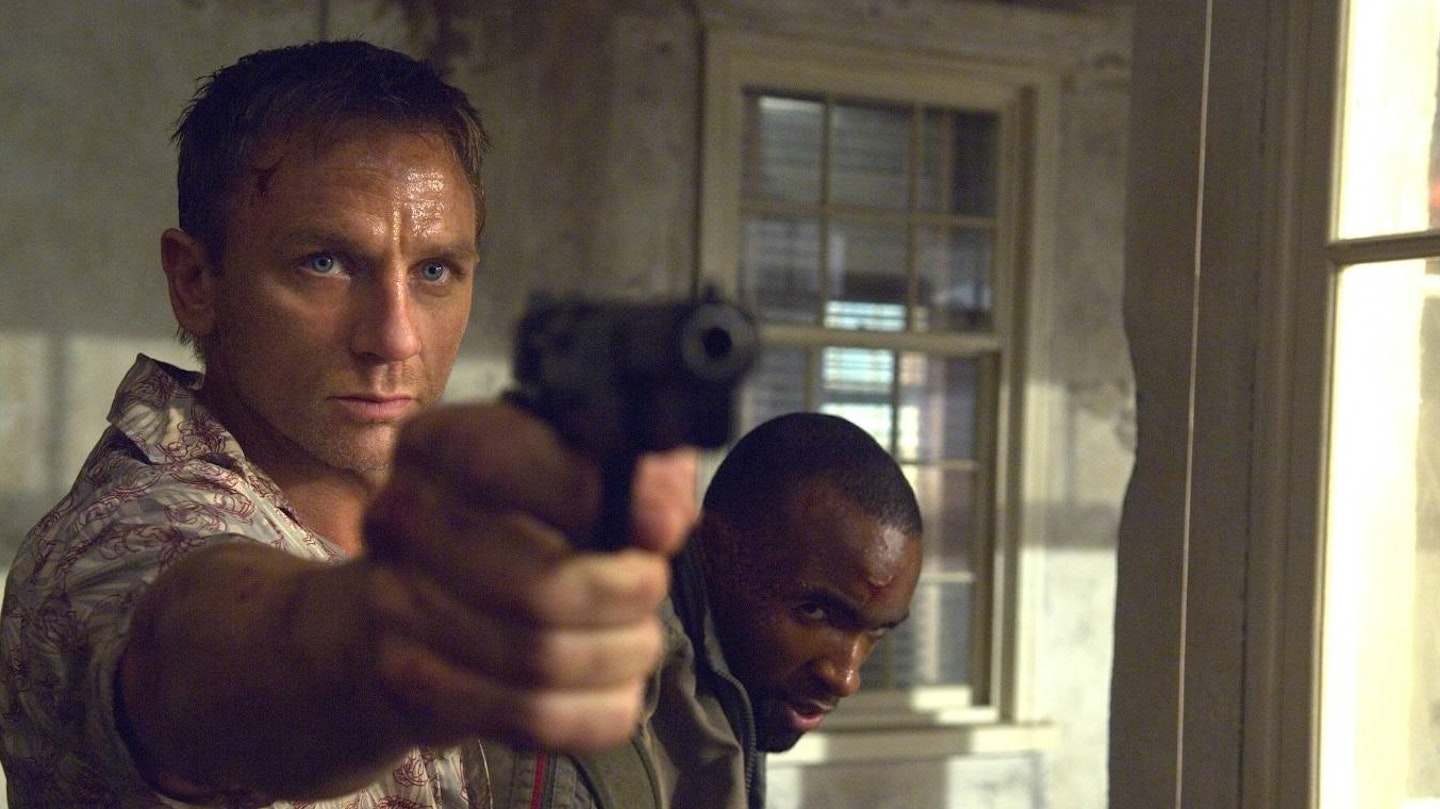 It wasn't Pierce Brosnan's fault that the Bond franchise ran aground, but equally you could hardly blame Daniel Craig that some 007 fanatics couldn't see him mirroring Brosnan's suave charm, Moore's wry humour or Sean Connery's ability to look deeply sexy even when wearing dad slacks and a golf visor. The whole Craig-not-Bond farrago was a reminder that, back in the early '60s, even Connery wasn't everyone's first choice. That seemed to work out okay and so, emphatically, did this. Sure, we'd probably have sacrificed all that product-placement ahead of gadget-fiend, Q, and we kinda missed the silly kiss-off lines, but the return of Bond matched all reasonable expectations and then blasted past them. From Craig's first 00-ppearance, a Bourne-like flashback ferocious enough to pin moviegoers back in their seats, every head-punch, put-down and swimming-trunk-clad step felt like a mission statement for the reborn franchise. "How did he die, your contact?" enquiries a case officer of Bond's first kill. "Not well," glowers 007. You can almost hear the remote-controlled car backing hurriedly into the garage.
69. Blow-Up (1966)
Directed by: Michelangelo Antonioni
Starring: David Hemmings, Vanessa Redgrave, Sarah Miles, John Castle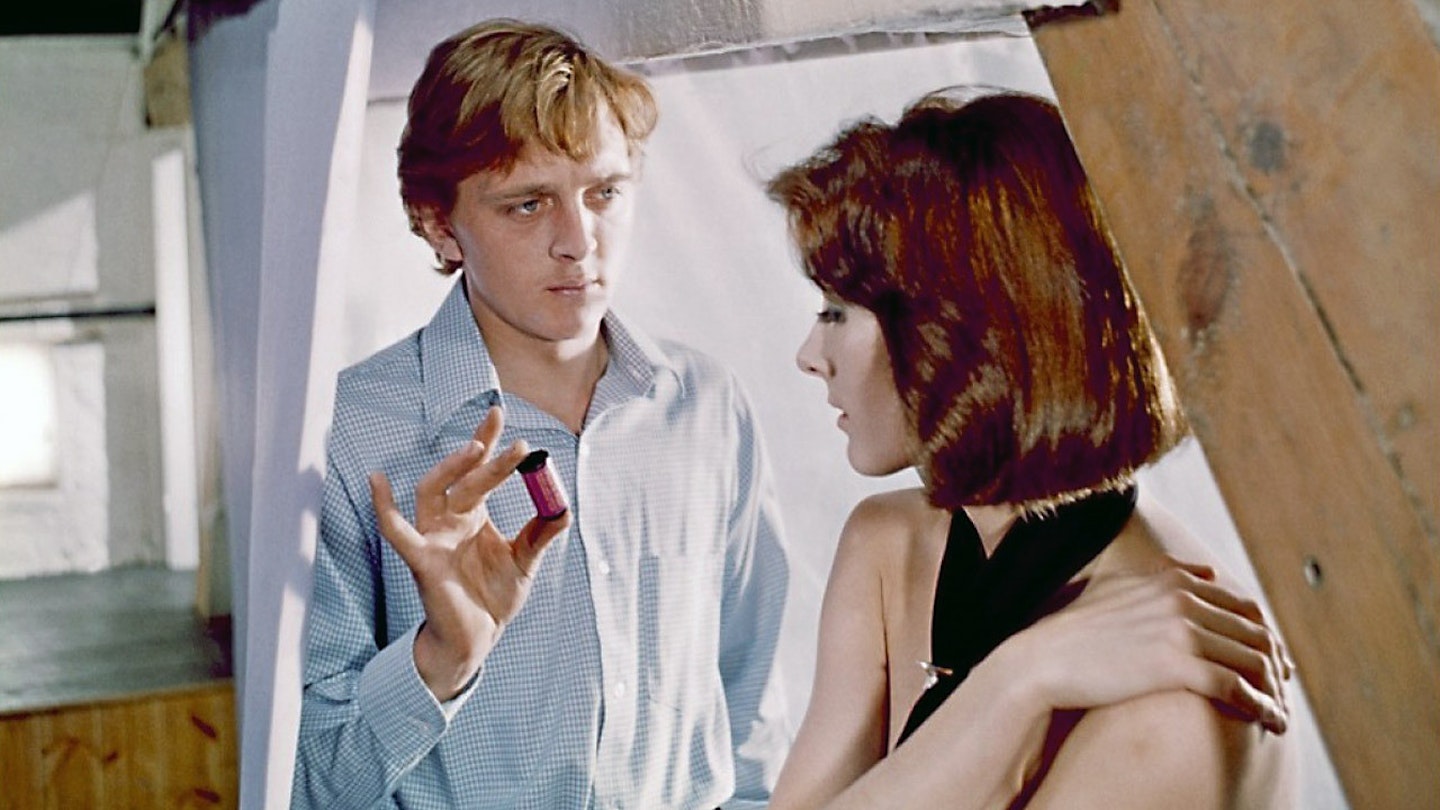 As you'd expect from the man behind L'Avventura and La Notta, Michelangelo Antonioni's swinging London is a pretty high-minded place. The 24/7 sexy romping at fashion snapper Thomas' (Hemmings) pad may look a bit, well, Austin Powers-y these days, but the Italian great was in deadly earnest with his adaption of Julio Cortázar's short story. Behind all the chiffon and posing is a seriously smart premise that Brian De Palma would later borrow for his thriller Blow Out (1981). It has Hemmings' David Bailey-alike realising that he's unwittingly photographed a murderer lurking in the treeline of a deserted park. Returning the next day, he stumbles upon the victim's body, only for it to vanish soon afterwards. Will the snapper tear himself away from the sexy romping long enough to solve the case and bring the killer to justice? Come on, this is Antonioni we're talking about. If you've seen L'Avventura, you'll know that he prefers his mysteries unsolved.
68. Senna (2010)
Directed by: Asif Kapadia
Starring: Ayrton Senna, Alain Prost, Frank Williams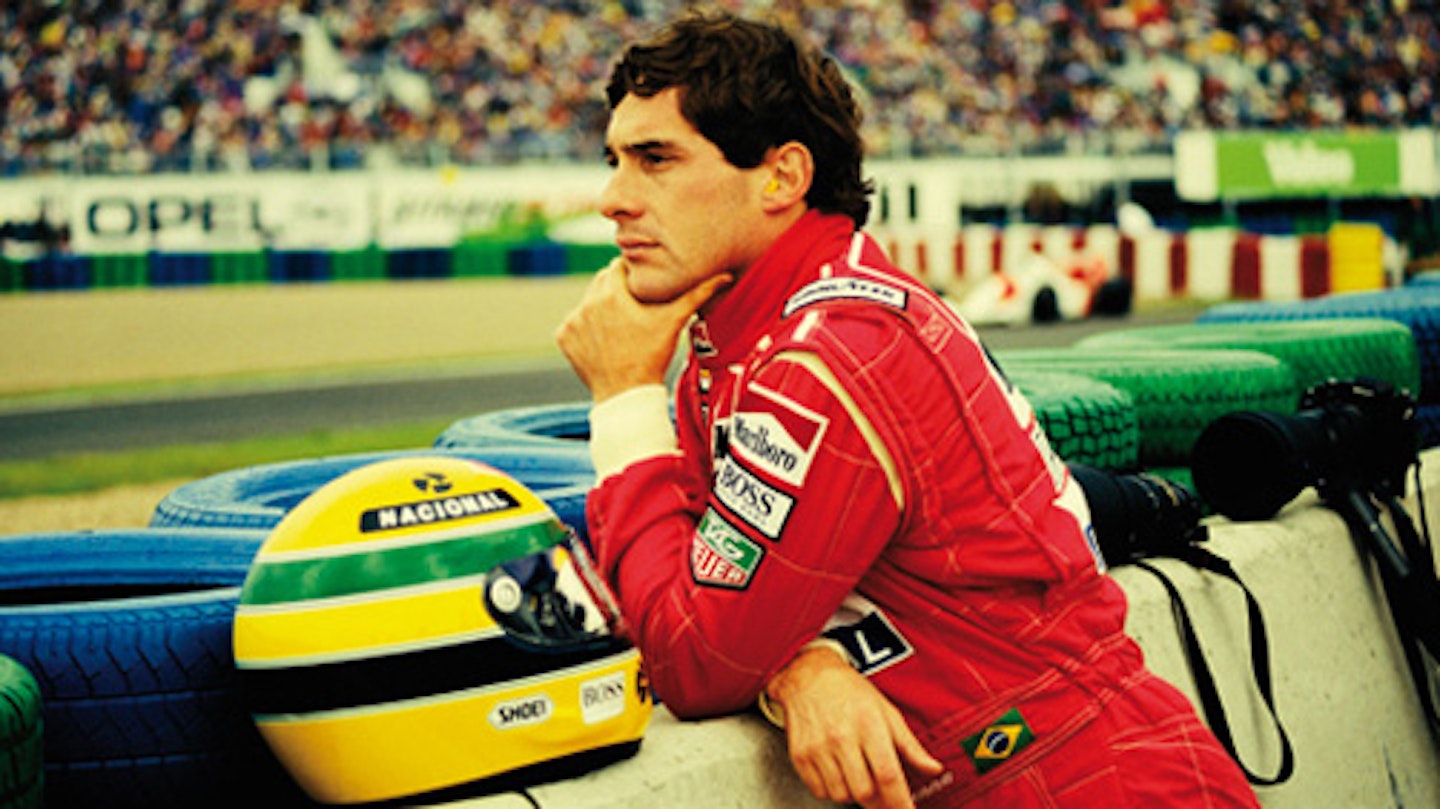 Far from the dyed-in-the-wool petrolhead you might expect, Asif Kapadia's knowledge of Formula 1 was fairly scant when he set to work on his mesmerising character study of Brazilian superstar Ayrton Senna. It speaks volumes for Senna's charisma that the result still glows with fanboyish affection for its subject. As Empire's review points out, his life and death are recounted in an "ambitiously constructed, deeply compelling and thrilling" style. Kapadia wasn't finished there: he'd repeat the trick with Amy Winehouse in Amy five years later.
67. In The Loop (2009)
Directed by: Armando Iannucci
Starring: Tom Hollander, James Gandolfini, Mimi Kennedy, Chris Addison, Peter Capaldi, Gina McKee.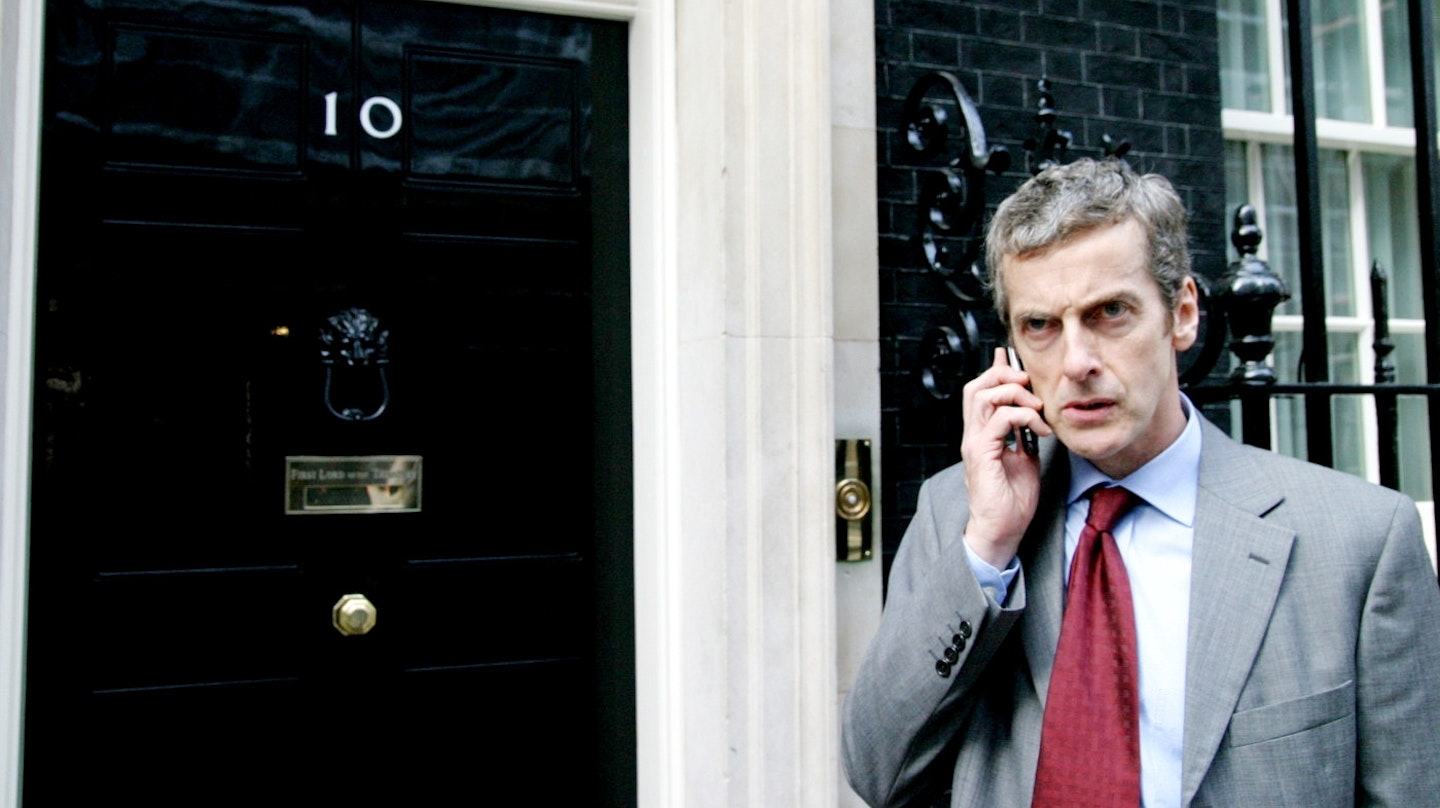 Definitive proof that politics – or movies about politics, at least – can be side-clutchingly funny, In The Loop is an expletive-filled masterclass in modern political satire, saying fuckety-bye to New Labour with one last cinematic kick to the balls. Essentially a spin-off of the equally hilarious BBC sitcom The Thick of It, it shares many of the same characters, most notably Peter Capaldi's foul-mouthed Scottish spin doctor Malcolm Tucker. Cracking out one-liners like "Christ on a bendy-bus. Don't be such a fucking faff arse" and "Good morning, my little chicks and cocks" he's definitely the star of the show, but Chris Addison, James Gandolfini and Steve Coogan steal a good scene too. So hats off to writer/director/walking-talking-real-life-genius Armando Iannucci for being first to prove that sitcom spin-offs can work in the 21st century. If you're in the mood for more sitcoms turned into movies, head right here.
66. Man On Wire (2008)
Directed by: James Marsh
Starring: Philippe Petit, Jean Francois Heckel, Jean-Louis Blondeau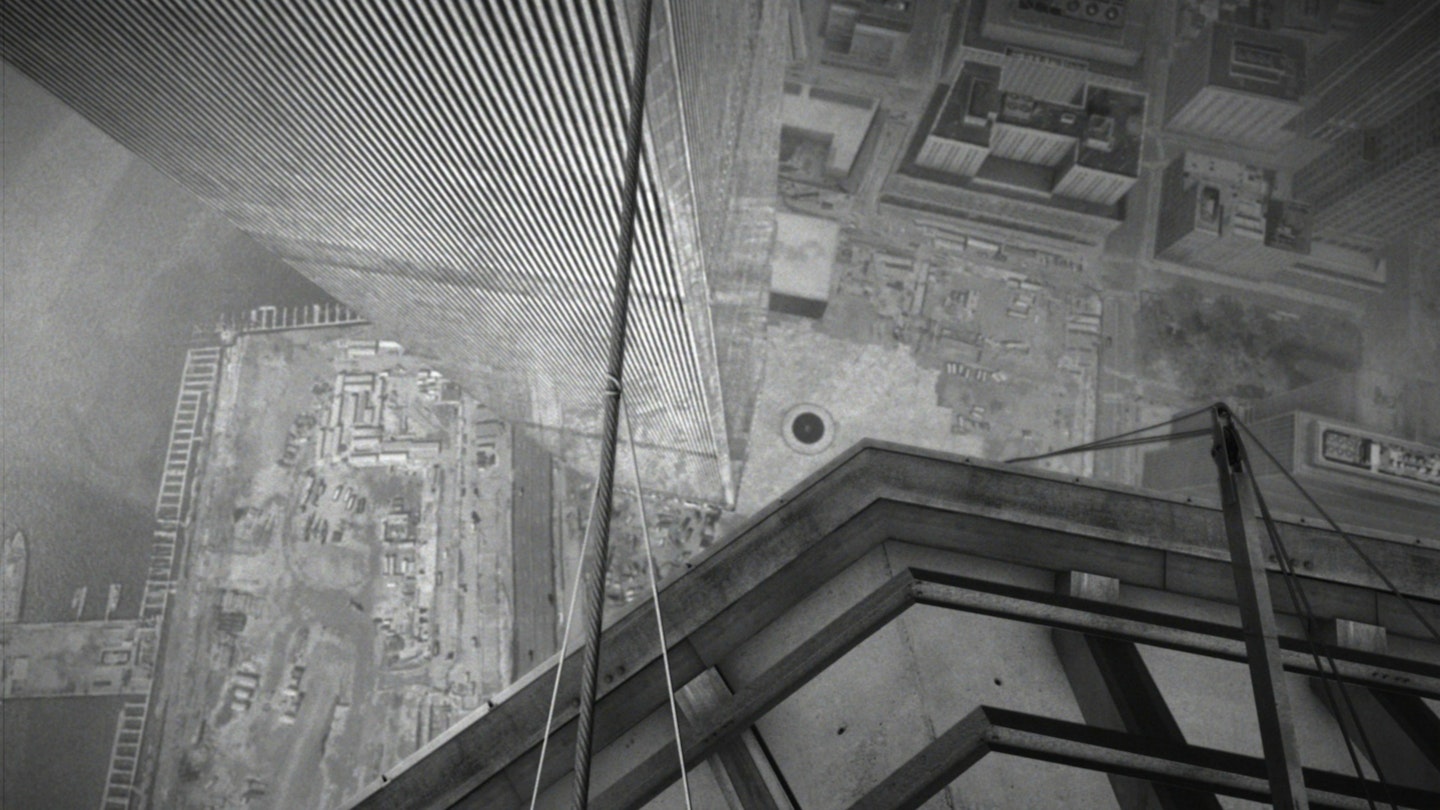 It's a documentary movie about an event so fantastic you couldn't script it. It's a heist movie without any attempt at theft. It's a film about the World Trade Center that doesn't so much as glancingly mention the events of 9/11. And yet Man On Wire not only works brilliantly, but grips like a vice as it tells the story of daredevil Philippe Petit and his distinctly unsanctioned 1974 mission to tightrope walk (and dance, and spin, and sit) on a rope strung 110 stories up between the summits of the twin towers of the WTC. Months in the planning and hours in the execution, this combination of contemporary video and partial reconstruction gives modern viewers the chance to share in the magical and clearly impossible (for all rational people, at least) feats of Petit, still an endlessly energetic figure and, we must assume, something of a magician. And for more great documentaries, check out our list of the best examples on Netflix.
65. Hunger (2008)
Directed by: Steve McQueen
Starring: Liam Cunningham, Michael Fassbender, Liam McMahon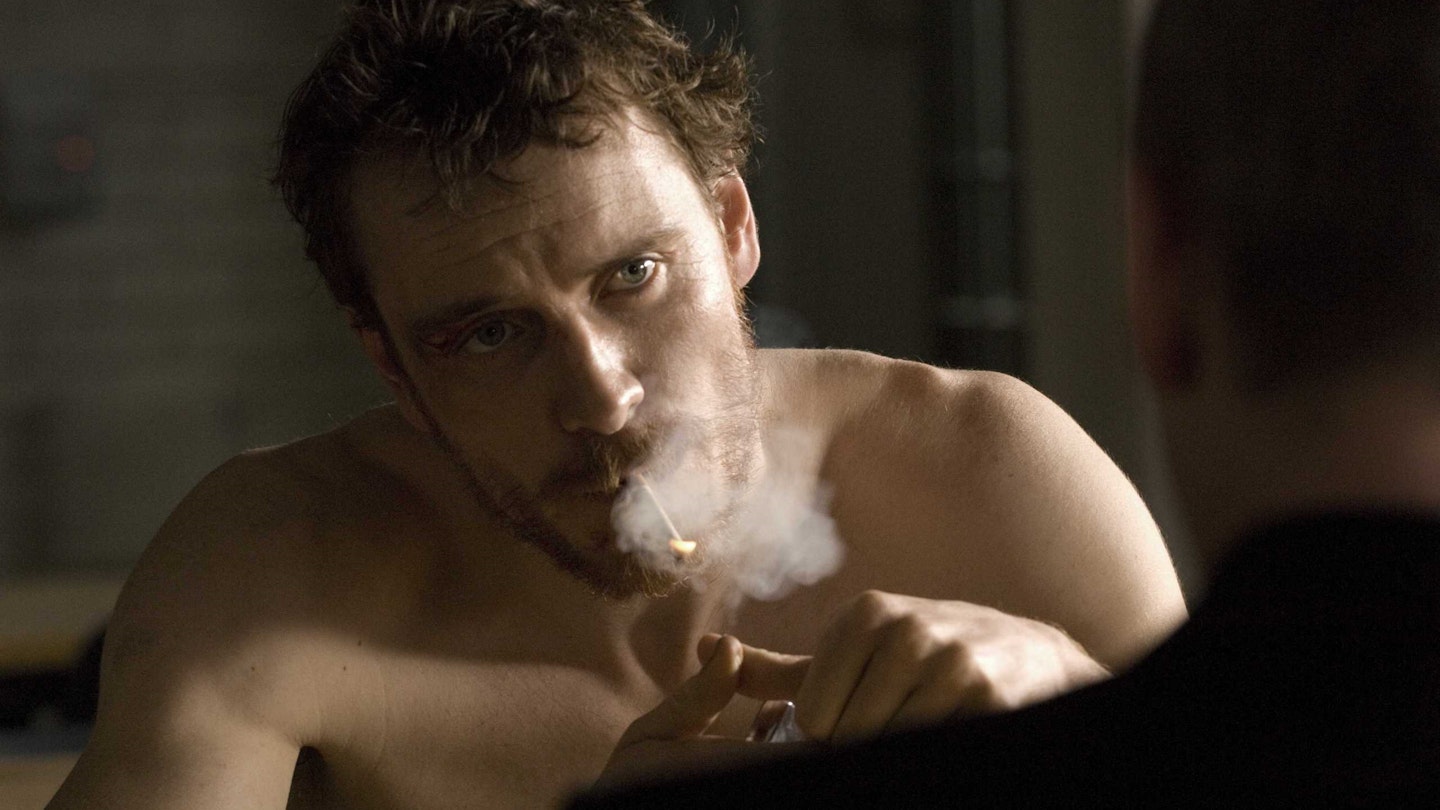 Like Sam Taylor-Wood, Julian Schnabel and, um, Tony Hart, artist-cum-director Steve McQueen turned out to be a dab hand in both kinds of studio. His debut feature, a stark meditation on political protest, largely sidelined the actual politics behind Bobby Sands' (Fassbender) 1981 hunger strike to zoom in on the man himself. It's not an easy watch, by any means. Michael Fassbender's astonishing portrayal of the dying IRA man is disquieting viewing, while McQueen's Maze Prison, faeces-smeared walls, urine sloshing corridors and all, will haunt your dreams. The 33lbs Fassbender lost for the part, a Machinist-like plunge into emaciation, translates into a performance filled with heavy-lidded determination: the frailer Sands' body becomes the stronger he seems, a dichotomy the actor explores to the full. His 17 minute exchange with Liam Cunningham's Catholic priest offers an electric centrepiece scene captured in one unobtrusive take by McQueen's camera. Okay, Hunger probably isn't a movie to settle down to with a pizza, but it's an essential piece of modern art from a director we'll be seeing a whole lot more from.
64. The Lavender Hill Mob (1951)
*Directed by: Charles Crichton
Starring: Alec Guinness, Stanley Holloway, Sid James, Alfie Bass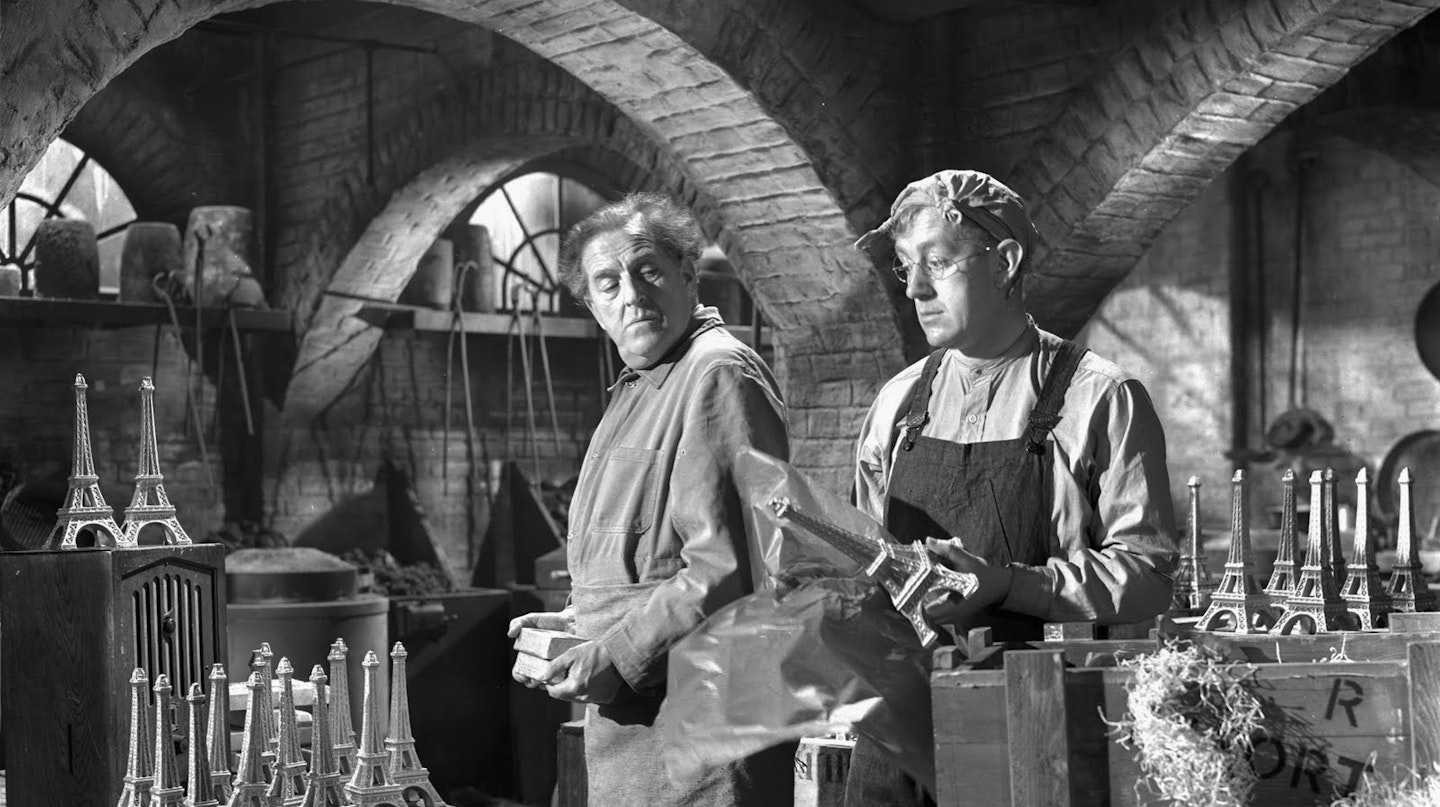 Another sparkling prize jewel in the already-gleaming crown of Ealing Studios, The Lavender Hill Mob is a quaintly British, lightly-satirical comedy among their very best. Produced in the middle of what many consider to be the studio's peak years (the post-War period from 1947 - 1955), director Charles Crichton and Oscar-nabbing screenwriter T.E.B. Clark crafted a likeably amoral crime caper centred on Alec Guinness' meek bank clerk who decides to pull off a brilliant gold robbery. Though later scenes hint at a possibly darker direction (the Eiffel Tower chase, for instance, has obvious shades of Hitchcock), this is a lighter affair than other Ealing masterpieces such as Kind Hearts And Coronets or The Ladykillers. The cast sings (not literally), but the most satisfying moments both belong to Guinness; first, when he realises that he's the eponymous mob's boss, and second when he endearingly admits that he'd like to be called "Dutch".
63. Chariots Of Fire (1981)
Directed by: Hugh Hudson
Starring: Ben Cross, Ian Charleson, Nigel Havers, Cheryl Campbell, Ian Holm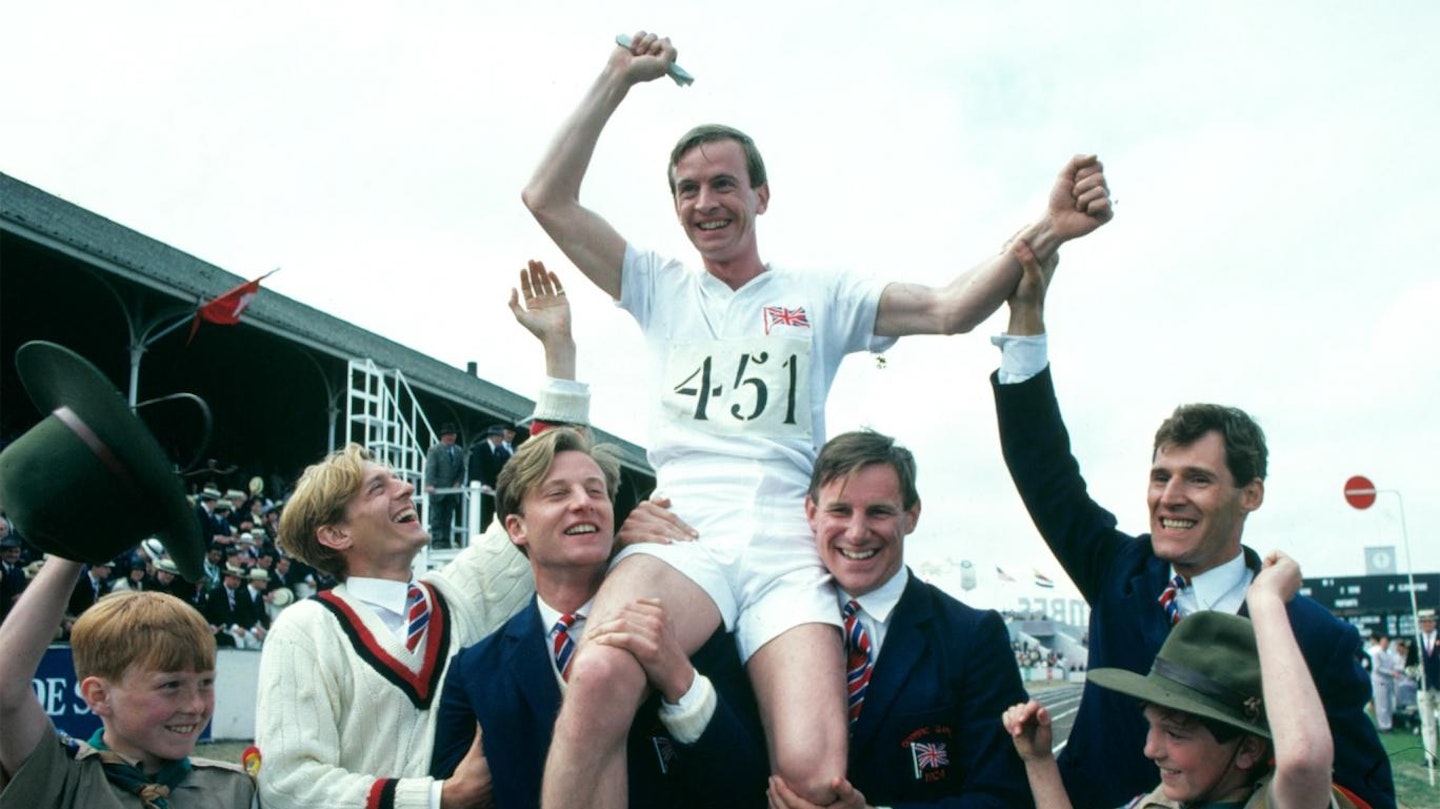 Chariots Of Fire is, perhaps, the definition of a movie that became too successful for its own good. Twenty-first century newcomers to Hugh Hudson's classic sports drama have to dig through a steeplejump's worth of hype, a catchphrase that looms like stormcloud (screenwriter Colin Welland may always regret whooping, "The British are coming" when picking up his Oscar), and a small army of top-hat wearing, ever-so-snooty characters that are hard to not laugh at on occasion. But if you can see through all that, there is a beautiful movie beneath, dealing with devotion and identity, religion and fame. And that's without mentioning Vangelis's still jaw-dropping, if now slightly clichéd, score, a synthesiser-heavy masterpiece that somehow sits perfectly with the film's 1920s setting. It's a piece of music so magnificent it'd make Zookeeper watchable, and we don't say that lightly. With the London Olympics year fast approaching, expect the film to return to favour in a blaze of not-on-Sunday patriotism and slightly tuneless whistling. Hurrah!
62. Secrets And Lies (1996)
Directed by: Mike Leigh
Starring: Brenda Blethyn, Marianne Jean-Baptiste, Timothy Spall, Phyllis Logan
Like many of Mike Leigh's films, Secrets And Lies was only loosely scripted, with the cast then improvising the rest. The central idea is all Leigh's - in this case, an adopted, middle-class black woman (Jean-Baptiste as Hortense Cumberbatch) discovers her real mother is white and working class (Blethyn as Cynthia Purley), throwing both their lives into an emotional maelstrom - but for the most part, the lines are the actors' own. That didn't stop the Academy nominating Leigh for Best Screenplay (as well as Best Director and Best Picture, on top of nods for Jean-Baptiste and Blethyn) - and nor should it have. Leigh's unorthodox directing technique may not be Hollywood's way doing things, but when the result is as touching and hilarious as Secrets And Lies, it doesn't much matter. Sure, no golden bald men ended up in Leigh's hands, but plenty of BAFTAs did, as well as the Palme d'Or, making it comfortably the biggest critical success of his career.
61. The Full Monty (1997)
Directed by: Peter Cattaneo
Starring: Robert Carlyle, Mark Addy, Tom Wilkinson, Paul Barber, Hugo Speer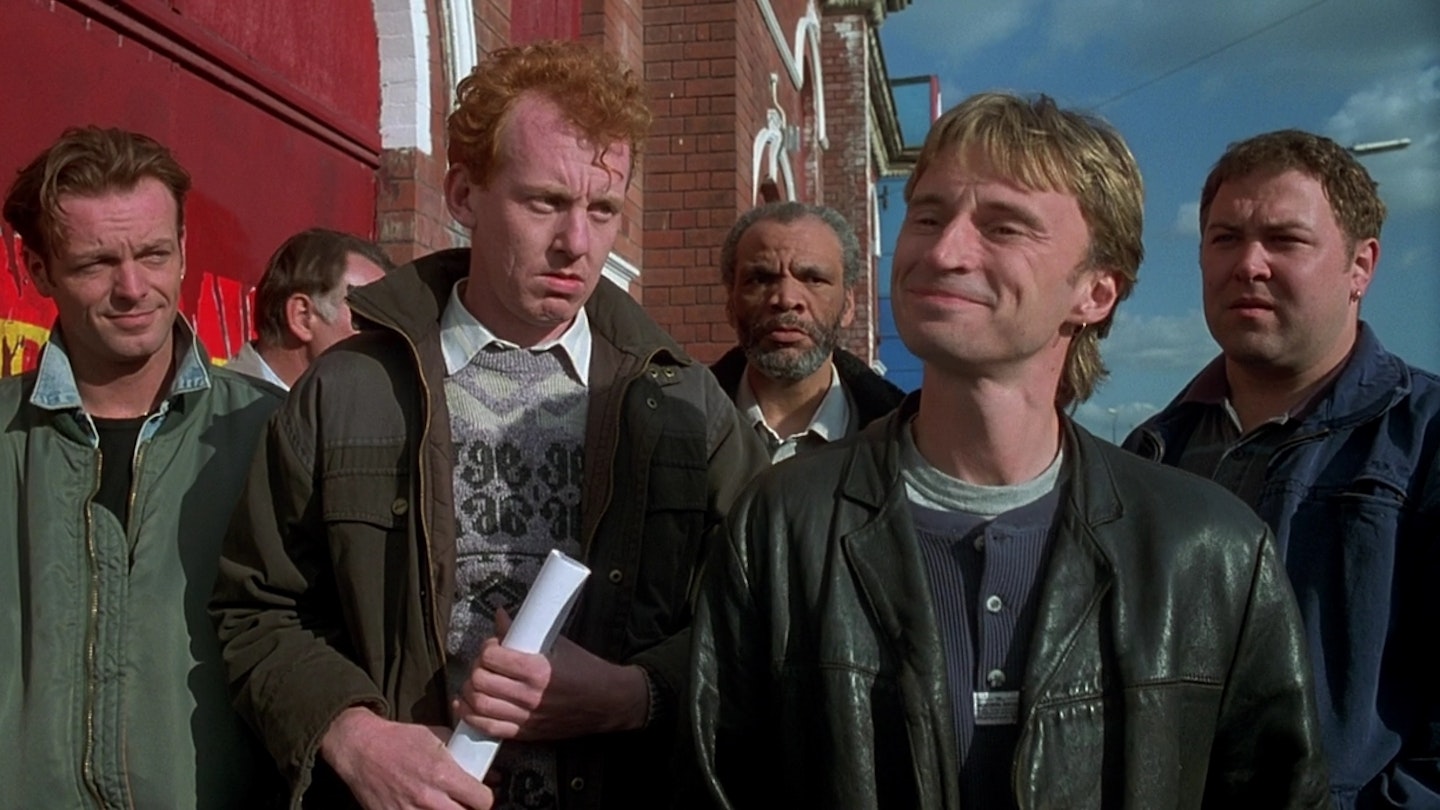 Cynics often carp that British cinema falls into two distinct categories: the glossy costume efforts and the grim-oop-north dramas. This one, however, manages to leaven the grimness (still very much present in the constant shadow of economic meltdown) with a sense of humour and quiet determination, as a gang of unemployed steel workers try to make a little money by, well, stripping completely naked for a horde of baying women. It's a true underdog story, glued together by immensely sympathetic performances, particularly from Carlyle, Addy and Wilkinson, all of whom were launched into Hollywood after their turns here. Worth watching just for the Post Office queue dance scene, wherein each of the team quietly start shifting in time to the music as they await their dole cheques.
60. A Hard Day's Night (1964)
Directed by: Richard Lester
Starring: Paul McCartney, John Lennon, Ringo Starr, George Harrison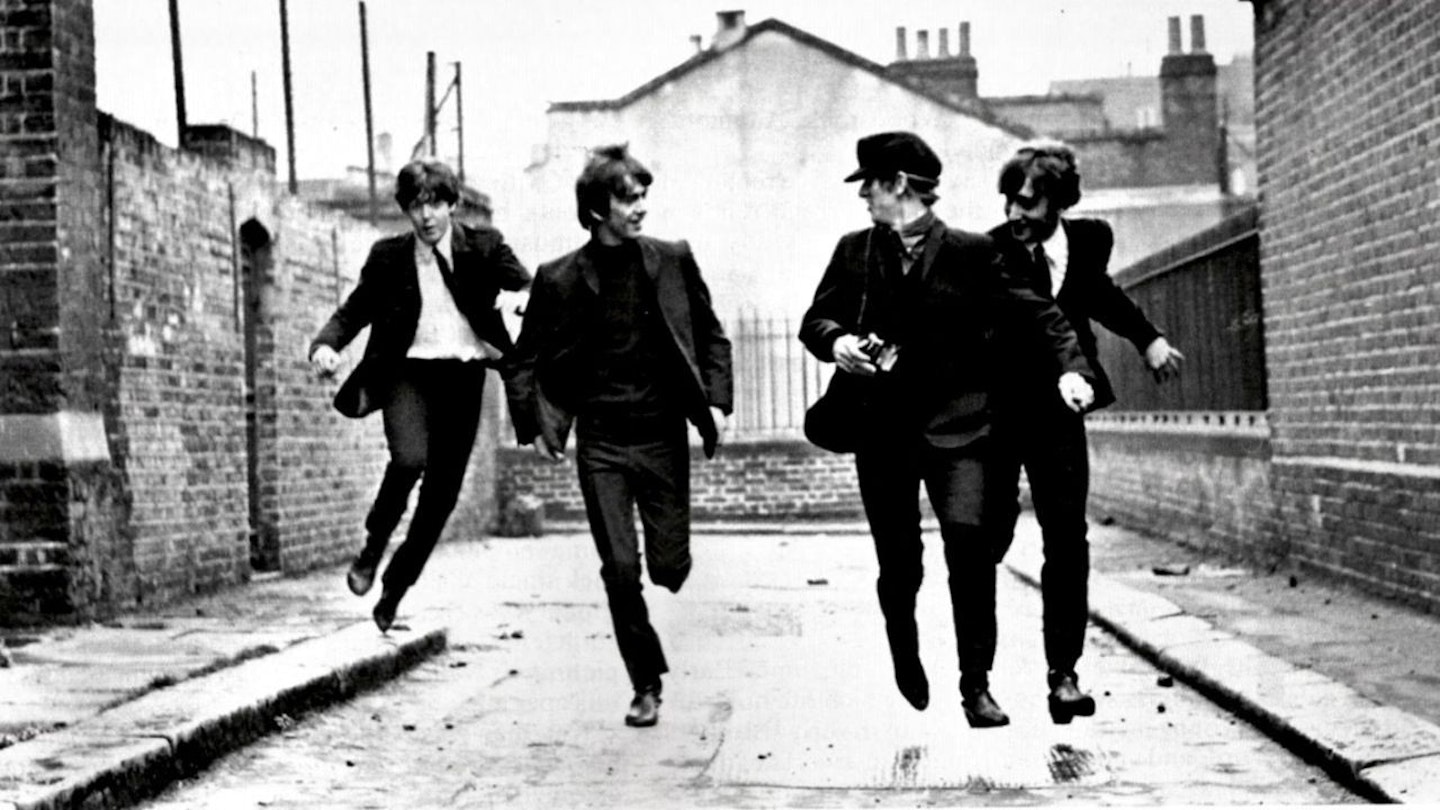 This is more than just a music promo. It's more than a pre-MTV attempt to market a band through film. It's an honest-to-god comedy with genuine wit and heart and also - not incidentally - some terrific tunes. A day in the life of the Fab Four at the height of Beatlemania, rushed out before their inevitable decline (so thought the executives) it went a long way to establishing the popular perceptions of each of the group, with Lennon as the smartass, McCartney the sensible one, Harrison quiet and Starr a clown. Aside from the obvious comic elements, much of it was true to their lives at the time, screenwriter Alun Owen spending weeks with the band observing their reality before constructing his script. Richard Lester's sure direction and more fantastical touches completed the picture, reinventing the music biopic and inspiring everything from spy movies to The Monkees.
59. Peeping Tom (1960)
Directed by: Michael Powell
Starring: Carl Boehm, Anna Massey, Moira Shearer, Maxine Audley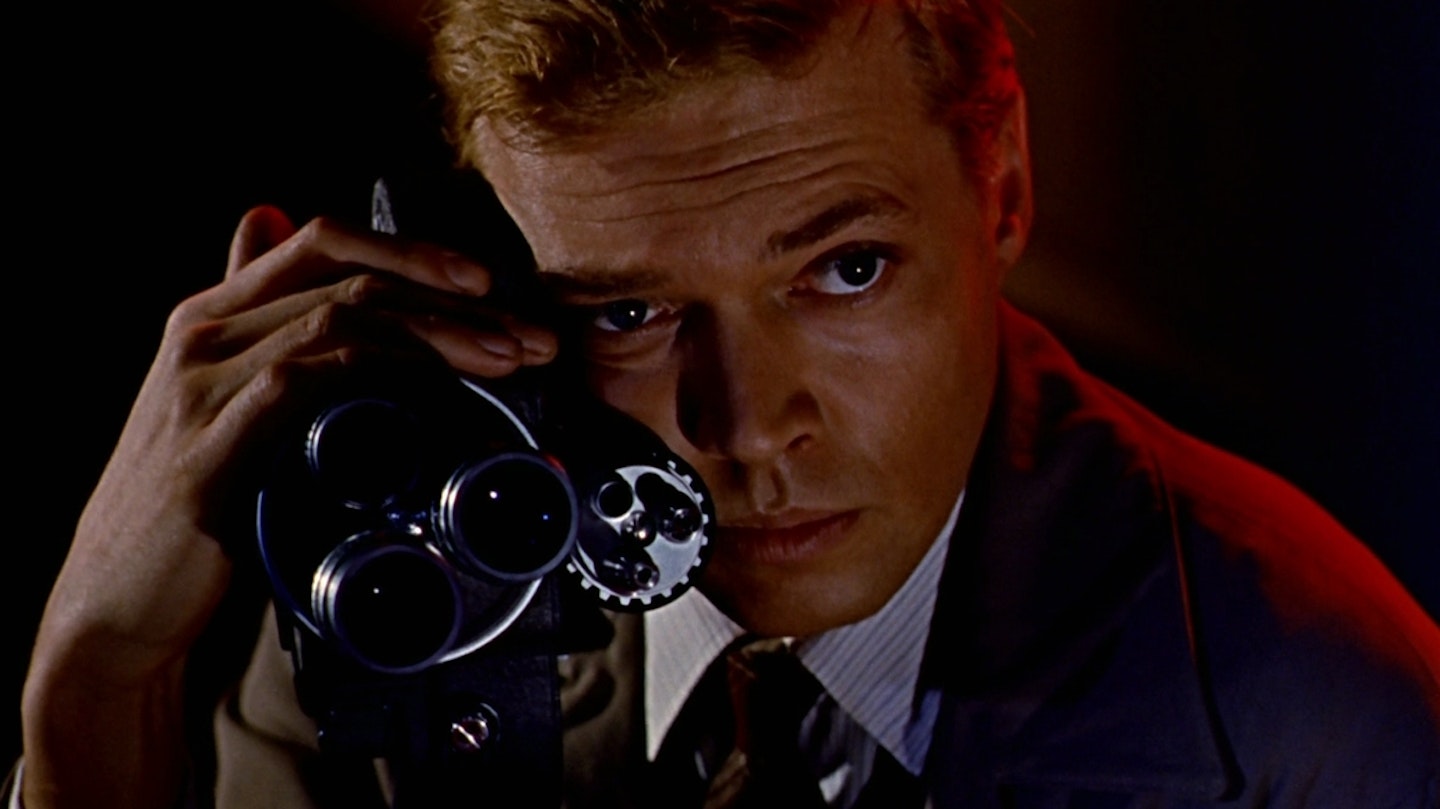 One half of Britain's greatest filmmaking double act, Michael Powell's darker side came out to play when his old pal Emeric Pressburger wasn't about. Powell struck out on his own with this startling thriller about a serial-killing filmmaker (Boehm) who murders his subjects with a blade hidden in his tripod. Audiences and critics hated it, and the controversy that surrounded its release was so acrid it practically finished Powell's career. Strangely, it wasn't entirely alone in its boundary pushing: Hitchcock's Psycho was delivering similarly psycho-sexual shocks across the Pond at the same time. The difference? Hitch grabbed four Oscars and enough box-office loot to fill the Bates Motel; Peeping Tom played to empty cinemas. "Wholly evil," railed one critic – and that was one of the more positive reviews. Peeping Tom's startling ideas - especially its suggestion that the audience was complicit in Boehm's brutal murders – were just too much for contemporary viewers to chew on. As Martin Scorsese, one of the film's great champions, points out: "It shows how the camera violates and the aggression of filmmaking." Like Man Bites Dog in a more reactionary era, it said things that no-one wanted to hear. Happily, the passing of time has been a whole lot kinder, although it's still not a brilliant date movie.
58. Slumdog Millionaire (2008)
Directed by: Danny Boyle
Starring: Dev Patel, Freida Pinto, Madhur Mittal, Anil Kapoor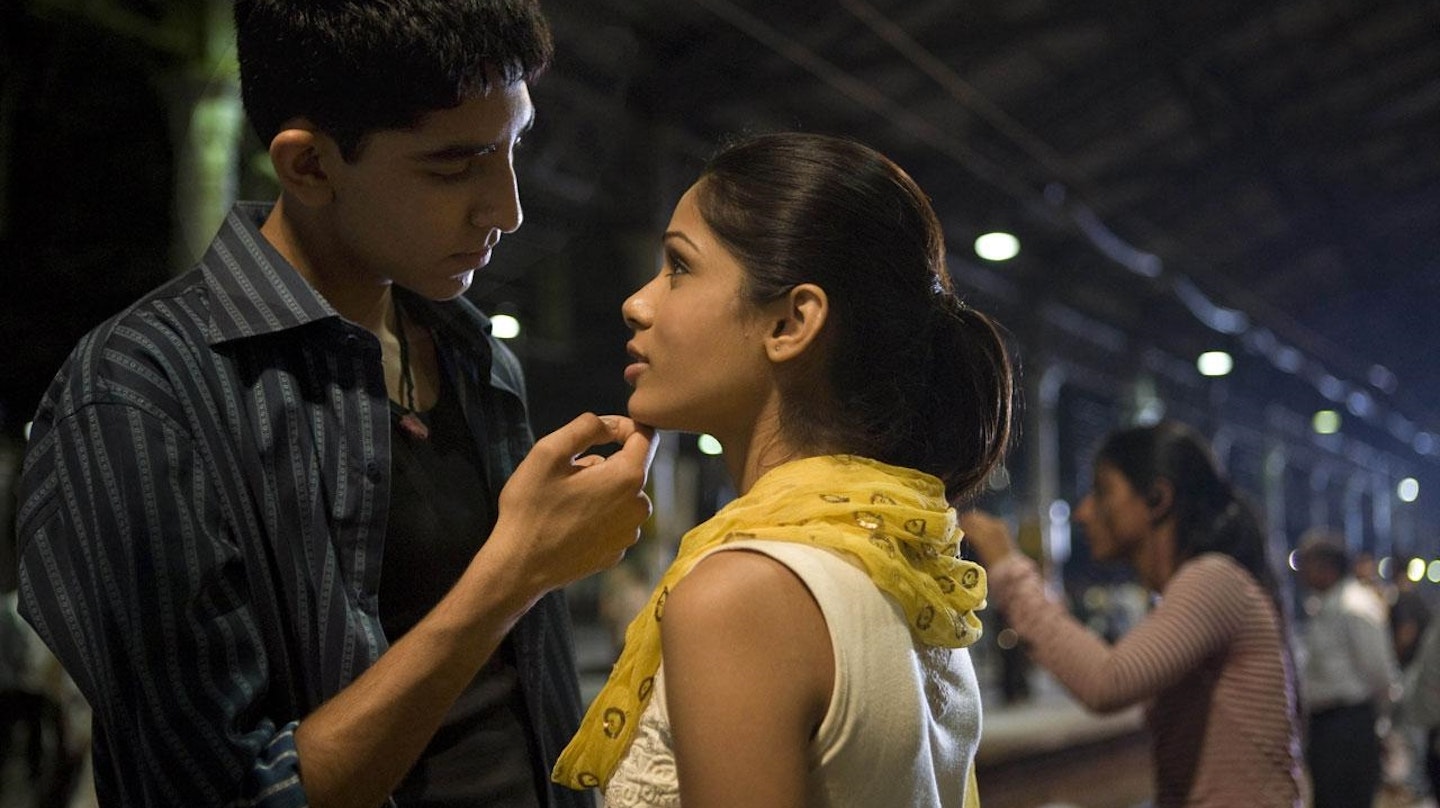 Totting up all the scores, Slumdog hoovered up eight Oscars (from ten nominations) – including Best Picture, Best Director, and Best Adapted Screenplay – as well as seven BAFTAs, four Golden Globes and a whole trainload more gongs back in 2008. Whichever way you cut it, it's one big mantlepiece. Rewatching it now, it's easy to see why. Anthony Dod Mantle's gorgeous cinematography makes India its very own, and Jamal (Patel) and Latika (Pinto) deliver the sweetest romantic moments seen in cinemas this century – including that glorious dance sequence during the credits. Some critics proclaimed it "feel-good" but with the persistent darkness throughout (child slavery, battery-aided interrogation, drug-dealing and violence, anyone?) cropping up, we're not sure where they got that idea. Still, it remains a stunning, Capra-esque Hollywood melodrama that blew the world away, and reminded everyone what a fantastic director Danny Boyle can be – as if that were in doubt.
57. My Name Is Joe (1998)
Directed by: Ken Loach
Starring: Peter Mullan, Louise Goodall, David McKay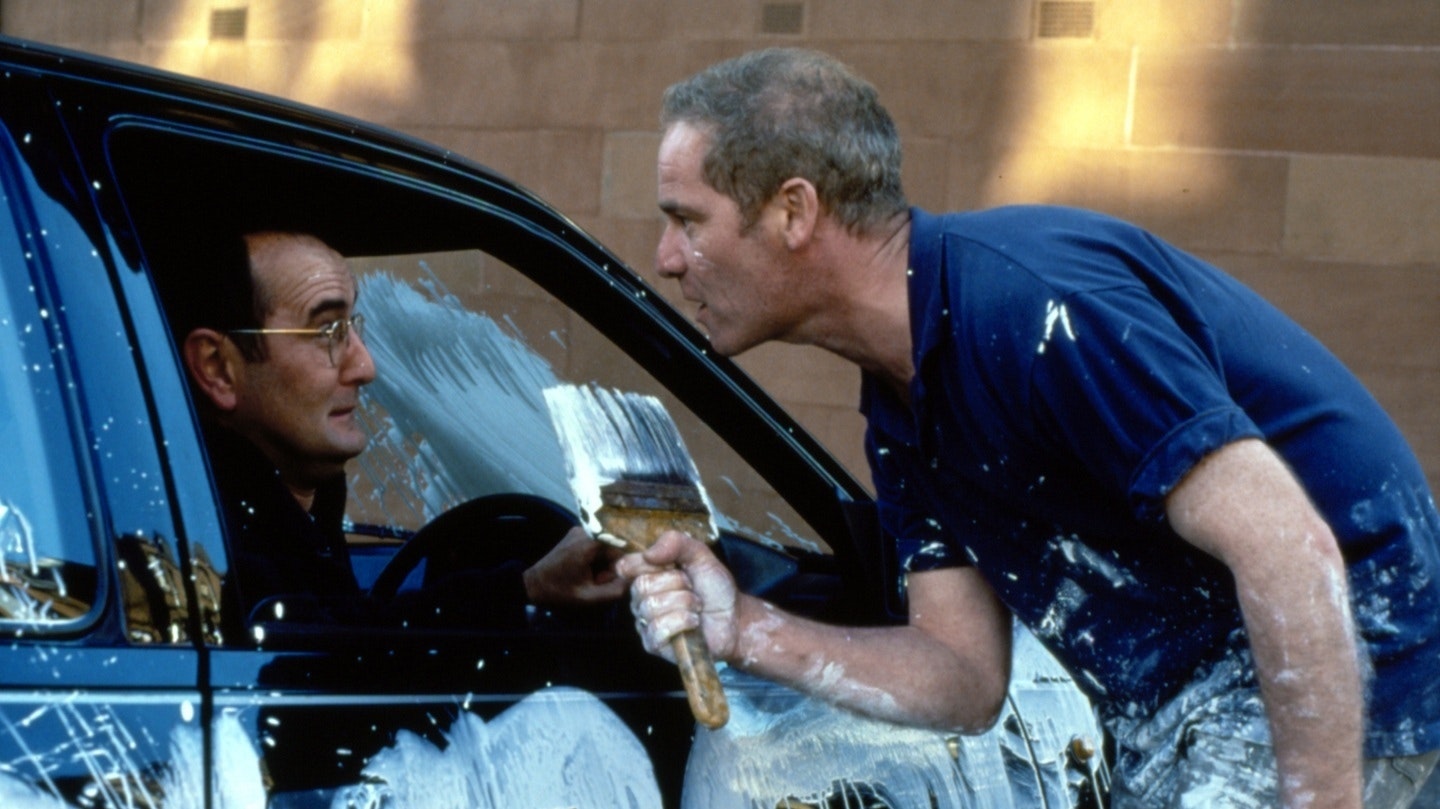 Another Ken Loach slice of unflinchingly-real social examination, another masterpiece that the masses probably won't have seen. Again focusing on poverty-stricken individuals trapped in the system, My Name Is Joe follows Peter Mullan's reformed, alcoholic nutter Joe who coaches the local football team in Glasgow's mean streets while trying to avoid the bottle and any bother. Affable, haunted and more sympathetic than Rocky, it's a stunning tour-de-force from Scot-scene regular Mullan, completely deserving of the Best Actor award it won him at Cannes. Bleak and tragic yet somehow hopeful, many will wish for a less downbeat finale, but such is Loach's commitment to realism. And you rarely see endings that brave in blockbuster territory.
56. Shakespeare In Love (1998)
Directed by: John Madden
Starring: Joseph Fiennes, Gwyneth Paltrow, Geoffrey Rush, Ben Affleck, Judi Dench
This was the film that beat Saving Private Ryan to the Best Picture Oscar, probably because it's fizzier and more frivolous than Spielberg's effort, which the Academy occasionally responds to. As biopics go, it's high on invention and low on fact, but it's also a delightfully witty literary in-joke, reimagining Shakespeare's life as, well, a Shakespearean comedy of errors. Tom Stoppard's script doctoring left the screenplay littered with in-jokes and direct lifts from the Bard's work, while a game cast of RSC stalwarts like Judi Dench (so good as Elizabeth I that her cameo landed her an Oscar) and American upstarts like then-ingenue Paltrow and Ben Affleck threw themselves into the caper. Mixing tragedy and comedy, it may not - quite - be high art, but it's immense fun.
55. Tom Jones (1963)
Directed by: Tony Richardson
Starring: Albert Finney, Susannah York, Hugh Griffith, Edith Evans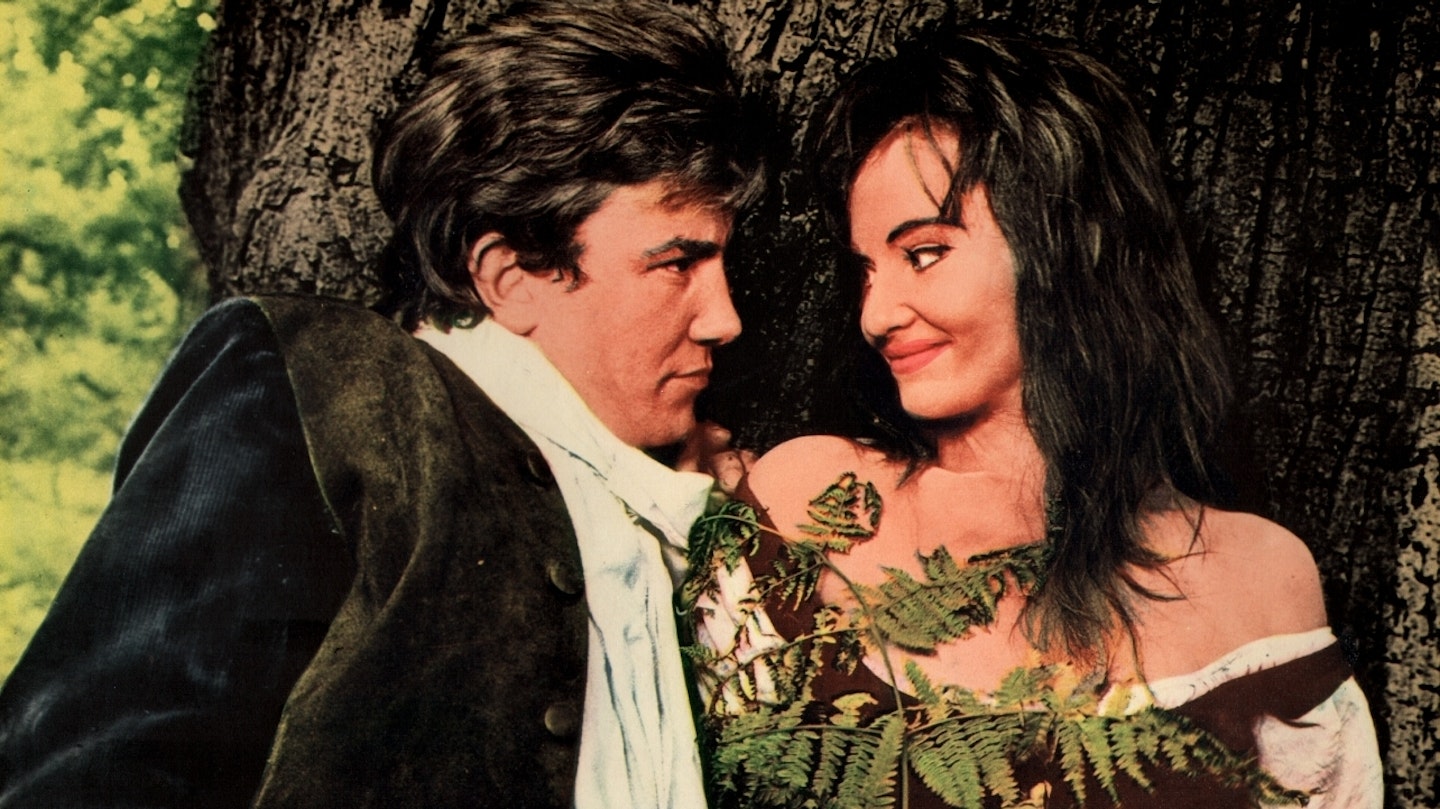 The movement towards social realism in British films of the 1960s wasn't merely confined to the present day; this Tony Richardson effort showed that it could be applied to period films too, and bawdy literary adaptations at that. Albert Finney was at his cocky, charming best as the young rapscallion of the title, raised a bastard by a kindly nobleman but denied his true love by his low birth. Instead, he embarks on a series of love affairs, dogged by a jealous rival, until everything finally comes together at the very last minute. It's meticulously researched and constructed, but all done with such a breezy insouciance and flair, the characters even interacting with the camera and riffing on film style (that silent movie opening, for instance), that it feels both thoroughly modern (even now) and very '60s, winning a clutch of Academy Awards for its trouble.
54. Sunday Bloody Sunday (1971)
Directed by: John Schlesinger
Starring: Peter Finch, Glenda Jackson, Murray Head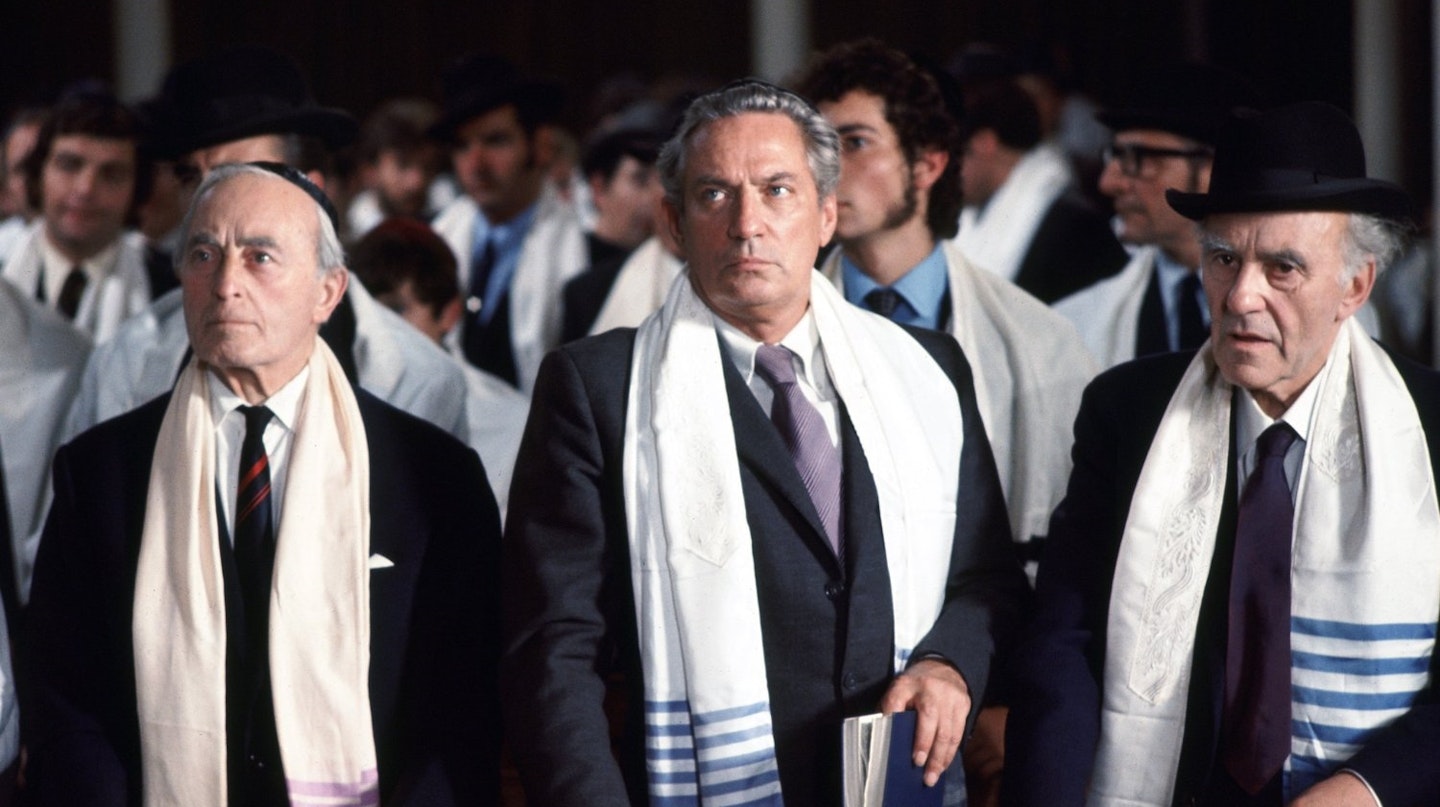 John Schlesinger's follow-up to the Oscar-winning Midnight Cowboy is the most personal film of the filmmaker's career. The first film to depict a non judgemental portrait of a homosexual character in a lead role, Sunday Bloody Sunday is an exquisitely explored menage a trois between Peter Finch's gay Jewish doctor, Glenda Jackson's career counselor and the sculptor (Murray Head – he of One Night In Bangkok fame) whom the couple both love. This isn't a film about sexuality (although Finch and Head's affectionate kiss caused a stir at the time); it's a film about the minutiae of complex relationships realised through a trio of great performances. Also keep your eyes peeled for a 14-year-old Daniel Day-Lewis in the minor role as a vandal.
53. Harry Potter And The Prisoner Of Azkaban (2004)
Directed by: Alfonso Cuarón
Starring: Daniel Radcliffe, Emma Watson, Rupert Grint, Gary Oldman, David Thewlis, Michael Gambon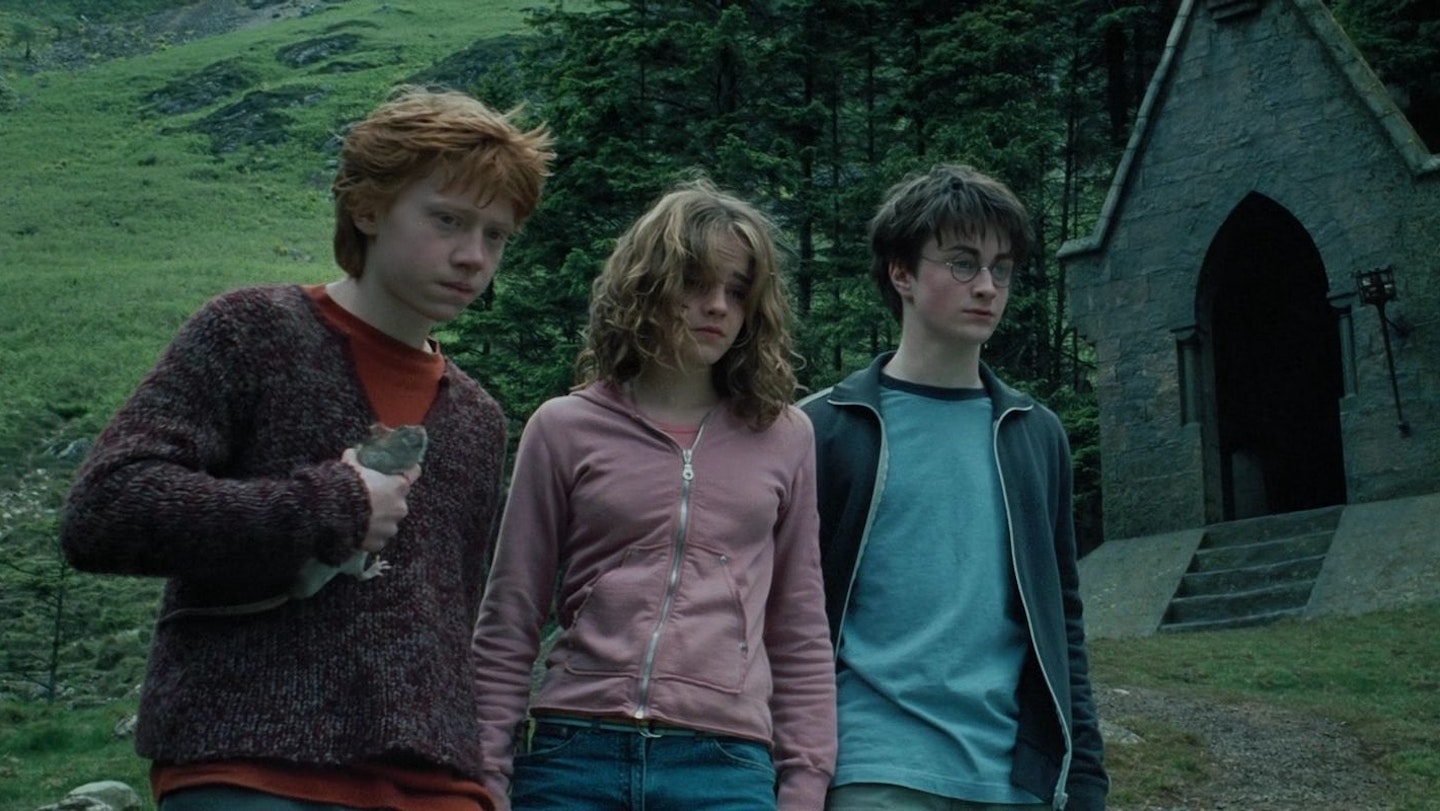 The third and still the best of the Potter films, this was the one where things got magical. Freed from the world creation duties that Chris Columbus had shouldered in the first two films, Alfonso Cuarón stripped down the story, amped up the attitude and added some edge to proceedings. He's also helped by the fact that this is maybe the best of the books, upping the stakes more significantly than any other single instalment, introducing a welcome element of ambiguity to Hogwarts' hallowed halls with the development that an escaped prisoner may be responsible for the deaths of Harry's parents (or, then again, not) and that the cool new teacher may hide dangerous secrets. The films may get progressively darker, but this one had just the right mix of shadows and light.
52. The 39 Steps (1935)
Directed by: Alfred Hitchcock
Starring: Robert Donat, Madeleine Carroll, Peggy Ashcroft, John Laurie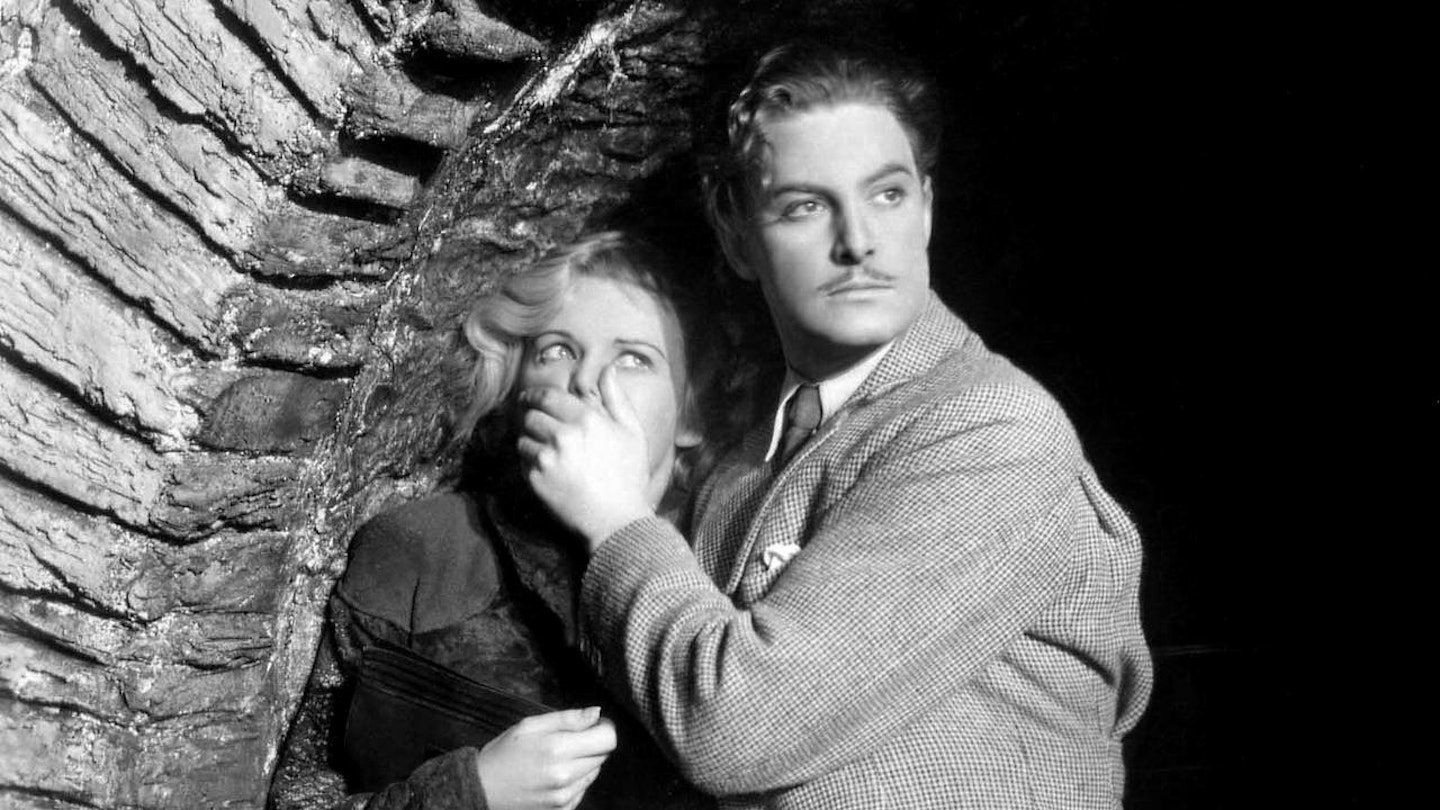 Before presided over Ealing Studios' golden age, Michael Balcon is best remembered for giving a talented East London filmmaker a leg-up in the tough-as-knuckles British film industry. That man? Alfred Hitchcock. He turned out early potboilers for Balcon's Gainsborough Pictures in the '20s before moving across London with Balcon to Lime Grove Studios, the home of this classic romp. The 39 Steps is a compendium of classic Hitchcock trademarks, from Robert Donat's 'wrong man' to a sinister MacGuffin and a Hitch cameo upset that'd make mortal enemies of the Keep Britain Tidy campaign. Witness, too, the chemistry he sparks between his romantic leads – the feisty pairing of Donat and Carroll squabble their way across the Scottish Highlands and into each other's arms – and the ever-building paranoia as that spy ring does its nefarious work. The identity of those spies is never specified, but if they're not carrying travel editions of Mein Kampf, you can melt our faces.
51. Wallace & Gromit In The Curse Of The Were-Rabbit (2005)
Directed by: Steve Box, Nick Park
Starring: Peter Sallis, Helena Bonham Carter, Ralph Fiennes, Peter Kay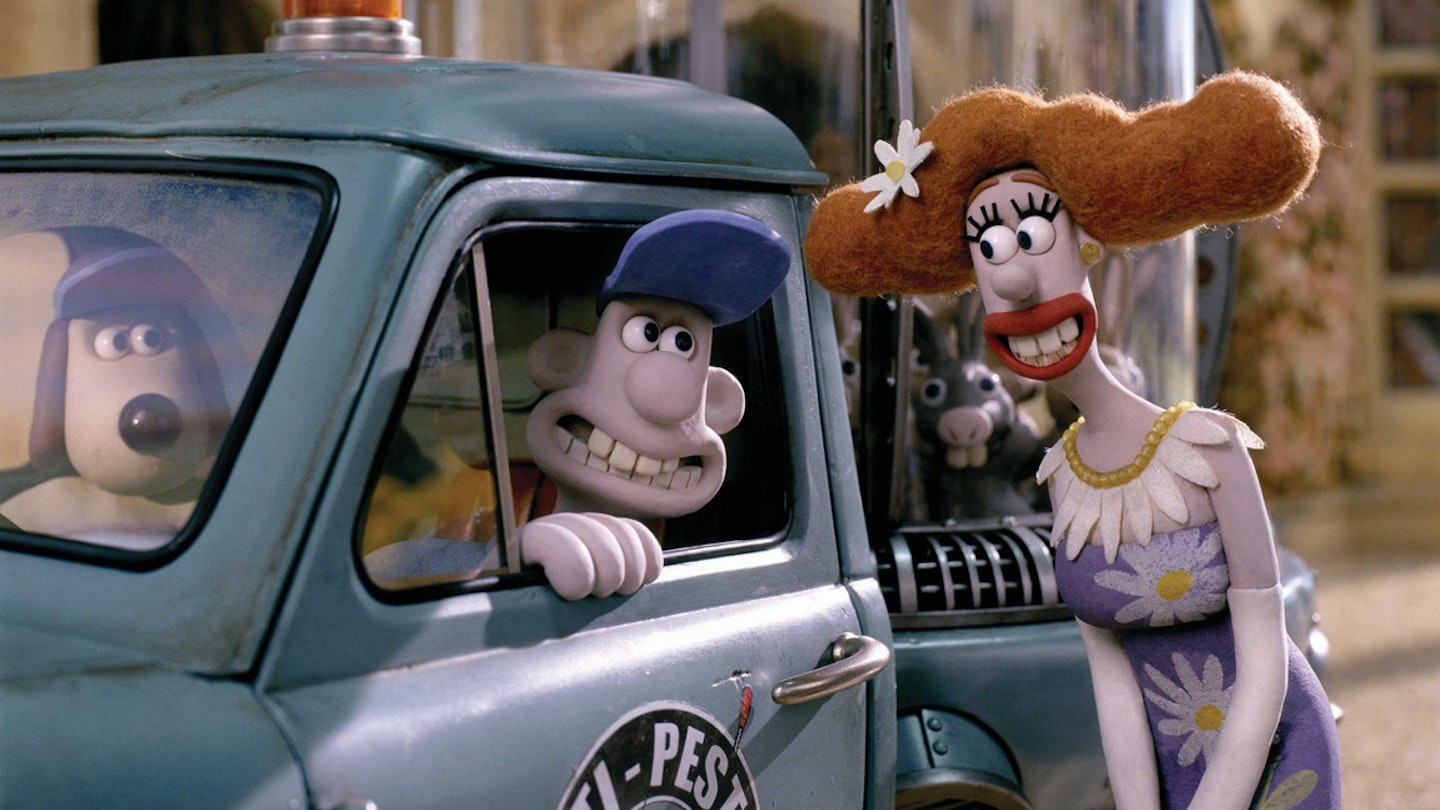 We hoped and prayed that Aardman's stop-motion magicians could find a way to turn our claymation heroes into movie stars. Could they really sustain the wit and vibrancy of Wigan's delightful duo for a whole hour and a half? Wouldn't Wallace overdose on cheese along the way? We needn't have worried. The sparkling Curse Of The Were-Rabbit positively brims with ideas and energy, dazzling movie fans with sly references to everything from Hammer horrors and The Incredible Hulk to King Kong and Top Gun, and bounds along like a hound in a hurry. The plot, the part we foolishly thought might let it down, pitches the famously taciturn Dogwarts' alumnus and his Wensleydale-chomping owner (Sallis) against the dastardly Victor Quartermaine (Fiennes), taking mutating bunnies, prize-winning marrows and the posh-as-biscuits Lady Tottington (Bonham Carter) along for the ride. In short, it's the most marvellously English animation there is.
50. Hot Fuzz (2007)
Directed by: Edgar Wright
Starring: Simon Pegg, Nick Frost, Jim Broadbent, Paddy Considine, Timothy Dalton, Edward Woodward
Doing for the buddy-cop actioner what they did for the zombie movie with Shaun Of The Dead, Spaced's creative trio of Simon Pegg, Nick Frost and director Edgar Wright made it two-for-two on the big screen. Though not quite as consistently hilarious as Shaun or as dazzling-fresh as Spaced, the second in their planned Blood and Ice Cream trilogy again nails the genre clichés, with everything from Point Break to Bad Boys II (both openly referenced) humorously homaged. It's initially a tad jarring to see Pegg as the straight man, but his natural chemistry with long-time real-life pal Frost remains endearing as ever. Elsewhere, the Scooby Doo-meets-Scream mystery is peppered with Britain's finest talent, playing up the English small-town clichés to great effect in a brilliantly incongruous meeting of sleepy rural life and stabby violent action.
49. Look Back In Anger (1959)
Directed by: Tony Richardson
Starring: Richard Burton, Claire Bloom, Mary Ure, Gary Raymond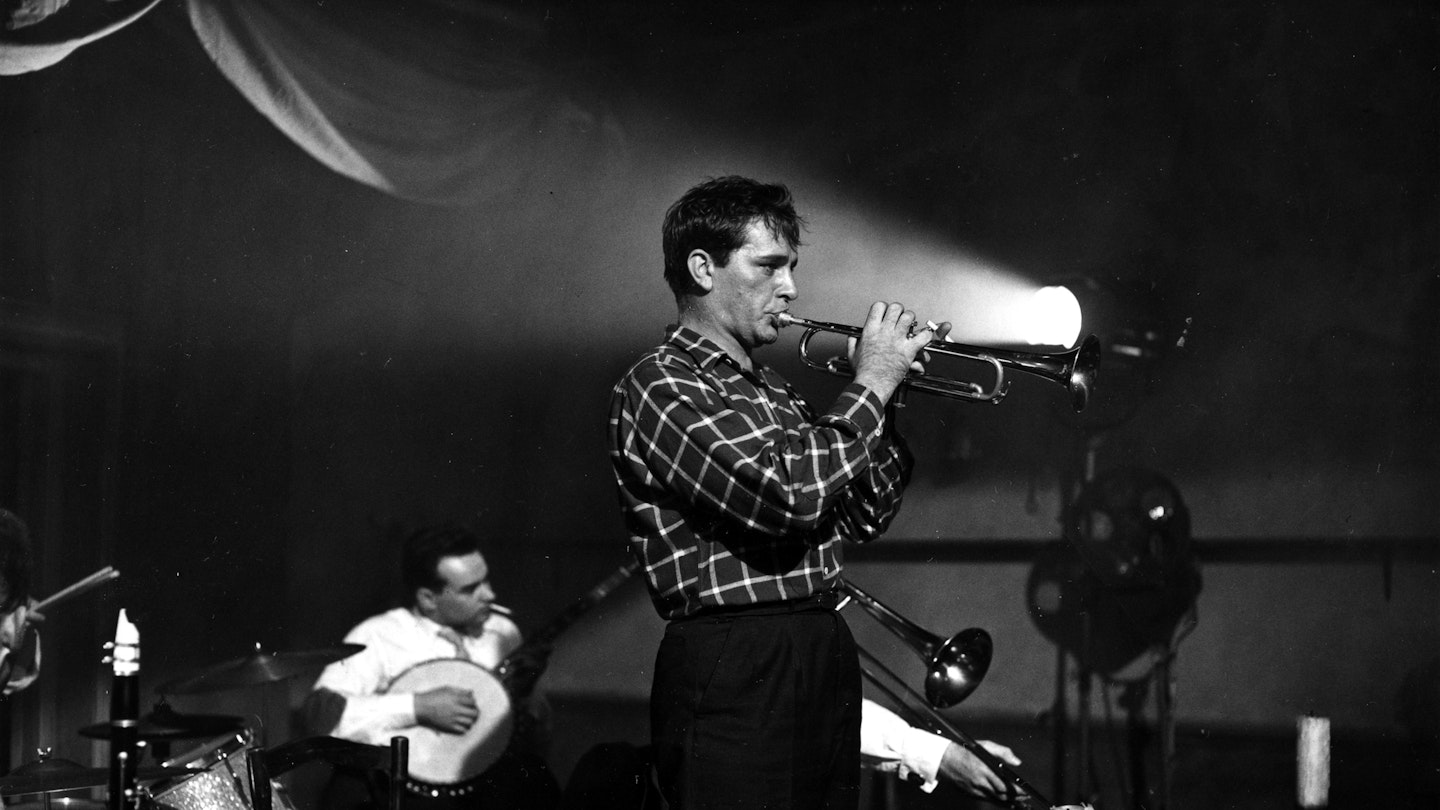 When he wasn't working his devilish charm on Elizabeth Taylor, hanging out in bars with Peter O'Toole and Richard Harris or hunting sharks with his bare hands, Richard Burton was also a magnificent actor. Here's early proof. Burton is very near his best in Tony Richardson's melodrama as Jimmy Porter, a jazz man stuck down the kind of dead end that's filled with British New Wave rebels. Stoked by a burning fury, Porter's passions are to the fiery Burton what Broadsword is to Danny Boy. When he seethes "I have no public school scruples about hitting girls" at the sly Helena (Claire Bloom), you know it's no empty threat. He's Steetcar's Stanley Kowalski on three pints of bitter; the closest thing 1950s Derby has to its own volcano. As claustrophobic and uncomfortable as the John Osborne stage play on which it's based, it was the first salvo in British cinema's class war.
48. Topsy Turvy (1999)
Directed by: Mike Leigh
Starring: Jim Broadbent, Allan Corduner, Timothy Spall, Kevin McKidd, Shirley Henderson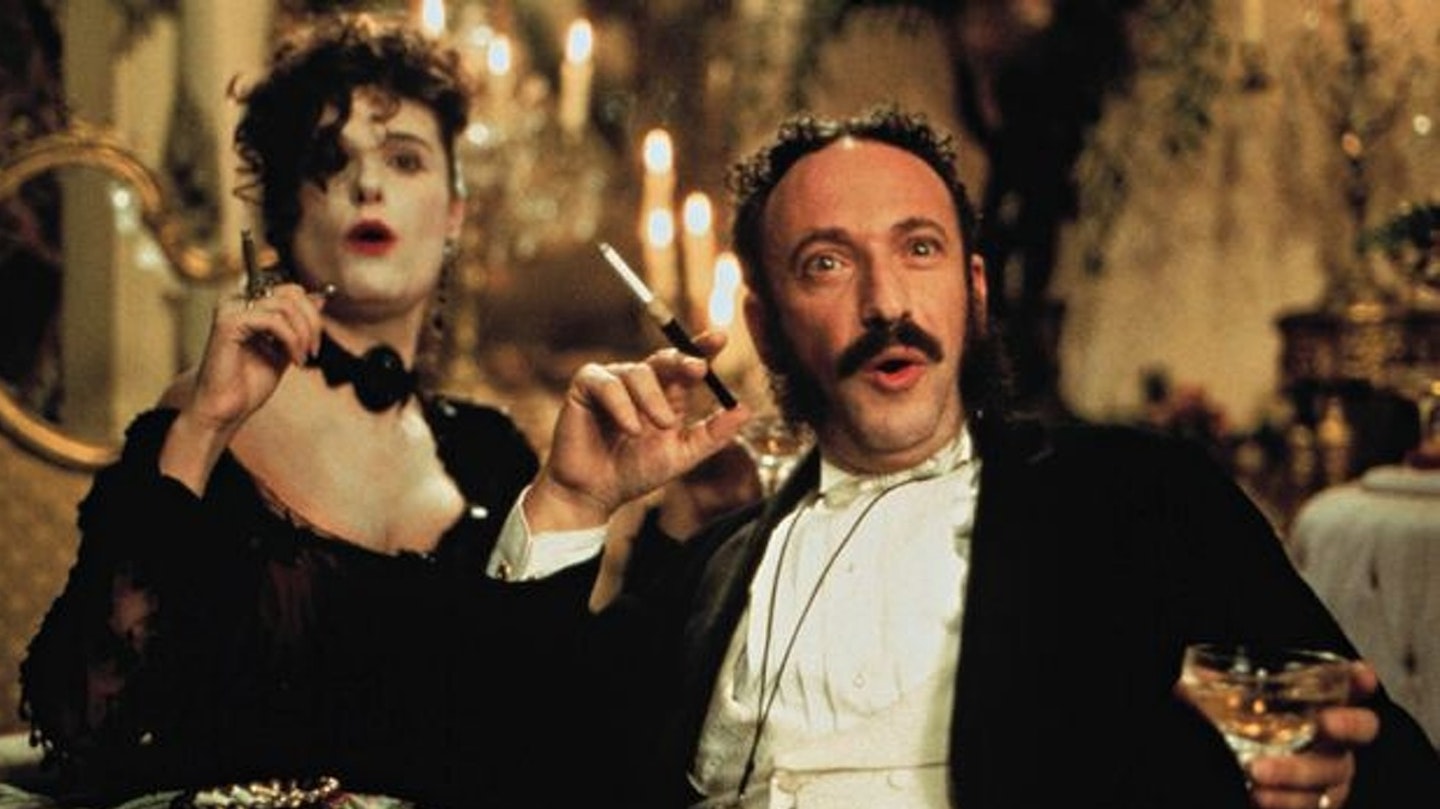 Here's a Mike Leigh film even for people who don't like Mike Leigh films, the director's ultra-naturalistic style softened by the period setting and enhanced by the heightened emotions of its characters. There's not a kitchen sink in sight as Gilbert (Broadbent) and Sullivan (Corduner) collaborate to create their Japan-inspired comic opera The Mikado, surrounded by performers who each have their own neuroses and crises (and who, incidentally, do their own singing to boot). Broadbent and Corduner are a wonderfully mismatched but mutually admiring pair: one a solid family man, the other a whore-loving drug addict. Leigh's understated style prevents this falling into the usual self-important period drama clichés, and mixes comedy and tragedy into something that feels as chaotic and beautiful as real life.
47. The Wicker Man (1973)
Directed by: Robin Hardy
Starring: Edward Woodward, Christopher Lee, Britt Ekland, Diane Cilento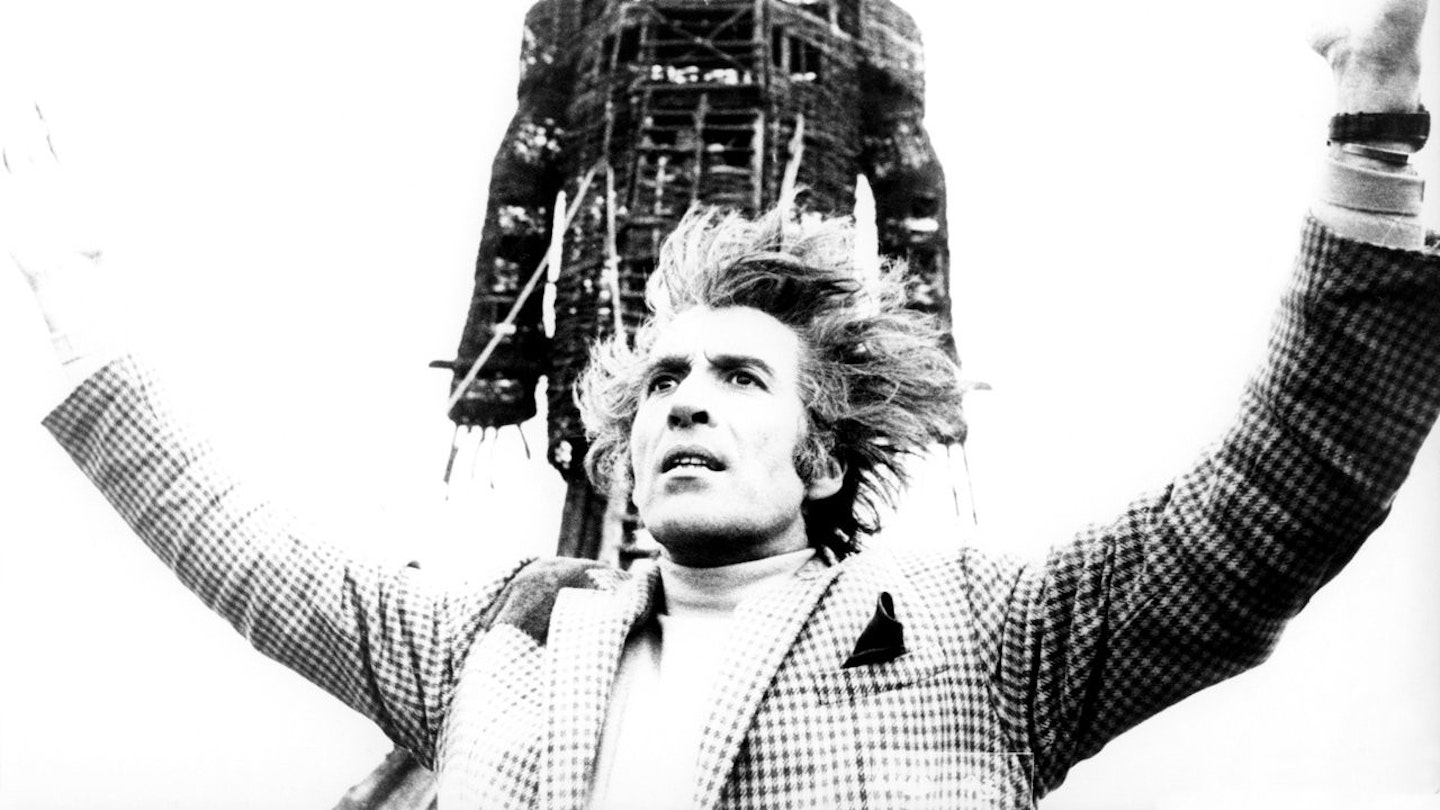 The Wicker Man isn't scary in a conventional manner and, arguably, is more of a Gothic mystery than a horror movie, but you'd be hard-pushed to find a more disturbing and horrific film experience. Certainly one of the most chilling British movies ever created, there's something indefinably unsettling about Robin Hardy's strangely seductive cult chiller from the moment Edward Woodward sets foot on the remote Scottish island. While his buttoned-up Christian copper from the mainland searches for a supposedly missing girl, this strange place hauntingly evolves from a small town of eccentric locals to a paranoid-flavoured asylum with no way out. In the lead, Woodward has never been better (except perhaps in The Equaliser), while nobody does sinister menace quite like Christopher Lee and his burning eyes.
46. The English Patient (1996)
Directed by: Anthony Minghella
Starring: Ralph Fiennes, Juliette Binoche, Kirsten Scott Thomas, Willem Defoe, Naveen Andrews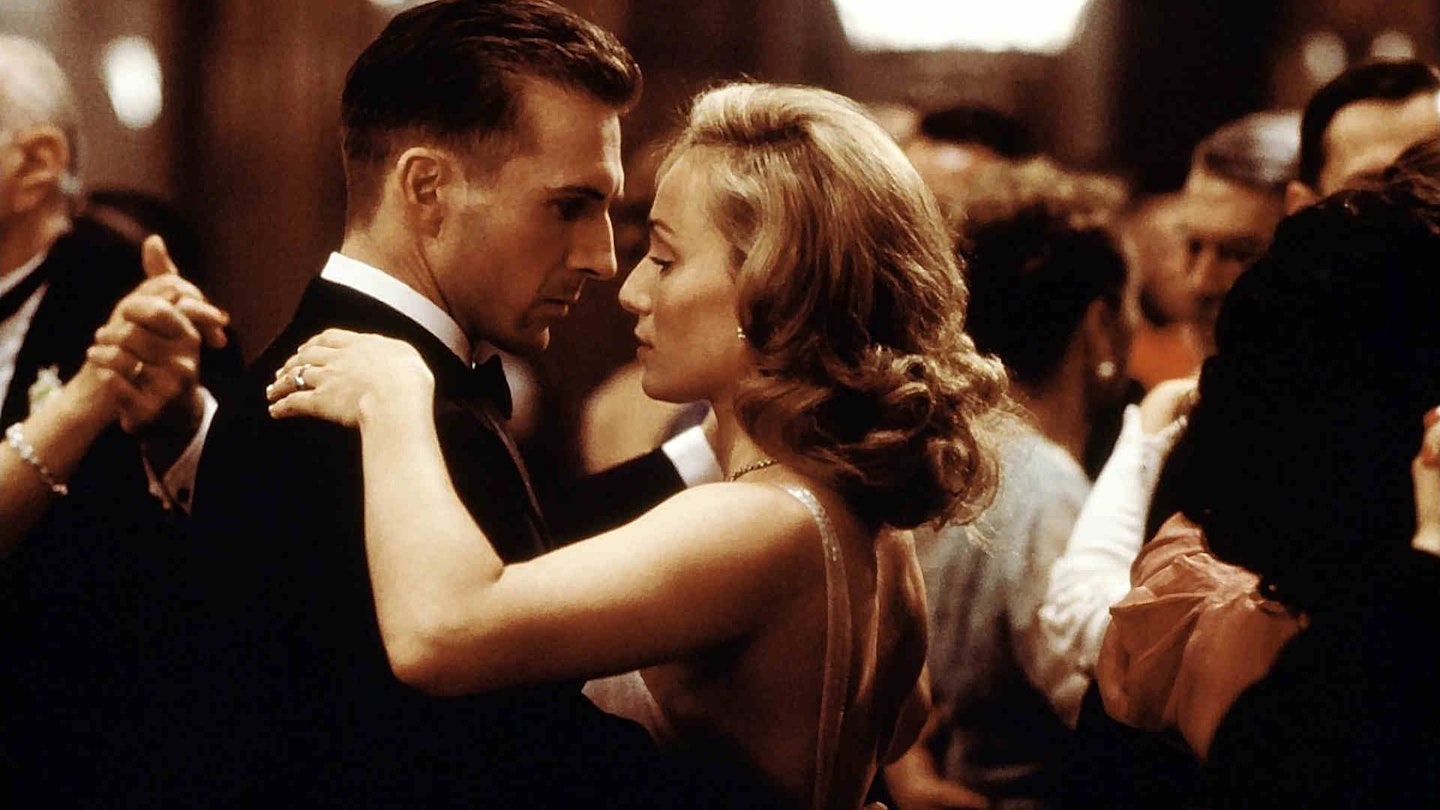 If Anthony Minghella's death robbed British cinema of one of its most dazzling voices, this heartrending wartime romance stands as a fitting testament to his talent. A Best Picture winner, it's a perfectly judged adaptation of Michael Ondaatje's novel, filled with tenderness and longing. As the North African sun beats down on Ralph Fiennes' enigmatic Count Laszlo, hideously burnt in his crashed biplane, all other considerations strip away but one: his fierce passion for the woman he loves. Part of its success is down to the stellar crew the Oscar-winning Minghella assembled. Walter Murch's editing (another Oscar winner) switches from the drama from North Africa to Italy's shell-pocked byways, while John Seale's photography (yup, you guessed it) gives us one of the best adverts for Tuscany committed to celluloid. If you can watch this film and not want to go straight there and start defusing bombs, you've been watching a different movie.
45. Black Narcissus (1947)
Directed by: Michael Powell, Emeric Pressburger
Starring: Deborah Kerr, Sabu, Jean Simmons, David Farrar, Flora Robson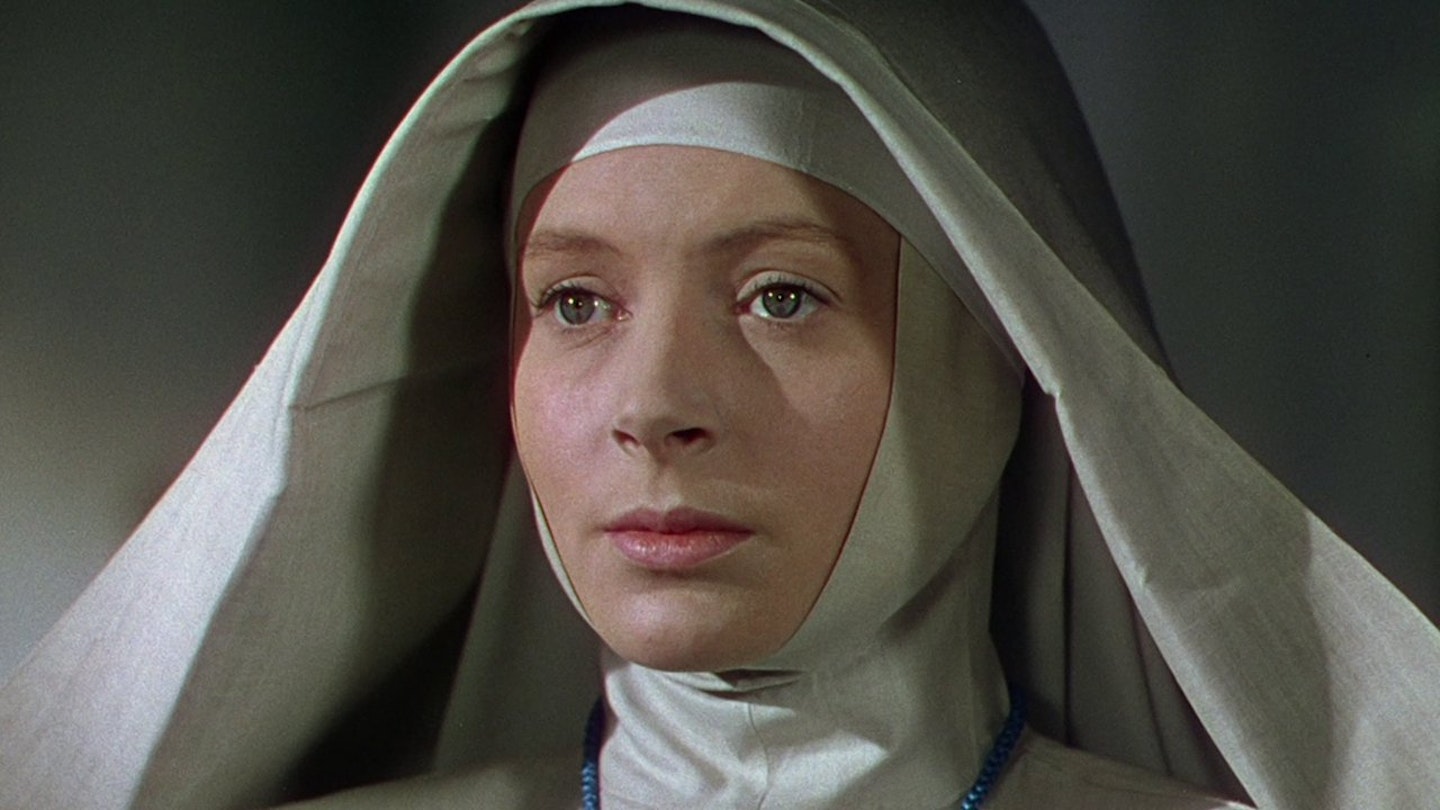 The Archers' critically-acclaimed gothic melodrama sees Deborah Kerr play Sister Clodagh, a young nun sent with four other sisters to establish a convent in an abandoned Himalayan palace. At this point, things start to go wrong. Very wrong. Like, nun-going-crazy-with-jealousy-and-putting-on-unnunly-amounts-of-eyeliner wrong. Essentially a psychological drama, Black Narcissus's emotional resonance in a nun-deprived modern world may be somewhat lessened, but there's no denying its influence amongst modern directors. Scorsese, for one, cites it as one of his favourite films. Then there's the striking cinematography from Jack Cardiff, a true great of British cinema. The gleaming photography is especially astonishing when you consider that, despite being set in Darjeeling, the film was almost entirely shot at Pinewood Studios. It's no wonder then that Cardiff and art director Alfred Junge both won Oscars for their work. It remains one of the finest Technicolor productions of all time.
44. Sexy Beast (2000)
Directed by: Jonathan Glazer
Starring: Ray Winstone, Ben Kingsley, Amanda Redman, Ian McShane, James Fox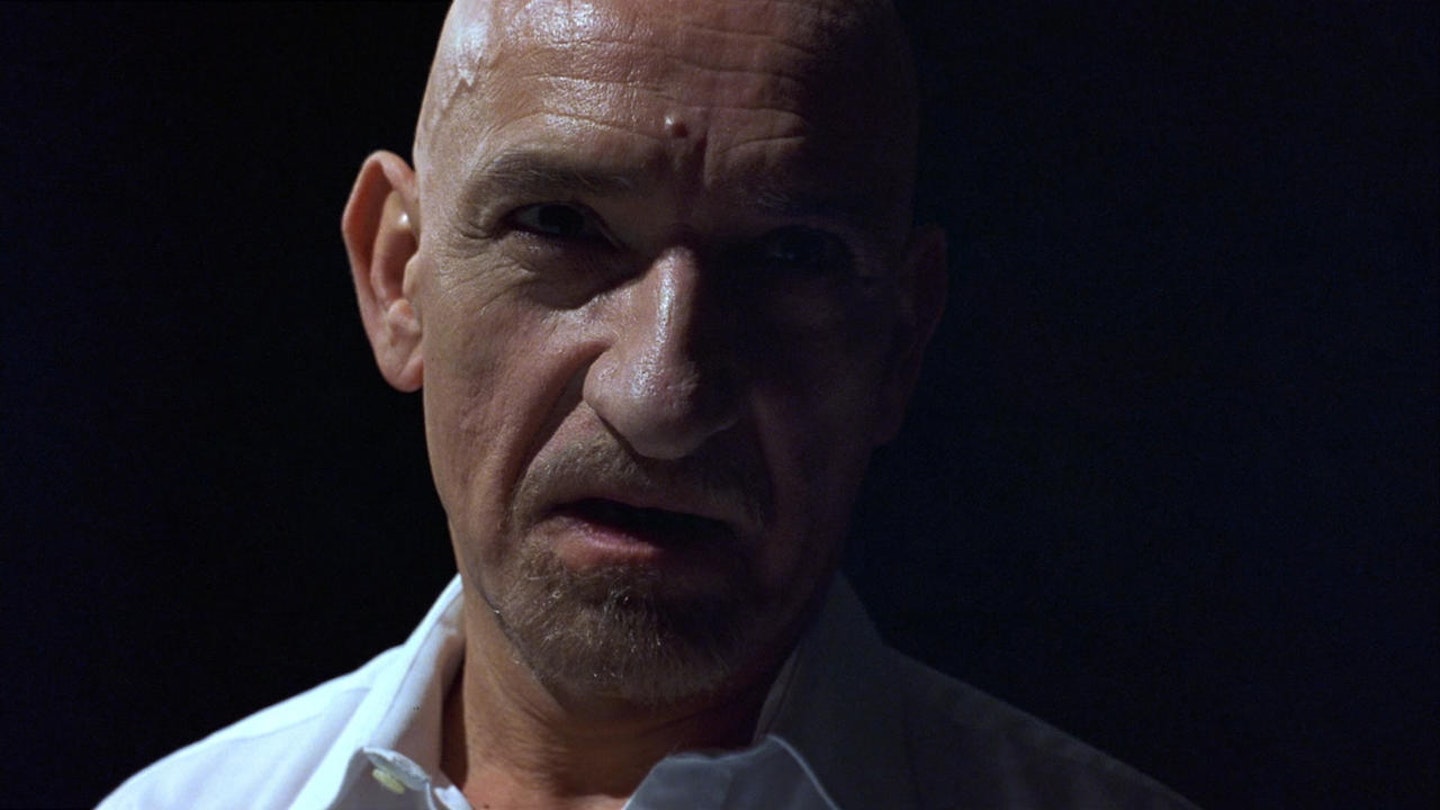 We're all familiar with Sir Ben Kingsley, right? Small chap, played Gandhi, rather refined and well-spoken. Well, not anymore. In this twist on the gangster movie, he's the psychotic gang boss Don Logan calling the happily retired Gary Dove (Ray Winstone) back to London from one last job. Creepily magnetic when he's still, absolutely bloody terrifying when he starts spitting out profanities and acting out, it's a performance that will convince you that this man could cow even the hulking Winstone into obedience. Admittedly, the one-last-job hook has been done before, but the characterization is so fresh and surprising here – and the Costa del Sol setting such a nice change from the usual gloomy skies – that it feels very much like its own beast.
43. Great Expectations (1946)
Directed by: David Lean
/Starring John Mills, Valerie Hobson, Alec Guinness, Martita Hunt
The problem with adapting Charles Dickens novels for the screen is that he was, essentially, paid by the word. The resulting sprawling epics don't make for the sort of lean, muscular narrative that lends itself naturally to film. But what's great about this version of his rags-to-riches fable is that Lean and his fellow scriptwriters managed to find a central story – Pip's (Mills) love of Estella (Hobson) – to hang the film around, while still leaving enough space for the more memorable supporting characters (Hunt's Miss Havisham, Francis L. Sullivan's Jaggers, Finlay Currie's Magwitch and Guinness's Herbert Pocket). The black-and-white photography is gorgeous, some of David Lean's pre-colour best, and the story sufficiently engrossing that you'll be able to overlook the gigantic top hats.
42. The Man Who Fell To Earth (1976)
Directed by: Nicolas Roeg
Starring: David Bowie, Rip Torn, Candy Clark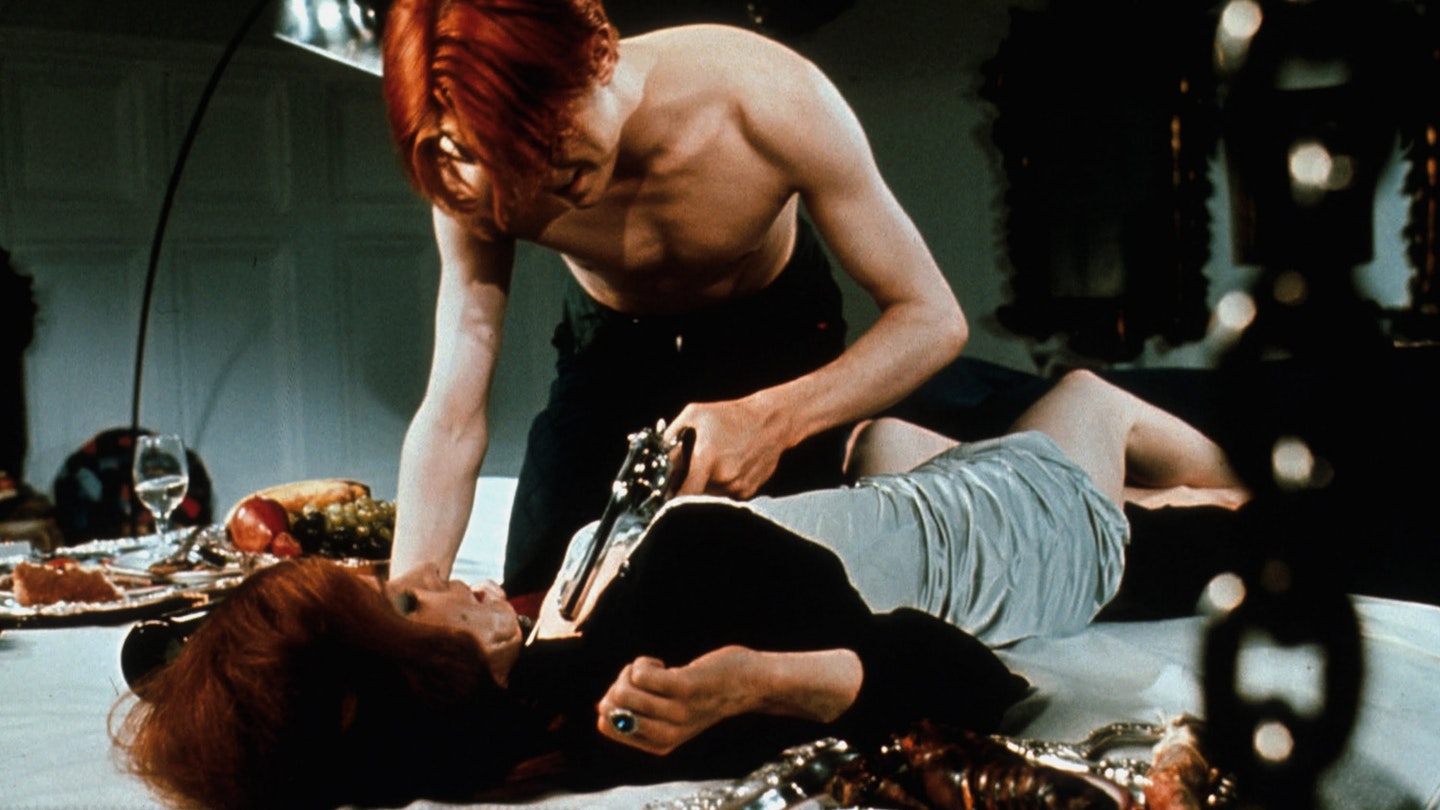 If you're a Bowie fan hunting for another film starring Ziggy Stardust, this is not the movie you're looking for. Whereas Jim Henderson's puppet-filled spectacular had entertainment at its heart, Nicolas Roeg's uber-thinky masterpiece seeks only to make your brain do several thinks at once. Layers of references cover blankets of metaphor, making what might appear to be a simple "man out of time, man out of place" tale into a chin-scratching cult classic. But that's a very good thing. Giving Bowie's acting ability one hell of a workout, Roeg takes him through periods of ecstasy, agony, and everywhere in-between before leaving him broken, alcoholic and lonely, a million miles from home. Practically the definition of the movie that demands repeat viewings, it's interesting to note that Bowie's seminal Low album contains music originally intended for the film's soundtrack, so next time you watch this, be sure to play it alongside.
41. Monsters (2010)
Directed by: Gareth Edwards
Starring: Scoot McNairy, Whitney Able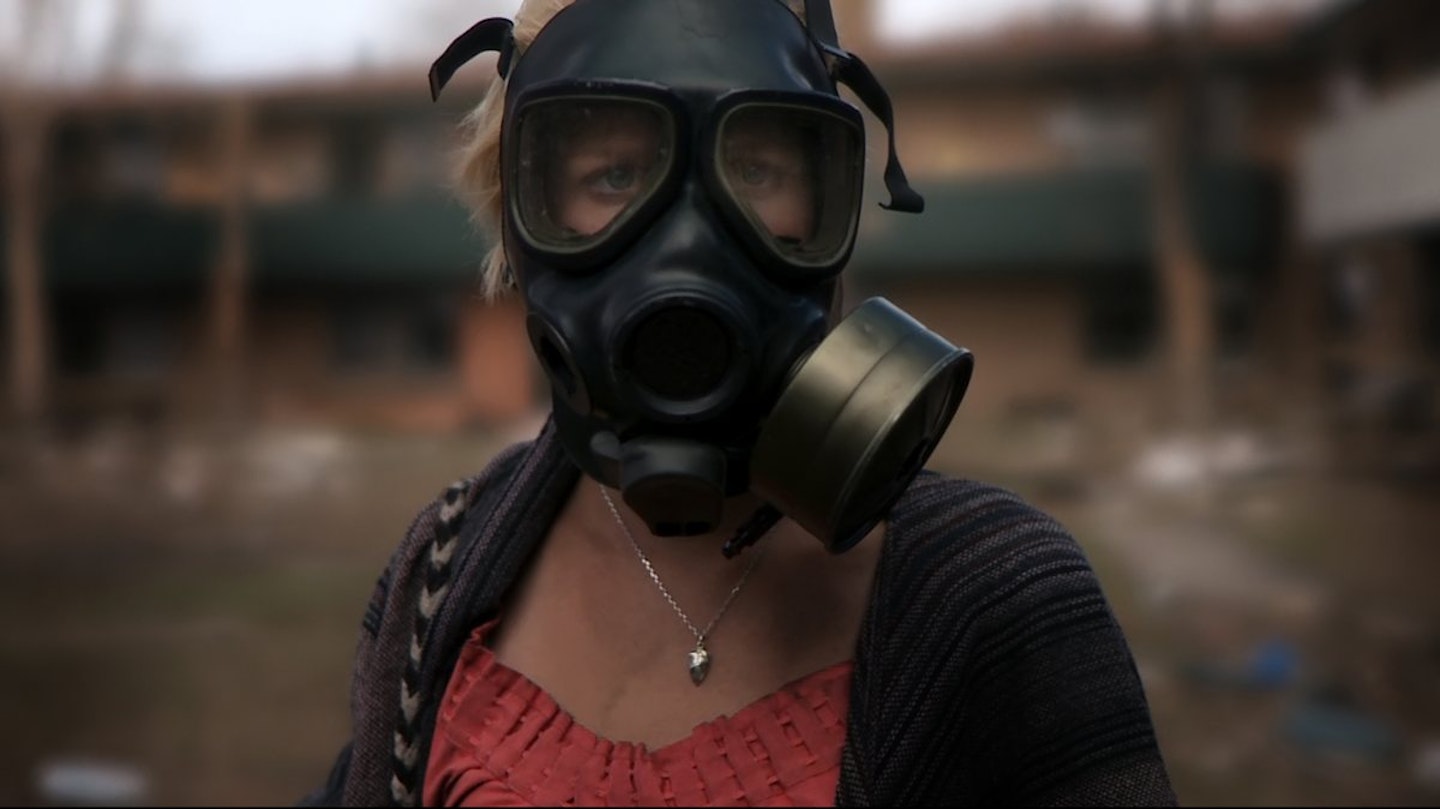 Most independent movies wouldn't even attempt to match the big studio pics in terms of production value. And in most cases, they're right not to try. But British first-time director Gareth Edwards achieved something astonishing with Monsters. Not only did he direct, write, production-design and shoot the film himself (on location in South and Central America), he also did the visual effects, creating towering alien creatures as convincing and impressive as those you'd find in any Hollywood blockbuster. Not that anyone should expect the film to be a full-on creature-feature; in a bold stroke, Edwards places the aliens-on-Earth action mostly in the background, concentrating instead on the couple (Whitney Able and Scoot McNairy) forced to travel through the alien-infested 'Infected Zone'. A road movie love story with monsters? Why not?
40. Mr. Turner (2014)
Directed by: Mike Leigh
Starring: Timothy Spall, Dorothy Atkinson, Marion Bailey, Lesley Manville, Martin Savage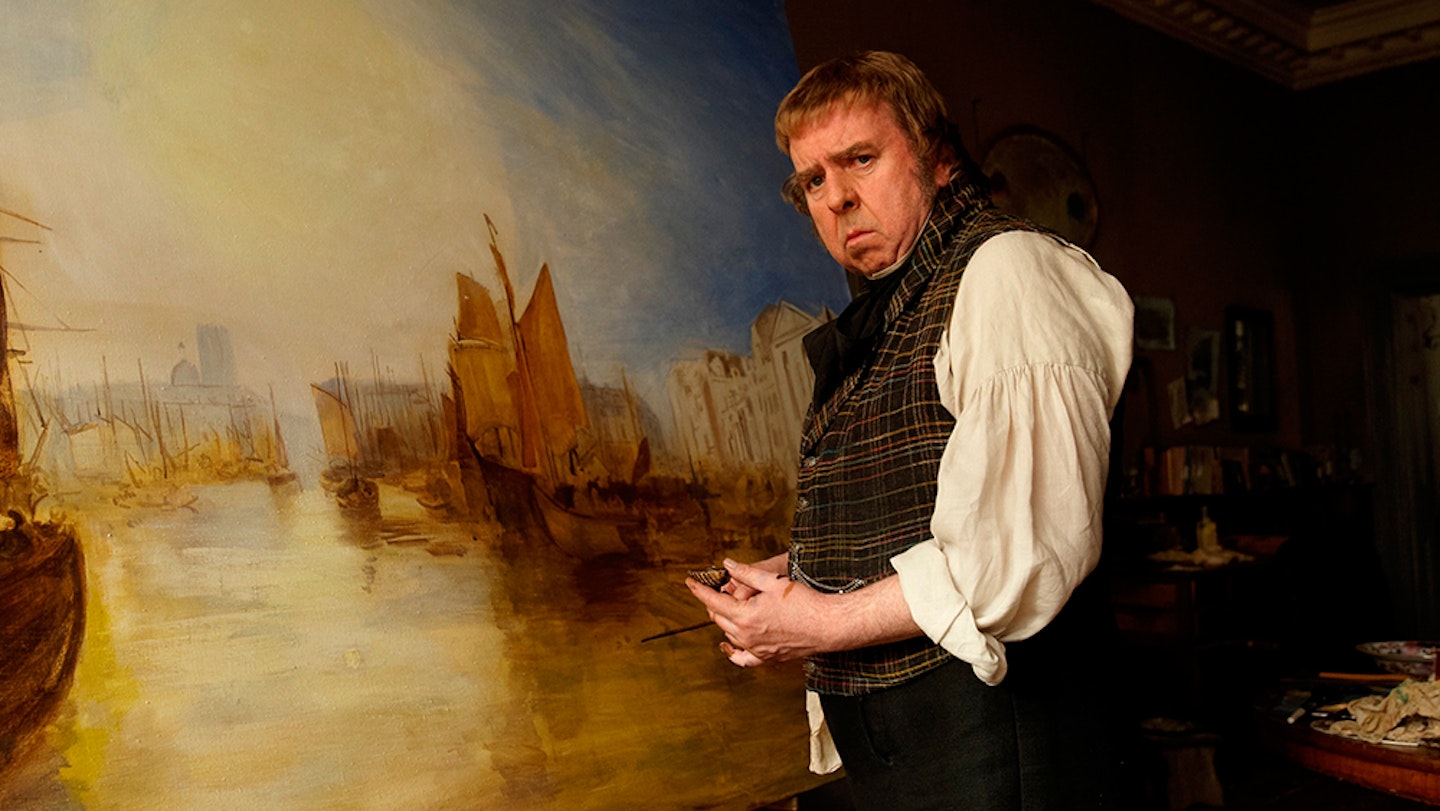 Forget the grunting, Timothy Spall's depiction of J.M.W. Turner is the performance of his illustrious career. His physical expression of the great painter's deep emotional hinterland does bring its share of snuffles, grunts and wheezes but they only add a strange roly-poly charm to his interactions, particularly with his dad (Paul Jesson), his mistress and housekeeper (Dorothy Atkinson), and painting wildcard Benjamin Haydon (Martin Savage). The first two he loves; the latter he tolerates benignly. The gentle, suitably artful biopic that emerges is one of Mike Leigh's finest moments.
39. The Italian Job (1969)
Directed by: Peter Collinson
Starring: Michael Caine, Noel Coward, Benny Hill, Tony Beckley, Rossano Brazzi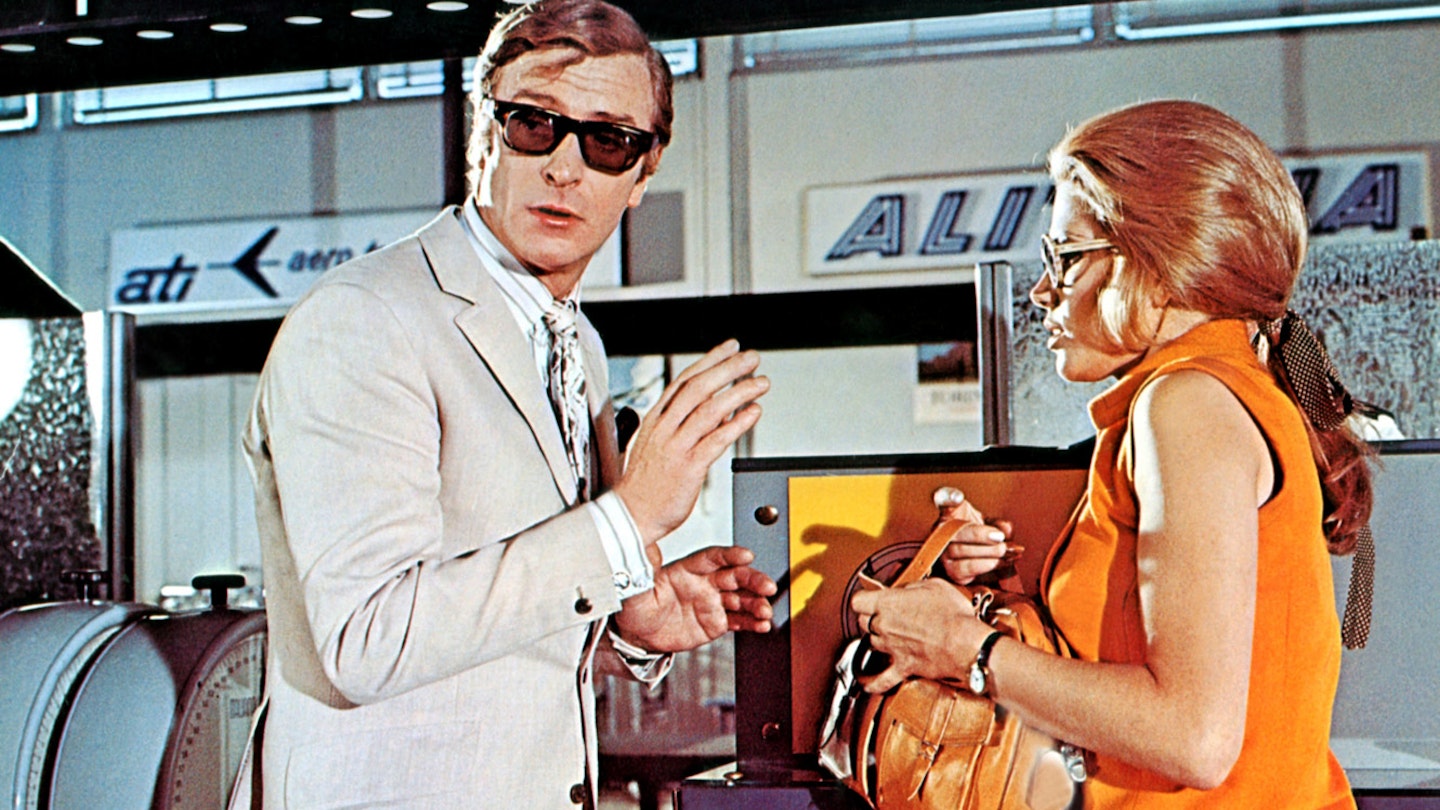 Ask most film lovers what they remember most about The Italian Job and the words 'Turin traffic jam', 'robbery', 'Mini' and 'getaway' will feature prominently – and rightly so. But a Boxing Day rewatch will remind any casual fan just what a camp comic triumph this movie is. Sure, it's also about the pride every Englishman feels when British pluck and derring-do win (part of) the day (kind of), but with characters like Benny Hill's Professor Simon Peach, with his penchant for extra-large ladies, and Noel Coward's not-quite-royally appointed crime boss Mr. Bridger, there's no denying The Italian Job's chuckles are firmly rooted in saucy seaside postcards and all that carry on. But it's because of that untouchable team of comic talent - Caine in particular – as well as the pacy robbery antics and the "England! England!" wave of patriotism that crashes out of those Turin sewer entrances, there's no conceivable way anyone born on this sceptred isle can watch The Italian Job without cracking a smile.
38. The Descent (2005)
Directed by: Neil Marshall
Starring: Shauna Macdonald, Natalie Jackson Mendoza, Alex Reid, Saskia Mulder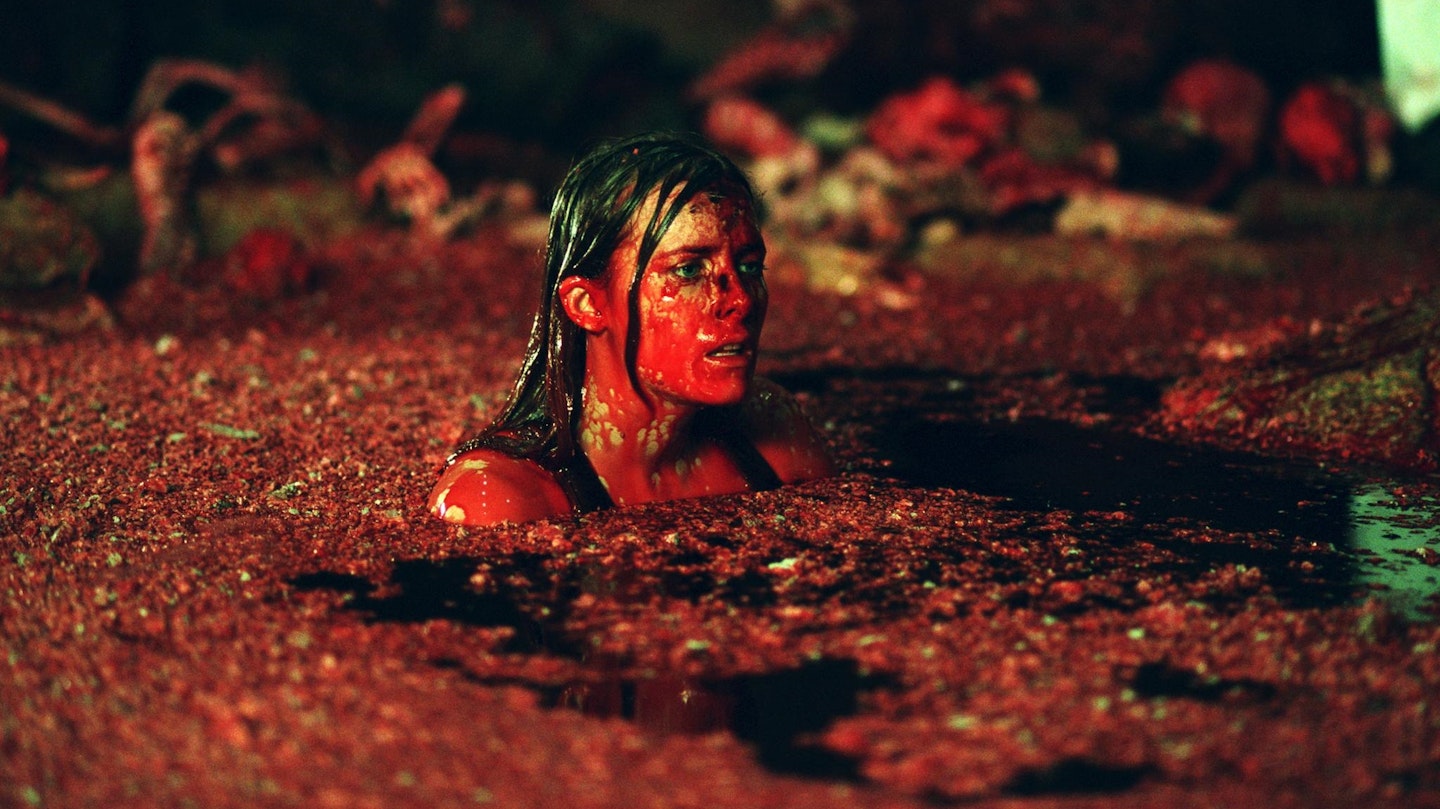 He howled onto the scene with surprise werewolf hit, Dog Soldiers, but Neil Marshall surpassed himself with this claustrophobic follow-up that sees six female potholers trapped in the dark, deep underground. Set in the US (where these things more routinely seem to happen) but shot at Pinewood and on location in Scotland, The Descent takes an inherently creepy location and then layers scares on top of that to an near-unbearable degree. So while you'll be wincing just at the everyday potholing scenes, you'll soon be nostalgic for those moments as you gibber in fright when it all goes wrong. Its achievement is unrelenting terror, not letting up until the final moments (in the US edit) or maybe not even then. Ultimately a simple concept, this is skillfully executed, with a well-balanced character dynamic underpinning Marshall's expert grasp of horror filmmaking.
37. 28 Days Later (2002)
Directed by: Danny Boyle
Starring: Cillian Murphy, Naomie Harris, Christopher Eccleston, Brendan Gleeson
Whether we're going to technically class it as a zombie movie or call them "infected", there's no question that Danny Boyle's film juiced up British horror in particular and the horror genre in general. Shot on a digital video that manages to look both gritty and gorgeous, combining moments of heart-stopping terror with stretches of quiet horror at the profoundly unnatural sight of an empty London, it's become the new benchmark, inspiring a wealth of imitators but few equals. Boyle's eye for talent pays off too: newcomers Cillian Murphy and Naomie Harris hold the attention even at the heart of the storm, however many of the monstrous horde pursue them, while Christopher Ecclestone's late appearance reminds us that people don't have to be infected to be seriously disturbing. Still, it bears repeating: those infected are really fast and seriously scary.
36. If.... (1968)
Directed by: Lindsay Anderson
Starring: Malcolm McDowell, David Wood, Richard Warwick, Christine Noonan
Malcolm McDowell, whose knack for putting the proverbial boot into Britain's moral sensibilities was given full voice in A Clockwork Orange, found a kindred spirit in public school old boy and Brit New Wave-er Lindsay Anderson. Three years before that Kubrick collaboration, Anderson had McDowell up on the roof of Cheltenham College equipped with a Bren gun and some serious issues with the gowned tyranny of boarding-school life. The title arguably suggests that the bullet-ridden finale – Another Country meets The Expendables – may be one giant cheese dream by McDowell's anarchic student, Mick Travis, but the film's impassioned cry of class rebellion was all in earnest. The only question: how on Earth did Anderson persuade his alma mater to let him film there? If there's a worse advertisement for boarding school - corporal punishment, fagging, VD clinic and all - we definitely haven't seen it.
35. A Fish Called Wanda (1988)
Directed by: Charles Crichton
Starring: John Cleese, Jamie Lee Curtis, Kevin Kline, Michael Palin
Perhaps the finest comic hour of any former Python, A Fish Called Wanda was a runaway, $60 million hit. It won Michael Palin a BAFTA, Kevin Kline an Oscar, and proved that a director who hadn't worked for 25 years could still produce a five-star film. Awards and box office haul aside, the fact remains: it's bloody hilarious. Certain scenes stick in the mind, notably John Cleese's rudely interrupted strip tease for Jamie Lee Curtis, Michael Palin getting chips rammed up his nose by Kevin Kline, Mrs. Coady's unfortunate death by heart attack and, of course, the steamroller to end all steamrollers, but it's the unified, bizarre, crazy whole that makes it a must-own for any British comedy fan. What's more, it made possible Richard Curtis's later Brit-com oeuvre by establishing that British eccentricism can sell, revived the world's interest in Ealing comedies, and allowed a character with Cary Grant's real name – Cleese's bumbling lawyer Archie Leach – to live again on the big screen. Not bad for one film, eh?
34. A Man For All Seasons (1966)
Directed by: Fred Zinneman
Starring: Paul Schofield, Robert Shaw, Orson Welles, Susannah York, John Hurt, Corin Redgrave, Vanessa Redgrave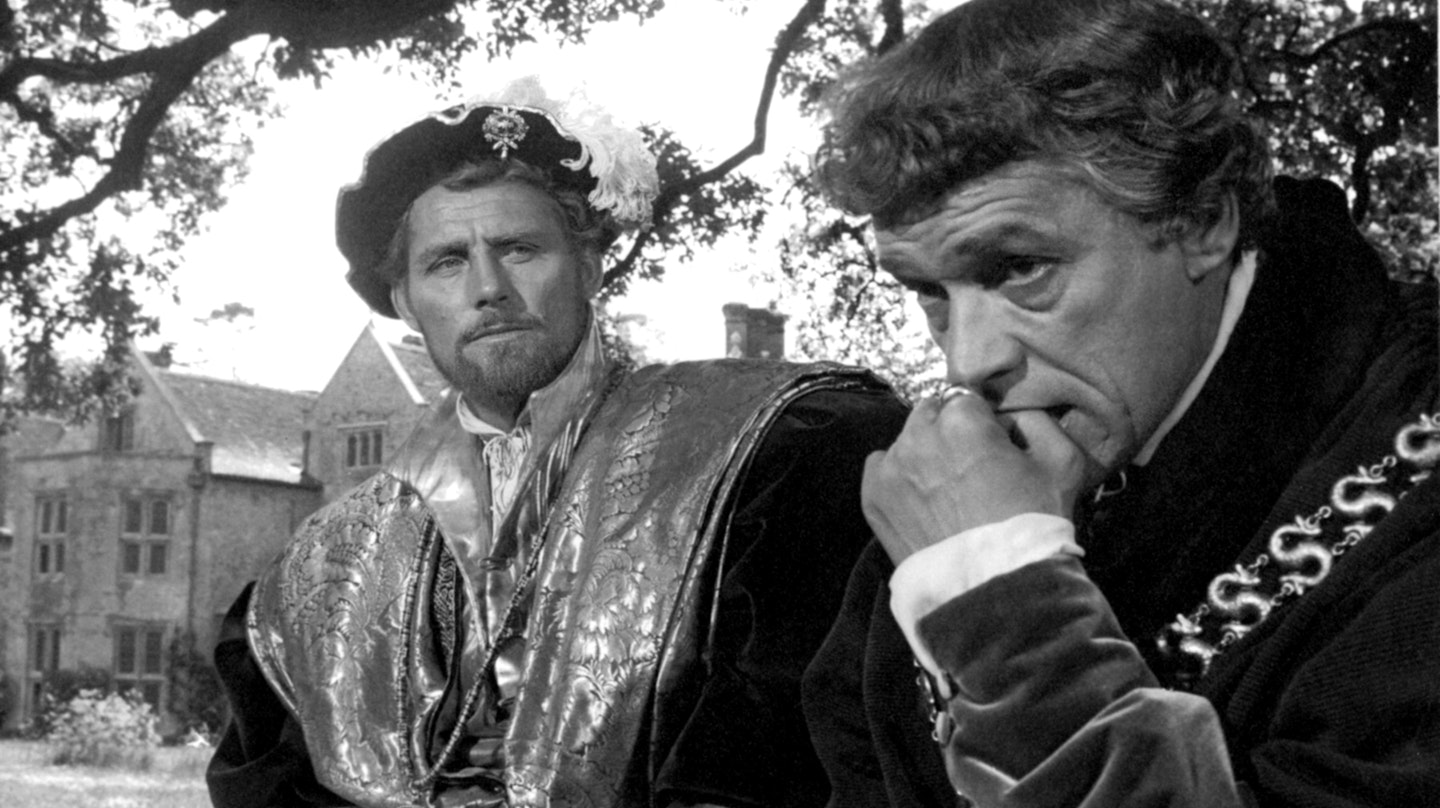 Recent slanders in Hilary Martell's Wolf Hall notwithstanding, the Thomas More presented here by director Fred Zinneman, playwright and screenwriter Robert Bolt and actor Paul Scofield is the sort of bloke we can all get behind. More is on top of the world, a friend and confidant to King Henry VIII, poised for power and riches - but he can't compromise his own conscience in pursuit of self-interest, so when the King pursues a divorce and breaks from the Church, More puts himself in harm's way. The structure, building so inevitably from the personalities involved and their intransigences, is the stuff of classic tragedy, and it's beautifully – and wittily – brought to life here. Sumptuous stuff, from a time when the costume drama wasn't yet a cliché in its own right.
33. Zulu (1964)
Directed by: Cy Endfield
Starring: Michael Caine, Stanley Baker, Jack Hawkins, James Booth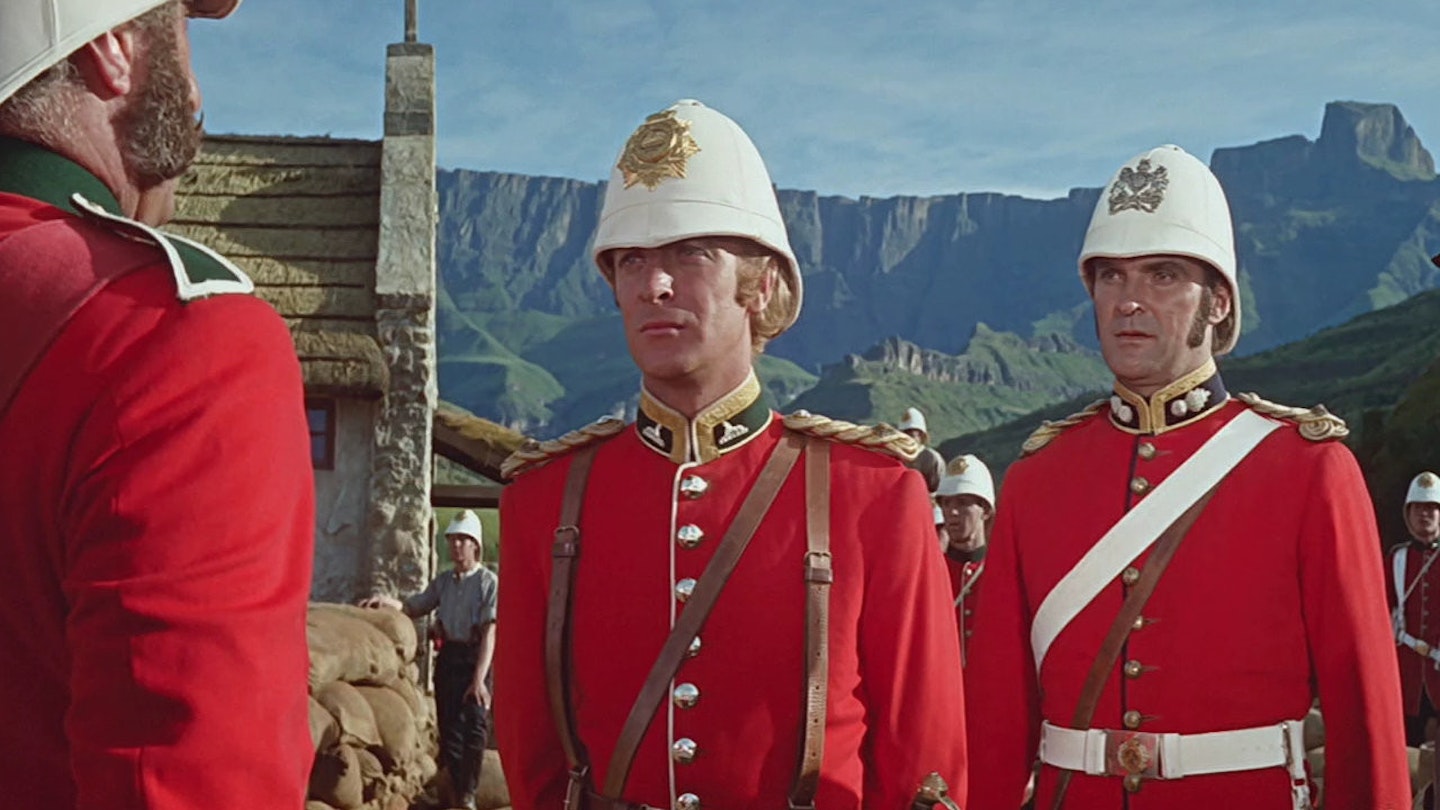 Even after the heavily CG-assisted likes of 300 or The Two Towers, Zulu remains the ultimate outnumbered, under-siege battle story. Following the real-life incident where 140-odd Welsh infantrymen defended their isolated outpost against 4000-plus warriors during the Anglo-Zulu conflict, its impact depends directly on the scale of your viewing experience – so nothing less than a Juggernaut-sized flatscreen will do. For sure, the first hour or so requires patience, but when the swarming Zulus start attacking in endless waves, it's stirring stuff, despite the fact that director Cy Endfield is evidently more comfortable handling the character drama inbetween attacks. Though deceptively known more as the breakthrough for a young Michael Caine (who plays against type and goes – gasp! – posh), it's an important war film in its own right, and a loving salute to the British stiff upper-lip and admiration of the underdog.
32. Sense And Sensibility (1995)
Directed by: Ang Lee
Starring: Emma Thompson, Alan Rickman, Kate Winslet, Hugh Grant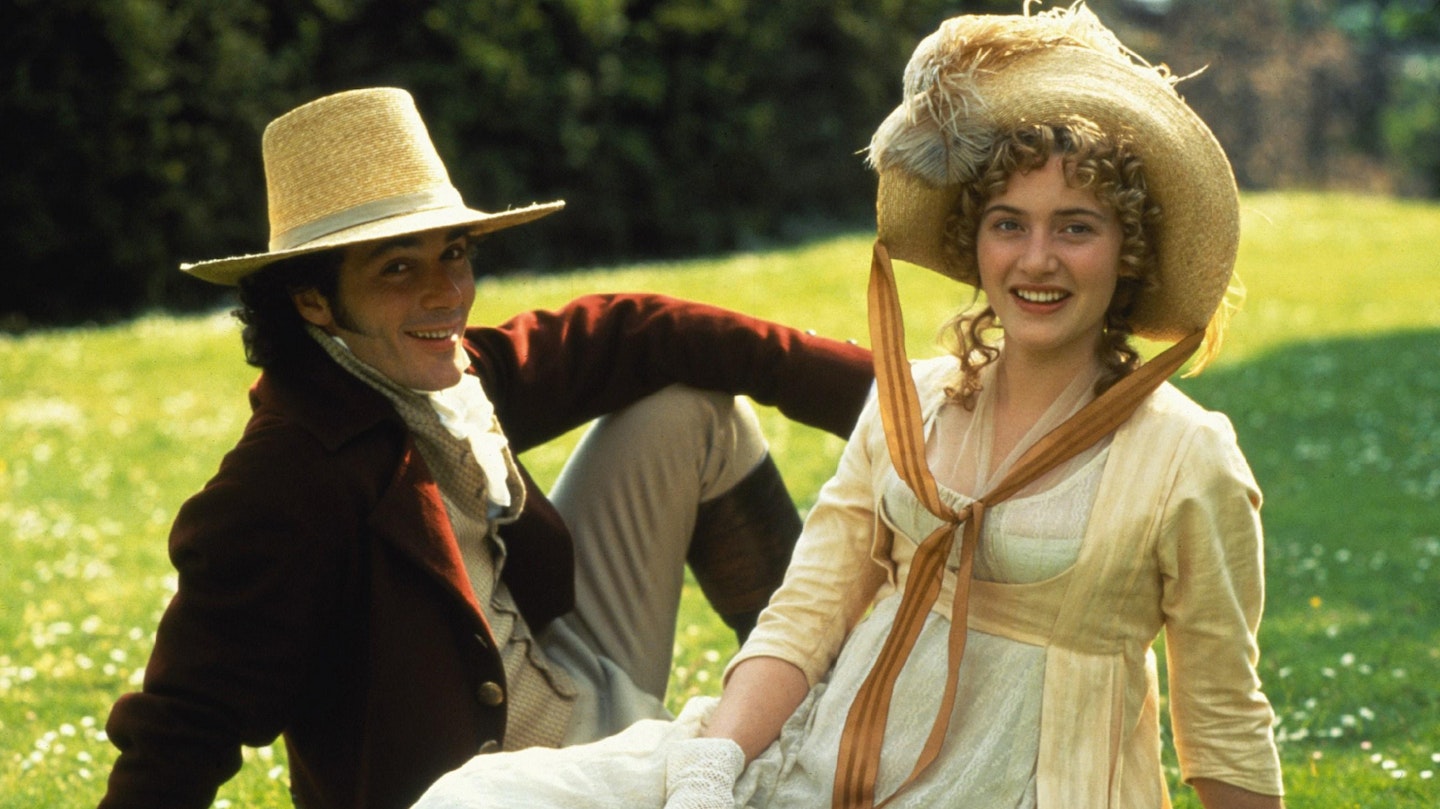 In September 1995, the BBC's now legendary six-episode adaptation of Pride And Prejudice began, firmly tattooing the image of a near-shirtless and utterly drenched Mr. Darcy (Colin Firth) on the underside of every British woman's eyelids. Almost brutally, Ang Lee unleashed Sense And Sensibility on the Darcy-drunk public a couple of months later. Moviegoers were helpless in the face of this glitzkreig of Jane Austen mania, queuing up in their droves to experience the one-two punch Hugh Grant and Alan Rickman donning breeches and heading a-wooing. Much of the praise should be sent in Thompson's direction, with her Oscar-winning script and gently perfect performance carrying the film wonderfully, but Lee's outsider's eye brought Austen to life with a verve and understanding that most English filmmakers could only marvel at. What's more, Sense And Sensibility also made Kate Winslet a verifiable movie star. Austen would be proud.
31. Performance (1970)
Directed by: Nic Roeg, Donald Cammell
Starring: James Fox, Mick Jagger, Anita Pallenberg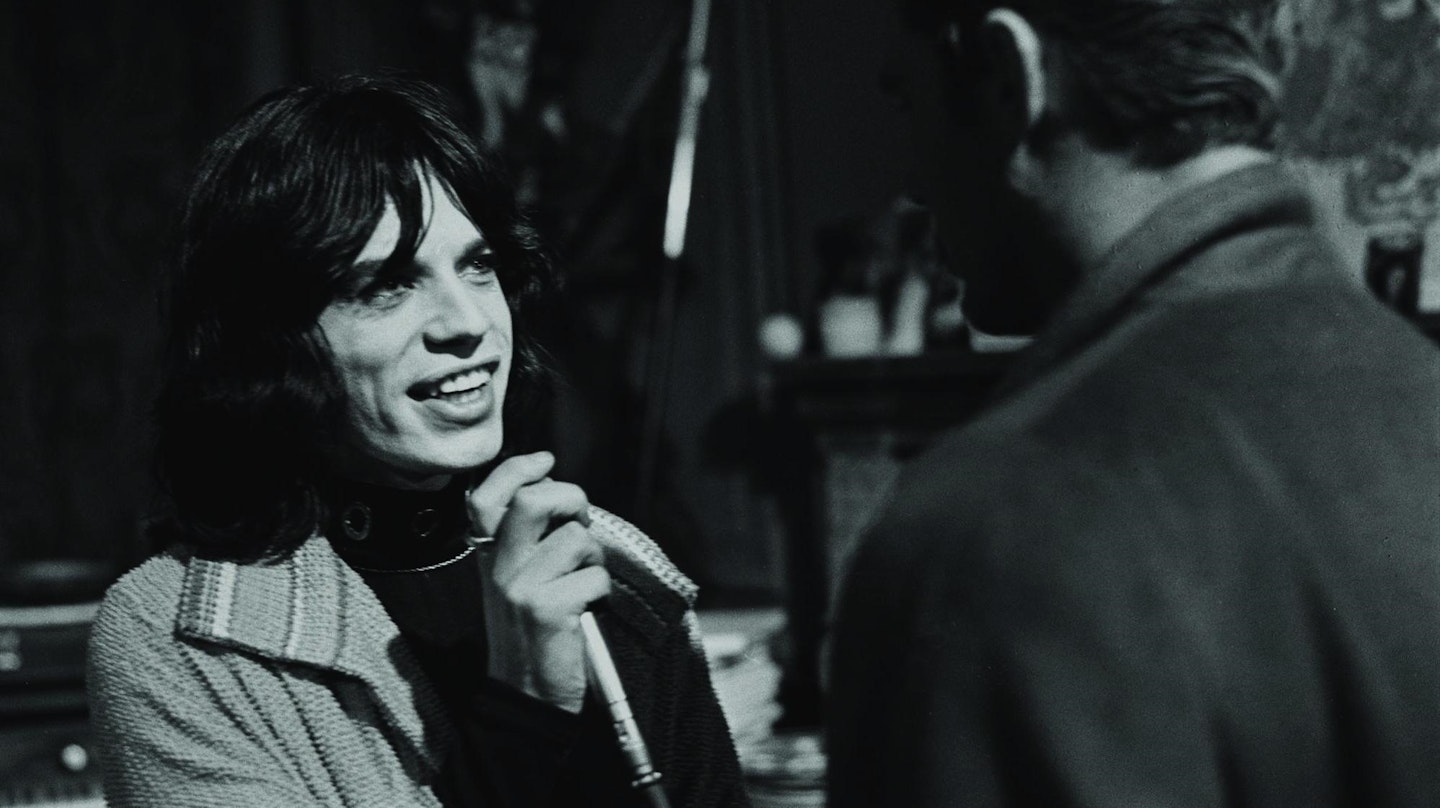 As well as one of Britain's greatest directors, Nic Roeg has a Simon Cowell-like gift for spotting acting ability in rock stars. He's evinced surprisingly accomplished turns from Mick Jagger, Art Garfunkel and David Bowie (twice). This was no small feat in Jagger's case: his Ned Kelly was more wooden than a koala's living room, but the Rolling Stone stepped up a gear in Roeg's debut feature. Okay, he's playing a rock star – there's that – but his gaunt, rubber-lipped cool lends a seriously subversive quality to Roeg's lysergic gangster flick. His sex scenes with Anita Pallenberg, the femme fatale holed up in Turner's London bolt hole, didn't go down brilliantly with his band mate, her then-boyfriend Keith Richards, but their on (and off-)screen chemistry brought electricity to an alt-gangster flick that's not exactly short of it to begin with. James Fox's fraying hood, meanwhile, is a walking case-study of sexual repression and pent-up violence, while Roeg's visual flourishes lures us into a seedy late '60s world of hipsters and heroin that feels like an X-rated episode of Through The Keyhole.
30. The Ladykillers (1955)
Directed by: Alexander Mackendrick
Starring: Alec Guinness, Cecil Parker, Herbert Lom, Peter Sellers, Katie Johnson
The film that raised the bar for little old ladies everywhere, The Ladykillers is one of the blackest comedies in Ealing's repertoire of delights (keep reading). It's not hard to see why, for all their version's flaws, the Coen brothers tried to hand at remaking it. How could they not be tickled by a comedy with a higher body count than Psycho? In retrospect, Tom Hanks, J. K. Simmons et al could never hope to match the gleeful hamming of Sellers, Guinness, Lom and their gang, an identity parade of vaudeville villainy with enough spot-on comic timing to reset the atomic clock. Chuck in Katie Johnson's old dear – and at one point they try to do exactly that – and you've got a hilariously cynical skew on human nature. In fact, it's a film so tar-black it makes another Alexander Mackendrick classic, Sweet Smell Of Success, look like Curly Sue.
29. Kes (1969)
Directed by: Ken Loach
Starring: David Bradley, Brian Glover, Freddie Fletcher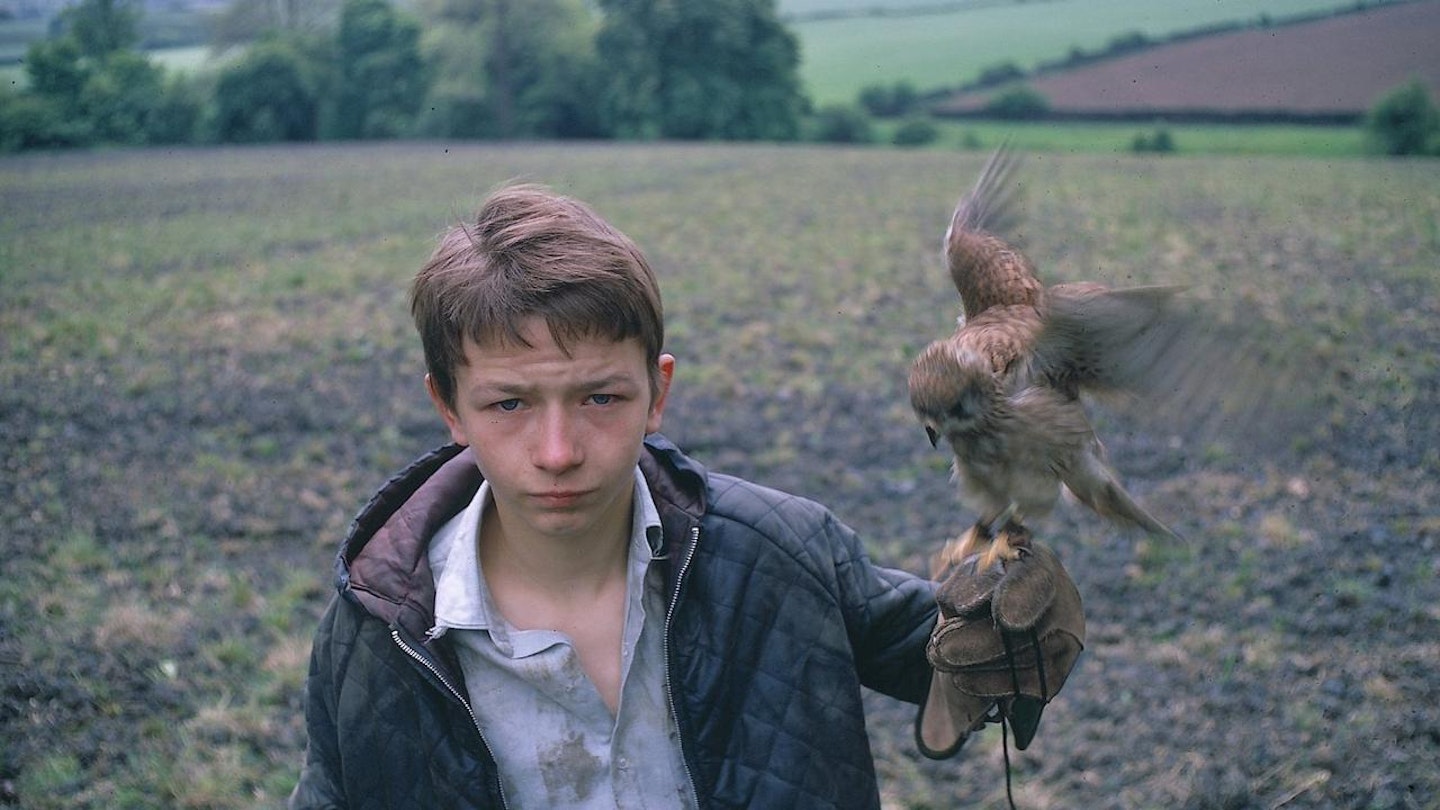 Still Ken Loach's best film, this beautifully etches the relationship between 15 year-old Barnsley school boy Billy Casper (David Bradley), bullied and beaten at home, ignored at school and the baby kestrel he nurtures and loves. It's a fantastic mixture of the poetic – cinematographer Chris Menges beautifully lenses sequences of Billy with his bird on the moors – and the everyday – the boredom and rhythms of school life have rarely been captured. Everyone remembers Brian Glover as the sadistic sports teacher who runs away with a farcical football match, but this is a film full of great performances, especially Bradley as a vulnerable, believable hero. Anytime someone bashes the British Film Industry with a Sex Lives Of The Potato Men or a Fat Slags, it's heartening to remember we are also capable of sublime brilliance like this.
28. Borat (2006)
Directed by: Larry Charles
/Starring Sacha Baron Cohen, Ken Davitian, Pamela Anderson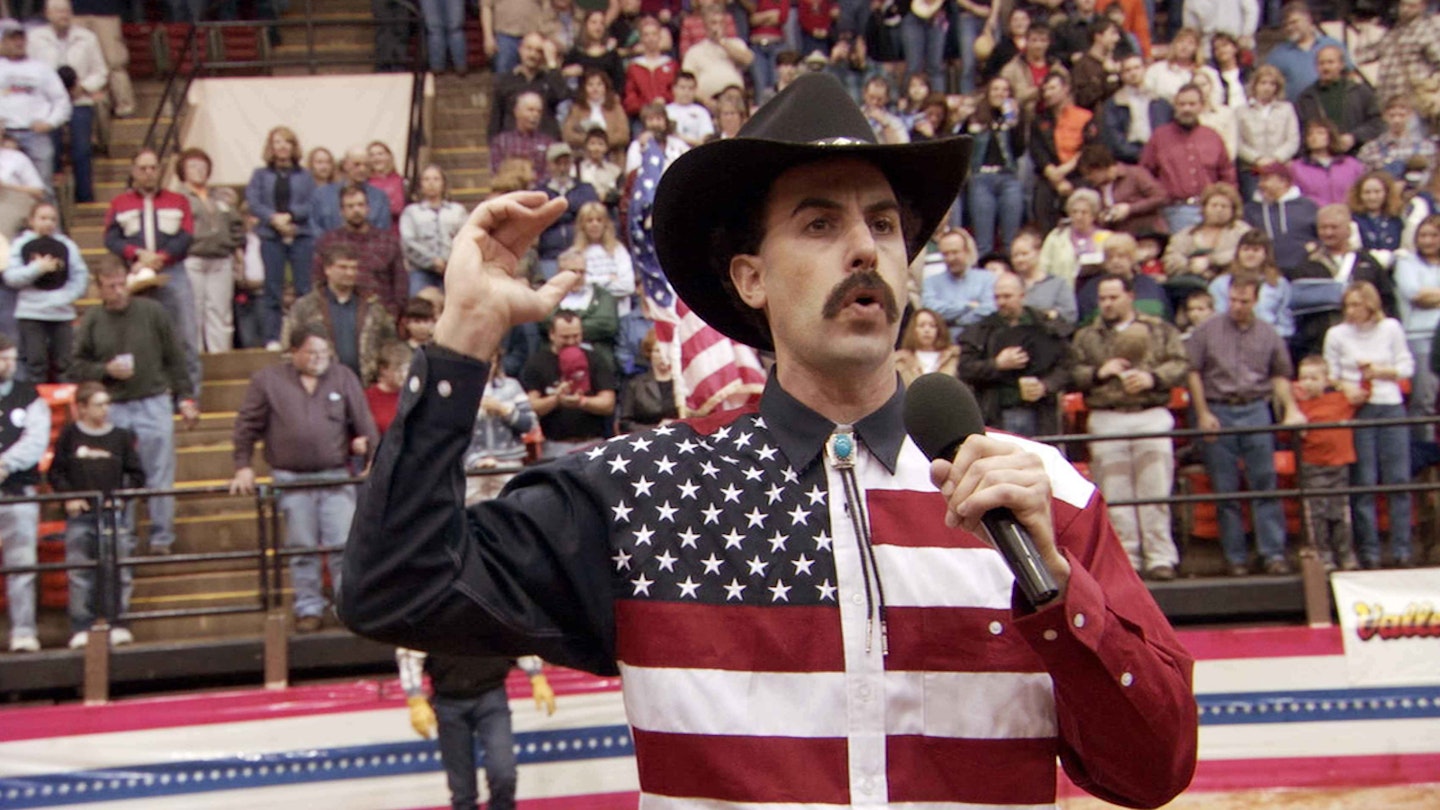 Borat was produced entirely by Sacha Baron Cohen's Four By Two (Cockney rhyming slang for 'Jew', by the way) productions – and it's easy to see why. After all, what major studio would produce a film about a racist, sexist, perverted pseudo-Kazakhstan journalist who runs around the US looking for his new wife – Pamela Anderson, of course – all the while embarrassing nearby Americans and generally being an arsehole? The mankini alone would be reason enough to shun him, never mind the anti-Semitism and naked wrestling (our eyes! Our eyes!). Fortunately for Baron Cohen, his ad-libbed, off the hoof, absurdly offensive humour struck a chord with the movie-going public, with a final worldwide haul of $261 million off an $18 million investment. Take that Ali G, you big corporate sell-out, you.
27. Dead Man's Shoes (2004)
Directed by: Shane Meadows
Starring: Paddy Considine, Toby Kebell, Stuart Wolfenden, Gary Stretch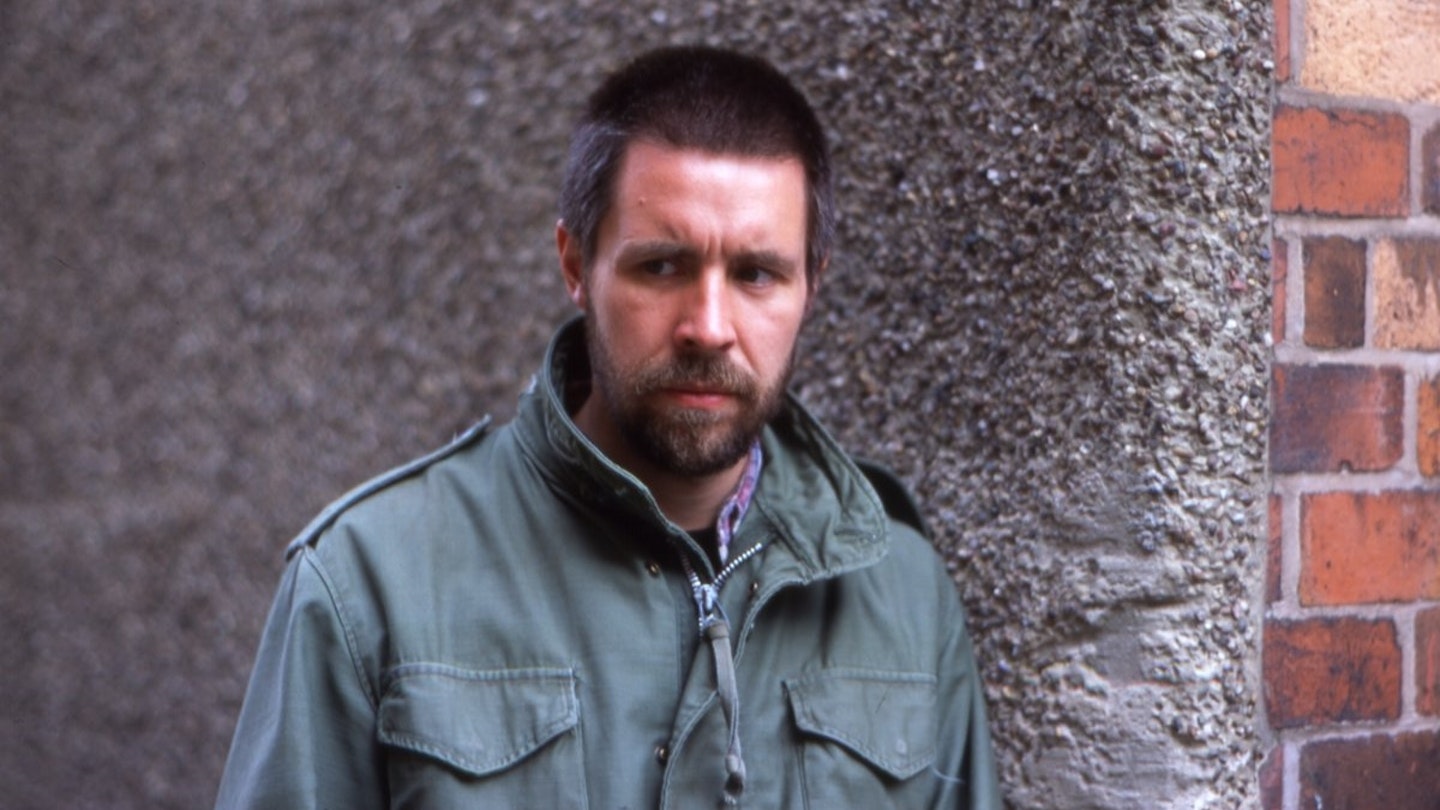 Most films on this list are here primarily because of the person behind the camera. In this case, and with no disrespect to Shane Meadows' assured direction, it's the stunning turn by its star and co-writer, Paddy Considine, that's won it a place. He's the spine of the film, an ex-soldier who returns to his hometown and brings down a world of pain on the men who bullied his younger brother. The result is a sort of Sympathy For Mr Derbyshire, a brutal but strangely compassionate look at a ruthless and violent figure, a sort of slasher movie in reverse. A showcase for a deserving actor, and a perfect example of the indie sector's ability to tackle storylines that studios would shy away from, this is one of the finest British films in years.
26. Shallow Grave (1994)
Directed by: Danny Boyle
Starring: Ewan McGregor, Christopher Eccleston, Kerry Fox, Keith Allen, Peter Mullan, Ken Stott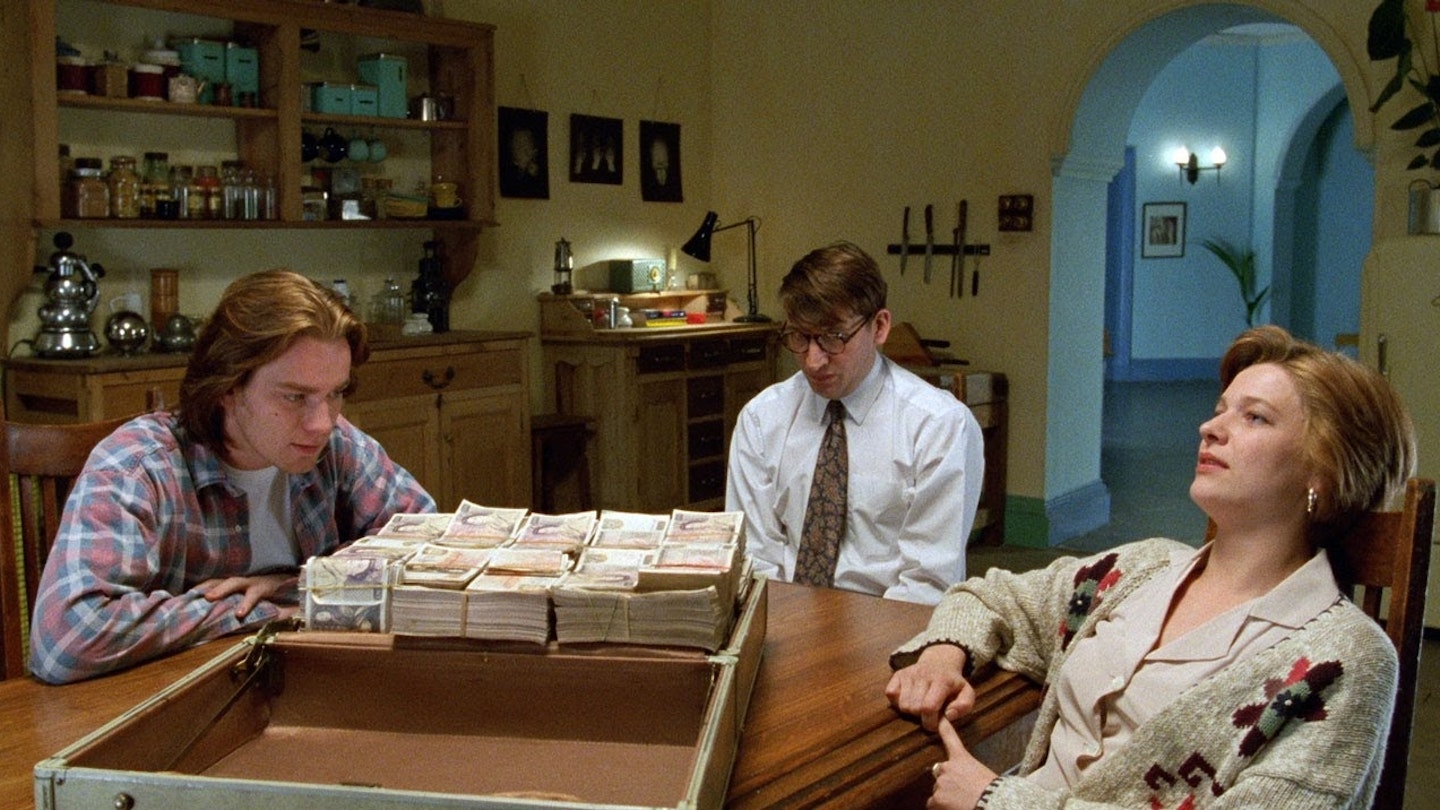 A wave of hype bore this thriller, threatening to swamp it under proclamations that the British were coming, that Scotland was sexy, that this Ewan McGregor fella might do well for himself. Well, that's all true (except for Scotland being sexy, anyway), but there's more to Shallow Grave than a shot in the arm for British cinema. Danny Boyle's immensely stylish tale of dead mains, a suitcase full of money and rampant paranoia is an inspired blend of pitch-black comedy and bloody violence, held together by career-making performances and scathing wit. Three central characters this flawed and nasty are a rare sight in American cinema – even in the independent sector – and they're surrounded by a heck of a supporting cast. The lot benefit from Boyle's nascent directorial flair and winning partnership with writer John Hodge and producer Andrew MacDonald. The all-round alchemy, combined with the intelligence and sheer panache on show here, make it a must-see.
25. The Life And Death Of Colonel Blimp (1943)
Directed by: Michael Powell, Emeric Pressburger
Starring: Roger Livesey, Deborah Kerr, Anton Walbrook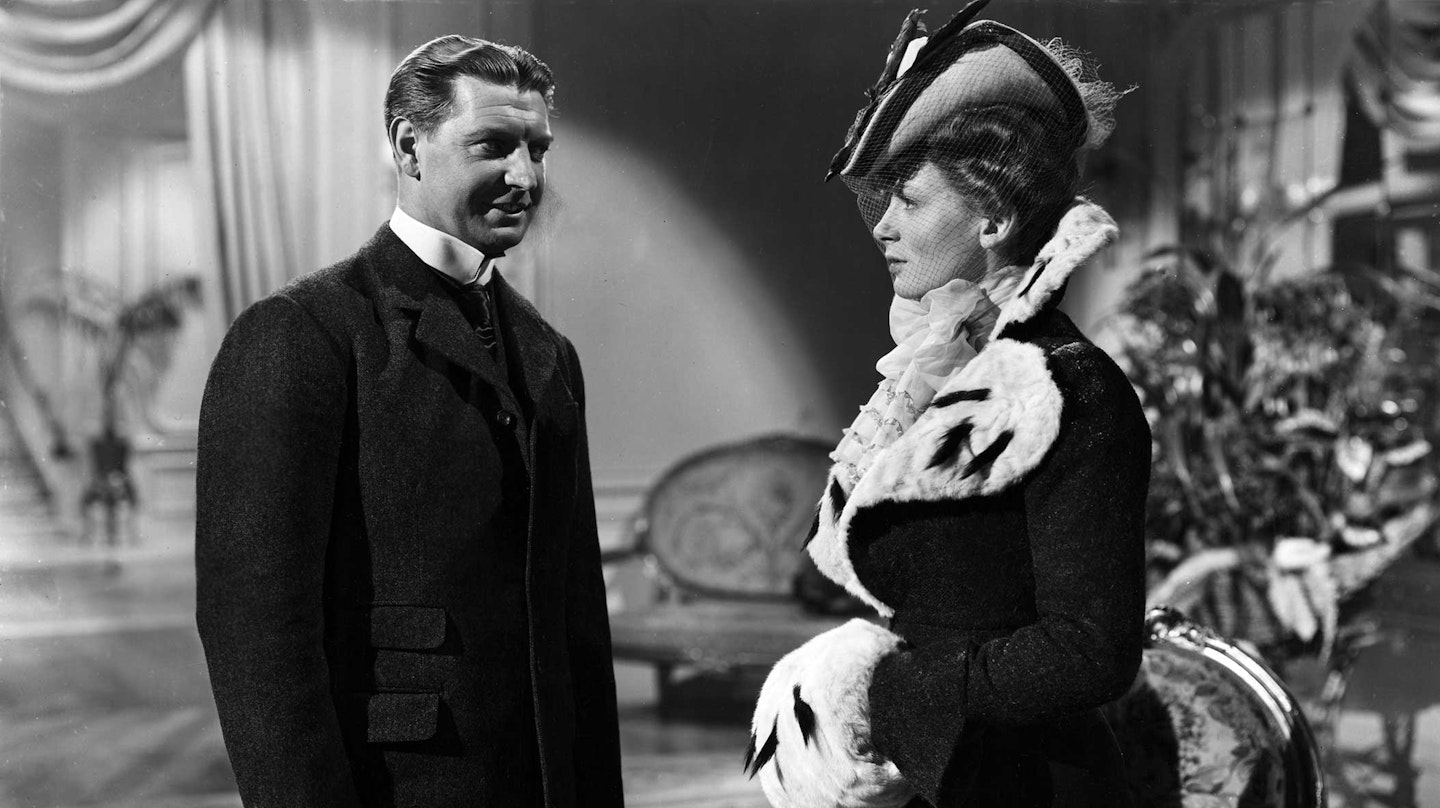 Winston Churchill didn't like Colonel Blimp. Perhaps it was because his advisors dismissed it as unpatriotic, or maybe it was because he saw something of himself in the character of Clive Candy. Whatever the reason, everyone's favourite stogie-chomping prime minister did his damndest to halt production before The Ministry of Information and War Office apparatchiks allowed it to go ahead anyway. It's just as well: Powell and Pressburger, founders of Britain's great production house, Archers Film Productions, consider it their greatest work. It's certainly the film of which they were most proud. Dealing with the nature of patriotism, the essence of Britishness, the notion of honour and the horror of war through the career of one man, it's a grand, glorious film that's an object lesson in crafting the perfect - albeit fictional – biopic. What's more, Winston needn't have bothered with the whole censorship farrago: this is probably the most patriotic film on any movie afficiando's DVD collection – and we're including The Italian Job here.
24. Moon (2009)
Directed by: Duncan Jones
Starring: Sam Rockwell, Kevin Spacey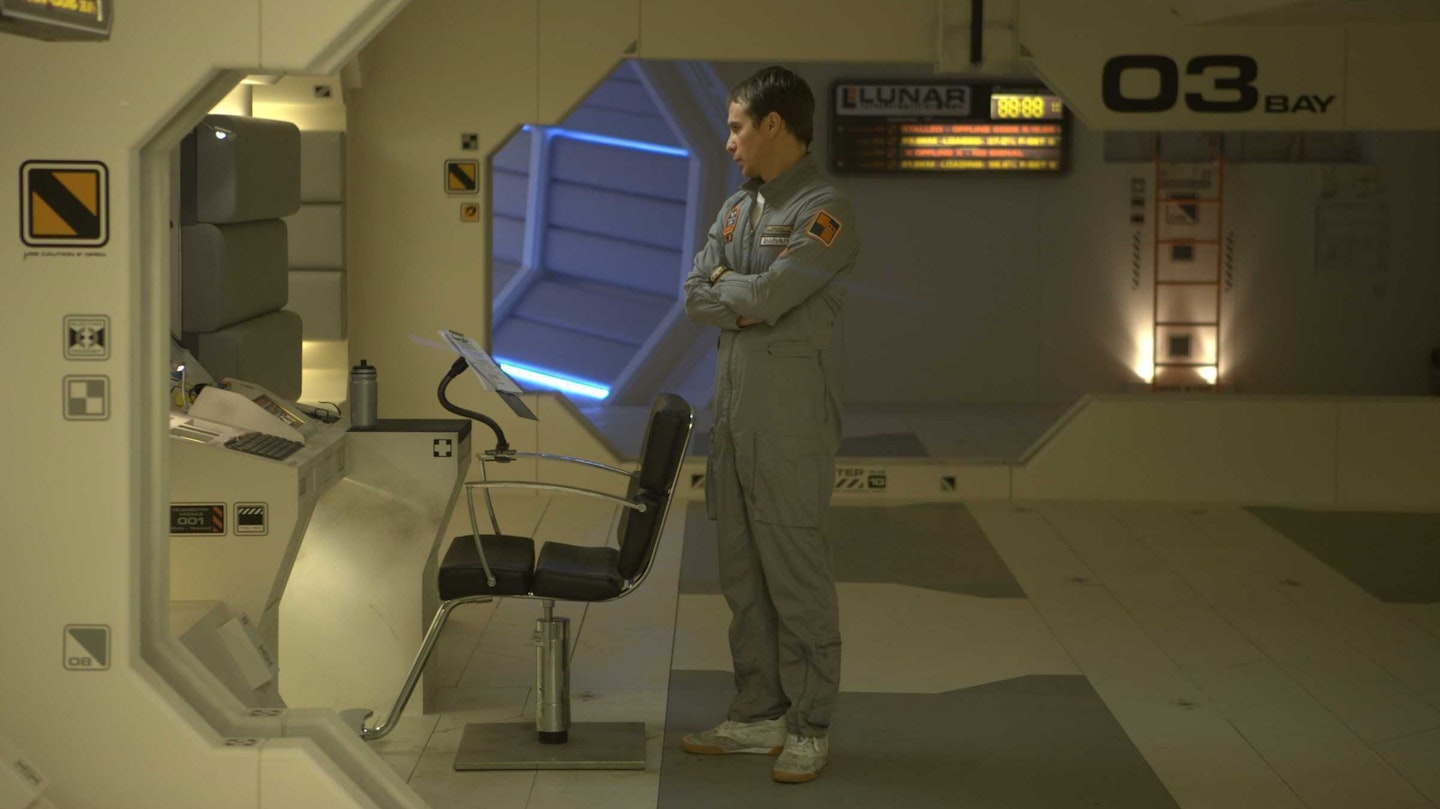 After enduring three Transformers movies, Battle Los Angeles and Green Lantern, you'd have been forgiven for thinking that sci-fi had been left for braindead. But then came Duncan Jones' Moon, a smart, stripped down brainteaser that builds suspense and handles complex philosophical and ethical issues with a few sets and a single central performance (by Sam Rockwell). The set-up is a little High Noon (High Moon?), via that film's own sci-fi remake Outland, but the external threat (the arrival of 'help') is just the backdrop to Sam's own existential crisis. The film's crisp, clean look is pure'70s sci-fi, but there are clever inversions. Sam's digital assistant GERTY (Kevin Spacey) seems sinister, but doesn't do a HAL. And the big 'twist' is actually revealed relatively early. It's not so much about flooring the audience with the mind-blowing revelation, more about watching how the character – or rather, characters – react.
23. Rebecca (1940)
Directed by: Alfred Hitchcock
Starring: Laurence Olivier, Joan Fontaine, Judith Anderson, George Sanders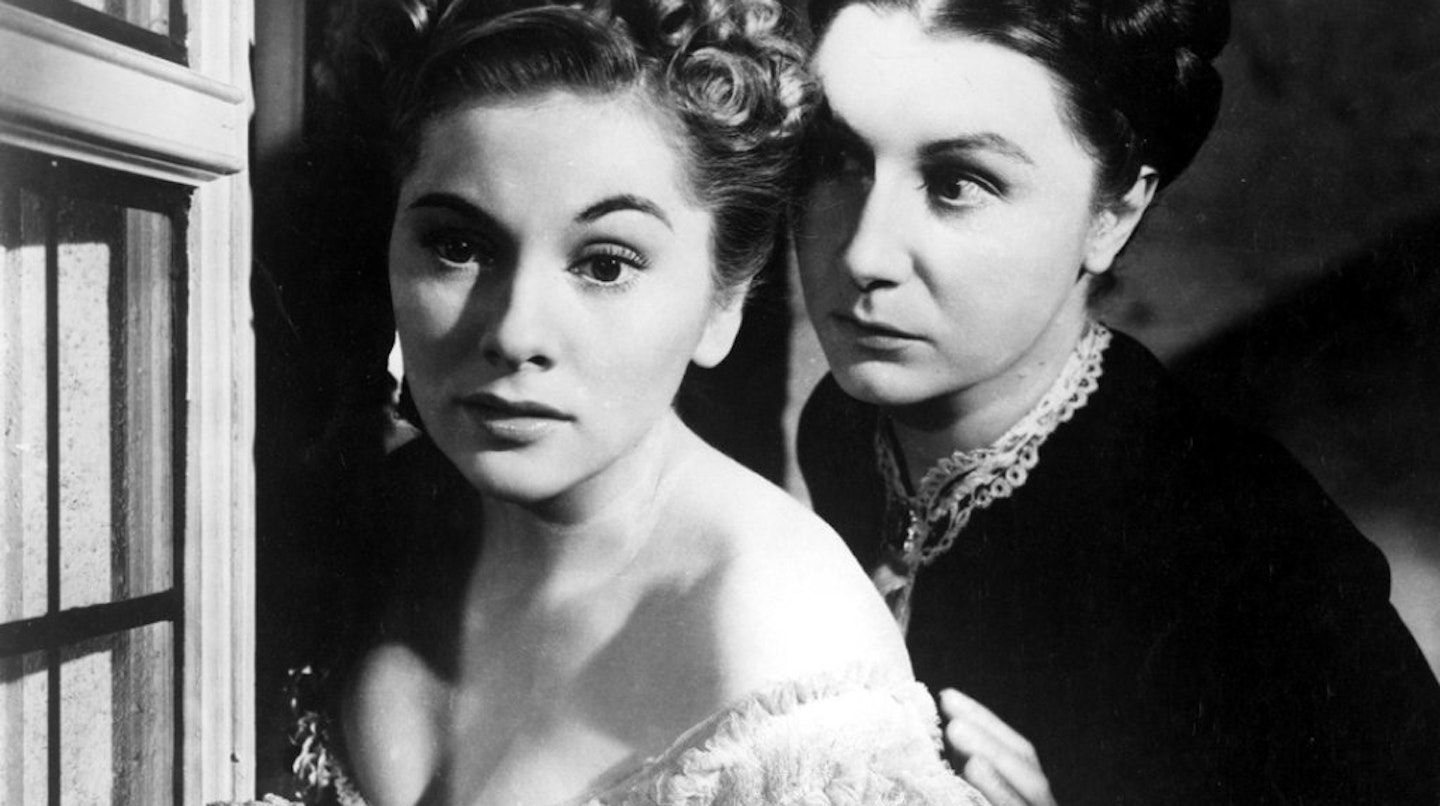 Technically, this was Alfred Hitchcock's first American film – but since it's set in England and stars a largely English line-up, we're allowing it despite the studio backing. It is, after all, a soaring example of Hitch's ability with old-fashioned filmmaking long before he became known for suspense and shock tactics. Which is not to say there's no suspense here: as the second Mrs de Winter, meek Joan Fontaine tangles with a malevolent housekeeper who forever compares the newcomer – unfavourably – to her predecessor, Rebecca. Her distant husband doesn't help much, and before you can say costume party there are suicide attempts, infidelities and murder charges to be dealt with. Gorgeously shot and beautifully performed, this is a worthy farewell to the early stage of Hitchcock's career.
22. Saturday Night And Sunday Morning (1961)
Directed by: Karel Reisz
Starring: Albert Finney, Shirley Anne Field, Rachel Roberts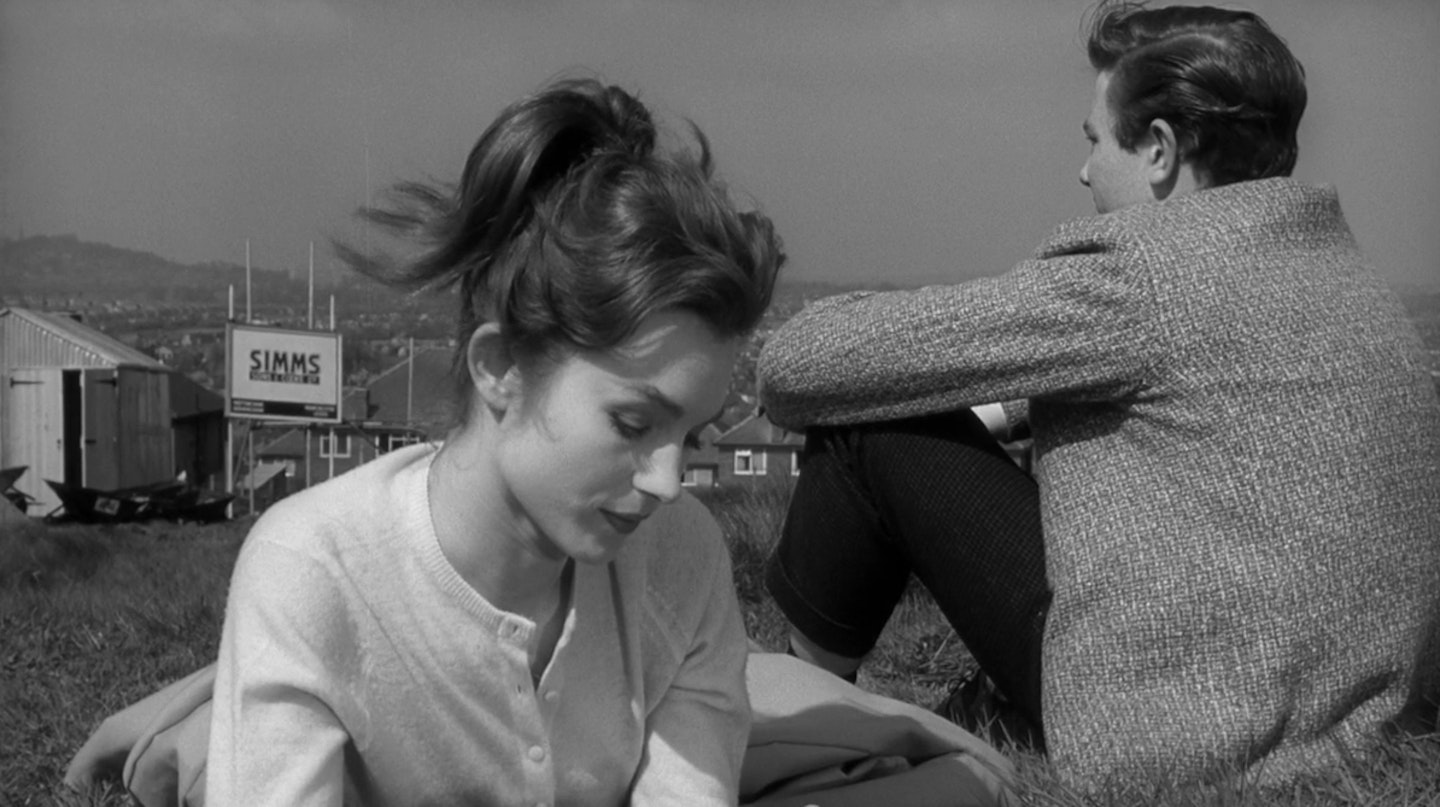 One of the key films of the '60s realist movement, this is the one with Albert Finney as the cocky factory worker ("Don't let the bastards grind you down. That's one thing you learn.") who is courting Doreen (Shirley Anne Field) and playing around with married Brenda (Rachel Roberts). It's difficult now to assess its rawness, but this is still superbly enacted and filled with a tangible yearning for better lives. If nothing else, the film has proved enormously influential on Northern indie musos; a line from the movie – "I want to go where there's life and there's people" – turned up in The Smiths' There Is A Light That Never Goes Out, and the movie inspired the title of the Arctic Monkeys' debut Whatever People Say I Am, That's What I'm Not.
21. Four Weddings And A Funeral (1994)
Directed by Mike Newell
Starring: Hugh Grant, Andie MacDowell, Kristen Scott Thomas, Simon Callow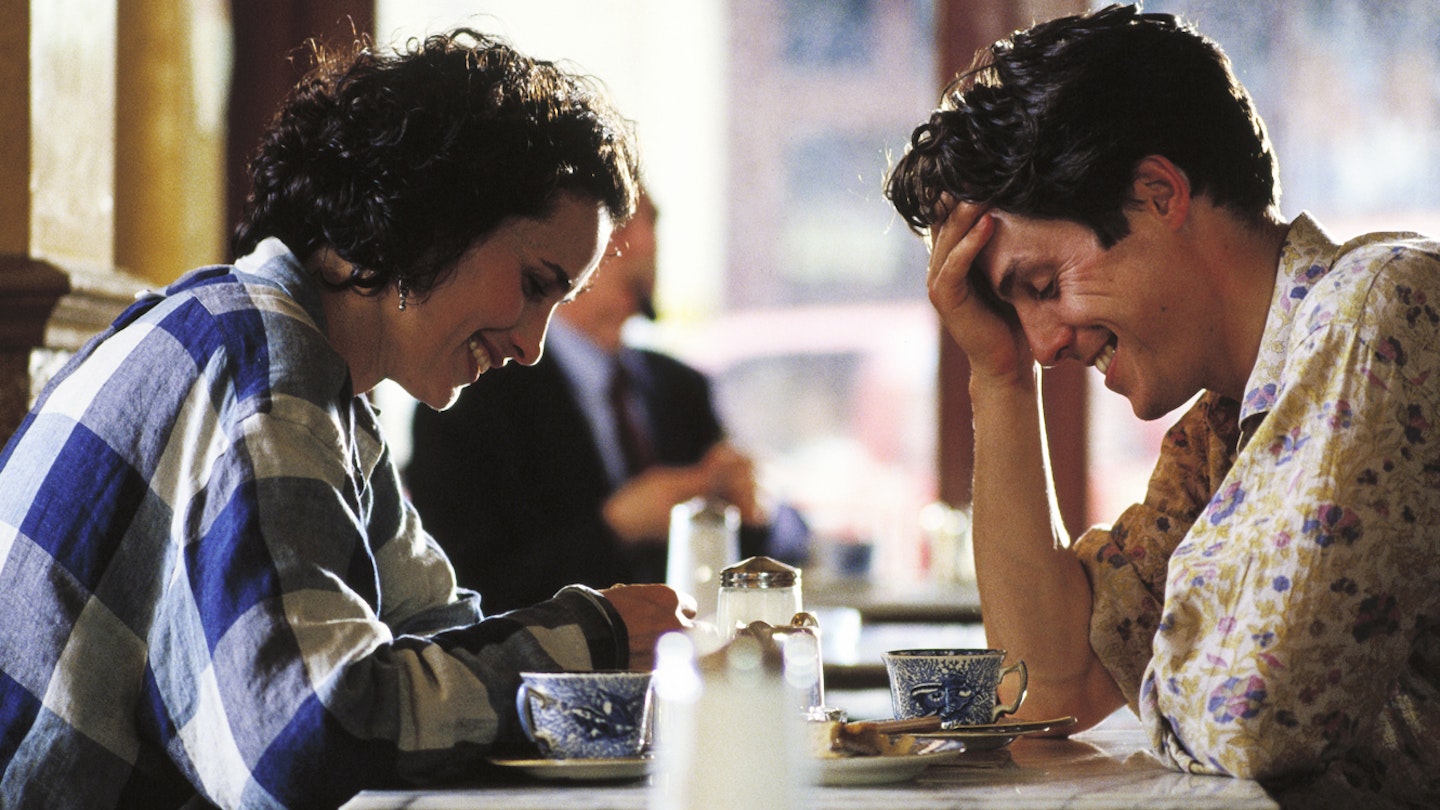 Cast your mind back to 1993. Hugh Grant is still "the bloke from that weird Roman Polanski film"; Richard Curtis is best known as the man behind Blackadder's withering put-downs, people still greeted rain with a four-letter word rather than an opportunity to mock Andie MacDowell, and only the most literate could tell W. H. Auden from WHSmith. Can't remember it? Us neither. 'Four Weddings' (that shorthand cheerily omits the 'funeral' bit) is, 22 years later, a comfortingly British institution. Much of its longevity is down to Curtis's playful dialogue which gives Grant's bumbling romantic and Andie MacDowell's coy outsider, beguiled and baffled in equal measure, enough gold to charm even the most granite hearted. It's a veritable Petri dish of British idiosyncrasies and humour ("Are you telling me I don't know my own brother!"), with some gently teasing satire mixed in for good measure. If a space alien ever asks you to explain how the English middle classes see themselves, show them this. Then go for help.
20. A Matter Of Life And Death (1946)
Directed by: Michael Powell, Emeric Pressburger
Starring: David Niven, Kim Hunter, Raymond Massey, Marius Goring, Roger Livesey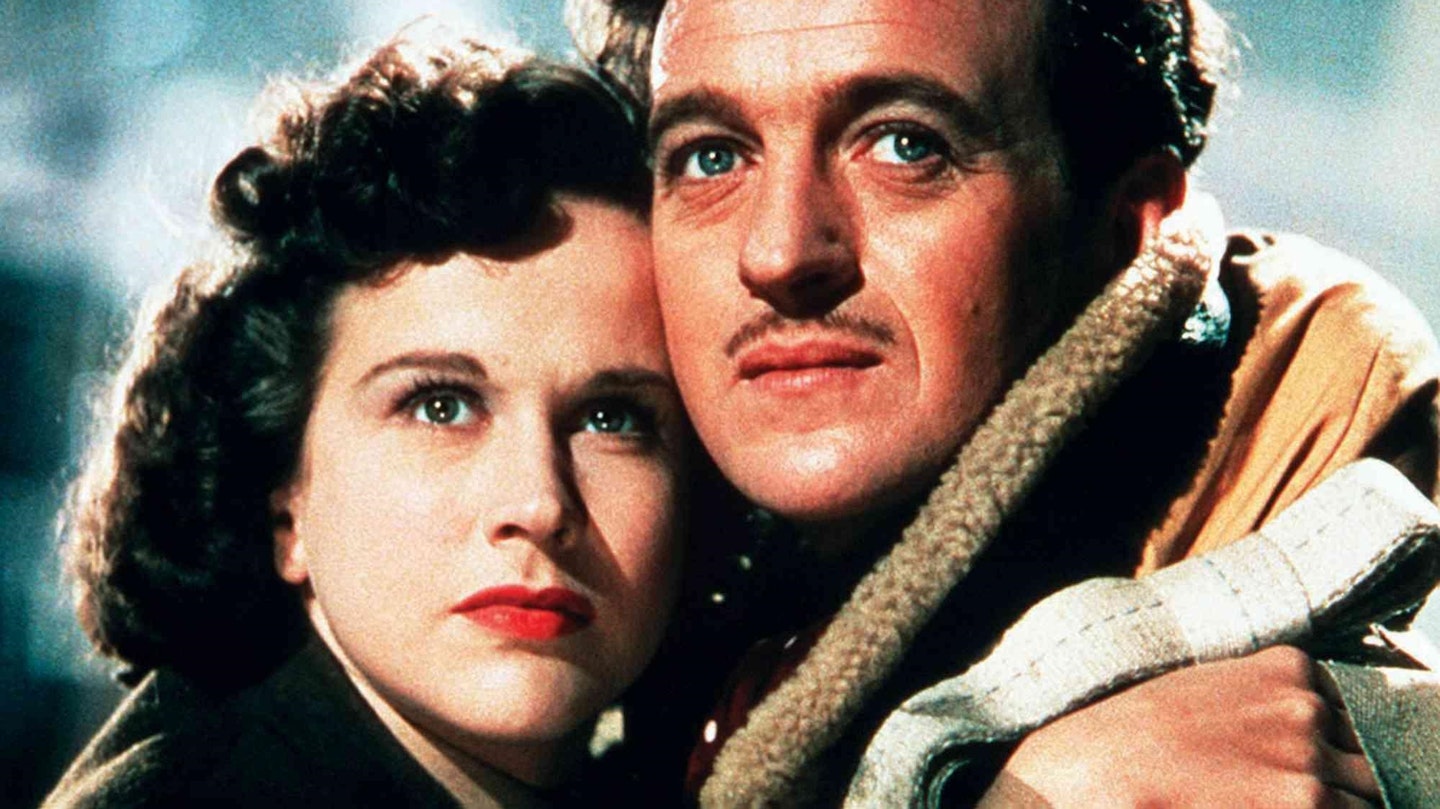 If you think about it, this is a very odd mix of topics. A World War II pilot is shot down over the Channel on a foggy night – but in the mist his soul isn't collected at once, leading him to wash ashore and fall in love with the radio operator who had been his last contact, pre-crash. He's then, essentially, put on trial for his life, with heaven on one hand concerned that he was destined to die, but on the other forced to consider the new element that he has fallen in love. So we've got romance, metaphysics, bureaucratic mix-ups and war, along with a dash of ping-pong for good measure – hardly your typical blockbuster. Still, thanks to the writer-directors sure touch and David Niven's none-more-English, never-more sympathetic chap's chap persona, this is a memorably different wartime weepie.
19. The Long Good Friday (1980)
Directed by: John Mackenzie
Starring: Bob Hoskins, Helen Mirren, Derek Thompson, Bryan Marshall, Eddie Constantine
Long before Guy Ritchie and Jason Statham arrived, John Mackenzie set the bar high for British gangster flicks with the raw and still-influential Long Good Friday. It's dated, sure, but there are a host of memorable sequences (including the infamous meat-hook interrogation), an impossibly-catchy sax score and the saltiest, geezer dialogue this side of Michael Caine ("A sleepin' partner's one thing - but you're in a fuckin' coma!"). As the East End kingpin whose empire is rapidly crumbling, Bob Hoskins delivers a towering performance (check out his wordless final scene), while a young Helen Mirren sparkles as the sexy femme fatale and the support is littered with familiar faces (including Pierce Brosnan, a few Ritchie regulars and Charlie from Casualty). Produced for a paltry £930,000 (unthinkable nowadays), it lacks the gloss of today's copycats, but in every other department, this blows them away.
18. Monty Python And The Holy Grail (1975)
Directed by: Terry Gilliam, Terry Jones
Starring: Graham Chapman, John Cleese, Terry Jones, Michael Palin, Eric Idle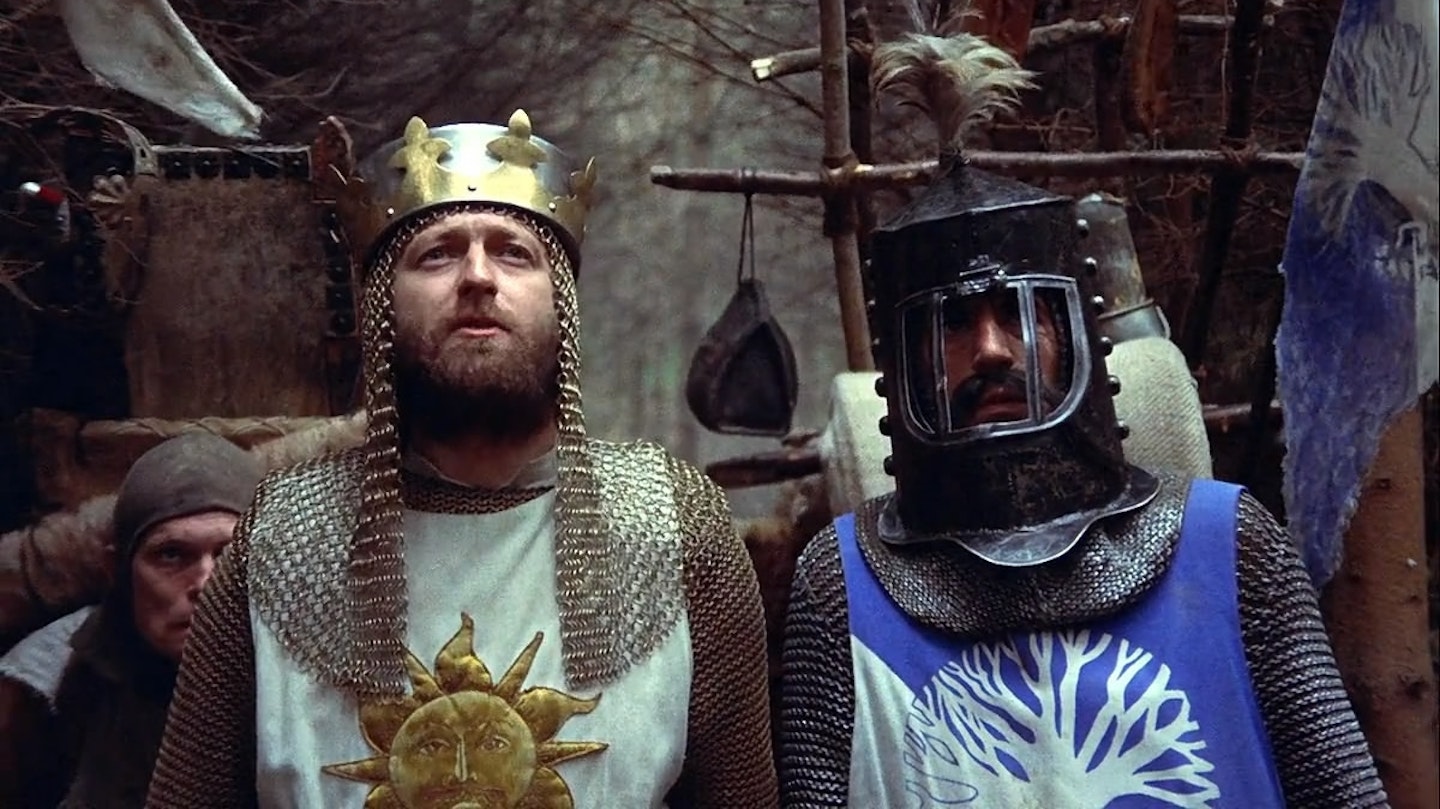 Monty Python's first narrative(ish) film may not have the bite of Brian, but it's such an inspired piece of silliness that it would make a stone laugh. Taking inspiration from Arthurian legend but ladling in social commentary (or at least comedy), anachronistic touches and surreal interludes, this is perhaps the most quotable and quoted film on the entire list, and also deserves our thanks for saving the group after they had almost burnt out following three TV series and the underperforming And Now For Something Completely Different. From shrubberies to parents who smell of elderberries to flesh wounds and women who weigh more than ducks, all human life is here - as long as it is, like the Pythons themselves, simultaneously both extremely silly and very, very clever. Elvis ordered a print of this comedy classic and watched it five times. If it's good enough for the King, it's good enough for you.
17. Billy Elliot (2000)
Directed by: Stephen Daldry
Starring: Jamie Bell, Julie Walters, Gary Lewis, Jamie Draven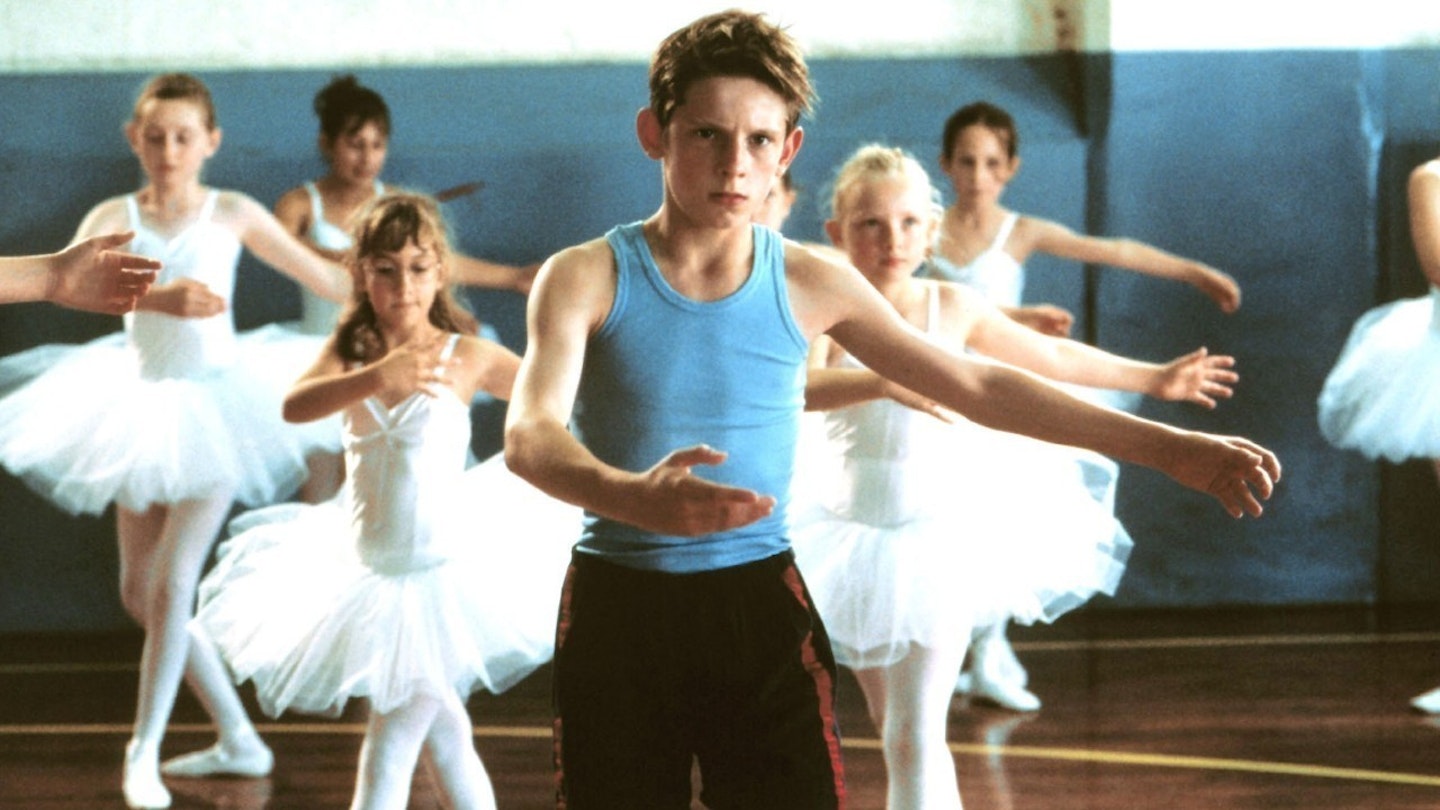 What made this coming-of-age drama feel so fresh was not just the refreshingly unobvious mix of topics, but the deftness with which they were brought together. The devastating Miners' Strike of 1984 is the backdrop, but in the foreground is an 11 year-old boy who wants to learn ballet. The problems he faces are immense: money, class (even if that's just a little overegged in the audition scene) and his town's complete lack of experience with boys who like ballet. Teacher Mrs Wilkinson (Julie Walters) finds herself almost having to translate between the ballet and miners' worlds. In the end, though, the mutual bafflement between Billy and his gruff father, and the real love that is revealed underneath, are the key to making this soar even higher than those final jets.
16. Goldfinger (1963)
Directed by: Guy Hamilton
Starring: Sean Connery, Honor Blackman, Gert Frobe, Shirley Eaton, Harold Sakata, Bernard Lee, Lois Maxwell, Desmond Llewelyn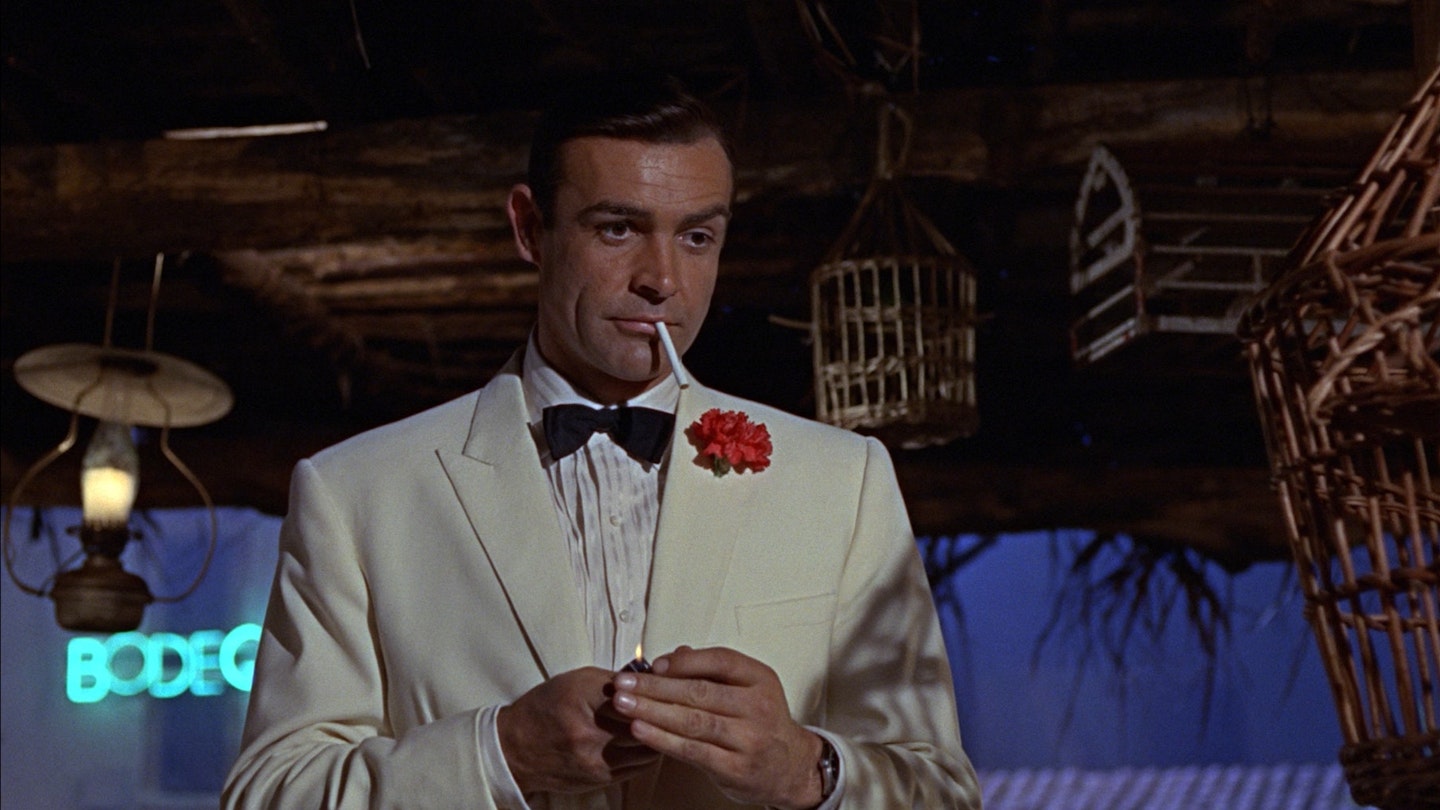 For many of us, Goldfinger is still the quintessential James Bond experience. Occupying the perfect middle-ground between the more realistic first two instalments and the increasingly-fantastical later Connerys, the third 007 nailed the perfect balance of the Bondian formula. Taking what audiences already loved (Sean, girls, spying, exotic locations) and infusing new ingredients (popstar theme tune, unrelated pre-credits sequence, Q grumping on), the template here became the benchmark and bulges with iconic elements. Connery at his virile peak, the Aston Martin with ejector seat, Shirley Eaton covered in gold paint, the brilliant tuxedo-under-the-wetsuit opening gambit, the often-quoted laserbeam exchange ("Do you expect me to talk?"... "No Mr Bond I expect you to DIE!"), the brilliantly-named Pussy Galore, a threatening villain who might win - this is Bond (and Britain) at its best. Do we expect you to like it? No, we expect you to love it.
15. Bridge On The River Kwai (1957)
Directed by: David Lean
Starring: William Holden, Alec Guinness, Jack Hawkins, Sessue Hayakawa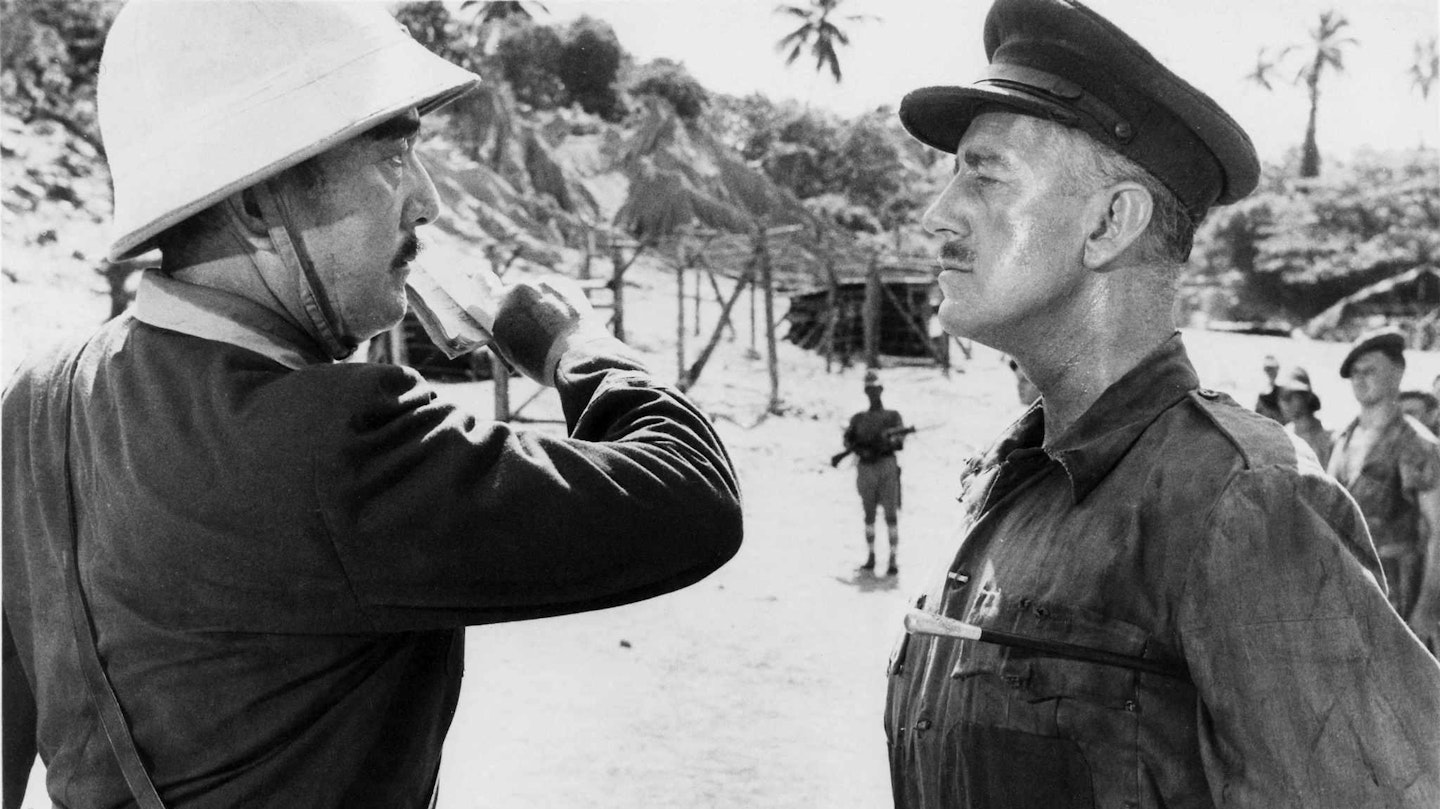 Impossible to describe with using the word 'epic', David Lean's rightly-acclaimed bridge-building World War II drama is grand, spectacle-filled and, well, epic. Despite featuring hardly any actual warfare and boasting a running time that will numb your bottom like a camel trek through Lean's widescreen version of Arabia, this award-magnet is a stone-cold (or, should that be sweltering hot?) classic. There's lush cinematography and a top-notch cast, but it's the underlying psychological character journey of Alec Guinness's stubbornly-defiant and indefatigable Colonel Nicholson that stays with you. Determined to find a way to keep his men together and morale up, he leaps upon the bridge building labour they're assigned as a means to his end - rather forgetting, at least temporarily, the aid it gives the enemy. His eventual realisation of his mistake is unforgettable. That, and the infectious, now-infamous 'Colonel Bogey March' whistle (the one often used for "Hitler, has only got one...").
14. The Third Man (1949)
Directed by: Carol Reed
Starring: Orson Welles, Joseph Cotten, Alida Valli, Trevor Howard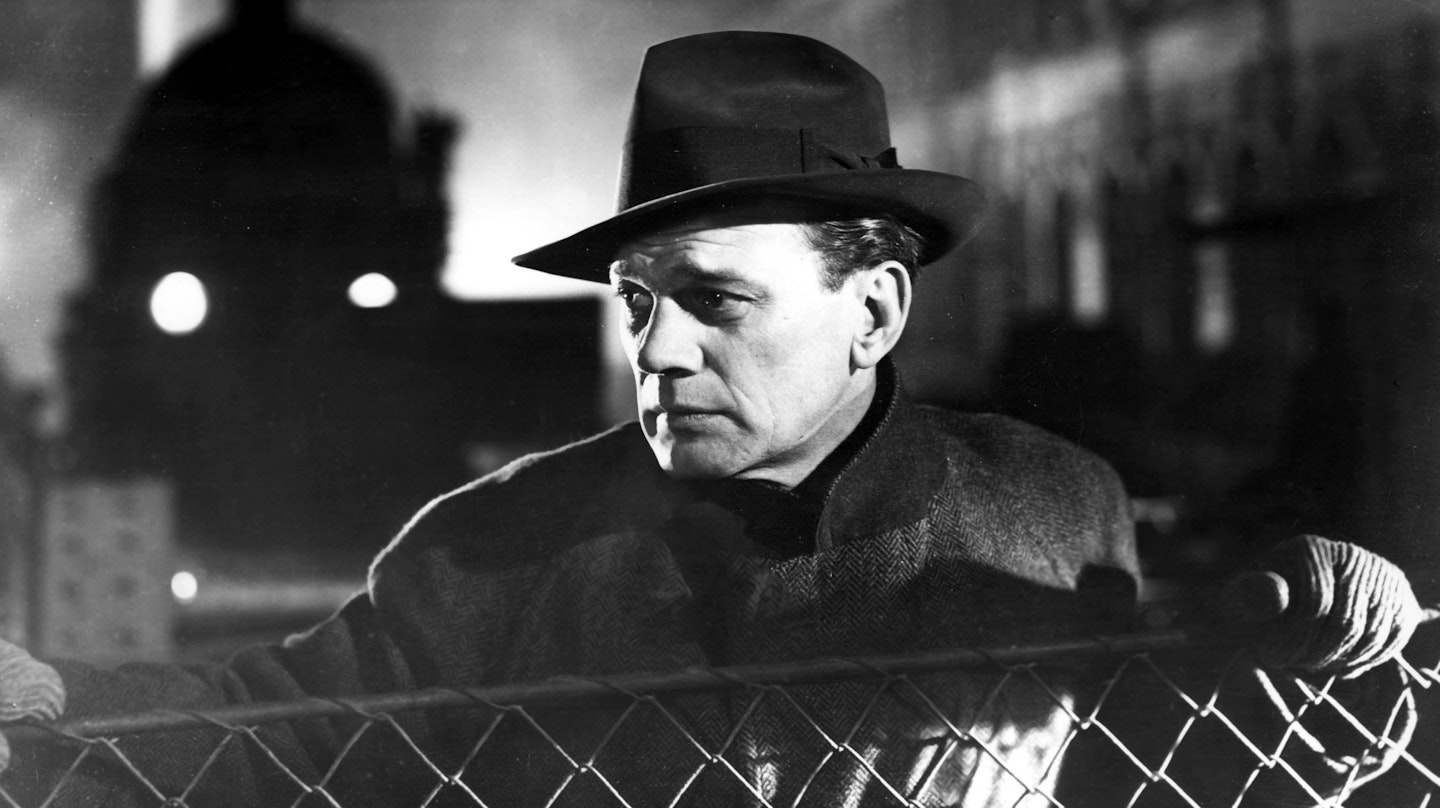 British noir at its best, Carol Reed's classic is adored for many things. There's Robert Krasker's much-lauded cinematography, a chiaroscuro masterclass full of angles and shadows practically begging to be filled with villains; the unmistakable twang of Anton Karas' zither; and the rubble-strewn netherworld war veteran Reed translates so brilliantly from Graham Greene's thriller. Then there's that much-quoted diss of the Swiss, cuckoo clocks and all. Looming over it all though, is Harry Lime (Orson Welles), a villain for the ages and the dark heart of Reed's film. Where the war-ravaged Viennese see sorrow, Lime glimpses opportunity: he's basically the prototype for any number of hedge-fund managers. As much as he's the most odious villain this side of Brighton Rock's Pinkie, British cinema would be a much poorer place without him. He needs to gen up on his horology though: it was the Germans who invented the cuckoo clock.
13. Distant Voices, Still Lives (1988)
Directed by: Terence Davies
Starring: Freda Dowie, Pete Postlethwaite, Angela Walsh, Dean Williams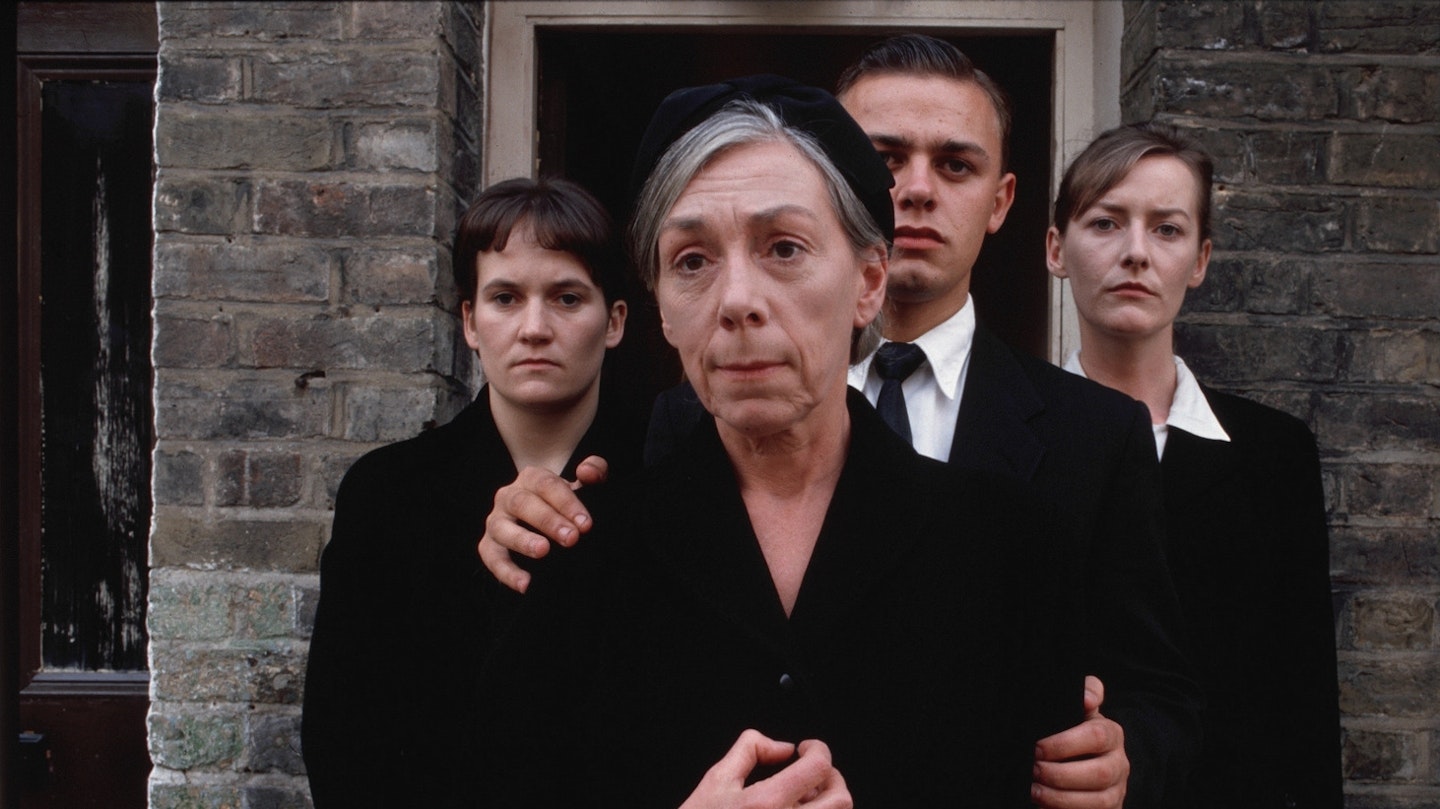 Ripped from his own childhood growing in '40's and '50s Liverpool, Terence Davies' brutal but poetic feature is less a movie and more a filmed remembrance. The first, tougher part, Distant Voices, depicts life during wartime and the reign of terror Davies' father - brilliantly realised by Pete Postlethwaite - inflicted on the family whereas the second Still Lives charts the happier life of his stoic mother (Freda Dowie) and sister Eileen (Angela Walsh) whose marriage represents a breath of fresh air in the Davies household. This may sound like soap opera but Davies charts the highs (wedding celebrations, pub sing songs) and lows (domestic abuse, crushed hopes) of everyday life in beautiful tracking shots and inspired choices of music that couldn't be further away from the kitchen sink. It's a tough watch - especially if you've been weaned on conventional storytelling -but there isn't a more personal, more visually stunning, more moving film on this list.
12. This Is England (2005)
Directed by: Shane Meadows
Starring: Thomas Turgoose, Stephen Graham, Jo Hartley, Andrew Shim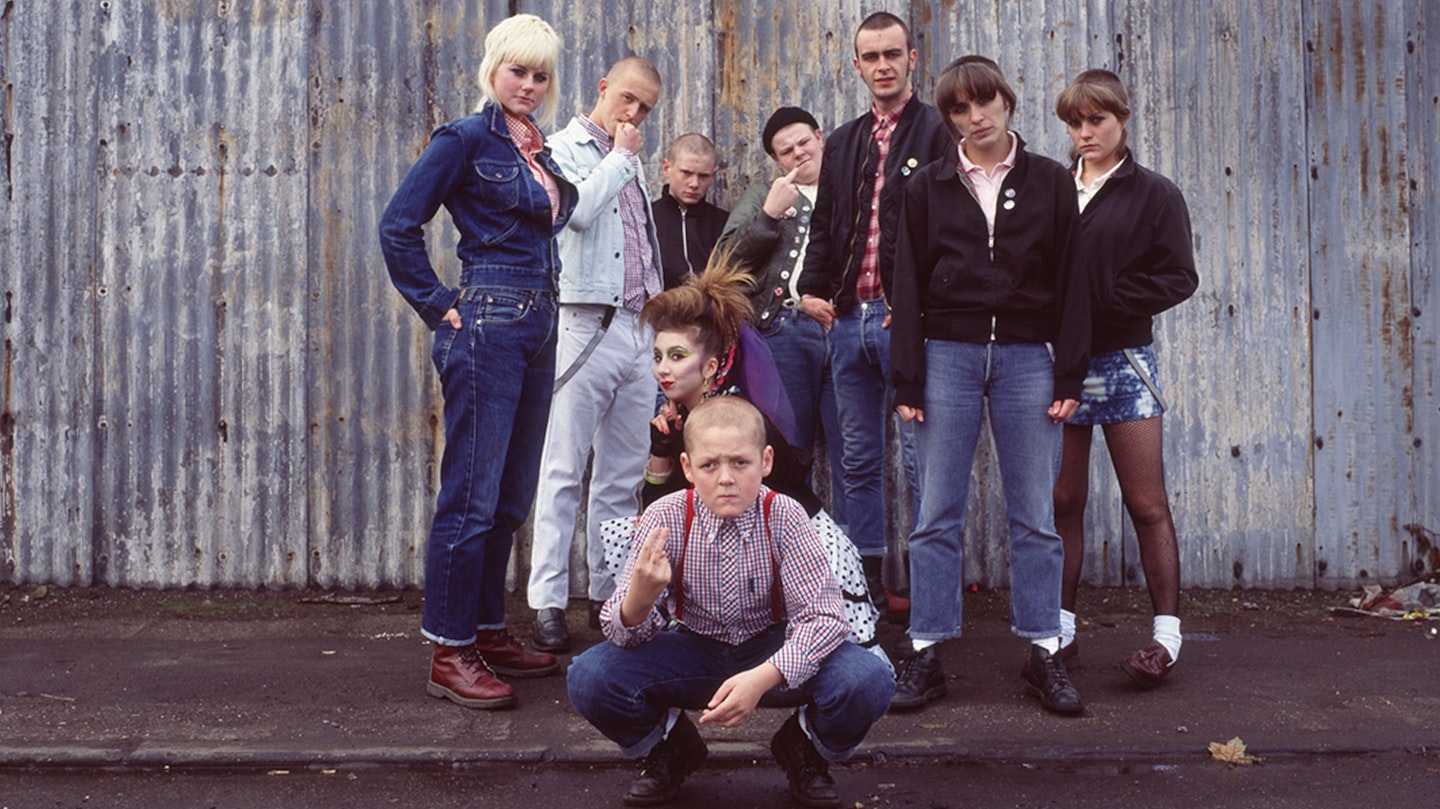 From the opening credits' blare of Toots & The Maytals' ska classic 54-46 (That's My Number), rhythmically synched with an identity parade of Falklands-era heroes and villains, there was a sense that Shane Meadows was going to deliver a film to live up to its mission-statement title. And so it proved, even if the BBFC's draconian 18 certificate meant that the people it was aimed at couldn't actually see it. Set in the Nottinghamshire boondocks, This Is England is a slice of Brit realism with an energy all of its own, a film with serious fire in its belly. The source of its zeal, Meadows, tiptoes between brutality and tenderness with the poise of a dancer - albeit a dancer who looks a bit like a prop forward. It's a celebration of friendship, a love letter to its director's teenage years (Thomas Turgoose's Shaun surrogates for the young Meadows) and a big old 'V' sign to the National Front. It also spawned terrific telly in the shape of Channel 4's This Is England spin-off series. Pretty good for a self-professed 'cult' movie.
11. A Clockwork Orange (1971)
Directed by: Stanley Kubrick
Starring: Malcolm McDowell, Godfrey Quigley, Anthony Sharp, Patrick Magee, Warren Clarke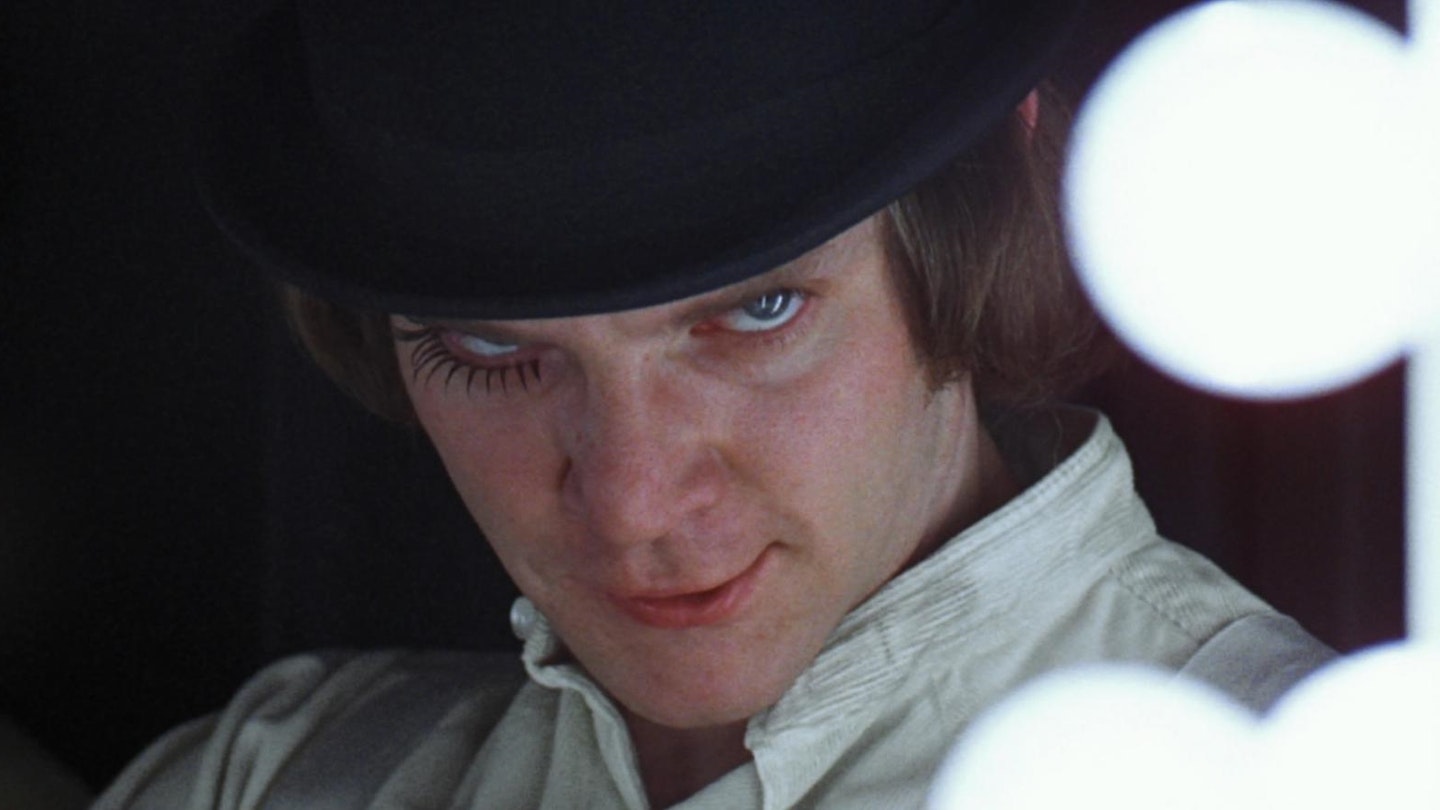 Malcolm McDowell always claimed that while making A Clockwork Orange he was under the impression that it was a comedy. As Hans Gruber might say: "Ho... ho... ho". On its release in 1971, amid a hurricane of controversy that would eventually lead Stanley Kubrick to pull his film from cinemas, a comment like that would have had Daily Mail readers spluttering into their morning tea. Now, however, it seems somehow apt: the 20 minute rampage by the droogs, Alex's "rehabilitation" and his friends' recruitment into the police force and so on, are in their own dark and twisted way, extremely funny. But, more importantly, they're also shoulder-shakingly prescient. To this day, its impact on the first-time viewer cannot be denied. Here, movie-lovers, is a crash course in humanism (featuring massive dildos, orgies and brainwashing) only Kubrick could deliver.
10. Withnail & I (1987)
Directed by: Bruce Robinson
Starring: Richard E. Grant, Paul McGann, Richard Griffiths, Michael Elphick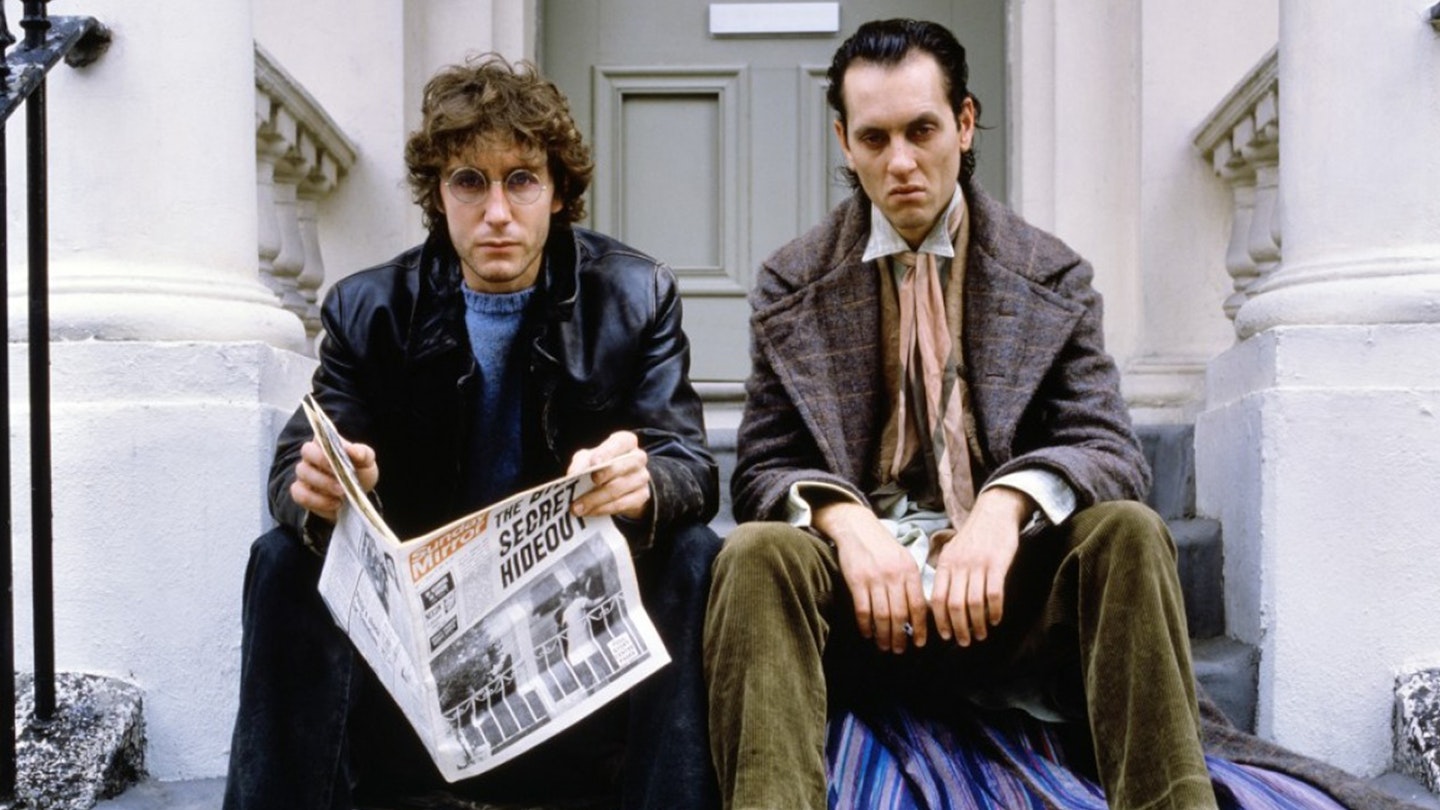 Another entry from Brit mini-production house Handmade, this is one of those masterpieces that almost didn't happen. Producer Denis O'Brien hated the first rushes and threatened to fire writer/director Bruce Robinson – who had already quit once before lunch on the first day. Yet somehow all of them persevered like an alcoholic actor determinedly seeking his next snifter, and it all worked out. The film is possibly one of the finest on-the-page screenplays ever written, brought to life with offbeat performances and an understated style that the mainstream simply wouldn't dream of attempting. Sadly much of its popularity has been within the student community, who fixate on the heavy drinking focus and still believe that endlessly quoting the lines (often incorrectly) will make them as funny as the title characters, but don't let that sour the genius.
9. Local Hero (1983)
Directed by: Bill Forsyth
Starring: Peter Riegert, Peter Capaldi, Burt Lancaster, Dennis Lawson, Jenny Seagrove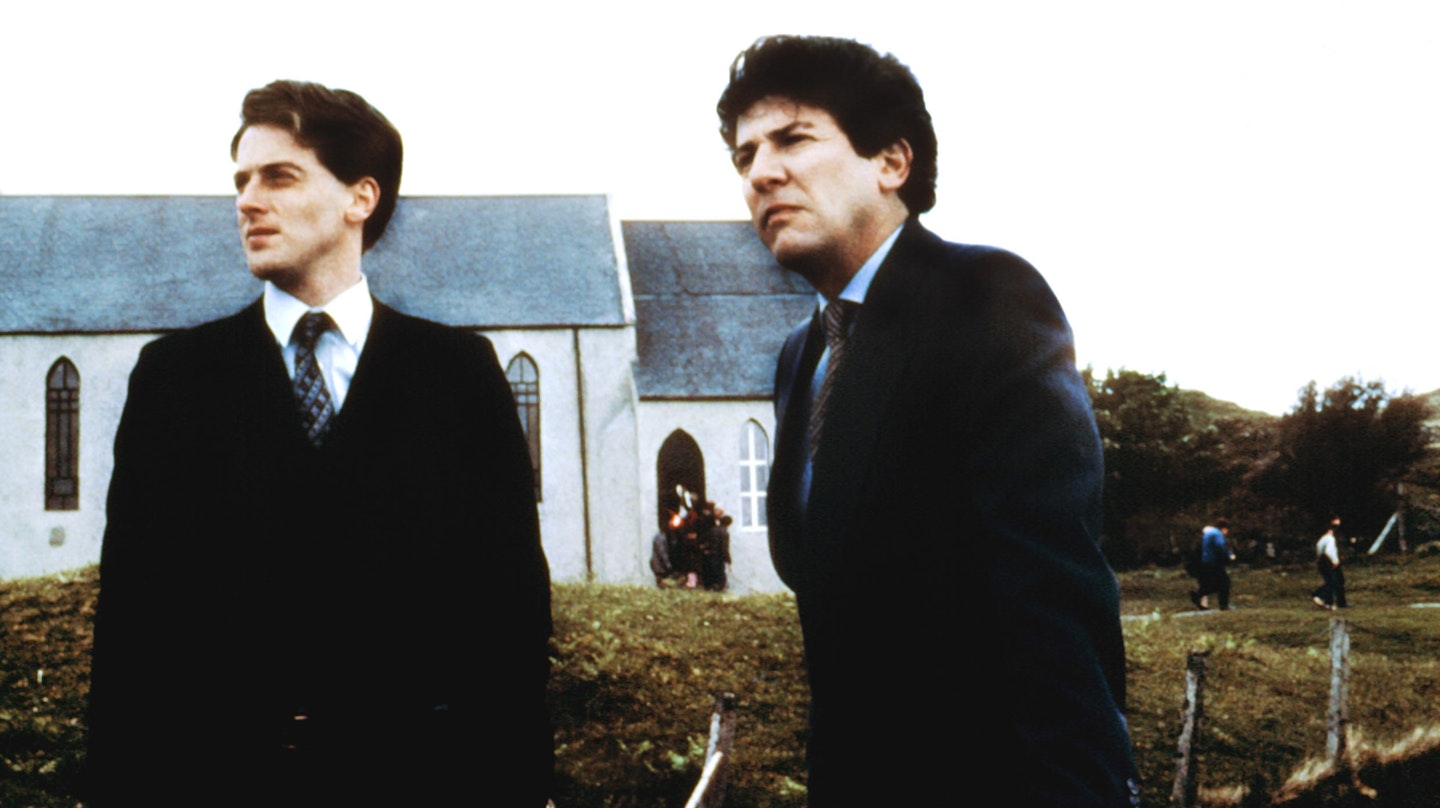 We all know what happens when Big Business tries to muscle in on a small town, right? They are met with universal hostility and chucked out on their ear – or, in this case, not quite. Certainly, tycoon Burt Lancaster has designs on the small Scottish village of Ferness and sends his agent, "Mac" MacIntyre (Riegert) there to seal the deal, and certainly things don't go smoothly, but there's little hostility and no real conflict here. Mac gradually comes around to the village's slower way of life, even as the villagers leap on the money that should flow from the oil purchases – and if things don't work out quite as anyone planned, well, all's well that ends well. Beautifully shot and mixing whimsy and hard-headed realism in equal measure, this is the most feelgood film ever to feature a (literal) bunny boiler.
8. Trainspotting (1996)
Directed by: Danny Boyle
Starring: Ewan McGregor, Robert Carlyle, Jonny Lee Miller, Ewen Bremner, Kevin McKidd, Kelly Macdonald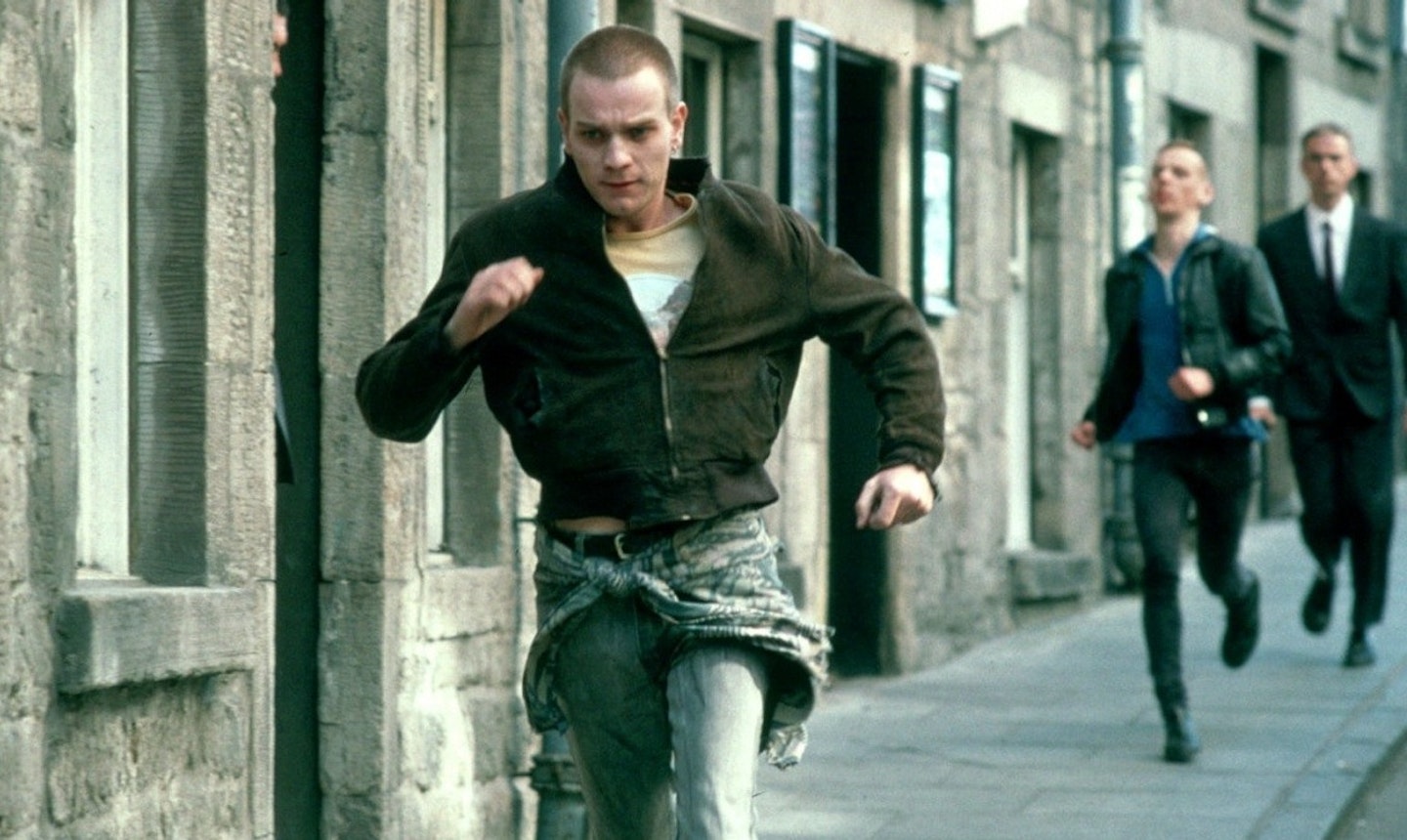 Trainspotting didn't so much reinvigorate British cinema as spike filmmaking heroin into its vein. In adapting Irvine Welsh's cult novel, director Danny Boyle re-teamed with the winning creative talent behind Shallow Grave (producer Andrew Macdonald, screenwriter John Hodge) and the result is another offbeat rush of dark, orgasmic cinema. Ignoring tabloid arguments of whether the movie glorifies drug use or not (it doesn't), a grotty depiction of the Edinburgh junkie subculture just shouldn't be this enjoyable. But in fusing wildly imaginative style (Renton's plunge into the filthiest toilet in Scotland) with naturalistic but witty dialogue, an impossibly iconic soundtrack, some truly disturbing imagery (the baby, anyone?) and, er, Dale Winton, it spoke to the '90s chemical generation. From Robert Carlyle's 'tache-totting psycho to Jonny Lee Miller's Connery-worshipping wideboy, it's also full of memorable, quote-worthy characters, while Mark Renton remains the performance of Ewan McGregor's career.
7. Kind Hearts And Coronets (1948)
Directed by: Robert Hamer
Starring: Dennis Price, Alec Guinness, Joan Greenwood, Valerie Hobson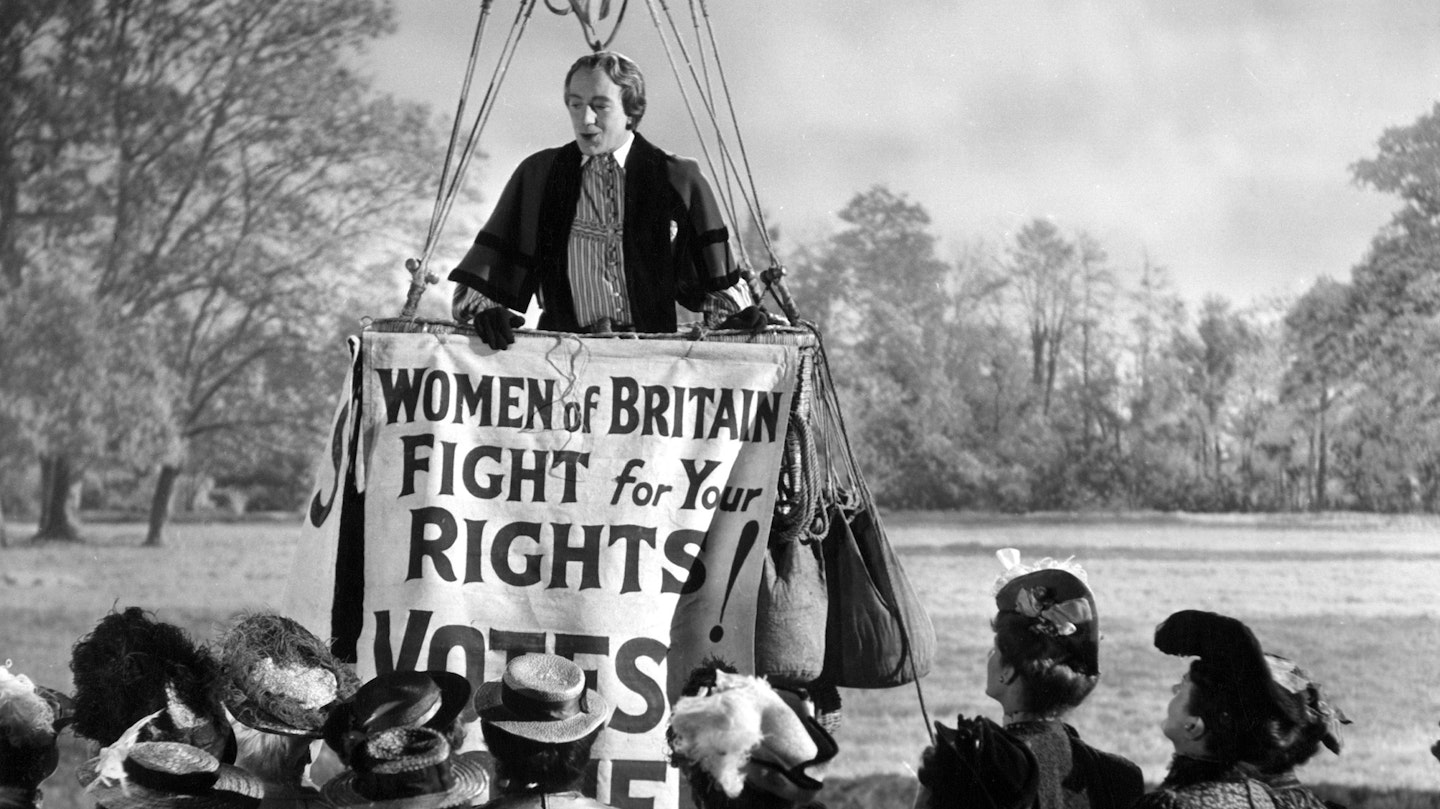 A biting class satire, a hilarious farce, a comedy of pitchest black, this is the jewel in the glittering crown of Ealing Studios. Oh, it may be amoral and thoroughly naughty, but that just adds to the deliciousness of this tale, whereby an impoverished offshoot of a noble family, Louis Mazzini (Price) murders his relations (all played by Guinness) on his way to a title. Price is impossibly poised in the lead role, but it's Guinness who garnered most of the attention in a succession of noble turns that run the gamut from fop to fogey via suffragette. With a Wildean voice over dripping with bon mots ("It is so difficult to make a neat job of killing people with whom one is not on friendly terms") and a thorough villain as its hero, this isn't nearly as cuddly as, say, Passport To Pimlico or Whisky Galore!, but it's a wildly entertaining aberration for the studio.
6. Shaun Of The Dead (2004)
Directed by: Edgar Wright
Starring: Simon Pegg, Kate Ashfield, Lucy Davis, Nick Frost, Dylan Moran, Bill Nighy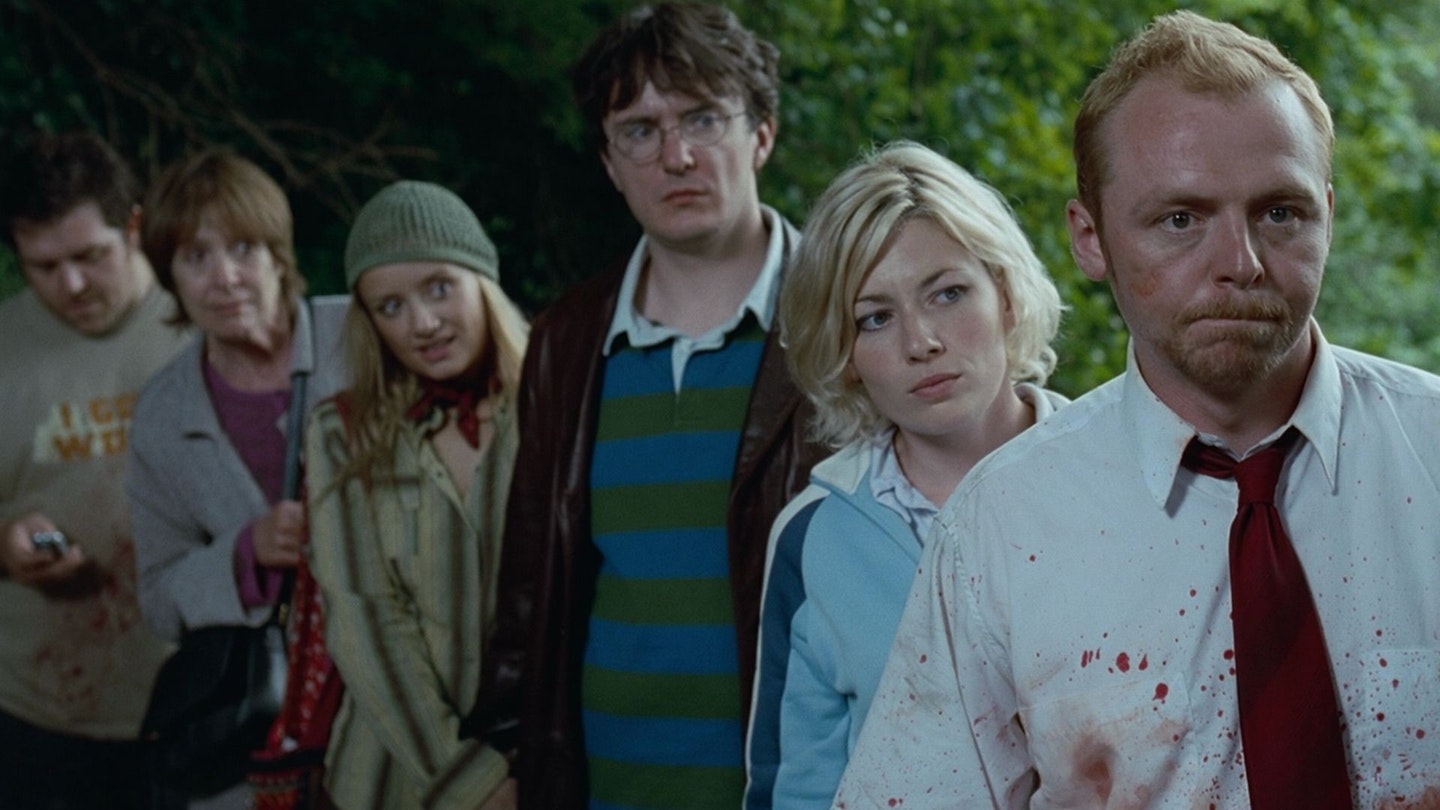 At Shaun Of The Dead's big, beautiful heart, there's a single, simple joke: modern-day Londoners behave much like zombies, so what if there was an actual zombie apocalypse? Would all the Tube-going, bum-scratching commuters even notice? Brought to the screen by the Holy Comedy Trinity that is Simon Pegg, Nick Frost and Edgar Wright, it's a masterpiece, right up there with Evil Dead II as one of the finest horror/comedies ever made. It's a film so good that even if you don't like horror, you love this movie. It's a film so good that even if you don't like the Spaced crew, you love this movie. It's all because it was written, produced and acted with such passion, energy and sheer, unadulterated charm that it's nigh-on impossible not to enjoy. No matter what magnificent deeds the trio accomplish in the future, we have a sneaking suspicion that Shaun Of The Dead will remain many folks' favourite.
5. Brief Encounter (1945)
Directed by: David Lean
Starring: Celia Johnson, Trevor Howard, Stanley Holloway, Joyce Carey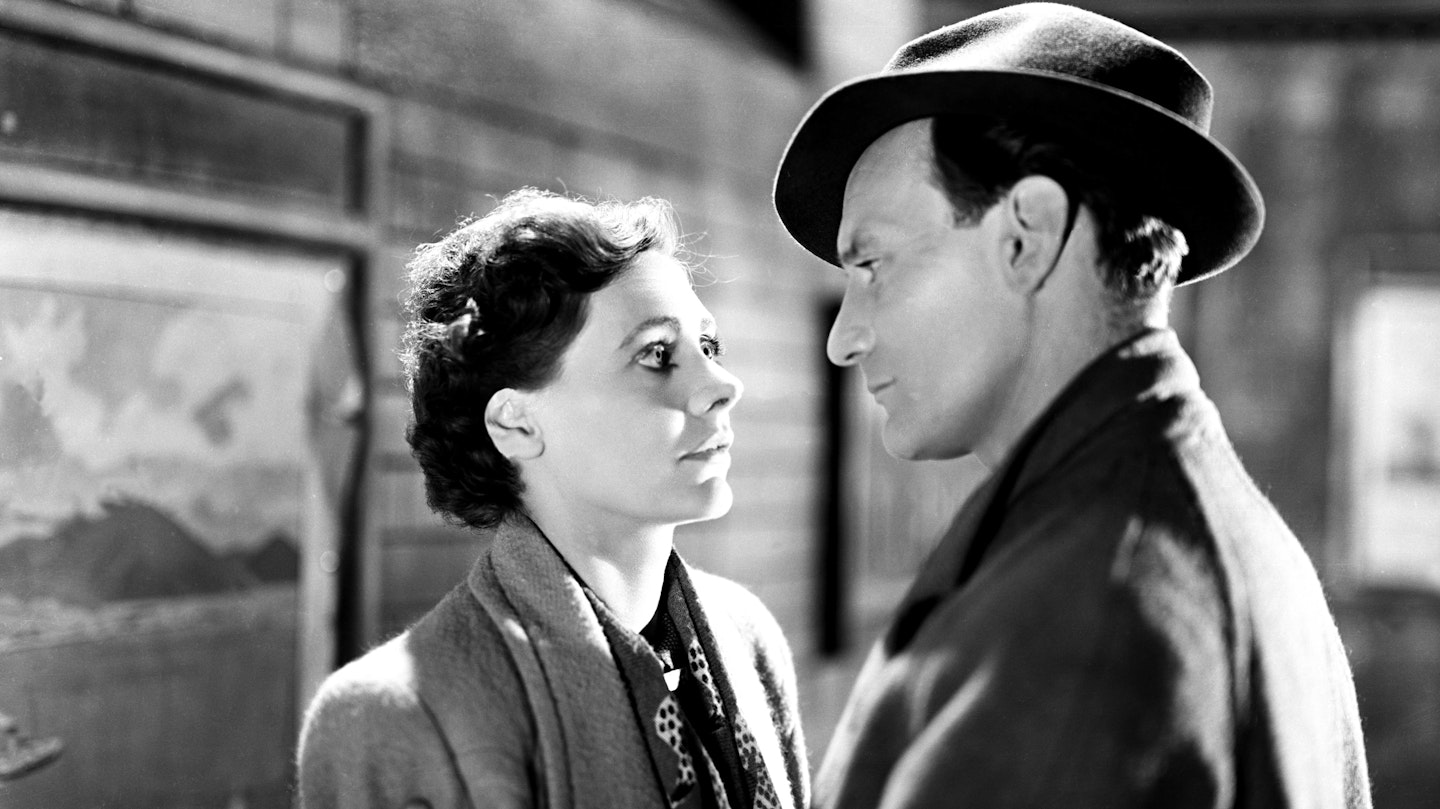 Maybe the greatest weepie ever made, this is guaranteed to make every stiff upper lip wobble a little. Johnson is Laura, the housewife who forms an innocent friendship with Trevor Howard's Alex, a doctor she meets in town on her weekly shopping trip. But friendship turns to something more, and before you can say tea and crumpets this respectful, rather staid pair are contemplating throwing it all away for love's sake. Proof that deep wells of human emotion exist even under the most tightly buttoned cardie, this has a strong claim to be the most English film ever made (along with This Is England, of course) - boasting as it does endless cups of tea and a visit to Boots for good measure.
4. Don't Look Now (1973)
Directed by: Nicolas Roeg
Starring: Julie Christie, Donald Sutherland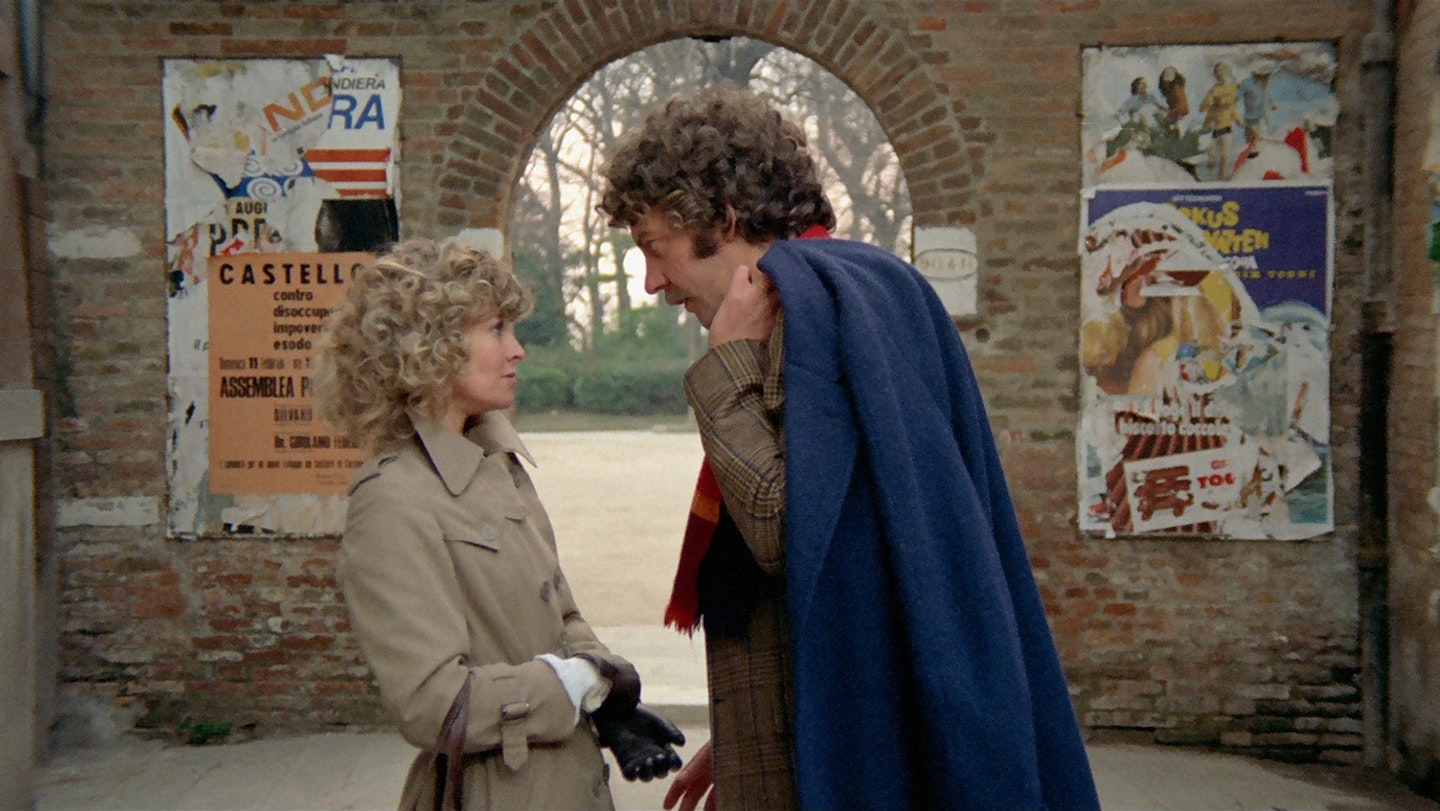 Featuring the most famous dwarf this side of Thorin Oakenshield, deeply poignant turns from Donald Sutherland and Julie Christie, and that famous did-they-didn't-they sex scene (they didn't), Nic Roeg's great masterpiece has slowly seeped into British filmmaking lore. It brims with indelible moments – the blind seer in the restaurant; the crashing scaffolding; the bloody climax – and exudes a dank menace that envelopes you like a Venetian fog. Much comes faithfully from the pages of Daphne Du Maurier's short story. There is, though, one small but crucial switcheroo: the Baxters' daughter doesn't die of meningitis but drowns under their own noses, adding guilt to the broil of emotions the grieving couple is feeling. Roeg's skill in building atmosphere and manipulating chronology, so innovative at the time, makes this one of the most influential films in cinema. Just ask Steven Soderbergh, Christopher Nolan or Danny Boyle.
3. The Red Shoes (1948)
Directed by: Michael Powell, Emeric Pressburger
Starring: Moira Shearer, Anton Walbrook, Marius Goring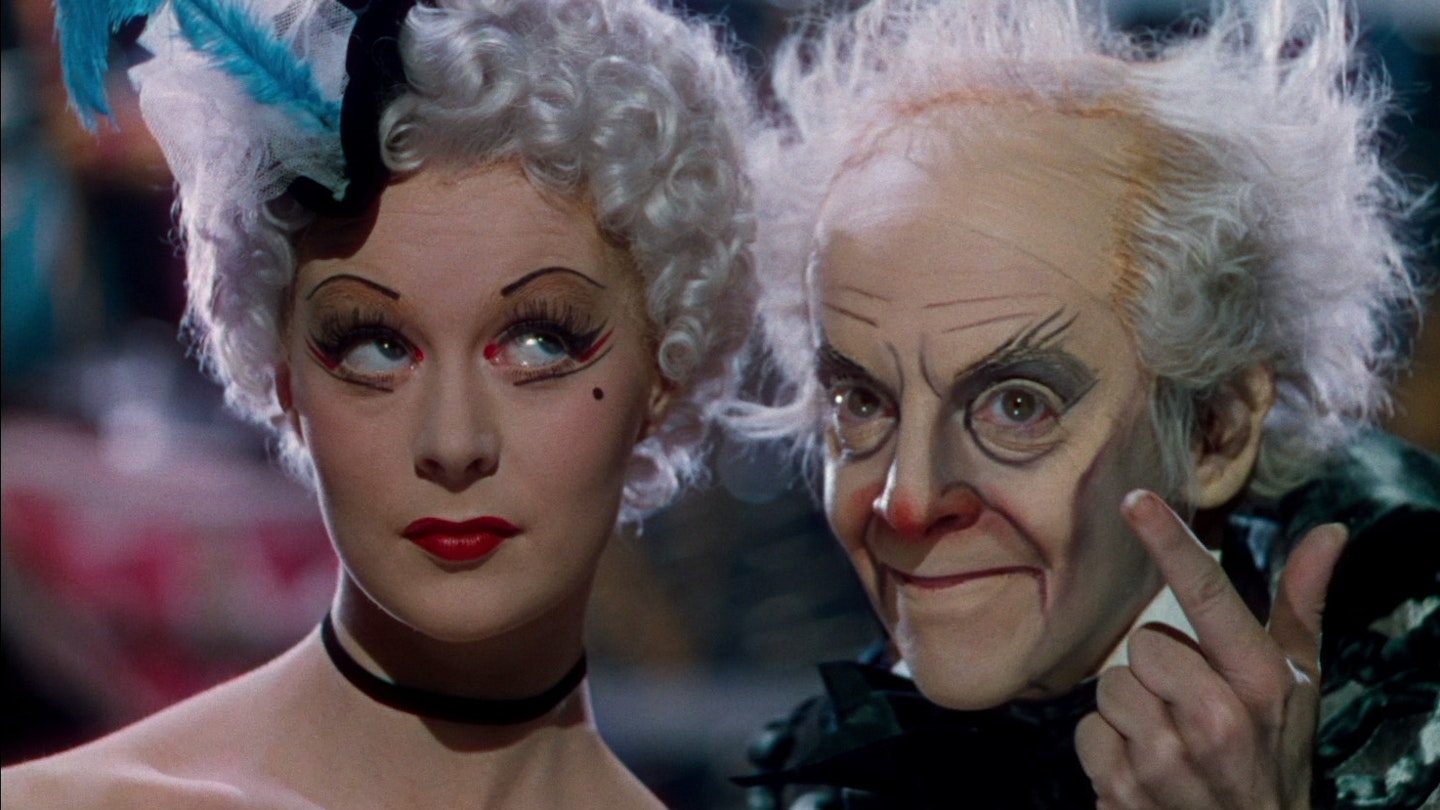 There's a reason why most reviews of Black Swan harked back to this post-War Powell and Pressburger classic: this is the definitive ballet-dancer-finds-life-clashing-with-art film. Shot in Technicolor, the better to make those red shoes bleed into life, Moira Shearer plays the passionate young ballerina with a perfect mixture of passion and obsession. She's willing to sacrifice anything to dance – at first at least and that's something that the Svengali Lermontov (Walbrook) takes ruthless advantage of, pushing her towards stardom but unwilling to accept anything that threatens her single-minded dedication. So he runs off young composer Julian (Goring), to keep her in the business – but can human emotions be so easily controlled? The stage is set for some sort of explosive result, although even those who have read the dark and rather twisted Hans Christian Anderson story which inspires this will be shocked at how it transpires. It's melodramatic, perhaps, but it's luminously shot and has just enough sinister edge to undercut any accusations of girliness.
2. Monty Python's Life Of Brian (1979)
Directed by: Terry Jones
Starring: Graham Chapman, John Cleese, Eric Idle, Terry Jones, Michael Palin, Terry Gilliam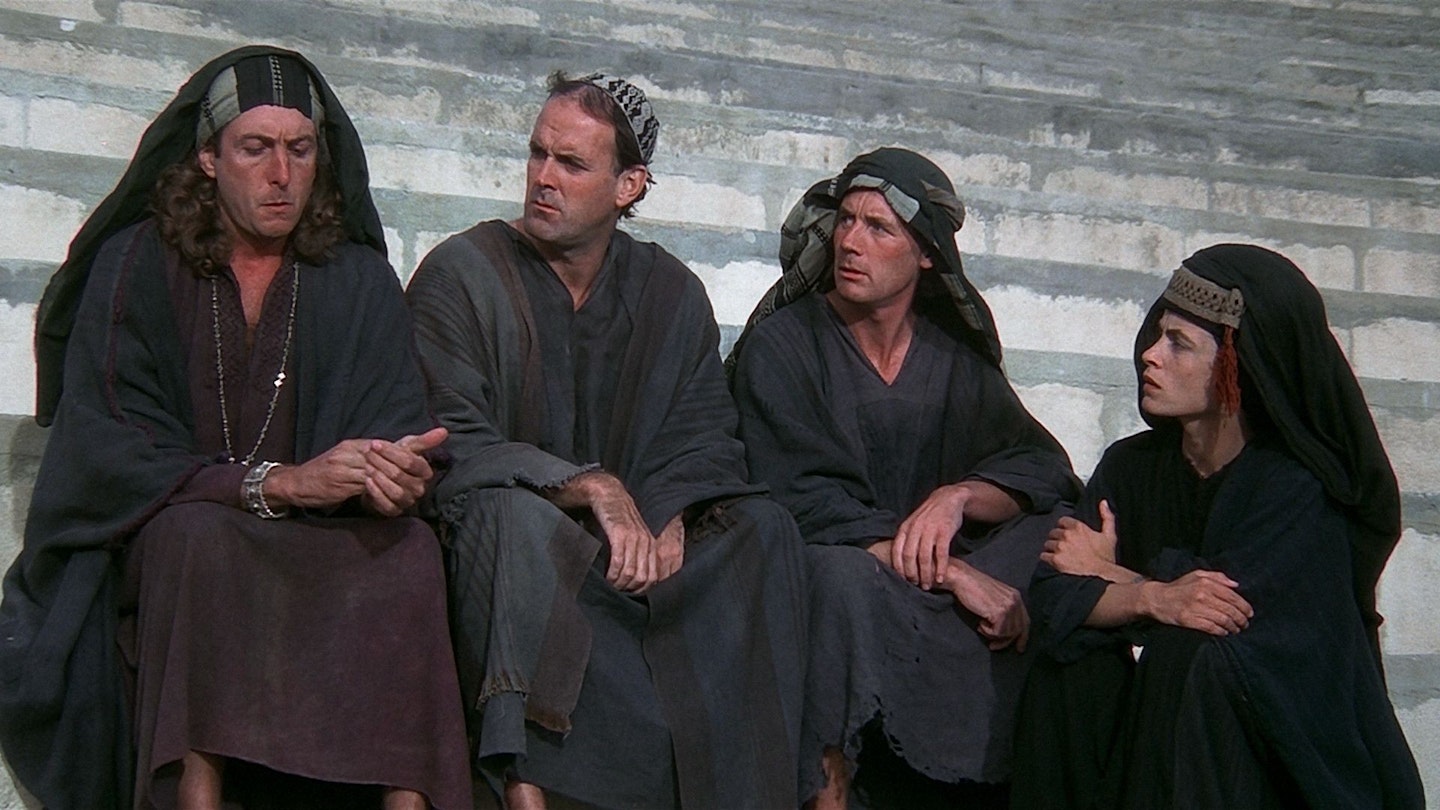 Most of us know by now the origins of Python's second proper movie - at a press conference, Eric Idle laughingly suggested that their next project would be "Jesus Christ: Lust For Glory". What they eventually came up with was much better – an unrivalled satire on religion, and quite possibly the funniest movie ever made. Trouble was, no-one in the film business had the balls to make it. From its opening sequence (the first joke is a pratfall) it's evident that this is going to be Python of the highest standard, but it's the cohesion of the story that makes this all work so well. In sending up not Christ (who is, technically speaking, treated with reverence and kept at arm's length), but all of the petty, political, opportunist zealots around him, the troupe had finally found in their subject an idea ripe for ridicule large enough to accommodate their rapid gag rate and breadth of style. Of course Brian isn't the Messiah (that'd be the boy up the street), but you try telling them - and the financiers – that. Enter Empire's favourite Beatle and cornerstone of the British film industry for the next decade, George Harrison (and his money), and the rest is history. The creation of Handmade Films. Uproar. Outrage. Censorship. Genius.
1. Lawrence Of Arabia (1962)
Directed by: David Lean
Starring: Peter O'Toole, Alec Guinness, Anthony Quinn, Jack Hawkins, Omar Sharif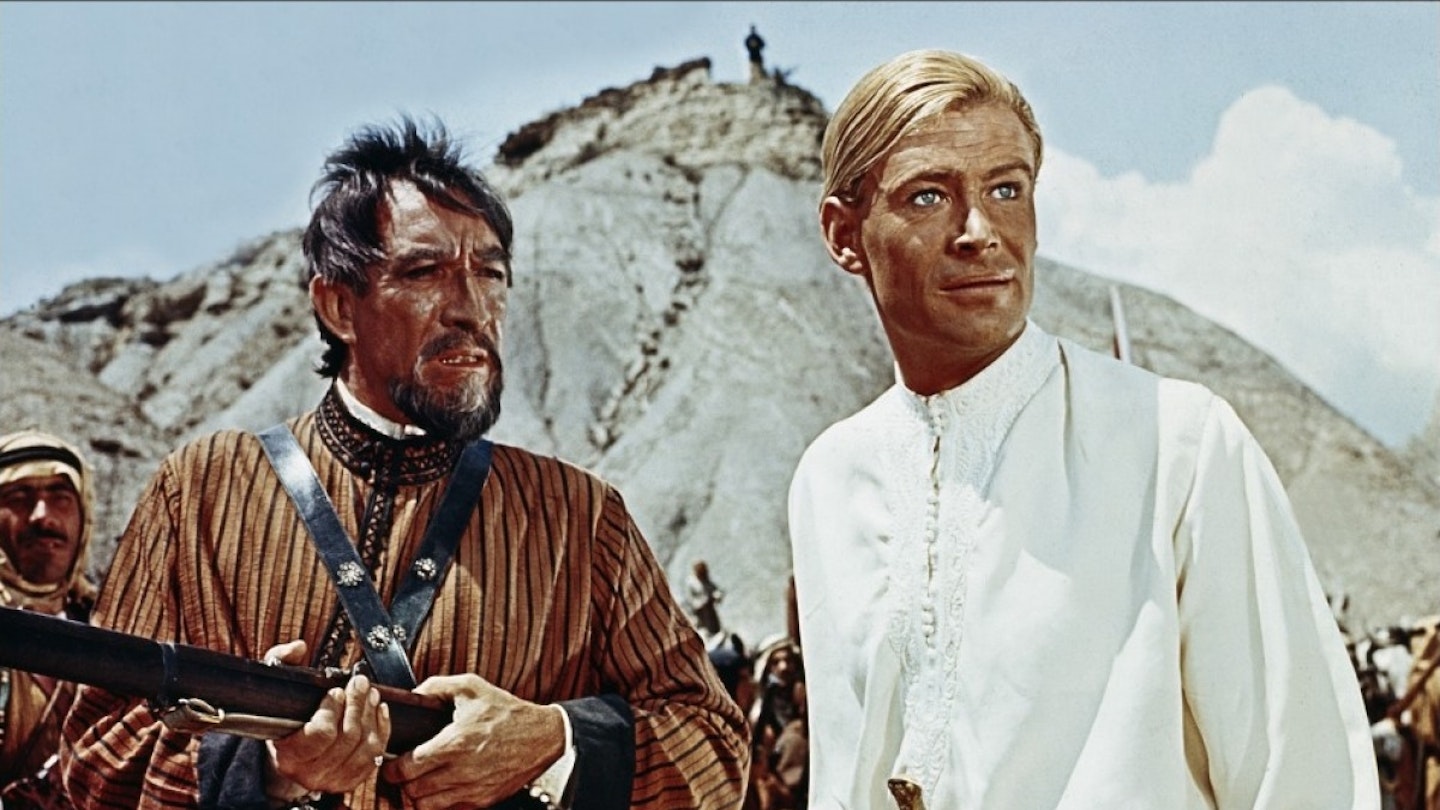 Strip away its scale and grandeur and Lawrence Of Arabia seems to be the kind of rags-to-riches tale that's two-a-shilling in cinema: an ordinary man shaking off mediocrity to answer the call of greatness. It's Rocky in Bedouin robes. Except, of course, it's much more than that. Over three-and-a-bit hours David Lean gives us a portrait of a man riddled with contradictions, awash with doubt and filled with enough hang-ups to give Freud a migraine. Through his fabled journey, Peter O'Toole's T.E. Lawrence somehow unites the Arab tribes and leads them stampeding through Aqaba and on the blood-stained path to nationhood. If 'El-Aurens' is complex enough to stand comparison with Charles Foster Kane or Michael Corleone, his co-star, the vast and magnificent Arabian desert, fully deserves second billing. Captured in all its widescreen sweep by Freddie Young's cameras and given voice by Maurice Jarre's stirring score, it's friend, enemy, solace and implacable observer all in one; an epic canvas on which Lean paints an epic picture.
If you've read the entire list, we have much more goodness for you. How about a list of the best movies on Netflix UK? Or perhaps our most recent example of The 100 Greatest Movies. We also haven't ignored the rest of the globe – find our list of The 100 Best Films Of World Cinema. Finally we have our list of The 100 Greatest Movies Of The 21st Century. Enjoy!