"I've always thought stuff like this only happened in movies and comic books, not here," says Bob Newby, Sean Astin's aptly named new Stranger Things character, as the small town of Hawkins once again finds itself the focus of an inter-dimensional war. It's a question that gets to the central problem facing the show's creators, the Duffer brothers, as they aim to follow-up the smash-hit first season of their irresistible '80s nostalgia stew. How do you repeat the trick of everyday characters living through extraordinary circumstances without stretching plausibility to breaking point?
It still has the power to make excitable 13-year-olds of us all.
It's a conundrum the Duffers mostly solve with wit, audacious plotting and verve across this nine-episode return. Stranger Things 2 — but for some occasional missteps and an ill-judged diversionary episode — makes good on its aim to emulate the fleet-footed boldness of a classic movie sequel from the VHS era.
After a dazzling, seemingly unconnected opening in Pittsburgh, we shift to the familiar sights of Hawkins. As hammered home by the multiple Reagan/Bush lawn signs, it's late October 1984. Will Byers (an increasingly impressive Noah Schnapp) has been back from his trip to the netherworld that is the Upside Down for nearly a year but — as hinted at by the crawling creature he spluttered into a sink during last year's finale — he's not really the same innocent, D&D-obsessed boy. For one thing, he keeps having "episodes" that see him glimpse a red-skied apocalypse and a many-tentacled monster looming over Hawkins.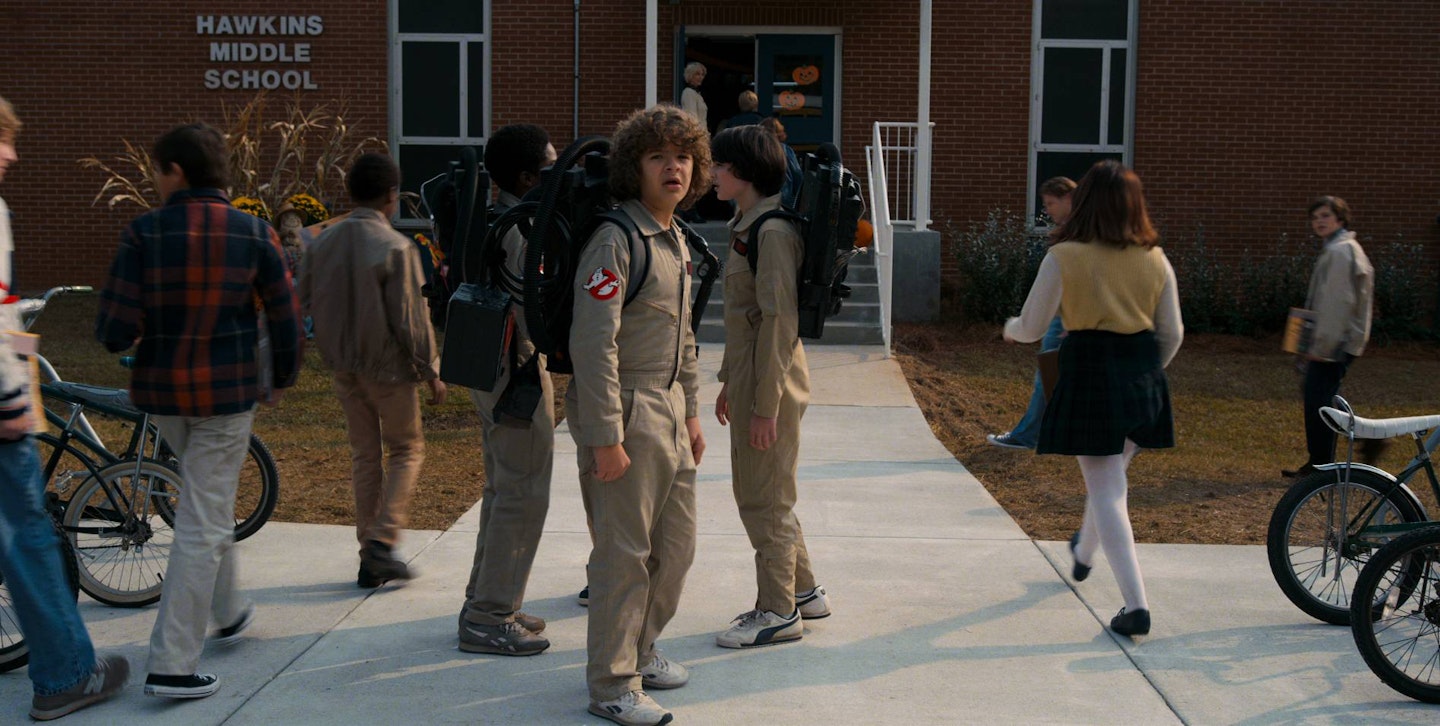 Paul Reiser's Dr Owens (the new, disconcertingly cheerful head of the Department For Energy) insists that these visions are little more than PTSD but, after a pivotal discovery on the night of Hallowe'en, the core, bike-riding quartet of friends (plus Max, Sadie Sink's tomboyish new character) and, ultimately, Joyce Byers (Winona Ryder) find themselves once again trying to get to the bottom of a potentially cataclysmic, government-enabled threat. Elsewhere Eleven (Millie Bobby Brown) has, of course, returned to have more telekinetic nosebleeds, and police chief Jim Hopper (David Harbour) is investigating the mysterious blight wiping out local pumpkin patches, while also spitting out period-appropriate one-liners ("I only want five minutes," blurts a local conspiracy theorist. "Yeah, and I want a date with Bo Derek. We all want things," replies Hopper).
What's perhaps most impressive is how the Duffers have been able to have their Eggo waffles and eat them, deepening the mystery of Will's disappearance (and, as #justiceforbarb fans will be pleased to note, Barb's death) while also tickling our collective retro pop-culture synapses. Of course, the pleasing hits of '80s nostalgia come thick and fast, including a nod to legendarily extortionate arcade game Dragon's Lair and those Ghostbusters costumes, served with a funny riff on how no-one wants to be Winston.
It's not an entirely flawless return. One episode four scene — featuring Hopper and Joyce making suspiciously light work of turning Will's A4 scribblings into a Neil Buchanan-worthy floor collage — feels like too blatant an attempt to recreate the visual genius of Season 1's fairy-light ouija board. And episode seven — which plays out away from the main Hawkins-set action — is a risible, obvious piece of story-padding that's dripping cliché and all the worst bits of Heroes.
But mostly Stranger Things 2 manages to be as inspired, deliriously enjoyable and briskly plotted as the original. And with hints that the next two seasons will see the gang face another threat while also contending with puberty (that other looming, unstoppable beast), there's cause for fans to be very excited indeed. Darker and more ambitious but shot through with warmth and wonder, this return trip to Hawkins still has the power to make excitable 13-year-olds of us all.