Adam Sandler makes a decent case for nepo babies — and nepo wives — in this surprisingly delightful teen comedy, which brings together the Sandman's real brood to tell a story that feels authentic and lightly wise. Adapted from the YA book of the same name by Fiona Rosenbloom, it plays like a more Jewish version of Are You There God? It's Me, Margaret, complete with its own take on a young girl on the cusp of womanhood making regular prayers to the almighty.
Sandler's Happy Madison production company — which for years has quite merrily chugged along producing disposable Netflix comedies of mid-to-low-tier quality — switches gears here, targeting an entirely different audience, Sandler himself ceding the spotlight to his children. His youngest daughter Sunny takes the lead as Stacy, in an immediately winning, charming and fearless performance.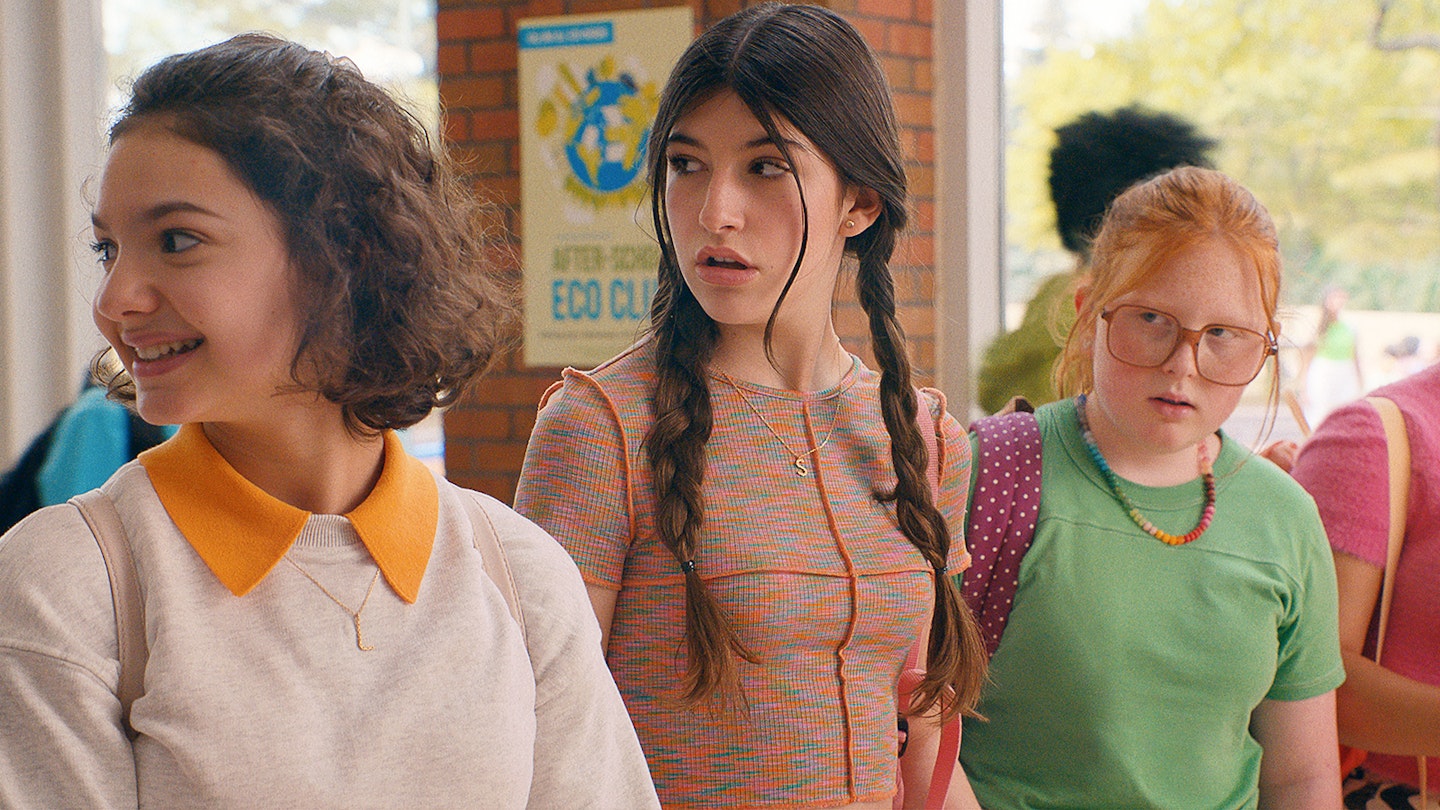 Stacy has all the usual adolescent hang-ups: she's trying to find her place in the world, trying to comprehend her burgeoning adulthood, and trying, desperately, to be noticed by boys. Specifically, she has her eyes on one boy in her Hebrew class with impeccable curly hair and a Star Of David chain who says things like "tight" (very much the Timothée-Chalamet-in-Lady-Bird role). Soon, her obsession proves disastrous, and psychological warfare begins between Stacy and best friend Lydia (an excellent Samantha Lorraine).
There's real effort to bring a kind of manic directorial energy to match the characters
While the bat mitzvah battles rage, the Sandlers still manage to share an easy, giggly, authentic warmth and chemistry with one another, a rare case where shameless nepotism actually seems to make sense. Adam Sandler plays a joke-cracking good-cop dad; Sandler's real-life wife Jackie plays Lydia's mom; the elder Sandler daughter, Sadie, plays the oldest Friedman daughter, Ronnie. (There are also some great non-Sandler bit-parts: shout out to Sarah Sherman as a rabbi who sings songs like "God is random sauce"; and Luiz Guzmán as a dad still salty about a parking spot being taken from years before.)
But they all take a back seat to the kids, whose story this unequivocally is. Inevitably, given the subject material, this is a film very specifically geared to a single demographic, which means some formula must be adhered to: there is a friendship, and there is some falling out, and there is some making up. It doesn't feel wildly original if you've ever seen a John Hughes movie. Its very Californian show of wealth might also feel alien to audiences in the UK, for whom crazily elaborate themed bat mitzvah parties — complete with DJs, fire breathers and a virgin mojito bar — are more unusual.
But it's directed by Sammi Cohen with some verve and style to keep your interest. Like last year's Ms. Marvel or this year's Polite Society, there's real effort to bring a kind of manic directorial energy to match the characters, and to bring a wider audience into a very specific subculture and tradition, for which it must be applauded. Mazel tov!