Joel Coen. Denzel Washington and Frances McDormand. This gang could have staged Macbeth while reclining on a bed of laurels (brought from home) and it would have likely been pretty watchable. But there's no lolling about in this sparse, stripped-down adaptation. These thoroughly established sexagenarians bring the energy of a young Orson Welles to Shakespeare's Scottish play, creating an almost horror-film take on all the power, ambition and violence.
We open in a white expanse, misty sky seamlessly meeting blasted heath, as Ralph Ineson's Captain staggers to King Duncan (Brendan Gleeson) to report a victory won by Macbeth (Denzel Washington) and his loyal friend Banquo (Bertie Carvel). As those two warriors follow him, however, witches appear with word of glories to come. The prospect of a prophesied throne quickly curdles Macbeth and, egged on by his wife (Frances McDormand), he abandons honour and plots Duncan's murder. It is done, and quickly — but the conspirators are ill-suited to authority and guilt-ridden besides, and they unravel along with their country.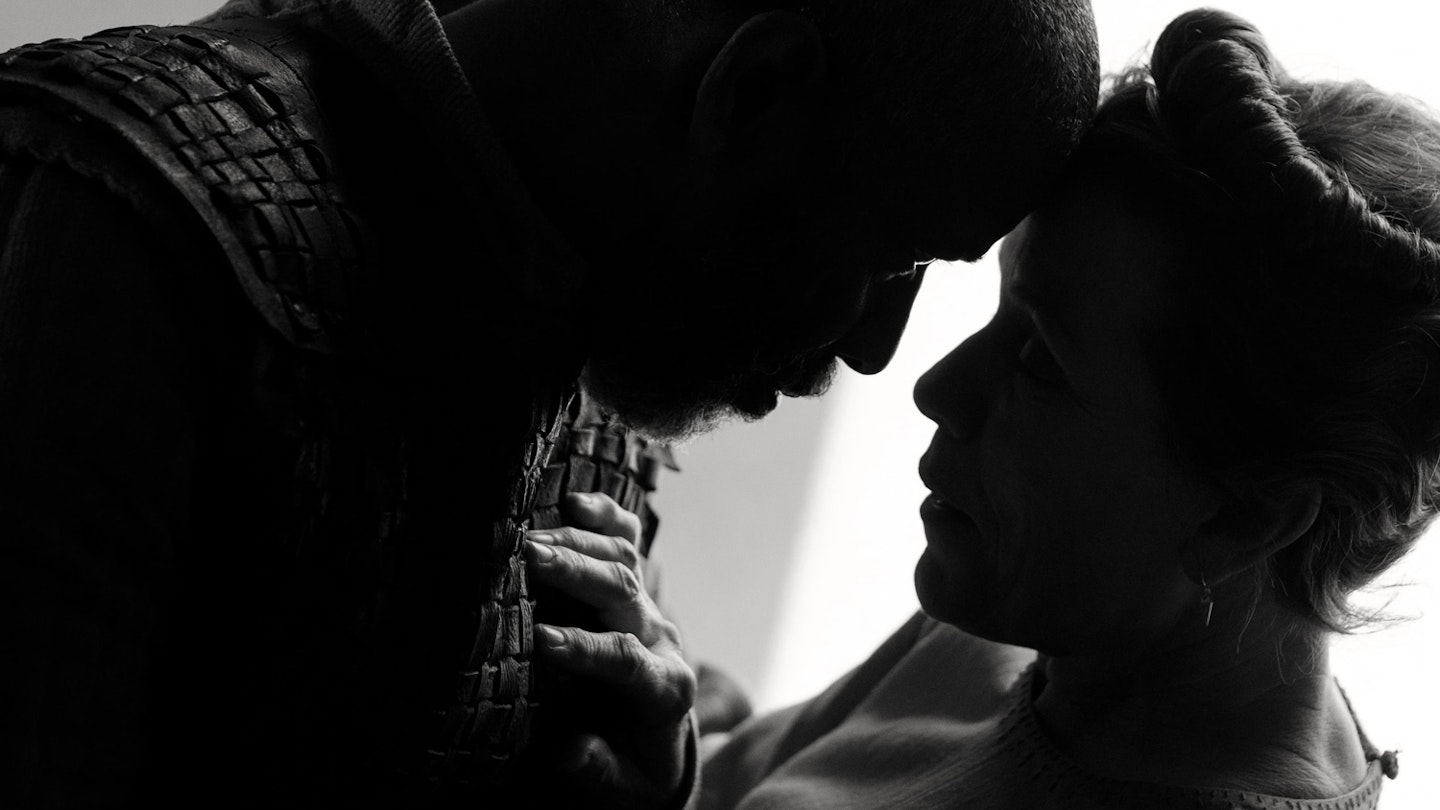 So far, so traditional. Where this differs is in its extraordinary good looks. Coen, working for the first time without his brother Ethan, keeps an element of theatricality with the white walls of cloud or castle that surround almost every scene, but he's not above adding the soaring silhouettes of distant fortresses or a few gnarled trees to remind us that we're in medieval Scotland, and a slightly fantastical version thereof. Production designer Stefan Dechant's interiors are gorgeous, with clean Gothic and classical elements that recall Julie Taymor's use of fascist architecture in Titus or the Expressionistic shapes of Welles' theatre work. It's a stunning look, shot in crisp, high-contrast black-and-white by Bruno Delbonnel, all shadows and empty space — as suits its protagonist.
McDormand was always going to be convincing in Lady Macbeth's ruthlessness, but the surprise is that she finds her weakness.
Washington's Macbeth is, as you'd expect, brilliant, the kind of leader who speaks softly but carries a very big stick. He's less thuggish than some theatre incarnations of the character — this is a leader of some cunning as well as brawn-for-brains — but he's still visibly easier when the time comes for action. He seems almost relieved when the prophecies finally unravel around him, less railing against Macduff (Corey Hawkins) and more bowing to the inevitable. McDormand, meanwhile, was always going to be convincing in Lady Macbeth's ruthlessness, but the surprise is that she finds her weakness, and crumbles convincingly when her husband largely abandons her for other concerns.
In a script that's thoroughly pared down, even from Shakespeare's shortest tragedy, few other actors make a huge impact. Carvel is a hirsute, wary Banquo; Hawkins a steely-eyed Macduff; Alex Hassell a remarkably compelling and sometimes sinister Ross, who's not usually such a central character. Perhaps the most extraordinary, however, is Kathryn Hunter as all three witches, contorted in body and voice into something genuinely terrifying. King hereafter or no, a wise warrior would run a mile from this prophet.
Through it all thrums a steady tick-tocking heartbeat, a metronomic rhythm of heavy footsteps, portentous knocking and Carter Burwell's lean score. Macbeth's time is running out, and deep in Denzel Washington's eyes there's a sense that this Thane Of Glamis knows it. It's that inescapable knowledge that gives this Macbeth its true sense of tragedy.