It's been 12 years since pioneering filmmaker Jane Campion last released a feature. Now, the writer-director returns with a similar energy to her lauded, deeply sensual Palme d'Or-winning The Piano, this time funnelled into a frontier Western adapted from Thomas Savage's 1967 cult novel. Like The Piano, The Power Of The Dog feels like a contemporary drama in spite of its 1920s setting, and ruminates on the same romantic taboos, repression and visceral expressions of desire that run through Campion's sparse yet hugely rewarding body of work.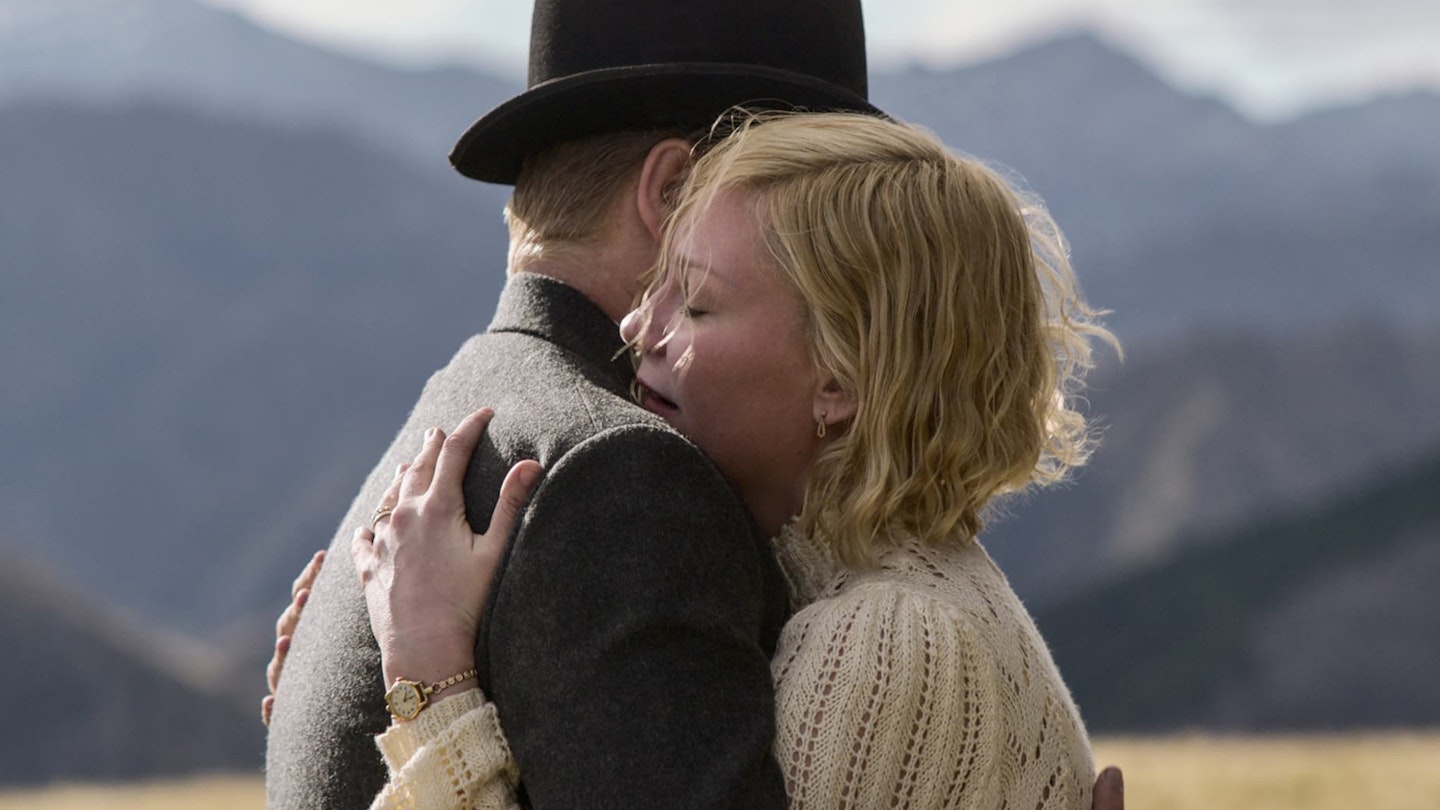 The film's opening centres on a pained fraternal relationship; Phil (Benedict Cumberbatch), an acerbic bully whose behaviour is encouraged by his workers, is perpetually frustrated by the gentle indifference of his brother George (Jesse Plemons). It's a challenging dynamic between the two that sees Cumberbatch calcify into a scrunched-up ball of loathing. As Phil, he toggles seamlessly between petulance — he often refers to an unblinking George as 'Fatso' — and codependence. His rage is the current coursing through the film.
Benedict Cumberbatch is at his peak here.
When George's new wife Rose — a woman who feels inferior due to her working-class status, played with serrated emotion by Kirsten Dunst — arrives at their echoey ranch house, Phil's anger takes a new, insidious form, and the fresh, heady love between George and his spouse begins to curdle. Yet as Campion gradually peels back the layers of the surly rancher, the film shifts from relationship drama to a study of this single wounded character. Through a tentative friendship with Rose's son Pete (Kodi Smit-McPhee), a shy, lanky youth drawn to natural splendour, Phil begins to feel stirrings of his past, which involved what's alluded to be an intimate relationship with his former mentor, the late Bronco Henry.
Campion keeps the film at a glacial pace and rations out moments of real drama, occasionally to its disadvantage, instead choosing to use the symbolic beauty of the ranch and its surroundings to carry the story. Yet the sensory imagery that she creates is pleasing to succumb to, all sunbaked leather, muscular horse-backs and the strain of starchy hide as it's braided into rope. Cinematographer Ari Wegner captures the vistas of Campion's native New Zealand, doubling as Montana, in lucid, breathtaking detail, while Jonny Greenwood continues his journey as a maverick composer, bookending the narrative with scuffed, low guitar notes and sorrowful strings.
Cumberbatch is at his peak here. This is the first time that Campion has presented her filmmaking through a male perspective, and with all of Phil's flaws and foul nature, the actor is completely engaging. Structural choices mean that the other actors are underused, though: Plemons, versatile and always watchable, is largely offscreen in the film's second half, while Dunst is relegated to a tangle of nerves and booze. Yet Campion's erudite approaches to eroticism and naturalism are bold enough to eclipse these shortcomings. This is a welcome return for an instinctive and singular filmmaker, who summons the mood from a story like no other.